Terranea Resort is a luxurious escape for Southern California locals and tourists. Spend a day, weekend, or simply visit for a meal and experience a relaxing respite to reset your week.
Whether you live in Southern California or will be visiting at some point in the future, you'll want to know about Terranea Resort in Rancho Palos Verdes.
Terranea Resort hosted me and a friend for dinner at Bashi and gave us day passes at the spa. All opinions are always my own.
As an Amazon Associate I earn from qualifying purchases.
The first time I visited was September, 2014 when I was chosen as a Social Media Influencer and invited to spend the weekend getting to know the resort. It was Terranea's 5th anniversary, so over the weekend, Influencers were given five different surprises, from a brand new pair of Tieks shoes, a swag bag from the spa, to a dessert reception where we met the pastry chef himself!
We were all smitten with Terranea Resort; but even without all the surprises, how can you not fall in love with the location? Right on a bluff overlooking the deep, blue Pacific with tidepools and trails below, Terranea is set in a place of such incredible natural beauty, it's hard not to be awed.
My birthday surprise.
If you follow me on Facebook, you may recall last November my friend, Debbie, "kidnapped me" and drove for over an hour towards Santa Barbara. (Here's a screenshot; some of the comments are pretty funny!)
I had no idea where we were going, but in the end, she stopped at a small Italian restaurant near Ojai and took me to lunch for my birthday! It was such a thoughtful thing to do that I decided I wanted to do something special for her birthday, too. That's when Terranea came to mind.
Returning the surprise!
I set a date with Debbie and told her to not make any plans for that day, but didn't tell her where we were going. She told me she hates surprises, but I didn't care because I knew she'd love this one. When we arrived and Debbie saw the TERRANEA RESORT sign at the entrance, she was elated. She had only seen a few photos a friend had shared online, but had never visited herself.
At reception we were greeted by Kevin, the concierge, who took such good care of me when I had stayed at Terranea as an influencer (long, but funny story about me getting stuck at a lighthouse with a rental car.)
Honestly, part of the warmth and atmosphere of Terranea is definitely from the attitude and friendliness of the staff and employees. Kevin is an absolute gem! I introduced him to Debbie and told him we were there to celebrate her birthday and he immediately disappeared. He returned a few seconds later with two glasses of bubbly!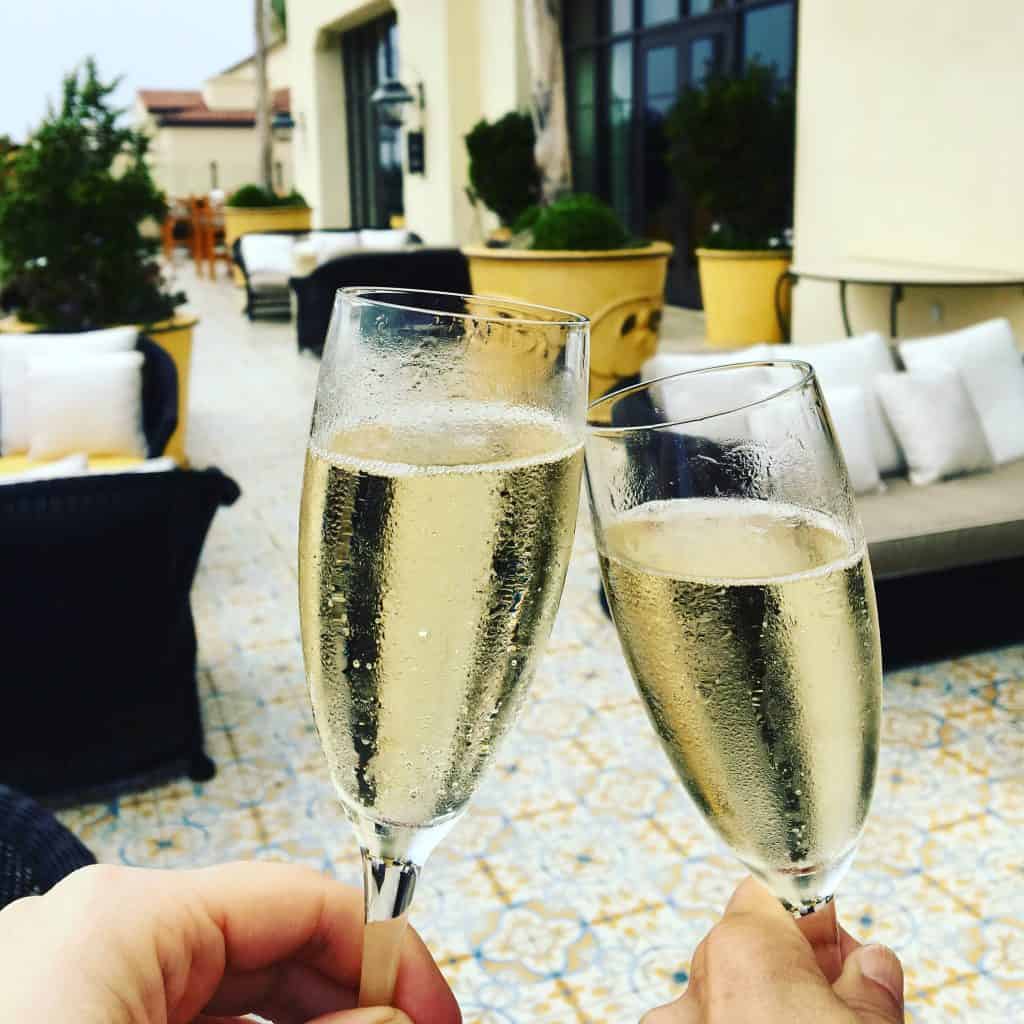 We sat out on the patio chatting, but the sparkling wine kept taking center stage. Both Debbie and I kept commenting on how good it was and wondered what it was. I thought it was Prosecco, so we asked Kevin. Not only did he obtain the name for us, but he came back with a lovely yellow rose for Debbie! I told you he was a gem!
I'm going to tell you more about the bubbly later, but first, our day at the spa! This is the spa pool! Isn't it a spectacular spot?
The Spa at Terranea
Debbie and I checked in and were given a short tour of the spa and spa facilities. Day pass? We needed a week pass! There were so many alluring places, we just wanted to spend time at each one.
I'll spare you the photos of us in the sauna and steam room, but we eventually ended up out by the pool. When we walked past the Spa Cafe, we both caught a smell of garlic wafting through the air. We followed our noses as it smelled so good, and we just had to find out what it was!
It didn't take long to discover it was garlic and sea salt edamame that smelled divine, and of course we had to place an order. Well, that was it–Debbie and I were hooked at first bite! We polished off every single one as we sat poolside, enjoying our very relaxing afternoon.
It's so simple and our server was happy to tell us how they make them-check out the recipe by clicking the link or photo above.
After a few hours at the spa, we decided to get ready for dinner. The facilities, lockers, showers, etc., at the Spa at Terranea are all top-notch. Everything you need is provided. We were amazed at the number of treatment rooms there were, and given the way we were cared for at the Spa. I'm sure the massages, skin care treatments and more are just brilliant.
Just to give you an idea, The Spa encompasses over 50,000 square feet of indoor and outdoor space, contains 25 treatment rooms, a fitness and wellness center, a Spa Café, and a full-service salon! In addition, there are three luxurious VIP suites, separate indoor and outdoor spa lounges include saunas, steam rooms, whirlpools, cold plunges, and fire pits, not to mention an expansive gym to work out while gazing at the ocean.
On our way out, both Debbie and I were mesmerized by the bracelets at the gift shop. (Possibly by all the jewelry at the gift shop!) We ended up treating ourselves to one each (Debbie bought one as a gift for her daughter, too, but shhh–don't tell my daughter!)
There's so much to experience at Terranea Resort!
Are you getting any ideas at this point? If you live in Southern California, you really need to do yourself a favor and visit Terranea. Bring a friend for the day, or even spend the weekend, because I can tell you this: you will feel as though you are so "far from the madding crowd" of Los Angeles. It's truly such a relaxing break, and who doesn't need a bit of stress-relief? (Bonus: it's less than an hour south of downtown LA.) If you don't live in Southern California, but you plan to visit Los Angeles, keep Terranea in mind; you won't ever regret coming here.
We walked along the trail which runs on the perimeter of the bluff so I could show Debbie more of the property before we went to headed to Bashi restaurant. All she kept saying was, "Do we have to leave tonight?" As you can see, whales are often spotted off the coast and you don't even need binoculars to see them from Terranea. Unfortunately, April is a bit late for migrating whales, so we didn't see any this time.
Bashi Restaurant
I've eaten at Bashi several times and loved it so much, it's the restaurant I chose to take Debbie for her birthday. Terranea has five restaurants and more places where you can choose something quick and easy. Our drinks and meal were enough to win Debbie over, too. She was already planning when to return as we had our dinner. Just take a look at these photos and you'll understand why~
Yep, more garlic on our shishito peppers after our garlic edamame at the spa!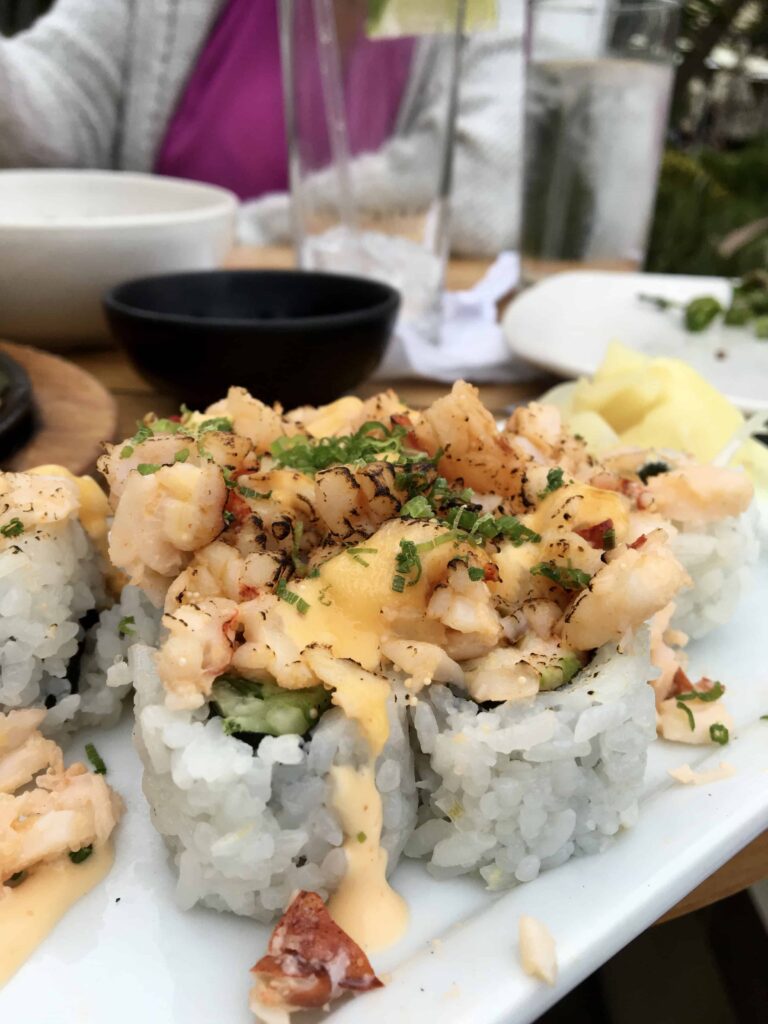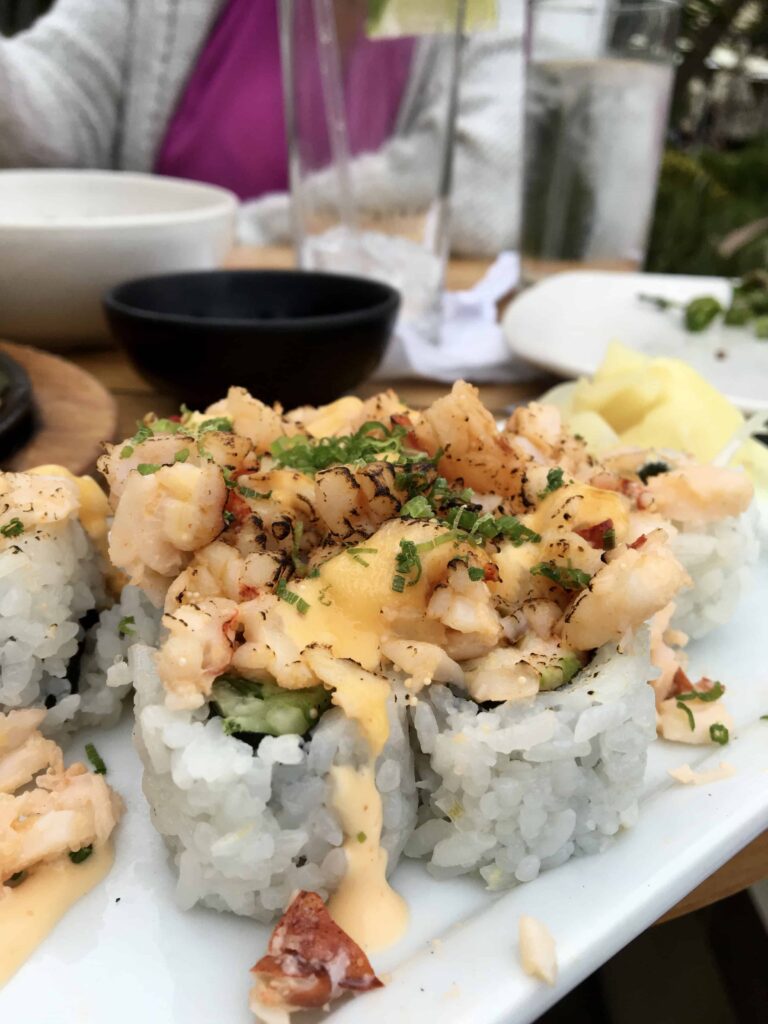 I'm really not a big beef eater, but our lovely server, Judy, recommended the Shaking Beef when I asked for suggestions. I'm so glad I listened! The beef was so tender and tasty, it was just perfect!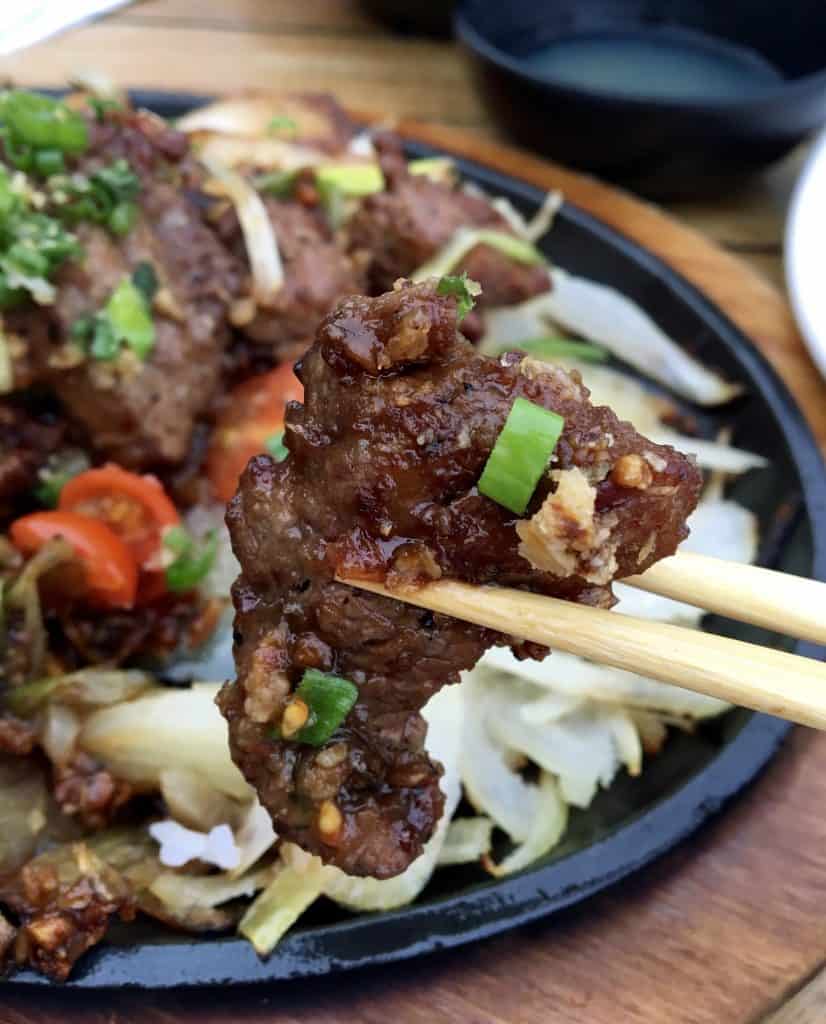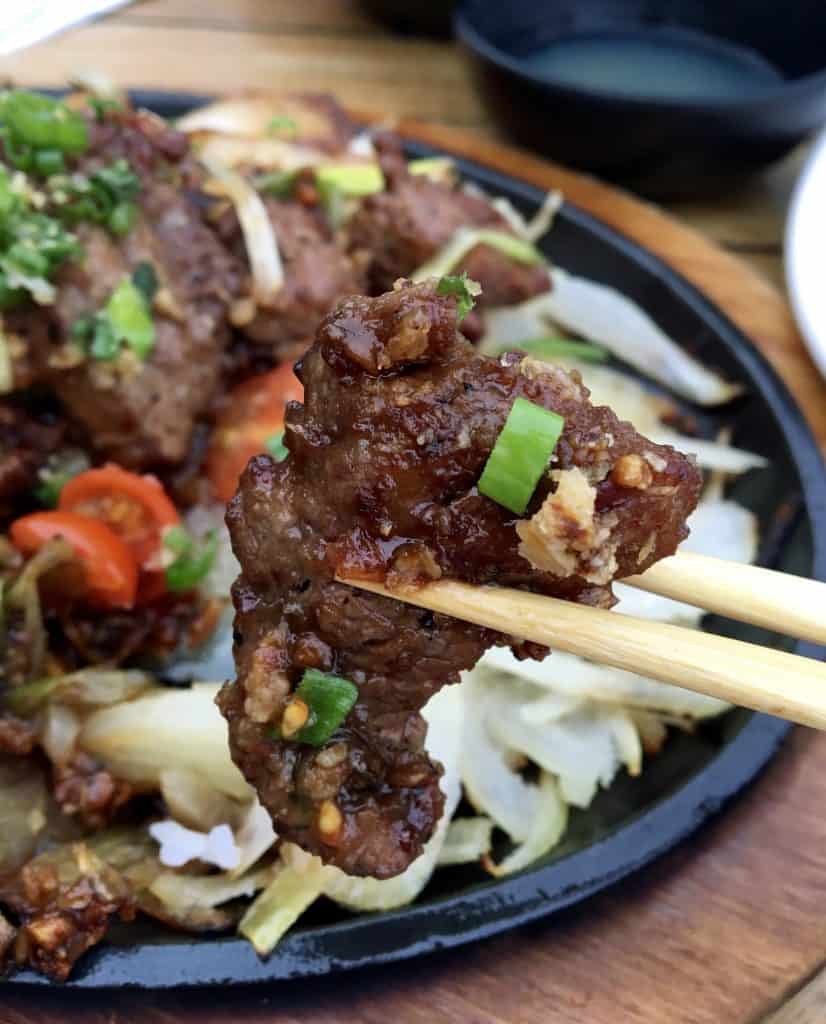 Here's another great tip about Terranea: go for one of their many Happy Hours at most of their restaurants, including the lounge. Bashi has a great Happy Hour (I speak from experience!)
Debbie and I went to pick up our bags from the Spa and sat by a firepit to chat for a bit as it was a beautiful night. It was hard to think about leaving, so we procrastinated.
After a while, I took Debbie through the lounge as she hadn't seen it yet. It's yet another place where we could have sat for hours.
One Hope Wines & Terranea Resort
Before I forget, I want to tell you about that sparkling wine that Kevin served us as soon as we arrived. One Hope is the name of the winery that produces this wonderful bubbly. The reason I want to tell you about it is two-fold. Both Debbie and I loved it and just kept saying to each other how lovely it was. It's not too dry and not too sweet, and the winery is dedicated to giving back through the sales of their wine.
Not only is One Hope doing good for others, but just look at the impact that Terranea has made since they served this wine.
The morning after we got back, Debbie called me to tell me she was tracking down where we can buy this wine ourselves, locally! Now there's another reason to love it, besides the way it tastes! If you happen to try One Hope wine (made in collaboration with Rob Mondavi Jr.), please let me know what you think. We've only tasted the Brut sparkling wine, but we both can't wait to try others.
So that was our day at Terranea. Debbie forgave me for surprising her and thanked me so many times, I knew that she'd truly enjoyed her day out. I was happy to learn the recipe for the garlic edamame, too!
For more information about Terranea Resort and Spa visit this page, then follow them
on social media to keep up with events and special offers.
All thoughts and opinions are mine alone. As always, I only recommend quality products and services that I truly believe in and would purchase and use myself. There were no conditions stating that the review must be positive.
I am disclosing this in compliance with the FTC's regulations.
Christina's Cucina is a participant in the Amazon Services LLC Associates Program, an affiliate advertising program designed to provide a means for sites to earn advertising fees. This is done by advertising and linking to Amazon.com.