Sensorio Paso is an extraordinary light and art installation by Bruce Munro, currently on display in Paso Robles, California. Whether you visit with family, friends, a special person in your life or alone, you will not be disappointed!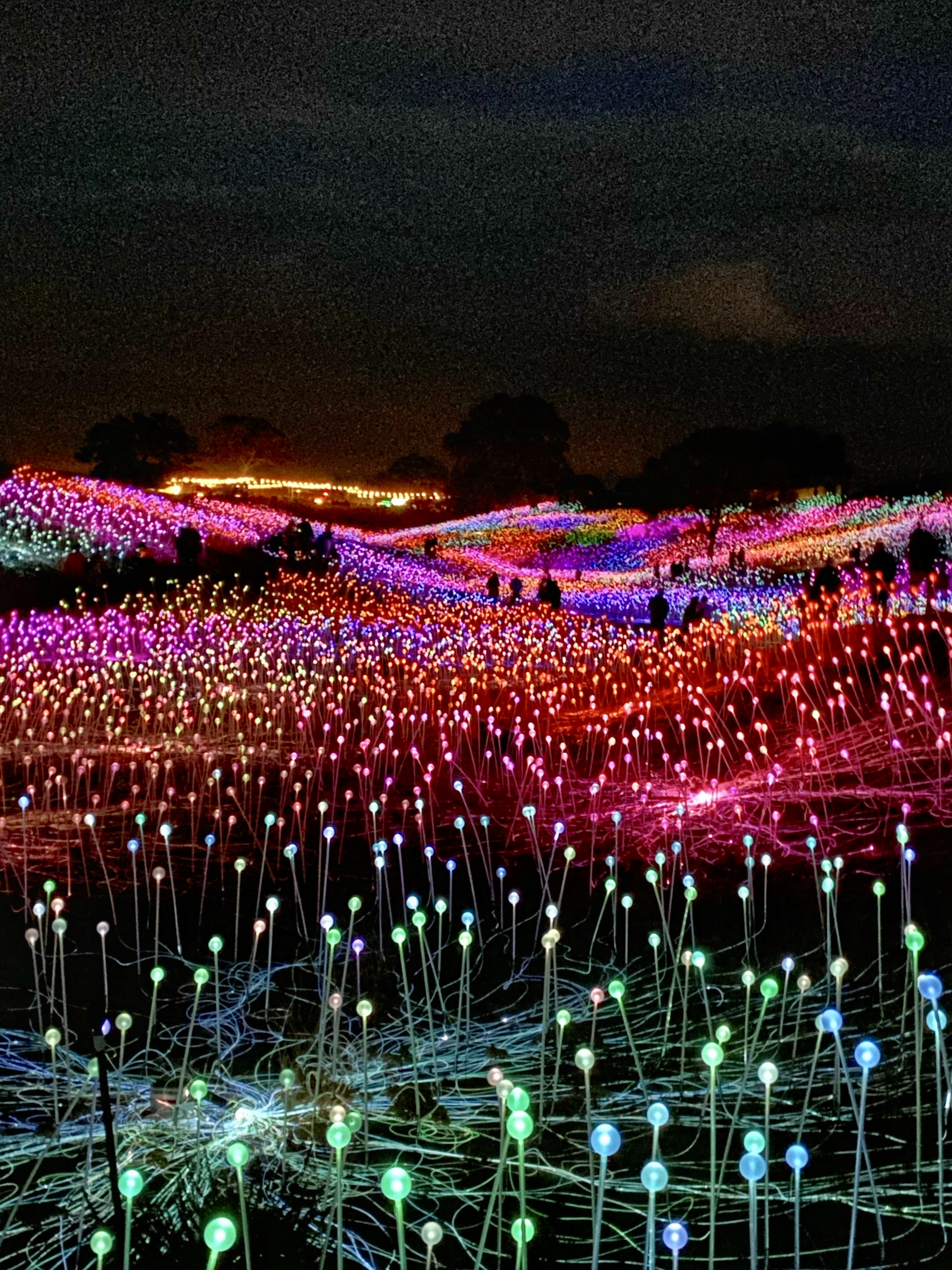 I want to share this wonderful exhibition with you! Especially for those of you in California, and on the West Coast of the US, I highly recommend making plans to visit Bruce Munro: Field of Light at Sensorio. It's worth the trip! (Note: I'm in LA and have already visited twice.)
Sensorio Paso Robles is Re-Opening On June 12th!
Disclosure: I was provided with 4 tickets for my family to visit Sensorio Paso in order to write about the art and light exhibit. No conditions were made; as always, all opinions are my own.
Girls Getaway Trip to Visit Sensorio Paso Robles
In November, I visited with my friend, Debbie, and had a mid-week "girls getaway," spending one night in Paso Robles. We visited Gary Kramer Guitar Cellars: "a high-end wine lounge, olive oil tasting room and guitar museum." Yes, you read that correctly! It's probably the only one of its kind in the world and whether you're an enophile or guitar enthusiast, you won't want to miss it.
I surprised Debbie with our visit to Sensorio Paso, and she was elated! She told me she had really wanted to visit, and we were amazed at the brilliant exhibition of lights. Definitely worth the drive! The next day, we headed to Cambria for lunch and stopped at the farmer's market before heading back to LA.
Family Trip to Visit Sensorio Paso Robles
In early March, we made a multi-generational trip to see the Sensorio Field of Light exhibit. My mother, father and goddaughter and I made the trip to Paso Robles together. We stayed at the Allegretto Vineyard Resort which is in very close proximity to Sensorio. It was a fabulous place to stay.
My goddaughter was excited about the entire trip and I just knew she would love the light display, but my parents were in awe.
Heading to Scotland between October 5th and November 5th, 2023?
DO NOT MISS The Enchanted Forest!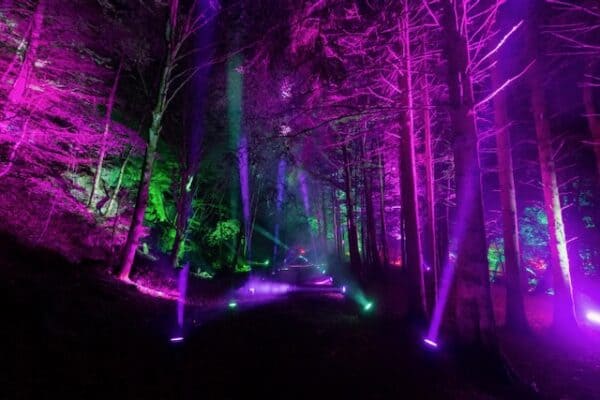 It is such a marvelous experience to enjoy with loved ones.
There are trails throughout the hillsides, and they will be one direction only.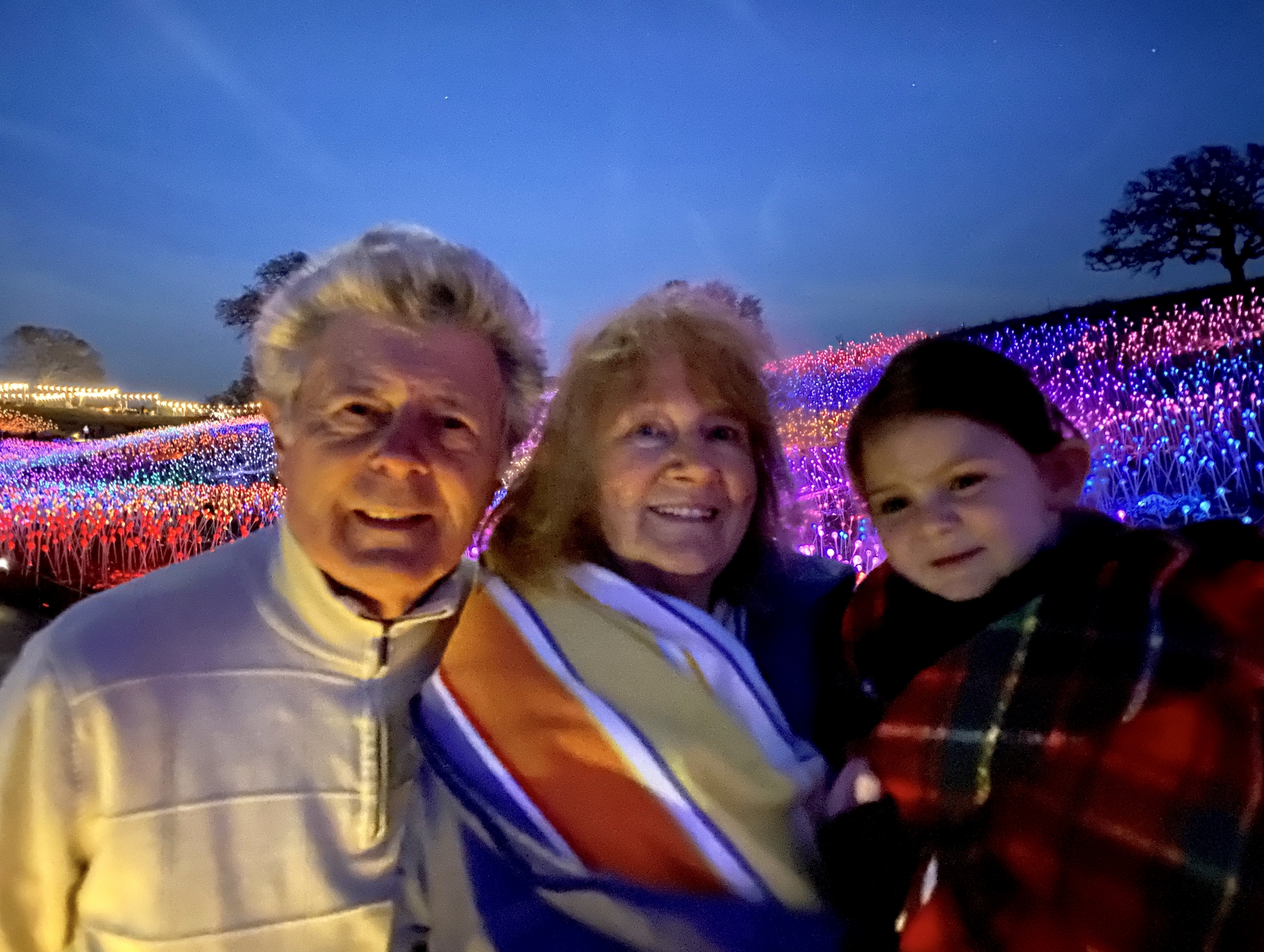 You can't see it here, but the lights change color! It's so subtle, you realize they are changing, but it's actually difficult to see happening! This was one of the most amazing parts of the display to me; it's extremely relaxing and peaceful. Don't expect a frenetic or psychedelic light show.
What is Sensorio?
Sensorio is incredibly unique: it is a solar powered light and art installation using over 58,800 stemmed fiber optic spheres spanning 15 acres of hillsides. The Guardian wrote, "This is art you feel, rather than art you view."
Who Created Sensorio?
Bruce Munro is the internationally-acclaimed artist behind the creation. He has had artwork displayed all over the world, but Sensorio is his largest work to date.
Where is Sensorio?
Located just outside downtown Paso Robles, Sensorio is less than three miles away. It's truly only a five minute drive, and parking is free.
Why Should I Visit Sensorio?
Honestly, if you are within driving distance, it's a shame to miss this. It's such a unique, enjoyable, relaxing and peaceful experience that is located in a fantastic destination, I think everyone would enjoy it. It pleases all age groups and is definitely something that will be talked about for years to come. If you don't believe me, Sensorio Paso was also listed in New York Times' "52 Places You Should Go in 2020" and a "pilgrimage-worthy art escape" that is "meant to complement, never compete or detract, from the beauty of the landscape"- Travel and Leisure.
When Can I Visit Bruce Munro: Field of Light at Sensorio?
Dates are currently June 12th, 2020 through January 3rd, 2021. Please visit the official website (link below) for details, and to avoid disappointment as the installation is not open 7 days a week.
Tips for Visiting Sensorio
Bring some warm clothes, just in case. It can get chilly in Paso Robles at night.
Wear comfortable and practical walking shoes. Don't wear flip flops; you'll be walking on trails at night.
Plan on staying a while: there's live music each night, and food and drink will be available.
Groups are currently limited to 6 people.
Do NOT use a flash when taking photos. Photos are allowed, flash is not. It ruins the ambiance for all.
My best tip? Go early! See all the photos I've captioned above, "Sensorio Paso at dusk"? You'll only see those if you go early. I loved seeing the California oak trees silhouetted against the sky with the lights just beginning to come to life!
More Information About Sensorio
To get all the information you will need about visiting Bruce Munro Field of Light at Sensorio, or to buy tickets (including children's and VIP tickets), click on the links below. Note: since Sensorio has reopened, there are new safety measures in place; please be sure to read the notices.
My goddaughter was inspired to draw our family at Sensorio when we went to dinner afterwards. I can't resist sharing this photo of this budding little artist!
Disclosure: I was provided with 4 tickets for my family to visit Sensorio Paso in order to write about the art and light exhibit. No conditions were made; as always, all opinions are my own. I am disclosing this in compliance with FTC