Scottish fern cakes are a classic tartlet that are still served in many bakeries in Scotland. I haven't found one single recipe online for the real deal, so I'm sharing this authentic recipe with you. I hope you give them a try!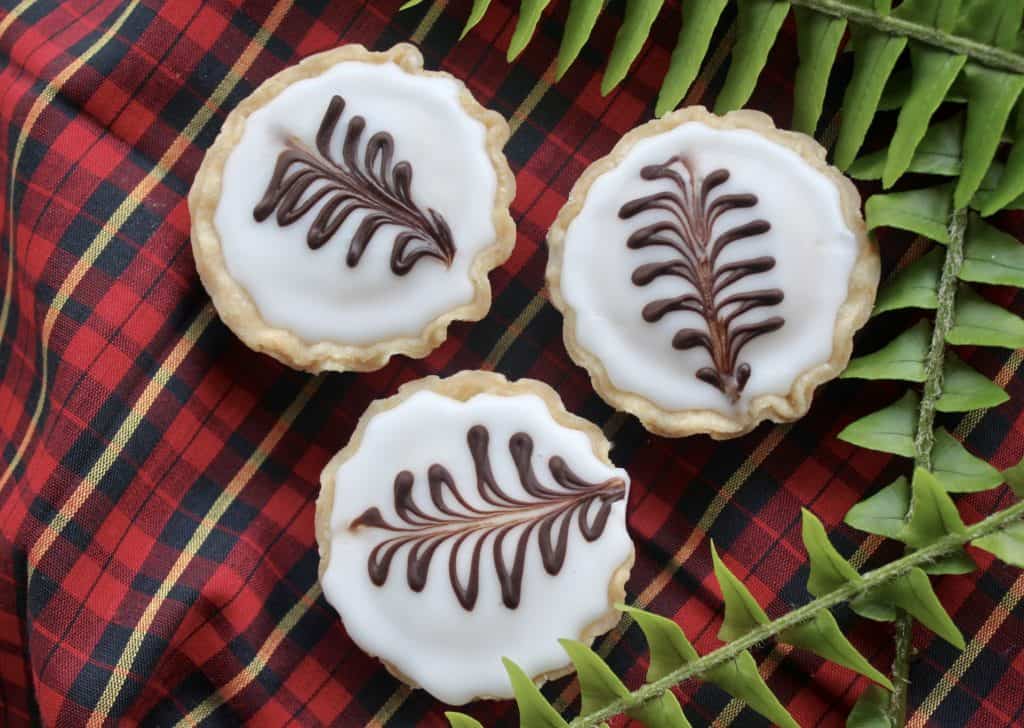 A few months ago, I had a request from a reader for a fern cake recipe as she simply couldn't find one.
As an Amazon Associate I earn from qualifying purchases.
UPDATE: I am delighted that my fern cake recipe now ranks #1 on Google search. The only fern cake that was on the internet when I posted my recipe was some concoction using a cake mix and it was not the traditional Scottish fern cakes I knew and loved. Now, if you look, you'll see loads of others who have taken my recipe and copied it. However, you're now looking at the original, so good for you!
Little did I know how much of an effort it would be to track down an authentic recipe! Yet, they were exactly what I had thought they were, and so simple to make.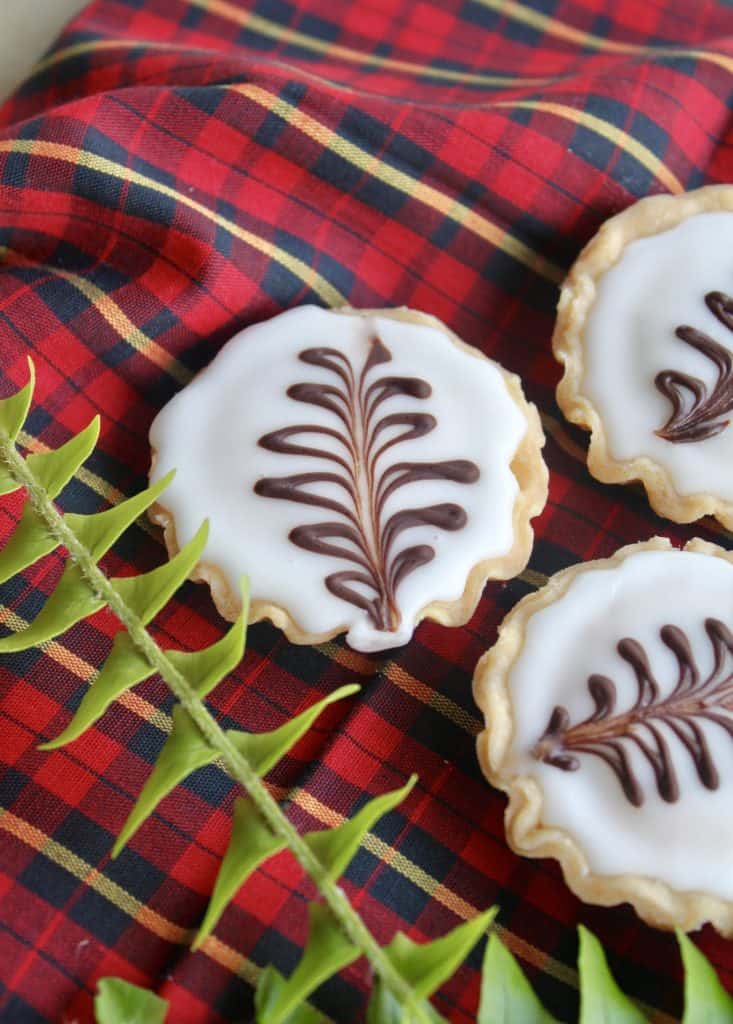 First, I went to google to see what was online. One recipe was all I found, and it made my hair stand on end! Ingredients like Crisco, white cake mix (WHAT?), coconut and walnuts!?! Sorry, this isn't even close to a Scottish fern cake! 🤐
This is an example of what makes me so upset when bloggers post recipes that they know nothing about. God only knows how many people have actually used this recipe and thought they were actually making Scottish Fern Cakes? It's unfair because readers are being duped.
Being close to Christmas, I had a brainwave: Christmas tree "Fern Cakes"!
The next thing I did was turn to my Scottish cookbooks, but none of them had a recipe. I suspected that they were Bakewell tarts decorated with icing and a chocolate fern design, but I had to be sure I would be sharing the correct recipe. So I then asked my mother and Scottish baker/friend, Lisa, to check their cookbooks: nothing.
At this point, I was getting desperate, so I posted a request in a Scottish Facebook group. Someone in Scotland said they'd ask their local baker for the recipe and buy a fern cake to "dissect" for me, but I never heard back. Finally, I asked a cousin in Scotland who told me that Christie the Baker in Coatbridge had them and someone she knew was going to check for me.

After waiting weeks, I decided to message the bakery directly and finally, I had the answer/recipe! They are indeed Bakewell tarts with the icing and chocolate fern design on top! I was informed that the jam should be raspberry or blackberry (I chose raspberry). A massive thank you to Christie the Baker for the information which will also be very useful to many others, I'm sure.
Without further ado, here is the much needed authentic Fern Cake recipe to all to share! If you do share, please credit my site so that Christie's receives credit, too. Thank you!
Scottish Fern Cakes Recipe
Adapted from this recipe and thanks to Christie the Bakers, Coatbridge Makes 24
FULL PRINTABLE RECIPE BELOW
Ingredients
Tart shells
all purpose flour
pinch of salt
good quality butter
sugar
Filling
raspberry or blackberry jam
butter
sugar
ground almonds/almond meal or almond flour
2 eggs (preferably organic)
almond extract (I used vanilla instead)
Icing
powdered/confectioner's sugar
water or milk
For the Fern Design
Make the tartlet shells.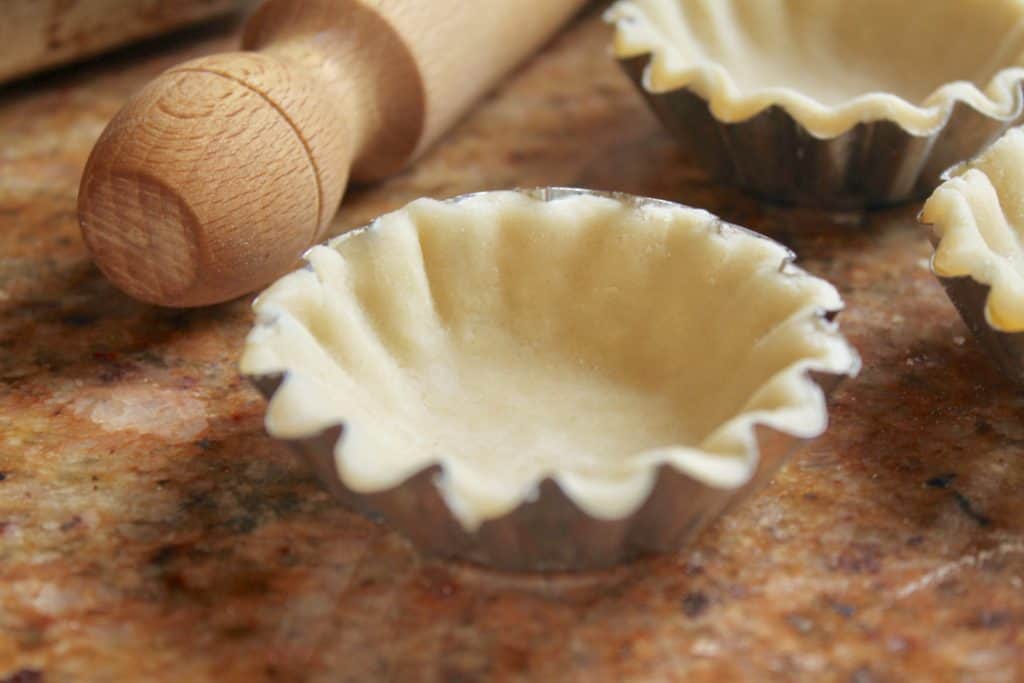 After preparing the shells, partially bake them.
Fill the shells for the Scottish Fern Cakes.
Put some raspberry or blackberry jam in the bottom of each tartlet shell.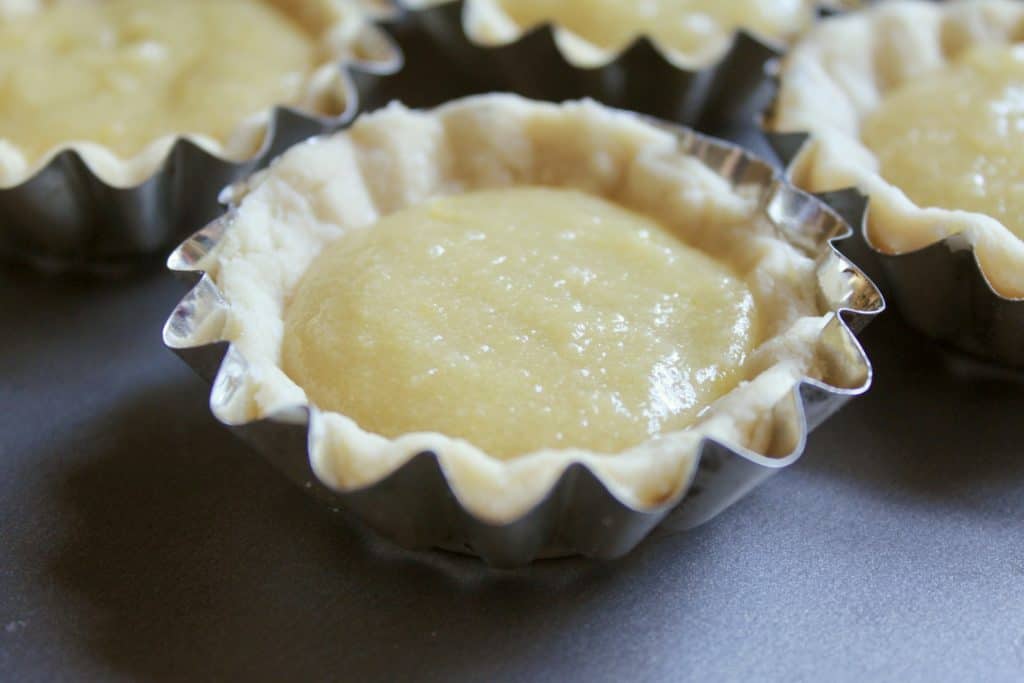 Make the frangipane and add some to the top of the jam (don't fill too high). If you're like me, and don't like almond extract, you can substitute vanilla. No matter if it's almond or vanilla, I recommend the Neilsen-Massey brand of extracts.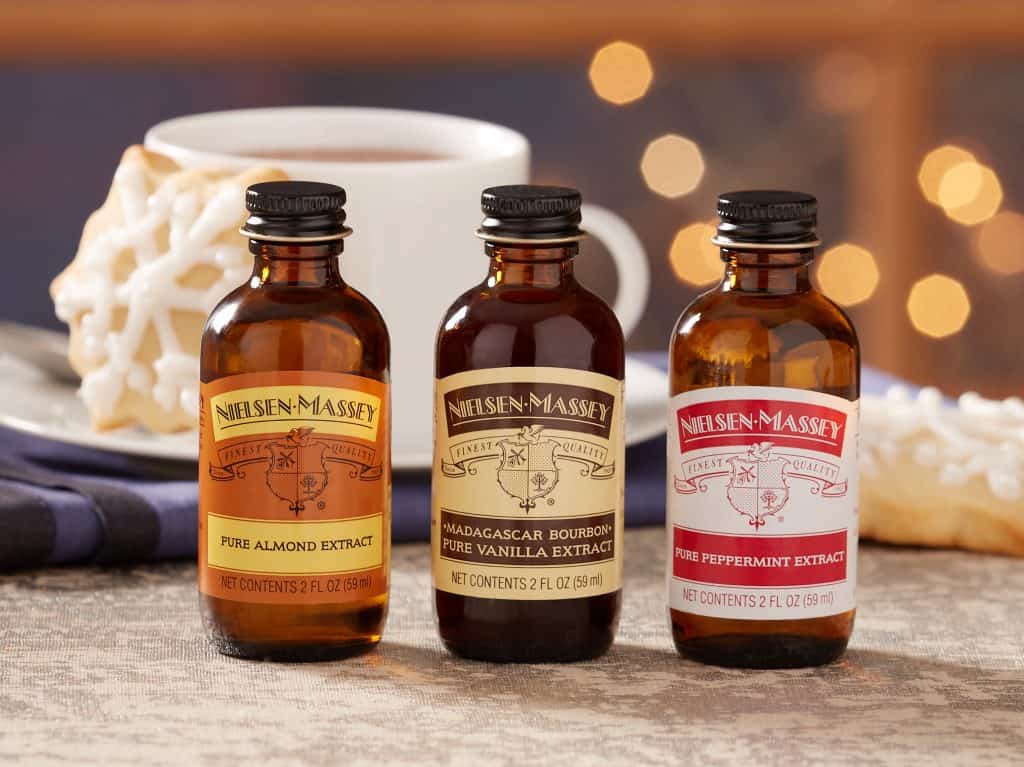 Bake the Scottish Fern Cakes.
Make the icing and chocolate, and decorate.
While the icing is still wet, draw a zig zag line down the center with melted chocolate (or green icing for a Christmas tree). Then pull a toothpick or knife down the middle to create the design.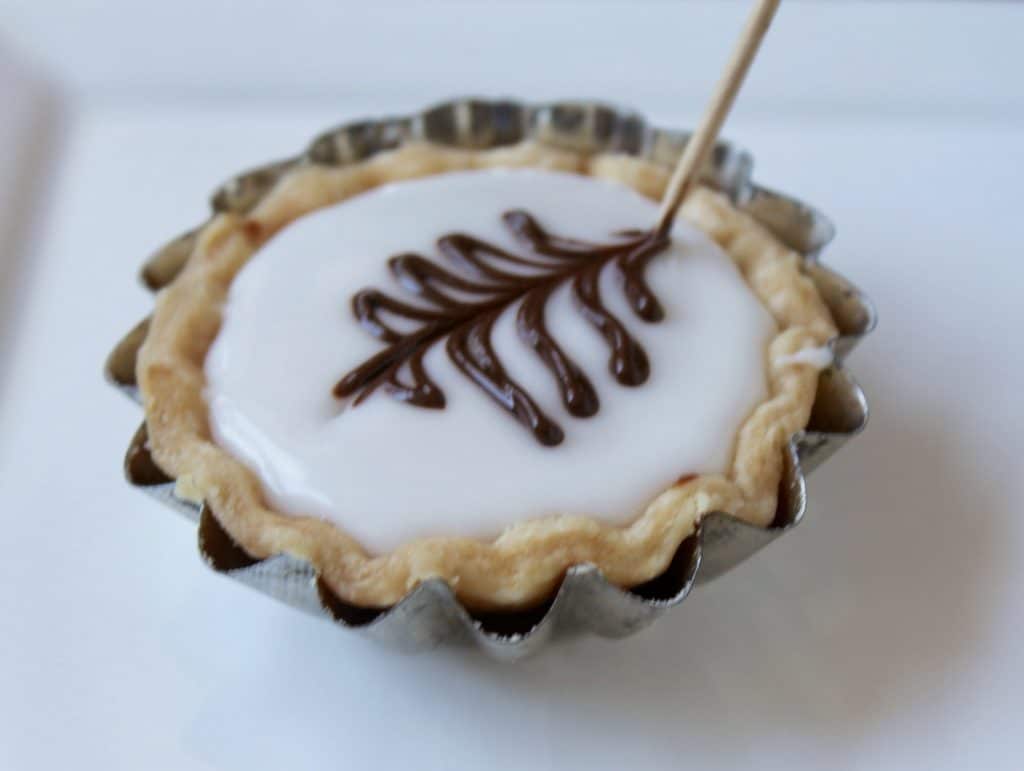 As you can see, they don't have to be perfect, but they still look good.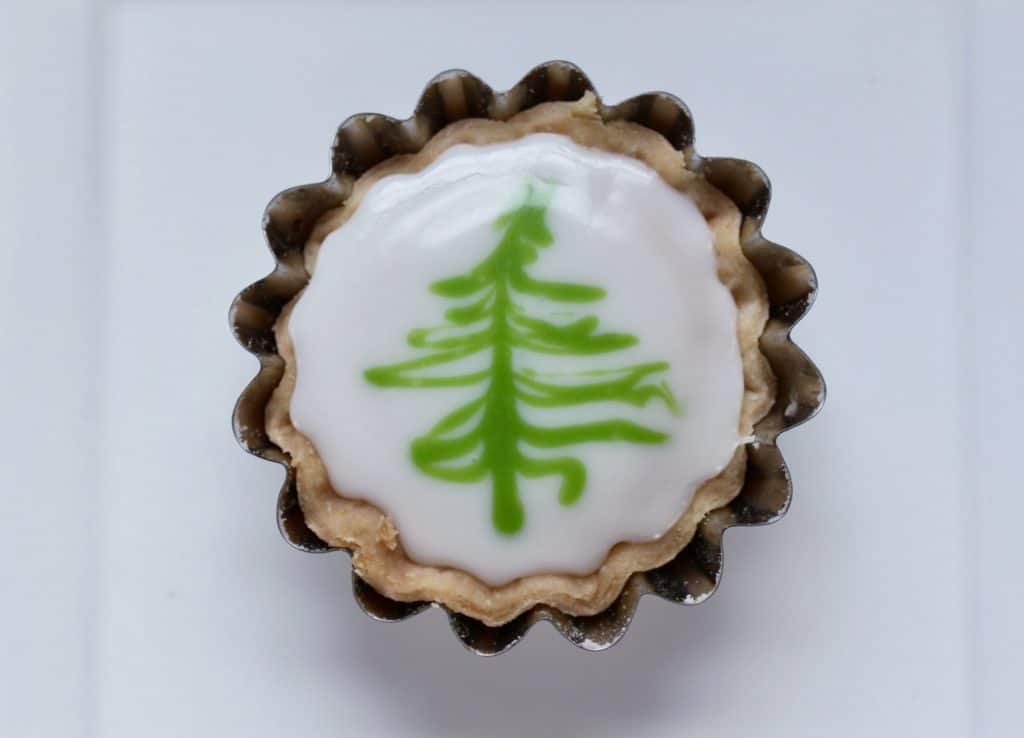 Allow the icing to set completely before serving, or storing in a tin. These will keep for at least a week.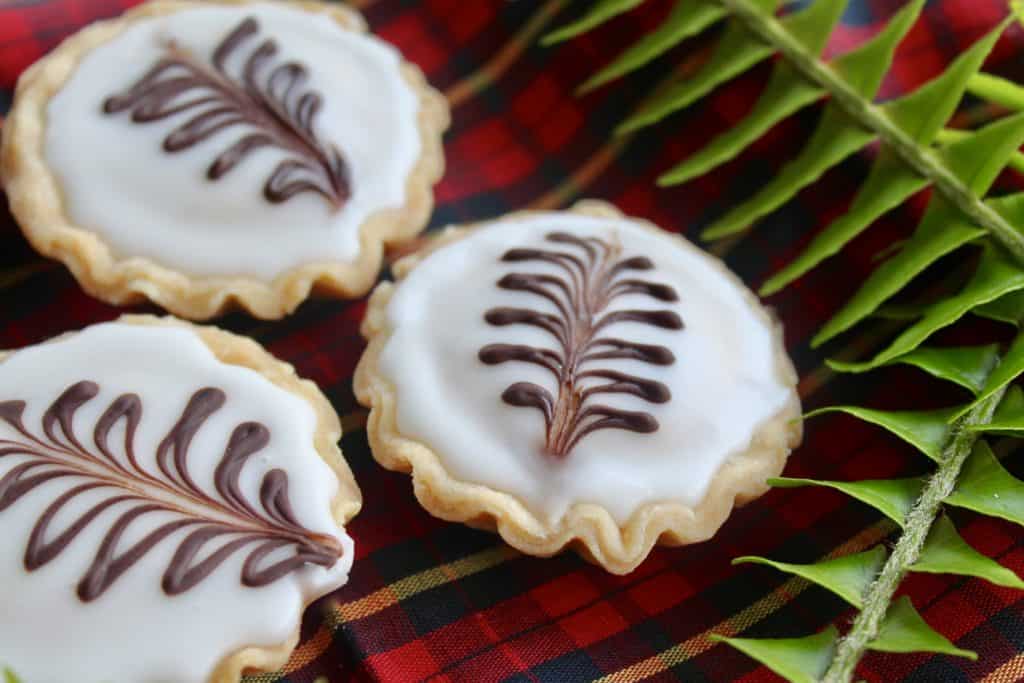 Don't forget to try this Christmas twist on Scottish Fern Cakes! Would be great as a gift on a lovely, festive plate.
Fern cakes in the ferns!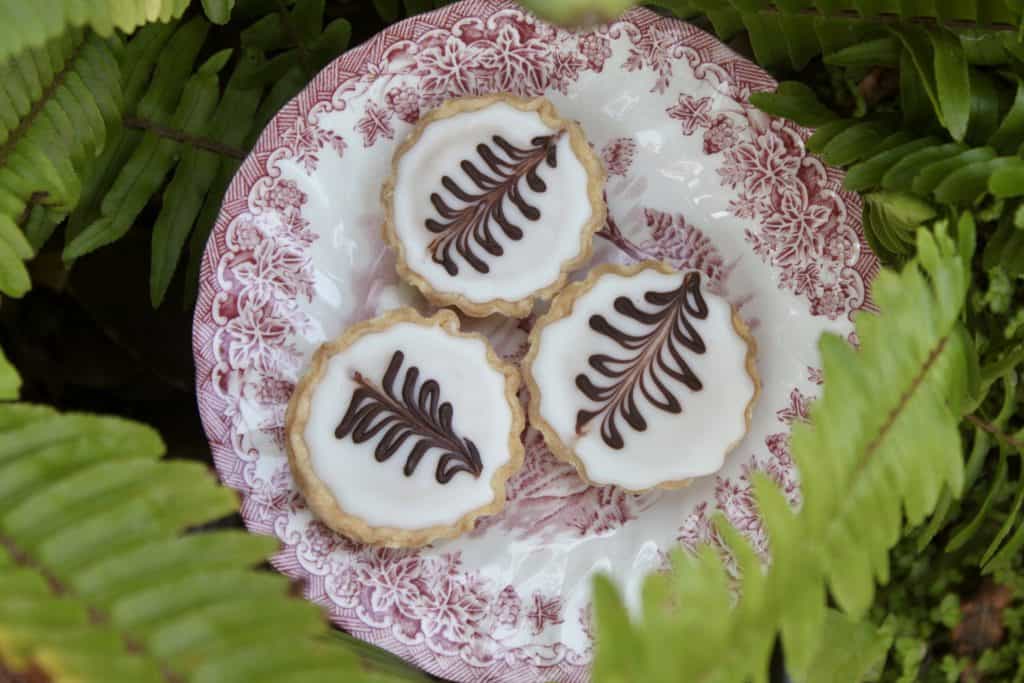 Enjoy this authentic Scottish Fern Cakes recipe with a cup of British tea!
Scottish Fern Cakes, a Bakery Classic
Additional Time:
5 minutes
A Scottish bakery classic pastry.
Ingredients
Tart Shells
2 cups (8 oz) all purpose flour
pinch of salt
one stick (4 oz) good quality butter (I use Kerrygold)
1 1/2 tsp sugar
3 to 4 Tbsp ice-cold water
Filling
3 to 4 tbsp raspberry or blackberry jam
1 1/2 stick (6 oz) butter
3/4 cup (6 oz) sugar
about 1 1/2 cups (6 oz) ground almonds/almond meal or almond flour also works (the cup measurement is NOT accurate because of the difference in ground almonds vs. almond flour and the fact that most measuring cups are not reliable. Please use a scale for best results.)
2 eggs (preferably organic), beaten
1/2 tsp. almond extract (I used vanilla instead, as it's not my favorite flavor)
Icing
2/3 cup (3 oz) confectioner's sugar
2 to 3 tablespoons water or milk
For the Fern Design
melted chocolate in a little plastic sandwish bag with a tiny bit of the tip cut off (or green icing)
Instructions
Preheat the oven to 200C/400F
Making the pastry
Place the flour and salt into a bowl and rub in the butter with your fingers until the mixture looks like fine breadcrumbs. Add the sugar, then add the water and mix gently to make a soft dough. (Or you can make it in a food processor, like this.) Let rest in fridge for 20 minutes or so.
Roll out the dough on a lightly floured surface. Cut into circles to fit your mini tins. Using a fork, press the tines into the bottom and sides of the pastry in the tin, then bake for about 15 to 20 minutes, until partially cooked. Remove and set aside.
Spread the jam on the bottom of the crust then make the frangipane filling.
Making the filling and baking
Melt the butter in a pot, remove from heat and stir in the sugar, ground almonds, egg and almond extract (if using.) Pour the mixture over the jam, but don't fill too full.
Reduce the oven temperature to 350°F(180°C) and bake for about 20 minutes, until golden-brown and a skewer pushed into the middle comes out clean. Remove from the oven and leave to cool completely in the pan.
Making the icing and decorating.
Make the icing so that it's rather thick, but still runny, and cover each tartlet with the icing.
Immediately draw a design of zig zag lines on the center of the tart, then drag a toothpick or knife thought the design. Allow to set completely before serving or storing.
Notes
Regarding the cup measurements. Please read this to understand what I mean about the cups not being reliable.
You might want to read the article about how a scale will change your life, too.
Nutrition Information:
Yield:

24
Serving Size:

1
Amount Per Serving:
Calories:

149
Total Fat:

10g
Carbohydrates:

11g
Protein:

1.5g
Sign up for my free subscription below and never miss another food or travel post!
PIN FOR LATER!
Christina's Cucina is a participant in the Amazon Services LLC Associates Program, an affiliate advertising program designed to provide a means for sites to earn advertising fees by advertising and linking to Amazon.com.