Typsy Laird is simply a boozy Scottish trifle that is perfect as an end to a Christmas and/or Burns Night dinner. Be forewarned, this sweet is not suitable for children!
If you're into Drambuie and Scottish food, this recipe is going to knock your socks off! It's a wonderful trifle that has "Scotland" written all over it. I've adapted the original recipe to make it much easier, too.
As an Amazon Associate I earn from qualifying purchases.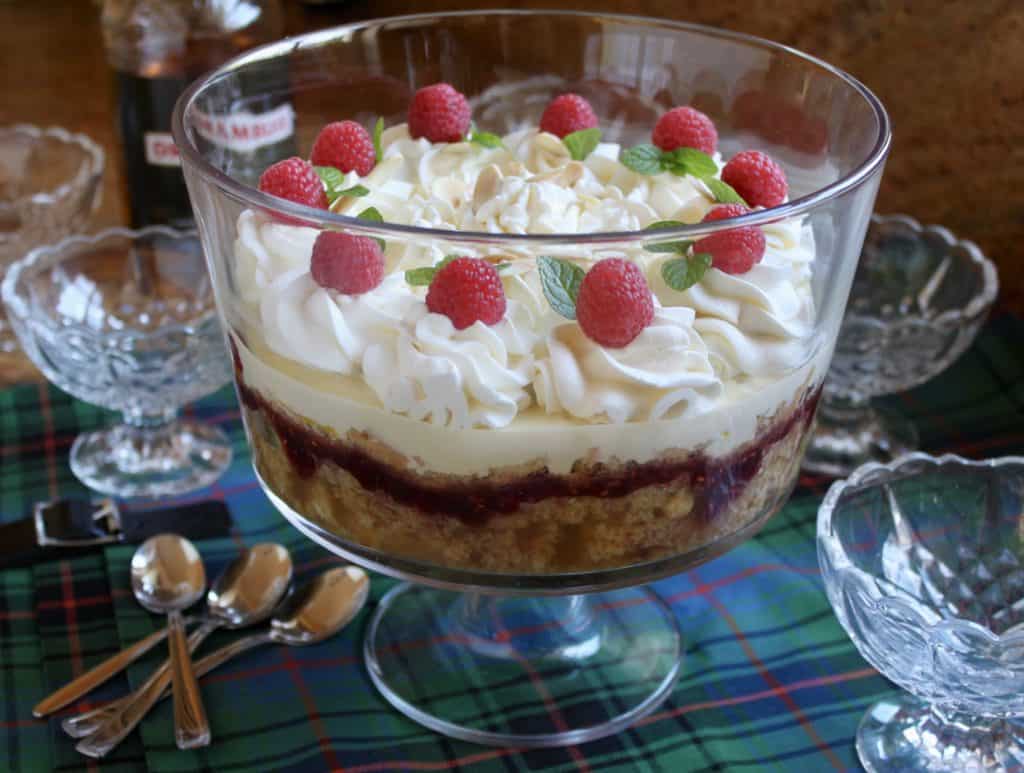 Personally, I just love everything about trifle, from the sherry soaked cake, fruit, custard and of course, the freshly whipped cream on top. This particular Scottish trifle isn't called Typsy Laird for nothing: the cake is generously doused in Sherry and Drambuie (a Scotch whisky liqueur infused with heather honey, herbs and spices). Even the cream on top has Drambuie whipped into it!
I tried to find the origin of the name, Typsy Laird, but couldn't find anything, so we're left to make assumptions! I'm guessing someone added a bit too much alcohol to the Scottish trifle one night, and the laird of the estate got inebriated, but everyone loved it! What do you think?
Need an alcohol-free dessert for children? You can either make an English trifle (sans Sherry) or these.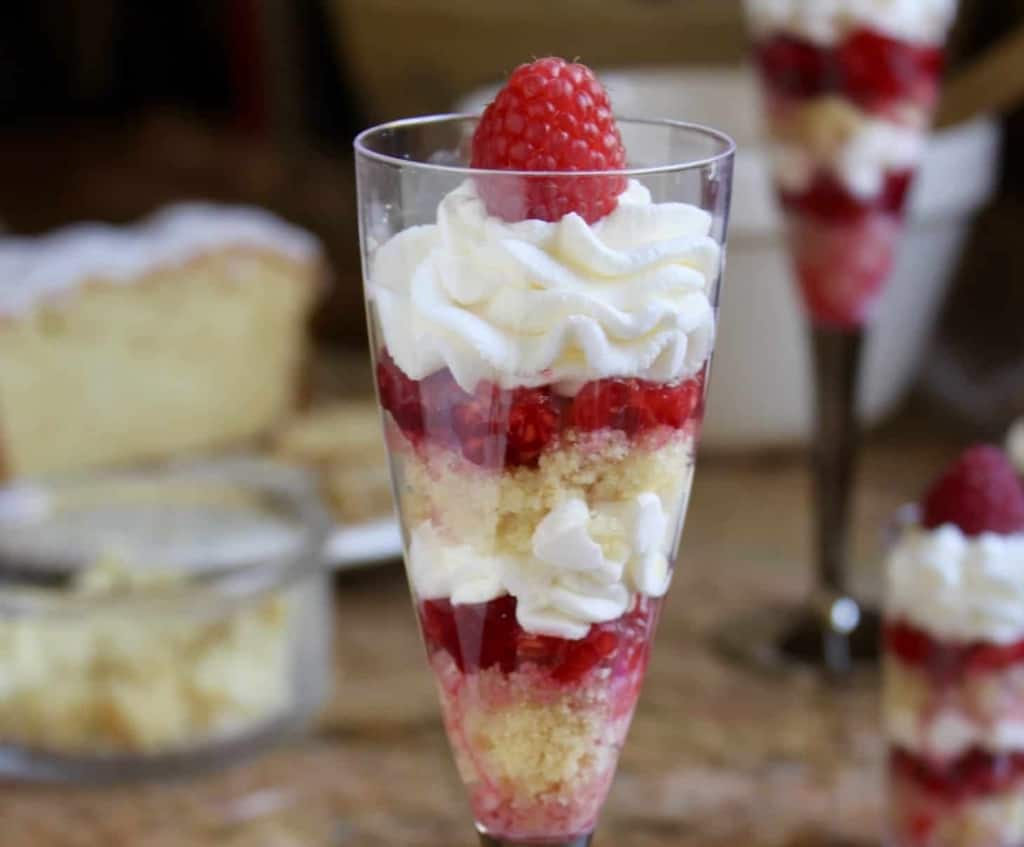 The original recipe has ratafia biscuits in it. To be honest, I had to look up what they were. Apparently, they're very similar to Italian Amaretti. You can use purchased ratafia or Amaretti biscuits or make your own. Since I'm not fond of the almond flavor in these biscuits, I used ladyfingers, but you can use any dry biscuit you like.
Typsy Laird, Authentic Scottish Trifle
adapted from A Feast of SCOTLAND recipe by Janet Warren
full printable recipe below
NOTES: 1. You can make one large Scottish trifle, or 6 individual servings (or even more miniature sized trifles).
2. Be sure to start this a day ahead of when you plan to serve it. All trifles are better when they're not freshly made.
Special equipment: large glass bowl, or individual glass (or crystal) bowls (you need to see the layers in a trifle)
There are three steps to making Typsy Laird ~
1. Build the base.
Just as any other trifle recipe, the amount of the ingredients isn't crucial. Place pieces of sponge cake in the bottom of the trifle bowl.
Put the Sherry and Drambuie in a measuring jug. Heat the jam slightly and add some of the liquor to make it a bit more runny. Pour the jam over the cake. Sprinkle the crushed biscuits over the jam.
Next, pour the Sherry and Drambuie over the top. Leave it to soak.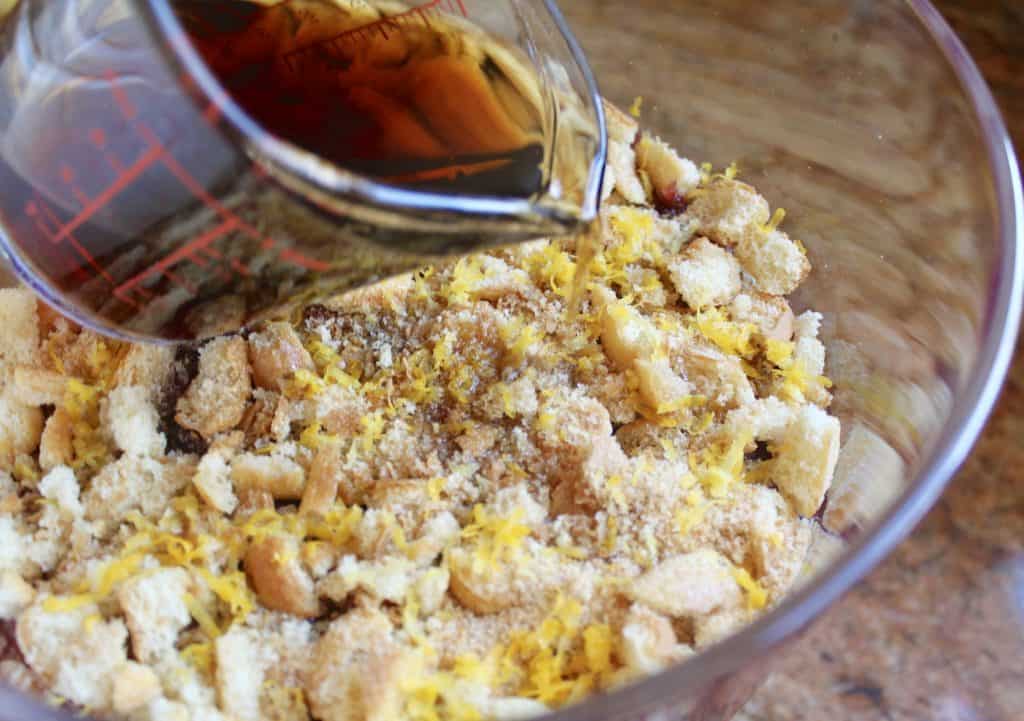 2. Make the custard.
You'll need twice the amount of custard as is made with this recipe.
Make it as follows (printable recipe below), then transfer to a bowl to cool it a bit before adding it to the top of the Typsy Laird. Cover and refrigerate overnight, or at least 8 hours. You can add raspberries around the edge of the bowl for a little extra color if you like.
3.Top with the whipped cream.
Whip the cream with a little Drambuie added (1 or 2 teaspoonfuls). Spoon or pipe onto the top of the Scottish trifle. You can add a little sugar to the cream if you like, but there is no mistake here. Traditionally, sugar isn't added to whipped cream in Scotland, and there's enough sugar in the cake and biscuits already.
Decorate with toasted almond slices, raspberries and mint leaves.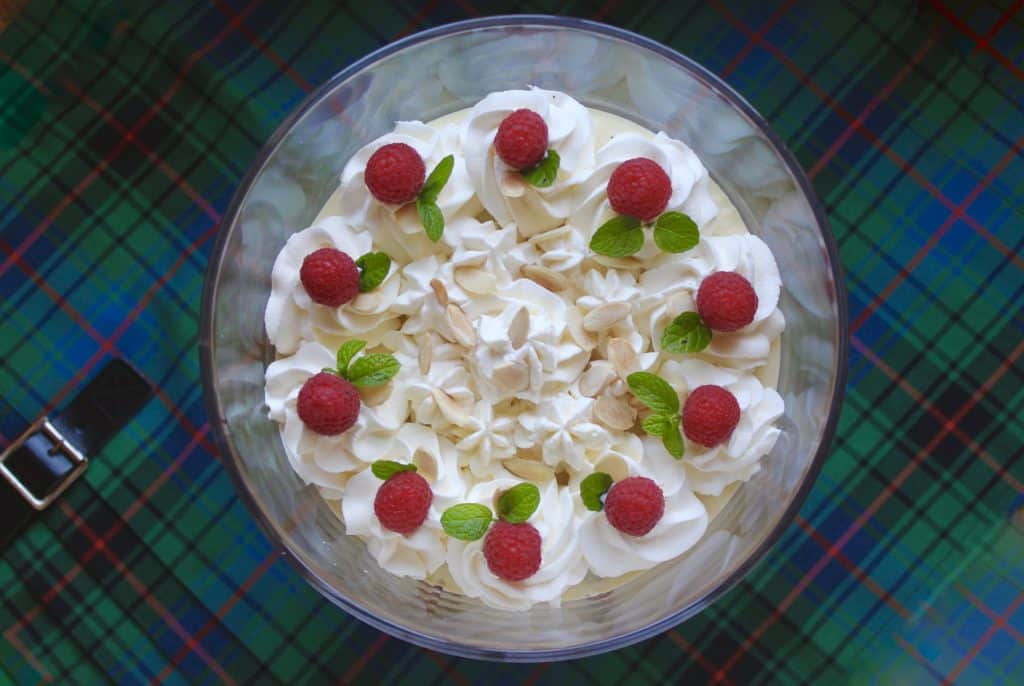 Keep refrigerated until ready to serve, and make sure no one's driving after having this dessert!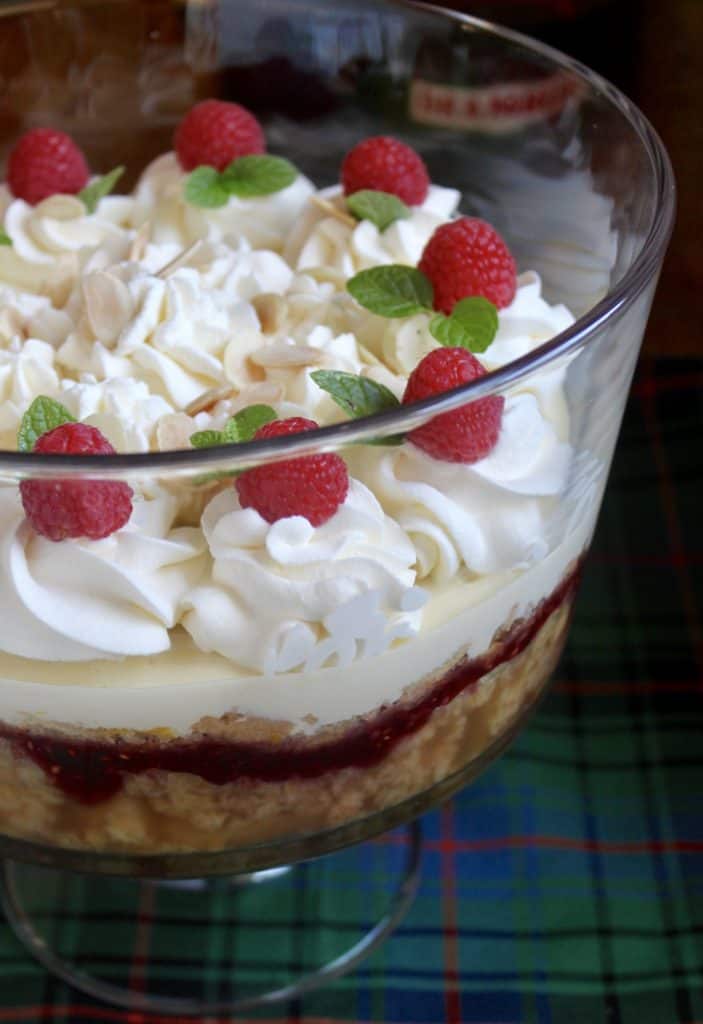 My friend Cynthia at What a Girl Eats also has a very popular trifle recipe!
Typsy Laird, Authentic Scottish Trifle for Christmas and Burns Night
Yield:
1 large or 6 individual
A boozy Scottish trifle that's perfect for Christmas or Burns Night.
Ingredients
Base
12 oz (more or less) sponge or pound cake
5 oz Sherry
2 oz Drambuie
8 oz raspberry jam
finely grated rind of a fresh, organic lemon
2 oz (about 6 ladyfingers)
Custard
4 egg yolks
20 oz milk
3 tsp sugar
1/2 tsp vanilla
Cream topping
8 oz heavy whipping cream
1 or 2 tsp Drambuie
Instructions
Assemble the base
Break the sponge cake into pieces and place on the bottom of a trifle bowl (or individual bowls).
Place the Sherry and Drambuie in a measuring jug. Heat the jam slightly and add a little of the liquor to make it a bit runny. Pour the jam over the cake evenly.
Add the crushed biscuits on top of the jam and sprinkle the lemon rind over the biscuits.
Next, douse the liquor over the top of the crushed biscuits. Leave to soak.
Make the custard
(see the other recipe card)
Put the hot custard into a bowl to cool a little, stirring constantly, before adding to the top of the trifle base. Cover and refrigerate overnight (at least 8 hours).
Top with cream
Whip the cream and 1 or 2 tsp of Drambuie. (If desired, you can add some raspberries on top of the custard to add a little more color.) Spoon or pipe the whipped cream onto the top of the trifle. Decorate with almonds, raspberries and mint leaves.
Nutrition Information:
Yield:

6
Serving Size:

1 bowl
Amount Per Serving:
Calories:

590
Total Fat:

26g
Saturated Fat:

14g
Trans Fat:

1g
Unsaturated Fat:

10g
Cholesterol:

220mg
Sodium:

465mg
Carbohydrates:

72g
Fiber:

1g
Sugar:

42g
Protein:

11g
Real, Homemade Custard
A creamy egg dessert that can stand on its own, but it wonderful when served on many fruit desserts, in trifles and much more.
Ingredients
1¼ cups (10 oz) milk (I use whole milk)
½ vanilla bean or a few drops of vanilla (the bean will taste much better)
2 egg yolks
2 to 3 tsp sugar, depending on you sweet you like it
1 tsp corn starch
Instructions
Split open the vanilla bean and place in a small pot along with the milk. Heat over medium low heat, meanwhile, prepare the rest of the custard.
In a small bowl, whisk the yolks, sugar and corn starch together until well combined.
When the milk begins to simmer, remove the vanilla bean and pour about half a cup of hot milk into the egg mixture, whisking quickly. Add the rest of the milk, then whisk and return to the pot.
Heat over medium heat and continue stirring, taking care that the custard doesn't stick or burn, using a wooden spoon is best at this point (the photo below is before I switched to the wooden spoon)! Add the vanilla extract if not using the vanilla bean. Continue to stir until the custard begins to thicken.
Remove from heat, use as desired. If pouring over a dessert, use immediately.
Nutrition Information:
Yield:

4
Serving Size:

3 ounces
Amount Per Serving:
Calories:

141
Total Fat:

4g
Saturated Fat:

2g
Trans Fat:

0g
Unsaturated Fat:

2g
Cholesterol:

98mg
Sodium:

45mg
Carbohydrates:

18g
Fiber:

3g
Sugar:

3g
Protein:

8g
MERRY CHRISTMAS!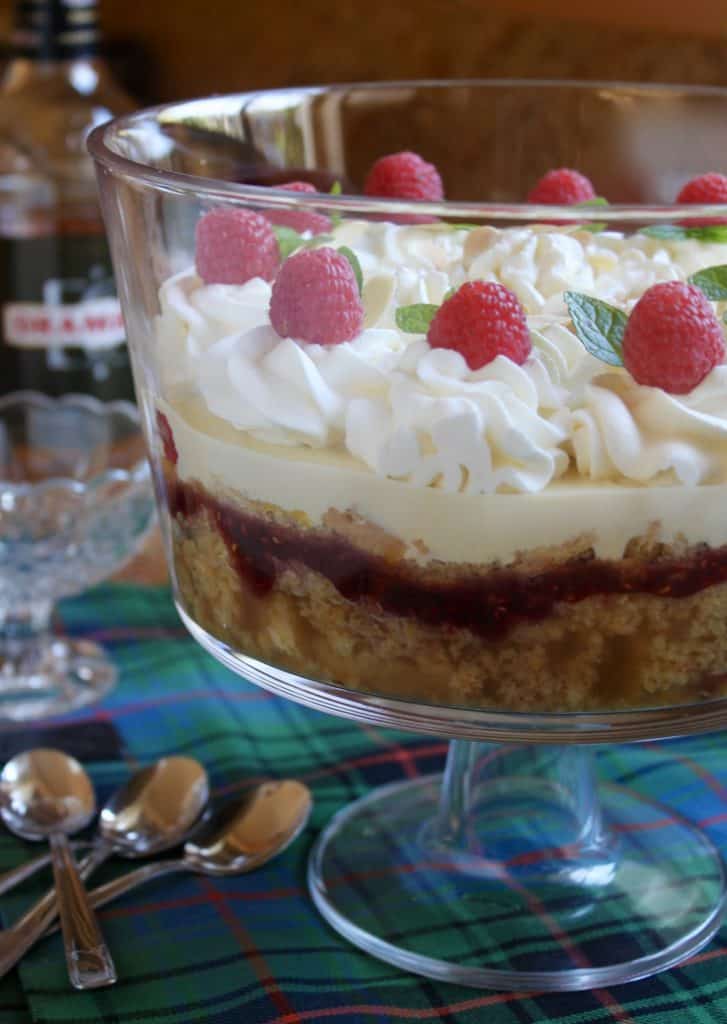 Christina's Cucina is a participant in the Amazon Services LLC Associates Program, an affiliate advertising program designed to provide a means for sites to earn advertising fees by advertising and linking to Amazon.com.
PIN FOR LATER