Authentic Millionaire's Shortbread, or Caramel Shortcake, as it's sometimes called, is a classic Scottish treat. Why make a faux version of this recipe when you can make this authentic Scottish version?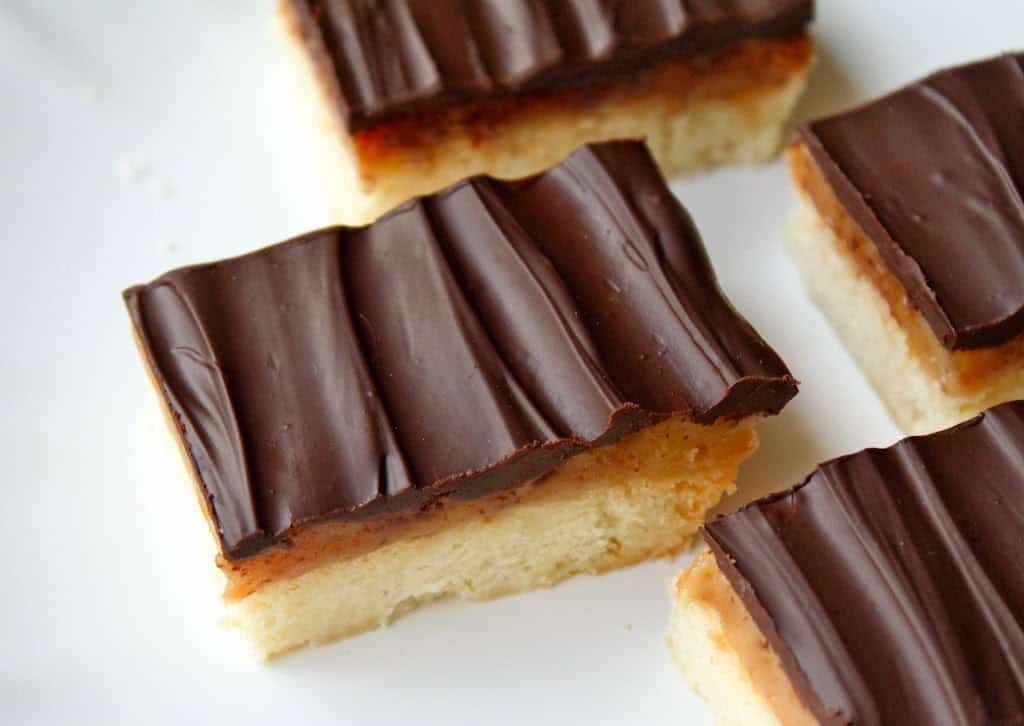 Originally published January 23, 2014
If you have a sweet tooth, or know someone who does, then this authentic Millionaire's Shortbread is sure to be a recipe you'll want to try.
As an Amazon Associate I earn from qualifying purchases.
I've seen lots of recipes for what is supposed to be Millionaire's Shortbread, but they simply don't make the cut. In fact, one of the top recipes from a google search brings up a recipe which is called "Millionaire's Shortbread".
Authentic Scottish Shortbread made with 3 ingredients.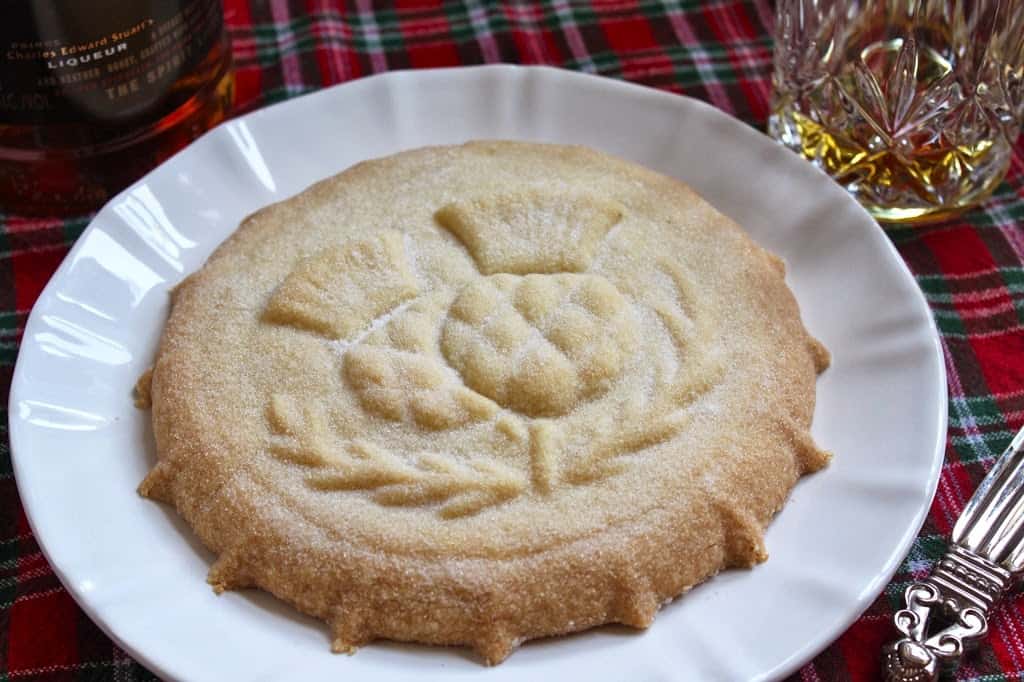 However, the shortbread shouldn't have 7 ingredients in it. The caramel shouldn't have corn syrup in it, and the chocolate topping isn't just chocolate, but a ganache and it's topped with salt. JUST NO. I'm not saying the recipe is bad, I'm saying it's not Millionaire's Shortbread.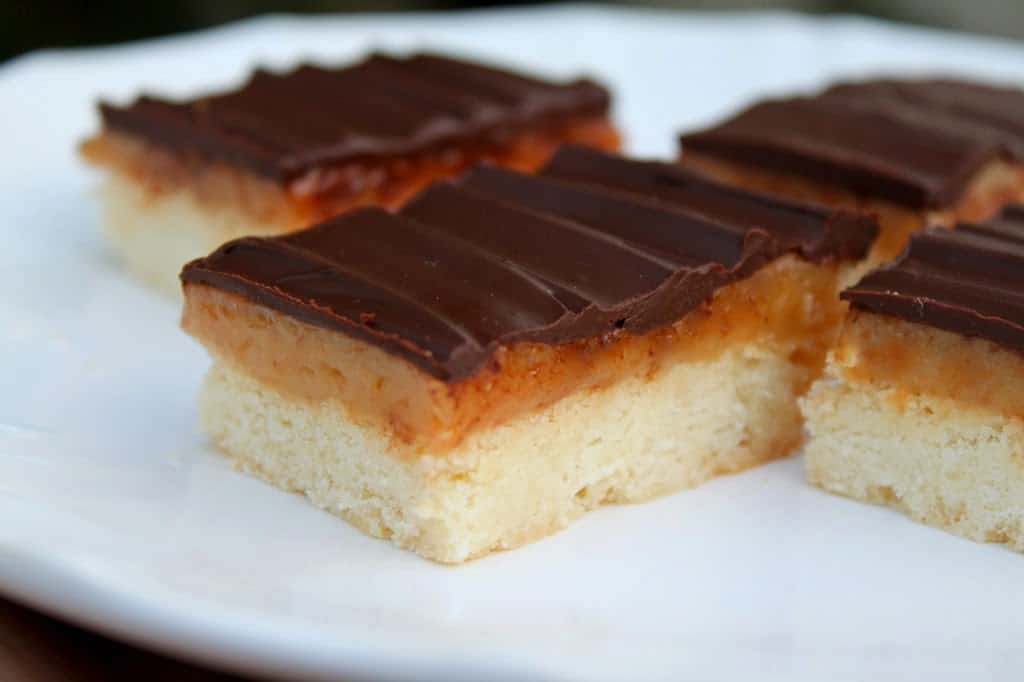 This is a simpler, more "well-adjusted" shortbread recipe, because the shortbread is, well–actually shortbread. Why call something a peanut butter and jelly sandwich when there's no peanut butter in it? It makes no sense. This recipe comes from Melanie Andrews, a Scottish baker and tea room owner for over 25 years in Helensburgh, Scotland. How much better can you get?
It's my duty as a Scot to let you know things like this about mangled Scottish recipes, the same as I do when I find ridiculous recipes pretending to be "Italian".
These Millionaire's shortbread bars are great in lunch boxes, for bake sales, cookie exchanges, holiday gifts and so much more. They keep well for more than a week if they're kept in an airtight tin.
Millionaire's Shortbread aka Caramel Shortcake
slightly adapted recipe by Melanie Andrews
printable recipes below
Make the shortbread base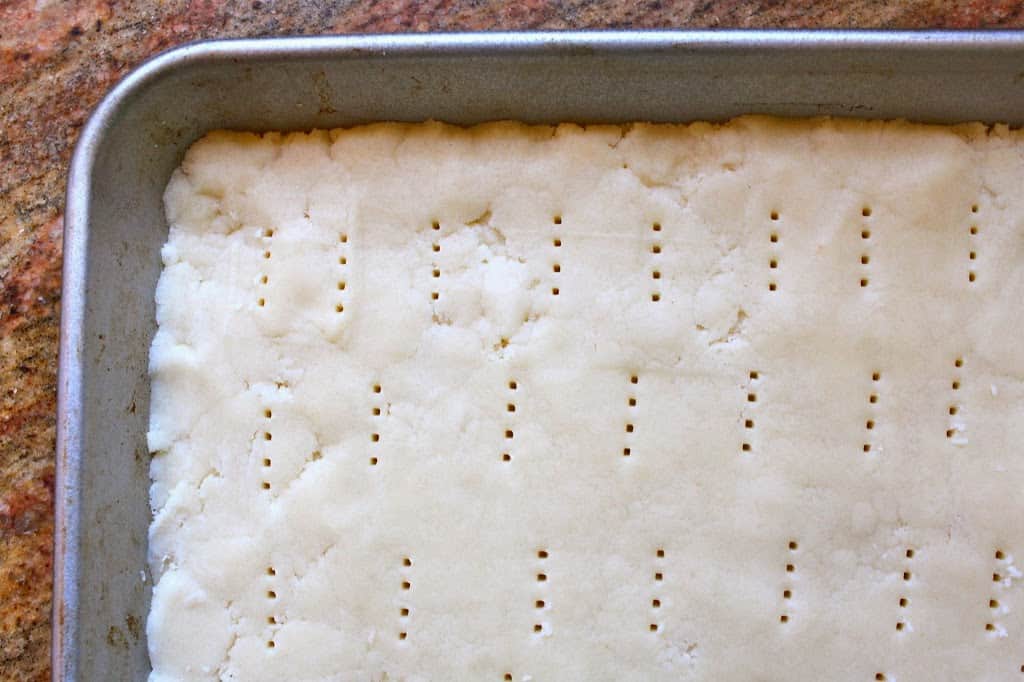 Make the caramel.
Spread the caramel on the shortbread base and cool.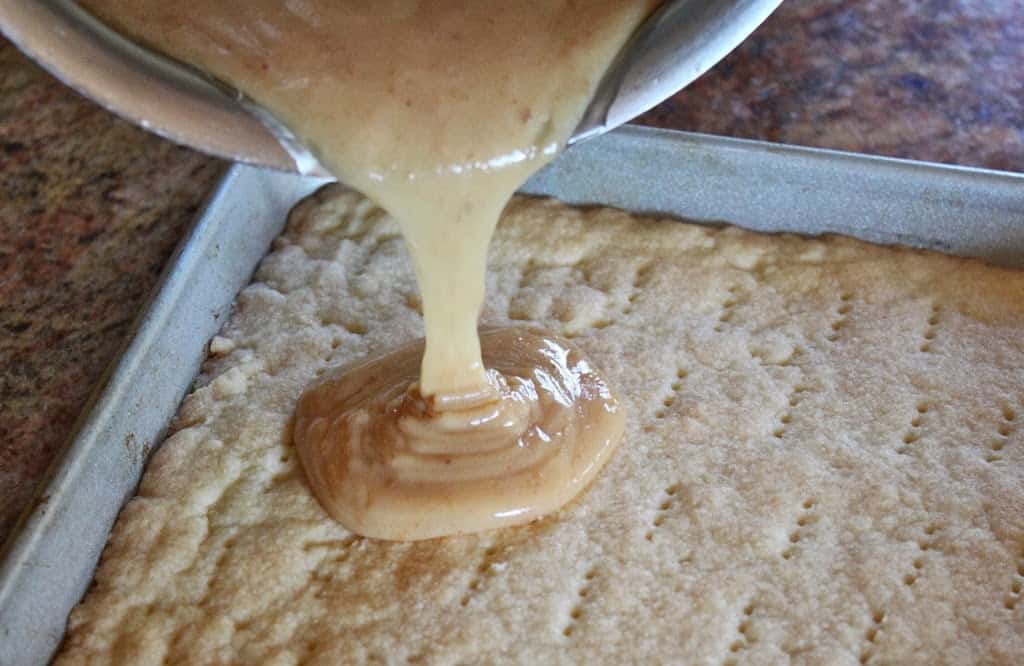 Top with good quality melted chocolate.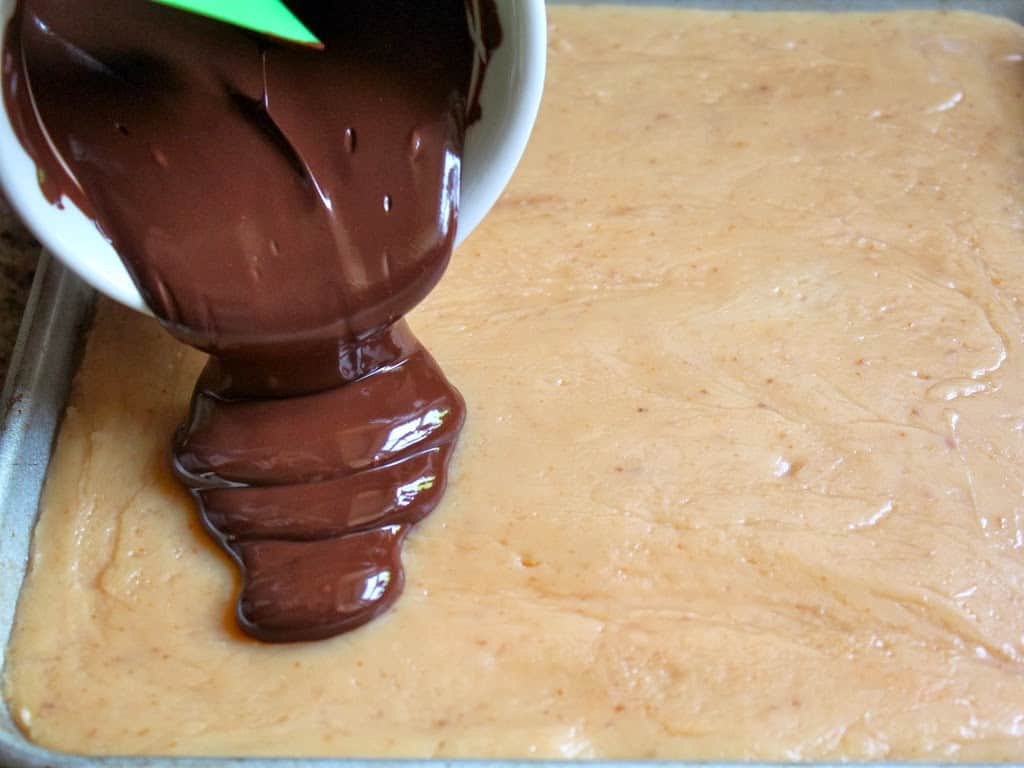 When cool, cut into bars.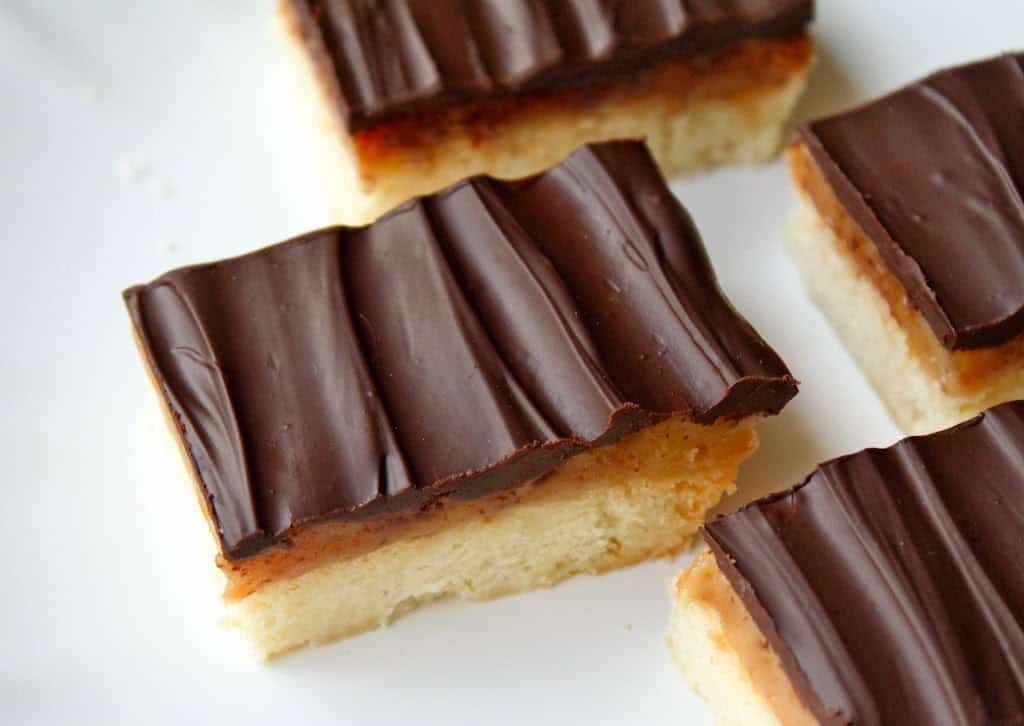 You know this isn't the last time you're going to make these, right?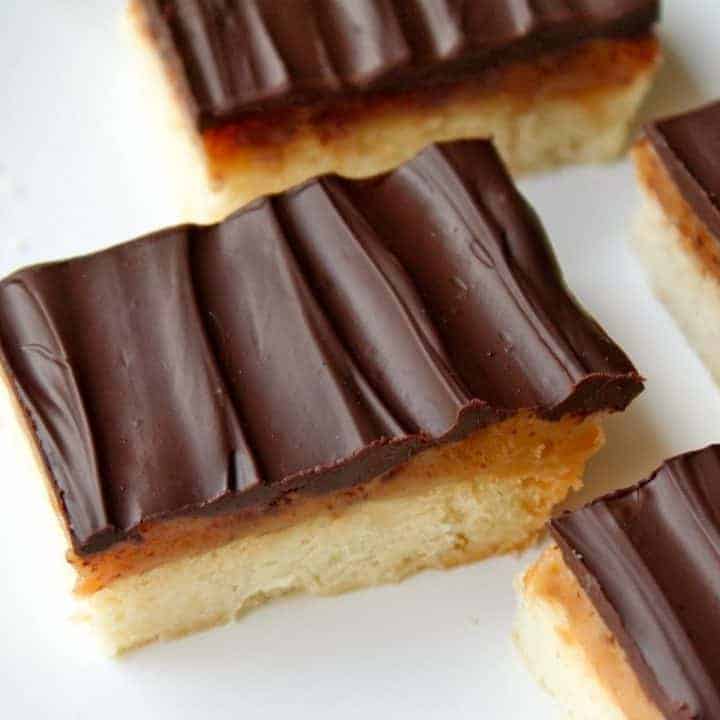 Authentic Millionaire's Shortbread or Caramel Shortcake (Shortbread with Caramel and Chocolate)
A rich Scottish treat with a shortbread base.
Ingredients
one recipe of Butter Shortbread (below)
Caramel Layer
6 oz butter (1 1/2 sticks)
6 oz (3/4 cup) sugar
3 tbsp Lyle's Golden Syrup (available in British or specialty shops) omit if you cannot find it
7 fl oz (3/4 of 14 oz can/bottle) condensed milk
8 oz (1 cup) good quality chocolate (for top layer)
Instructions
Preheat oven to 350º F (170º C)
Make the Shortbread
Press the shortbread into an 9" x 11" baking tray.
Lightly prick with a fork and bake for about 20 minutes. Set aside to cool.
Make the Caramel
Put the butter, sugar, Golden Syrup and condensed milk in a heavy bottomed pan and heat to bubbling, then simmer, stirring constantly, until thick and golden brown in color (about 30 mins).
Pour caramel over cooled shortbread, and set aside to cool.
Finish the bars
When the caramel has set, melt the chocolate (I put it in the microwave on "defrost") and spread it evenly over the top of the caramel layer.
Refrigerate before cutting into slices.
Store in an airtight tin.
Nutrition Information:
Yield:

20
Serving Size:

1 bar
Amount Per Serving:
Calories:

256
Total Fat:

13g
Saturated Fat:

8g
Trans Fat:

0g
Unsaturated Fat:

4g
Cholesterol:

32mg
Sodium:

106mg
Carbohydrates:

32g
Fiber:

0g
Sugar:

30g
Protein:

3g
Scottish Shortbread Recipe
How to Make Shortbread and The Scottish Baking Awards 2014
Yield:
1 large shortbread
Classic and authentic Scottish Shortbread recipe containing only three ingredients: flour, butter and sugar.
Ingredients
12 oz all purpose flour
4 oz sugar
8 oz (2 sticks) butter, softened
a little extra sugar for sprinkling on top of baked shortbread
Instructions
Heat oven to 375º F (190 ºC)
Mix all the ingredients together by hand or mixer, to a stiff dough.
Roll out into fingers, shape into a round and score into triangle shapes, or press into a 7"x10" tray or press into a shortbread mold (brush the mold with a little oil, and sugar first).
If your shortbread doesn't have a pretty design, prick it with a fork.
Place in preheated oven for 25 to 30 minutes or until slightly brown on edges.
Sprinkle with sugar immediately upon removing from the oven.
Let cool on tray before moving to rack to cool completely.
Nutrition Information:
Yield:

8
Serving Size:

1 piece
Amount Per Serving:
Calories:

389
Total Fat:

24g
Saturated Fat:

15g
Trans Fat:

1g
Unsaturated Fat:

7g
Cholesterol:

61mg
Sodium:

188mg
Carbohydrates:

41g
Fiber:

1g
Sugar:

13g
Protein:

4g
Christina's Cucina is a participant in the Amazon Services LLC Associates Program, an affiliate advertising program designed to provide a means for sites to earn advertising fees by advertising and linking to Amazon.com.