Sheila's chocolate trifle is a twist on a British classic, and the chocolate flavor is fantastic with the other parts of this trifle. Add some chocolate buttons for a truly British dish!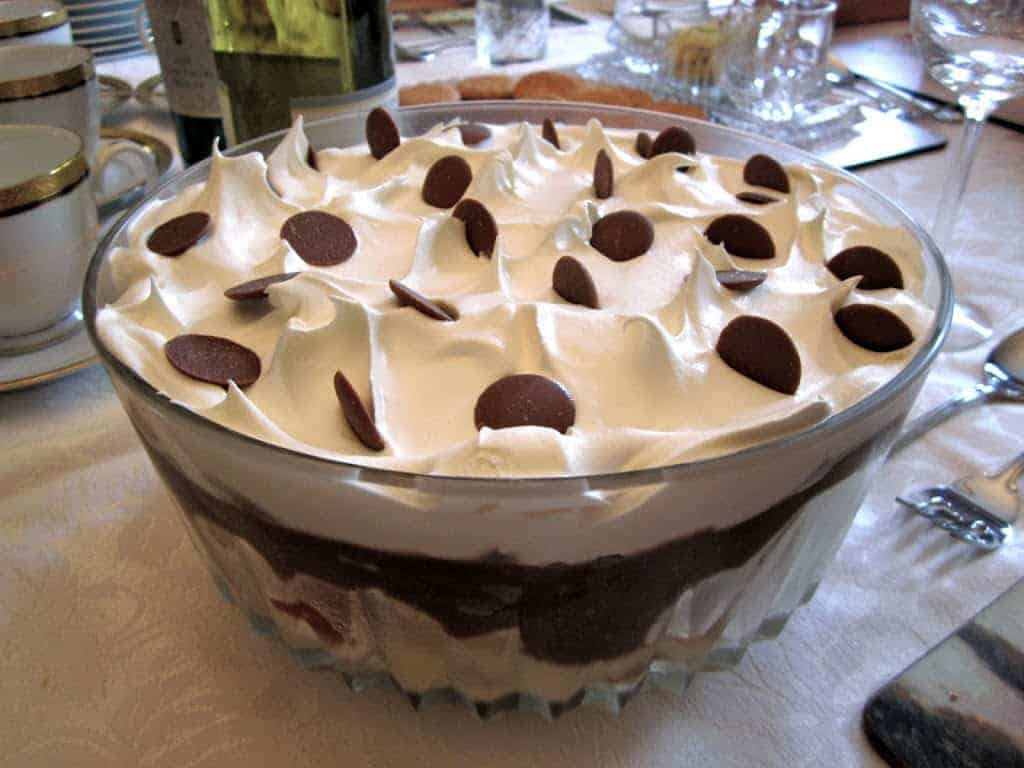 We British love our chocolate.
This post may contain Amazon affiliate links for your convenience at no additional cost to you.
We also love our desserts, or "puddings" as they are called in the UK. I remember my friend Kristin telling me that her English friend was over at her house having dinner one evening, and he was asked if he wanted seconds of the main course. Before answering, he wanted to know if there was going to be any pudding, and Kristin replied, "No". Well, you can imagine what happened when dessert was served! Kristin's friend said, "I thought you said there wasn't going to be any pudding?" and of course, Kristin responded, "We're not having pudding, we're having cake!" So now you know that all desserts are classified as "pudding" in the UK!
A while ago we were invited over for dinner at my friend Sheila's home. Sheila is from England (if you couldn't figure that our from her photo) and is a wonderful cook, and never skips dessert, or "pudding'. This time was no exception, and she rather outdid herself with a most incredibly delicious chocolate trifle which was her very own recipe!
I had never had a chocolate trifle before and was really amazed at how all the flavors worked together so well! Of course, I had to ask for the recipe. Sheila has graciously permitted me to share her recipe with you and I don't know about you, but I'm elated that she did!
Christina's Individual English Trifles
Sheila made hers in one large bowl, so I made individual chocolate trifles so you can see both ways of serving them. This trifle is a perfect summer dessert as there is no baking, and it is served cold. Not to mention that it has to be prepared ahead of time, so it's great for dinner parties or get togethers. You can just thank Sheila!
Sheila's Chocolate Trifle
*make sure to use glass bowls or glasses so you can see the layers
Ingredients
slices or pieces of pound cake, enough to cover the bottom of the bowl(s)
seedless blackberry jam (I couldn't find this, so I used seedless raspberry)
brandy
a can of peach and pear pieces
raspberry gelatin (Jello), prepared, but make it so you can put the dessert together before it is completely set
Bird's custard, or homemade egg custard (you can use vanilla pudding, but it won't taste as good)
2 to 4 oz good quality dark chocolate
1 ripe banana
1 pint heavy organic whipping cream
1 packet of Cadbury's Chocolate Buttons or a Cadbury's Flake bar (Cost Plus has them)
As you can tell from the ingredients, this is not a fussy recipe as most of the ingredients have no measurements. You can just use as much as you like for the most part; I am showing how to make individual trifles, but to make it like Sheila's (top photo) just layer everything in a large glass bowl.
Directions
1. Spread the jam on the pieces of pound cake and place on the bottom of the ramekin or bowl you are using.
2. Sprinkle the cake with brandy, as much or as little as you like.
3. Add some peach and pear pieces on top of the cake (I didn't have pear!)
4. Next, layer on the rasberry gelatin, just before it has completely set (see pic.). Place the trifles in the fridge while you make the custard and whip the cream.
5. Prepare the Bird's custard according to the directions, but adding some chopped dark chocolate at the end, to make chocolate custard. You can also make homemade custard.
6. When the chocolate custard has cooled, add a layer to each trifle.
7. Next, add a layer of banana slices, then whip the cream.
8. Top each trifle with whipped cream, just spooning it on as Sheila did, or piping it on, as I did. Add your favorite chocolates, like Cadbury's Buttons or Flake!
Keep refrigerated until ready to serve. If you're looking for these mini glasses, I've added a few links to some different shaped and sized sets, below. I use both glass and the plastic ones, depending on the occasion.
Don't miss another post! Sign up for my free subscription below.
(I promise not to sell or share your info, ever!)
Christina's Cucina is a participant in the Amazon Services LLC Associates Program, an affiliate advertising program designed to provide a means for sites to earn advertising fees by advertising and linking to Amazon.com, with no added cost to you which helps me to keep sharing FREE recipes for you.