For the best relais in Emilia Romagna, look no further than Antica Corte Pallavicina. Read on to discover this delicious, little piece of heaven in Northern Italy.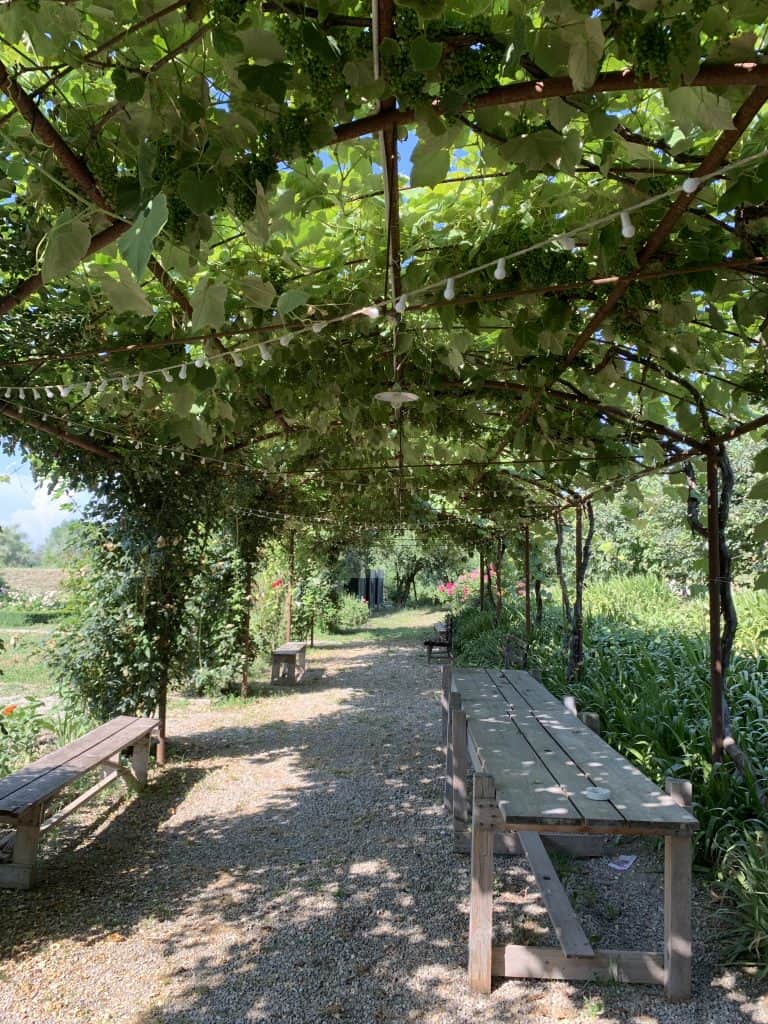 Disclosure: my friend Cynthia (What a Girl Eats) and I were hosted for a one night stay and dinner at the Michelin star restaurant (review to be posted later) of Antica Corte Pallavicina. As always, all opinions are solely my own.
Last year, my mother and I were guests of the Emilia Romagna Tourism board and Food Valley Tours. Our wonderful tour guide, Daniela Lanfredi, took us to Antica Corte Pallavicina to see where culatello is made.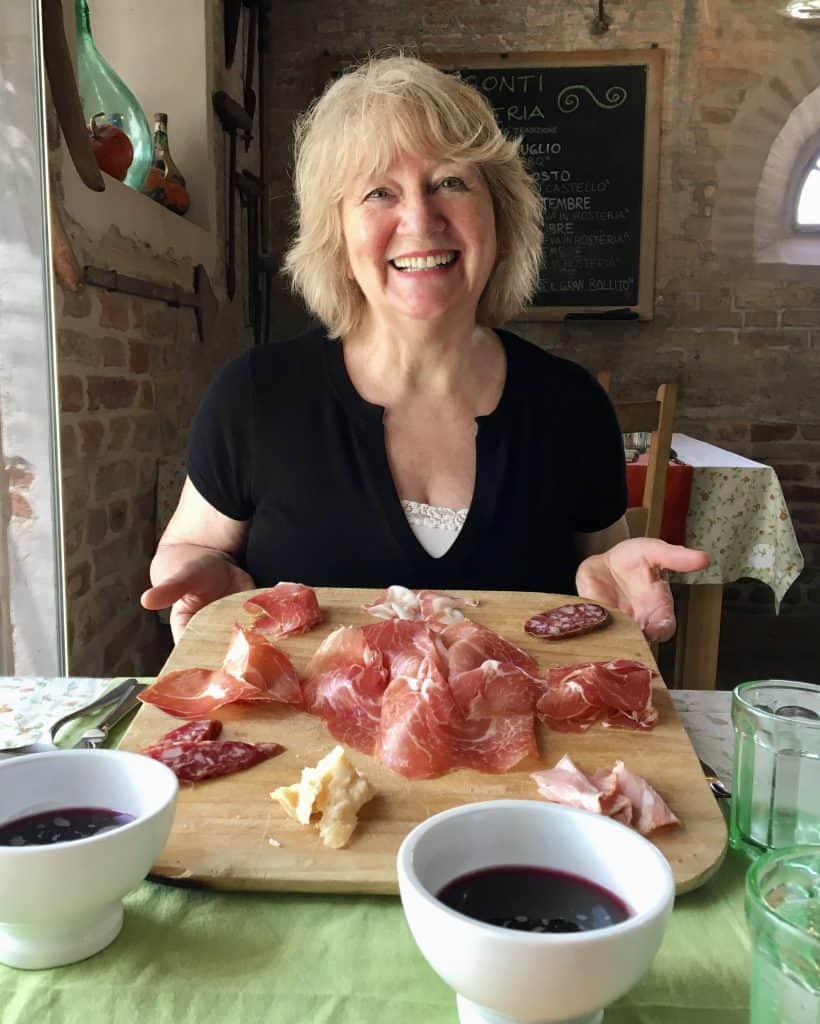 We were absolutely in awe from the moment we stepped foot into the courtyard until we left. We were also able to sample some of the most incredible cured meats we're ever tasted, along with some delicious handmade tortelli.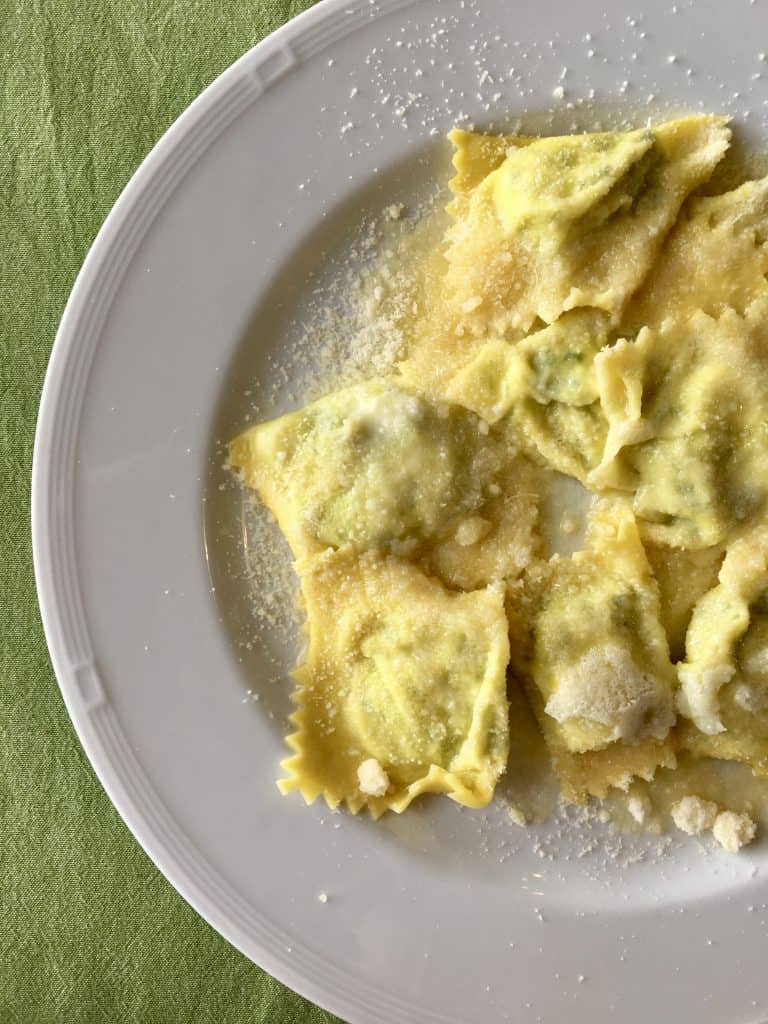 So when my friend, Cynthia, and I were planning our trip to Italy earlier this year, I told her I simply had to go back to the best relais in Emilia Romagna: Antica Corte Pallavicina. This time, I was able to stay and I can't wait to share some photos with you of our room, along with the property in general. However, first I'd like to cover the term, "relais", in case you are unfamiliar with it.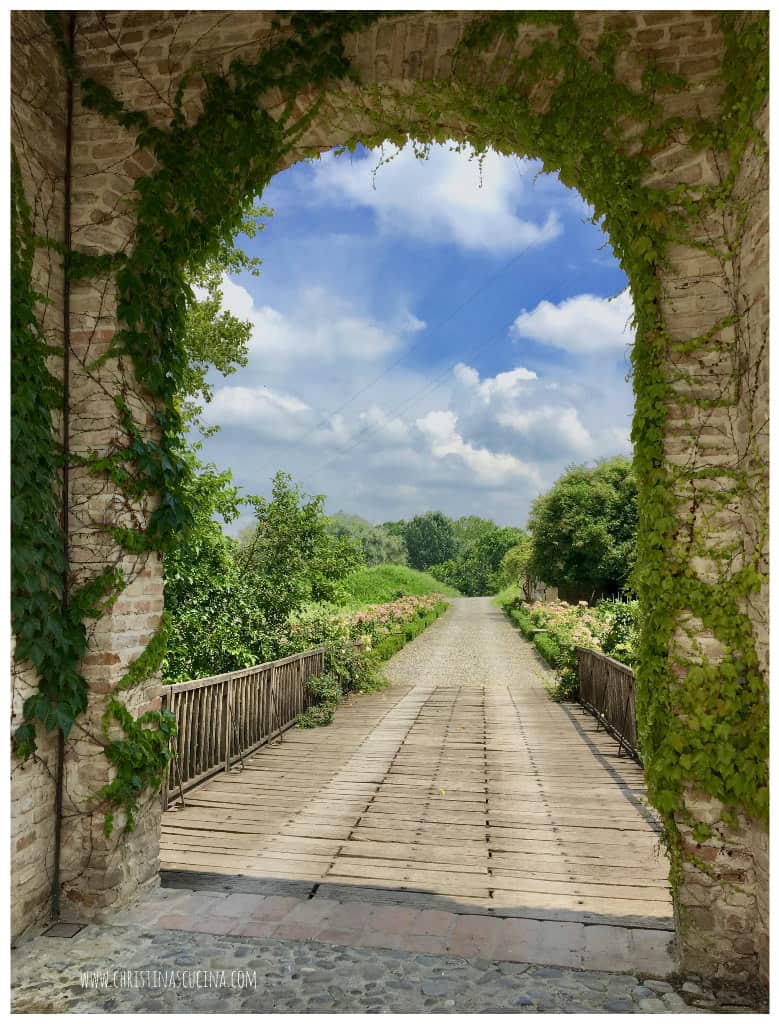 What is a Relais?
In French, relais means, "relay", but the word is intended to impart the meaning of "relaxation" more than anything. Agriturismo.net explains it very well: a "relais" in Italy is a "…charming residence…located in the countryside…that focuses on attention to detail, refinement and quality of hospitality that must be exclusive."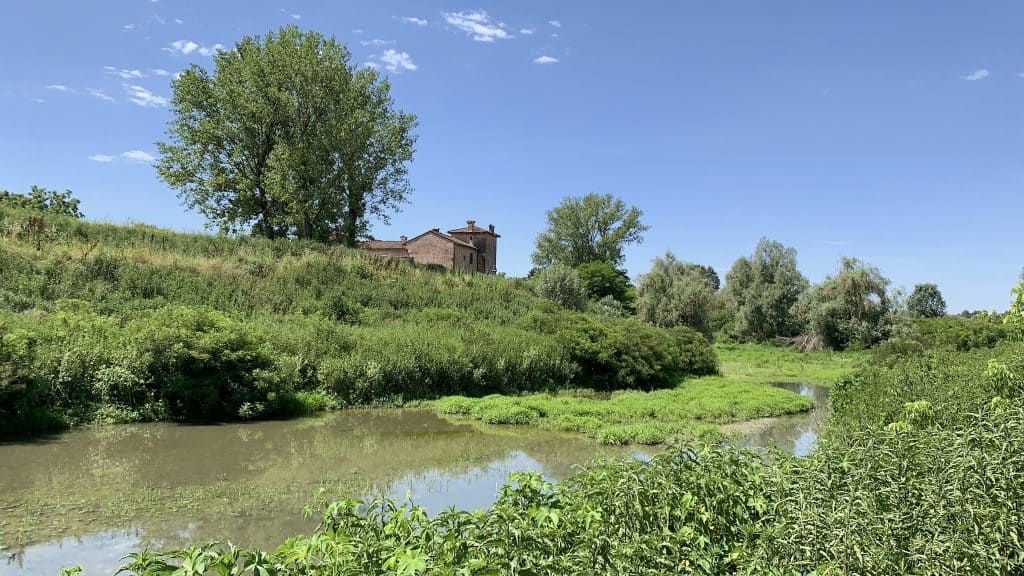 The Best Relais in Emilia Romagna for Foodies
Why is Antica Corte Pallavicina the best relais for foodies? Of course, it's not the incredibly beautiful grounds, cascading roses in the garden, pretty peacocks striking poses, or the attention to detail in all that the staff do.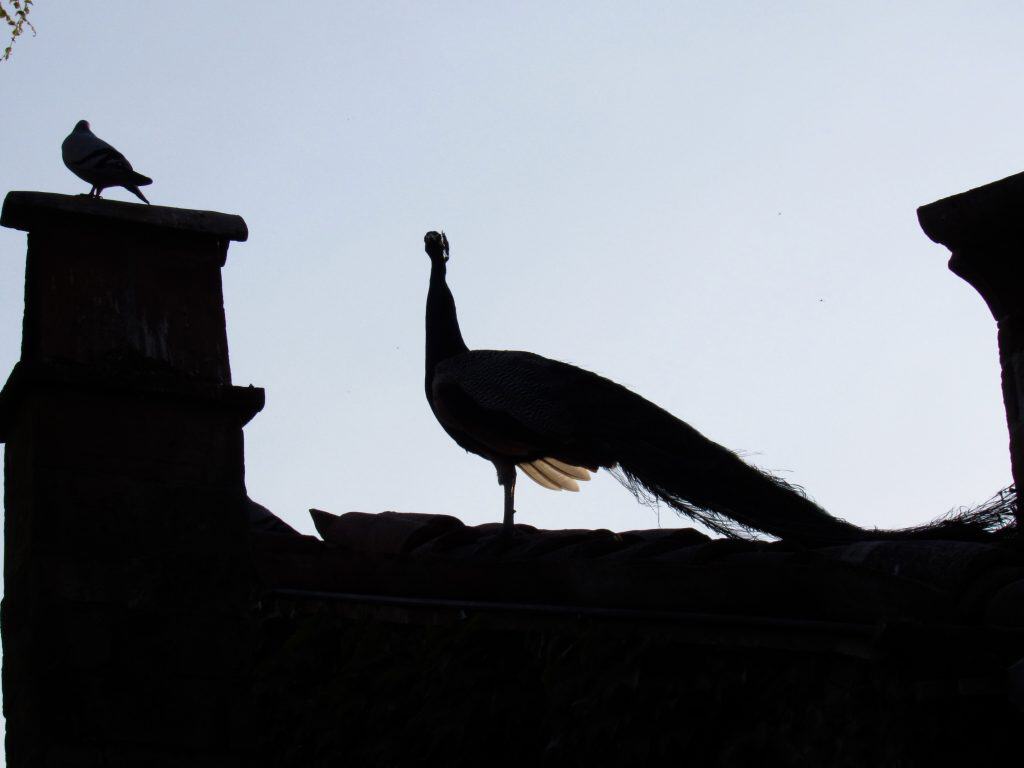 The accommodations are each unique, luxurious and elegant and some have rustic charm, but the standard of food that is served here is unmatched. Why stay anywhere in Italy if the food isn't top notch? With a Michelin star chef on site (Chef Massimo Spigaroli), and Hosteria del Maiale serving the chef's lovingly cured culatello, salami, sausages and more, it's a foodie's dream come true.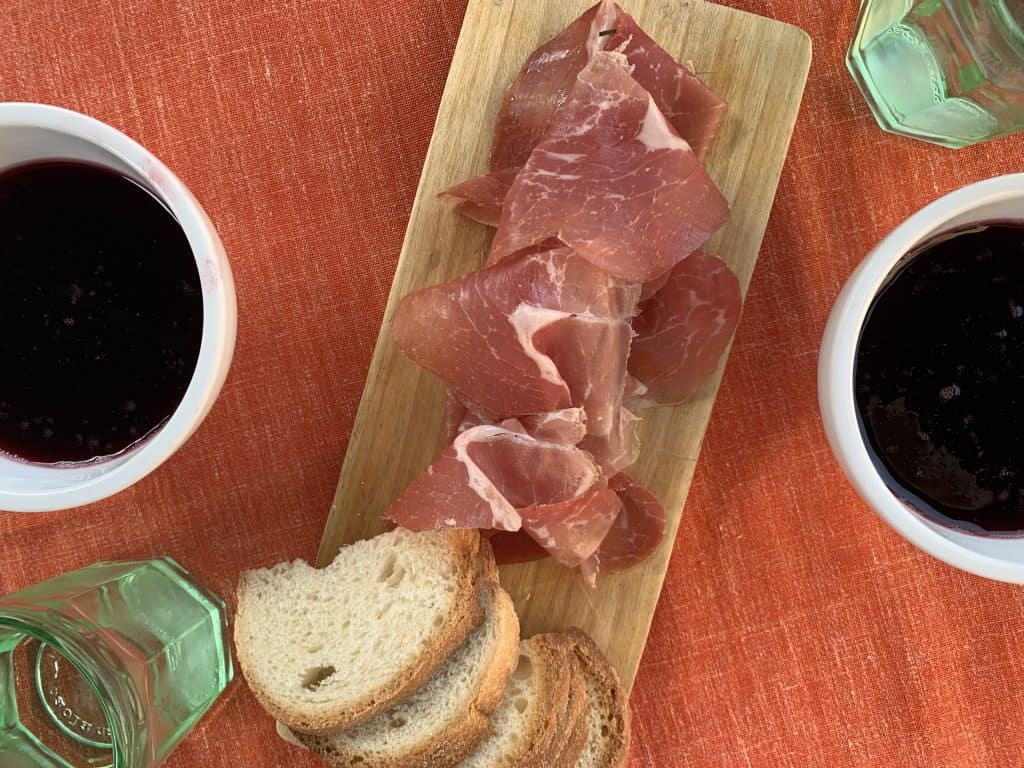 As I stated above, I'm going to share a separate post about our dinner at Antica Corte Pallavicina, because it absolutely deserves its' own feature! (Sign up for my emails, if you haven't already.)
Entering Antica Corte Pallavicina
If you read last year's post, you'll know that Chef Massimo Spigaroli and his brother are great-grandsons of Giuseppe Verdi's sharecropper and tenant, who used to work this very same land for the "Maestro". The brothers were able to re-acquire the land as it had fallen into disrepair, and over 20 years, lovingly restored each and every detail.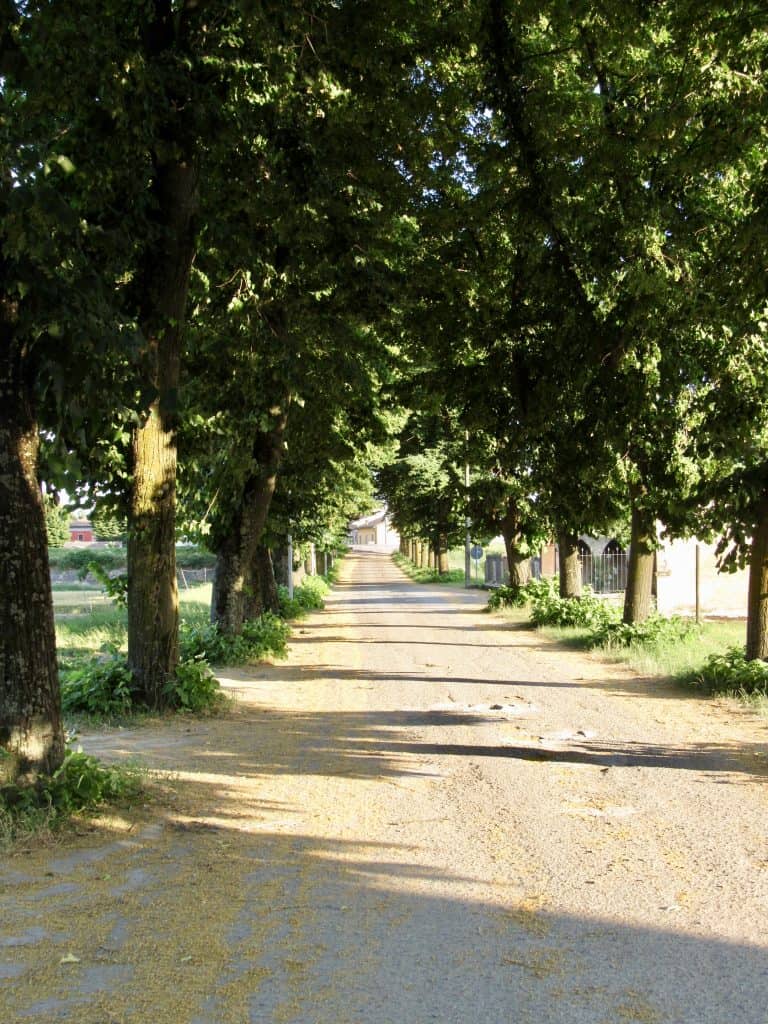 When you first reach the relais property, you'll be greeted by a beautiful, tree-lined drive. If you look to your right, you'll see a field with lovely white cows, maybe a horse, and a family of pheasants, or maybe even a heron!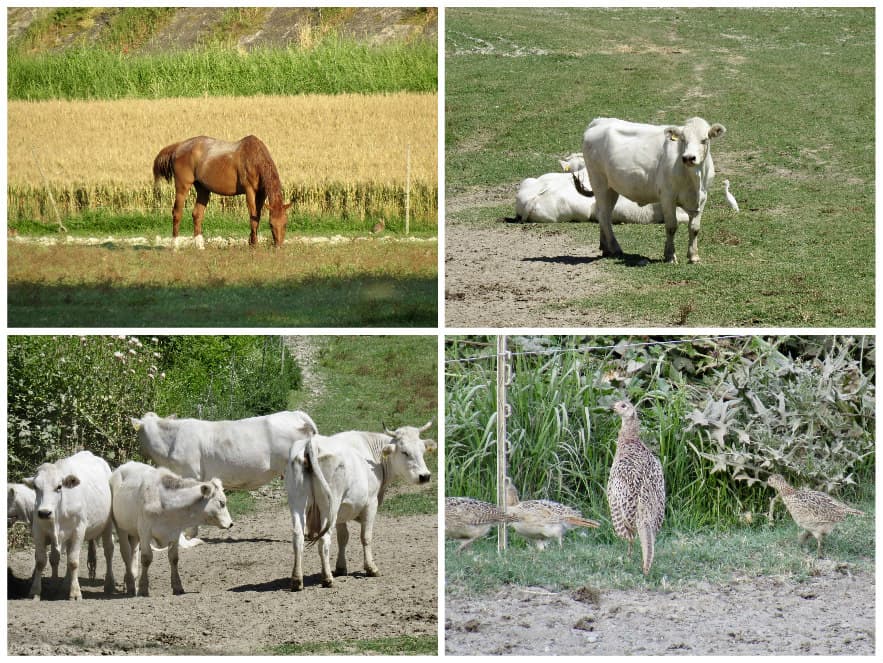 Once you reach the end, there's another drive which leads to the courtyard and main buildings through an ivy-covered arch.
On either side of this drive are vegetable gardens lined with lots of gorgeous rosebushes.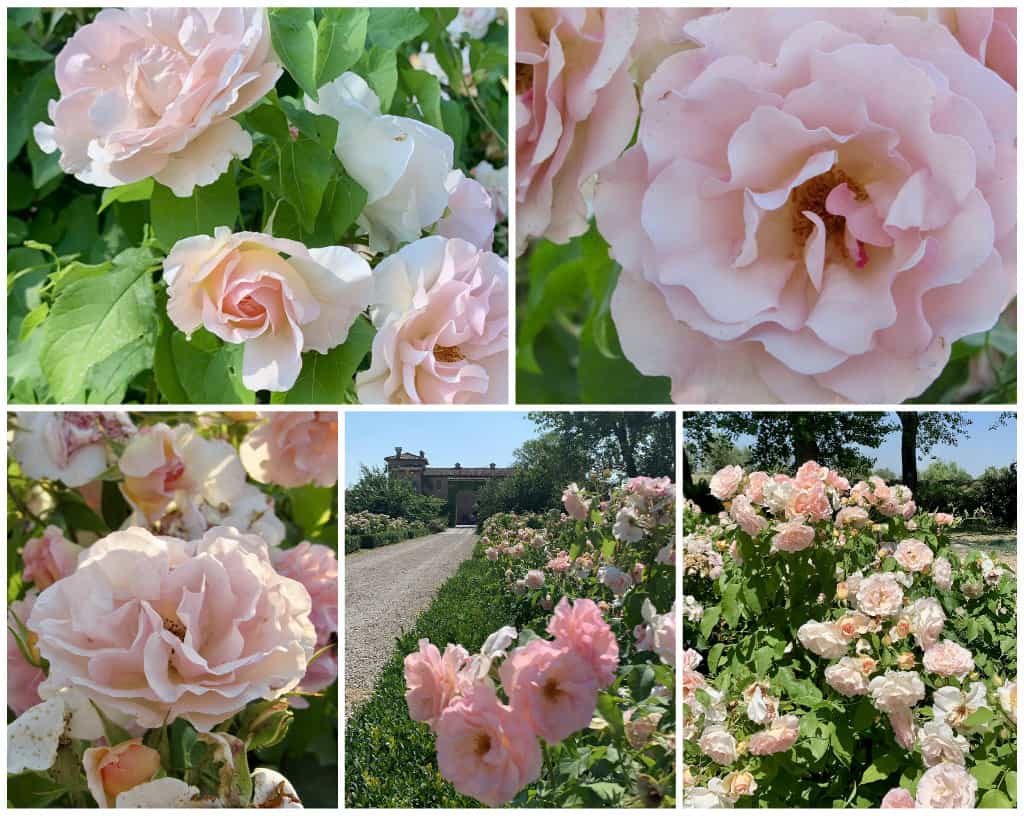 The Courtyard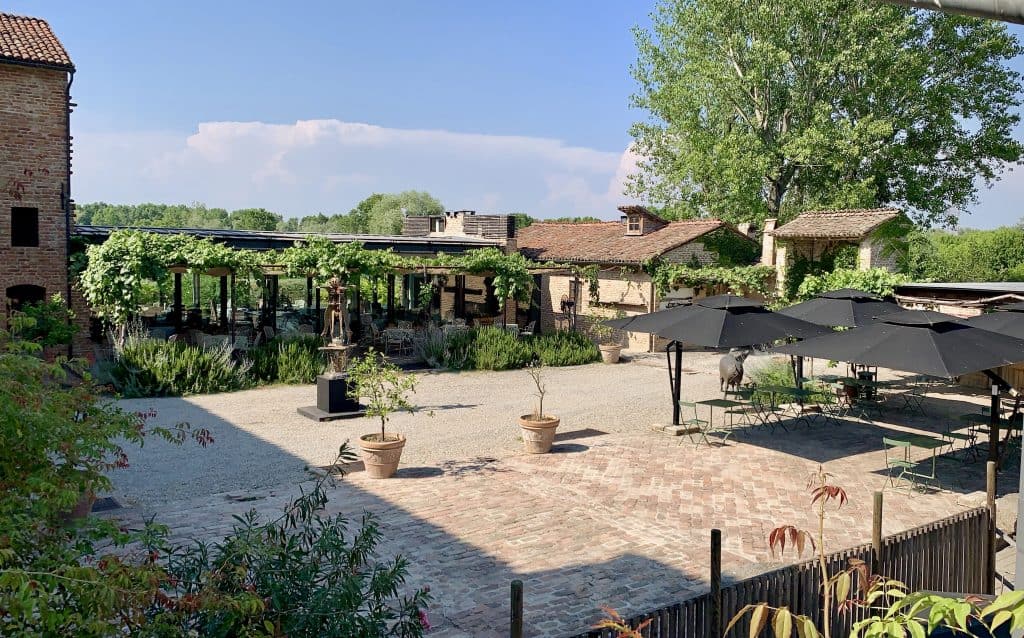 This central space is where you'll first arrive and will often see kitchen staff bustling between buildings, peacocks strutting and a resident cat (which is usually sleeping.)
The Accommodations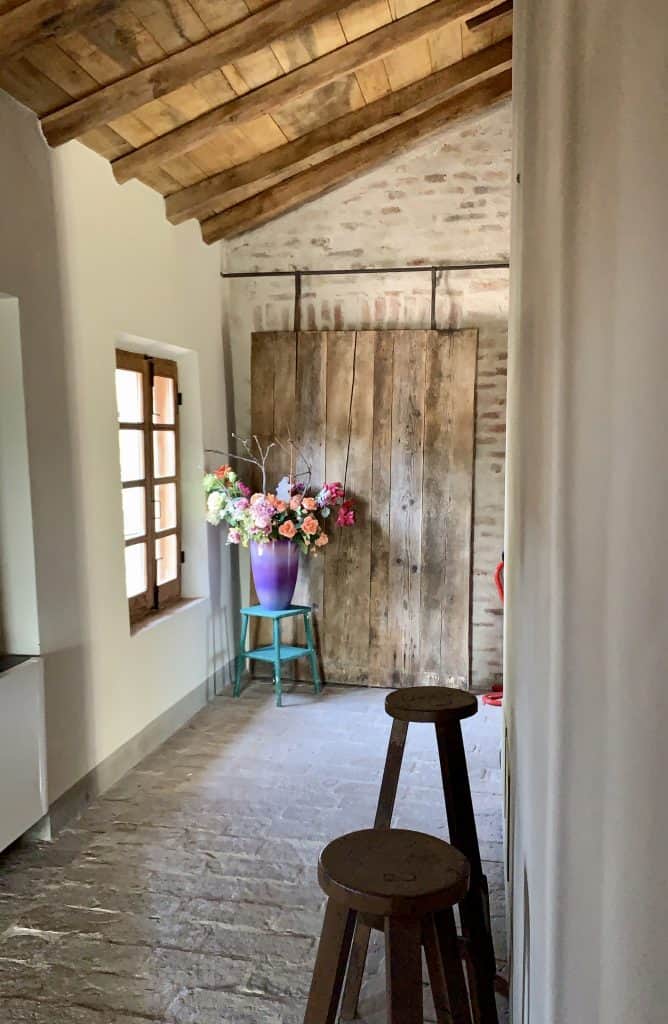 Although Cynthia and I were in a standard room, which we absolutely loved, suite options are available as well as other rooms which include fireplaces and sitting areas. You can see more of them on the link I'll leave below.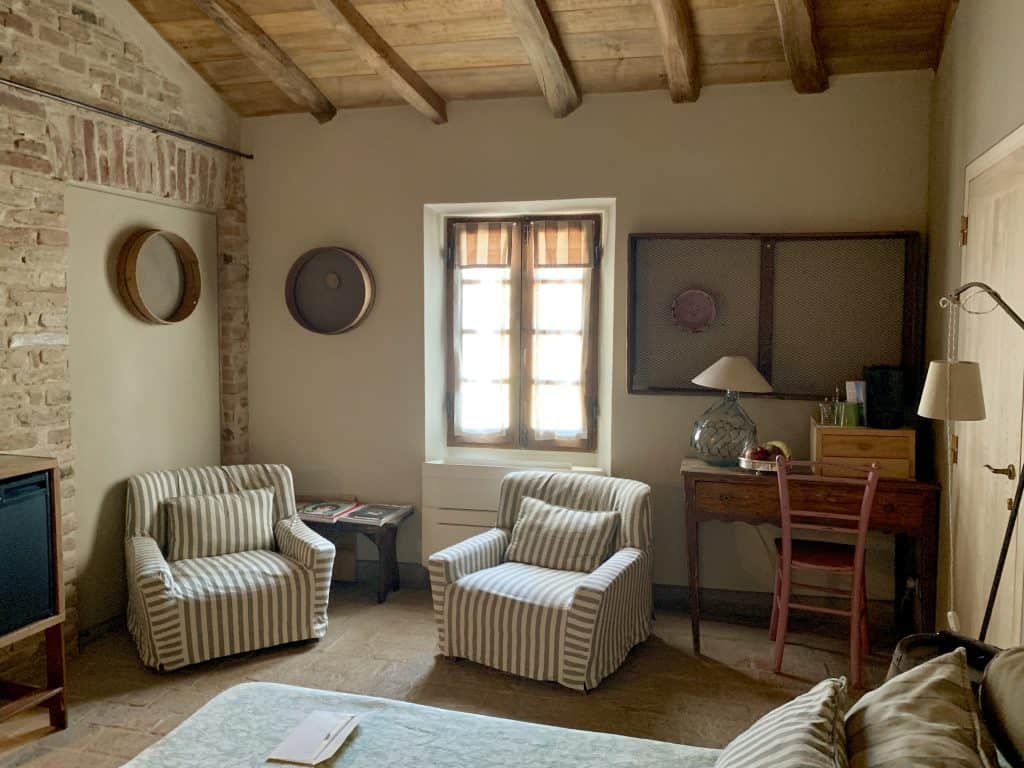 Cynthia and I loved the pig-themed decor, as well as all the sieves on the wall, and the gorgeous beamed ceiling. Every guest's room includes a welcome fruit bowl as well as water and homemade juices in the mini-fridge. A bountiful breakfast is also included with each stay.

The Public Rooms of the Relais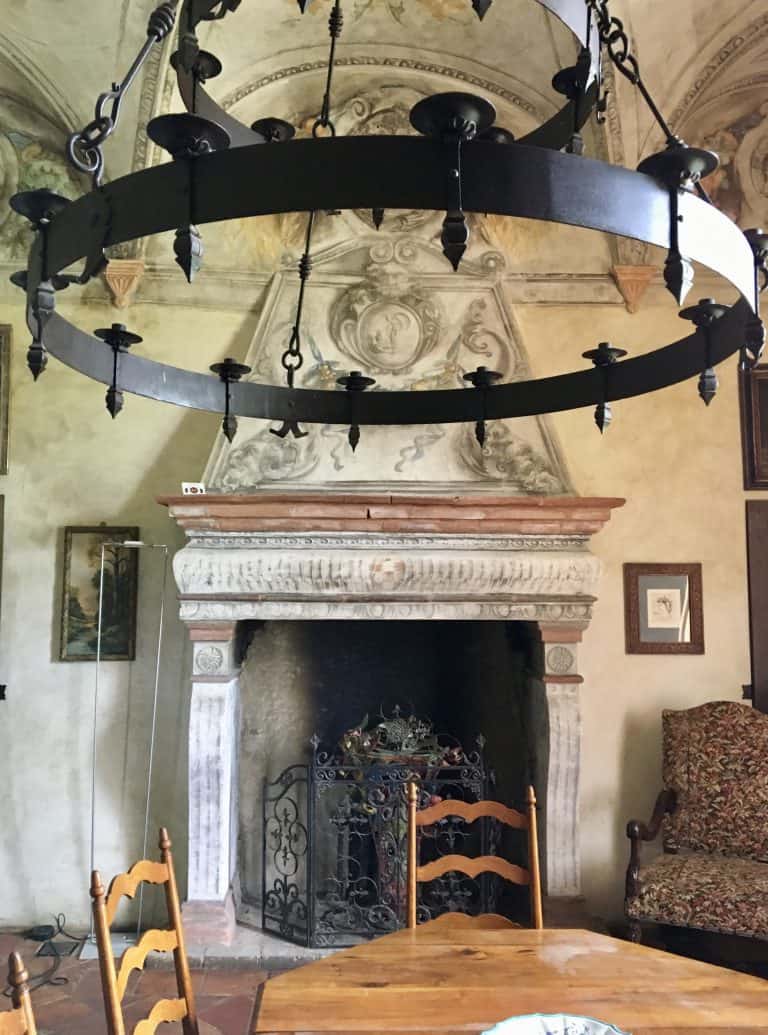 There are several stunning rooms in which to pull up a chair with a book, or maybe a cup of tea or a wee tipple and relax. After all, this is a relais, right?
I posed, I didn't drink! 😂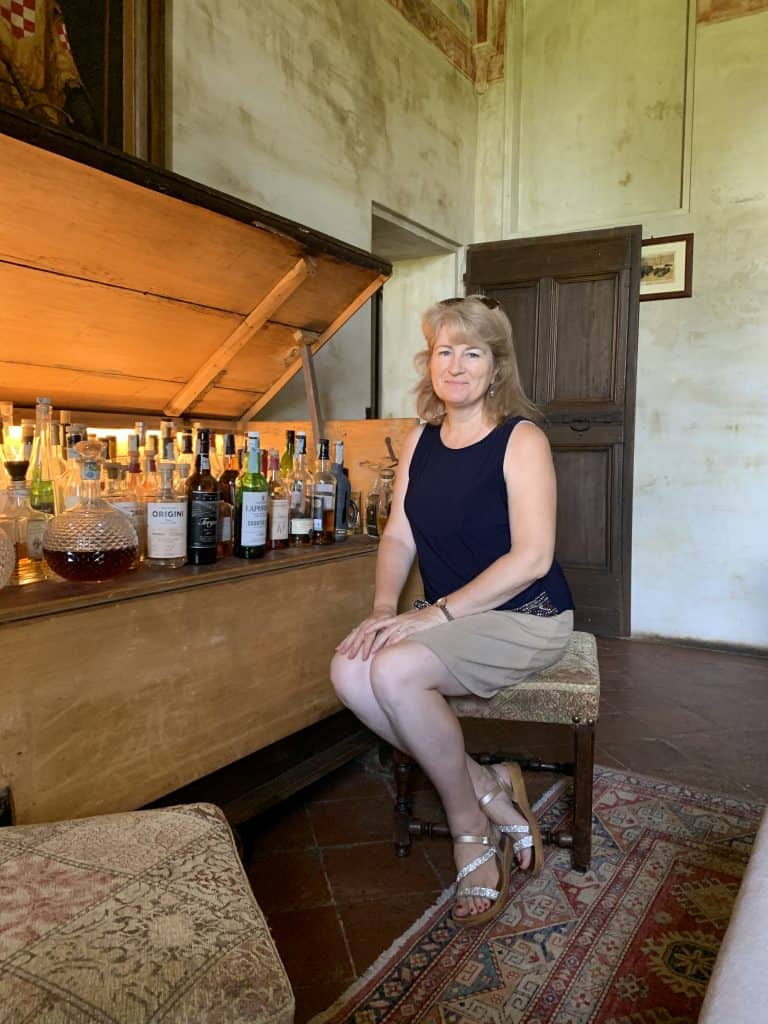 Each room has a massive fireplace with high ceilings, ornate details, paintings and beautiful artwork.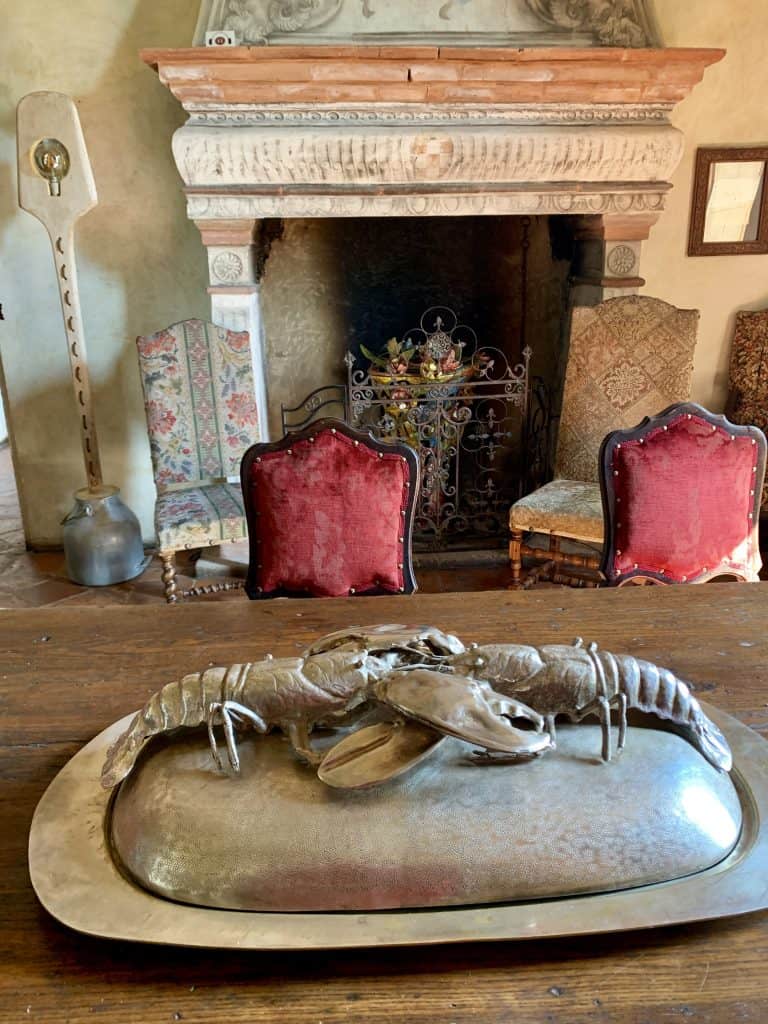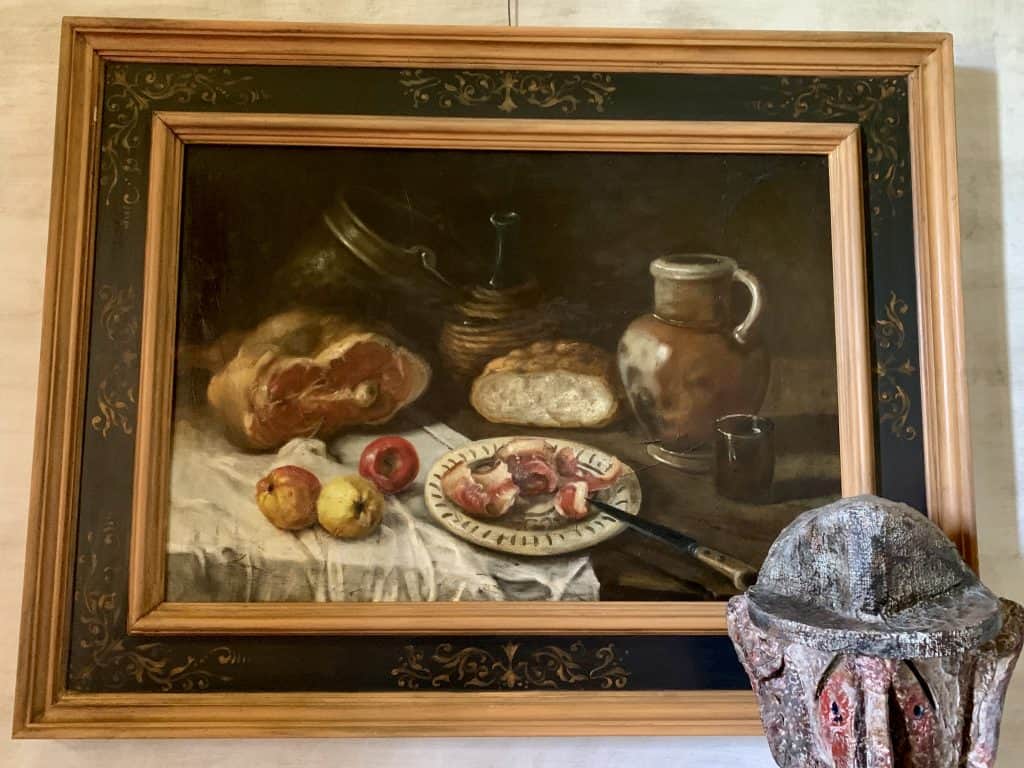 There is such a peaceful atmosphere in each room. It's simply so relaxing.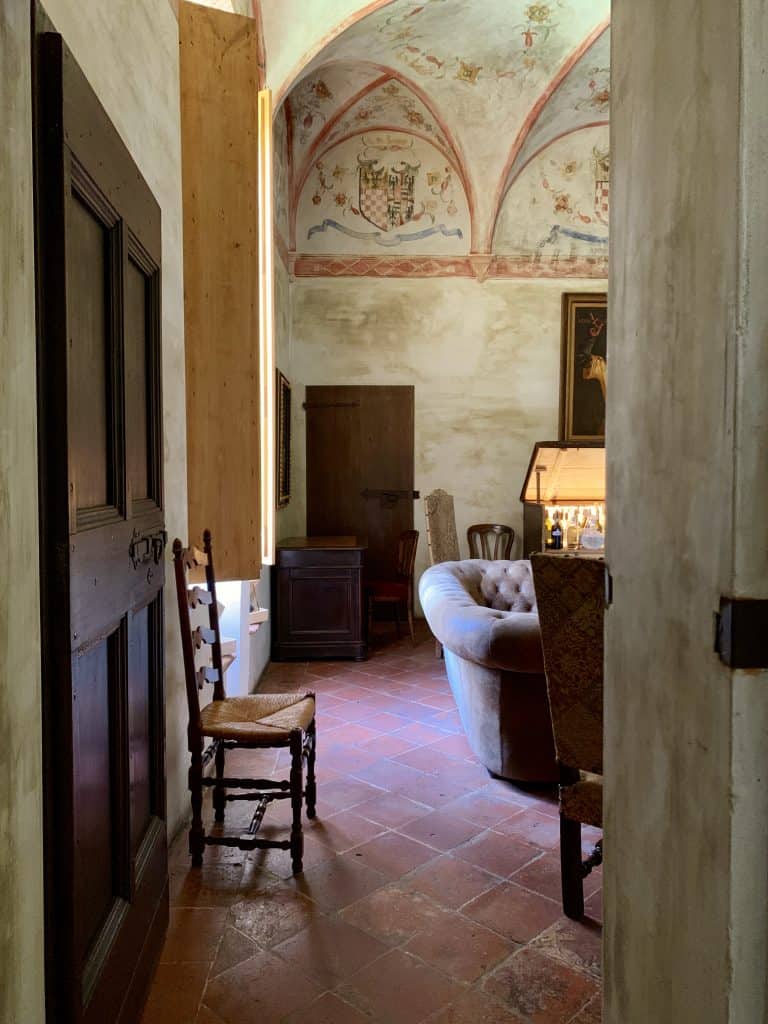 The Restaurant at Antica Corte Pallavicina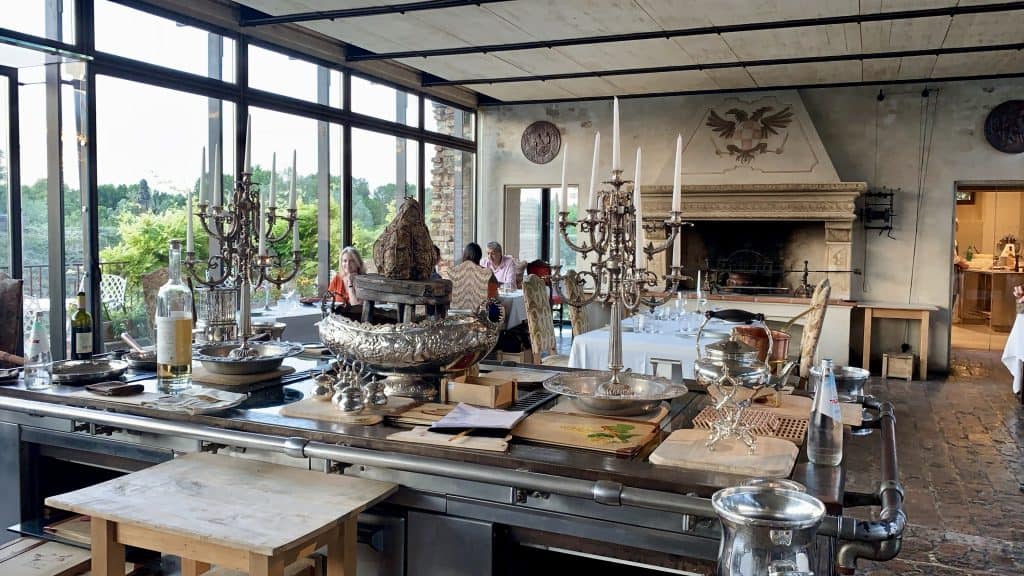 The restaurant is flanked with windows on two sides of the room, so it's light and bright during the day, but at night it has a more romantic atmosphere with the candelabras aglow.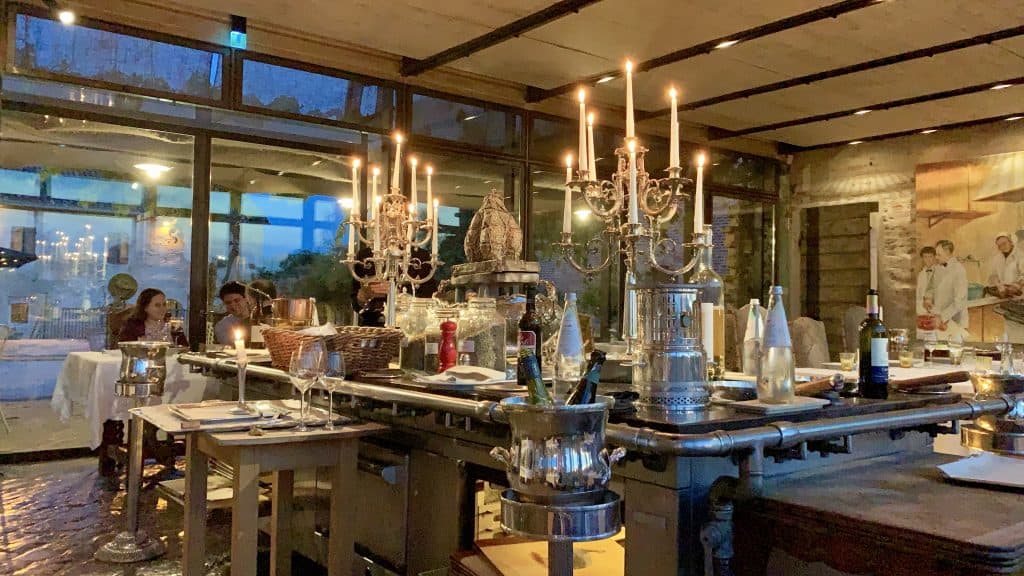 Breakfast is Served at Hosteria del Maiale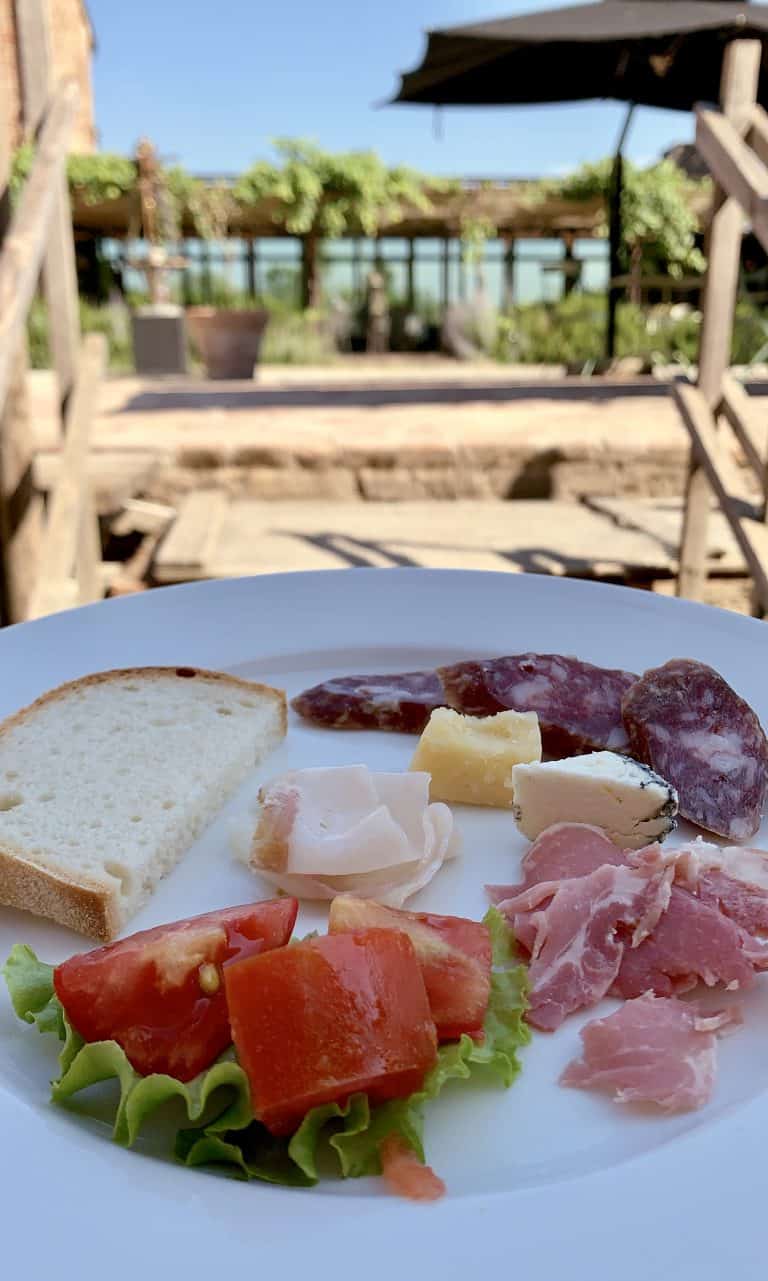 There's a beautiful selection of freshly cut salumi, ham, cheese, and so much more. If you'd like eggs, they're cooked to order, including a frittata if you desire. Fresh fruit, pastries, bread, homemade granola and crostata, and of course, coffee and other hot beverages are made to order. There's is definitely something to please everyone.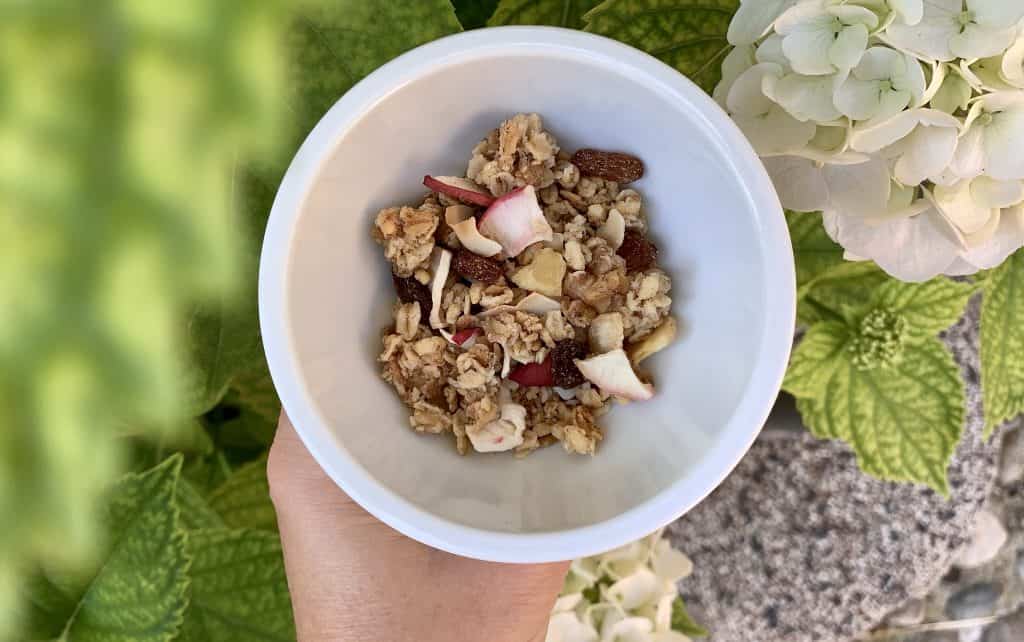 Cynthia and I did not go hungry that morning.
We sat outside, although there are many tables inside, too. You can read more about Hosteria del Maiale.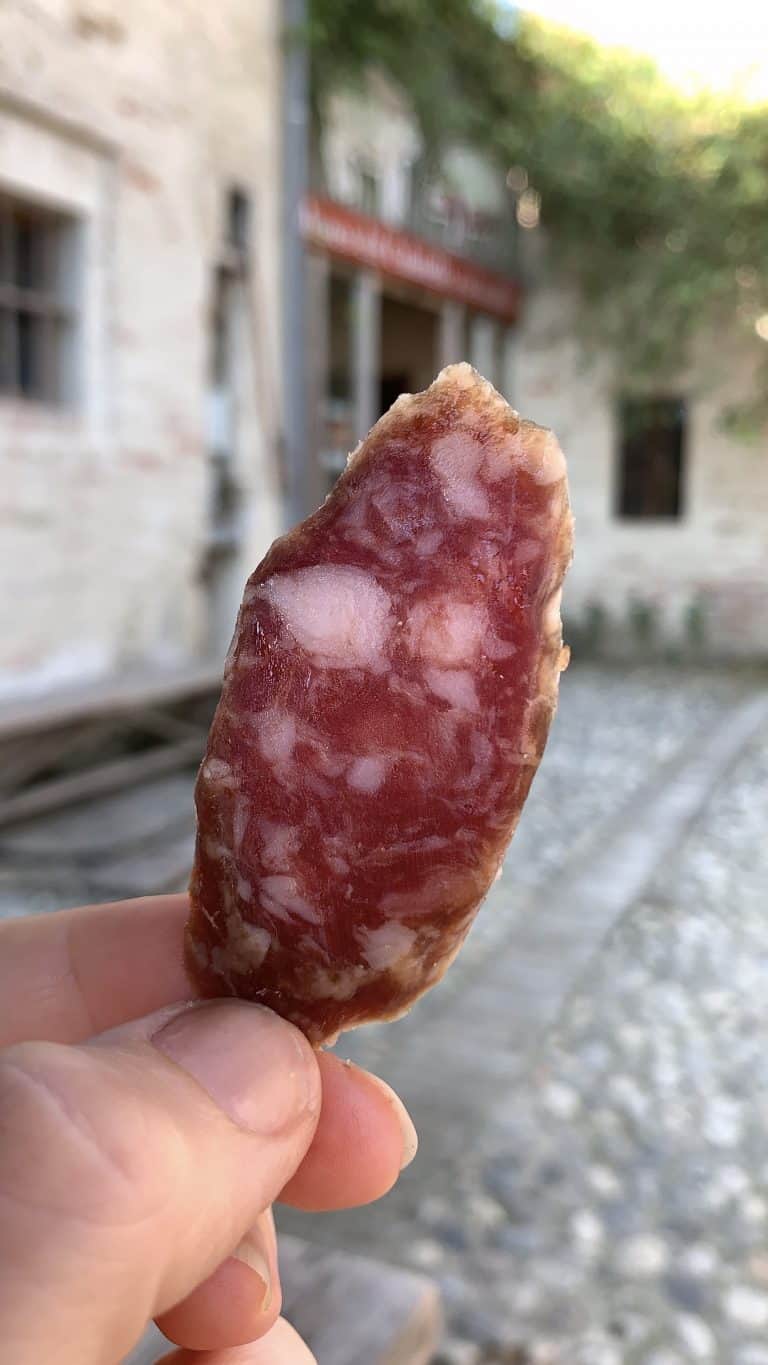 Cynthia and I decided to have an early lunch at the Hosteria as we were leaving later (begrudgingly!) Lucky for us, Chef Spigaroli made it back from Paris in time to meet us before we left!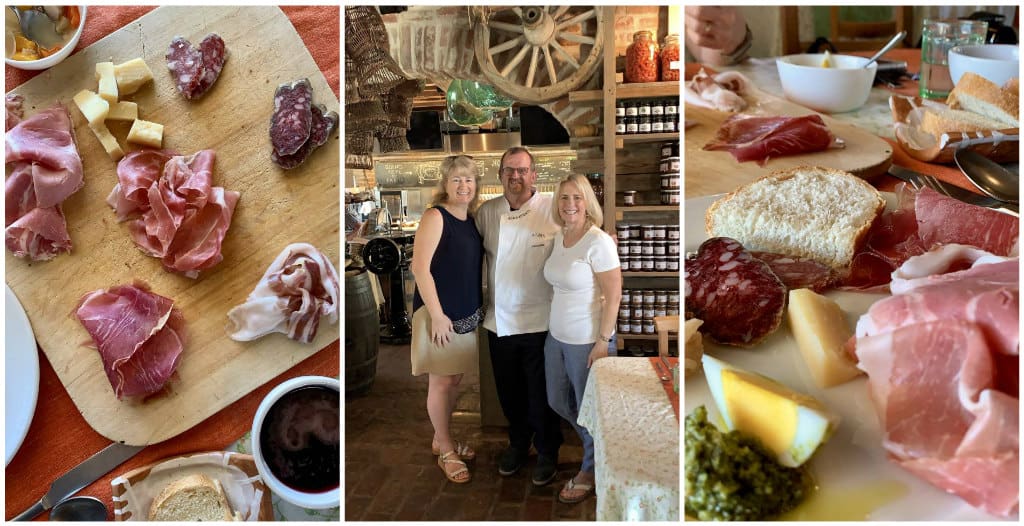 Around and About Antica Corte Pallavicina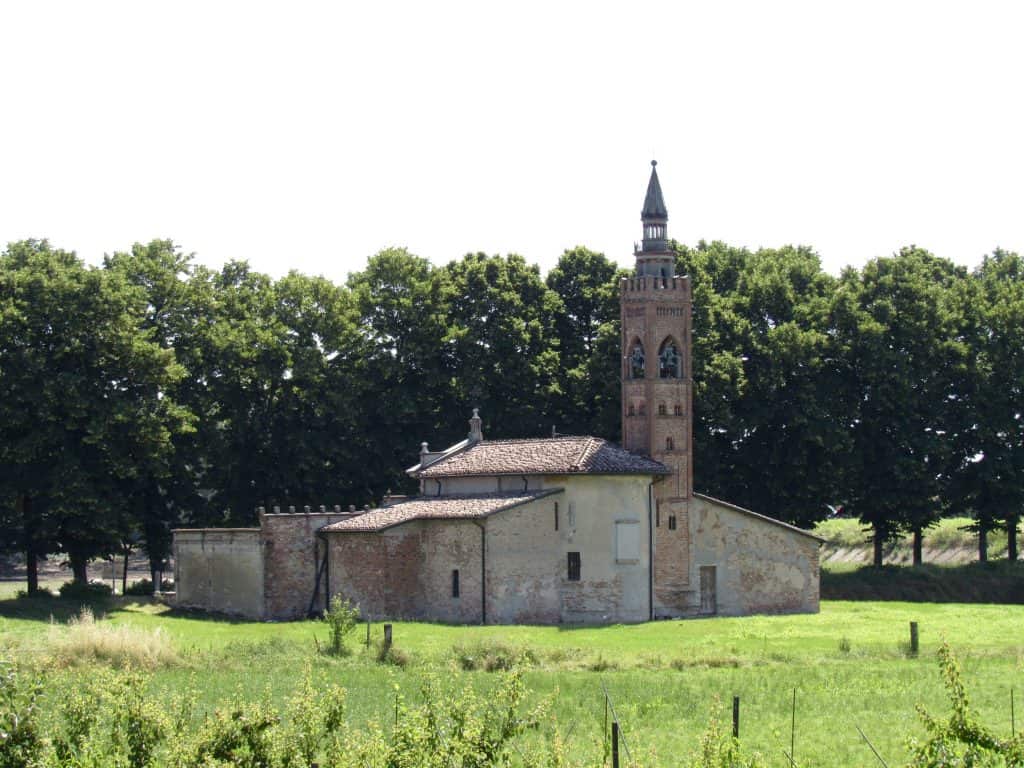 The church and tower which is across from the field as you enter the tree-lined drive.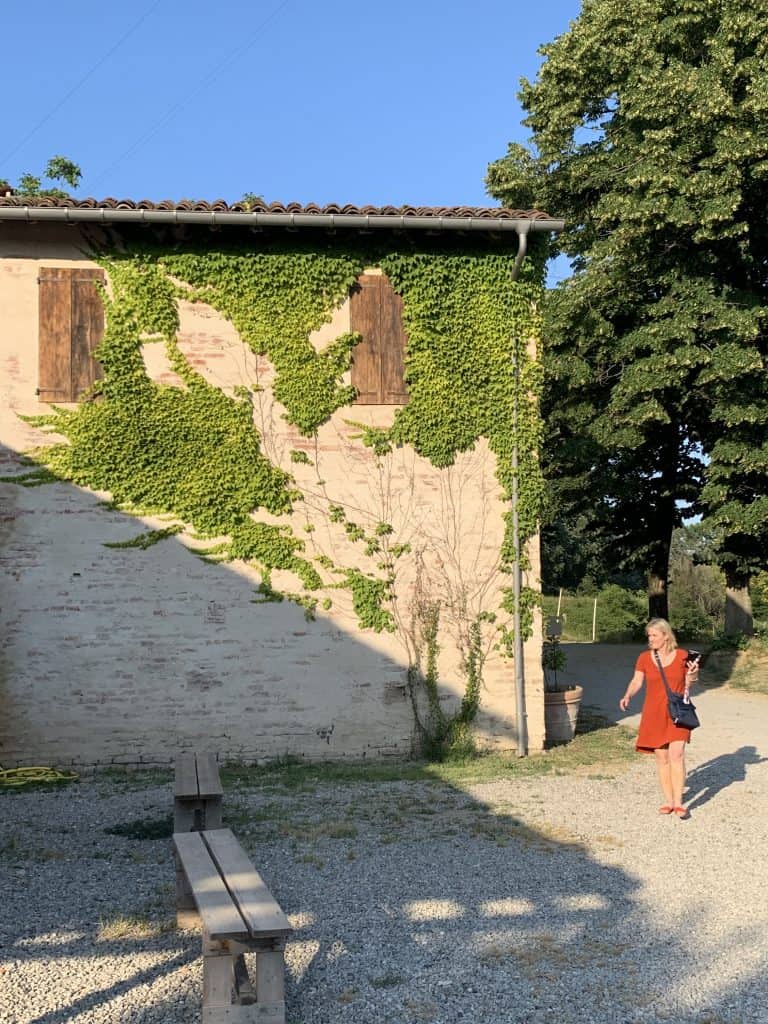 Cynthia walking around the back of the property.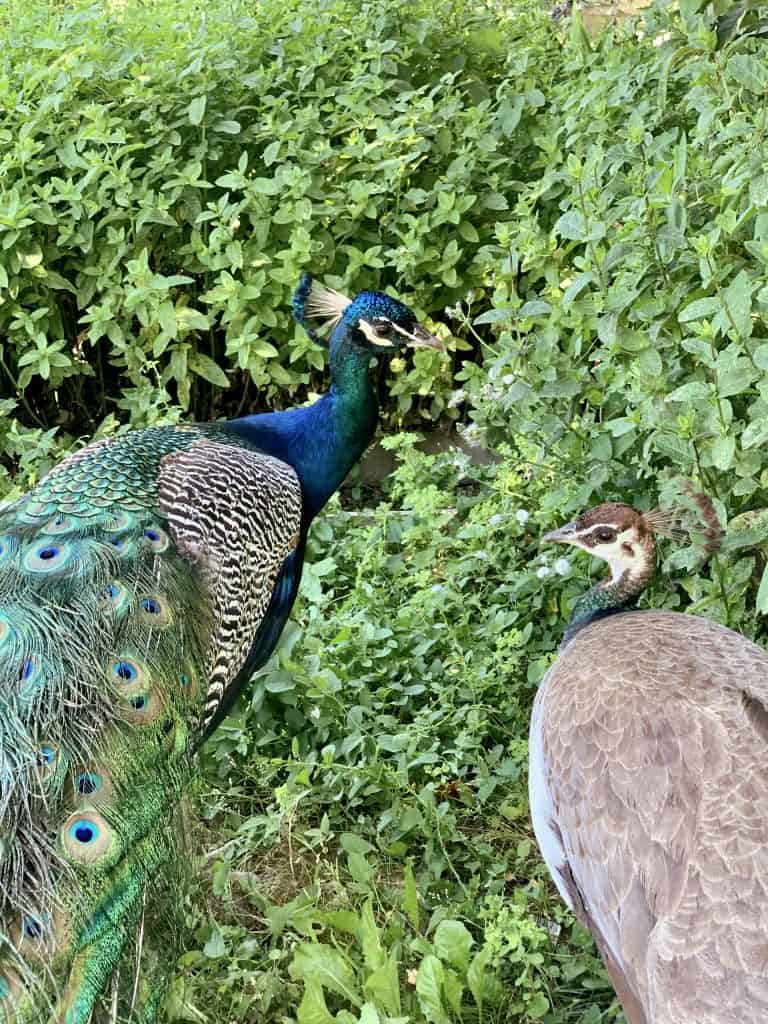 Resident peacock and peahen.
Pig-themed art is everywhere.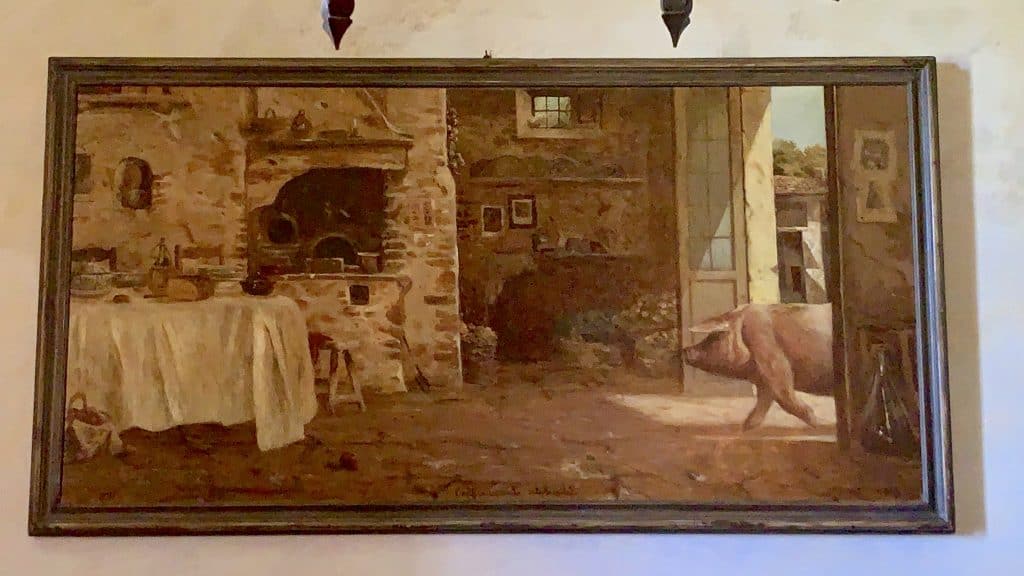 My favorite painting at Antica Corte Pallavicina.
A photo of Verdi and a couple of artsy ducks.
The sun setting at Antica Corte Pallavicina: the best relais in Emilia Romagna for foodies.
♦
I am very excited to soon share my Michelin star dining experience with you, too! Both Cynthia and I agreed that it was one of the best meals we've ever had.
There is an onsite Museum of Culatello and you can take a walk behind the relais to visit the famous black pigs. Each tour includes an audio guide (nominal charge for each). More to come on this, too.
Click to read Cynthia's post on staying at Antica Corte Pallavicina.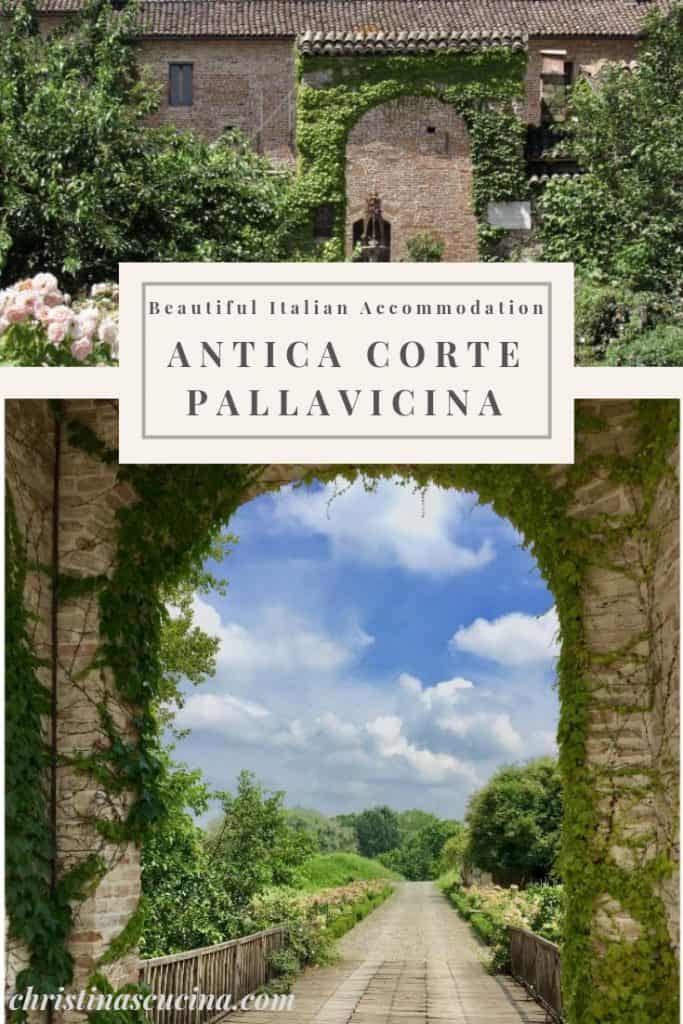 best relais in Emilia Romagna