Dining at Belvedere Restaurant Ischia at the Excelsior Hotel and Spa is such a delightfully memorable, and delicious experience once is not enough!
When I recently shared my wonderful overnight stay at the Hotel Excelsior Belvedere Spa and Resort on the island of Ischia (Italy), I had stated that I would be following up with a post about the phenomenal Belvedere Restaurant and Chef Libera Iovine.
Disclosure: I was hosted for lunch and dinner at Hotel Excelsior's Belvedere Restaurant in order to write about my experience. As always, all opinions are my own. As a Booking.com affiliate, I earn a commission on bookings.
I hope you'll enjoy reading about my delicious experience having lunch and dinner there last September, and that you'll add Il Ristorante "Belvedere" on Ischia to your list of places to visit.
After my dining experience there, I have not been able to stop thinking about my next meal at this phenomenal restaurant. As you see the photos of each dish and course, I ask you to think about the common theme of quality. The quality of ingredients is always top-notch which creates exceptional results, especially in the hands of such a gifted and talented lady. However, before we get to the food, let me first introduce you to this impeccable chef at the Excelsior Belvedere Hotel and Spa.
Chef Libera Iovine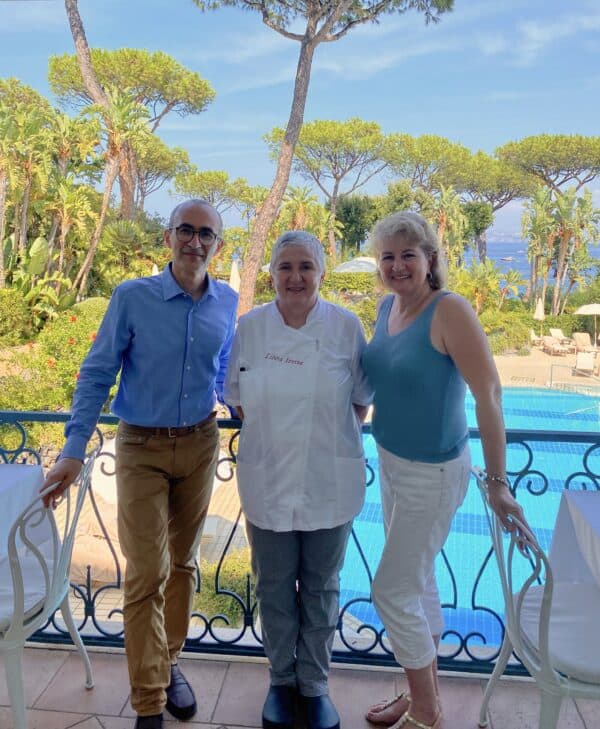 Chef Libera is the first chef from Ischia to be awarded a Michelin star, and it is easy to see why after dining here. The love of her craft, and passion for her career is evident upon meeting her. There's no doubt she is meant to be lovingly creating dishes for others to enjoy as this brings her joy. Chef Libera is humble and modest about her accomplishments, as well as her fabulous dishes; I felt like I was with a long-time, familiar friend when we spoke. You can read more about Chef Iovine here.
Lunch at Belvedere Restaurant Ischia
Wine
In Italy, there is always good wine with good food. I loved that the Belvedere Restaurant Ischia serves excellent, local Ischitan wine. Villa Campagnano, by vintner Antonio Mazzella, is a Biancolella grape based wine that is dry, yet fruity. A perfectly refreshing summer wine that paired beautifully with the lunch courses which followed.
I was so surprised to see how many Ischitan wines are on Belvedere Restaurant's wine list! For such a tiny island, there are many to choose from. The complete wine menu is extensive, offering many choices beyond Ischia, from Sicily to Piedmont.
Antipasto
I gave Chef Libera a "free hand" (Libera means free in Italian, not my pun, but on the website 😎) to serve me her favorites, and so each course was a surprise.
My antipasto consisted of fresh tomatoes, from the Excelsior Belvedere's own vegetable plot, which were slightly roasted, with basil, and the best fresh mozzarella I have ever had in my life (and that is saying something!) drizzled in extra virgin olive oil. There are no words to convey to you just how intense these flavors were unless you have experienced this yourself. I think if this antipasto was my entire lunch, I would have been completely happy to begin and end there, simply because it was so good.
Pasta
Lucky for me, the antipasto was just that, the pre-pasta dish! Next on the menu was Chef Libera's signature dish: spaghetti with three types of tomatoes! As you can see, the waiters were so helpful in my picture-taking ventures on the restaurant balcony.
Once again, I can only describe to you in words something that goes beyond description. This simple dish was nothing short of exquisite. The tomatoes were bursting with flavor, and the combination of three types of tomatoes: San Marzano, red cherry and yellow (datterini), barely cooked into a fresh sauce (with fresh basil) for the al dente spaghetti was the perfect and iconic Italian summer dish.
Here's the best part, Chef Libera has given me her recipe so that I can share it with you, so stay tuned! As soon as the summer tomatoes are in season I will publish her recipe. Sign up for my free subscription so you don't miss it.
Risotto at Belvedere Restaurant Ischia
Next was "risottino con pomodoro e burrata": rice with tomato and fresh burrata cheese. It looked almost as beautiful as it tasted! I think I could eat this every day for the rest of my life and not complain, but then I could say that for the the first two courses as well. The rice was perfectly cooked and the silky tomato sauce was so flavorful, when I took a bite with some burrata my taste buds were simply in heaven!
Seafood Course
Ischia is a small island off the coast of Italy, so don't visit without indulging in their fresh seafood. Chef Libera wanted me to try her delicious seafood soup which consisted of an orange-scented, flaky galinella fish (similar to catfish), tracina (another fish), local clams and fresh cherry and yellow datterini tomatoes in broth, served over a slice of crusty bread. I loved each and every bite and yes, I cleaned my plate.
Which brings me to explain to you, if you're thinking "how could she eat all that food?", that most authentic Italian cuisine is light and fresh.
It is not heavy and rich with lots of thick tomato sauces and handfuls of over-processed cheese. While I felt satiated when I had eaten these four courses, I was by no means full or felt as if I had over-indulged: this is the beauty of real Italian cuisine.
Dessert
Given how light and fresh all of Libera's dishes were, I still had room for dessert! Her refreshing lemon sorbetto was an absolutely perfect way to end the meal on that beautiful summer day.
I don't want you to think I just ate lunch and then went to dinner (ha ha) so here is the video I put together for my other post featuring the Excelsior Belvedere Hotel and Spa.
Dinner at Belvedere Restaurant Ischia
The terrace you see here is the outdoor dining area at the Belvedere Restaurant. The perfect spot for a summer evening in Ischia.
Antipasto
For dinner, I chose my courses and started with lonza di maiale, pork loin made in house, with capicollo and fresh figs. Each meat was so flavorful and unlike any type of typical deli meat found in the US, so I hope you are adding Italy to your bucket list so that you can experience these flavors yourself.
Soup at Belvedere Restaurant Ischia
I chose cream of fava soup with caramelized onions and croutons for my next course, and after my first spoonful, the only thing I could think of was "I have to make this at home!" It was so creamy, smooth and delicious with the toppings adding texture, more flavor and a wonderful crunch. I just loved it!
Seafood Dish
I decided on fried calamari for my main course and was very happy with my choice. It was lightly coated and deep fried to perfection. If you're reading this from the US or UK, you may be wondering where the dipping sauce is? If so, I can explain: dips are not a popular thing in Italy simply because they aren't needed. When the main ingredient is so flavorful, why would you want to cover it up with a dip or sauce?
Dessert
Chef Libera personally served my dessert: a fabulous molten chocolate lava cake made using top quality Italian chocolate. This creation was sublime! Served with a delicious custard sauce and fresh berries, it was definitely a 5 star dessert.
It was lovely to also meet pastry chef Luigi Maione who had made all the beautiful chocolates and pastries which were in my suite when I arrived.
I also had to have a photo taken at the famous American bar! Enzo the head bartender was so kind as to take it for me.
Breakfast at Belvedere Restaurant Ischia
Given that you know what lunch and dinner are like at Belvedere Restaurant on Ischia, you shouldn't have any qualms about enjoying breakfast! You'll be served a gorgeous cappuccino like this one, and have your typical choice of breakfast pastries, if you desire to have a classic Italian prima colazione (breakfast).
However, if you have a hearty appetite, there is much more to choose from, including eggs which are cooked to order, meat, cheese, fruit, yogurt, and almost anything else you could imagine for a breakfast buffet. Breakfast is included with the room rate.
A massive thank you to Alessandro and Libera for the kindness and hospitality that was extended to me. I know that each guest feels the same way when visiting Hotel and Spa Excelsior Belvedere.
Disclosure: I was hosted for lunch and dinner at Hotel Excelsior's Belvedere Restaurant in order to write about my experience. No conditions or stipulations were made, (or money paid) requiring a positive review of the restaurant. As always, all opinions are my own.
Christina's Cucina is a participant in the Amazon Services LLC Associate Program, an affiliate advertising program designed to provide a means for sites to earn advertising fees by advertising and linking to Amazon.com as well as a Booking.com affiliate.