The Rocco Forte Spa at The Balmoral Hotel in Edinburgh is a place to escape reality for a short time. Whether you are staying at the hotel, or just take a few hours for a massage and to enjoy the facilities, I'd highly recommend either one.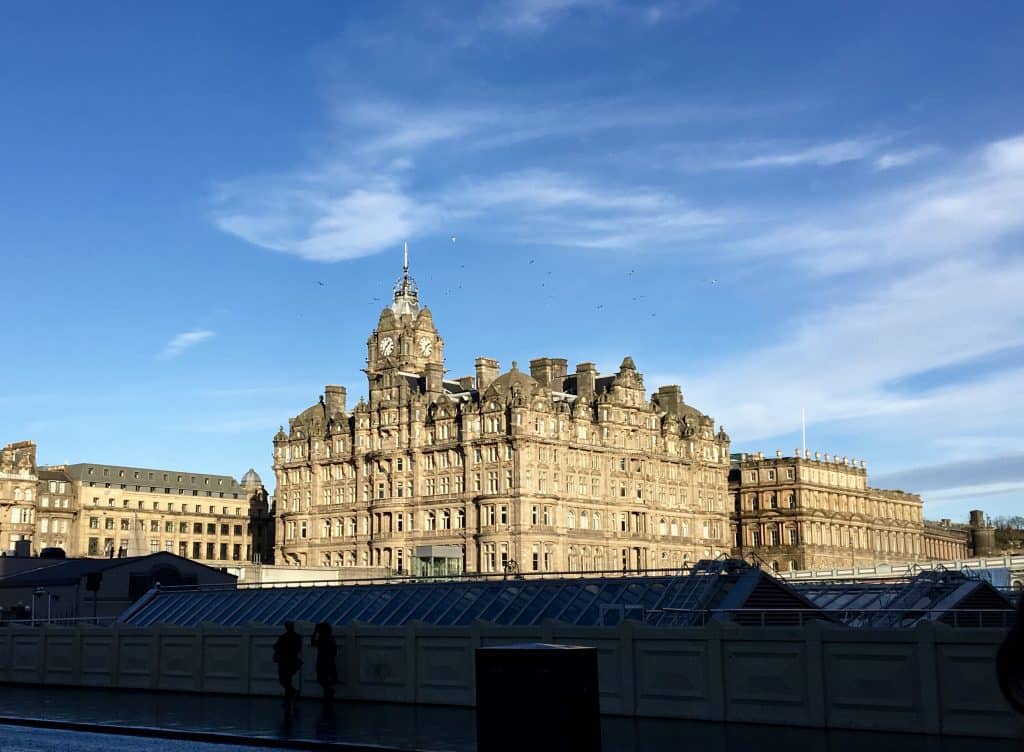 When I stayed at the Balmoral Hotel in Edinburgh this past January, I treated myself to a massage at their luxurious Rocco Forte spa. It truly was a rejuvenating treatment, and a respite from the stressors of day to day life (like moving your child half way around the world).
N.B. I paid for my own spa treatment and all opinions are my own.
Staying at The Balmoral is a tonic in itself, but indulging in one of their spa treatments is even better. I was in Edinburgh to help get my daughter checked into her study abroad program and as she'd left, I decided to treat myself. To be honest, I had seen a massage promotion for the spa on Facebook before I'd left home and made a note to myself. It was a great deal, so I didn't want to pass it up!
A Full Body Massage at the Rocco Forte Spa
Of course, the spa itself is a soothing environment, but everyone made sure that I had everything I needed once I arrived for my treatment. I was taken into a room and asked a few health questions before I got changed. I waited for my massage therapist to come back in once I was on the table, (she didn't make me wait long at all, which was nice). The atmosphere was very relaxing and clean, as it should be.
My 55 minute full body massage was heavenly and I was very happy with the treatment. My therapist did a great job with the pressure and asked if it was too light when she started. The only problem was that I didn't want to get up when she was finished! I think that's a good sign, though, right?
The Rocco Forte Spa Facilities
When I finally got up to put on my robe, I was shown the rest of the spa facilities. I chose to go for a swim and used both the sauna and steam room. (For obvious reasons, I don't have photos of the latter two).
One thing that I noticed is that there was a toddler and grandmother at the pool, which was fine for the most part. However, do note that children are allowed in the pool area.
There was a great workout area, but I'll admit, I didn't use it even though I should have!
The area near the pool includes a seating area with a lovely sideboard offering tea, and hydrating drinks.
I had a relaxing few hours at the spa, and would definitely recommend taking advantage of it if you stay at The Balmoral. (Or even just book a treatment, if you're not staying here).
Once I decided to face reality again, I headed into the changing area. The Rocco Forte Spa at the Balmoral makes sure to provide everything that's needed here. In case you've forgotten something that isn't readily provided (as I did), you just need to ask.
The Rocco Forte Spa at The Balmoral is definitely an added bonus to the hotel. Maybe make it a spa and afternoon tea day? That would be a brilliant way to spend a day!
You can find out more, or book a treatment at the Rocco Forte Spa at The Balmoral here.

Don't miss another recipe or travel post, sign up for my free subscription below!
I promise not to share or sell your email address, ever.
This is not a sponsored post. I paid for my own treatment and decided to post about my experience without any compensation.