This hot black currant and orange citrus drink not only tastes fabulous, but if you're sick with a cold or the flu, it will do you a world of good.
Most of my family is sick right now. Both my parents have a cold, and my daughter who is studying in Scotland called to say she's not feeling well, and was staying in bed. My son was also not feeling well, not to mention friends who have been sick recently.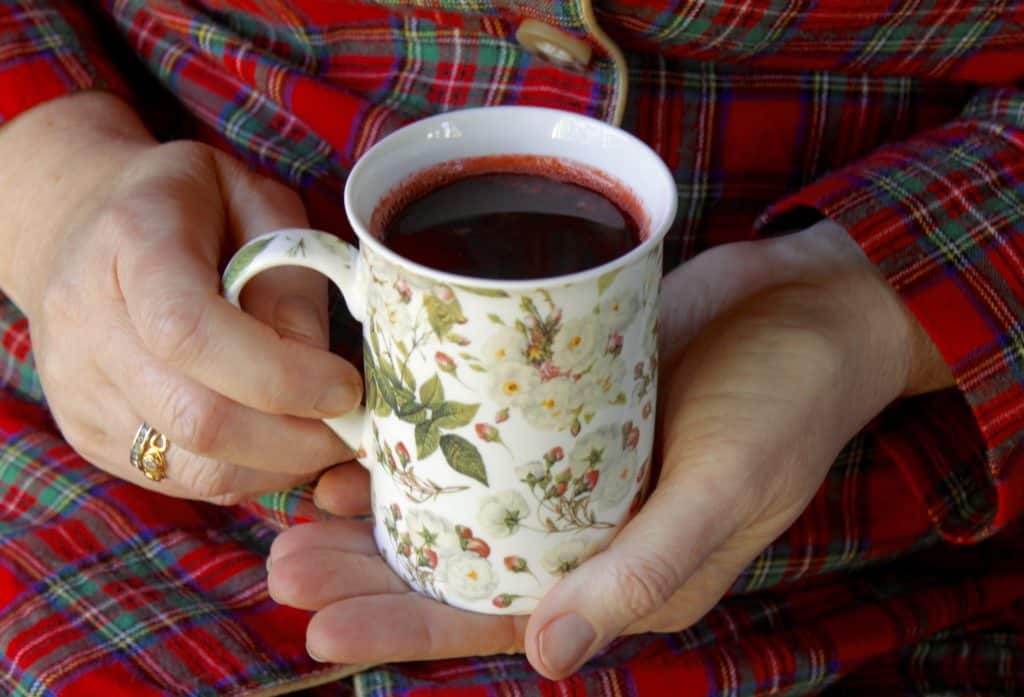 This tells me that it's not too late for me to share this Hot Black Currant and Orange Citrus drink recipe which includes a much too overlooked superfruit: black currants. I wrote about black currants last year, and how they hold a powerhouse of vitamins, and have so many health benefits, there are too many to list. PLEASE don't confuse black currants with Zante currants, as many companies, including Bob's Red Mill are misleading customers by mislabeling these mini-raisins as black currants. :(
The UK and many European countries have caught on, but as of yet, the US has not, which is so frustrating to me! I love black currants and the flavor is my favorite when choosing from candies in the UK.
I had some black currant concentrate in my freezer, and decided to make my own version of a hot drink to fend off the "bad guys" (as I used to call germs when my kids were young). It's so delicious, and very enjoyable to drink, unlike many other healthy concoctions which seem to have a "side effect" of tasting horrible. (Hint: you could add a splash or brandy if it's just before bedtime.)
Hot Black Currant and Orange Citrus Drink
original recipe by Christina Conte
makes two 8 oz cups
Ingredients
2 tsp black currant concentrate (I can no longer recommend the company that provided me with the sample)
8 oz (1 cup) freshly squeezed orange juice with pulp
1 tsp fresh lemon juice
2 tsp to 2 tbsp real honey (preferably local, from a trusted source)
about 8 oz water (1 cup)
(optional: cinnamon stick and/or a splash of brandy)
Place all the ingredients in a pot over medium heat. Stir to dissolve the honey and heat until hot, but do not allow it to boil.  Pour into two mugs.
Add the cinnamon sticks and/or brandy, if using.
Tip: you can use the black currant concentrate to make black currant gelatin cubes, too.
I did not receive any compensation for this post, I simply LOVE black currants and want to spread the word about this wonderful fruit.
Don't miss another recipe or travel post~sign up for my free subscription below!
I promise never to sell or share your info.