Afternoon tea at the Balmoral Hotel is an indulgent and delicious way to spend an afternoon in Edinburgh. J.K. Rowling fans will especially love this luxurious hotel.
After our day trip to St. Andrews, our last day in Scotland was spent in Edinburgh having a most delightful afternoon tea at the Rocco Forte Balmoral Hotel, and afterwards, visiting family.
Disclosure: my mother, daughter and I were hosted for afternoon tea at the Rocco Forte Balmoral. As always, no provisions were made for a positive review, and all opinions are solely my own.
A Pearl of Edinburgh
We drove from Glasgow to Edinburgh, which is only about a 45 minute drive, to have afternoon tea at the Balmoral Hotel–a perfect way to end our stay in Scotland. The hotel is situated in the heart of Edinburgh, with the coveted address of No. 1 Princes Street and conveniently adjacent to the Edinburgh Waverley Train Station.
I could write so much about the hotel alone, and why I have gained such an affinity for this marvelous establishment.
Could it be that when it originally opened as the North British in 1902 was exactly 64 years to the day that I was born?
Or that the owner and his family, and my family are both Scottish Italian?
What about the fact that my paternal grandfather and the current owner's father were not only interned together on the Isle of Man during WWII, but knew each other?
Maybe that Sophia Loren, Paul McCartney, other celebrities and former Prime Ministers of the UK have stayed here, or that the Queen Mother was a regular for lunch?
Or possibly that the Rocco Forte philosophy and values are in line with mine?
Stay at any Rocco Forte hotel and you're assured of the highest quality accommodation, facilities and services. -RF Hotels
However, today I'm going to introduce you to the classic afternoon tea offered at the Balmoral's elegant Palm Court.
The Rocco Forte Balmoral Hotel
From the world famous Princes Street, it's unmistakable to see that the imposing building is a historical asset to the city of Edinburgh. (Here's an amusing bit of trivia: since 1902, the clock on the Balmoral Hotel's tower has been set to run three minutes fast, so that the people of Edinburgh won't miss their trains!)
Once inside the lobby, Roman columns give a nod to the Italian background of the Forte family, and fresh flowers greet guests before they arrive at the front desk.
The Balmoral Afternoon Tea Experience
My mother, daughter and I checked our jackets into the cloakroom and were taken into Palm Court, which is directly through the lobby. Immediately, the dullness of the cloudy Scottish day vanished, and we were transported into a bright and airy place of elegance, and a respite from the city.
Our waiter introduced himself and wasted no time in pouring each of us a lovely glass of Ruinart Champagne! That's how I like to begin a wonderful afternoon.
A beautiful trio of Virgin Bloody Mary Soup was the amuse bouche for our tea.
We had informed our waiter about my daughter Denisa's nut allergies, so she was given her own nut-free tray. Those of you with allergies, or children with allergies will appreciate this more than others. I also want to point out that our waiter actually asked us about potential allergies, even before we were able to tell him about my daughter's. I'd give bonus points for this!
Among our selections were a warm cheese scone with horseradish sauce, curried chicken salad on wheat bread, Scottish smoked salmon open face sandwiches, egg salad on brioche bread and the classic cucumber and cream cheese. They were all delicious, and we all had a different favorite: my mother loved the salmon the most, Denisa loved the cucumber and cream cheese and my top pick was the curried chicken salad.
Our waiter prepared our tea table side.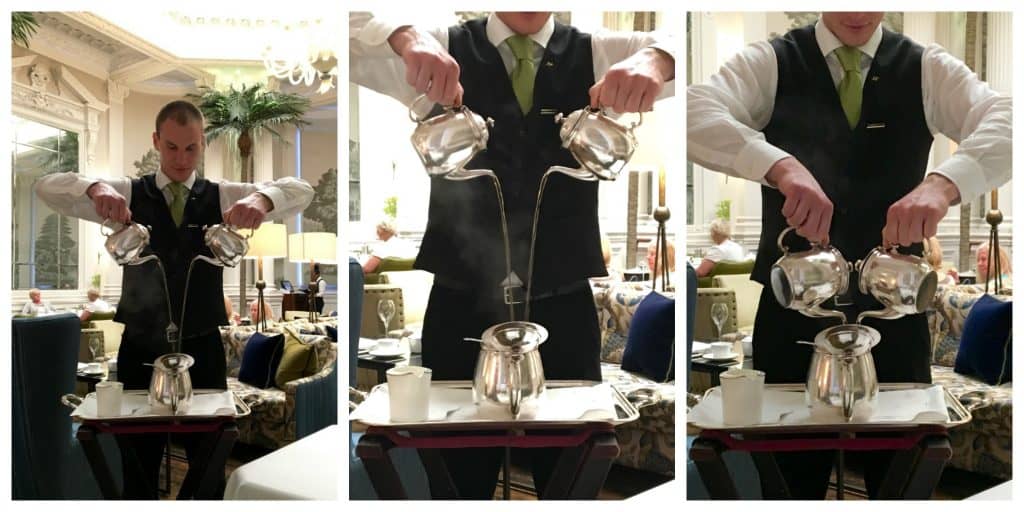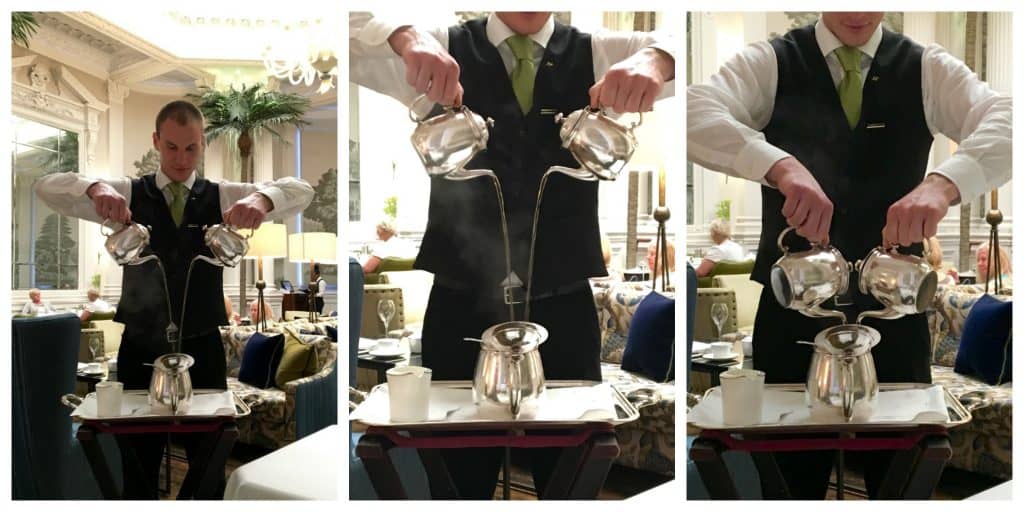 After steeping for a few minutes, my daughter and I had a lovely cup of tea. Mum decided to be different for a change, and order a hot chocolate instead, which was smooth, and not too sweet.
Unlike most afternoon tea experiences, The Balmoral serves the savory tray first, then brings a second tray filled with the sweet selections! I LOVE this idea, don't you?!
At this point, we really filled up on the savories. We hadn't realized just how much food was on those trays.
However, the sweet selections were just too enticing to dismiss!
Executive Pastry Chef Ross Sneddon had simply outdone himself. Each and every dessert was a creation of art, and the flavors were sublime. One of my favorites (if not my favorite) was the creme brûlée with rhubarb served in an egg shell! I cannot even describe the melt-in-your-mouth topping, but the entire dessert was simply exquisite! The scones were delicious, which I think you might even be able to deduce just from the photo.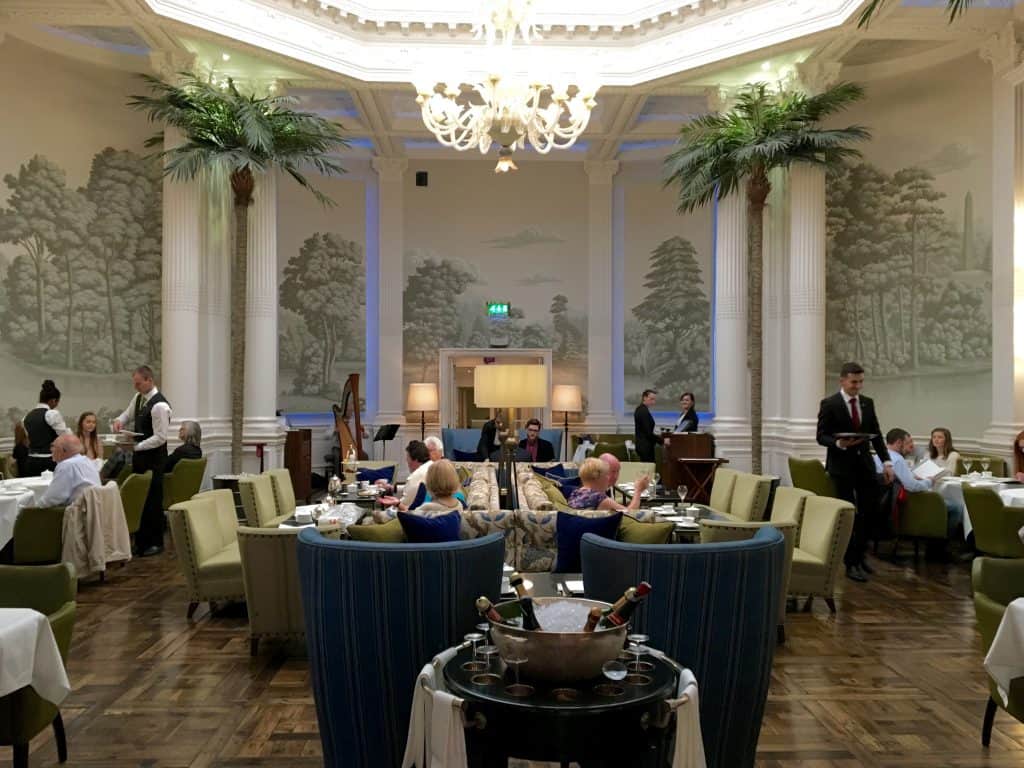 When we were almost finished with our dessert trays, I asked our waiter if I could meet Katy, who had arranged to host us for afternoon tea. She came to meet us and as we were chatting, I mentioned that my cousin and his family live on the other side of Edinburgh which was where we were going after tea, and they live very close to J.K. Rowling. Katy then asked, "So you probably know about our J.K. Rowling Suite?" I had to profess that I had never heard of it, but asked to hear more.
The J.K. Rowling Suite at the Balmoral Hotel
Apparently, when finishing Harry Potter and the Deathly Hallows, the last of the Harry Potter series, J.K. Rowling secretly stayed in a suite in the Balmoral to be able to focus and write more efficiently. After she finished her book, she "graffitied" a bust in the room, signing it to record the date and place of the book's completion. After her stay, The Balmoral named the room, The J.K. Rowling Suite in her honor.
My daughter, being the "Potter-Head" that she is, was very excited to hear this story, but when Katy asked if we wanted to see the suite as long as there was no one checked into it, her excitement grew. Katy left to check on the J.K. Rowling suite, and told us there was more to come for our tea.
Soon, a waitress rolled a trolley up to our table and asked us what we would like to have. We couldn't believe the selection of candies and treats: colorful macarons, fruit flavored jellies, salted caramels dipped in chocolate, and homemade marshmallows, to name a few.
These are my choices–how could I resist?
Katy popped back over to our table to let us know that, indeed, the suite was available and we could have a peek. At this point, Denisa wasn't the only one who was excited! Katy then told us there was one more small surprise in store before we could leave to see the room.
Our waiter then brought us the most adorable miniature cones of sorbet that I've ever seen!
After our tiny cones, we followed Katy upstairs to the J.K. Rowling Suite. The Balmoral even added an owl door-knocker to the door of the suite!
Upon entering the suite, all eyes were on the desk and chair. We realized that was the place where the magic happened!
The suite was so peaceful and comfortable with the cool, muted colors, I could see why J.K. Rowling would choose to burrow herself in here to write. Denisa didn't want to sit at the desk, but we all convinced her that it was a fabulous opportunity!
The view was one of the best parts of the suite. That's Calton Hill in the background with the sea just to the left.
Last, but not least, I have to show you the bust of Hermes with J.K. Rowling's graffiti, along with a framed commemoration of the event.
Denisa had originally wanted to go to the coffee shop where J.K. Rowling used to go when she started writing the Harry Potter series, but this was even better.  We'll get to the coffee shop the next time.
We walked down the staircase to the lobby instead of taking the elevator, and there was just something about it which made me think it could have been inspiration for Hogwarts' interior.
The Rocco Forte Balmoral is just one of 11 such unique hotels across Europe, Russia and Saudia Arabia.
"Each of our properties is individual – each has its own personality, and each is authentic to its city. All are landmarks, both old and new, occupying magnificent buildings in exceptional locations…" 
                                                                                -Sir Rocco Forte, Chairman and CEO of Rocco Forte Hotels
It's clear to me that this will not be my last experience with the Rocco Forte brand of hotels and I cannot wait to explore what the others have to offer. However, I'm just as excited to return to the Balmoral, as there is still so much at this hotel. It features a Michelin star restaurant, spa and Scotch whisky bar which features over 500 malts, blends and vintages from every part of Scotland!
For more information on the Rocco Forte Balmoral Hotel for afternoon tea, a stay, or details about the other hotels, visit~
THE ROCCO FORTE HOTELS & RESORTS WEBSITE
You can also follow them on Facebook.
Don't miss another post! Sign up below for my recipe and travel posts.
I promise not to sell or share your info, ever.
Disclosure: our afternoon tea was hosted by the Rocco Forte Balmoral Hotel. All opinions are always my own. I am disclosing this in accordance with FTC regulations.