Pizza donuts are going to be your new favorite type of donut! This savory Italian recipe turns out doughnuts that taste like a light and airy mini pizza, but be sure to use the right ingredients!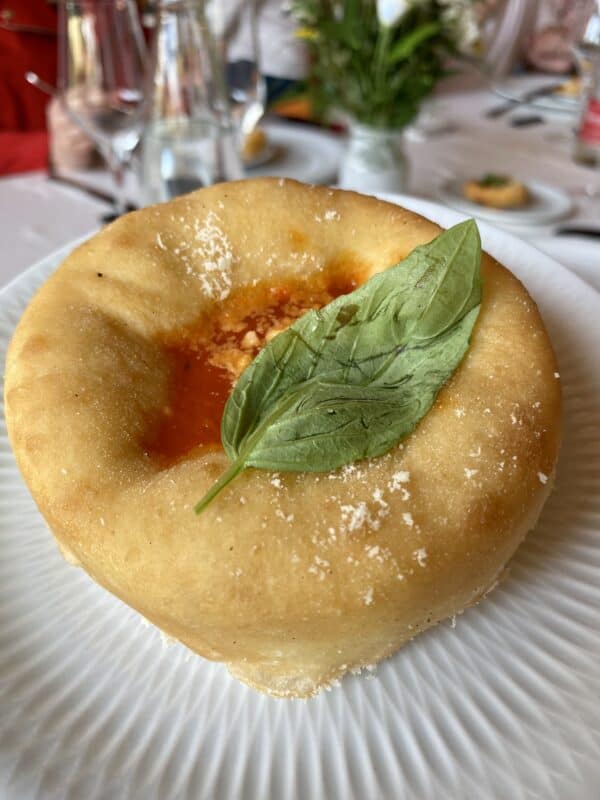 Have you ever heard of a savory donut? I was served this pizza donut in September during an ANICAV hosted tomato press trip for The Greatest Tomatoes from Europe at Villa Del Carmelo in Salerno, Italy.
As an Amazon Associate I earn from qualifying purchases.
Let me tell you, everyone on the tour swooned for the entire meal prepared by Chef Enrico Ruggiero, but I think a firm favorite was the pizza doughnut which was served as a starter.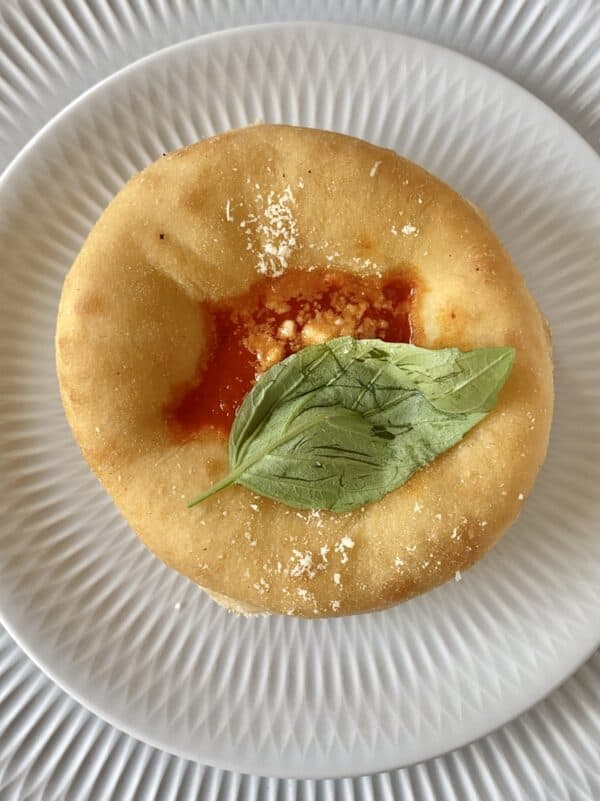 If you've had pizza fritta (fried pizza) in Southern Italy, this version is formed like a donut, topped with tomato, Parmigiano Reggiano and a fresh leaf of basil: sublime! I couldn't wait to try these at home since Chef Enrico was kind enough to share his recipe. Although they weren't quite to the level of his, they were pretty darn good!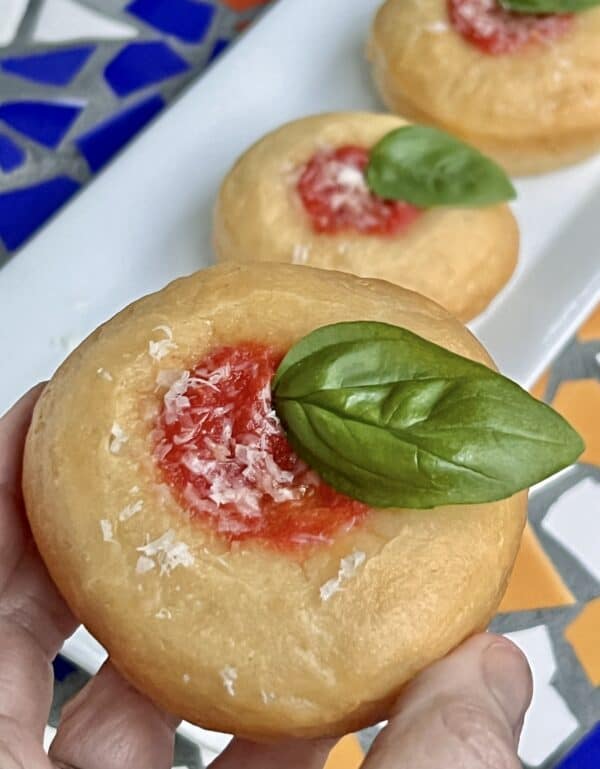 You may not know, but my top post for the ten years I've had my site is my perfect yeast doughnuts recipe. I also have vegan doughnuts, mini pumpkin and orange doughnuts, and Italian Christmas doughnuts, so I know a little bit about doughnuts! :)
Pizza doughnuts would be great for so many occasions! Think about parties, picnics, lunch boxes, sleepovers, game-day events, fundraisers, and of course, starters for an Italian meal, as Chef Enrico served them to us.
Quality of Ingredients is Important
Please understand that in order for these to turn out as heavenly as possible, it's important to use the best ingredients you can find. If you can buy 00 flour from Italy, use fresh yeast (old yeast won't work), good quality tomatoes from Europe (these are the best canned tomatoes you can buy), and Parmigiano Reggiano (the real stuff)!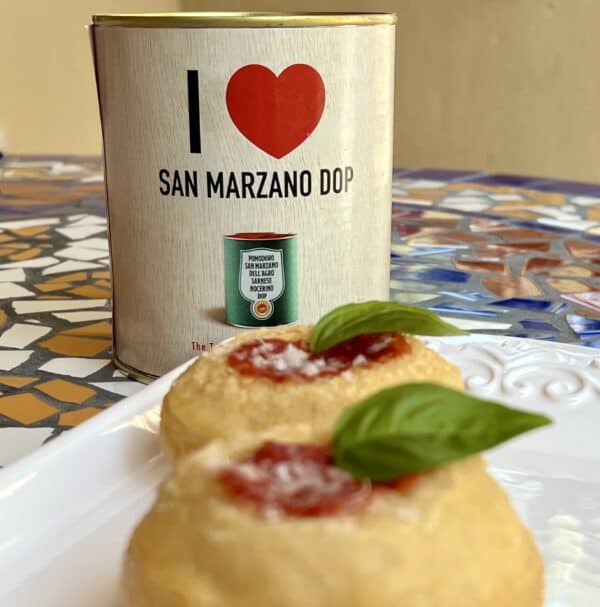 I'm linking to the products I suggest, but you can usually find them cheaper at a local Italian shop or your grocery store. Just beware that there are many canned tomatoes which lead consumers into thinking they are San Marzano tomatoes from Italy, but they are not (they're often not even from ITALY)!
And if you want a proper pizza dough and pizza sauce recipe, I have you covered, as well!
Just try a taste from a can of raw pomodori pelati Italiani (peeled Italian tomatoes) with "pomodoro San Marzano dell'Agro Sarnese-Nocerino DOP" on the label. They are naturally sweet and need no sugar or loads of herbs to cover up the acidic flavor.
Note: these are totally vegan if you omit the end sprinkle of Parmigiano, which is optional.
You can use this no knead pizza dough recipe, too.
How to Make Pizza Doughnuts
slightly adapted from Chef Enrico Ruggiero by Christina Conte makes 9 donuts
FULL PRINTABLE RECIPE BELOW
All you have to do is make the dough in a stand mixer, it's so easy because the machine does all the work.
Then let it rise.
Then knead, flatten the dough with your hands, and cut into donuts.
Let them rise a second time.
Then fry until golden brown.
Drain on paper towel.
Make an indentation in the center, add the sauce, cheese and basil leaf and serve warm or cold!
I hope you enjoy this recipe as much as I did! Thank you to Chef Enrico who you can follow on Instagram! And if you're ever in the Salerno region, pop into Villa Del Carmelo for fabulous food! Let me know if you make these savory snacks in the comments below, thank you!
Pizza Donuts - Savory Italian Recipe
Additional Time:
5 minutes
Total Time:
4 hours
15 minutes
A savory fried pizza donut.
Ingredients
Pizza Dough
450 g (3 1/2 cups) Italian type "00" flour (all purpose will work, but for best results use the double zero flour)
266 ml (9 oz) cold water
25 ml (1 1/2 Tbsp) extra virgin olive oil
3 g (1 tsp) dry yeast
10 g (1 tsp) Kosher or sea salt
1 pinch sugar
oil for frying (Chef Enrico uses sunflower oil)
Topping
65 g (1/2 cup) San Marzano DOP whole peeled tomatoes, blended
1/8 tsp salt
drizzle of extra virgin olive oil
9 leaves of fresh sweet basil
(optional: 2 Tbsp Parmigiano Reggiano, grated - omit to keep vegan)
Instructions
Dissolve the yeast in the water in the mixer bowl with the pinch of sugar. Add the flour and mix.
After all the flour is absorbed, add the salt and oil. Mix for about 20 minutes at a moderate speed until the dough has a smooth texture.
Cover the bowl and leave to rise until doubled in size.
Put the dough onto a floured surface. Knead gently then flatten until about 1/2" thick. Cut with a sharp doughnut cutter and place on squares of parchment paper on a tray. Cover with cling film and put in the refrigerator until the balls double in size (this can take a few hours, even overnight). Remove from the fridge 15 minutes before you want to fry them.
Heat sunflower oil to 350°F (170°C) in a and deep fry the donuts until they are golden on all sides; remove and place on a paper towel lined tray. Press down in the center of the fried pizza to make an indentation to put the sauce into.
Mix the tomato sauce with salt and extra virgin olive oil.
Serve the pizza donuts with a spoonful of tomato sauce, a leaf of basil (and grated 36 month aged Parmigiano Reggiano if you like).
Notes
Chef Enrico suggests using 36 month aged Parmigiano Reggiano.
Nutrition Information:
Yield:

9
Serving Size:

1
Amount Per Serving:
Calories:

125
Total Fat:

4g
Saturated Fat:

1g
Trans Fat:

0g
Unsaturated Fat:

4g
Cholesterol:

1mg
Sodium:

55mg
Carbohydrates:

5g
Fiber:

1g
Sugar:

0g
Protein:

1g
Nutrition information is only estimated.
Christina's Cucina is a participant in the Amazon Services LLC Associate Program, an affiliate advertising program designed to provide a means for sites to earn advertising fees by advertising and linking to Amazon.com.