If you're thinking this is the famous Lidia (TV personality) chef's recipe, it's not. This is my mother's own recipe, so you won't find it anywhere else.
Artichokes are in season, so enjoy them while you can. I love artichokes, but I must admit, the fresh bread stuffing with tiny pieces of chopped mushroom, black olives and veggies is just gilding the lily.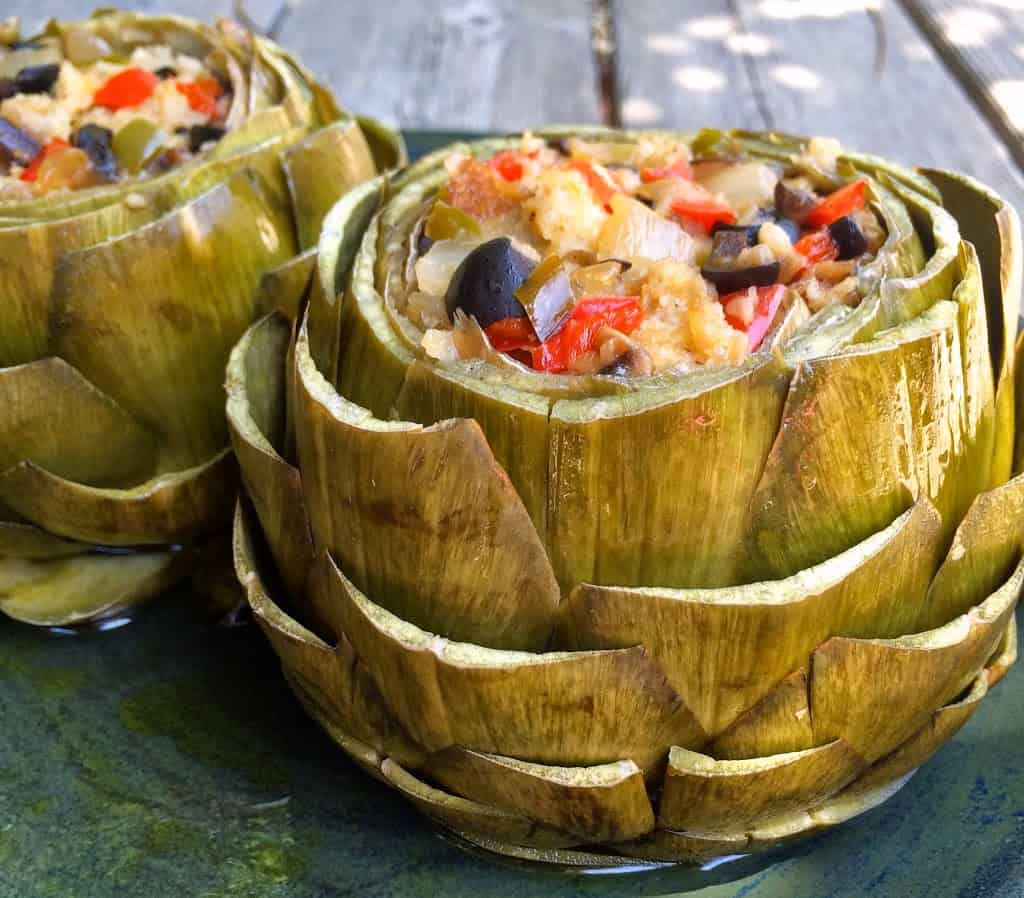 Lidia's Mushroom & Black Olive Stuffed Artichokes
4 large artichokes, tops cut off, and each leaf tip snipped; stem removed (reserve)
1/2 large onion, finely chopped
4 oz mushrooms, diced
1/2 red pepper (or a combination of red and green or yellow) diced  into small pieces
stems from the artichokes, peeled and diced
1/3 cup large black olives, diced
2 tbsp extra virgin olive oil
8 oz fresh (or slightly dry) breadcrumbs
white wine
salt and pepper
6 to 8 oz water
2 tbsp extra virgin olive oil
2 or 3 cloves of garlic, smashed
Kosher salt (about 1/2 tsp)
First, wash the artichokes and remove the fuzzy choke inside.
I discovered that a grapefruit spoon works perfectly!
If you've never done this before, it's super easy: just put both thumbs inside and push toward the outside to make room in the center,then scoop out the fuzzy center!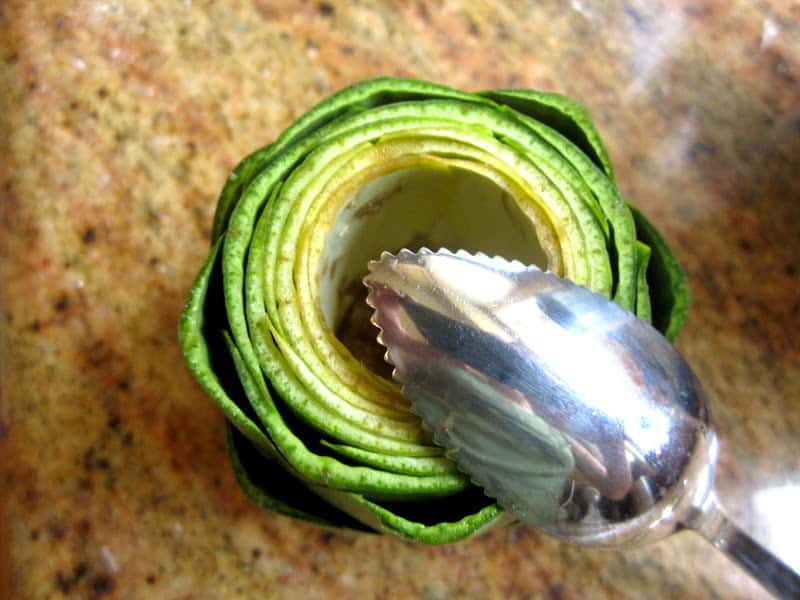 Next, saute the onion in olive oil for about 3 minutes, then add the mushrooms, peppers, and artichoke stems and cook over medium heat for about 5 minutes.
Add the olives, and salt and pepper to taste.
Now add the breadcrumbs and some white wine to make a moist stuffing.
Fill each artichoke with the stuffing, gently pushing down until full.
If you have any leftover stuffing, push it in between the outer leaves.
I didn't have any leftover, so I just put it all in the center.
Place the water, olive oil, garlic and salt in a pot which can accomodate all four artichokes, then place the artichokes upright in the pot and cover.
Turn burner on to medium high heat until the water comes to a boil, then turn down, and simmer/steam (make sure to add water if too much evaporates) for 45 minutes to an hour or until artichokes are tender.
Check by pulling a leaf, and if it comes out easily, it's ready.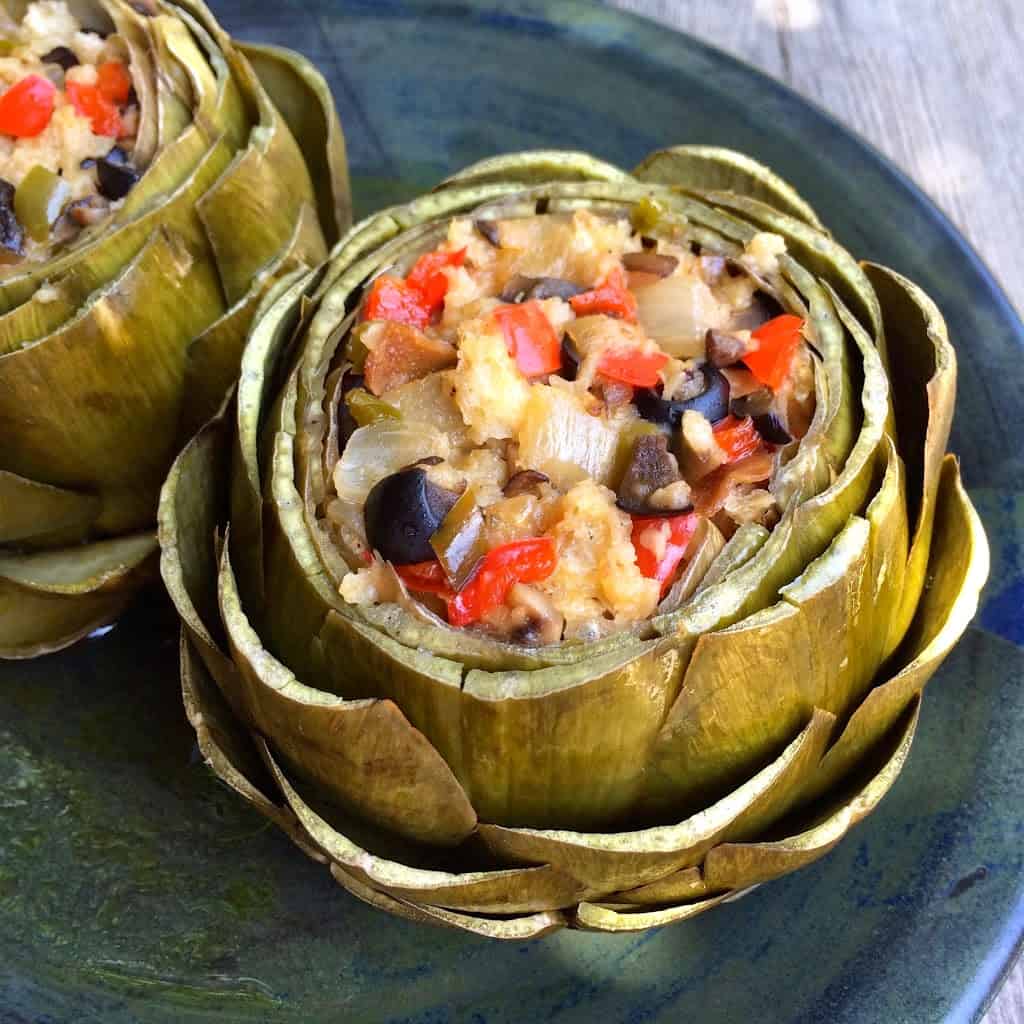 Serve on it's own or as a side dish; just delicious!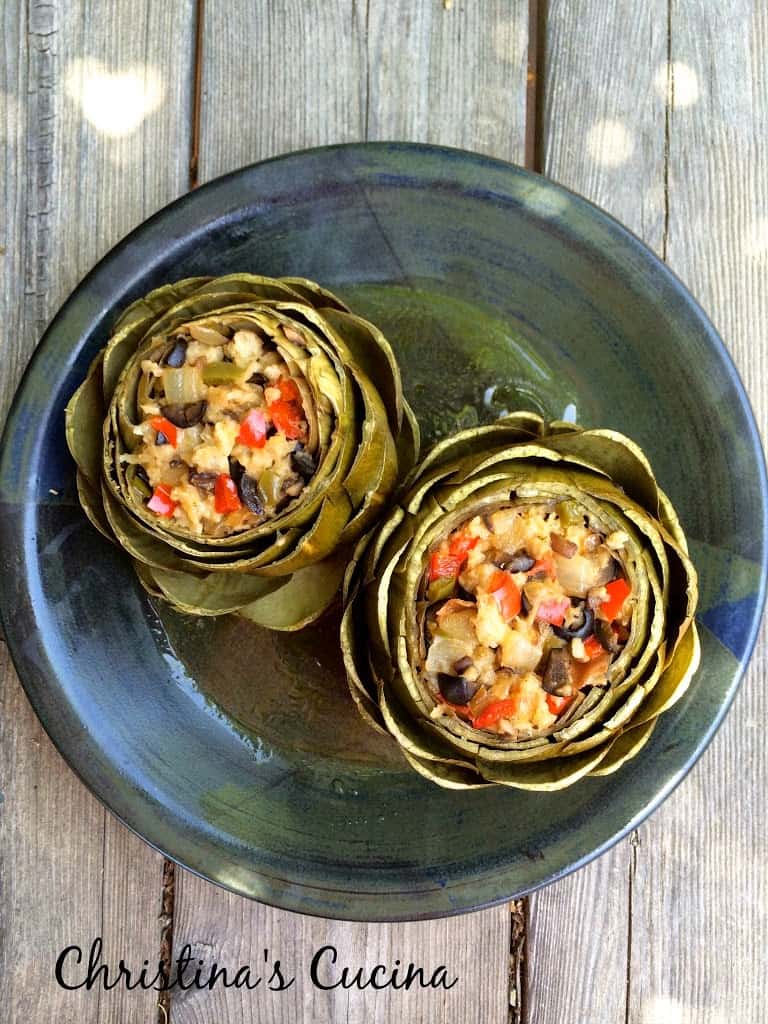 Don't miss another post! Sign up below for my recipe and travel posts.
I promise not to sell or share your info, ever.