This pasta recipe is a perfect dish to serve in December with its red and green color theme, don't you agree? It's also a lighter meal, which is most likely a welcome sight after so many hearty and heavy dishes this time of year.
Christina's Cucina is a participant in the Amazon Services LLC Associates Program, an affiliate advertising program (with NO increase cost to you) designed to provide a means for sites to earn advertising fees by advertising and linking to Amazon.com.
CONTEST HAS ENDED!
Disclosure: Lagostina provided me with a pastaiola set and 12″ copper martellata skillet in exchange for recipe development, along with another pasta pot and skillet to give away to two of my readers. All opinions are always my own.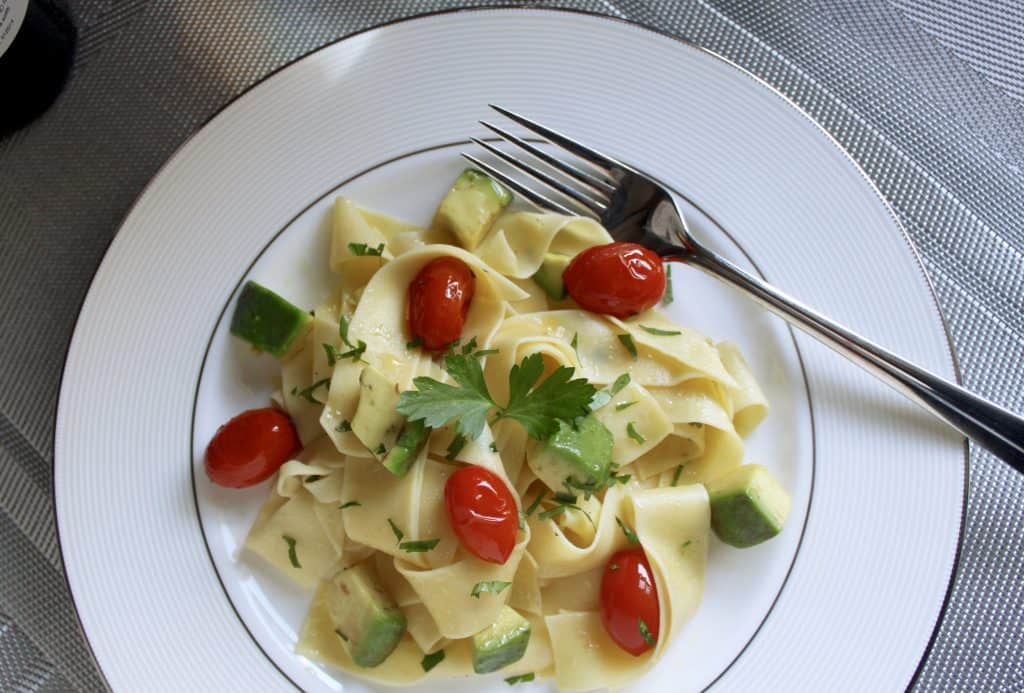 Do you know the feeling when use something that is just so well made and the quality is so much better than what you're used to? It's sort of how I felt when we rented an Alfa Romeo in Italy one year. I'd never sat in a driver's seat that actually felt like it was custom made for me. And driving that beauty–wow! Yes, it also happens to be Italian-made, but what can I say? Made in Italy rather speaks for itself, don't you agree?
EDITED Feb. 5, 2017: I recently discovered that only this particular pastaiola set is made in Italy; the copper skillet, and the rest of the Martellata line, are made in China. :(  I am so disappointed to learn this information because it appears to me (and others who have left reviews on Amazon), that the content on Lagostina's website which leads potential customers to think that all Lagostina products are made in Italy seems to be purposeful. I am totally shocked and dismayed to discover that I've been promoting products that are made in China (while stating that I do not use products in my kitchen if they're made in China)! When I asked Lagostina representatives about this, I was told the boxes state "made in China", however, when we are purchasing products online, there is no box where we can see this. I feel this is extremely unfair. The reason I discovered the Martellata line and most Lagostina products are made in China, not Italy, is because my mother purchased a set for my Christmas gift. When opening it, I happened to notice, "Made in China" on the bottom of the box! I am not happy with Lagostina, as you can imagine.
When I went to visit my parents in September, I brought my mother this same pot and she has since fallen in love with it. The other day, she told me that it's perfect for ravioli, because the built in colander allows the ravioli to be drained without having to be moved from the pot, which always resulted in some burst ravioli. I countered with, "It's also perfect for gnocchi!" for the same reason: no dumping from the pot into the colander making the gnocchi become mushy.
Egg Pasta with Avocado and Cherry Tomatoes
original recipe by Christina Conte
serves 2 to 3
Ingredients
8 oz of egg pasta (or pappardelle)
4 tbsp extra virgin olive oil (plus more)
1 or 2 cloves of garlic, finely minced
chopped parsley, as desired
1 to 2 cups of cherry or grape tomatoes
1 large or two small, ripe avocados, cut into cubes
salt and pepper
parsley to garnish
Bring water to a boil in the pastaiola, add salt and then cook the pasta as directed on the package.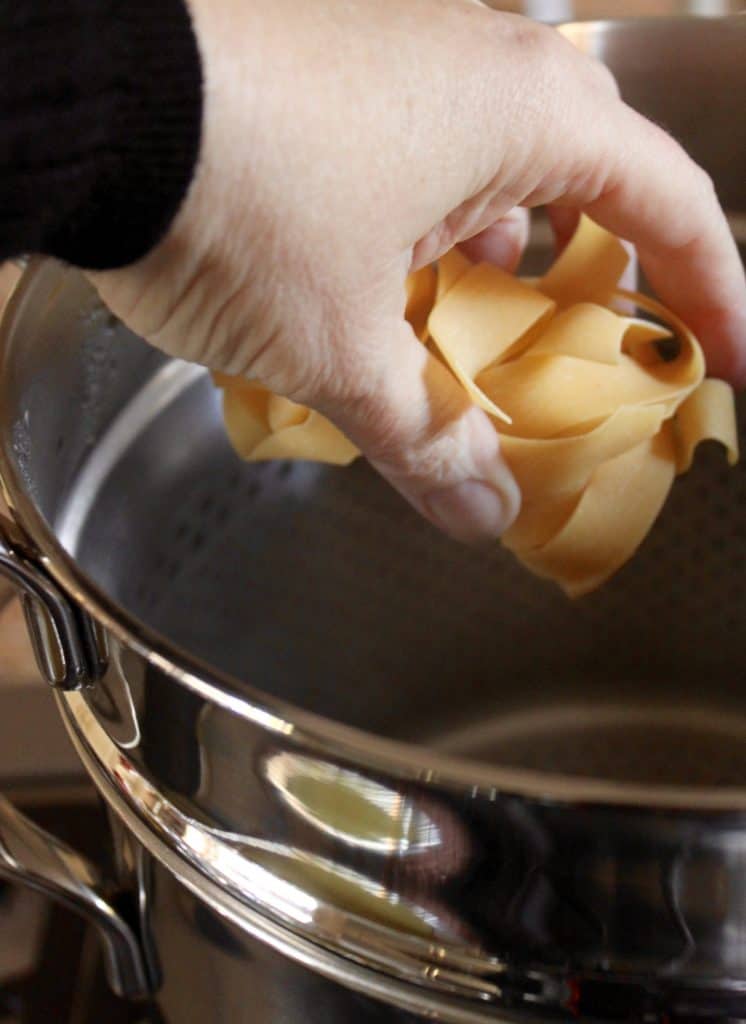 While the pasta is cooking, put the olive oil in the skillet over medium high heat, along with the garlic and parsley.
Turn the heat up, and add the tomatoes, cooking for just a few minutes to blister them, but not to cook them into a sauce.
Drain the pasta, reserving the water in the pot.
Add the pasta to the tomatoes in the skillet, with some chopped parsley, about 1/4 to 1/2 cup of pasta water and a generous drizzle of olive oil. Toss to combine all the ingredients.
Lastly, add the chopped avocado very gently, as we want to keep the avocado from getting creamed into the pasta.
Serve immediately and top with more chopped parsley and grated cheese if desired.
Although this is a great dish to serve during Christmastime, serve it year round, because you can't beat a fresh, healthy and delicious meal that comes together in under 15 minutes, right? Buon appetito!
The Lagostina Made in Italy pastaiola set is available at Amazon (affiliate link). I do love this pot, which IS Made in Italy, but am not happy with Lagostina's business practices of unclear advertising.
Click here to learn more about Lagostina USA, and you will see what I mean about the lack of clarity about where the products are made. We are led to believe they are all made in Italy, when this is far from the truth.
PLEASE NOTE: only a select few pieces are made in Italy! Most of their products are Made in China.
Don't miss another recipe or travel post, sign up for my free subscription below!
I promise not to share or sell your email address, ever.