Doenjang Chigae, also known as Korean Bean Paste Soup is such a healthy, nutritious, spicy, tasty and comforting dish. If you can get your hands on bean paste, put this on your menu asap. You won't regret it.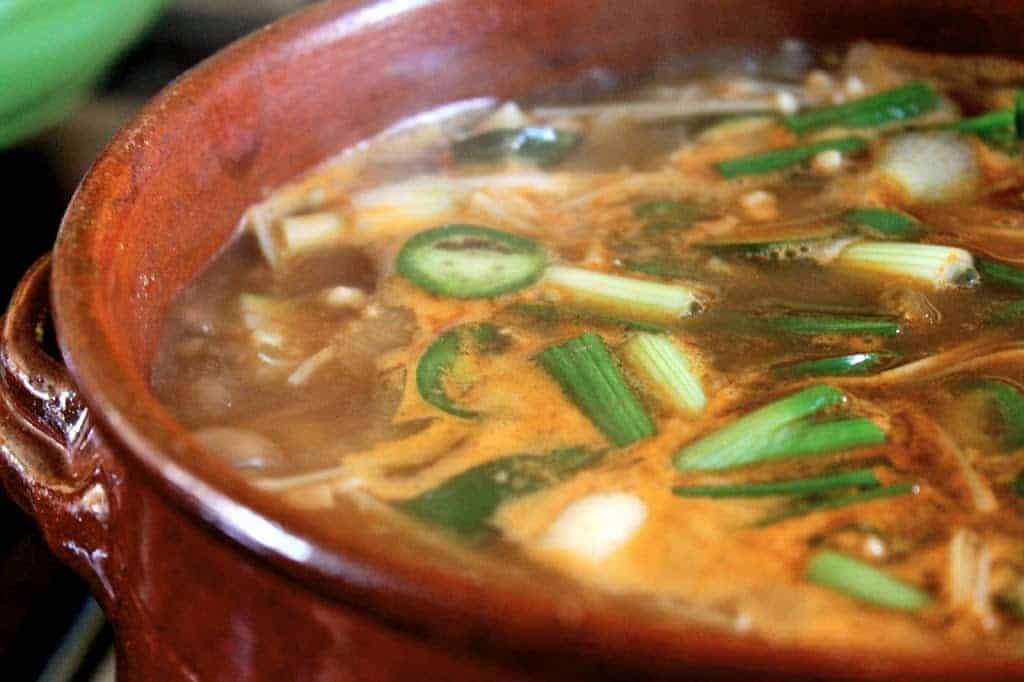 I wish I'd known about this Korean bean paste soup many years ago. Is it just me, or do you ever ponder about what food is out there that you've never heard of or tasted, but you'd absolutely love?
This post may contain Amazon affiliate links for your convenience at NO additional cost to you.
After years of being exposed to Korean food on a pretty regular basis from when I was about 11 years old, I started to think about other ethnic foods I'd never tasted. This is because until then, I had really only been exposed to Italian and British dishes. Since then, I've fallen in love with many Indian, Korean, Chinese, Filipino, Mexican and Peruvian dishes, just to name a few, but I still wonder what else is "out there" as I've not really travelled outside of North America and Europe.
In case you've never tried many Korean dishes, I'd like to share one of my favorites with you. I learned about this soup from my Korean friends, Soon and Oke, who also introduced me to so many other amazing Korean dishes like Mung Bean Pancakes. Doenjang Chigae is made from a soybean paste base (it does contain wheat, so it is not gluten free) and includes lots of healthy ingredients like onion, garlic, zucchini, mushrooms, tofu, green onions and jalapeños. It is spicy, but if you don't like it too spicy, you can omit the hot pepper paste and/or jalapeños. If you order this in a Korean restaurant, it will come out in a scorching-hot stone bowl, bubbling away like magma in a volcano. (I couldn't resist and I bought two of these!)
My mother ordered Korean Bean Paste Soup at a restaurant once and realized there was an empty bowl near her, but she was already halfway through her meal. I suggested that maybe she was supposed to have dished the soup into the bowl to eat it. We asked the waitress towards the end of our meal, and she told my mother that she had, in fact, eaten it out of the serving bowl. If you know my mother, you'd realize just how horrified she was to hear this. Of course, being the supportive family that we are, we just had a good laugh at her expense!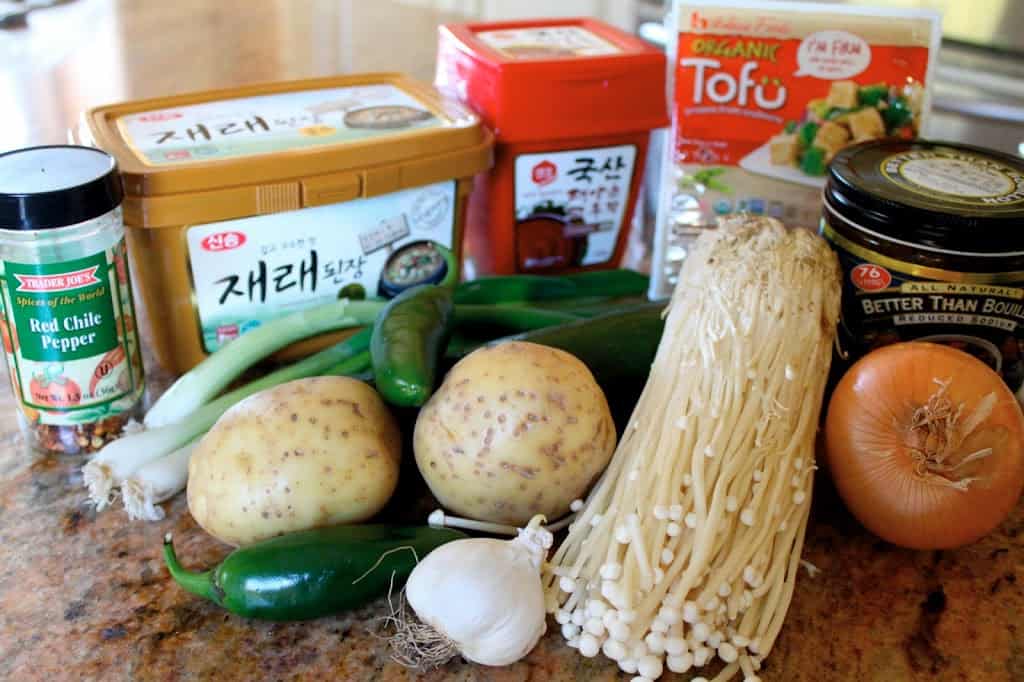 Doenjang Chigae aka Korean Bean Paste Soup
Ingredients
6 cups (48 oz) beef stock (including a bit of beef if desired) I used water with 2 tbsp of Better than Bouillon
3 tablespoons soybean paste (found at Korean markets-or Amazon, if you can't find it near you)
1 teaspoon or tablespoon Korean hot pepper paste (optional)
1 small onion, diced
1 tsp finely chopped garlic
1 medium zucchini, halved lengthwise and chopped
1 medium, or 2 small potatoes
8 oz firm tofu, diced
4 oz enoki (or sliced, plain white) mushrooms
2 or 3 green onions, chopped
1 or 2 jalapeños (optional) chili pepper flakes, to taste (optional)
cooked sticky rice (to serve)
Place broth, soybean paste, hot pepper paste (if using) in a pot and bring to a boil.
Once it comes to a boil, add the chopped potatoes, and simmer for 5 or 6 minutes.
Next, add the zucchini, garlic and onion, continue to simmer about 5 minutes.
Now add the mushrooms.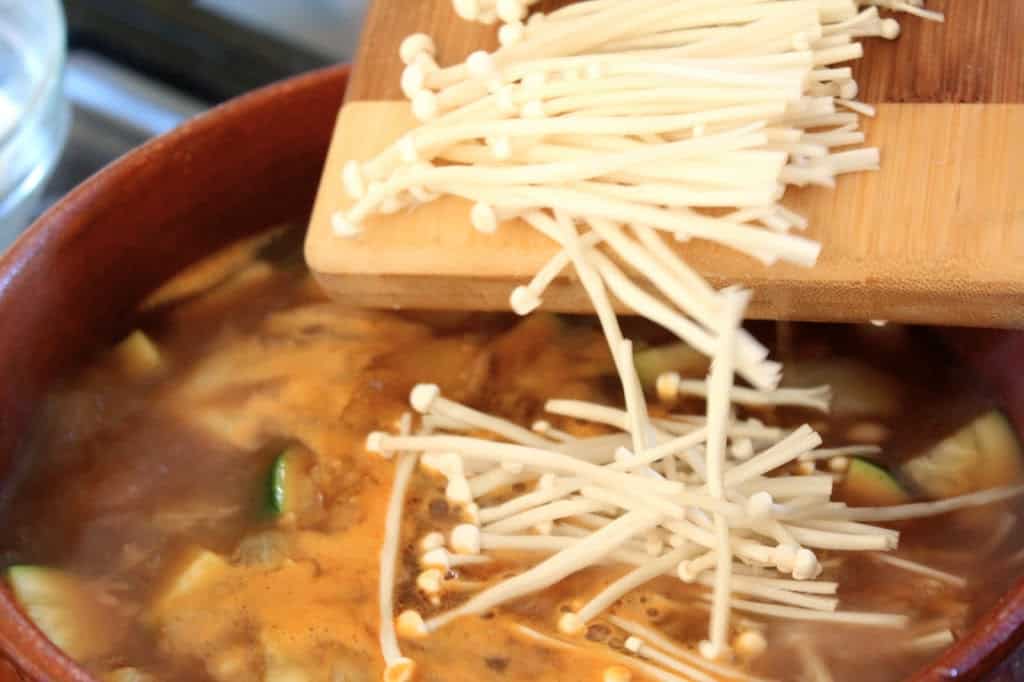 Then add the tofu.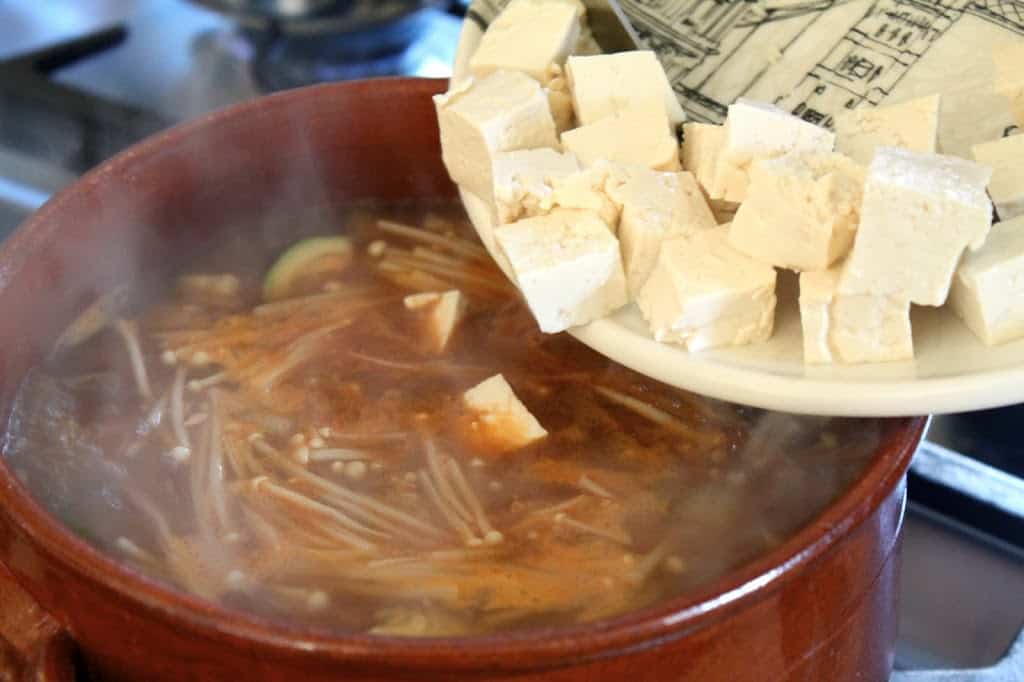 Lastly, add the green onions and jalapeños.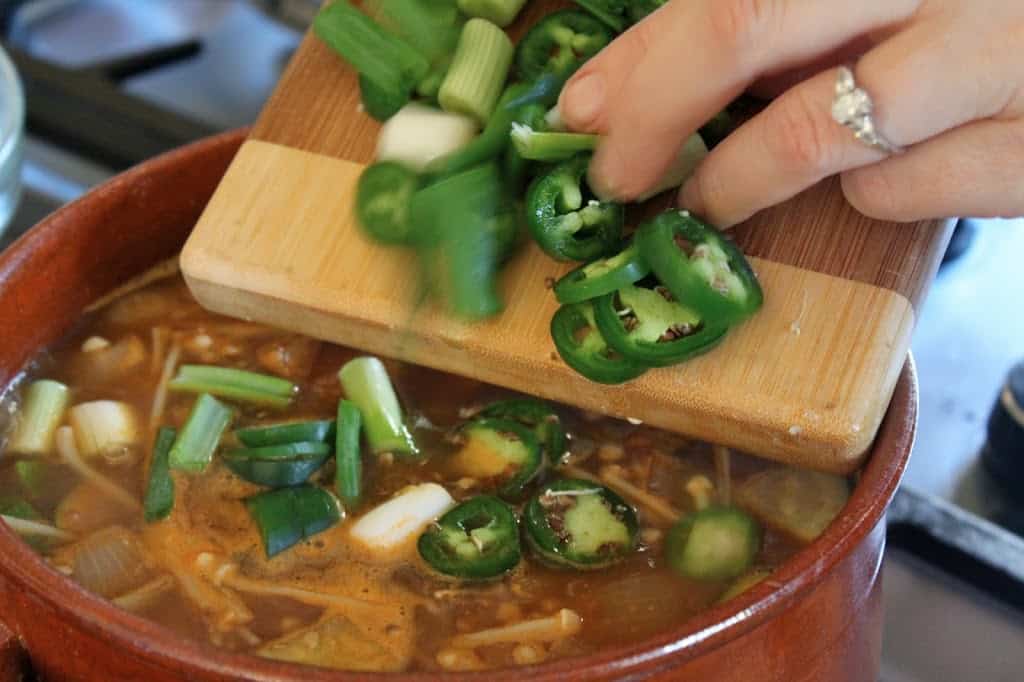 Let the soup come to a boil for a minute, so it's very hot, then immediately place into warmed serving bowls and add a tablespoon or so of cooked rice.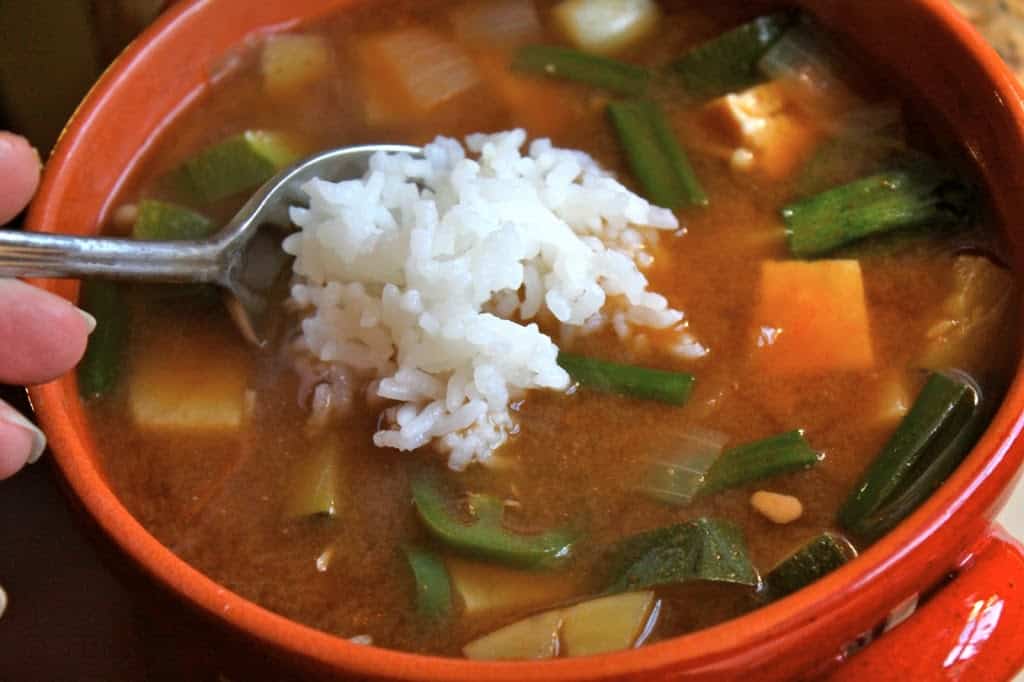 If this Korean Bean Paste Soup doesn't warm you up on a cold winter's day (it was 32ºF here in LA today) nothing will!
Don't miss another recipe or travel post, sign up for my free subscription below!
I promise not to share or sell your email address, ever.
Christina's Cucina is a participant in the Amazon Services LLC Associates Program, an affiliate advertising program designed to provide a means for sites to earn advertising fees by advertising and linking to Amazon.com without any added cost to the reader.