Hotel Alemannenhof on Lake Titisee is a gem in the middle of the Black Forest.
If you've been following along, you'll know that my mother and I had just enjoyed one of the most brilliant (if not the best) trips of our lives. We were on a one week Enchanting Rhine River cruise with the award-winning AmaWaterways, AmaCerto.
Disclosure: Auto Europe sponsored my 5 day car rental. I have used Auto Europe many times in the past and am happy to promote companies I know, use and love. My trip was also insured by Travelex, another company to which I have been loyal for many years. Hotel Alemannenhof provided accommodation with dinner and breakfast for my mother and me. All opinions are always my own.
Our fabulous cruise ended in Basel, Switzerland on a beautiful sunny day. We disembarked in the morning which gave us plenty of time to pick up our rental car which had been reserved in downtown Basel. Our plan was to drive to the first destination of our culinary tour in Europe. We were going to Hotel Alemannenhof on Lake Titisee, Germany. Our car was waiting for us at the Hertz office and we were upgraded to a spacious Volvo stationwagon, and on our way within minutes.
Reasons to drive in Europe
I've spoken to many people who absolutely refuse to drive in Europe, even though they've never been. For many Americans, I think it's the fear of the unknown that takes over. Let me give you a few reasons why I think that driving in Europe is such a wonderful way to see the continent. Then you'll see some of the places we went with our rental car.
1.Ease. I am sure there are many of your reading this who think that driving in Europe is difficult, but barring any driving in the center of London, Rome or Paris it truly isn't difficult at all. Automatic cars are readily available in Europe now, if you cannot drive a manual (I prefer stick-shifts, but all four of my rentals were automatic this trip). By the way, outside of the UK, driving in Europe is on the same side of the road as in the US.
2.Navigation and directions. Now that it's 2016 and we're all connected to the web, knowing where to go couldn't be easier: Siri is more than happy to tell you where to go! Having a smart phone or GPS truly does make driving in Europe many times easier than in the past. For example, when my husband and I landed in Frankfurt, Germany 26 years ago, we rented a car at the airport and attempted to drive to our bed and breakfast using AAA maps. We must have spent hours going around in circles, until we bought a German map and then quickly made it to our B & B which wasn't that far from Frankfurt! I love AAA, but their old European maps were terrible.
Mum and I programmed my smart phone for Hotel Alemannenhof on Lake Titisee and we were off.
(Here's a tip I just learned before this trip: download city maps onto your smart phone via Google and then you can use them without WiFi! This was an inexpensive and brilliant way to navigate.)
Basel is a relatively small city, so we were out in the countryside and over the German border within a few minutes. Here is a map to give you an idea of where we were driving.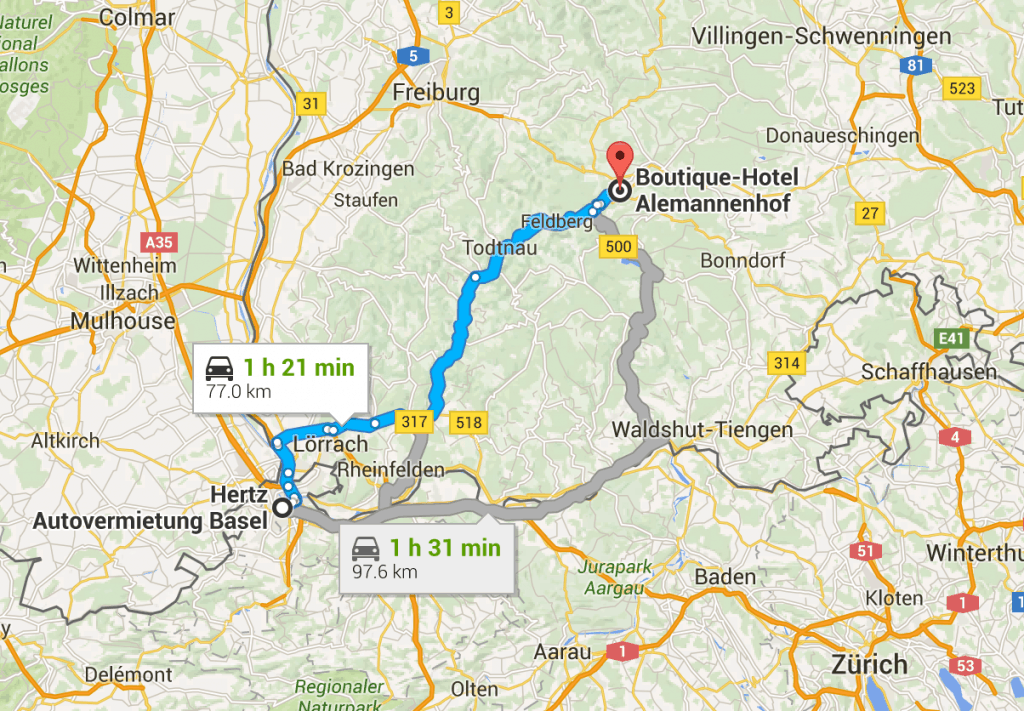 We knew that the drive was under an hour and a half, so about the midpoint of our drive, we decided to stop in a  little town called Schönau im Schwarzwald to stretch our legs. It was so pretty and very quiet.
Situated in the southern part of the Black Forest in a bucolic setting, this village could be a movie set; it was so pristine and perfect.
3.Flexibility: One of the best parts about renting a car in Europe is the flexibility to stop in places that look intriguing or interesting. Yes, you can see the scenery on a train, but unfortunately, you can't tell the conductor you'd like him/her to stop the train so that you can visit an adorable village you just passed. I'll continue with the car rental notes at the bottom of this post.
As we continued driving towards Lake Titisee, we noticed quite a bit of snow! Yes, this was May, but most of Europe had a very cold spring, so everything was late in blooming and growing, especially at higher elevations.
Hotel Alemannenhof on Lake Titisee
We arrived at Hotel Alemannenhof after having a quick lunch of sausages and bread at a little cafe on the way. Although the trees were still bare and there were no pretty flowers hanging from the balconies, the Boutique Hotel Alemannenhof still held her own on lovely Lake Titisee!
The interior of the upscale hotel was just as charming as the exterior, but with a contemporary and colorful twist.
After checking in, Mum and I relaxed in the lobby with some sparkling water before exploring the rest of the hotel.
The outdoor terraces were spacious and had fantastic spots to enjoy the view, sit with a coffee or a drink in the afternoon, or for a meal when the weather is warmer.
We went back inside and saw the warm and welcoming restaurant where we'd later have dinner, decorated in authentic German style. Look at all the wood and pretty details on the backs of the chairs.
The Rooms at the Hotel Alemannenhof
Now, the best part: the rooms! The lovely Larissa, who had originally contacted me to ask if I'd like to check out their lovely hotel, showed my mother and me to our rooms. All rooms have balconies and a lake view, and are best described as a combination of classic German comfort with modern features, such as the glass showers and contemporary furnishings.
And how about this view from the balcony?
Larissa told us about the boat that all guests can take into the village of Titisee on the other side of the lake. We just walked down to the dock behind the hotel and the "pirate ship" soon arrived!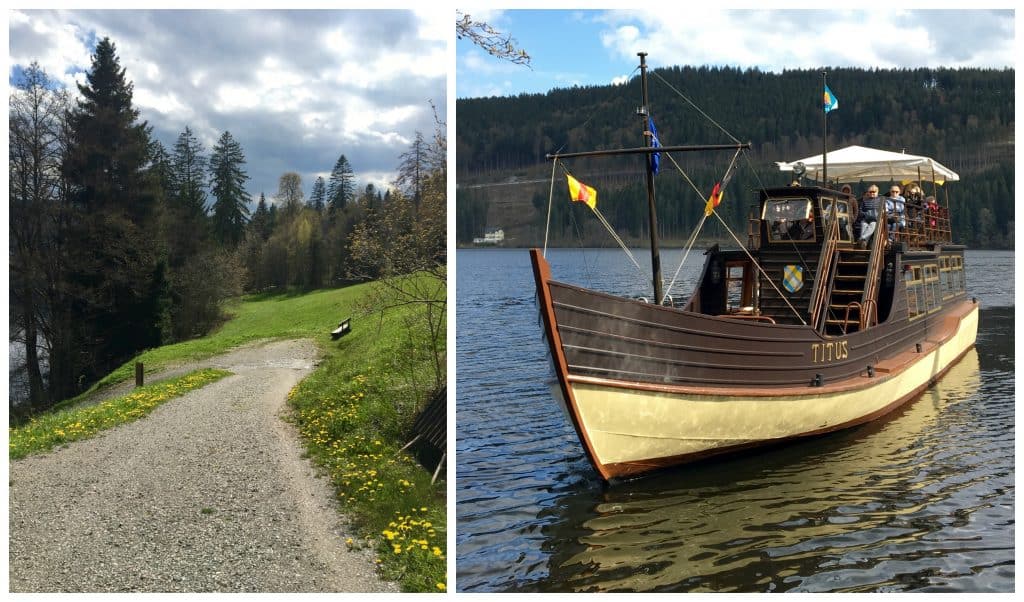 Visiting Titisee from Hotel Alemannenhof
It was cold, but the sun was shining as we sailed towards Titisee. Within a few minutes, we had arrived and walked into the lovely little village where I had been about 10 years before with my family. Having Travelex for travel insurance gives me such peace of mind when I travel. I trust them to be there for me if I need them. Last time I had been here, we had been covered with Travelex Insurance company, too (I had purchased a family policy).
The Drubba family not only owns and runs the Hotel Alemannenhof, but many other businesses. They own the Apartments at the Bülhof (apartment rentals near our hotel), shops, a cafe and boat rental in Titisee. Nearby is their Hofgut Sternan, another wonderful place to visit in the Black Forest. In fact, the family business was founded in 1956 by Ursula and Klaus Drubba as a kiosk business selling sausages and boat rentals on Lake Titisee.
Want to buy a real German-made cuckoo clock? This is where to come!
Larissa left us to explore the village, so Mum and I wandered in and out of shops. Titisee is a lovely, walkable town.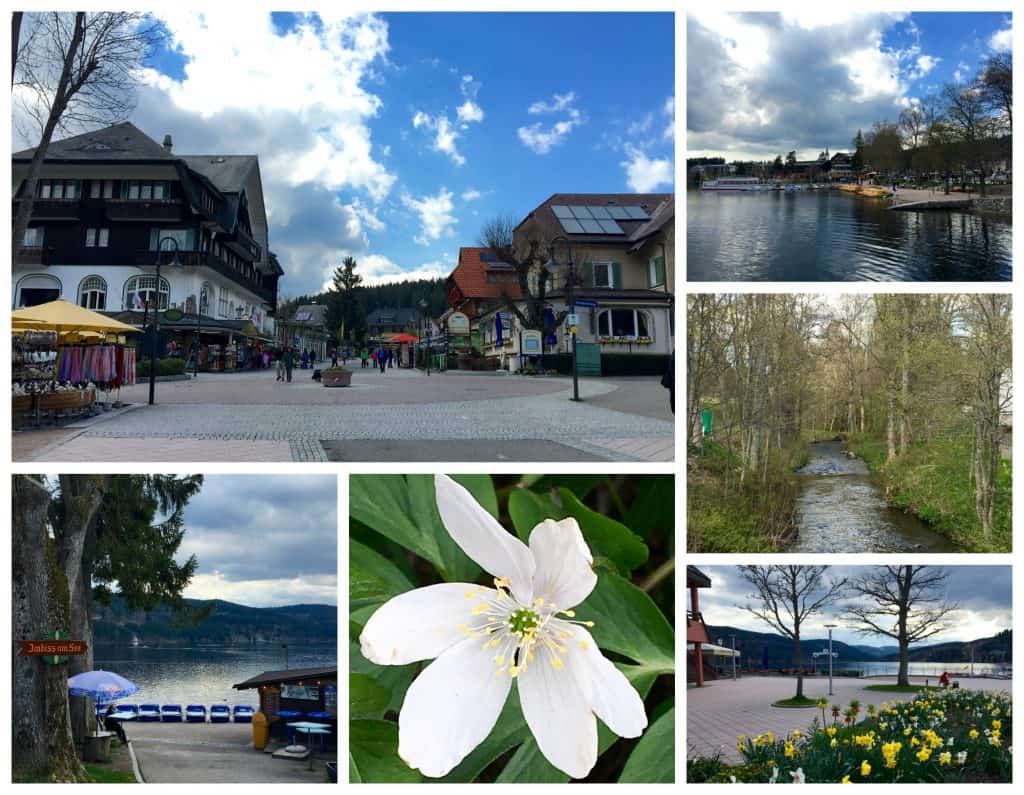 The clouds threatened, but luckily, that's all they did.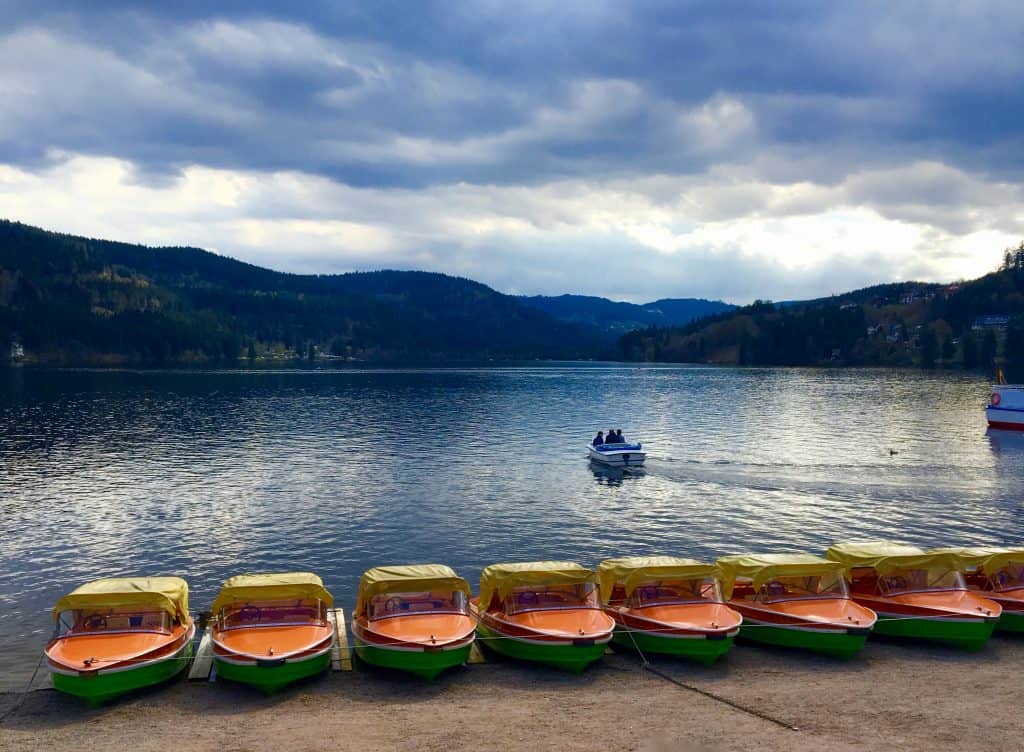 We had reservations for dinner that evening, so after a while, my mother and I decided to go back to Hotel Alemannenhof to get ready.
The beauty of Lake Titisee is just stunning.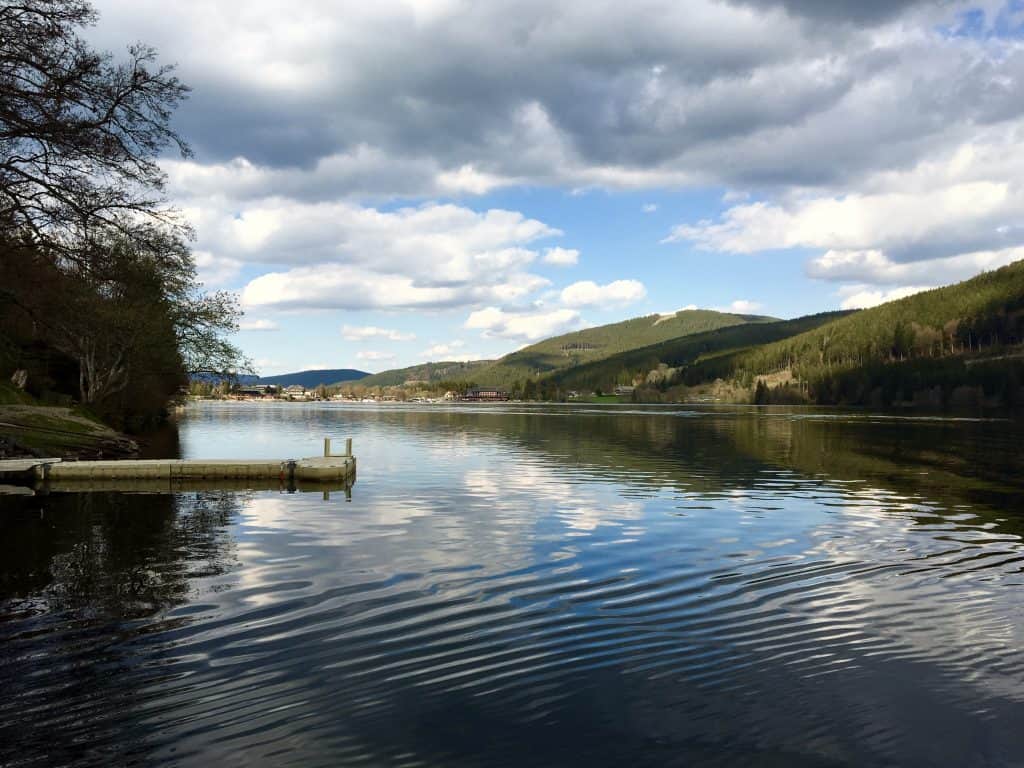 Dinner at Hotel Alemannenhof on Lake Titisee
Larissa had generously arranged for us to have the chef's wonderful crossover menu. However, given that the Wagyu beef was from the US, we chose to try something local instead. Here is the description of the chef's style of cooking.
Crossover. Fusion. Regional. International. In the kitchen of the boutique Hotel Alemannenhof we put all our eggs in one basket! We also do classic dishes (trout with cranberry sauce) – but always with refinement and respect for the ingredients, which we perfect in our kitchen whilst keeping their natural flavours.
We had a lovely amuse bouche, then began with the Iberico pork, asparagus and sesame. It tasted as good as it looked. All ingredients are sourced to be the best quality.
Our next course was Wild Garlic Soup (known as ramps in the US). Mum and I had never tasted anything made with wild garlic, but as I suspected, both of us loved the soup!
For our main course, I had the pork and mum had the weiner schnitzel. I tasted my mother's and although I really adore weiner schnitzel (and this was very good), my pork entree was fantastic, too. Perfectly cooked, juicy and with a fresh salad, it was only enhanced by the German white wine we enjoyed with it.
After our main courses we were both really full, but out waitresses enticed us to try the desserts. Mum was tempted by the cheese plate, which was gorgeous, but of course I went for the sweet. My mother had a selection of five cheeses, and I had a fantastic chocolate mousse, accompanied with fruits and a granola/nut brittle.
Our waitresses were lovely and the service had been very good and until this point. However, for some reason, there was a major delay between when we ordered our dessert and when it arrived. (To be fair, the waitresses didn't take the order). Both mum and I felt that almost half an hour was a long time to wait for a something that is pre-prepared.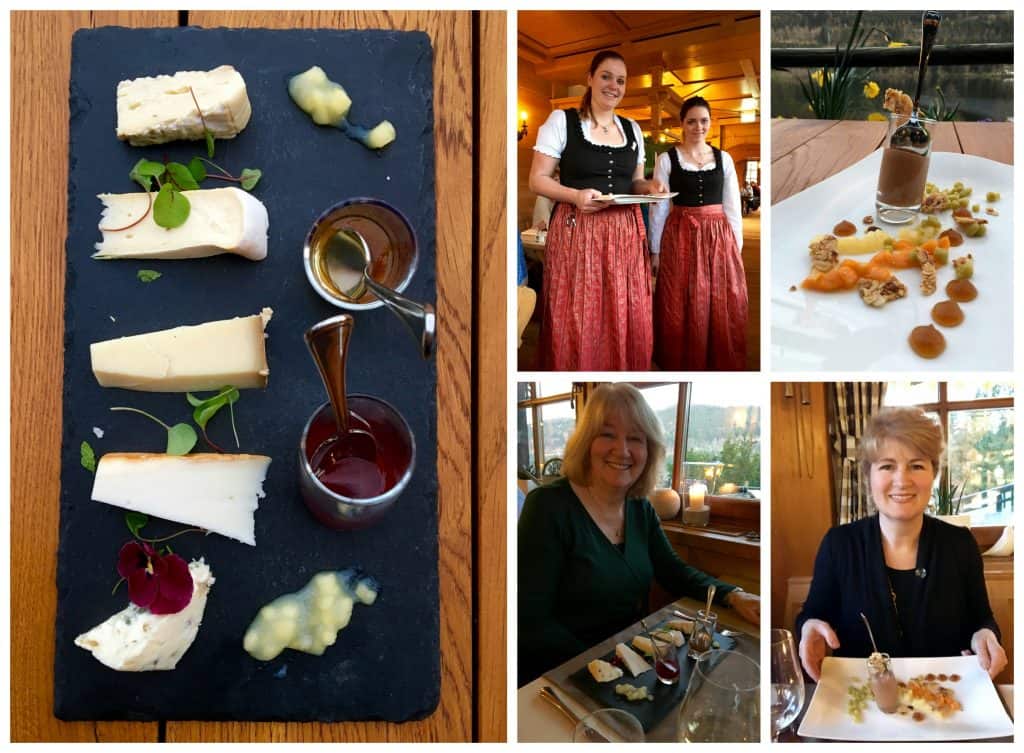 We made our way back to our rooms after being sufficiently satiated. This was our view across the lake. The photo obviously doesn't do it justice.
If you've never slept in a German or Swiss bed, oh my, you are in for a treat! High quality down is the standard; they really have to be the best beds in the world.
The next morning we were greeted with clear blue skies and sunshine!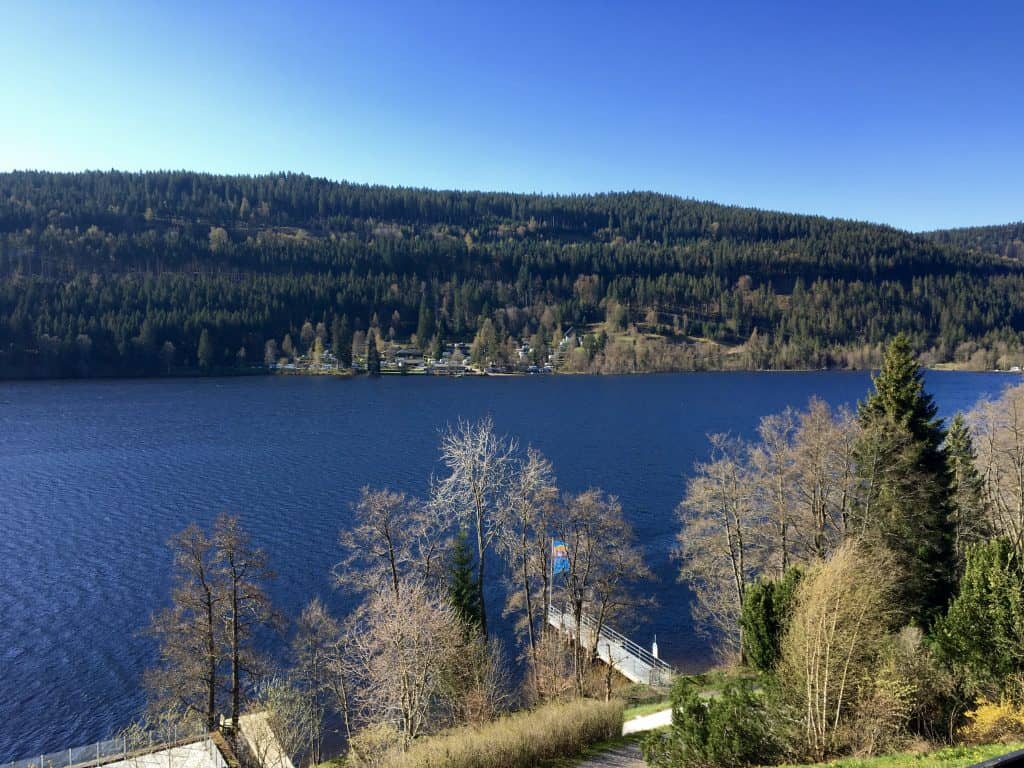 Breakfast at Hotel Alemannenhof on Lake Titisee
When we were ready, we walked back down to the restaurant for breakfast. The sunlight in the breakfast room gave such a beautiful warm glow. I could have settled in to a sunny spot here for the rest of the day!
German breakfasts are never a small affair, but this buffet was incredible. There was so much fresh, beautiful food to choose from!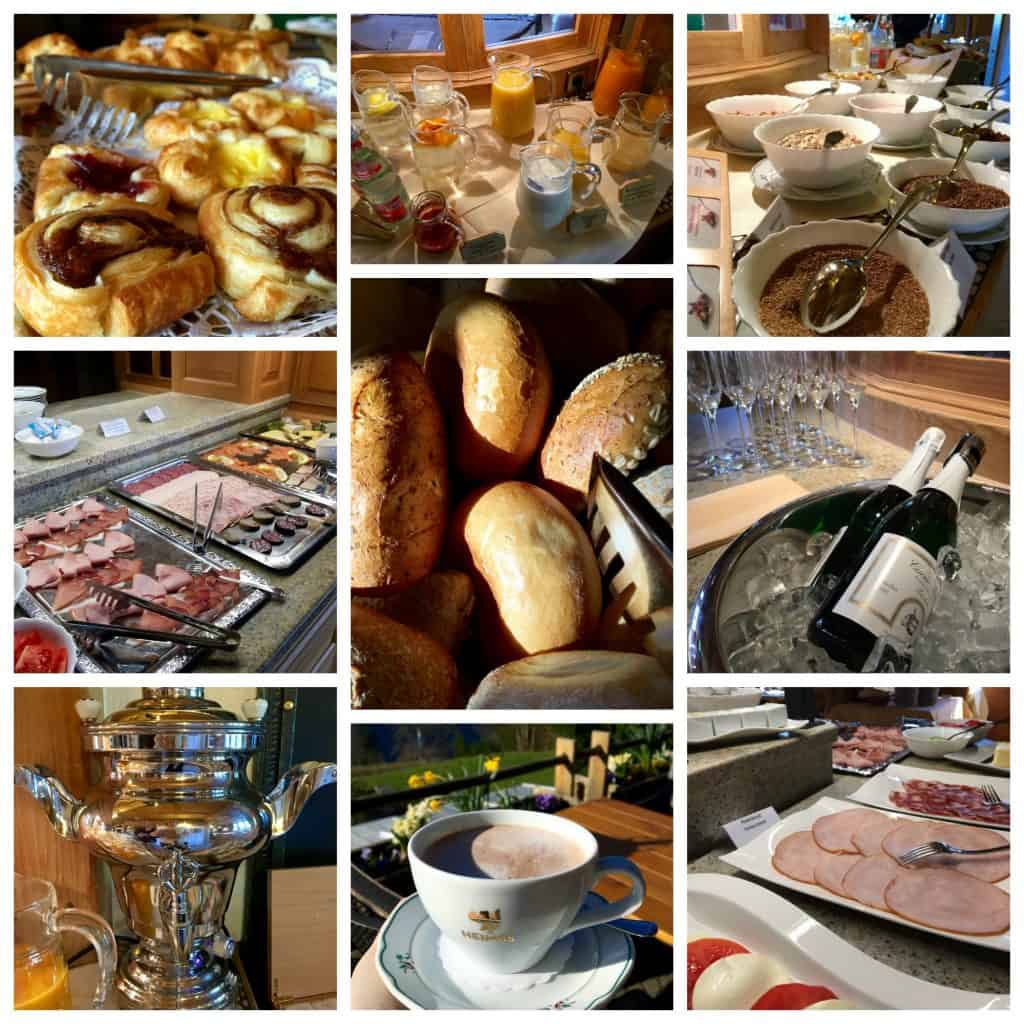 Lots of choices for tea, but I had hot cocoa.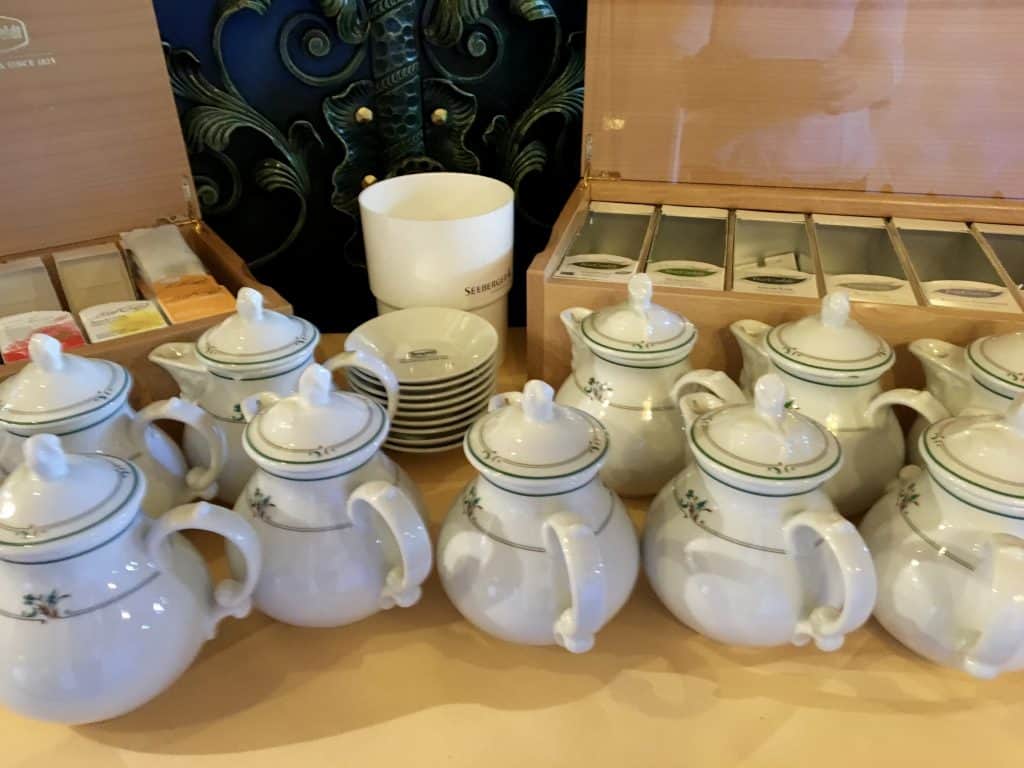 I wanted to try every single one of these fruity homemade jams! The ones I did taste were phenomenal.
Besides all the buffet choices, we could also choose from a cooked breakfast menu.
Mum chose a fried egg and bacon, and I had a soft-boiled egg. It was served with the cutest knitted cover to keep it warm; it was perfect.
More breakfast choices!
After packing up, we were back on the road in no time. Hotel Alemannenhof on Lake Titisee is truly a gem in the midst of the Black Forest. I'd highly recommend it if you are planning a trip to the area.
Here is yet another reason that I believe renting a car in Europe is a good idea~
4.Proximity of Countries. On this day, we would drive from Germany, into Switzerland and then to Italy before dinnertime. In fact, you can see where we planned to drive and the estimated time is under 4 hours!
This proximity of countries gives drivers thousands of choices in where to go, what to eat and  what to do. It's like a adult traveler's version of a kid in a candy store!
Here are some of the views from our drive that day, including a short clip showing the quality and size of the road we were on.
A beautiful pastoral scene in Switzerland!
Do you ever wonder where certain roads will take you?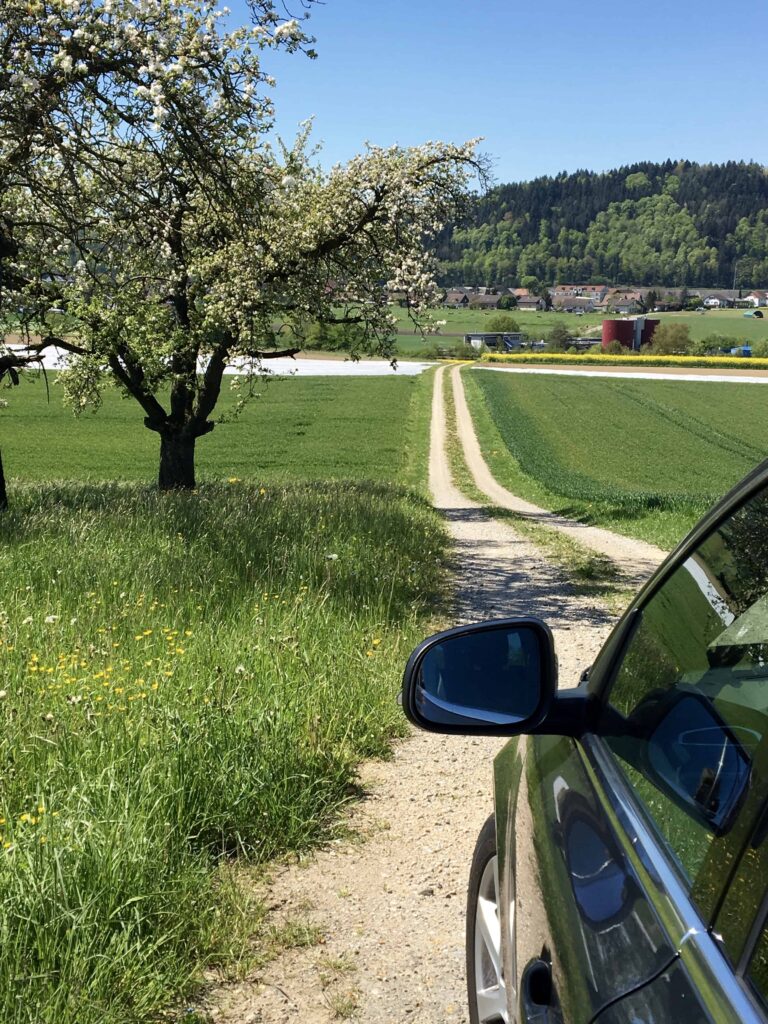 My last reason for renting a car in Europe could be the one that convinces you the most!
5.Getting up Close and Personal with the Cows. How else could my mother (the non-photographer) be able to get these fantastic shots of this beautiful Swiss cow, if we didn't drive right up to her? :)
So have you rented a car in Europe in the past? Would you consider it in the future? Have I given you some food for thought? Let me know in the comments below.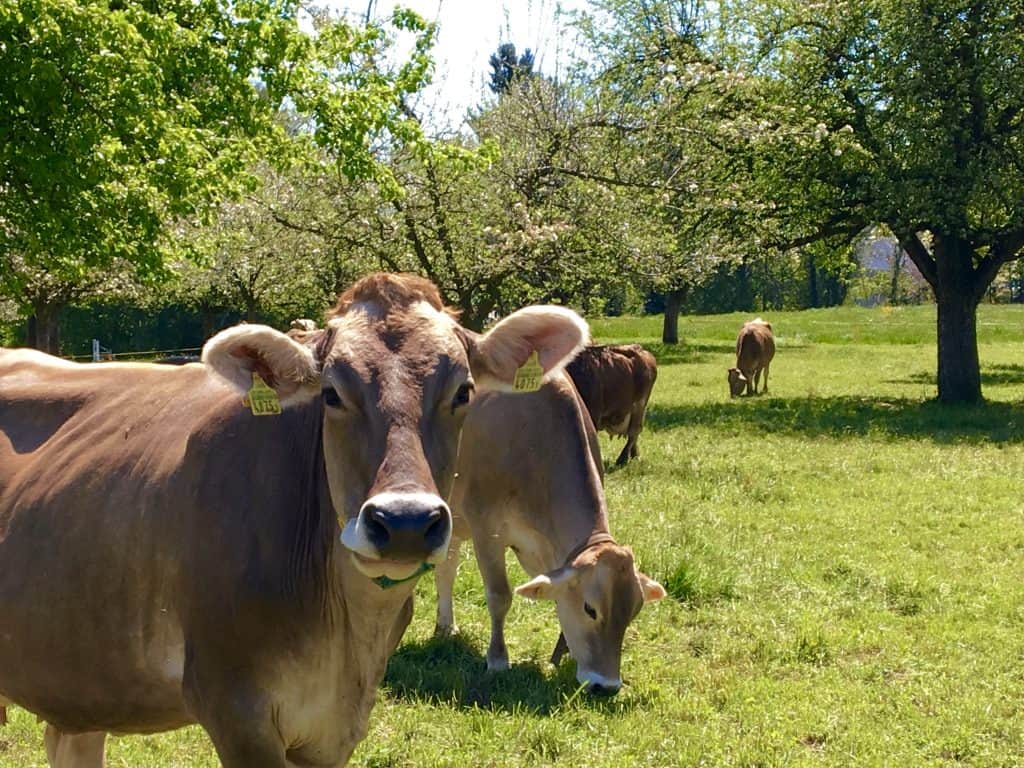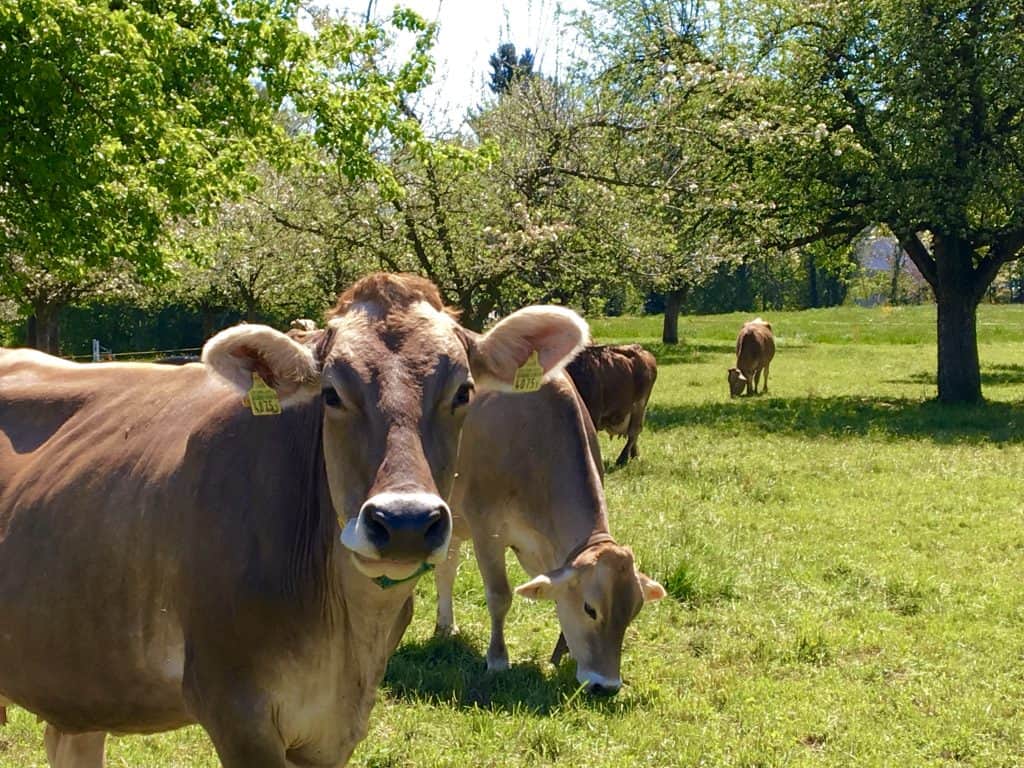 Don't miss another recipe or travel post, sign up for my free subscription below!
I promise not to share or sell your email address, ever.
For more information, visit
Disclosure: Thank you to Auto Europe, Hotel Alemannenhof on Lake Titisee and Travelex USA for sponsoring parts of my European Culinary Driving Tour. All opinions are always my own.
I am disclosing this in accordance with FTC regulations.