Baked Camembert cheese with truffle honey is a heavenly appetizer that's as easy to make as it is to eat! It's just perfect for holiday entertaining, too!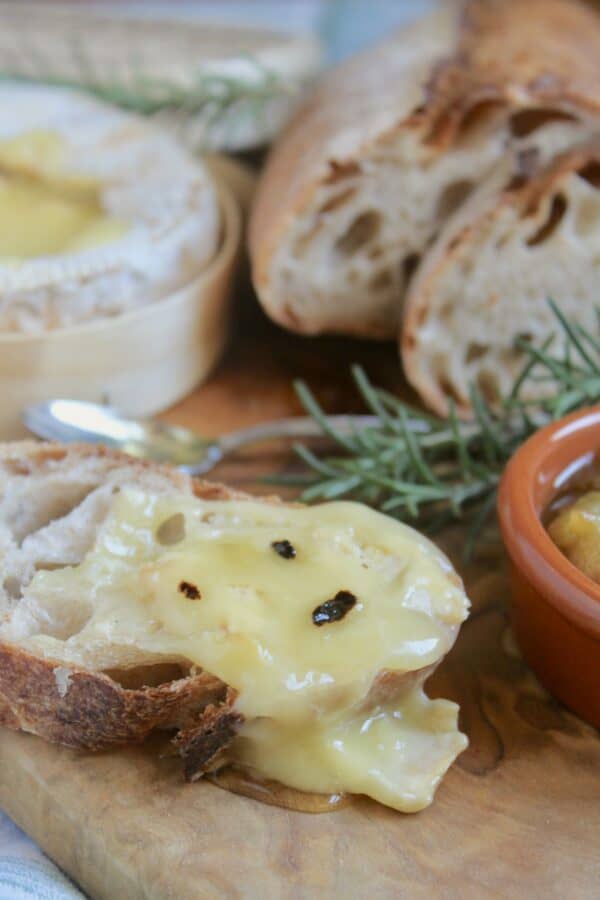 Who isn't in the mood for easy holiday appetizers?
As an Amazon Associate I earn from qualifying purchases.
This baked Camembert with truffle honey will become a go-to recipe during the colder months. When it comes to this time of year between Thanksgiving and New Year's Day, everyone is so frazzled with to-do lists that are ridiculously long, easy appetizers for entertaining are a must.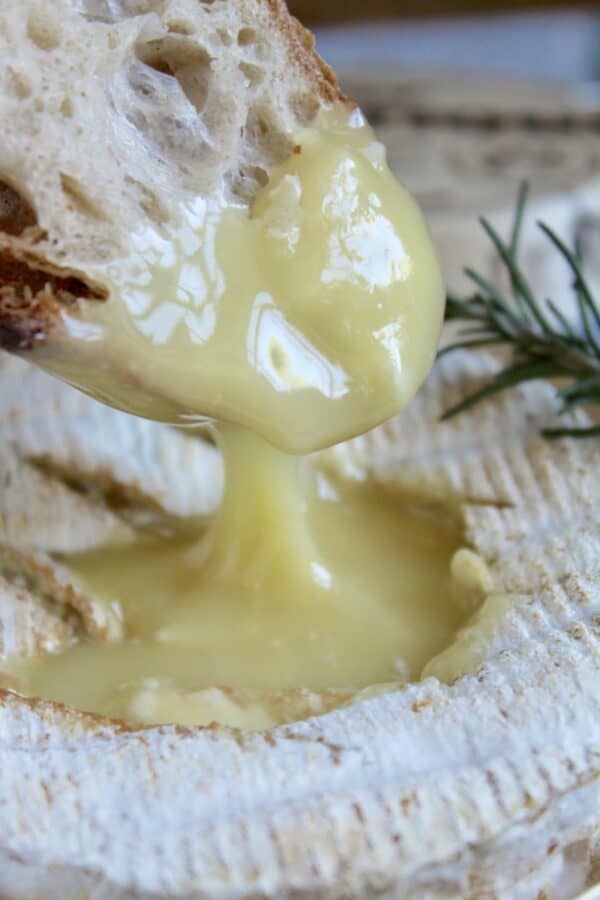 To be honest, this would be good enough as dinner for me, if I was on my own (or with a girlfriend)! Add some chutney, tapenade, pickles, etc., and it's a fabulous treat! For some reason, men (at least the ones in my family) tend to like more than just cheese and bread for dinner–ugh.
What about the summer months? Try this grilled Camembert on the barbecue!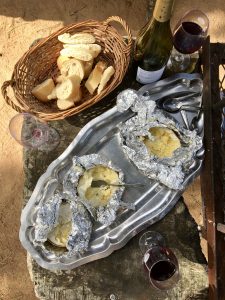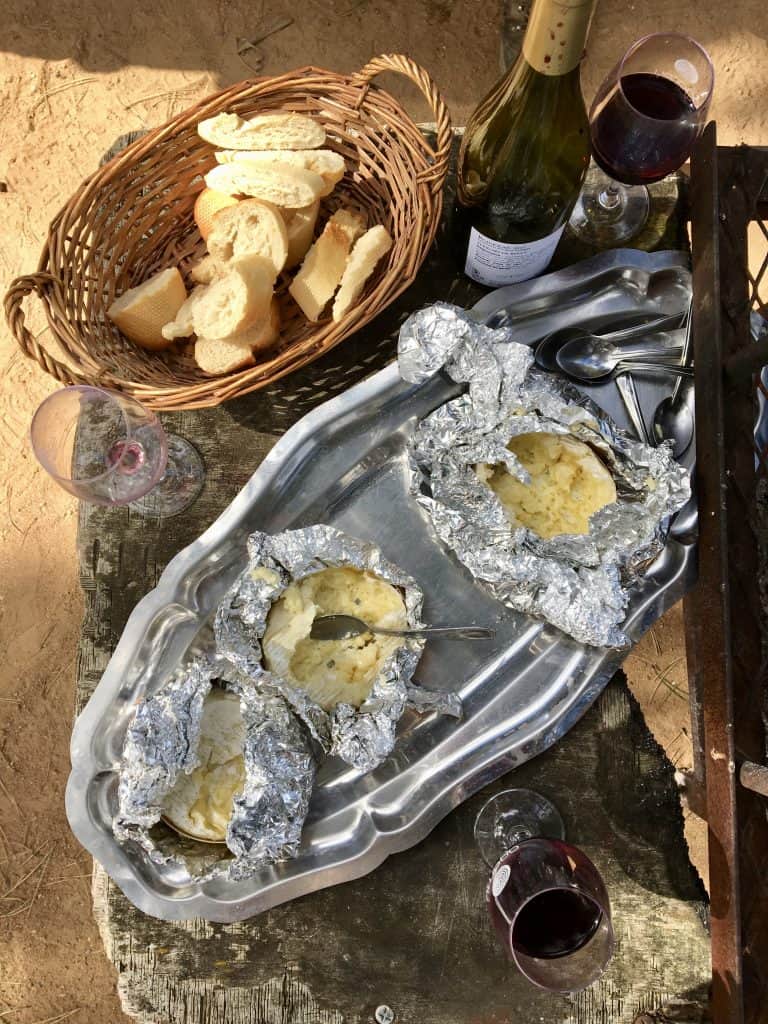 Also, I was once told by an Italian I met at an event here in LA that in Italy they serve baked Camembert with roasted garlic–which sounds dangerous!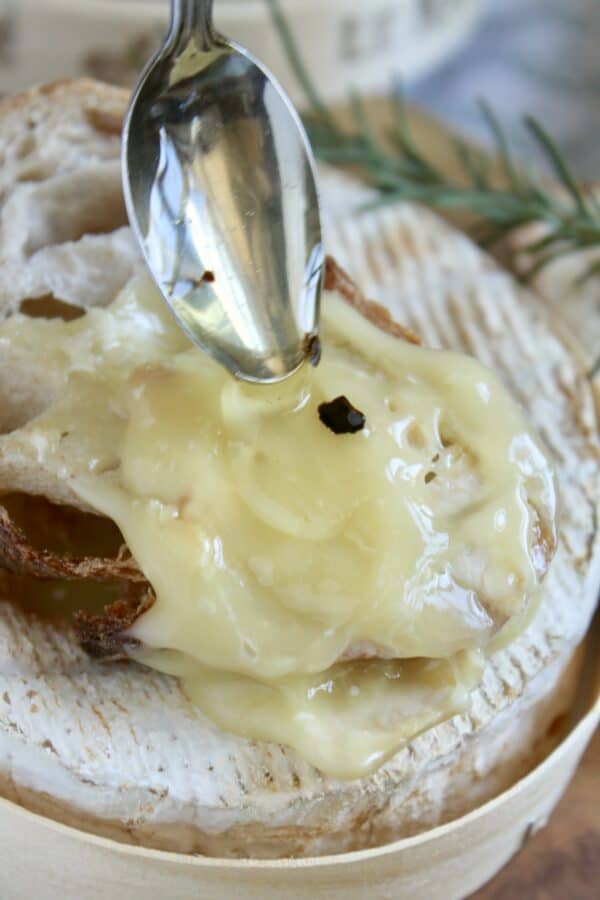 I was inspired to make this because the last few times I've visited the UK, I was struck by so many restaurants and pubs that had baked Camembert cheese on their menu. This is just one of the times I had it in England.
We would usually order it, and I always said to myself, "This is ridiculously easy and so delicious, why am I not doing this at home?" I never had it with truffle honey, but I gave it a try and was blown away at how good it was–I hope you try it and agree! The truffle honey I used has pieces of truffle in it.
Love truffles? Don't miss this awesome truffle pasta recipe!
It's more difficult to find raw milk cheese in the US, and truly, if you were to find one, you probably wouldn't want to bake it. I like Le Rustique Camembert, which is easily available at Trader Joe's and other grocery stores. However, many brands of Camembert come in the same type of packaging which makes it easy to bake.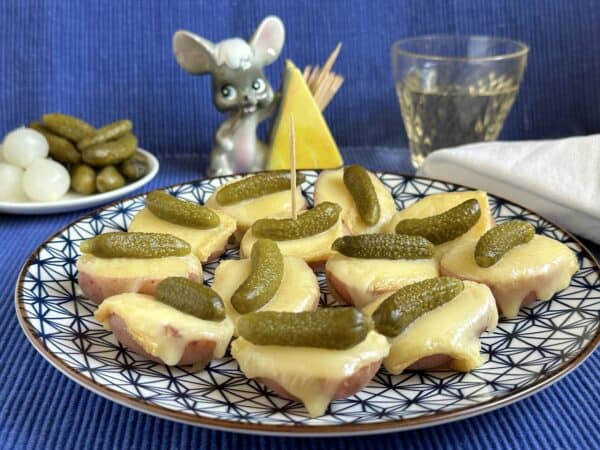 Incidentally, Trader Joe's also carries raclette during the holidays. Pick up a package to make these super simple raclette potatoes, too!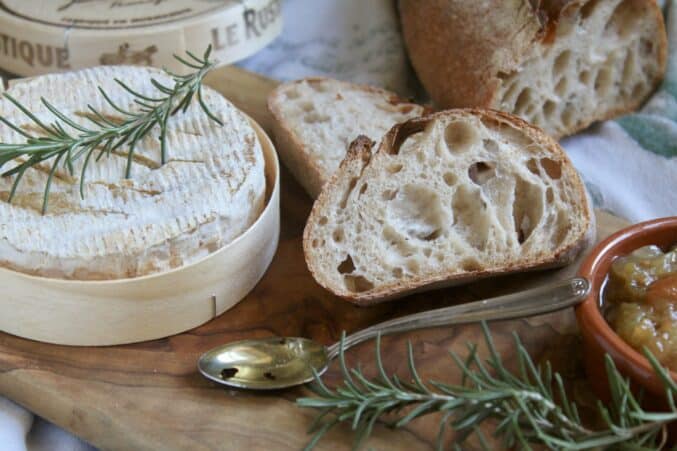 Baked Camembert with Truffle Honey
Inspired by going to British pubs – by Christina Conte serves 6
FULL PRINTABLE RECIPE BELOW
Truly, there's no need for a "recipe", however, scroll down for the oven temperature and details on what to do.
~~~
How to Serve Baked Camembert
You should really spoon the cheese onto your plate, but I chose to dip bread into the oozy cheese for more enticing pictures! Just don't double dip if you do this, too. Spoon a little truffle honey on top of the cheese and enjoy!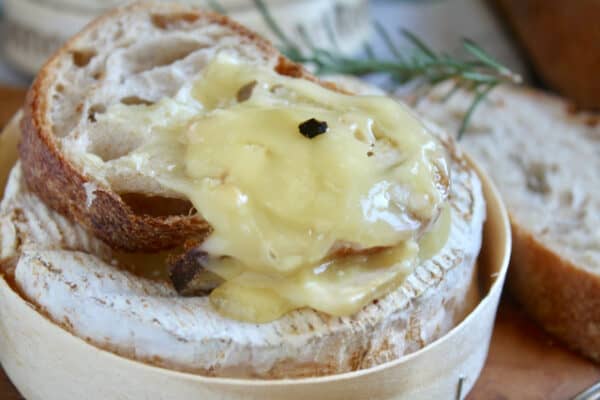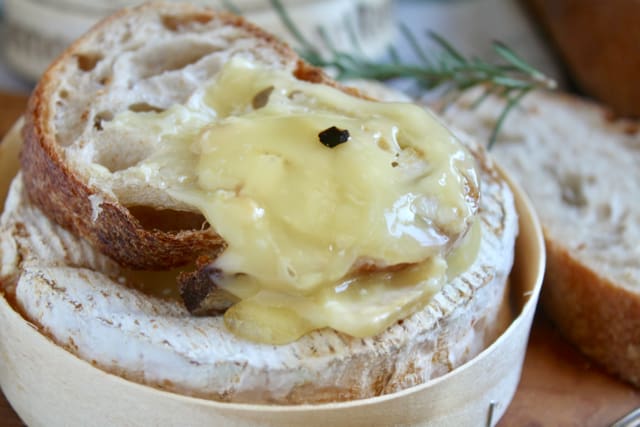 A few things you can serve alongside a cheese board with baked Camembert.
bread slices, preferably something crusty and robust
tomato chutney, or another type of chutney
olive tapenade
roasted garlic
apple slices
nuts
dried fruit like apricots, pears and apples
crackers, or savory biscuits
(I added sprigs of rosemary to the board for a bit of green, but you can add it directly into the cheese before baking, if you like.)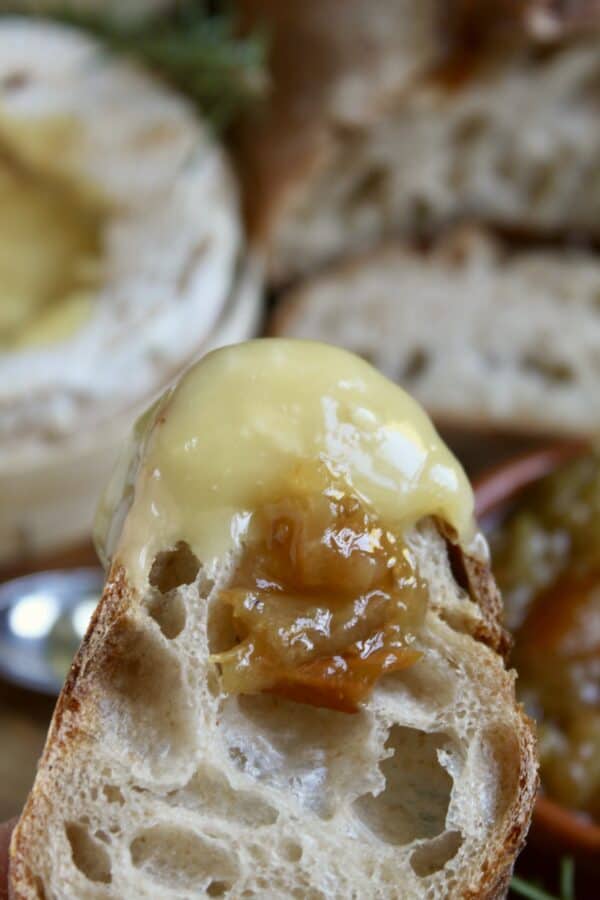 Please let me know what you think if you try this savory treat, and sign up for my free subscription.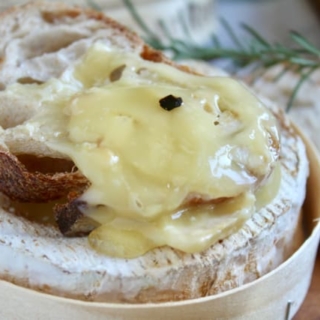 Baked Camembert with Truffle Honey
A super easy cheese appetizer idea that's perfect for holiday entertaining.
Ingredients
one package of French Camembert (you can also use brie)
crusty bread, like ciabatta or baguette, cut into slices (fresh or slightly toasted)
truffle honey
Instructions
Preheat the oven to 375 F (190 C).
Open the Camembert, remove the paper and place the cheese back into the wooden container and place it on a small tray. Score a few lines across the top with a sharp knife.
Heat in the oven for about 15 minutes, until melty and hot.
Serve with baguette slice and truffle honey.
Notes
The best ingredients are so important when you only have three. Be sure to source the best cheese, bread and hone you can find.
If you don't like truffles, use plain honey.
Nutrition Information:
Yield:

6
Serving Size:

1
Amount Per Serving:
Calories:

209
Total Fat:

3g
Saturated Fat:

1g
Trans Fat:

0g
Unsaturated Fat:

2g
Cholesterol:

4mg
Sodium:

415mg
Carbohydrates:

37g
Fiber:

2g
Sugar:

7g
Protein:

8g
Nutrition information is only estimated.
Christina's Cucina is a participant in the Amazon Services LLC Associates Program, an affiliate advertising program designed to provide a means for sites to earn advertising fees by advertising and linking to Amazon.com.