Eden Mansion, near St Andrews, Scotland, is a hidden gem in this beautiful area of Scotland. The attention to detail is flawless. If you can stay, don't miss the opportunity as you won't regret it.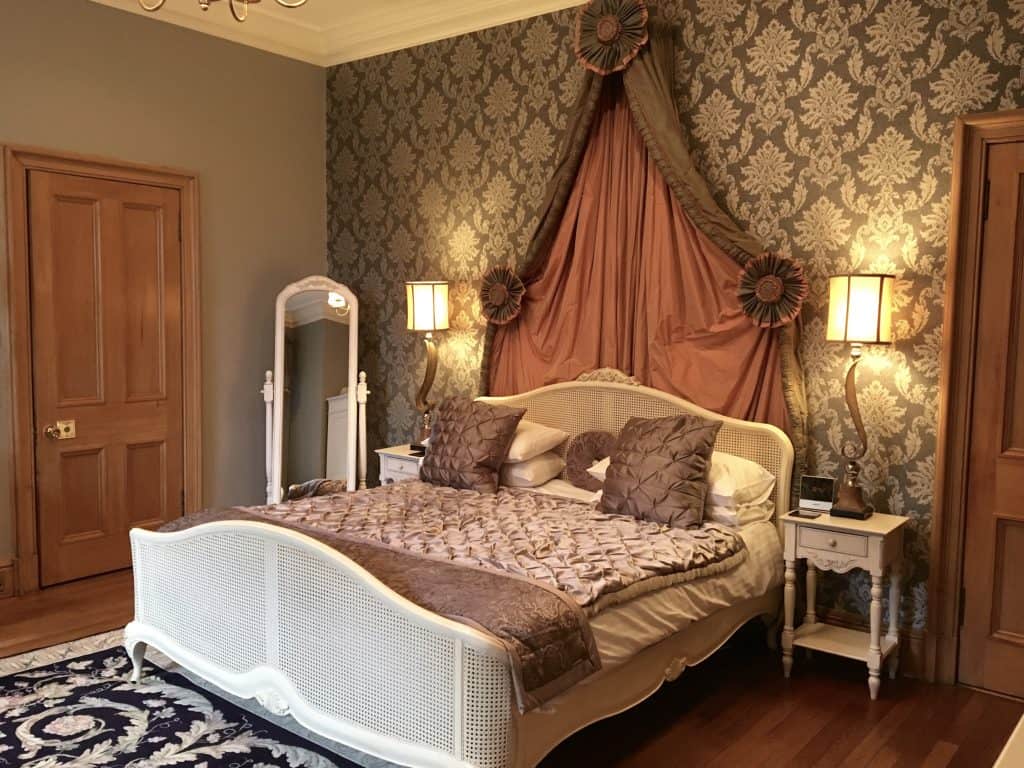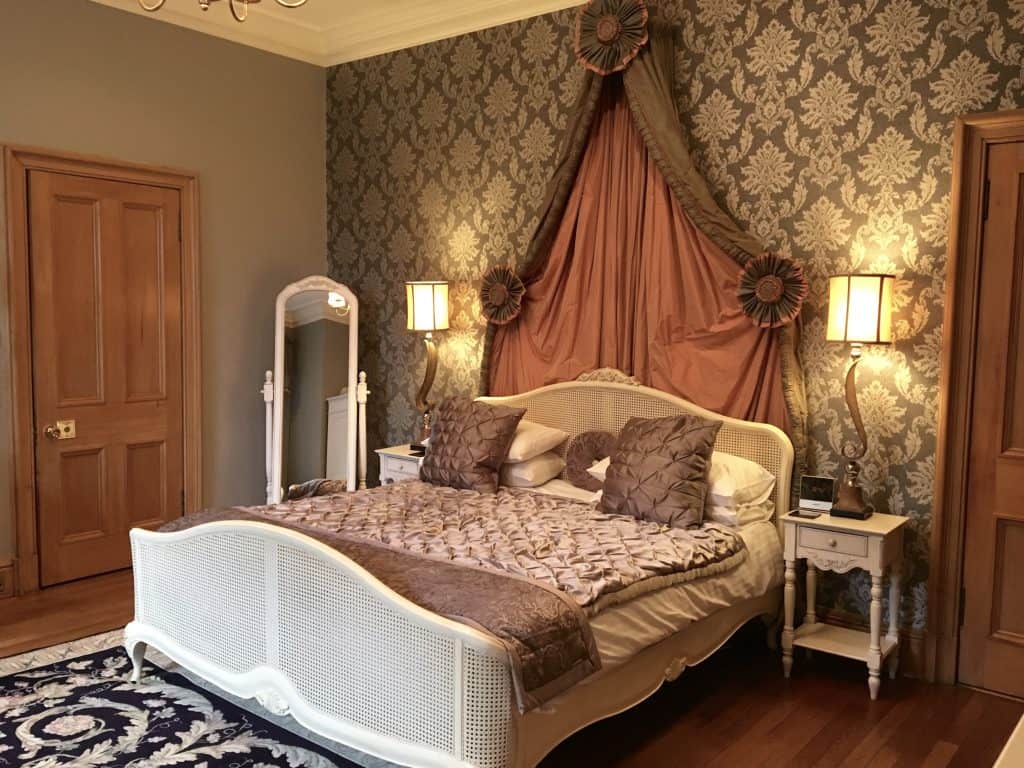 Arriving at Eden Mansion
This past May, my husband and I were fortunate enough to enjoy a one night stay at the stunning Eden Mansion, a 5 star bed and breakfast. It lies nestled amidst 5 beautiful acres, just a few minutes from St Andrews, Scotland.
As an Amazon Associate I earn from qualifying purchases.
Disclosure: we were hosted by Eden Mansion, with no conditions for a favorable review. As always, all opinions are solely my own.
If you read about our 500 mile castle driving tour of Scotland, you'll know that we had gone to St Andrews to help our daughter pack up her belongings. She had studied at the university and was going to be traveling through Europe for three weeks. Due to being in Scotland for months, she couldn't bring all her "stuff" with her.
After we got our daughter off to the airport, my husband and I had one last night near St Andrews before continuing on our castle tour. Eden Mansion has easily taken the spot of one of the most beautiful places I've ever stayed.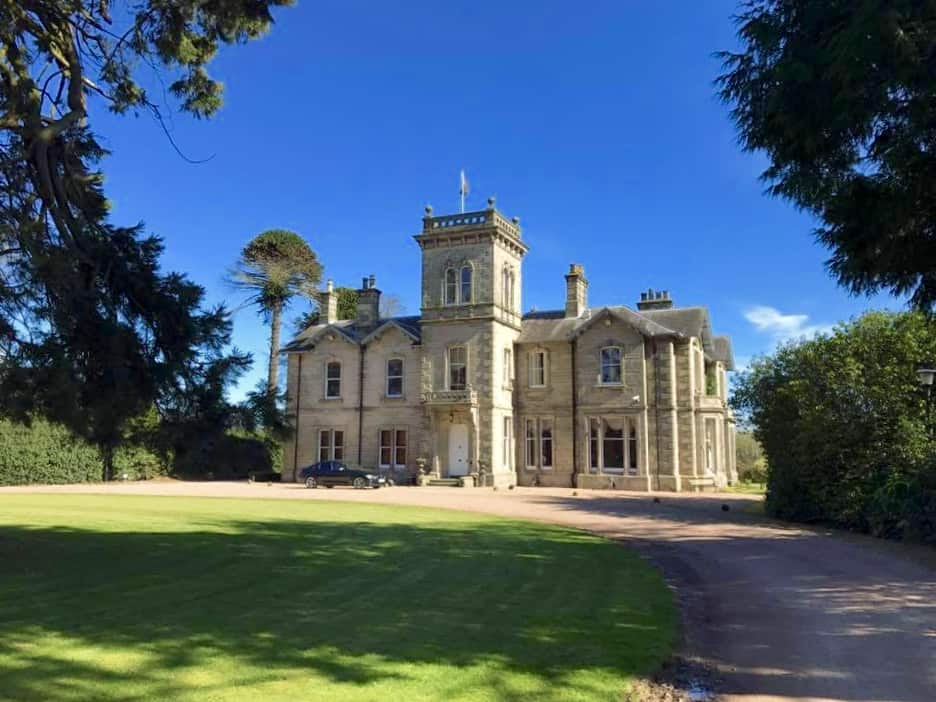 This Victorian mansion was built in 1860 as the home for the Haig family, Scotland's oldest whisky distillers. It has hosted some significant historical figures in the past. More recently, Eden Mansion has understandably attracted movie and sports celebrities. What the present owners have done to restore this beautiful building is both inspiring and commendable.
Check-In
We received a warm welcome from Reuben, who told us all we needed to know about our stay at Eden Mansion. The informal check-in desk is located in the classically decorated foyer. I was immediately smitten!
The Henry Cotton Suite
Reuben then showed us to our luxurious suite.
The attention to detail is evident throughout Eden Mansion and within the suites. Although the decor is sumptuous and rich, the atmosphere is definitely one of comfort and relaxation. With only six bedrooms in the mansion, it's also a perfect romantic getaway.
My husband and I stayed in the Henry Cotton suite, the last one available that night. (Henry Cotton was a famous British golfer.)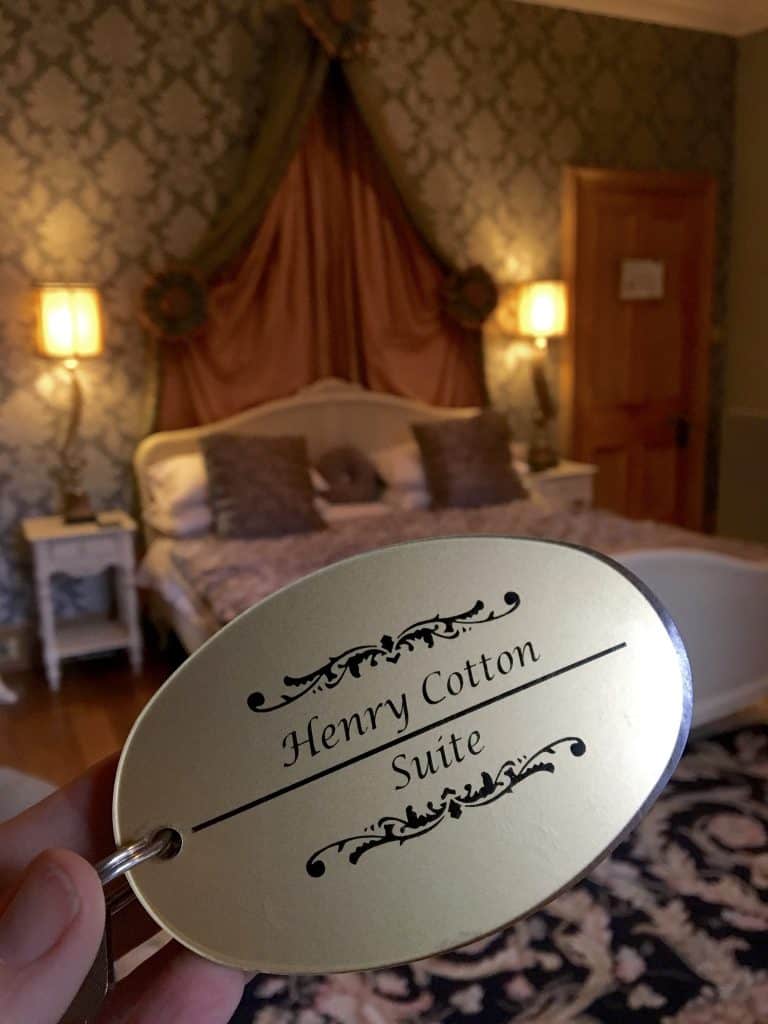 Just take a look at this gorgeous suite!
I noticed that everything wasn't just about the decor and pretty things. For example, the ample spaced closet included a safe, iron and ironing board. Our bed was also incredibly comfortable and everything was immaculately clean, especially the bathroom (which I love to see)!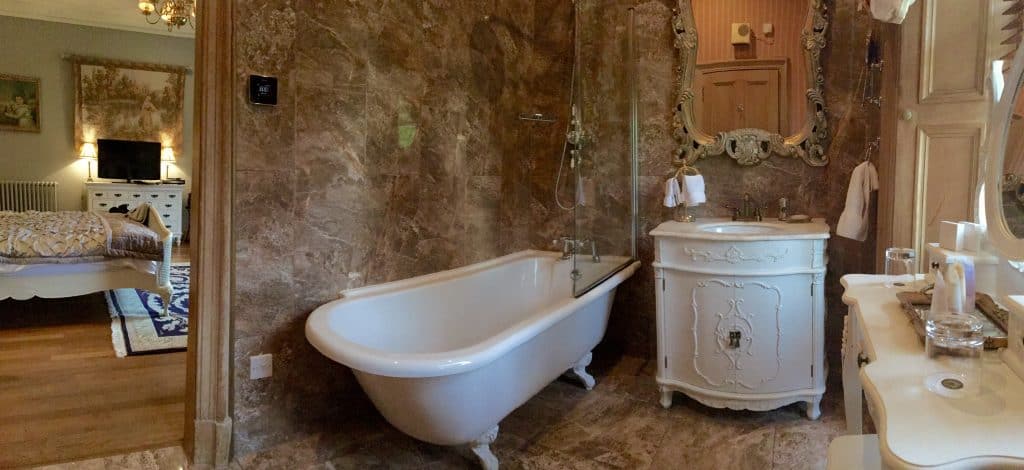 After getting settled into our room, we took one of Reuben's suggestions for dinner and walked down the street to the Guardbridge Inn. He'd also given us a couple other options, including going into St Andrews.


The Guardbridge Inn
After only a 15 minute walk, we arrived at the family-run Guardbridge Inn.
I will say that sitting in the restaurant feels like sitting in someone's plain living room with dining tables and a bar at the end. There just isn't much to it. However, I highly suggest that you overlook this aspect of the inn, because the food is fabulous! Honestly, from the appetizer to dessert, I was so impressed with all of the dishes we were served, even if you don't stay at Eden Mansion, you should eat here if you can.
Fabulous Food
Our wild mushrooms with garlic cream on ciabatta was so tasty, I was tempted to order a second one. It truly was that good, but then I knew I wouldn't be able to eat anything else! My husband had fantastic order of fish and chips, but I went with the roast pork with baked apple, black pudding and mashed potatoes with a cream sauce. The entire dish was fantastic, but I commented to the waitress about how much I loved this particular black pudding, and she ended up bringing me another piece! I was elated (you know me and black pudding)!
Last, but not least, was a layered rhubarb fool–oh my! The Guardbridge Inn describes their restaurant quite well, "Our menu may be small, but it's just packed with good, honest cooking, with everything made here, from scratch." It's obvious that they are using top quality produce, too.
After filling our tummies, we walked back to Eden Mansion, but were caught in the beginning of a storm and it began to rain! That's Scotland for you! Luckily, we got back before getting drenched, and were so happy to be back in the warm and sumptuous surroundings of our suite.
Breakfast at Eden Mansion
The next morning, we went downstairs to have breakfast in the gorgeous dining room.
Besides the self serve items on the side table, including cereals, yogurt, granola, pastries and juices, there is a wonderful selection of hot cooked breakfast dishes to choose from at Eden Mansion. For me, I didn't have a choice: it had to be the full Scottish breakfast! Although, I must admit, I was sad to see that black pudding was missing (but I'm sure I'm not in the majority, especially when it comes to US travelers)!
Which would you choose?
Service was quick and friendly, and our full Scottish breakfasts were soon served.
As you would expect from seeing these photos, our breakfast was delicious! Just look at the color of that egg yolk. I loved the fact that I could smell the butter just sitting on the table in front of me.
Eden Mansion's Grounds
My husband and I had a walk around the gardens before we left that morning, and although it wasn't sunny, the grounds were lovely.
My husband agreed that our stay at the Eden Mansion was impeccable, and we both left being completely impressed. I can wholeheartedly recommend Eden Mansion to all of my readers. I also felt that the room rates were very good, given the quality of our experience, the atmosphere, location and breakfast.
*(You may have noticed a little cottage in a photo above, where I wrote that it's available to rent. It sleeps up to 5 adults and has a full kitchen. It looks like a great family rental!)
If you are interested in more information on Eden Mansion (see photos of other suites)
For pricing or to make a reservation
Hint: follow Eden Mansion on Facebook as they sometimes post last minute offers there!
For the Guardbridge Inn
Don't miss another recipe or travel post; sign up for my free subscription below!
Travel Tip~
Before this trip, I bought a new converter/charger as I was so frustrated with my old one (capacity for one plug which always fell out of the wall). Well, I'm in LOVE with this one! Highly recommended and not too expensive, either. Here are a few other travel favorites, too.
I was hosted by Eden Mansion for bed and breakfast for two, however, all opinions are my own. At the Guardbridge Inn, I paid for my own dinner and beverages. I am disclosing this in accordance with FTC regulations.
Christina's Cucina is a participant in the Amazon Services LLC Associates Program, an affiliate advertising program designed to provide a means for sites to earn advertising fees by advertising and linking to Amazon.com.