This spinach soup recipe has become one of my family's favorites and I hope it will be for your family, too. It's light, but comforting enough for a cold winter's night.
Originally published February 18th, 2012.
Even those who claim not to like spinach, somehow, love this spinach soup!
As an Amazon Associate I earn from qualifying purchases.
It's light, but full of flavor and perfect for both a soup to serve before a main course, or as a meal in itself with some warm bread and a small salad. Just look at how easy it is to make this spinach soup recipe with my step by step directions!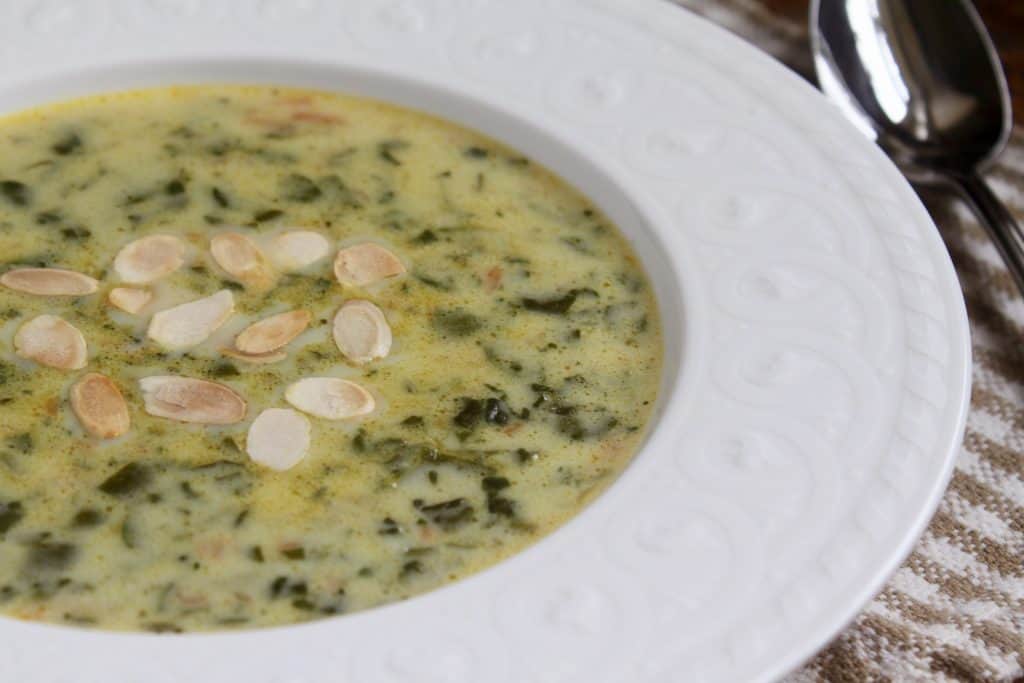 It won't win any beauty contests, but I hope you put that aside and give it a try regardless.
Another wonderful vegetarian soup recipe: Leek and Potato Soup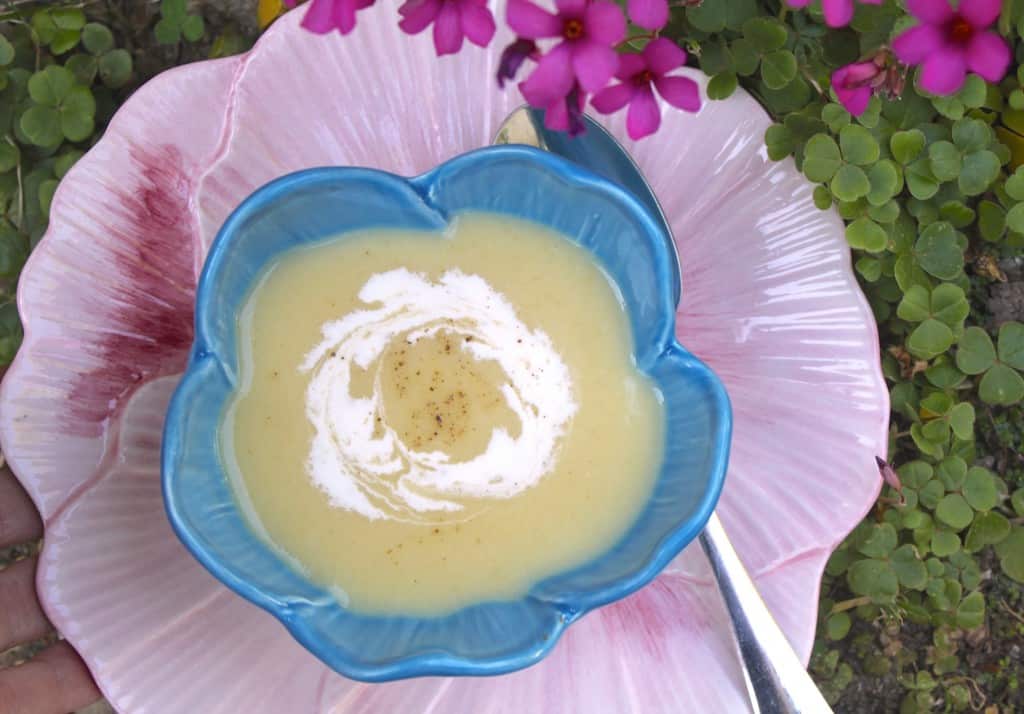 Spinach Soup
adapted from a Cuisine at Home recipe
1/2 cup grated onion (2 ounces)
1/2 cup grated carrot (2 ounces)
2 tbsp olive oil
5 cups chicken or vegetable broth (40 fl. oz)
4 tbsp butter
4 tbsp flour
1 cup milk (8 fl oz) for the sauce
1/2 tsp Kosher salt
5 cups fresh, chopped organic spinach or 12 oz frozen chopped organic spinach
1 cup milk plus 1/2 cup heavy cream (8 fl. oz milk, 4 fl. oz cream) to add at the end
1/2 tbsp butter and 1/2 cup (4 oz) sliced almonds (optional)
Heat the olive oil over medium high heat and add the grated onion and carrot, stir well and sauté for about 5 minutes.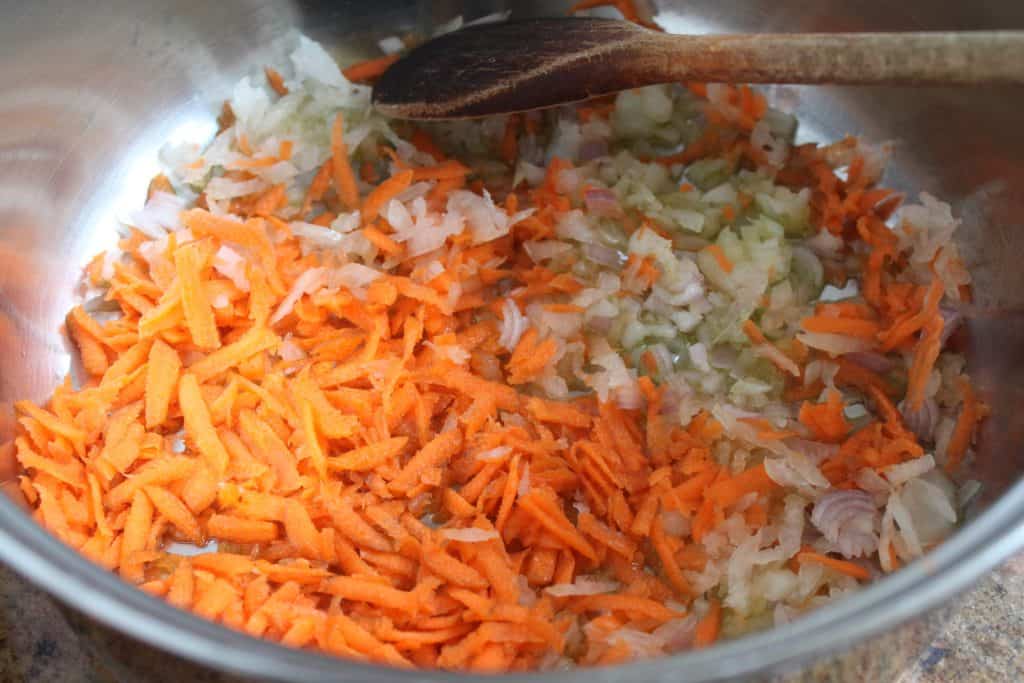 Pour in the 5 cups of chicken or vegetable broth, bring to a boil, then lower heat, partially cover with lid and let simmer about 10-15 minutes.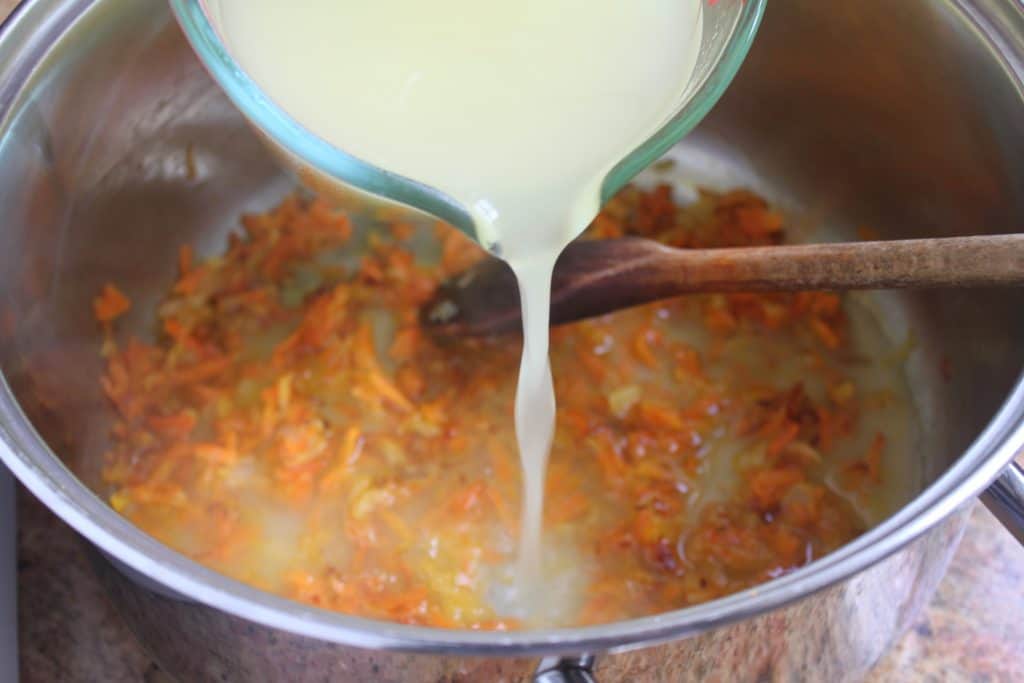 Meanwhile, in a medium sized saucepan, melt the 4 tablespoons of butter. Add the flour and stir, while cooking over medium heat. If it starts to brown, the pot is too hot. Cook for about 3 minutes, then slowly add a little of the cup of milk.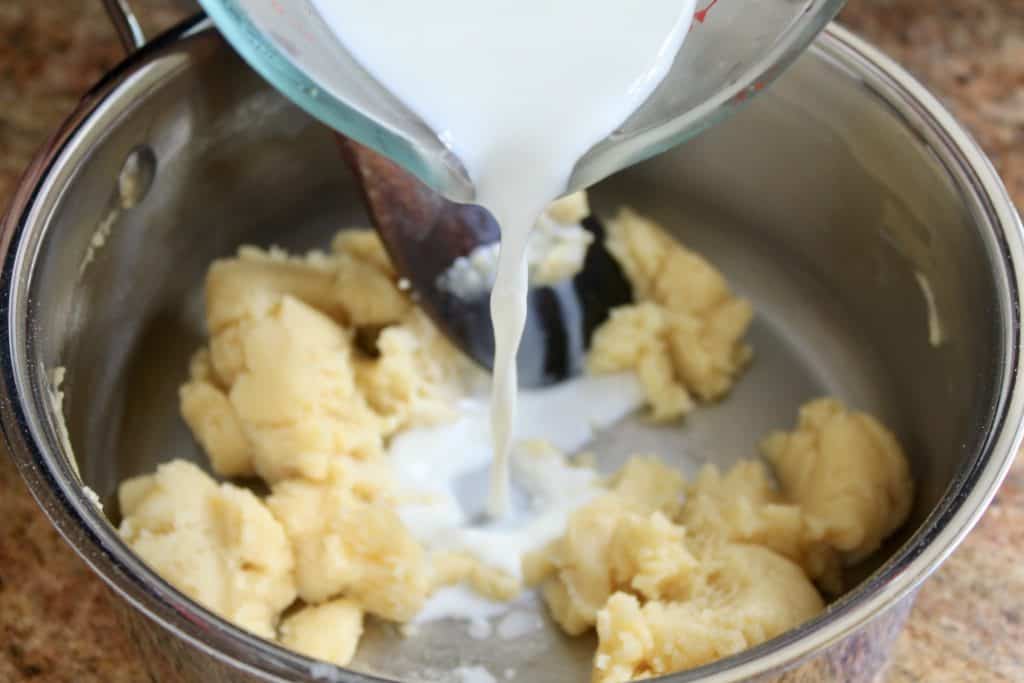 Stir well, then add 1/2 of the milk. Once this is incorporated, add the rest of the milk, stirring constantly. It is important to always stir this white sauce or it will become lumpy, or stick to the bottom. If it does become lumpy, you can always "cure" the problem by blending the sauce with a stick blender (shhh…don't tell anyone)!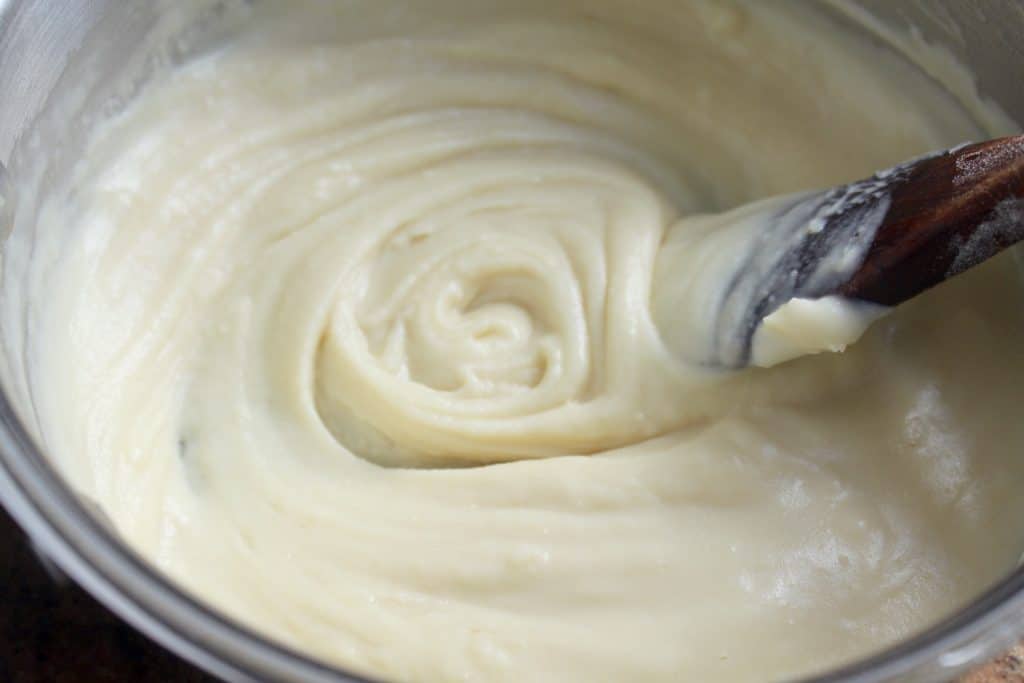 Next, add about a cup of the carrot, onion broth to this sauce and mix well; then add the entire pot of sauce to the simmering broth, while stirring well.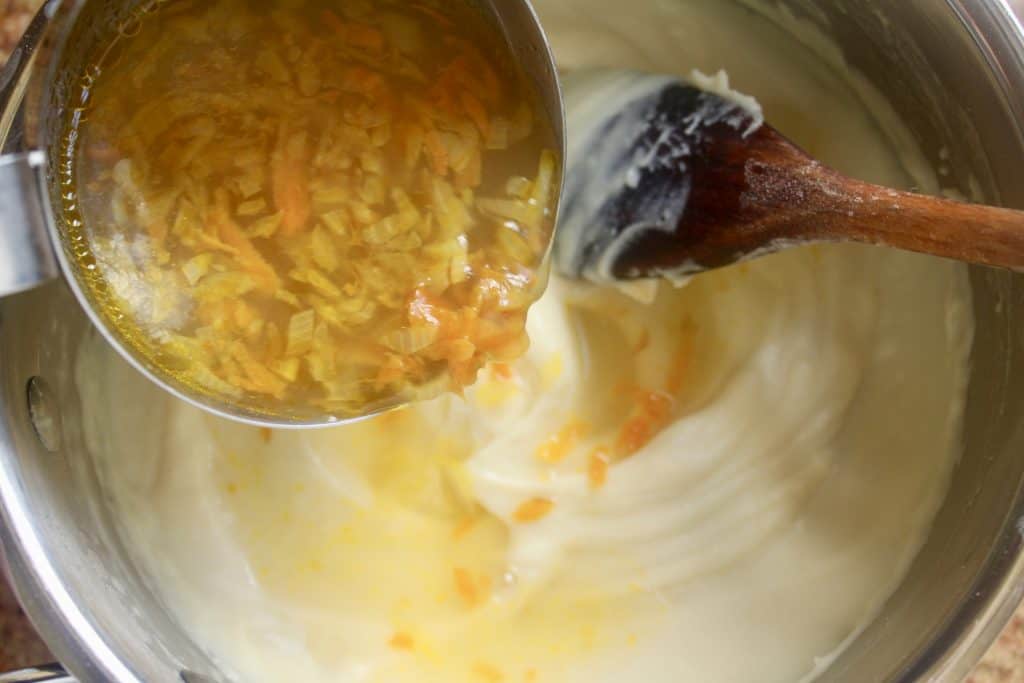 Now it's time to add the spinach.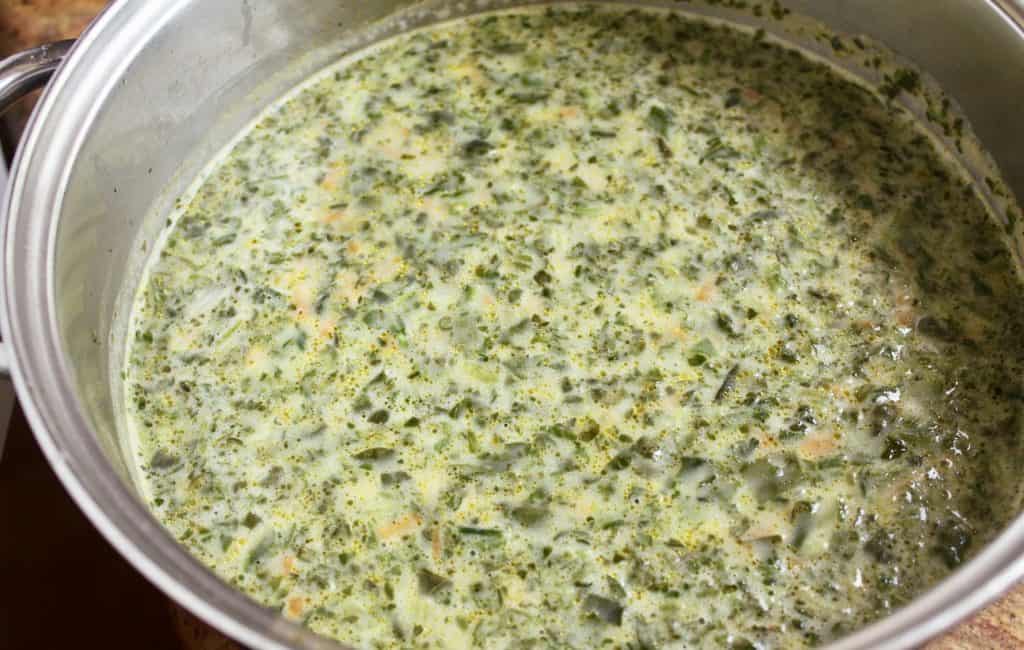 Stir well and simmer for about 2 minutes, then remove from heat and add the milk/cream. Stir well and add salt and pepper to taste. That's it! Soup's done!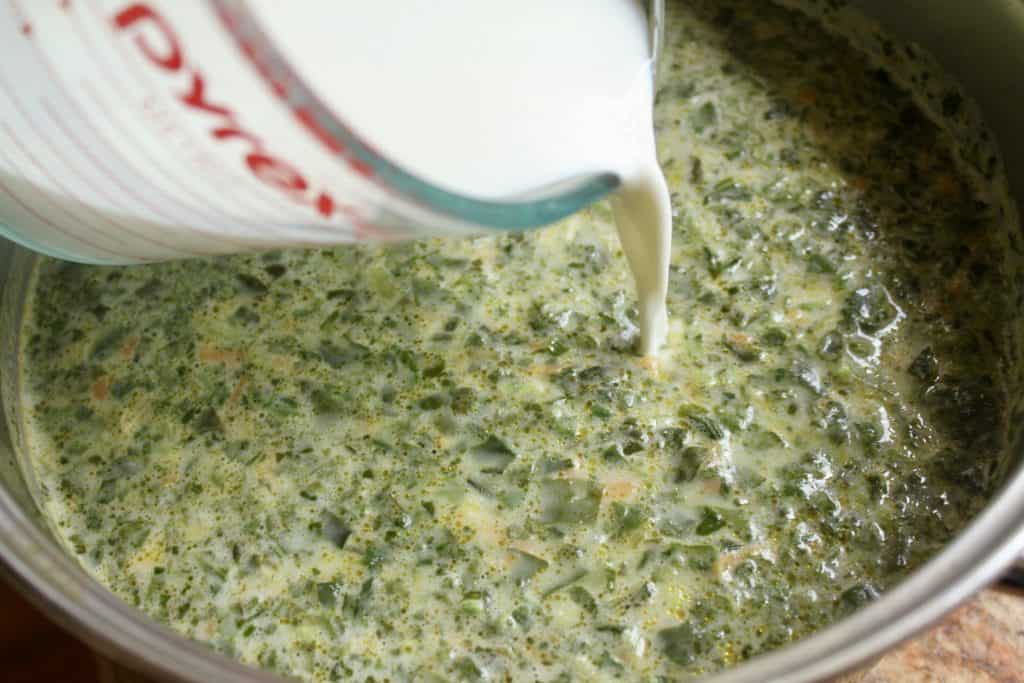 If you'd like to add a nice finishing touch and bit of crunch, you can sauté the tablespoon of butter with about 1/2 cup of sliced almonds until they brown a little.
Sprinkle a little on top of each serving in the bowl and enjoy. I hope you make this spinach soup recipe part of your ongoing soup rotation!
Another great way to use spinach from Cynthia at What a Girl Eats:

Don't miss another recipe or travel post, sign up for my free subscription below!
I promise not to share or sell your email address, ever.
Christina's Cucina is a participant in the Amazon Services LLC Associates Program, an affiliate advertising program designed to provide a means for sites to earn advertising fees by advertising and linking to Amazon.com.