Afternoon tea at the luxurious Royal Horseguards Hotel in London is always a treat. The hotel's central location makes it the perfect place to relax and enjoy a quintessential British tradition in the midst of touring London.
The last day of our European trip was spent in London, one of my most favorite cities. I've been there countless times, and never tire of visiting.
Disclosure: my daughter and I were hosted by The luxurious Royal Horseguards Hotel for afternoon tea. As always, no provisions were made for a positive review, and all opinions are solely my own.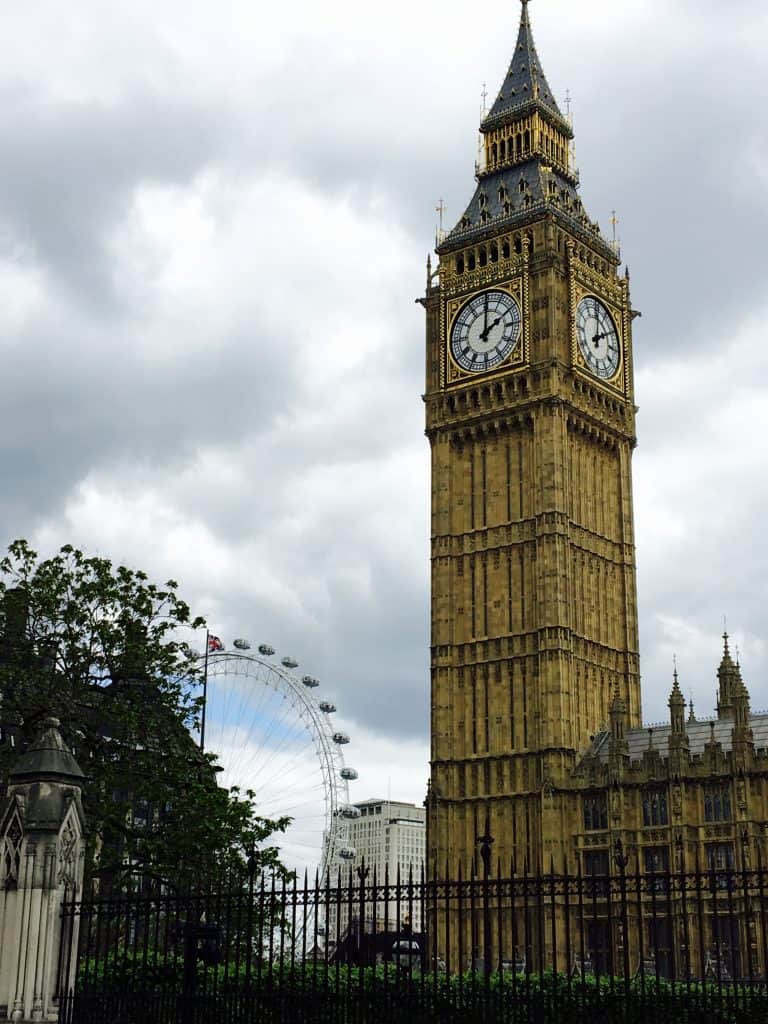 Updated: the Right Royal Afternoon tea theme was offered in 2016, but is no longer available. Do not let this dissuade you from having afternoon tea at the luxurious Royal Horseguards Hotel. You won't be disappointed.
My mother had flown home after a brief visit with family in England, so it was just my daughter, Denisa, and me for the remainder of our trip. We had been staying north of London with relatives, so Denisa and I took the train into the city, and saw a few sights before walking to the Royal Horseguards Hotel for A Right Royal Afternoon Tea, celebrating the Queen's 90th birthday.
We took a few typical tourist photos. Do you think Scotland Yard will hire me? I already have the trench coat.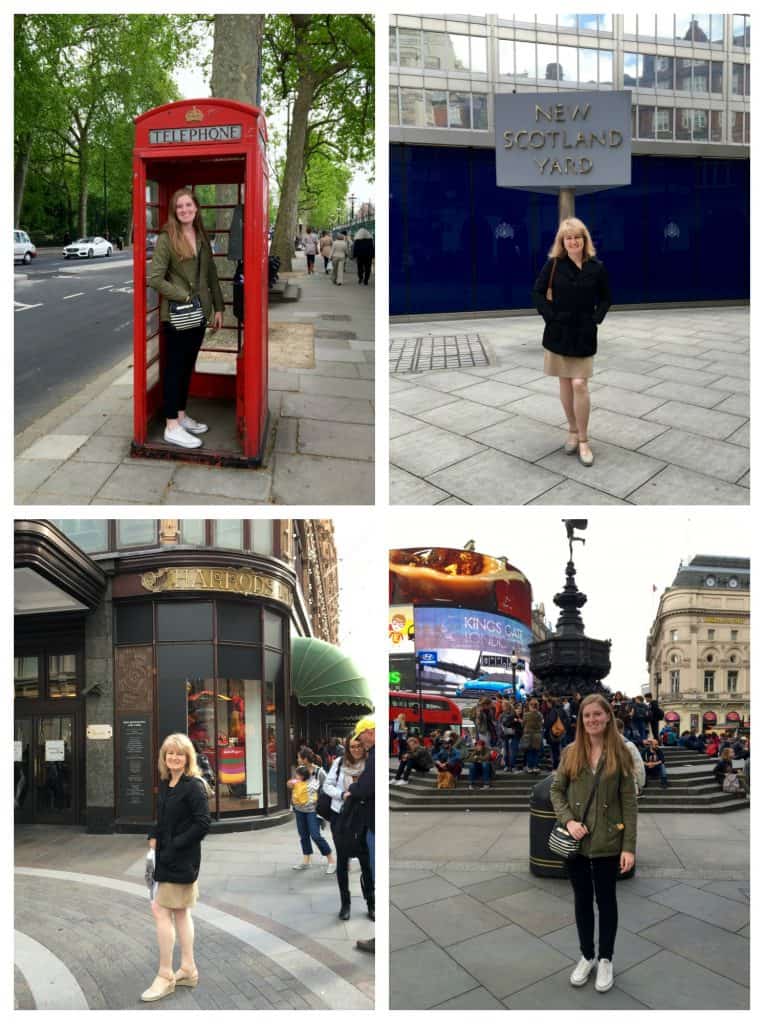 The Royal Horseguards Hotel is situated almost exactly opposite the Coca Cola London Eye, on the other side of the River Thames, so it's a great idea to pop across and ride this iconic wheel while you're so close. My Coca Cola London Eye review coming next. Hint: don't miss it, and I mean the London Eye, not my review!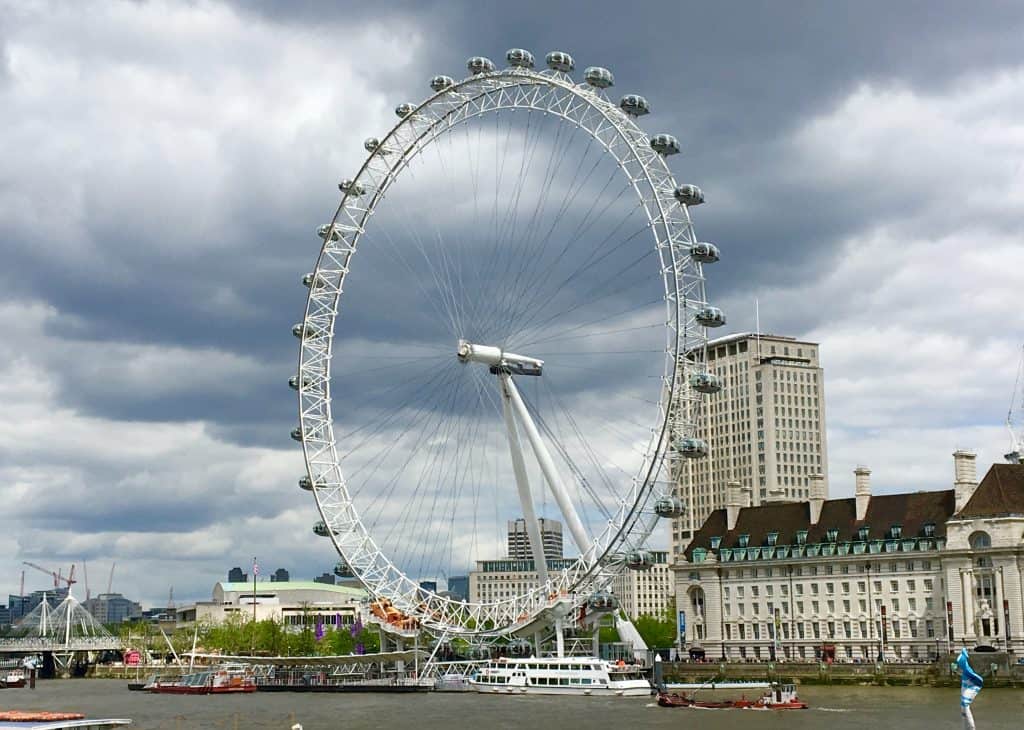 Where is the Royal Horseguards Hotel in London?
Although the Royal Horseguards Hotel overlooks the Thames, it's the back of the property which faces the river. The rear of this majestic hotel is obscured by mature trees, which are also just beautiful.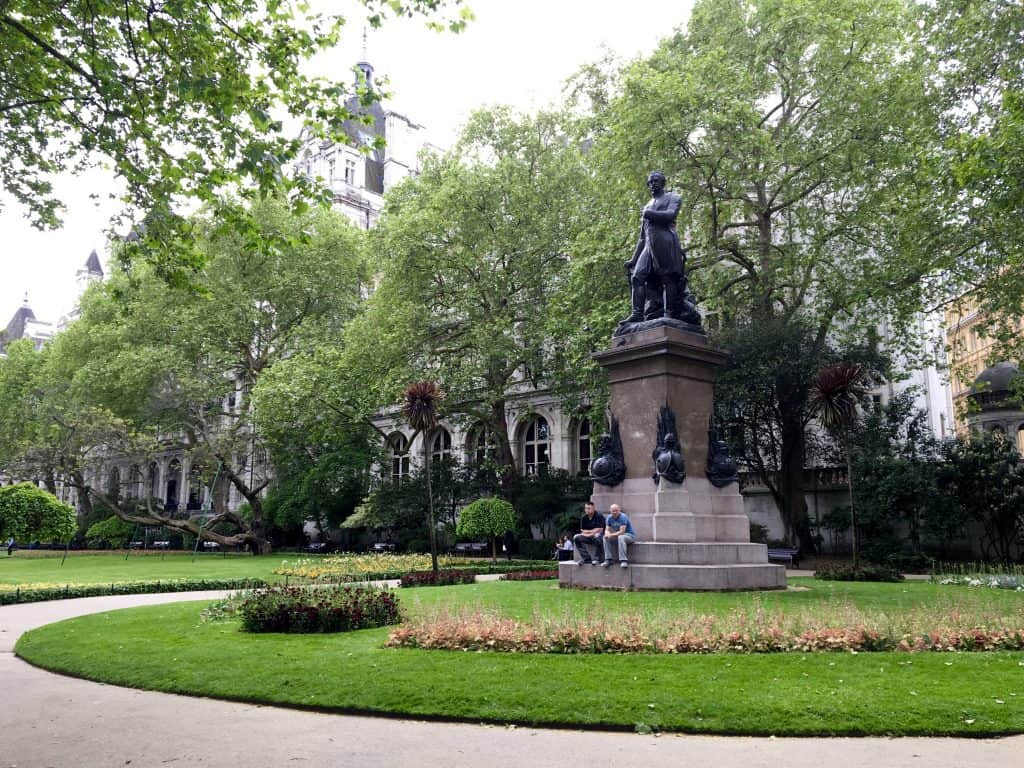 The address of the hotel is 2 Whitehall Court, which used to be the address for the home and office of the UK's first "Chief" of Secret Intelligence Service (MI6), Sir Mansfield Cumming. Just last year, an English Heritage Blue Plaque was placed on the hotel to commemorate Sir Cumming's life here.
As you could see from the first photo above, when Denisa and I arrived at the entrance, we received a very royal welcome!
When we entered the lobby, I felt as though I could have just plopped down on one of the rich, red velvet sofas and moved right in to the luxurious Royal Horseguards Hotel!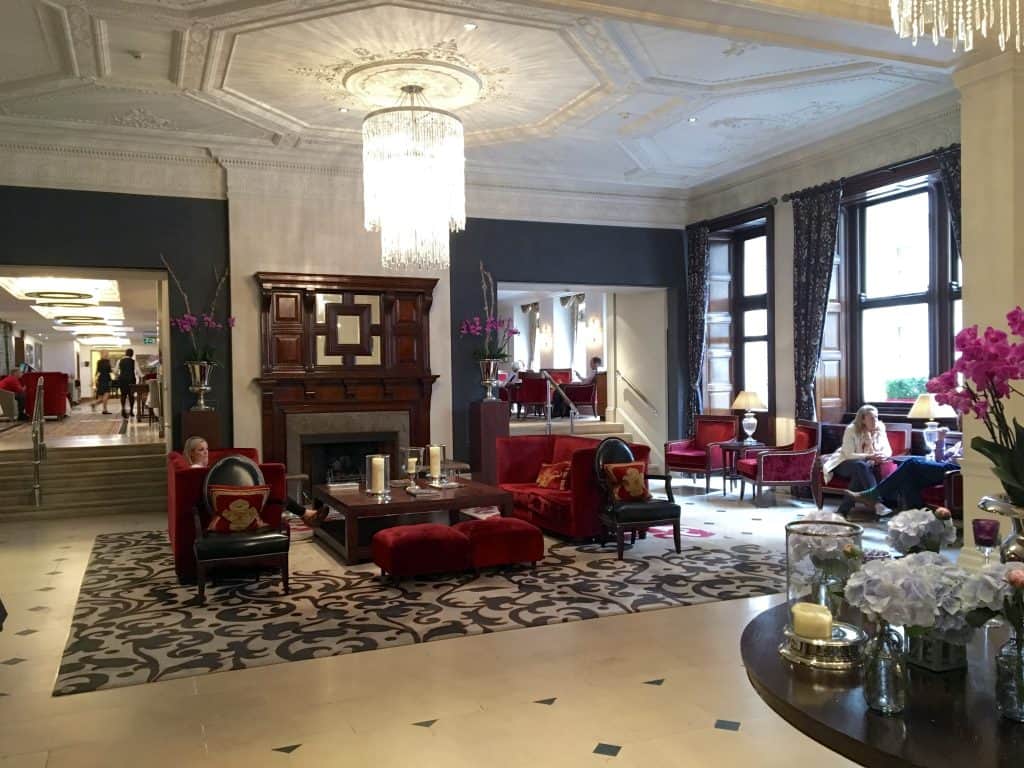 I restrained myself, and instead, Denisa and I went to the front desk to ask where afternoon tea is served. We were shown to The Lounge where Simona seated us at a lovely table near a window. If the weather had been warmer, we could have had afternoon tea outdoors on the terrace.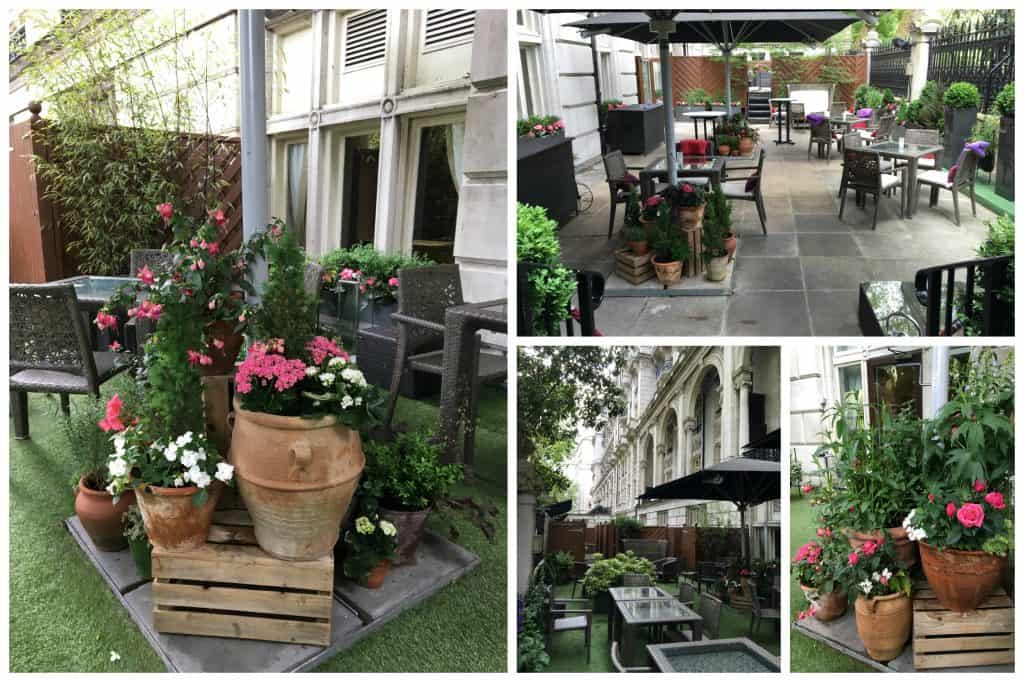 It was much cosier in the lounge that day, so we were happy to be inside.
Before I continue, I need to explain a little about the afternoon tea menu to my audience outside of the the UK. Most of you probably don't know who John Whaite is, so telling you that the menu was created by him in honor of the Queen's 90th birthday won't mean much.
However, John Whaite is a pretty impressive person. Not only did he win the third series of The Great British Bake Off (if you've never seen this show, you are really missing out), but he turned down a place at Oxford university to earn a first class law degree at University of Manchester. Then he attended Le Cordon Bleu. I told you–impressive, right? He's also written three cookbooks and currently co-hosts a TV cooking show!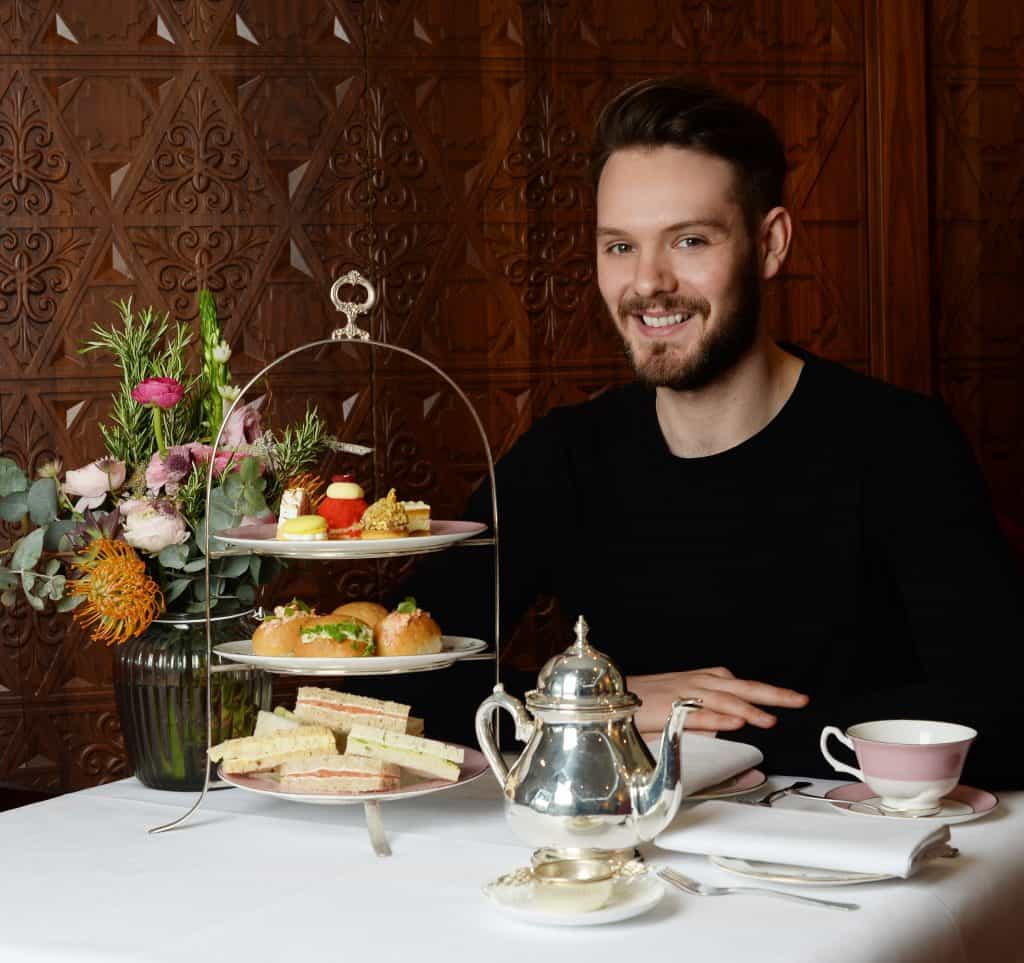 One thing I especially like about John Whaite is his perspective on food, because I have always felt that "less is more" when it comes to cooking and baking.
"There will always be the temptation to throw something else onto the plate, but you shouldn't be afraid to resist. Coco Chanel said that before you leave the house you should remove one item of clothing. If anyone had ever tried to apply that metaphor to food, I'd have unfriended and blacklisted that person for life. But now, I completely get it: perfection is found in familiar simplicity." -John Whaite
Now, when I tell you that the afternoon tea menu at the Royal Horseguards Hotel was created by Chef John Whaite, you'll understand why it's an experience in itself to enjoy these lovely creations knowing who was behind the recipe development.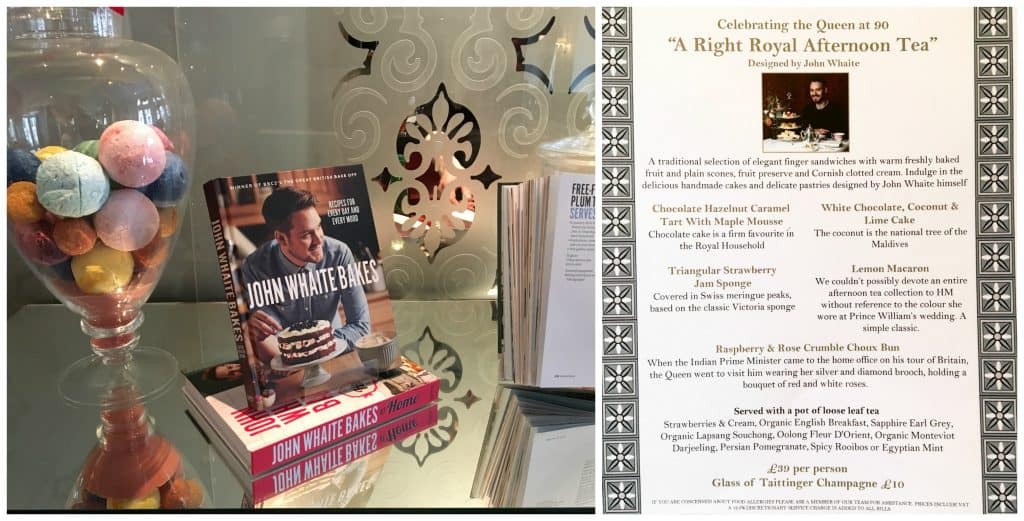 Without further ado, I'd love to share John Whaite's "A Right Royal Afternoon Tea" with you!
Afternoon Tea at the Luxurious
Royal Horseguards Hotel
Simona served our tea and pastries simultaneously, which I must say, is my preference as sometimes the tea tray comes out quite a bit before the tea arrives. The presentation was lovely; the pastries and sandwiches looked just like they do in the professional photo above, which doesn't often happen. Also, nothing on these trays contains GMOs; if you follow my blog, you know how much that means to me.
The Savory Sandwiches
The sandwiches consisted of traditional salmon, egg salad and cucumber, which I truly enjoyed; they were so fresh and flavorful. Denisa had her own nut-free tea tray, which we very much appreciated.
The Tea at the Luxurious Royal Horseguards Hotel.
Denisa chose the English Breakfast whole leaf tea, while I had the Sapphire Earl Grey, which I would highly recommend (if you like the flavor of Bergamot) for afternoon tea at the luxurious Royal Horseguards Hotel.
I adored the delicate floral and pink china, too!
The Phenomenal Scones
Although Denisa and I both enjoyed the finger sandwiches, our favorites were the sweet selections, and out of all of the delectable creations, to me, the scones were the crowning glory! Believe it or not, these scones really floored me and it will be hard to describe why they were so good– they just had the perfect texture, flavor and freshness. With the glorious cream and sweet strawberry jam, I was in heaven!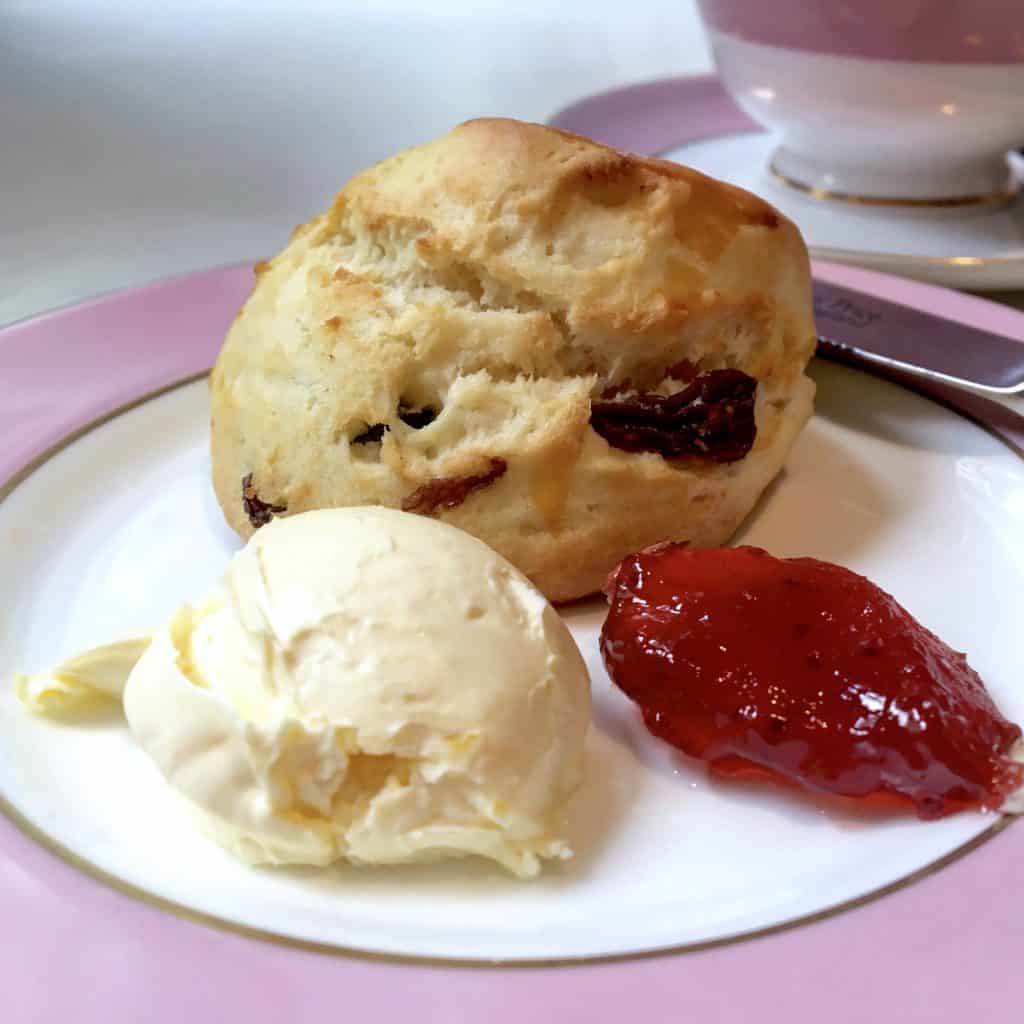 Denisa loved them, too!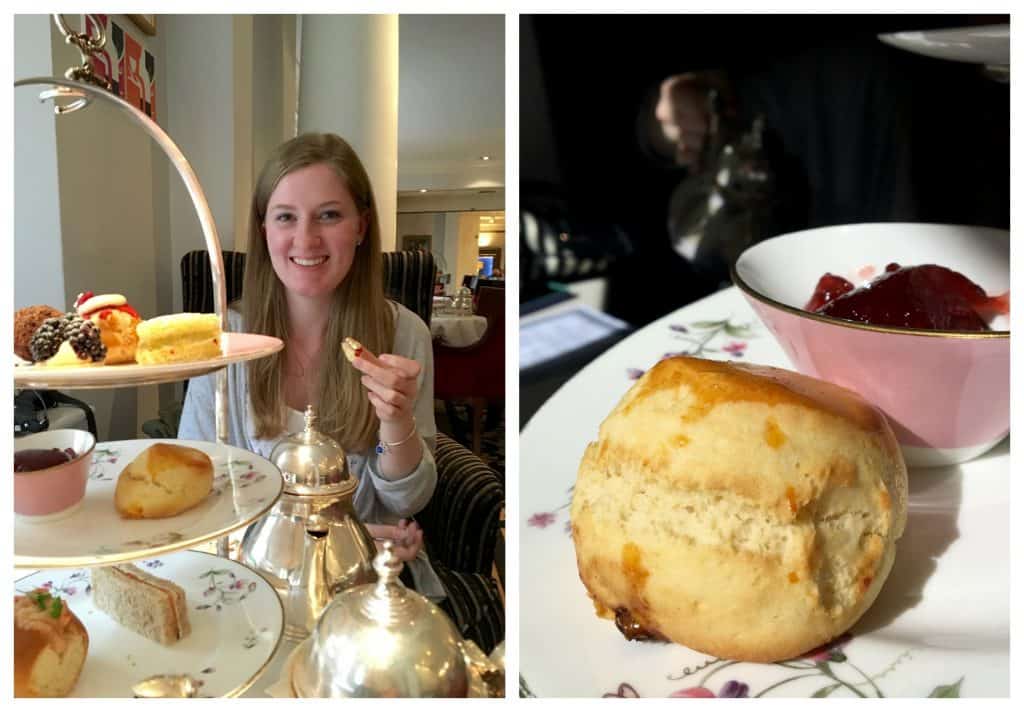 The Pastries
I hope my adoration of the scones doesn't overshadow the other desserts because they were all simply spectacular. From the Lemon Macaron, to the Raspberry and Rose Crumble Choux Bun, each sweet showcased an array of flavors that were marvelous together!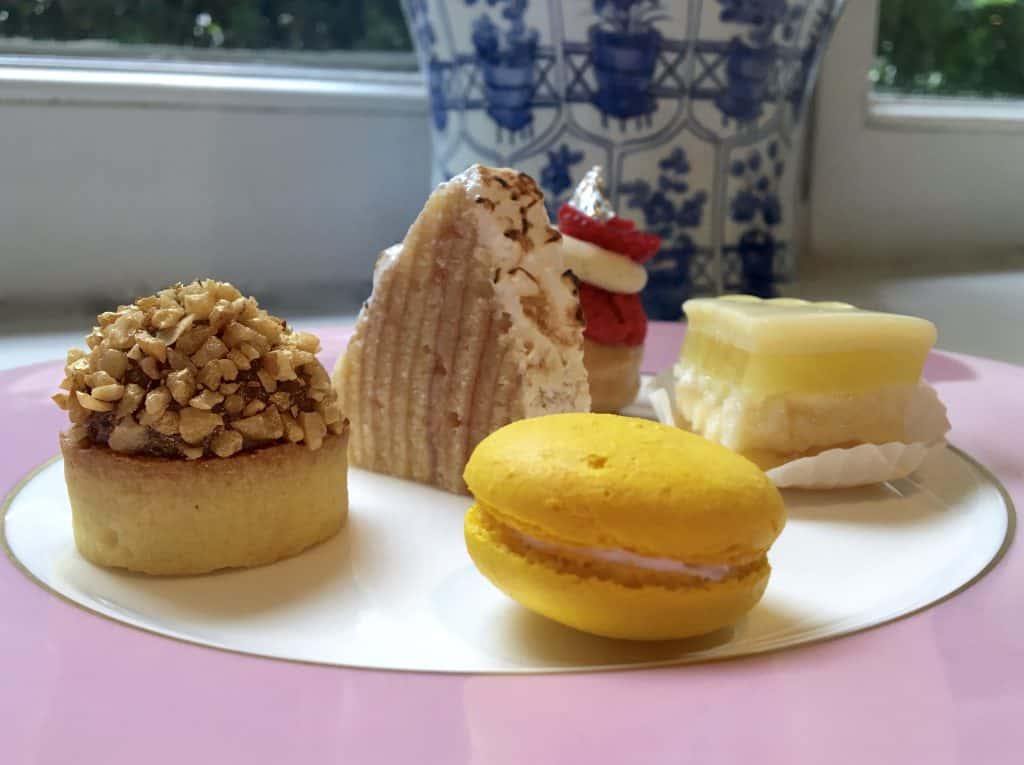 Two of my favorites were the Triangular Strawberry Jam Sponge with Swiss Meringue and the Chocolate Hazelnut Caramel Tart!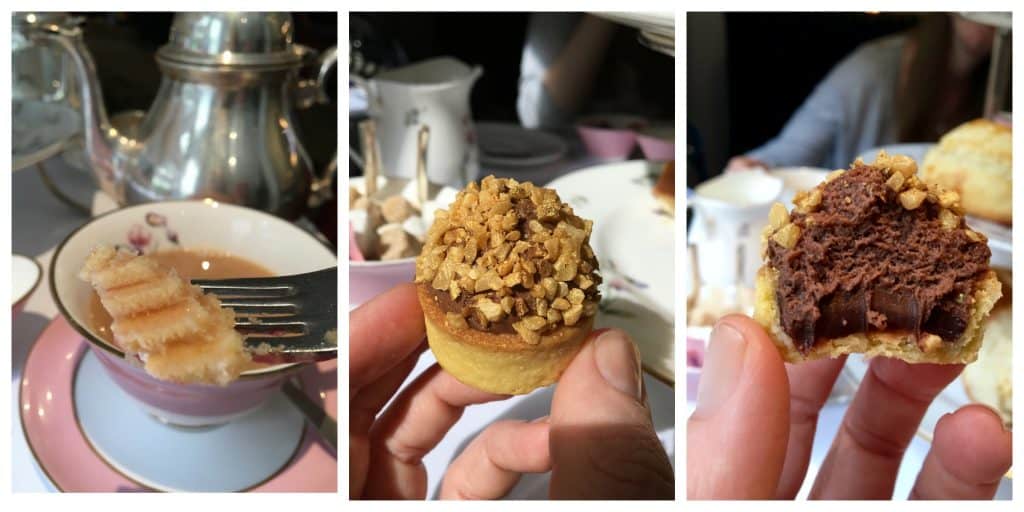 Honestly, I know the menu was created in honor of the Queen's 90th birthday, but had she popped in for tea on the same day that we were there, I highly doubt she would have been disappointed, as this tea was truly fit for a queen! Simona had been a lovely waitress, checking on us from time to time, without hovering.
When we had finished our tea, I extolled Simona with many compliments about our wonderful afternoon tea (especially how much we enjoyed those scones), and guess what she did? She disappeared and came right back with two more scones for us to take home! It was such a lovely gesture and very much appreciated.
Since we were leaving to fly back to Los Angeles the next day, those beauties came with us–I'm not kidding! This is one of my treasured scones in perfect condition in my backyard the next day.
As we left, I resisted the urge to sink into one of those scarlet sofas again.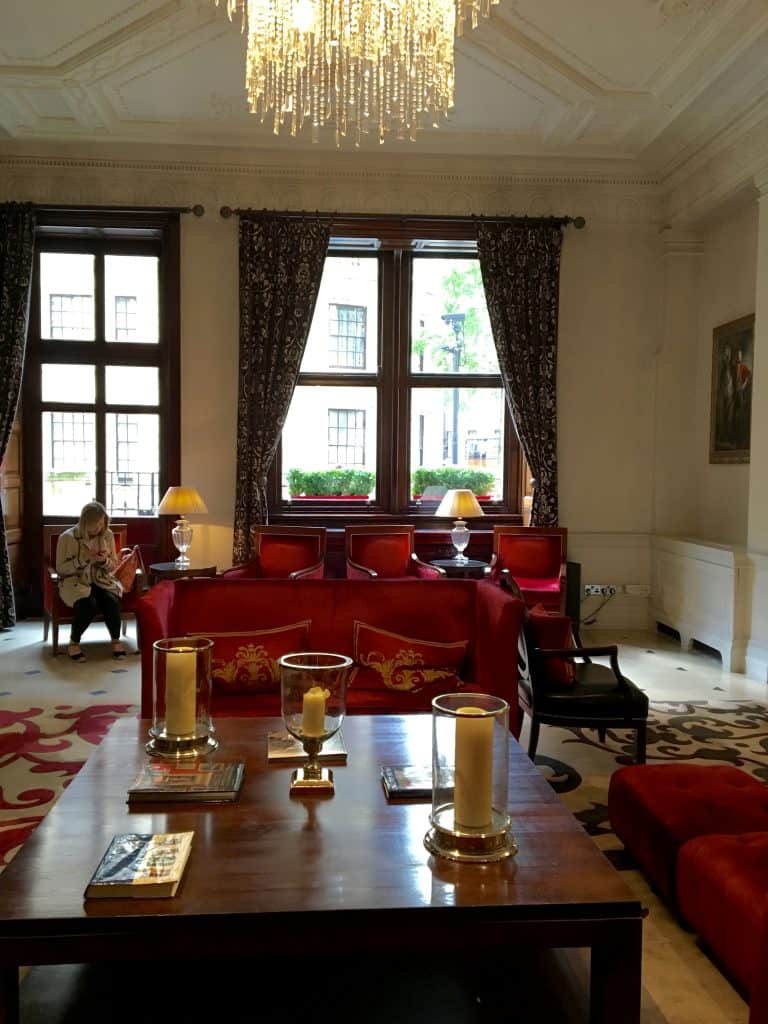 Alas, we had to leave, but we had another exciting experience on the horizon: The Coca Cola London Eye! I have wanted to ride the London Eye for years, however, each time I've been to London recently, I've never managed to fit it in, but this time, we had a reservation.
We walked across one of the Golden Jubilee pedestrian bridges to the other side of the Thames.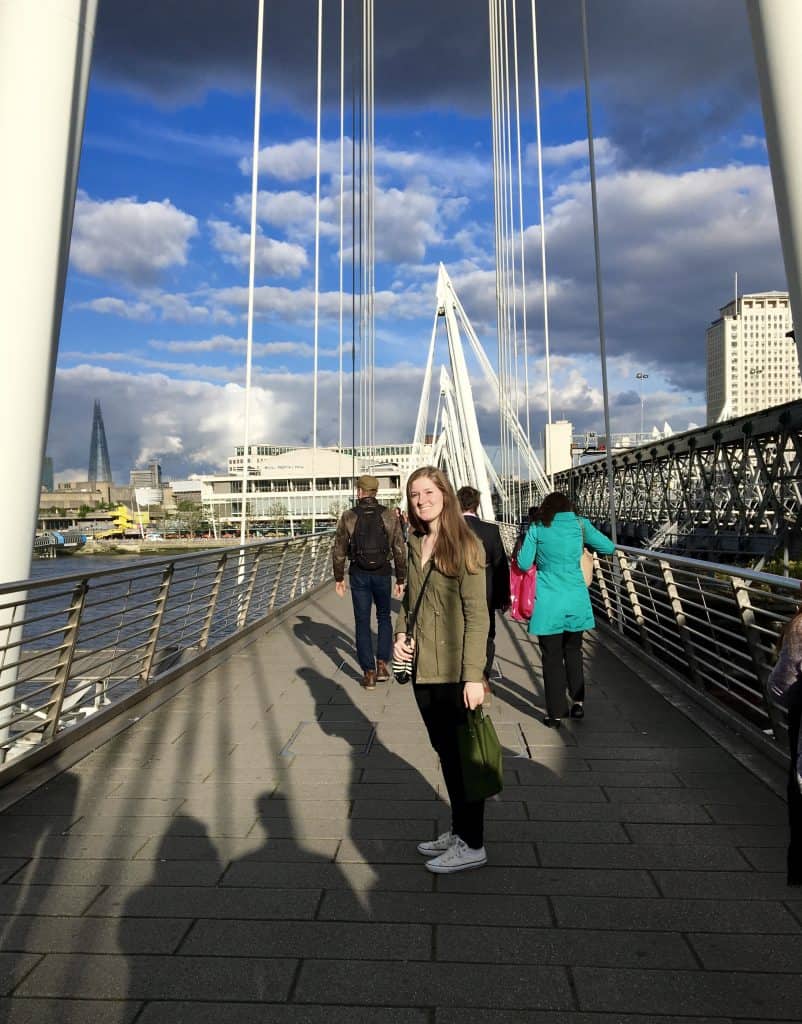 While some clouds had dispersed, a few fluffy shapes were left behind, creating a gorgeous afternoon sky.
The view from the other side of the Thames is probably the most iconic, with the Houses of Parliament and Elizabeth Tower (the actual name of what most people think is Big Ben, when in fact, Big Ben is the name of the bell).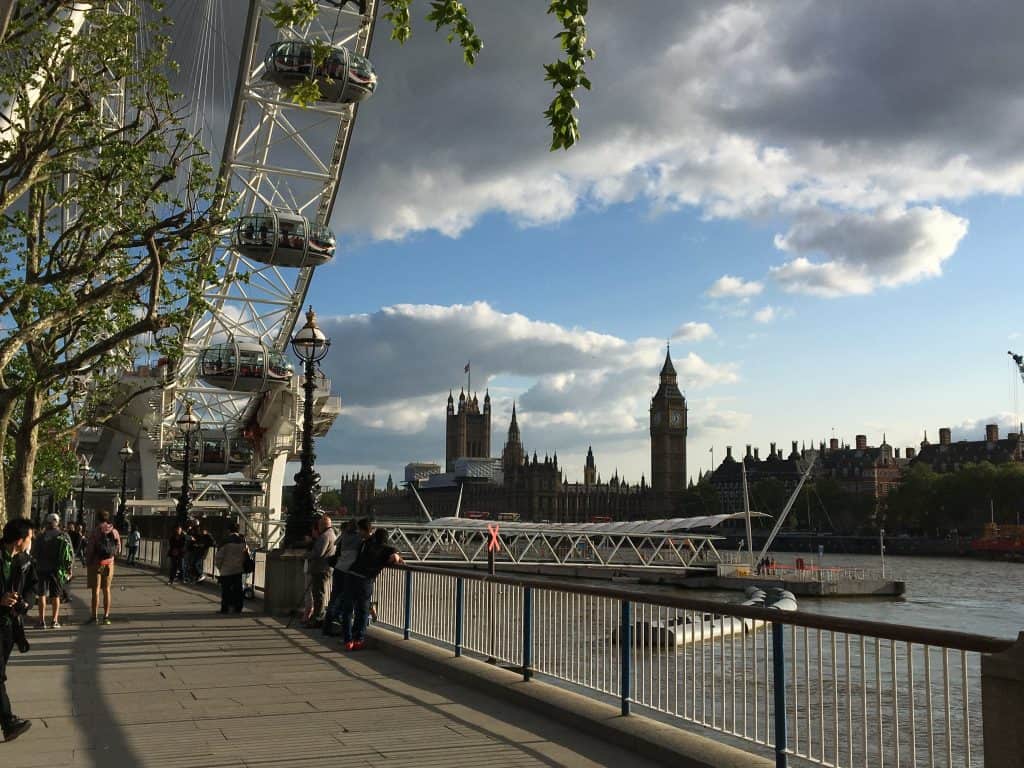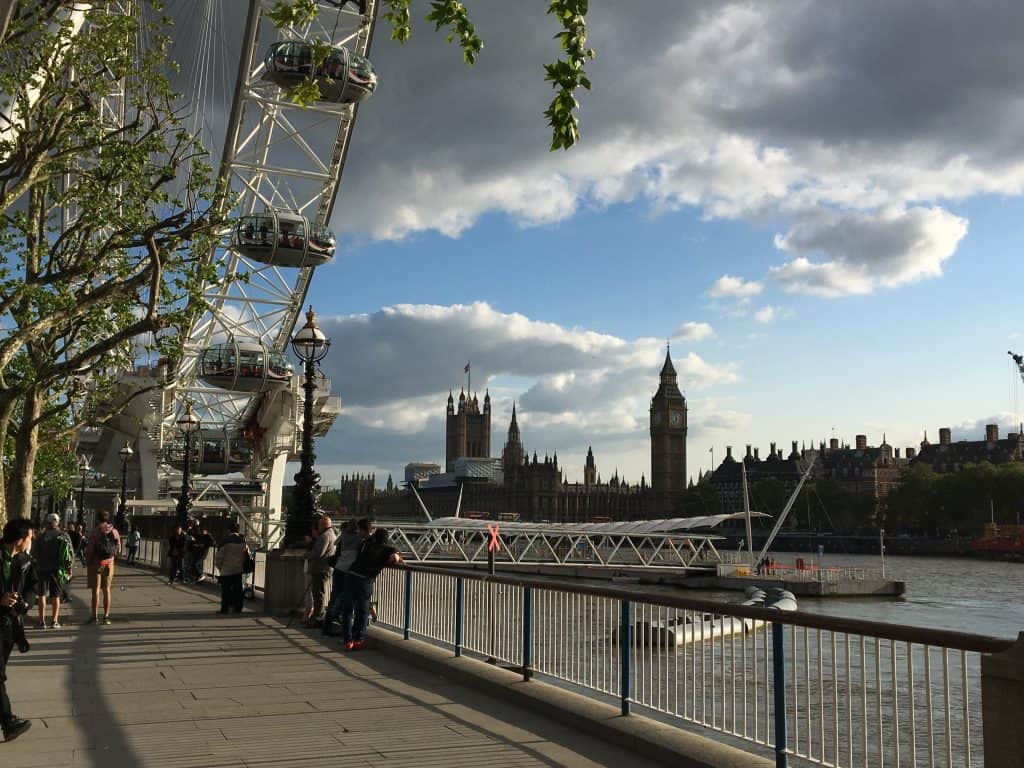 The silhouette of the Royal Horseguards Hotel across the River Thames was beautiful, as we walked towards the Coca Cola London Eye.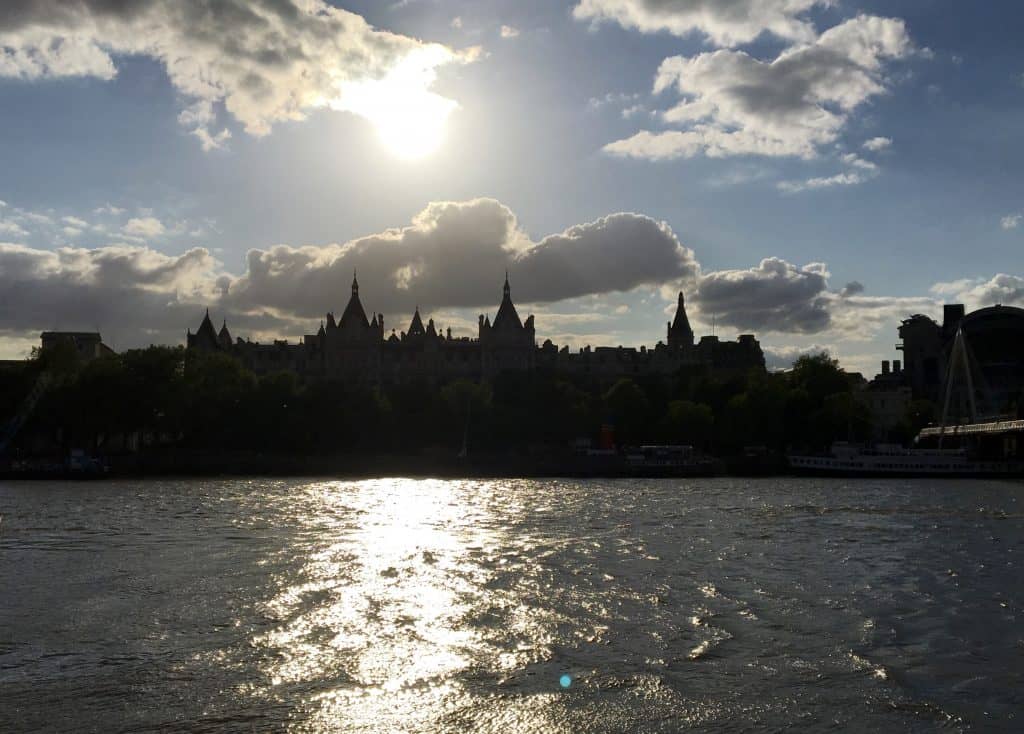 Next: The Coca Cola London Eye
I hope you enjoyed my review of having~
Afternoon Tea at the Luxurious Royal Horseguards
Hotel in London!
To book an afternoon tea experience at the luxurious Royal Horseguards Hotel in London, click this link.
Don't miss another recipe or travel post, sign up for my free subscription below!
I promise not to share or sell your email address, ever.
Disclosure: our afternoon tea was hosted by The Royal Horseguards Hotel. All opinions are always my own. I am disclosing this in accordance with FTC regulations.