Best muffin recipe, ever? Yes! I dare you to find a better recipe that tastes as delicious, is as light and fluffy, and as healthy as these incredible yogurt muffins!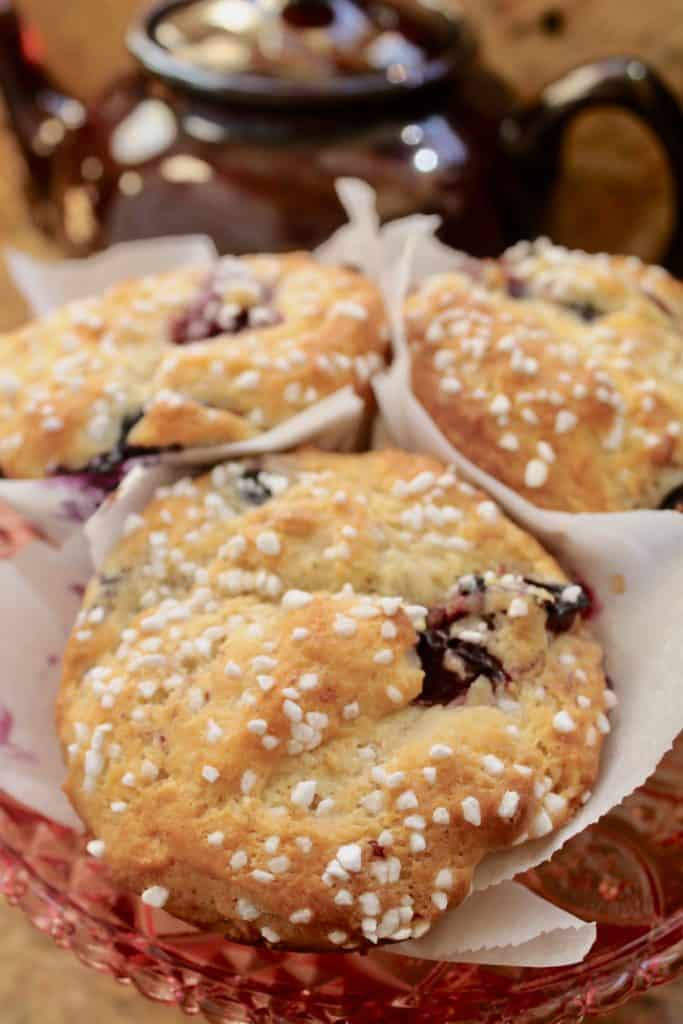 I wish there was a way for me to let you sample my recipes before you decided to make them.
As an Amazon Associate I earn from qualifying purchases.
Why? Because I know most of you would flip for certain ones, like this muffin recipe. My cousin Connie in England first told me about these incredible muffins (they were actually plum muffins) years ago, and I've never used another recipe since. If you click over to this recipe and read the reviews, maybe you'll begin to believe me.
In case you've been put off by heavy, dry and tasteless muffins, I'm telling you, this recipe is going to be a life-changer for you! What makes this the best muffin recipe, ever? Many things, so let me list them for you.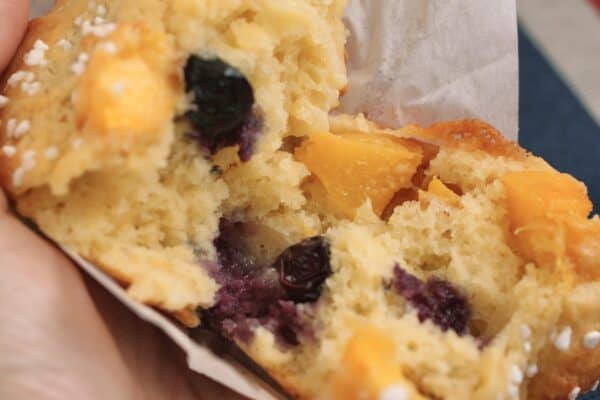 The Best Muffin Recipe, Ever -Because…
They are the lightest, fluffiest muffins I've ever tasted!
These muffins are so nutritious with a whole cup (8 oz) of yogurt, no butter, very little sugar and a ton of fruit.
They are super versatile! I've made plum, blueberry, peach, rhubarb, cranberry-orange, and many more. The printable recipe below will highlight a mixed fruit version.
These muffins are so easy to make! Throw the dry ingredients in a bowl, mix up the liquid ones in a jug; barely stir and then add the fruit! That's it. I do sprinkle a little Swedish pearl sugar or Demerara/Sugar in the Raw on top at the end, but that's optional.
Don't want to make muffins? Just make a muffin loaf, instead! I've done it hundreds of times with perfect results!
They freeze wonderfully; both the muffins and the loaf!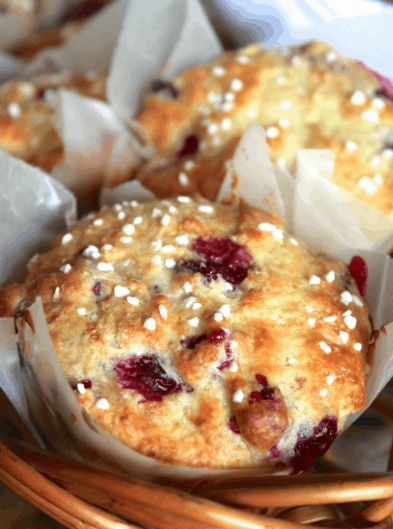 Have I convinced you to give them a try? I surely hope so!
Healthy Yogurt Mixed Fruit Muffins
(Best Muffin Recipe, Ever)
printable recipe below (adapted from a Waitrose recipe)
Put the dry ingredients in a bowl.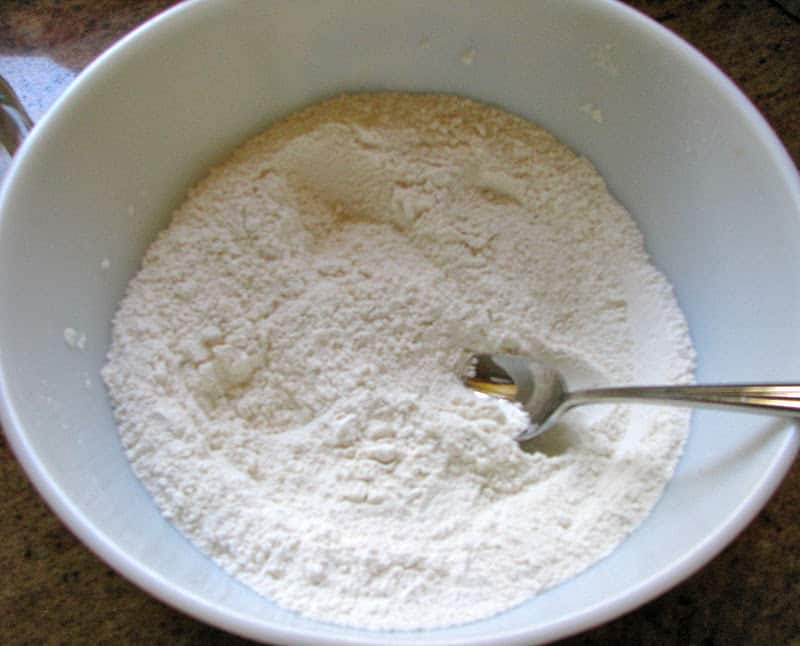 Mix the liquid, yogurt and eggs in a jug.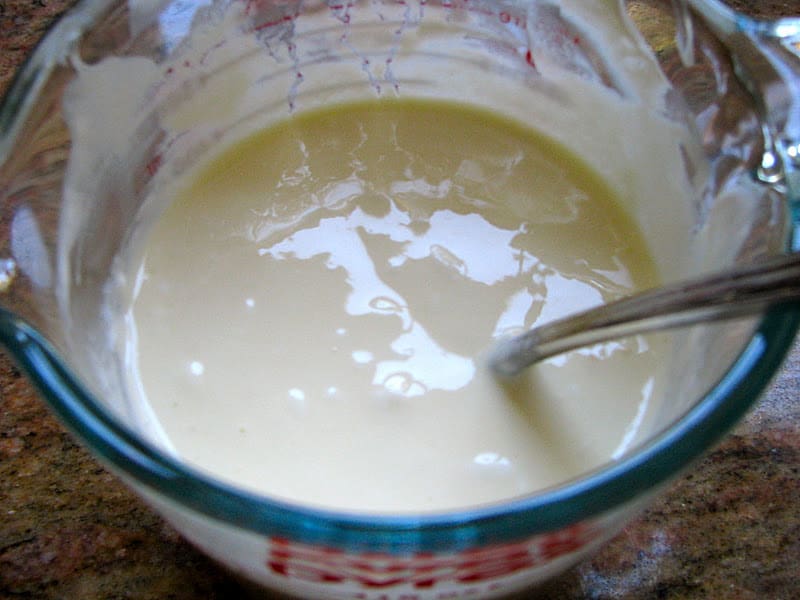 Pour the jug into the bowl.
Lightly mix, then add the mixed fruit. I used plums, peaches and blueberries, but use whatever you like.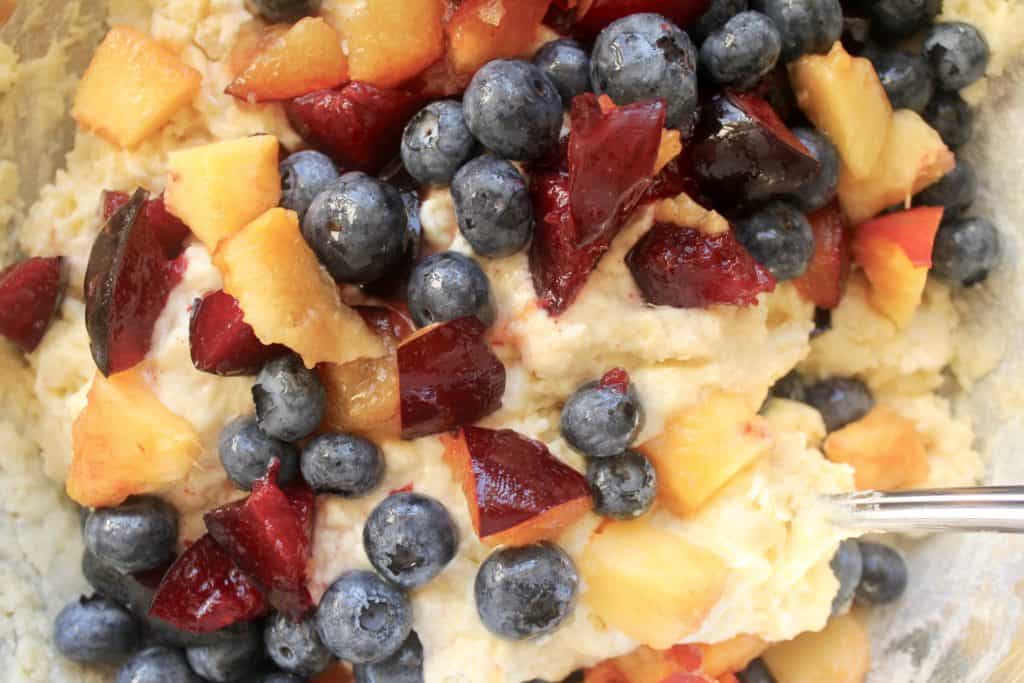 Put into lined muffin cups (I like to use the larger ones lined with parchment paper) and bake. Alternately, put into a greased and floured loaf tin. Baking time will be much longer for the loaf. See recipe card for details.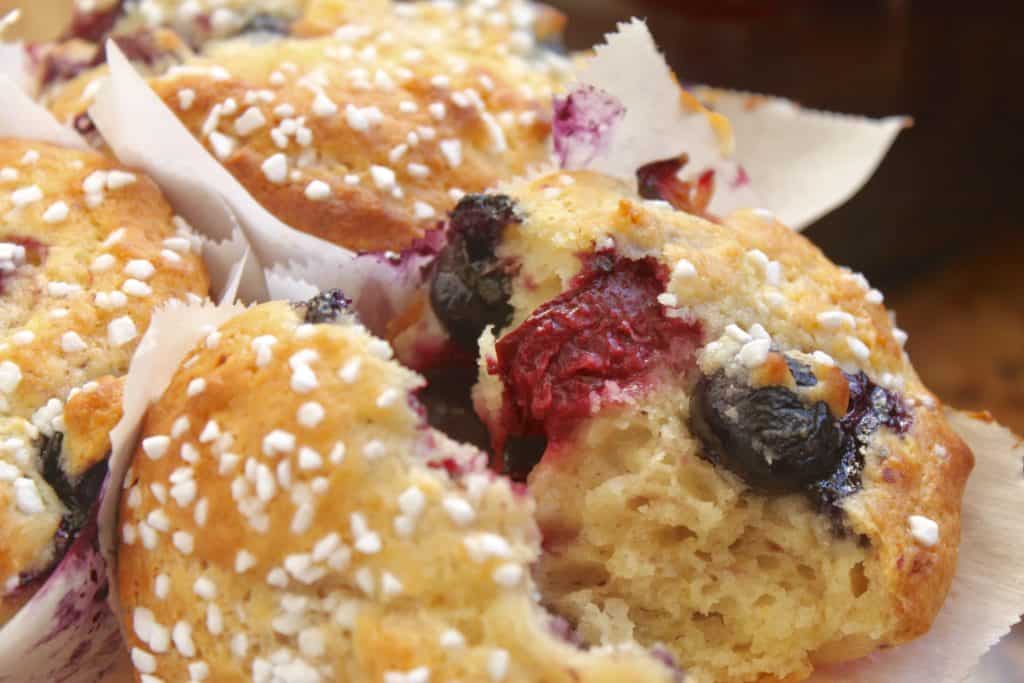 Best Muffin Recipe, EVER! Mixed Fruit Yogurt Muffins
Yield:
8 large muffins (12 regular) or 1 loaf
Best muffin recipe, ever? YES! These mixed fruit muffins are light, fluffy, barely sweet with no butter, but a cup of yogurt to keep them healthy.
Ingredients
2 cups (275g) good quality flour
2 tsp. baking powder
1/2 tsp baking soda
pinch of salt
1/2 cup (100g) sugar
2 eggs
1/2 cup (100ml) light olive oil
1 cup (250ml) unsweetened yogurt (if using Greek yogurt, add 1 tbsp milk or buttermilk)
about 1 1/2 cups of your choice of mixed fruit (should weigh about 320g) I used plums, chopped peaches and blueberries
Demerara or Swedish pearl sugar to top, if desired
Instructions
Preheat the oven to 350ºF.
Sift flour, baking powder, baking soda and salt into a large bowl.
Stir in the sugar.
In a separate bowl or measuring jug, whisk together: eggs, olive oil, and yogurt, until smooth.
Pour the yogurt mixture into the dry ingredients.
Slowly stir the yogurt mixture into the dry ingredients in the large bowl, until just combined. DO NOT OVER STIR, it will make the muffins too dense.
Gently stir in the mixed fruit, with just a few turns, then fill the muffin cups or greased and floured loaf tin. Sprinkle with a little Swedish sugar or raw sugar (demerara) if desired, for a crunchy top.
Bake for about 15-18 minutes or until golden brown.
Notes
If making smaller muffins, baking time will be less. If making a loaf, baking time will be closer to 50 minutes. Check with a cake tester (or thin wooden skewer) before removing from the oven.
Nutrition Information:
Yield:

8
Serving Size:

1
Amount Per Serving:
Calories:

173
Total Fat:

3g
Saturated Fat:

1g
Trans Fat:

0g
Unsaturated Fat:

2g
Cholesterol:

48mg
Sodium:

250mg
Carbohydrates:

31g
Fiber:

1g
Sugar:

6g
Protein:

6g
This is just an estimate of nutrition information.
PIN FOR LATER!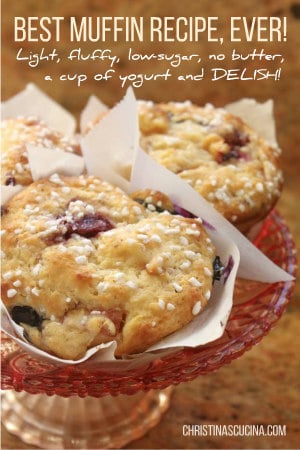 Want another mixed fruit recipe? Try this summer fruit jam recipe from the Jam Queen herself, Camilla from Fab Food 4 All!
Christina's Cucina is a participant in the Amazon Services LLC Associate Program, an affiliate advertising program designed to provide a means for sites to earn advertising fees by advertising and linking to Amazon.com.