This homemade snack mix is one you'll actually want to snack on. Add your choice of nuts, dried fruit, coconut, if you like, and then add one type of chocolate cookie or treat.
So this isn't a recipe as much as it's a guide for you to make your own homemade snack mix or trail mix, if that's the term you prefer.
As an Amazon Associate I earn from qualifying purchases.
I often find myself reaching for chocolate, cookies or biscuits when the hunger pangs strike, because (although I love carrots and celery sticks) sometimes I just want something sweet.
Another healthy snack option: sweet potato chips.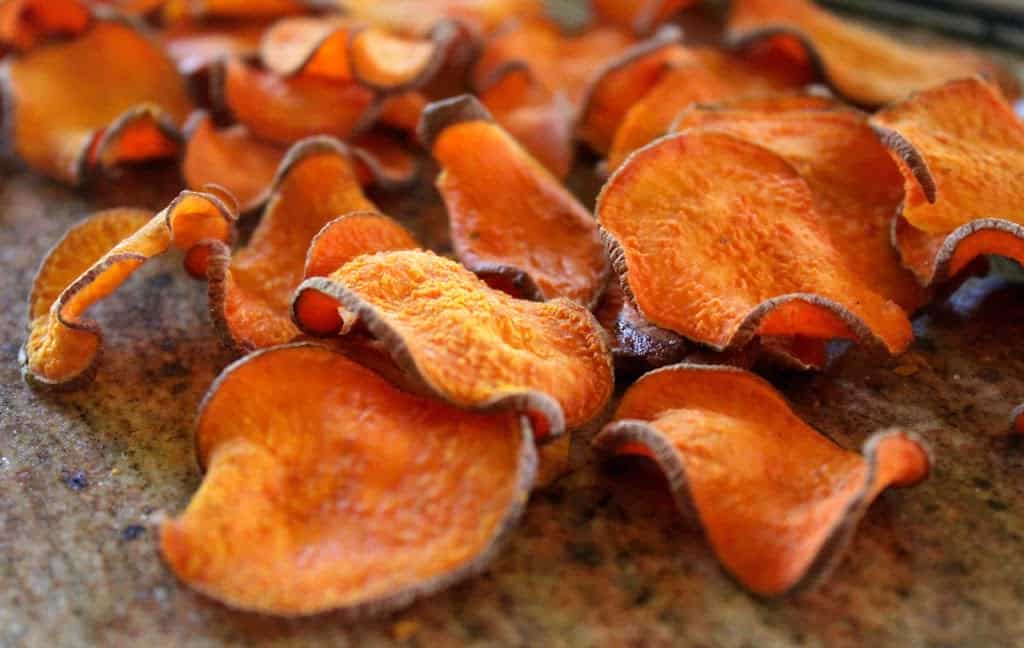 I've found a healthier option, which was inspired by a service I came across where the company lets you select different combinations of snacks, both sweet and savory, and deliver them to you. Of course, I thought, "I can put those together myself!" So I did.
Here's the best part: you can leave out anything you don't like and only put in what you do like, including a small portion of cookie bits, or pieces of your favorite candy bar.
There's no picking out nuts or raisins or whatever it is that you would just rather not have in your homemade snack mix. You also don't have to wait for the mail/post! I made a nice sized batch (I only show a small portion in the photos) and now keep a small ramekin on the counter, and instead of eating half a candy bar, I now get my sweet fix along with dried fruits and nuts! It's a win-win.
Here's my snack selection: organic raisins, organic coconut (nothing added), currants, hazelnuts, pieces of Cadbury's fingers and dried cherries.
I made this when my daughter was in the UK as she is allergic to nuts and I don't want her around them, so I can easily make this peanuts or almonds, which are fine for her. You can choose 5 or 6 of your own favorite snack ingredients, or even make a savory blend!
It's a great snack to keep a small tub in the car or at work, then you won't be as tempted by those naughty options that we wish we hadn't eaten!
Another healthy snack option: Sweet Potato Chips
Let me know what you decide to make if you give this homemade snack mix a try. I'd love to hear the combinations you come up with!
Do-It-Yourself Homemade Snack Mix
Don't miss another recipe or travel post, sign up for my free subscription below.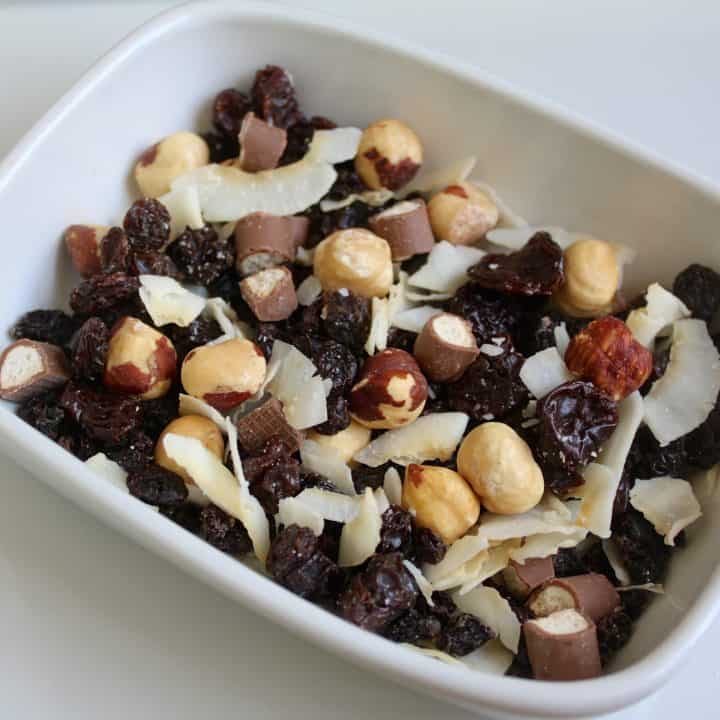 A Do-It-Yourself Homemade Snack Mix You'll WANT to Snack on!
A customized snack mix that you can make however you like.
Ingredients
3 oz (1/2 cup) raisins
2 oz (1/2 cup) coconut flakes (unsweetened)
3 oz (1/2 cup) hazelnuts, whole
3 oz (1/2 cup) dried cherries
2 oz (1/2 cup) dried currants
3 Cadbury's chocolate fingers, broken into small pieces
Instructions
Mix all ingredients together. Enjoy!
Notes
Ingredients are interchangeable as are quantities. My "recipe" is an example so I can give nutritional information. This is just a guide.
Nutrition Information:
Yield:

6
Serving Size:

1/2 cup
Amount Per Serving:
Calories:

321
Total Fat:

18g
Carbohydrates:

33g
Protein:

5g
Christina's Cucina is a participant in the Amazon Services LLC Associates Program, an affiliate advertising program designed to provide a means for sites to earn advertising fees by advertising and linking to Amazon.com.