Maltesers are the original malted milk balls, with a more delicious malted center, and creamier chocolate coating than the US version!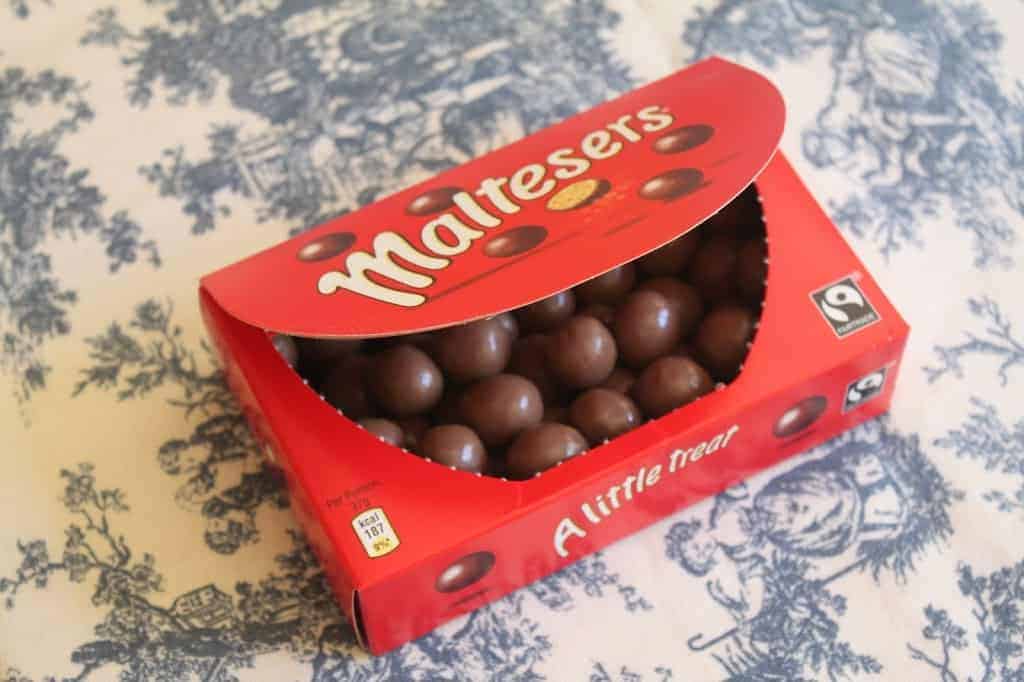 America: it's time to demand better malted milk balls!
As an Amazon Associate I earn from qualifying purchases.
What are Maltesers?
Maltesers are a British malted milk ball candy, with a malted milk center, coated in milk chocolate. (A new dark chocolate Maltesers is now available, too.)
What are Maltesers Called in America?
Maltesers are similar (but completely different in quality) to American Whoppers candy.
When Were Maltesers Invented?
Maltesers were created in 1936 (same year my dad was born), but not sold until a year later. The candy was originally marketed and sold to women as a means to generate energy. – SnackHistory
Are Maltesers and Whoppers the Same Thing.
By description, Maltesers and Whoppers are both "chocolate" coated malted milk balls, however, they are not the same. While Maltesers still has cocoa powder as the third ingredient whereas Whoppers is 6th after lots of corn syrup and oils. Neither product is "healthy", by any means, and I'm sure the product I grew up with in the 1970s was made with better quality ingredients than they are now.
Maltesers Candy Ingredients:
Sugar, Skimmed Milk Powder, Cocoa Powder, Glucose Syrup, Malt Extra, Cocoa, Veg Oil, Lactose, Demineralised Whey Powder, Milk Fat, Emulsifiers (Ammonium Phosphatides, Soya Lecithin, Sorbitan Tristearate), Wheat Flour, Gelling Agent (Pectin), Raising Agent, (Sodium Hydrogen Carbonate, Calcium Phosphates), Salt.
Whoppers Candy Ingredients:
Sugar, Corn Syrup Solids, Whey (Milk), Hydrogenated Palm Kernel Oil, Palm Kernel Oil, Corn Syrup, Cocoa, Malted Milk [Barley Malt, Wheat Flour, Milk, Salt, Baking Soda], Sorbitan Tristearate, Lecithin (Soy), Confectioner's Glaze, Salt, Artificial Flavor, Tapioca Dextrin, Calcium Carbonate.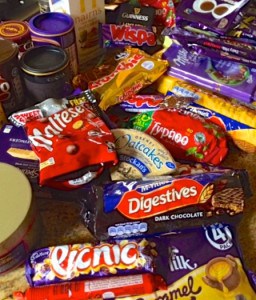 Maltesers was the original product, which were followed by Whoppers three years later.
What you don't know about your malted milk balls
If you've only been eating one kind of American malted milk ball brand your entire life (I won't name any names), you don't know what you've been missing! Although Maltesers were originally made by American candy maker, Forrest Mars Sr. in England!
I grew up eating Mars' Malteser's malted milk chocolates as they're one of the most popular candies in the UK (just ask any Brit you know), and when I first tasted the American version of malted milk balls after moving here, I was horrified!
The chocolate was not actually chocolate, but more of a waxy coating and the entire flavor was just terrible! Needless to say, my family and I never had any more malted milk balls, unless family or friends brought over Maltesers from the UK.
Maltesers' chocolate is so creamy and smooth—it just melts in your mouth—and then there's the crunchy and delicious flavor of the malted milk center, which is just a heavenly combination!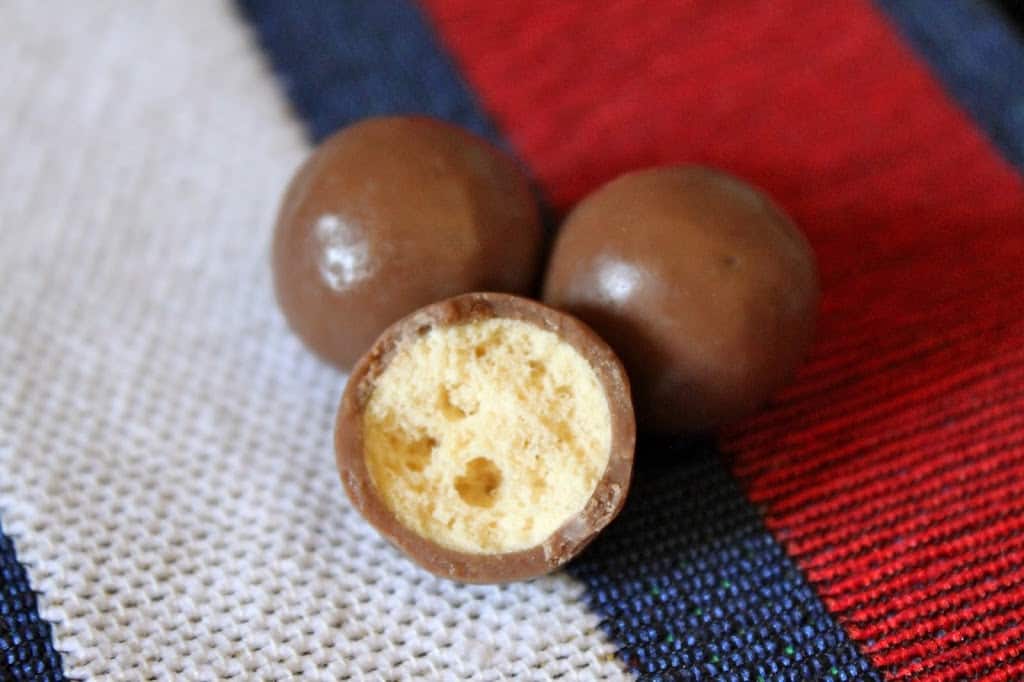 Did you know the US is sent products that are subpar to their European counterparts?
It makes me sad that we have to put up with some truly subpar food items here in the US. This is not just with malted milk balls, but for lots of different items which are made differently by the same company depending on whether the intended consumption is in Europe, or Canada or Australia or the US. (For example, Cadbury's and Nestle do this).
I often feel that these companies presume that "Americans won't know any better", which is just wrong! We demand the best for so many things, so why not food?
Of course, there are more important things I could be ranting about such as GMOs, and using highly processed ingredients in so many of our foods. I could also discuss the use of pesticides and artificial ingredients, but somebody has to talk about bad chocolate!
I have stated over and over about using quality ingredients in all of my recipes. When I see desserts like this Maltesers Cake, I just cannot imagine making it with anything but Maltesers!
Where can I find Maltesers?
So, if you live in the US, you're probably wondering where you can get your hands on some of these orbs of malted milk and creamy chocolate goodness? Well, you'd have to find a British shop, or a specialty international store. Cost Plus World Market carries as does Amazon.com.
My point is that they should be available next to M&Ms and Twix. Don't get me started on how the Twix in the UK is SO much better than in the US. So write to your congressmen/women–okay, maybe that won't work, but let's get the word out. We want QUALITY chocolate in the US, just like everyone else!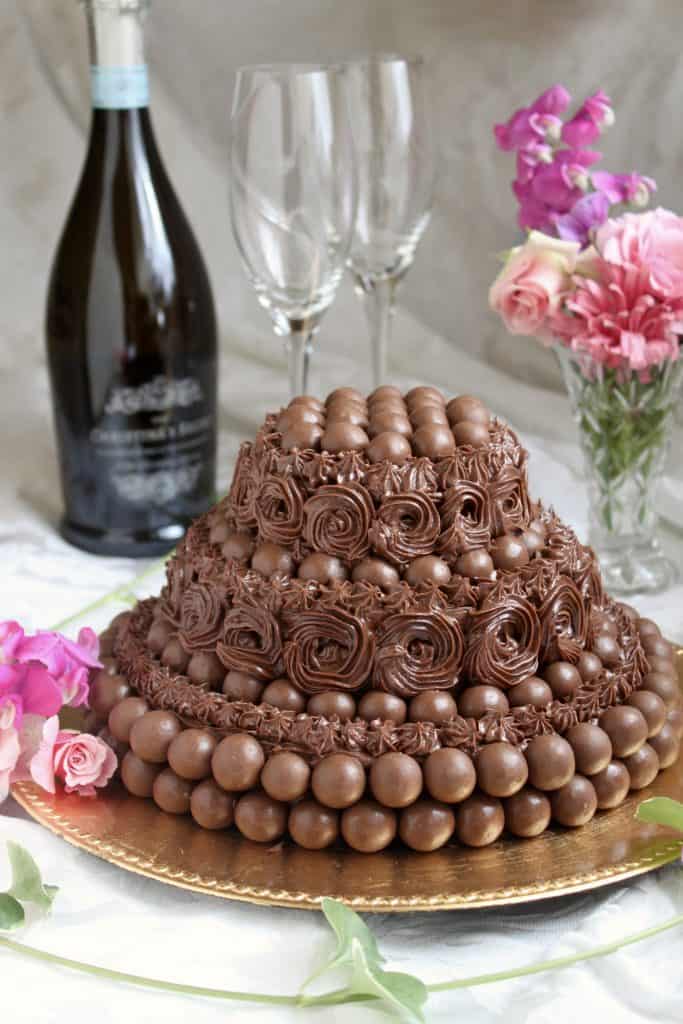 Once you've tasted Maltesers, you'll understand why I pontificated on this issue. We need to stand up, America, and demand Maltesers for all!! (And no, unfortunately, I didn't receive any Maltesers or anything, in return for this post).
I just ♥ Maltesers!
Don't miss another recipe or travel post~sign up for my free subscription.
Christina's Cucina is a participant in the Amazon Services LLC Associates Program, an affiliate advertising program designed to provide a means for sites to earn advertising fees by advertising and linking to Amazon.com.