Homemade vanilla extract is a perfect holiday gift to give that is something almost anyone can use, but very much appreciated by home bakers.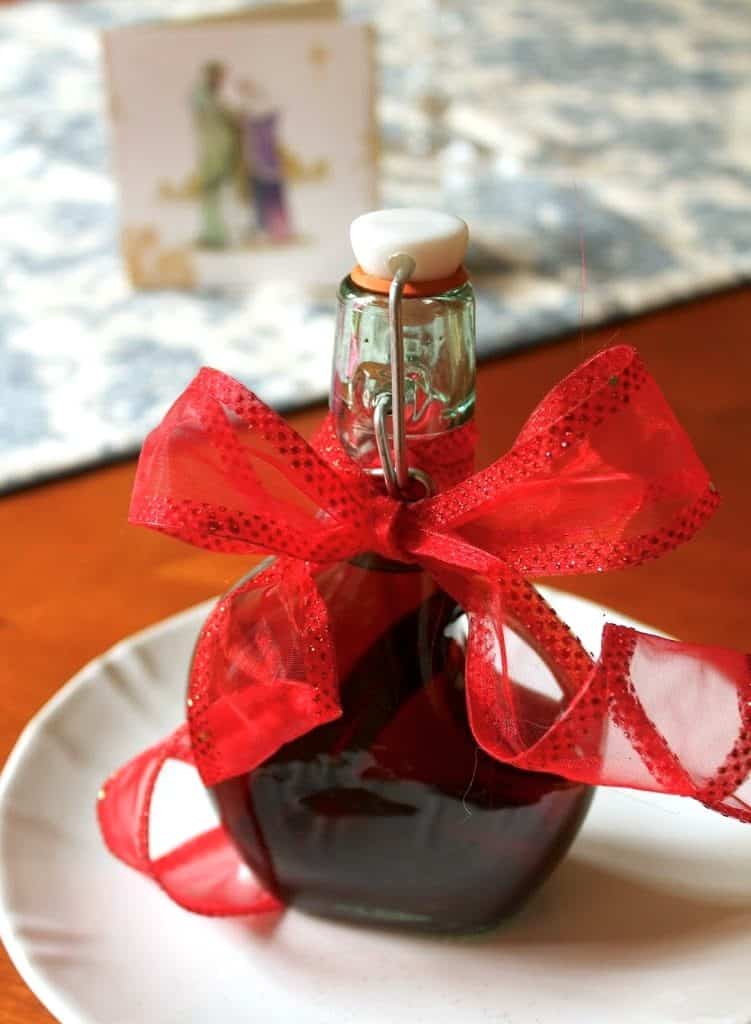 Did you know there are only 147 days left until Christmas?
As the antithesis of the "Keep Calm and Carry On" poster says, "Now Panic and Freak Out!" may be appropriate at this time, or maybe not.
Maybe this is the opportunity that you'd wished you'd acted upon when December 15th rolls around this year, and you realize there are lots of little gifts you need to hand out here and there, but you "got nuthin'".
Maybe you will regret it if you don't take a few minutes now, to save yourself a lot of stress then? What am I talking about?  Well, I'm sure the title gave it away, but you can come across like a totally organized, thoughtful and creative friend/relative/boss/employee/colleague/client/student or whatever it is that you are, by handing someone a lovely homemade bottle of vanilla as a gift this holiday season. Now, I know this isn't the perfect gift for everyone, like maybe your mechanic? He (call me sexist, but I bet your mechanic is a "he") probably isn't the best person to give a bottle of vanilla (unless he's a passionate foodie), however, I bet there's a lot of people who would really appreciate this thoughtful present.
All you need are bottles, vanilla beans, vodka and 5 minutes–seriously! Okay, you have to wait a few months before it's ready, but hey, can you imagine how you'll feel when December 15th rolls around and you realize that you just need to throw a bow around the neck of a bottle or toss it in a cute little gift bag and you have a gorgeous homemade gift to give? How cool is that? But do it now, as the vanilla beans need 4 to 6 months to flavor the vodka. I made some in February, so it's now ready to use and it smells heavenly!
Homemade Vanilla Extract
Special equipment: small bottles
Ingredients
vanilla pods (3 or 4 per bottle)
200ml (about 7 oz) good quality vodka (I used Belvedere)
Carefully, slit the vanilla pods open with a sharp knife.
Drop into the vodka, straight into the mini bottle (200 ml) of vodka, or into your own bottle(s).
 Close the bottle and leave in a cool, dark place for 4 to 6 months before using.
This is what the vanilla in progress will look like after just a few days…
…and after a few months.
You can thank me in December, and you don't even have to tell anyone it was my idea–aren't I nice? :)
(By the way, can someone tell me why it's not "amn't I"?)
Don't miss another recipe or travel post; sign up for my free subscription below!
I promise I won't ever share or sell your information.