Cranberry orange bread pudding combines two flavors that are a match made in heaven. Add this to a light brioche with the sweet sauce and it's perfection.
I am so lucky to live in California.
I think that native Californians who have lived here for their entire lives cannot appreciate California as much as people who have lived elsewhere—especially in cold or rainy climates. The year round, gorgeous temperatures, the flowers, the ocean, and the mountains are all things I know others aren't lucky enough to have in other places. However, one of the things I really adore about our climate is the range of fruits that grow throughout the year.
Just a couple of weeks ago, I was given a bag of homegrown oranges, and they were so sweet and delicious, I felt I just had to create something special with them.
By the photos you can see what I decided to make, and I can tell you there are no regrets. I searched through my kitchen pantry to help me to decide what to make. It was when I spotted dried cranberries that I got this delicious idea.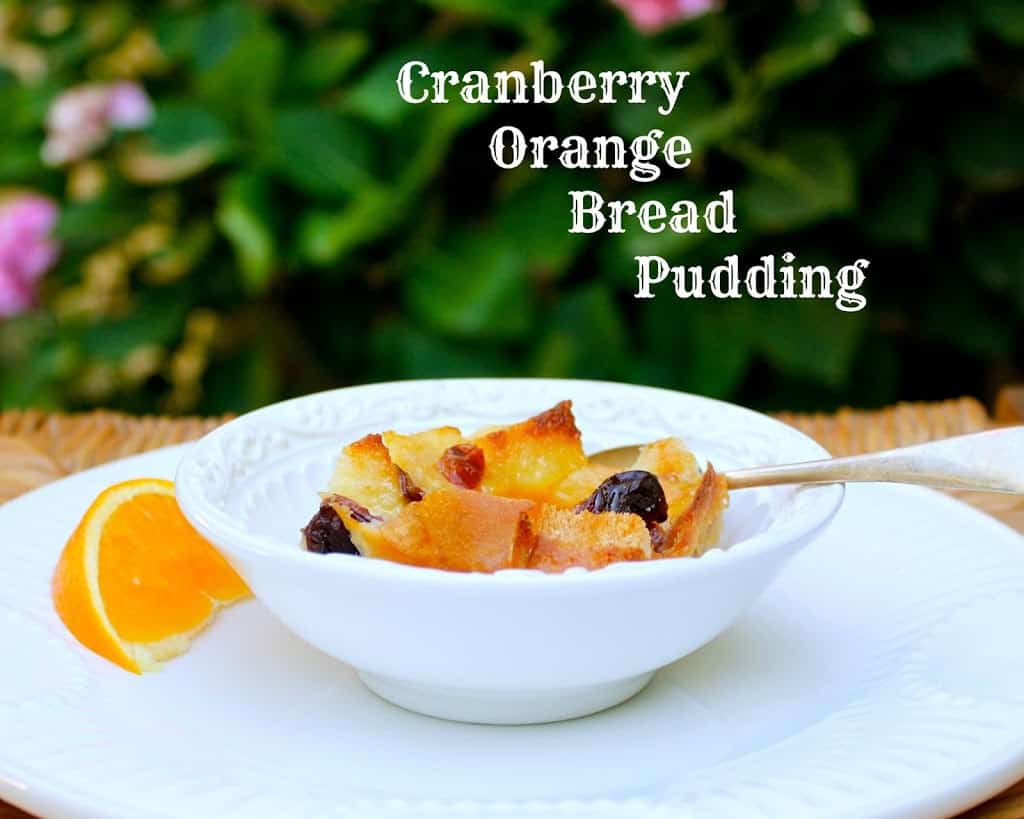 I created a caramel orange sauce to pour on top of the bread pudding, however I think a cream-based orange sauce would be equally as delicious, but unfortunately, not as low in calories. I soaked the cranberries in Grand Marnier, however, you can use hot orange juice to re-hydrate the cranberries if you don't want to use alcohol.
It's not officially "orange season" here in California, but the nice thing is, they're always available in everyone's grocery store, no matter where you live, so try out this delectable dessert next time you want something simple, yet utterly delightful!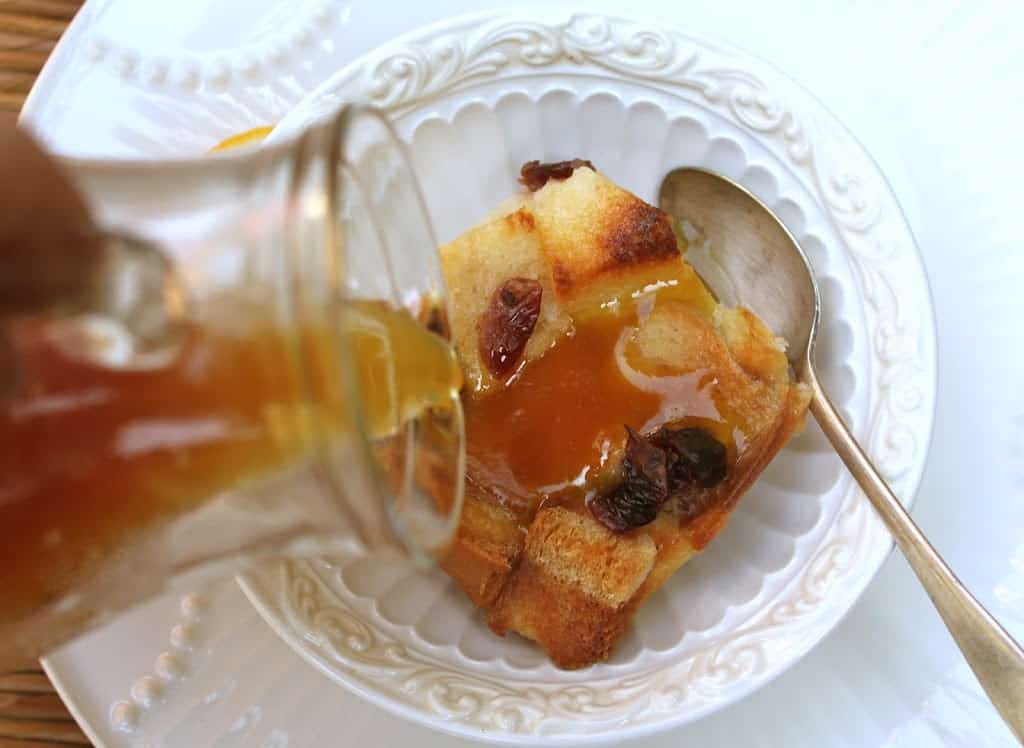 Cranberry Orange Bread Pudding
original recipe by Christina Conte
Ingredients
3 cups cubed, stale bread, brioche, challah or plain panettone
a handful of dried cranberries (as desired)
Grand Marnier liqueur (substitue hot orange juice for an alcohol free version)
2 eggs
1 cup milk
1 cup heavy whipping cream
1 tbsp sugar
1 tsp grated orange zest
For the Sauce
1/3 cup fresh orange juice (for a creamier sauce, use 1/8 cup (1 oz) orange juice and 1/4 cup (2 oz) cream)
1/4 cup (2 oz) butter
1/3 cup brown sugar
1 tbsp Grand Marnier (optional)
Oven temp: 375ºF (190ºC)
Place the cranberries in a small, deep bowl or mug, and cover with Grand Marnier (or hot orange juice).
Let soak for at least two hours, or even as long as overnight if using Grand Marnier.
Put the cubes of bread or brioche into a dish or ramekins which will accomodate  them, then sprinkle with the cranberries and liqueur.
In a small bowl or jug, beat the two eggs then add the milk, cream, sugar and orange zest, and continue to beat until all the ingredients are well combined.
Pour the mixture over the bread cubes and cranberries.
Allow to soak for about half an hour, then bake for 30 to 35 minutes or until the pudding is puffed and lightly golden colored.
While the cranberry orange bread pudding is baking, make the orange sauce by melting the butter in a small pot, then add the brown sugar, orange juice (and cream, if using).
Let simmer for about 5 or 6 minutes, then remove from heat and add the Grand Marnier.
Serve the cranberry orange bread pudding while still warm, with the warm orange sauce on top.
You can make both ahead of time and reheat them just before serving, too.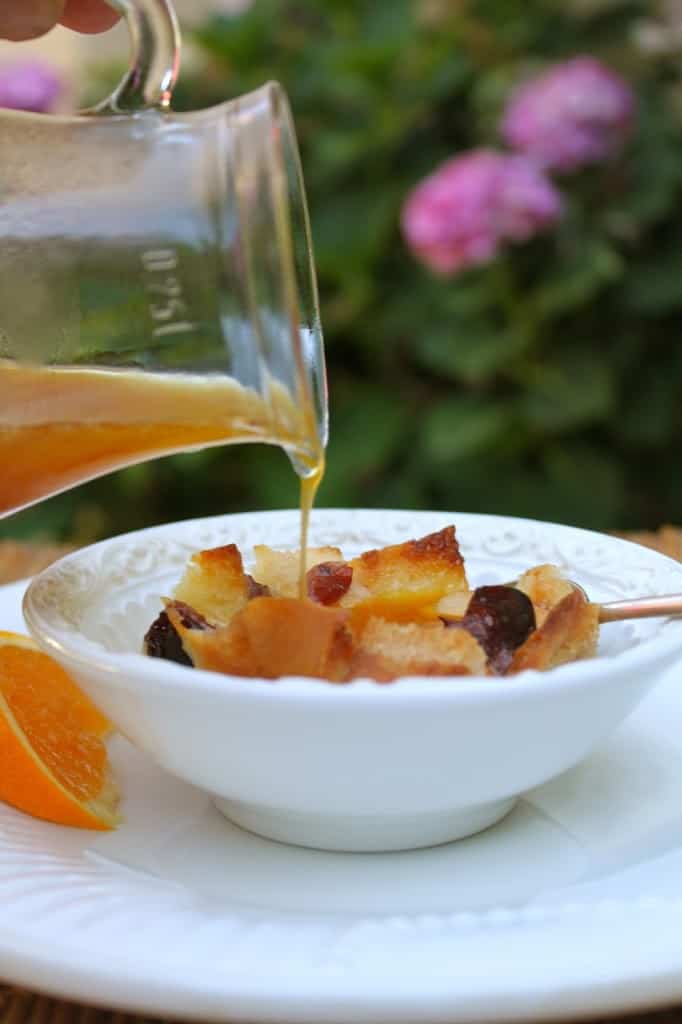 Orange goodness!
Don't miss another recipe or travel post; sign up for my free subscription below!
I promise not to sell or share your info, ever!