Ricotta gnudi are a delicious meal for cheese lovers and vegetarians. Quick and simple cheese dumplings are great for a weeknight meal, and I bet you'll have these on a regular dinner rotation in no time.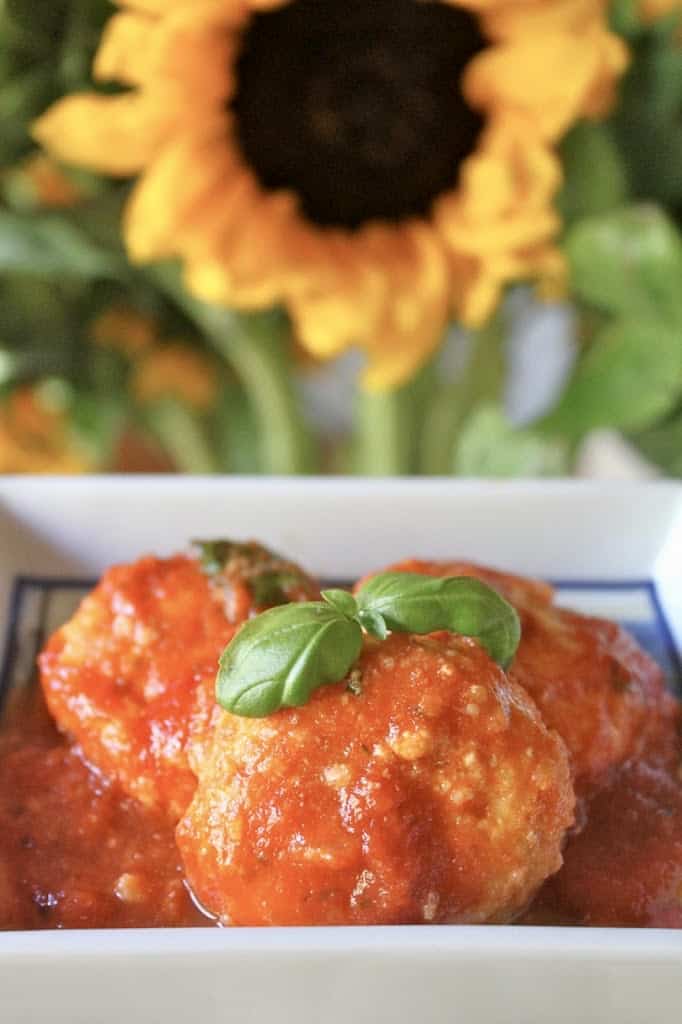 Living near Hollywood, I occasionally see celebrities in their cars, at restaurants and just being normal human beings around town.
As an Amazon Associate I earn from qualifying purchases. I received the can of San Marzano DOP tomatoes in order to help promote these canned tomatoes, which I truly believe are the best quality tomatoes you can buy. I was not paid in product or cash.
I rarely watch TV, and don't really swoon over too many celebrities. (However, I do admit I was a bit starstruck when Ernest Borgnine struck up a conversation with me at a fabric store many years ago! 😎) I figure they're just people like you and me, but I do often wonder how many of them actually do everyday things for themselves, though, like shopping or cooking.
As you know, I'm constantly telling you how much quality ingredients are just as important to home chefs as they are to professional Chefs. I consider Pomodoro San Marzano dell'Agro Sarnese-Nocerino DOP to be a culinary treasure in my kitchen! Not a specific brand, but the type of tomato grown and picked exclusively for the can in the volcanic-rich soil near the infamous Mt. Vesuvius.
Don't be fooled by imitations, DOP is one of the most important things to understand when learning how to shop for authentic products. DOP stands for Protected Designation of Origin and are sold under many brand names.
Silvia's Cucina
Well, I've discovered one beautiful actress/singer who not only knows her way around a kitchen, but knocks out sensational dishes and posts them on her site at Silvia's Cucina. Silvia's site is a treasure trove of delights. Silvia Colloca is from Italy, and now lives in Australia, but I'm not going to talk to you about her celebrity status; I want to talk to you about her ricotta gnudi with fresh sugo!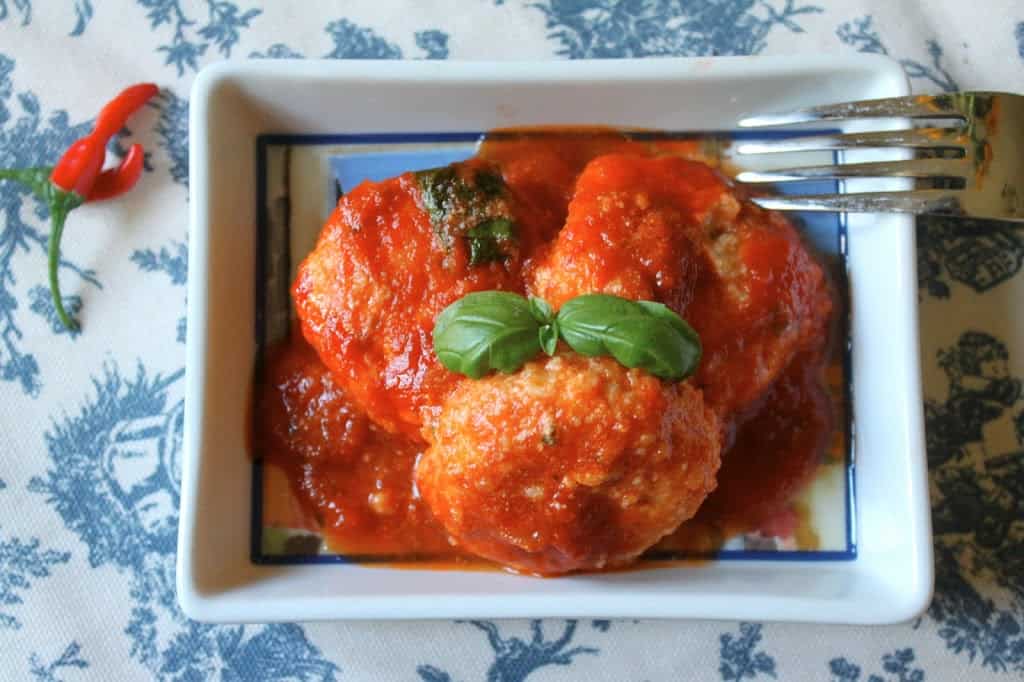 Silvia posted a recipe for ricotta dumplings with fresh tomato sugo (gnudi al sugo) a few weeks ago, and after a few seconds of looking the photos of the dish, I was salivating! I knew I had to make them soon as they just looked fabulous!
My photos don't even come close to her beautiful shots, but I can assure you, these ricotta dumplings were divine! (By the way, "sugo" in Italian means juice or sauce, but when used with pasta, etc., it's interpreted as "tomato sauce".)
What are Ricotta Dumplings or Ricotta Gnudi?
As you may have guessed, ricotta dumplings or ricotta gnudi are a sort of hand-shaped cheese gnocchi. However, gnocchi, and even ricotta gnocchi, have flour or potato in them (a starch), whereas these do not. This makes them perfect for gluten free and vegetarian diets.
Another ricotta recipe you may enjoy, Fettuccine with mushrooms and ricotta.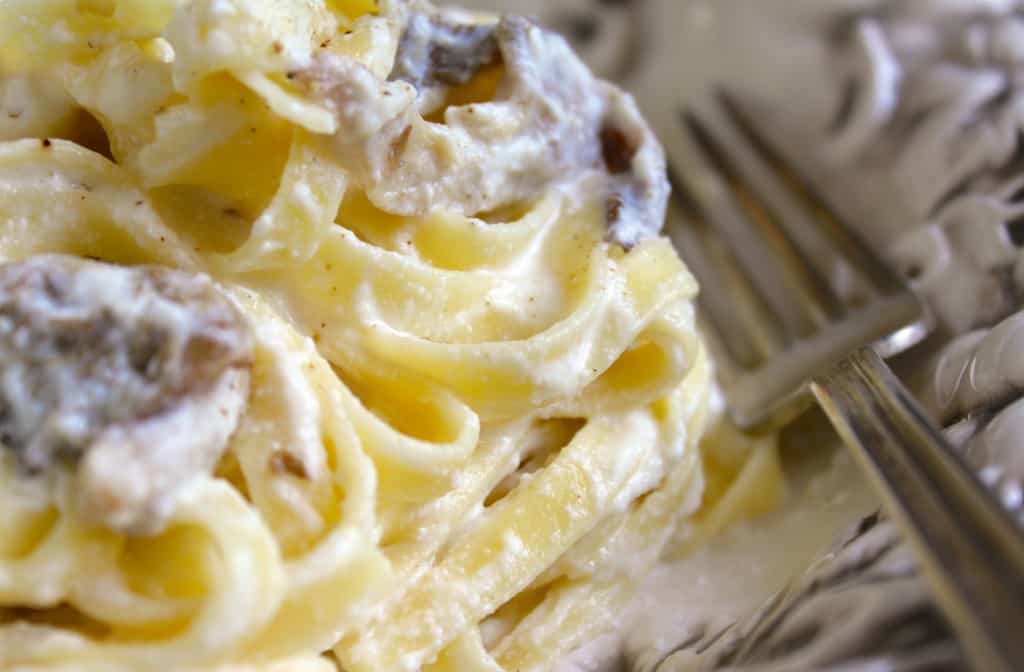 The dish was so simple to make, but I will advise you to plan ahead for this dish. The gnudi should be refrigerated for at least 2 hours before simmering in the sugo.
The sauce is the same quick sugo that I often make, so that was fast and easy. Once the sugo is simmering away, the pre-shaped ricotta dumplings are dropped into the pan. They only need to cook for a short time and are ready to serve!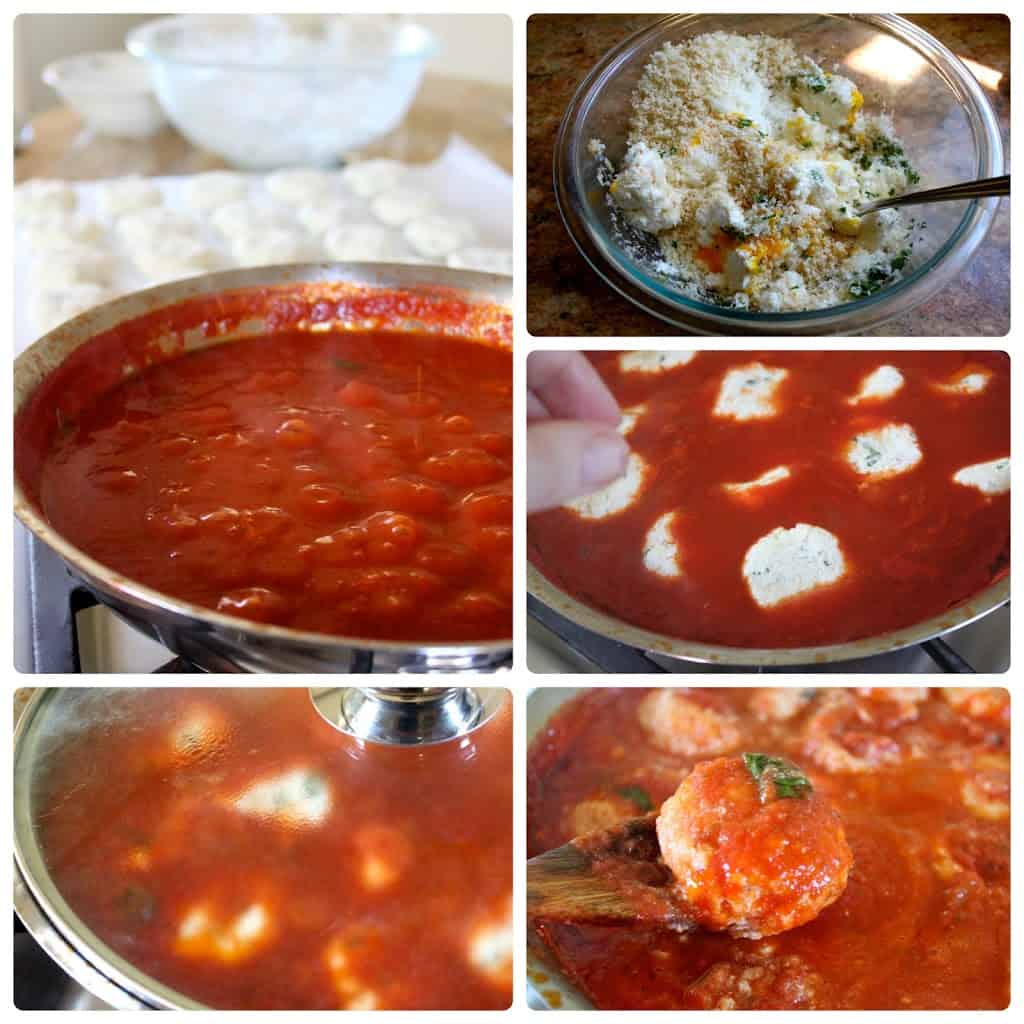 Know that the ricotta gnudi are quite delicate. However, as you can see, they are not so delicate that they cannot be served intact, just be gentle. I put a lot less parsley in my dumplings as I have a certain family member who would have complained about an excess of green. Regardless, I would advise adding more parsley than I did–and don't forget the fresh, crusty bread to mop up your plate afterwards!
Ricotta Gnudi al Sugo Fresco
(Ricotta Dumplings with Fresh Tomato Sauce)
slightly adapted from Silvia's Cucina's recipe FULL PRINTABLE RECIPE BELOW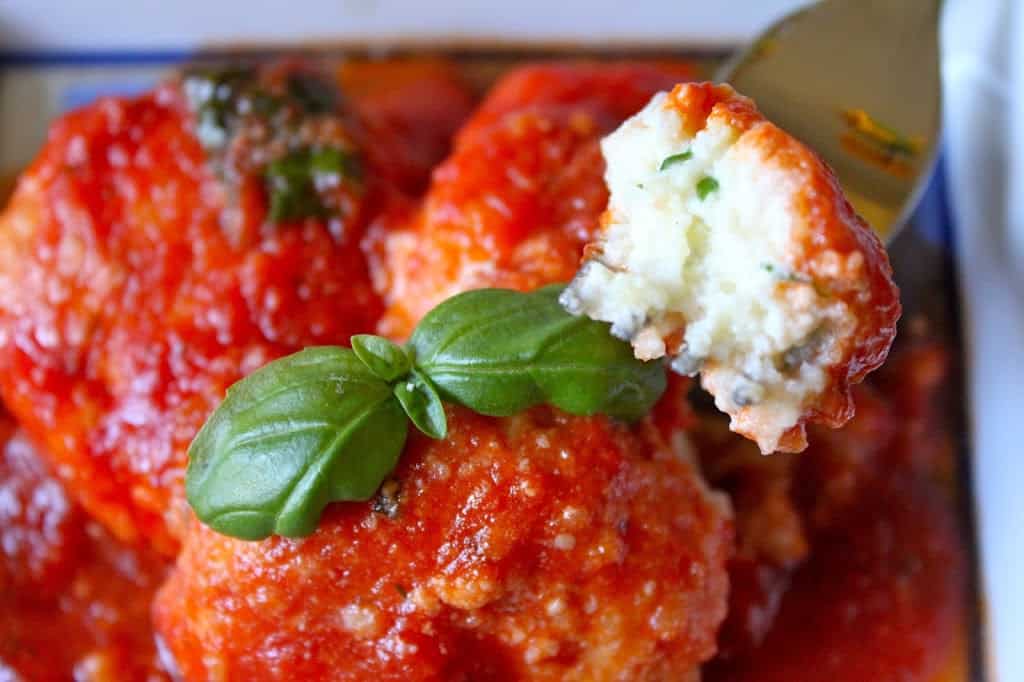 Ricotta Gnudi al Sugo (Ricotta Dumplings with Fresh Tomato Sauce)
Total Time:
2 hours
25 minutes
A cheesy gnocchi type dish served with a fresh tomato sauce. Absolutely delicious!
Ingredients
2 1/2 cups (450 g) full-cream ricotta
1 egg
1/2 teaspoon Kosher or sea salt
1/4 teaspoon freshly ground black pepper
2/3 cup (100g) of fresh breadcrumbs (use gluten free breadcrumbs if desired)
1/2 cup (60 g) freshly grated Parmesan cheese
1 tsp chopped parsley, if desired
corn meal or semolina
fresh, homemade tomato sauce, to serve
Instructions
1. Mix all the ingredients in a large bowl, except for the corn meal. If too wet, add some breadcrumbs; too dry, add milk.
2. Cover and refrigerate for a minimum of 2 hours to overnight.
3. Using wet hands, shape the gnudi into small balls. Place on a tray or countertop sprinkled with a little corn meal or semolina.
4. Heat the tomato sauce in a sauté pan. When the sauce comes to a simmer, gently place the gnudi in the sauce. Cover and cook for about 5-6 minutes. Gently turn them with a wooden spoon, cover and allow to cook another 2 to 3 minutes. Remove from heat and serve with crusty bread.
Notes
Remember to plan ahead for this dish as the gnudi should be refrigerated before cooking.
Nutrition Information:
Yield: 4
Serving Size: 1 serving
Amount Per Serving:
Calories: 414Total Fat: 12gSaturated Fat: 7gTrans Fat: 0gUnsaturated Fat: 5gCholesterol: 78mgSodium: 520mgCarbohydrates: 61gFiber: 5gSugar: 2gProtein: 15g
Nutrition information is only estimated.
Another ricotta main dish recipe ~
Christina's Cucina is a participant in the Amazon Services LLC Associates Program, an affiliate advertising program designed to provide a means for sites to earn advertising fees by advertising and linking to Amazon.com. I received the can of San Marzano DOP tomatoes in order to help promote these canned tomatoes, which I truly believe are the best quality tomatoes you can buy. I was not paid in product or cash.