This quick tomato and turmeric soup recipe will be a one you will make over and over again. Not only is it very tasty, but the nutrition and health benefits from the tomatoes and turmeric are an added bonus.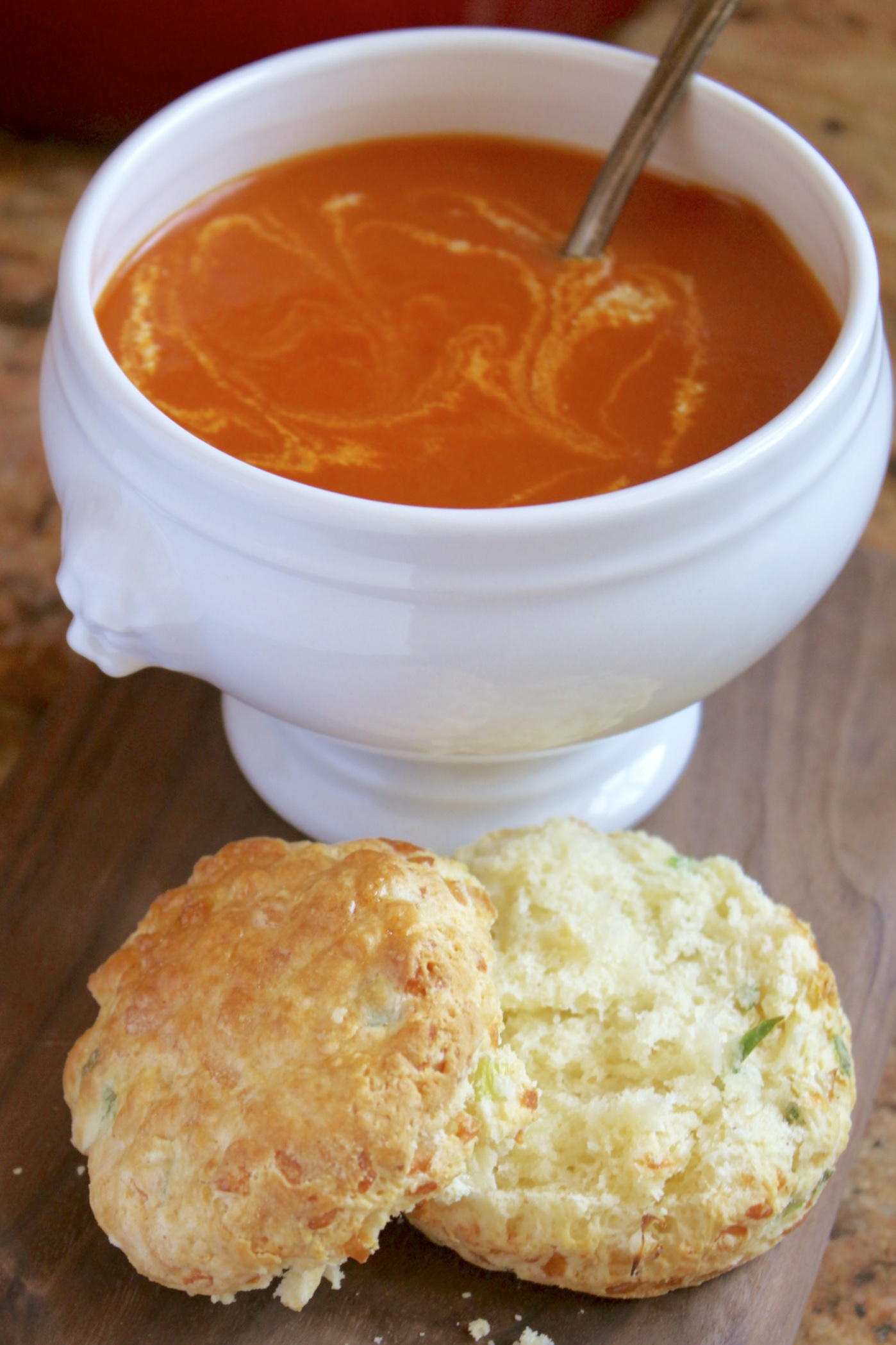 Who isn't trying to eat healthier nowadays?
As an Amazon Associate I earn from qualifying purchases.
That's probably more of a rhetorical question than I'd like it to be. I wish the answer was that each and every one of us is, but I know that's not the case. However, let's be postive and stick to those of us who are trying to eat better every year.
I think many of us take for granted how nutritious tomatoes are. They are incredible fruits, full of health benefits.
"Tomatoes are naturally low in sugars and fats but rich in vitamin A, vitamin C, potassium, minerals, fibres and antioxidants like lycopene, making them a concentrated burst of beneficial substances." – Greatest Tomatoes from Europe
As always, which tomatoes you are using making a world of difference in both the flavor and nutrient content. I always use the best quality tomatoes from Europe like Mutti and Davia brands.
STOP buying tomato sauce in jars when making homemade is so fast and easy!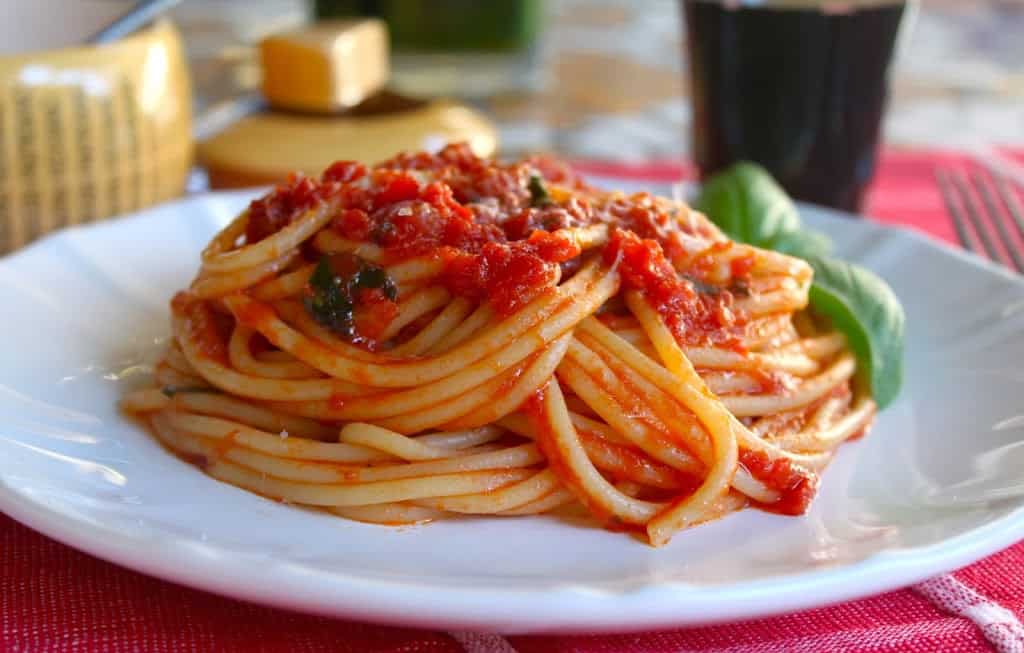 What's all the rage about turmeric?
Add them together with the health benefits of turmeric and you've got a "super-soup!" Turmeric is known to have anti-inflammatory and pain relief benefits. You may have heard of people using "golden paste" which is a concoction of turmeric, black pepper (which increases the benefits of the root) and other ingredients. Although, using too much turmeric can have side effects, like anything else, using it in moderation such as in this soup recipe won't be an issue.
Where do I buy fresh turmeric?
Check at your local grocery store, but if they don't carry it, places like Whole Foods, Sprouts, and Bristol Farms should have it. Ask your grocer to order Melissa's turmeric and hopefully they'll start carrying it.
How do I use fresh turmeric?
Turmeric is a root that looks similar to ginger root, so just peel and use it as you would another such ingredient. However, there are a couple of things to note when using fresh turmeric:
Fresh turmeric isn't as concentrated as dried turmeric, so you'll need to use more.
Fresh turmeric is often used as dye, so beware of how and where you peel and cut your root. It will stain your fingers, clothing and some surfaces.
The best part about this quick tomato and turmeric soup is the flavor. You won't have to give up eating something delicious in order to be healthy. And let's talk about the cheese scone in the photos: it's a recipe I've been dying to try for so long, and I finally made it. Now I'm really kicking myself because they taste even better than they look!
If you like these bowls, they are by Revol, and are top quality French porcelain.
If you make this or any of my recipes and love it, I would really appreciate a
5 star rating in the recipe box below; thank you in advance!
Quick Tomato and Turmeric Soup Recipe
adapted from a Fine Cooking recipe serves 6
printable recipe below
Start the base by cooking the onions and garlic with a pinch of salt, then add the turmeric.
Next, add the tomatoes.
Then the broth, sugar, and seasoning. Simmer for about 20 minutes.
Use an immersion blender or countertop blender to purée the soup. Check for seasoning (tip: add lots of black pepper which will increase the nutritional benefits of the turmeric.)
Pour into bowls.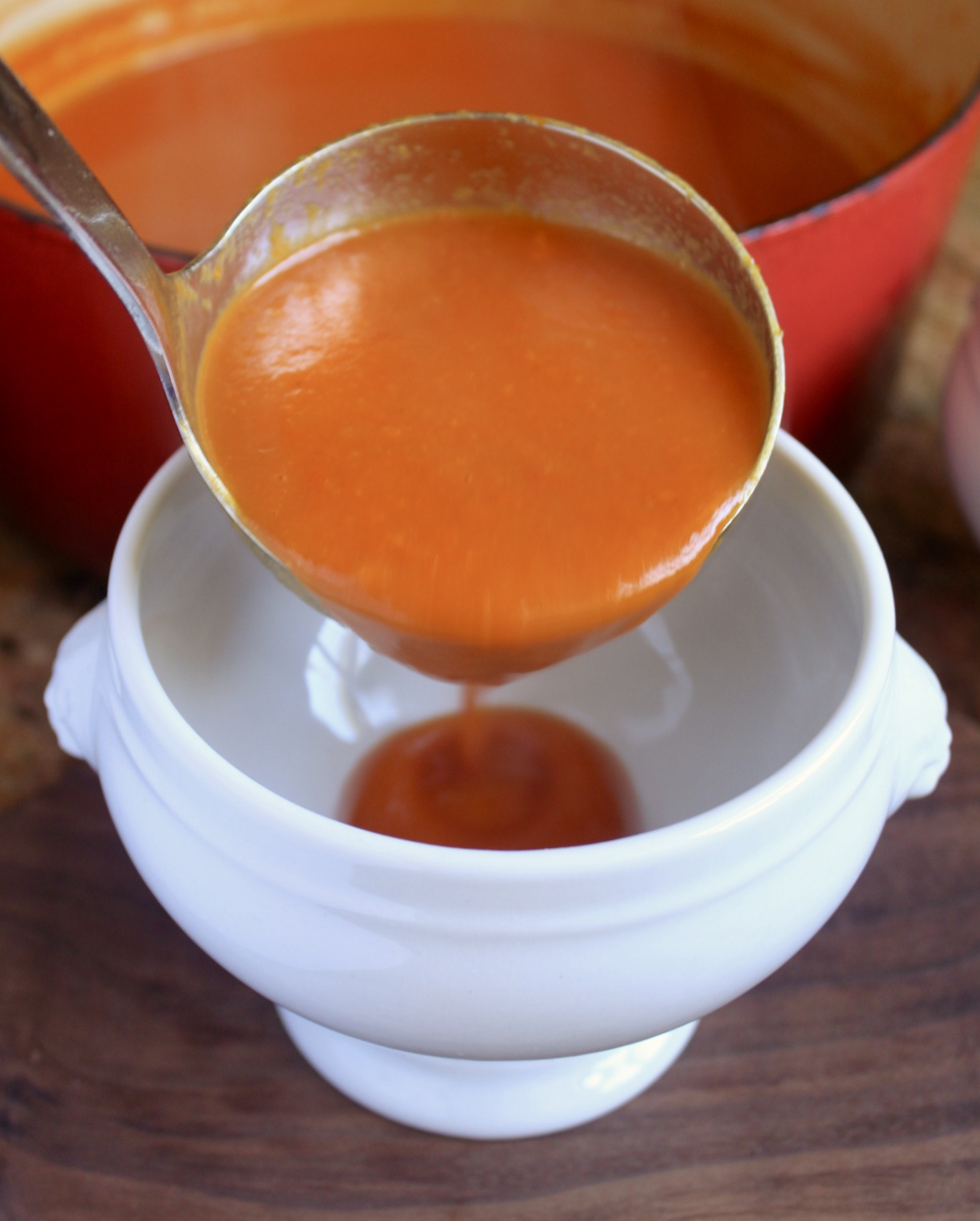 Add a splash of milk or cream, if desired.
Enjoy this quick tomato and turmeric soup with Jill's lovely cheese scones or some fresh crust bread!
Printable recipe below.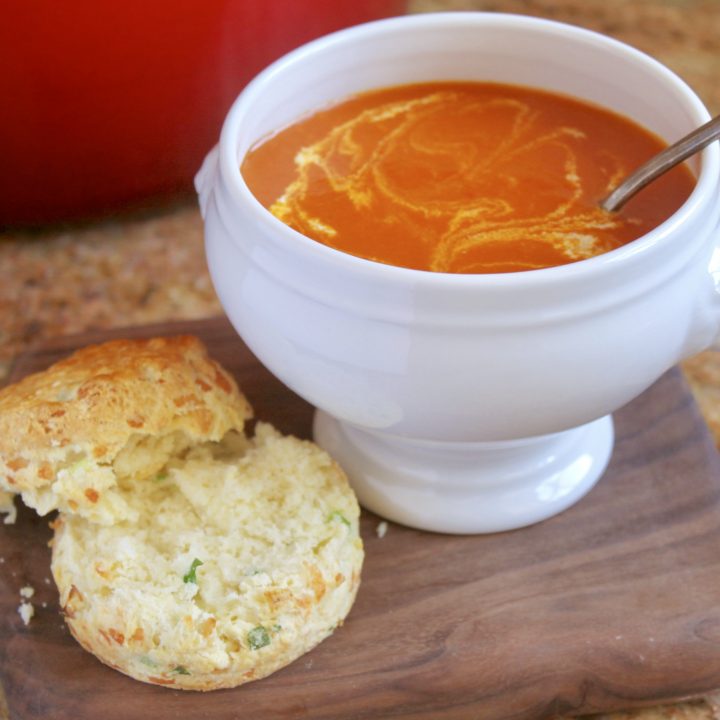 Quick Tomato and Turmeric Soup Recipe
A tasty and nutritious soup with many health benefits from tomatoes and turmeric.
Ingredients
2 Tbs. extra-virgin olive oil
1 Tbs. unsalted butter
1 large onion, finely chopped
2 cloves garlic, peeled and roughly chopped
2 oz (about 1/4 cup) chopped fresh turmeric
2 Tbs. flour
28 oz. can whole peeled plum tomatoes or purée (see the brands I recommend in my post above)
28 oz (3 1/2 cups) vegetable broth - chicken broth can also be used
1/2 tsp. sugar
1 tsp Kosher salt
1/4 tsp black pepper (or more)
Instructions
Sautè the chopped onion and garlic in the oil and butter (add a dash of salt) over medium high heat for a few minutes until the onion is translucent.
Next, add the turmeric and continue to cook for another few minutes.
Add the flour, stir and cook for about 3 minutes before adding the tomatoes, broth, sugar, salt and pepper.
Simmer over low heat for about 20 minutes then taste and adjust seasonings as desired.
Add a splash of milk or cream (optional.)
Notes
Be careful when peeling/chopping turmeric as it stains hands and more.
Nutrition Information:
Yield:

6
Serving Size:

1 bowl
Amount Per Serving:
Calories:

511
Total Fat:

20g
Saturated Fat:

5g
Trans Fat:

0g
Unsaturated Fat:

14g
Cholesterol:

40mg
Sodium:

150mg
Carbohydrates:

50g
Fiber:

2g
Sugar:

23g
Protein:

30g
Nutrition info is only an estimate.
If you enjoyed this quick tomato and turmeric soup recipe, sign up for my free emails and never miss another post!
More recipes using fresh turmeric ~
Vegetarian Cabbage Stew with Tomato
Christina's Cucina is a participant in the Amazon Services LLC Associates Program, an affiliate advertising program designed to provide a means for sites to earn advertising fees by advertising and linking to Amazon.com.