As a rule, I don't like green beans.
However, when made "Italian Style," I LOVE them!
This is a meal I make about once every two weeks or so because its so delicious and healthy. It is rare that I have a hard, dried Italian sausage to add to it, so I usually make it vegetarian (vegan) with the only change to the recipe:  omit the sausage.
This type of sausage is one of the reasons I wouldn't be able to be vegetarian, especially the homemade versions! The flavor is just too much for me to pass up!
When I am lucky enough to put a sausage in the beans, I leave my piece in my plate until the end, so I can savor the flavor longer!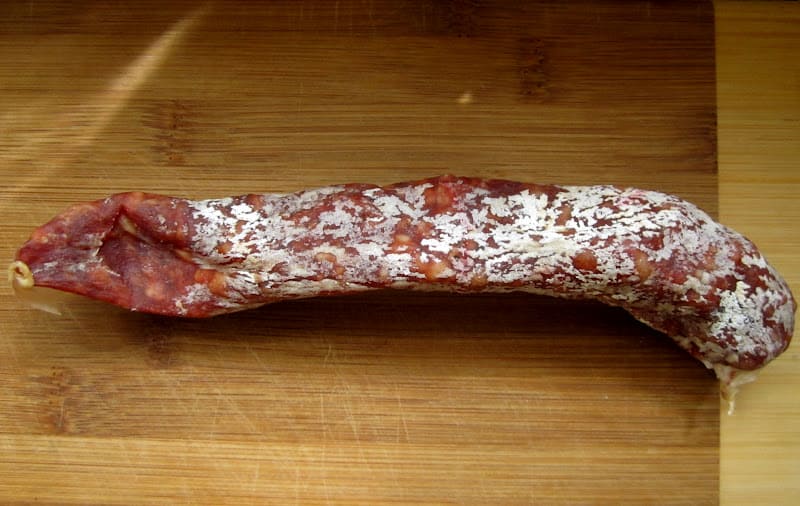 My family eats this as a main dish, with crusty bread, but it can easily pass as a side.
It's extremely easy to make, and once again, the measurements are not critical, I provide them as a guideline, but feel free to add more onion, tomato, or liquid, for example, to your liking.
 Italian Style Green Beans
2 tbsp extra virgin olive oil
1 large onion, chopped
2 stalks celery, with leaves, preferably, cut in half
1 large, very ripe tomato (pureed) and 1/2 cup (4 oz) tomato puree (or 6 oz tomato puree)
water
2 lbs fresh or frozen beans, French or Romano etc.
1 cup (8 oz) beans, I prefer Borlotti, precooked (learn how to cook your own beans here)
salt and pepper
(optional: one hard dried Italian sausage)
Place olive oil in a large heavy pot on medium high heat, then add onion and celery (and dried sausage, if using.) Saute until onions just begin to brown.
Add fresh and pureed tomatoes, and stir. Cook for approximately 5 minutes.
Next, add about 1 cup (8 oz) water, and about a half a teaspoon of Kosher or sea salt. Bring to a boil and simmer for a few minutes…
then add the fresh or frozen beans.
I'm using these: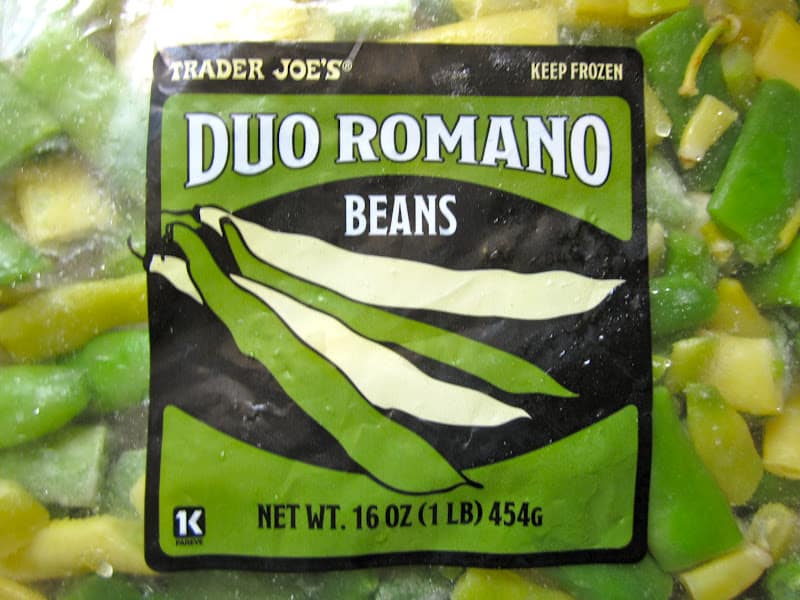 Simmer over medium low heat, stirring occasionally for about 20 to 25 minutes or until beans are almost completely cooked. Then add the Borlotti beans, and stir them in. (I'm using beans I cooked ahead of time.)
Cook until green beans are ready, taste for salt and pepper, adding if necessary, then remove the celery stalks and discard.
Remove from heat.
Serve with crusty Italian bread, or rolls, using it to soak up the liquid at the bottom of the bowl…this is REAL Italian style!
BUON APPETITO!!!
Don't miss another recipe or travel post, sign up for my free subscription below!
I promise not to share or sell your email address, ever.