Glacier Paradise, boasting one of the most amazing views of the Alps, is definitely a must-see attraction when visiting Zermatt, Switzerland.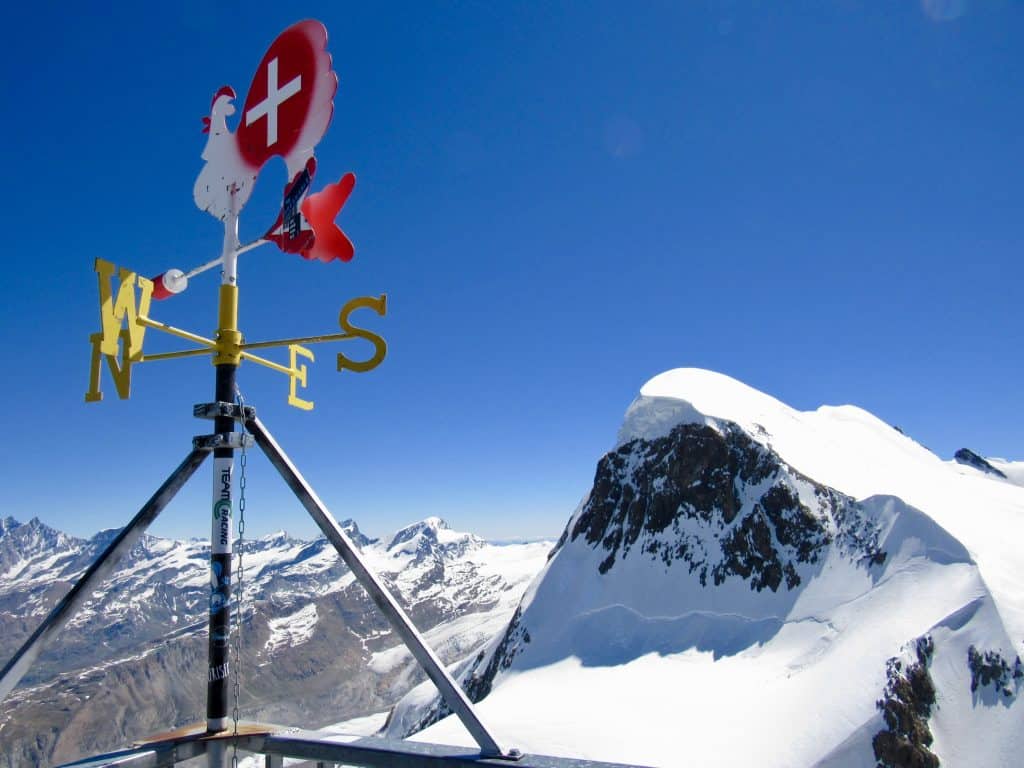 On my last post, my friend, and fellow food and travel writer, Cynthia from What a Girl Eats, and I had just finished lunch at Alphitta Restaurant and headed back down to the town of Zermatt. We were accompanied by Amadé Perrig from Switzerland Tourism.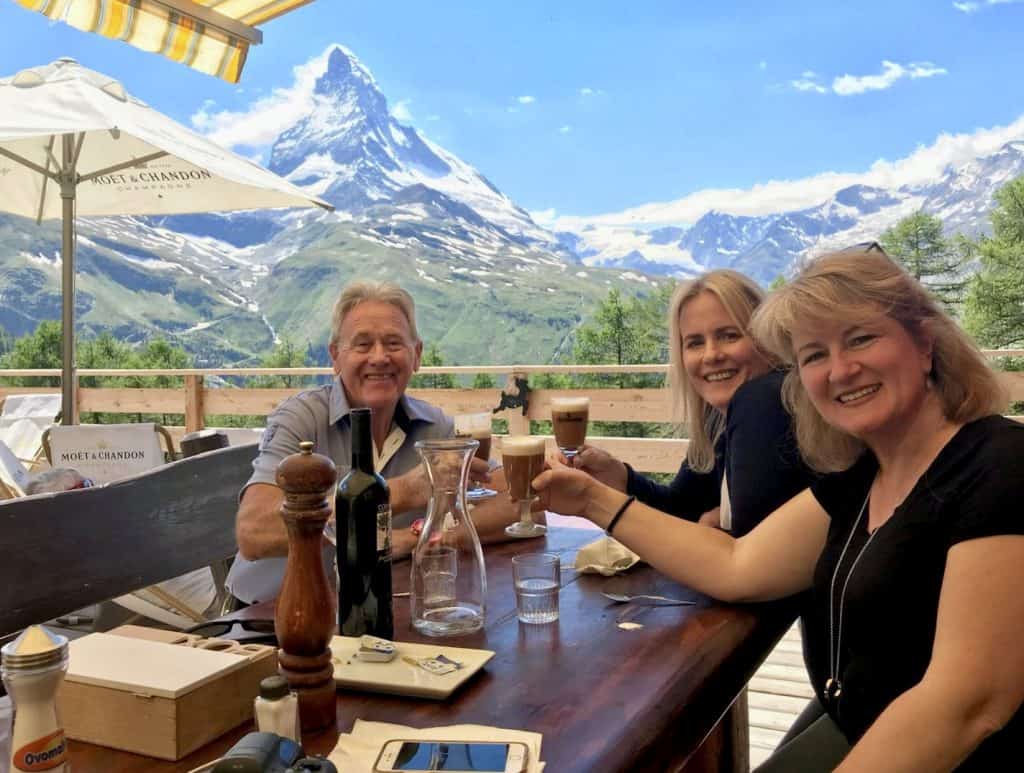 Disclosure: I was hosted by Valais-Wallis Tourism, Alex Grill, and Hotel Alex in Zermatt, Switzerland. I was also provided with Swiss Passes for rail transportation, thanks to Switzerland Tourism. As an Amazon Associate I earn from qualifying purchases.
You can find the start of my trip here, or when Cynthia and I started out traveling in Switzerland here.
The Village of Zermatt
Sitting below the Matterhorn, the village of Zermatt simply is a Swiss gem. You cannot look anywhere without being taken in by the views. Most of the hotels are family owned, and there's a sense of calm and serenity (possibly because there are no cars).
Before our dinner, Amadé took us on a walk through Zermatt and told us about the history of the village as well as the buildings in the old part or "hinterdorf" which means "rear village". Some of the photos were taken earlier in the day, but at the same places we passed. You can learn more about the architecture and history HERE.
Some of the buildings are over 500 years old! They're a photographer's dream, especially with all the gorgeous flowers on every building no matter if they're old or new.
One of the most interesting places was at the church graveyard where many mountain climbers and those who failed at their attempt to either ascend or descend the Matterhorn are laid to rest. This is one of the most famous climbers, Rev. Charles Hudson. He and four others were the first successful people to reach the summit of the Matterhorn, unfortunately, the descent ended with lives lost.
Schäferstube Restaurant
The Schaferstube restaurant is family owned and lamb is their specialty. They raise the sheep themselves, so the quality of the meat on diners' plates is absolutely the best. I've never had lamb like it before, it was phenomenal. However, first let me tell you that we began our meal with dry cured meat, a lovely white wine and raclette! Oh my, this honestly was the best raclette I've ever tasted. I could have just eaten raclette all night long!
Next came our first lamb course. Cynthia and I had no idea we'd be served two lamb courses! I think you can see how delicious they both look! Not to mention the wonderful potatoes. It was a lot of food, but just delectable.
We simply couldn't eat another bite, but then came Cynthia's birthday cake! As you can see, she was a very happy girl that day!
Amadé then walked us back to Hotel Alex. It was a beautifully clear night, and so lovely to walk in such a gorgeous village.
A Swiss Full Moon!
I have to share my moon photos that I shot from my balcony at Hotel Alex after returning from dinner. It was so wonderful to watch the full moon rising from behind the mountain! Believe it or not, these are handheld shots with my Canon Powershot Pro S5 IS. I just love the 50x zoom, and how light and small the camera is. See the craters on the moon?
Breakfast at Hotel Alex
From cappuccini to croissants, you will be able to find anything you like on the breakfast buffet at Hotel Alex! There was so much to choose from and the best part was that everything was such great quality! Both Cynthia and I approved wholeheartedly.
Glacier Paradise
After breakfast, Cynthia and I got ready to spend our last morning in Zermatt. We were going to Glacier Paradise. We had no idea how spectacular our morning would be that day. We walked to the first gondola that would take us to the next one, where we'd change for the actual ride up to Glacier Paradise. It was another perfect, blue-sky day!
As you can imagine, the scenery and views from every gondola is awe-inspiring.
The terrain changed so quickly, and Cynthia and I both realized, we probably hadn't dressed for the occasion! In our defense, we were traveling with one carry on suitcase in June and really didn't have space for warmer clothing.
In about 45 minutes, we'd reached our destination. Workers were finishing the station of the highest cable car in Europe which is now open.
Just an honest bit of advice: if you're really afraid of heights, this isn't for you. I was glad my mother wasn't with me for this part of the trip. However, I would strongly recommend this experience if you can do it. It's something I'll never forget. The views at the top are out of this world.
You can see the Swiss, Italian and French Alps from here!
Can you see the mountain climbers on the snow? No? Scroll down.
After taking in the views and as many photos as we could manage before freezing outside, we went inside.
We went inside the glacier where we saw so many marvelous ice sculptures and rooms made from ice.
We rode the gondola back down to Zermatt, savoring every moment and view.
This is the station that takes riders to Glacier Paradise.
Goodbye Zermatt
Cynthia and I hated to leave, especially with such spectacular weather, but I do believe each of us knows we'll be back soon. Maybe next time, we'll visit in wintertime and bring our husbands.
Have you been to Zermatt, Switzerland? During which season would you prefer to visit? Let me know in the comments below and check out these great sources to get more information or plan a trip.
A massive thank you to My Switzerland and Valais-Wallis for arranging our itinerary, including Swiss Rail passes (more to come). All opinions are my own.
Christina's Cucina is a participant in the Amazon Services LLC Associate Program, an affiliate advertising program designed to provide a means for sites to earn advertising fees by advertising and linking to Amazon.com.