Visit Zermatt for one of the best vacations you'll ever have, anytime of year. You can experience dining at a restaurant with, undoubtedly, one of the best views in the world.
Continuing from my last post on visiting Zermatt, you'll know that Cynthia (What a Girl Eats) and I were on a one week trip in the Ticino and Valais cantons of Switzerland.
Disclosure: I was hosted by Valais-Wallis Tourism, Alex Grill, and Hotel Alex in Zermatt, Switzerland. I was also provided with Swiss Passes for rail transportation, thanks to Switzerland Tourism.
Visit Zermatt
We had just taken the cog train to Gornergrat with our endearing guide, Amadé, and hiked back down to have lunch at Alphitta restaurant. As you can see by the following picture, their views are stupendous.
Alphitta Restaurant
It was an absolutely perfect, blue-sky day which also just happened to be Cynthia's birthday. What an incredible way to spend a birthday (her husband will have a hard time beating this one next year)!
We sat outside at one of the wooden tables, and just couldn't get over the view. As you'll see, it was difficult to leave it out of any of the photos, including the ones of our food!
Amadé ordered some lovely Swiss white wine along with a cheese and cured meat platter and bread. Swiss perfection.
Amadé also explained how the Swiss don't like to waste food and we were to finish everything. It wasn't difficult to comply, I assure you! I would have been completely happy with this course, but was elated to hear that wienerschnitzel was on the menu! Cynthia, Amadé and I all had chose this dish. It arrived with rösti (a Swiss style potato, similar to hash browns in the US) and salad.
I know that everything on my plate tasted superb, however, the atmosphere, view and company just made it even better. It's honestly a meal I shall never forget. This restaurant alone is a reason to visit Zermatt!
Although not the prettiest picture (as I took it under the shade of umbrellas), this apple strudel (apfelstrudel) was a fabulous end to the meal. There was also a lovely surprise accompaniment to our dessert: a wonderful, boozy coffee drink topped with more cream (I was in heaven)!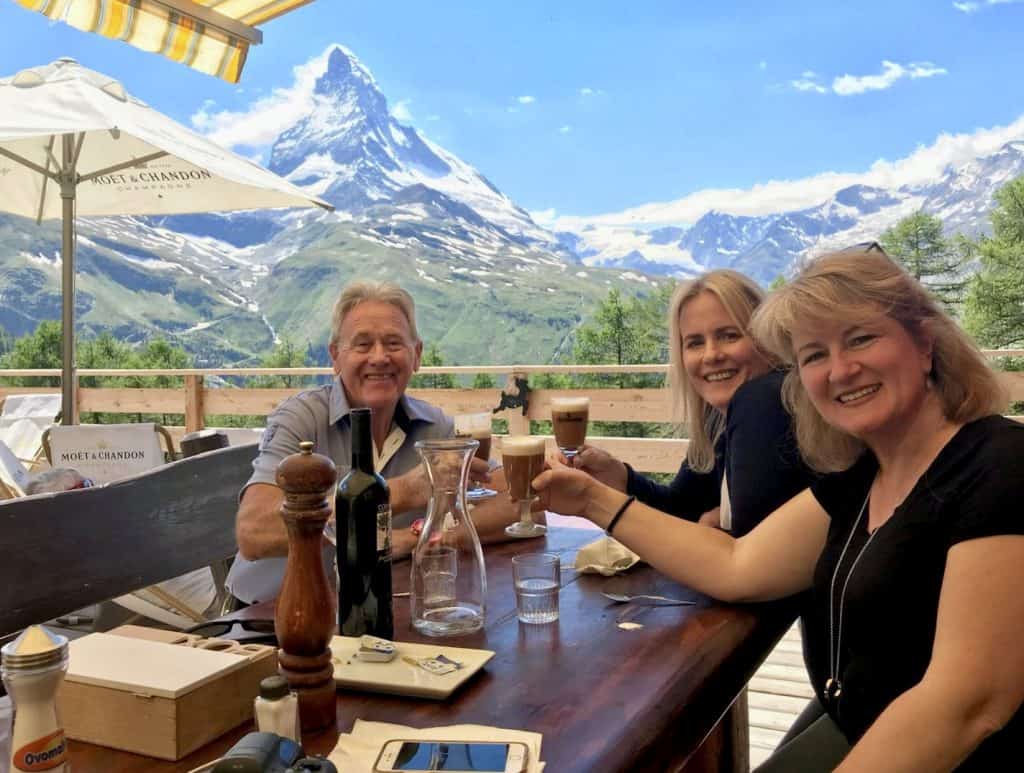 I thought it emulated the the snowy topped Matterhorn in the distance and so I did the predictable! Can you blame me? 😜
As is the tradition in Switzerland, we had a drink at the end of our meal in honor of Cynthia's birthday. The choice was a lovely limoncello.
After our drink, we began walking to the station to catch the train back down to Zermatt.
The views were magical.
I took this photo of a "capella" (a small shrine) in a tree for my mother. I know she would love it.
This was an amazing sight to me: look at how the tree is growing on top of a rock!
Riffelalp to Zermatt by train.
This was our view from the station.
I thought this train station clock was so very Swiss!
Soon the train arrived at the Riffelalp station to take us down to Zermatt.
After a short ride back down the mountain, we arrived in Zermatt. We thanked Amadé, but we'd see him later for a tour of the town of Zermatt and for dinner.
Cynthia stopped to pose with this Swiss cow before heading back to Hotel Alex to recharge (ourselves and our phones)!
I hope you'll want to visit Zermatt after reading this and seeing the photos which cannot do the places and food any justice! Stay tuned for the rest of our stay in Zermatt.
Many thanks to Switzerland Tourism for hosting us, especially Valais-Wallis and the Hotel Alex. More information and to book your own stay below.
PIN ME!
visit Zermatt