You can visit Zermatt anytime of year; it's the perfect Swiss destination whether you want to hike, swim, ski or shop!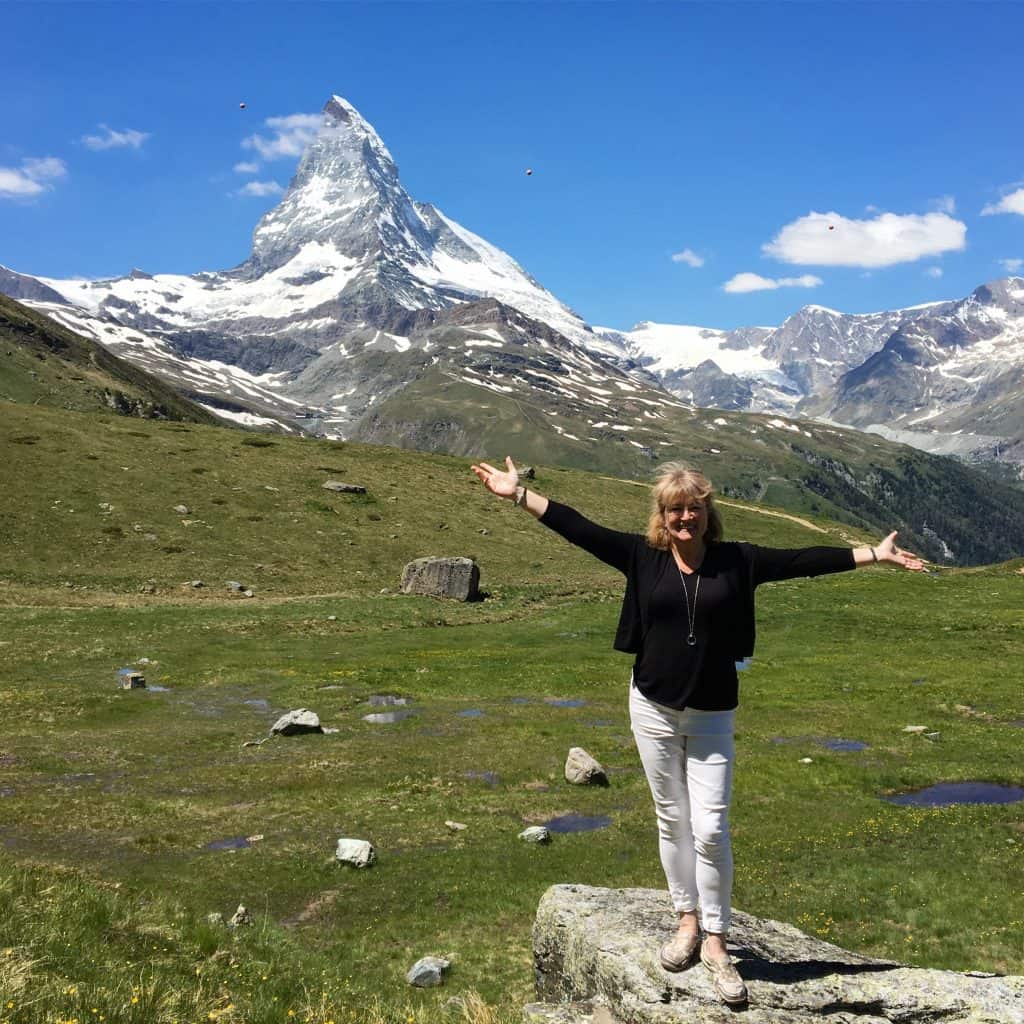 Last time I was in Zermatt was on my honeymoon in September of 1990.
Disclosure: Cynthia and I were hosted by Valais-Wallis Tourism, Alex Grill, and Hotel Alex in Zermatt, Switzerland. We were also provided with Swiss Passes for rail transportation, thanks to Switzerland Tourism.
As you can see, I looked a wee bit different!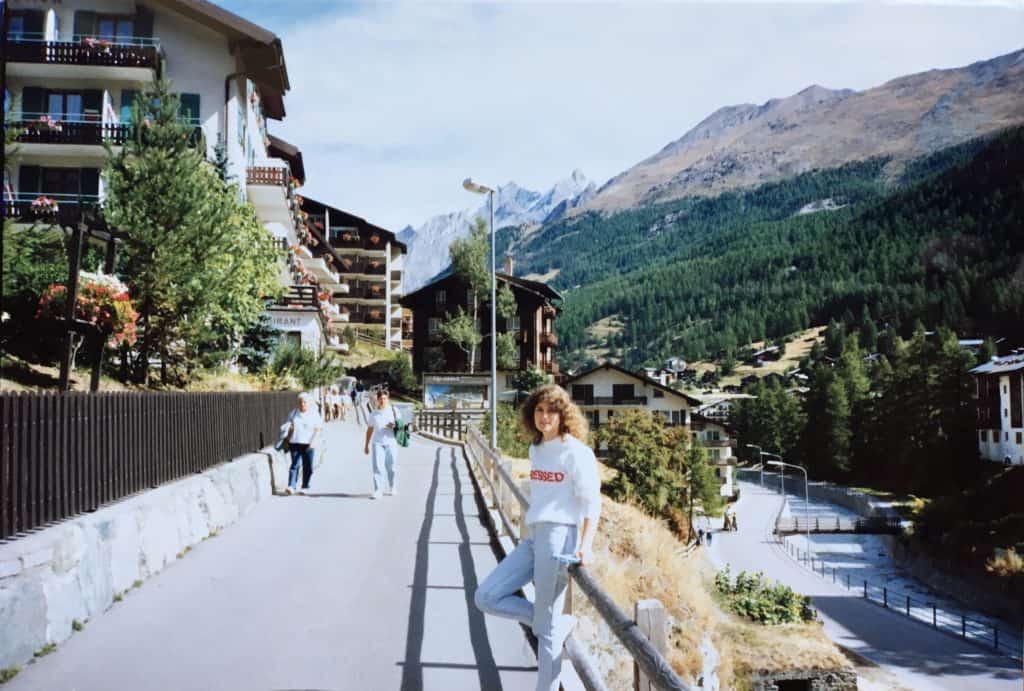 I was really looking forward to visiting again as I've always wanted to return since our honeymoon. What I learned on this trip is that you can visit Zermatt anytime.
On this trip, I was traveling with my girlfriend: Cynthia from What a Girl Eats. We had left Brig after visiting the incredible Aletsch Glacier and took a marvelous train ride to Zermatt. We were greeted at the train station by Amadé Perrig, who would be our tour guide during our stay. Little did we know how incredibly fortunate we would be to have him as our personal escort to discover Zermatt as he is the former president of Zermatt Tourism!
It was a five minute walk to our hotel where Amadé took us to check in. He introduced us to the owner of Hotel Alex, Christina, then told us when he'd be back to meet us the next morning. Amadé left us with instructions to have a relaxing evening, and that, we did!
Hotel Alex Zermatt
Most of the hotels in Zermatt are family owned, and Hotel Alex is not an exception to the rule. It was such a unique hotel! Cynthia and I checked into our rooms, and soaked in the view of Zermatt from our balcony (we had separate rooms, but with a shared balcony). Photos don't do Zermatt any justice (or Switzerland, for that matter).
Our rooms were cosy, and of course, Swiss beds are always so comfortable! The carved wood ceiling was just beautiful (you can see part of it in one of the photos below). We had jacuzzi tubs, but be forewarned, they only work within certain hours so the noise doesn't disturb those who want a quiet evening. There was a neat way to leave the big, heavy room key in the lobby, which was a great idea.
Cynthia and I toured the public areas of the hotel before getting ready to go to dinner at the Alex Grill. Each room was unique and there were many different themes, but what they all had in common was their warm and inviting atmosphere.
We just loved the wooden goat bar stools at the bar!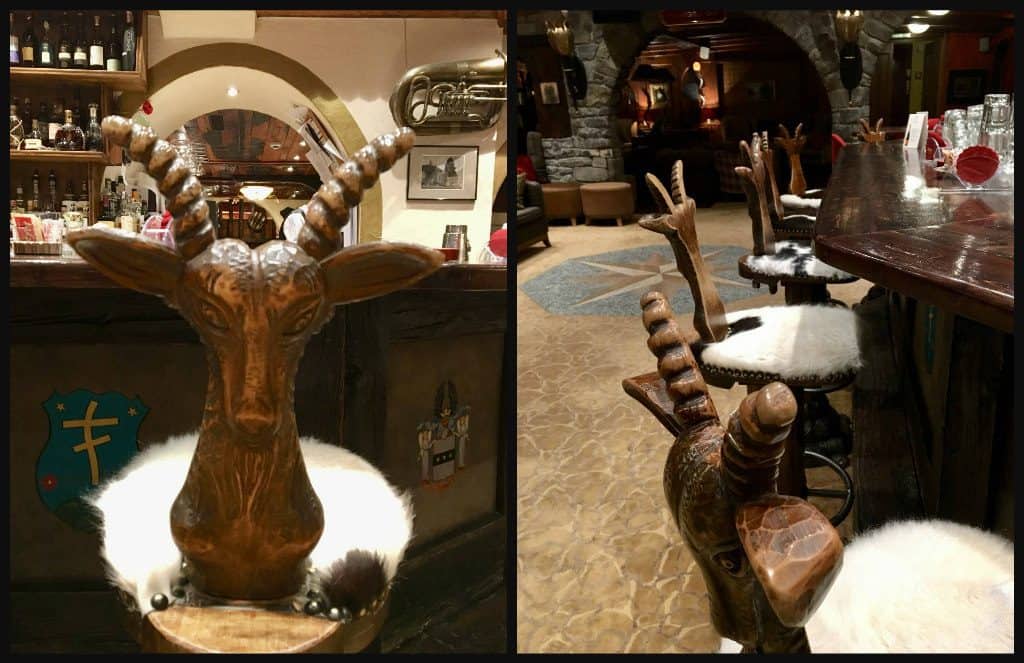 There were so many unique pieces of furniture and the decor was so detail oriented, it was wonderful to really take time to enjoy it all.
We even went to see the spa and pool areas. Unfortunately, we didn't have time to use them, but they looked wonderful.
Before getting ready for dinner, we went outside to see what was in store for us. Hotel Alex is perfect for families, couples and groups. The location is great, too, as it's located very close to the train station (no, the train doesn't go by the hotel, so no need to worry about any noise). Did I mention that Zermatt is also a car-free town? It's so quiet!
Dinner at the Alex Grill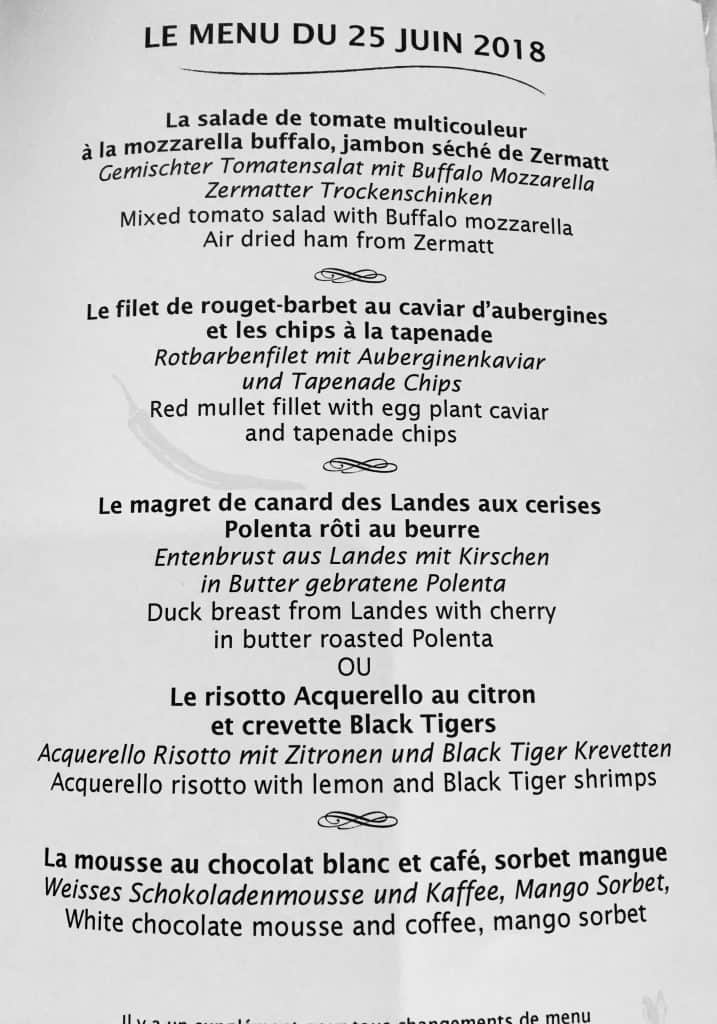 The Alex Grill is a Michelin Guide recommended restaurant, so Cynthia and I knew that the food was going to be good! In fact, we never had anything that we didn't truly enjoy during our one week stay in Switzerland. Trust me, that's not easy when you're feeding us! Both starters were wonderful, but the tapenade chips were an especially unique and tasty part of the fish dish.
Cynthia ordered the duck, and because the shrimp risotto was not available, I had ravioli with fresh black truffle: sublime! The dessert was beautifully presented and was the perfect, light finish to our elegant meal.
This is the view we had once we went back to our rooms. Would you be able to get into bed when you have this view from your balcony? Once again, I thought about visiting Zermatt anytime of year; it's not just for winter sports.
Visit Zermatt Anytime of Year
Gornergrat Village
The next morning, we had a lovely breakfast at Hotel Alex before meeting Amadé in the lobby. (I will share our breakfast with you in Part 2 of this post.) We went to get on the unique and original cog-rail train up to Gornergrat, which is a must-visit when in Zermatt. We soon learned that almost everyone knew Amadé!
"The Gornergrat Bahn was the first, fully electric cog railways in Switzerland. Today, it runs as a modern, sustainably powered train, which recovers and saves energy thanks to its regeneration process." Courtesy https://www.zermatt.ch/en
Amadé gave us such wonderful information about Zermatt and the history of the town as we rode up to Gornergrat.
As you can see from the photos, the views on the train were spectacular, including an impressive waterfall. In 33 minutes, we arrived at the Gornergrat station (3089 m/10,132 ft). Gornergrat boasts Europe's highest hotel and one of the best views of the Matterhorn.
One of the first sights we saw was one of the biggest reasons to visit Gornergrat: to see the Gorner Glacier!
The panoramic views were phenomenal. One of the peaks of Monte Rosa is actually the highest in Switzerland reaching over 15,000 feet. In the photo below, you can see Amadeé is pointing out something to Cynthia and me. What he is showing us is the location of Glacier Paradise, and the highest cable car station in Europe, where we would visit the next day.
There's a viewing platform, observatory, hotel, restaurant, trailheads and more.
And we couldn't forget to have proof that we were there!
After spending some time at Gornergrat, we returned to the station to go down to Riffelalp, but first we went for a peek into the restaurant. From there we'd hike down to Alphitta restaurant for lunch. If you visit Zermatt in summer, I would highly recommend this plan.
Hiking with a Matterhorn View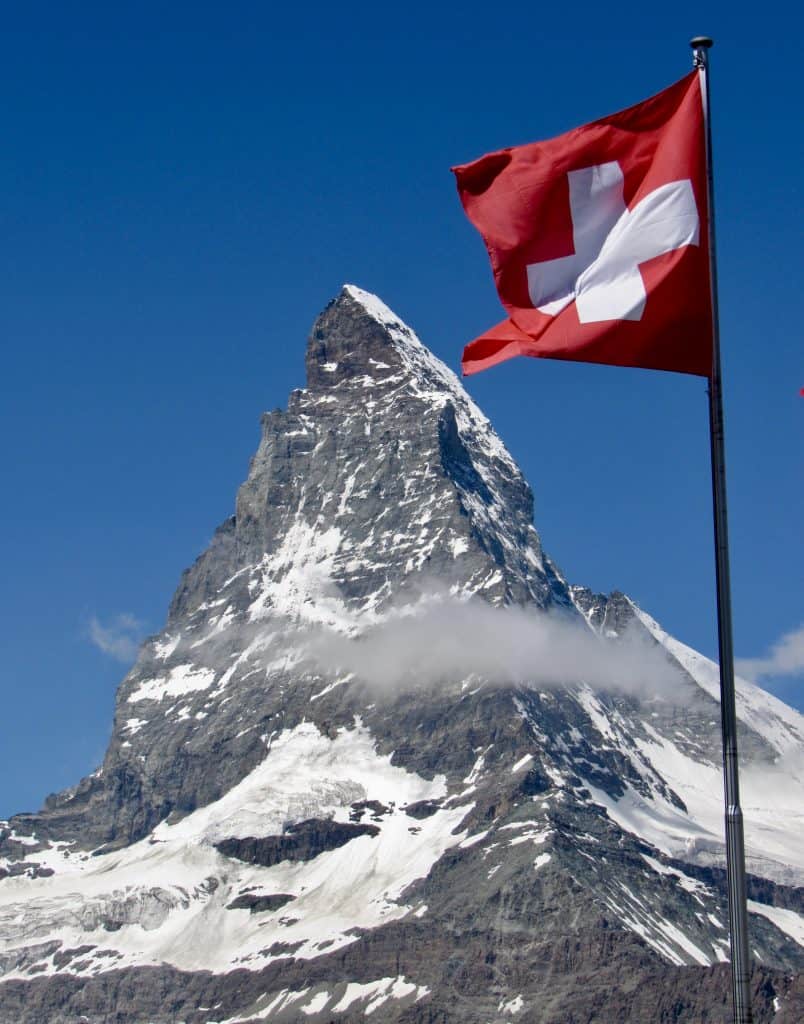 Riffelhaus Hotel has to be one of the best hotels in the world when it comes to views! Built in 1853, it also comes with some history, and a very famous guest: Mark Twain!
In fact, the trail which passes by the hotel is actually named the Mark Twain trail. We went inside for a peek at some of the rooms and views that the hotel has to offer. Note to self: book a room here!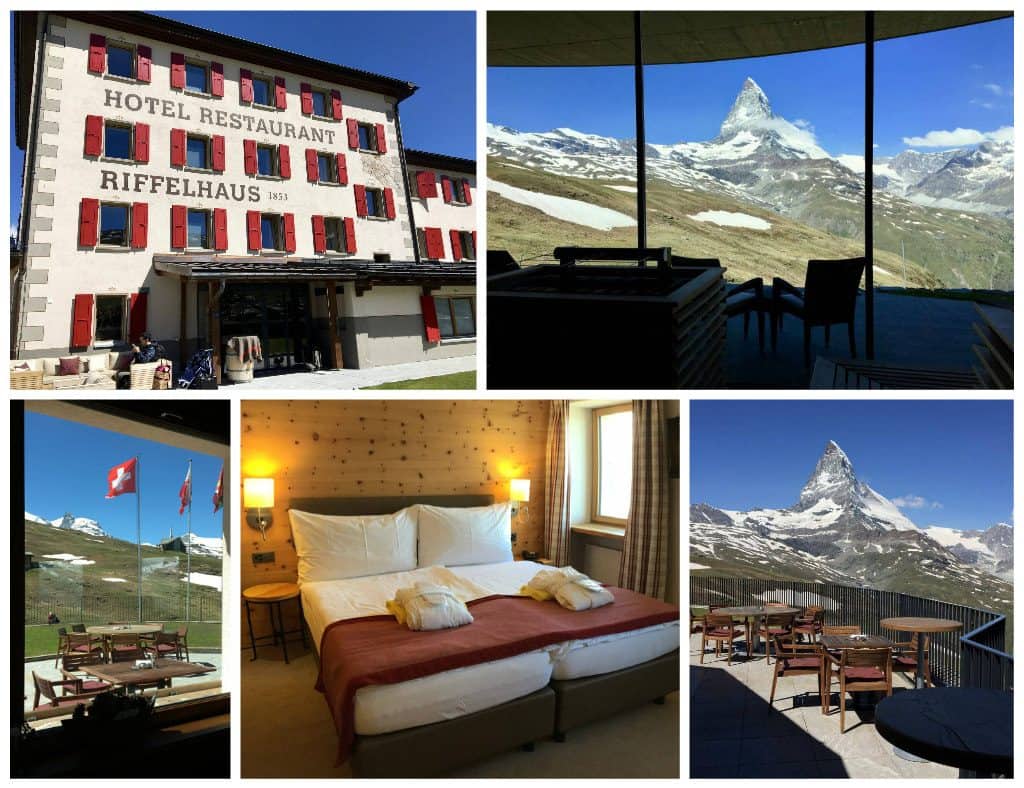 We continued down the Mark Twain trail, stopping what felt like every few seconds to take another picture! Honestly, I have so many beautiful photos from this hike, it's so difficult to narrow them down!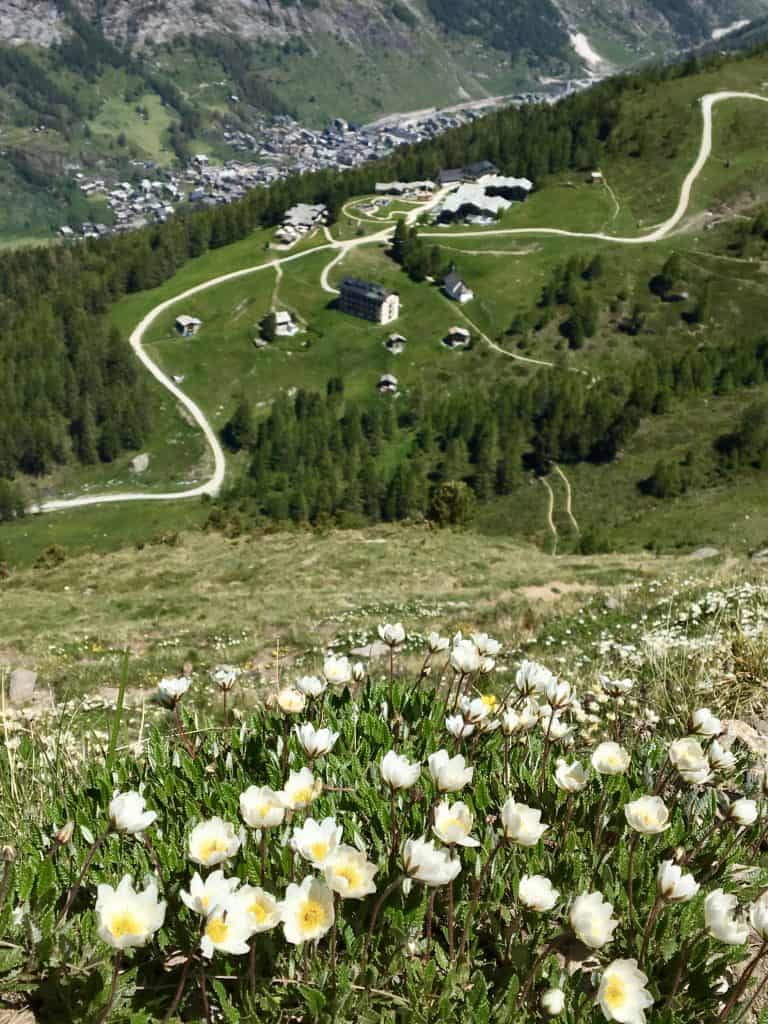 One of the shots I captured was this helicopter giving tours over Zermatt and of the Matterhorn! Can you imagine how incredible this would be?
Amadé gave us an extra special experience by yodeling for us!
We even drank from a mountain stream. The water is so fresh and clean!
We could see our destination below, but first, we had to try to see the famous Black Nose Valais Sheep which was on my list for Valais, as well as Cynthia's!
The Black Nose Valais Sheep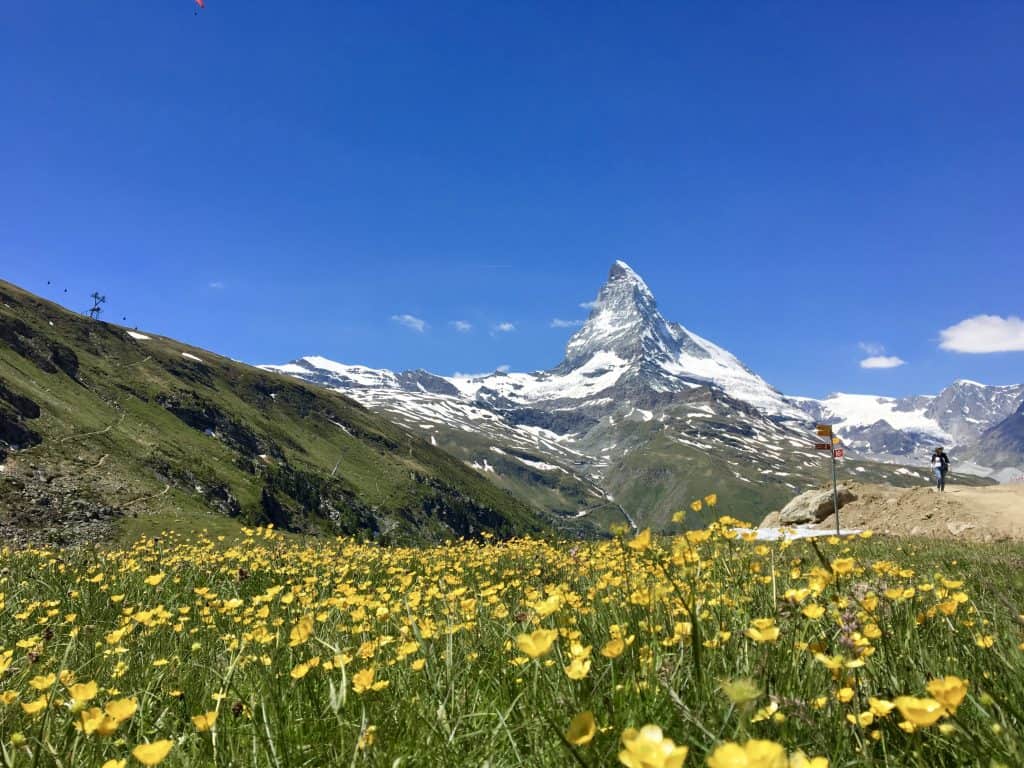 We couldn't see the sheep at first, so Amadé kindly went ahead of us to try to find them. He found them under a bridge, taking refuge from the heat of the sun. They were so darling!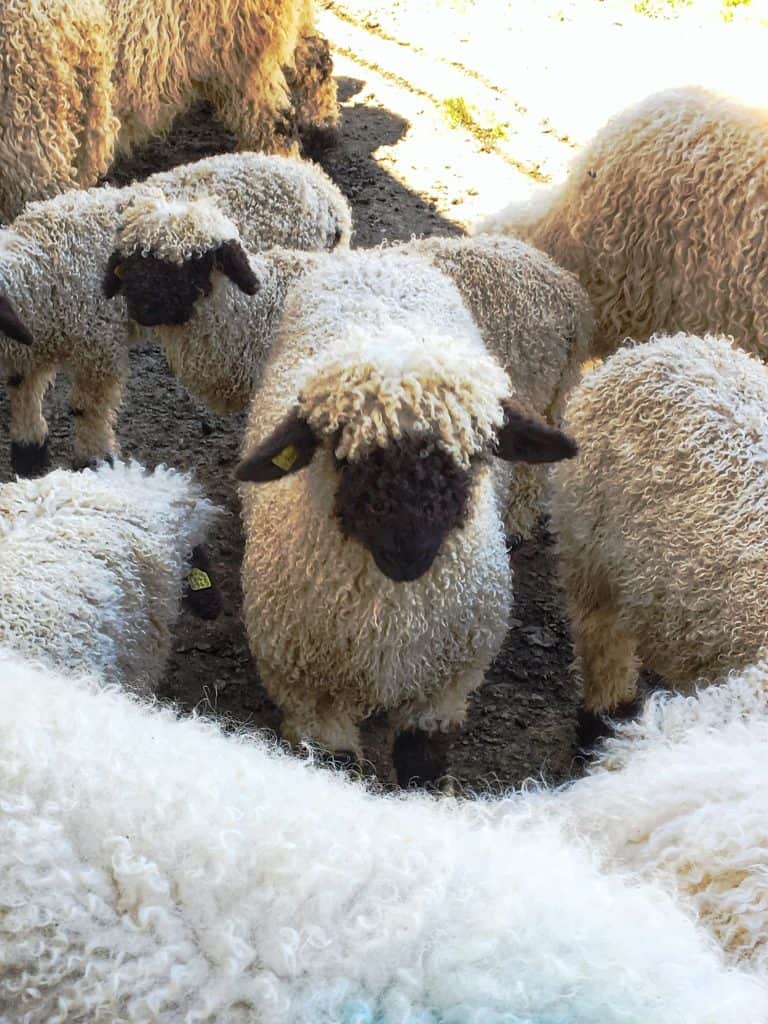 Their ringlets looked as though they'd been to the salon!
We were rewarded for trekking across the wet field to get to the sheep! Just look at this.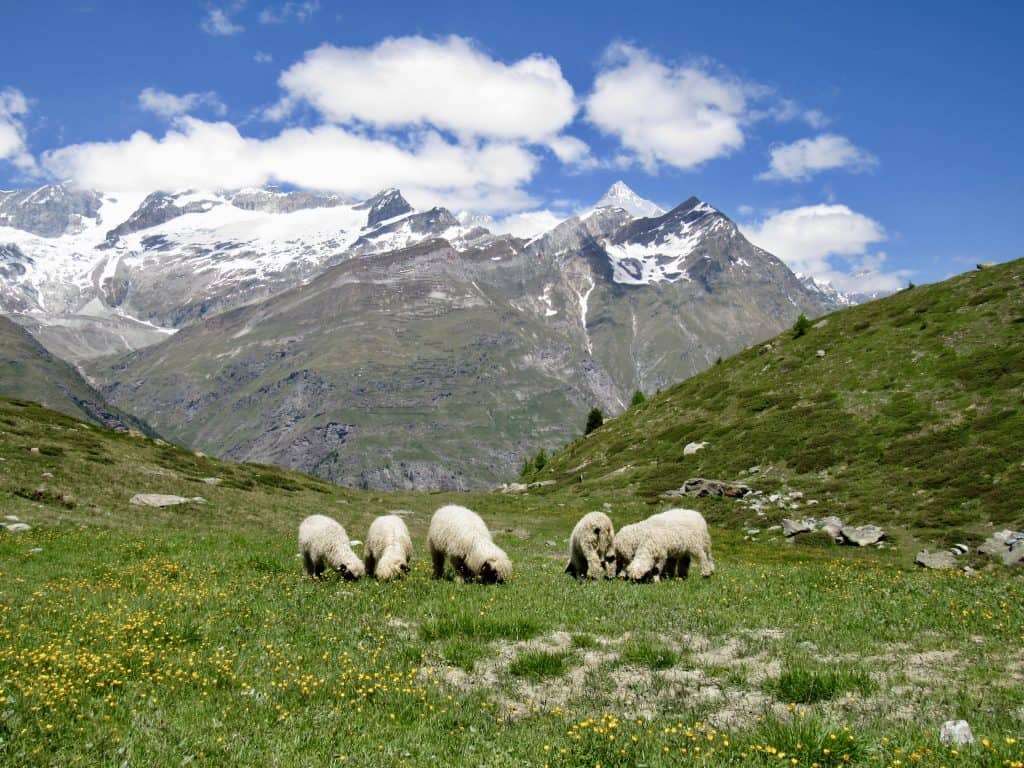 Visit Zermatt anytime, but in the summer, you'll see the black nosed Valais sheep on the meadows.
The name of these sheep in German is Walliser Schwarznasenschaf.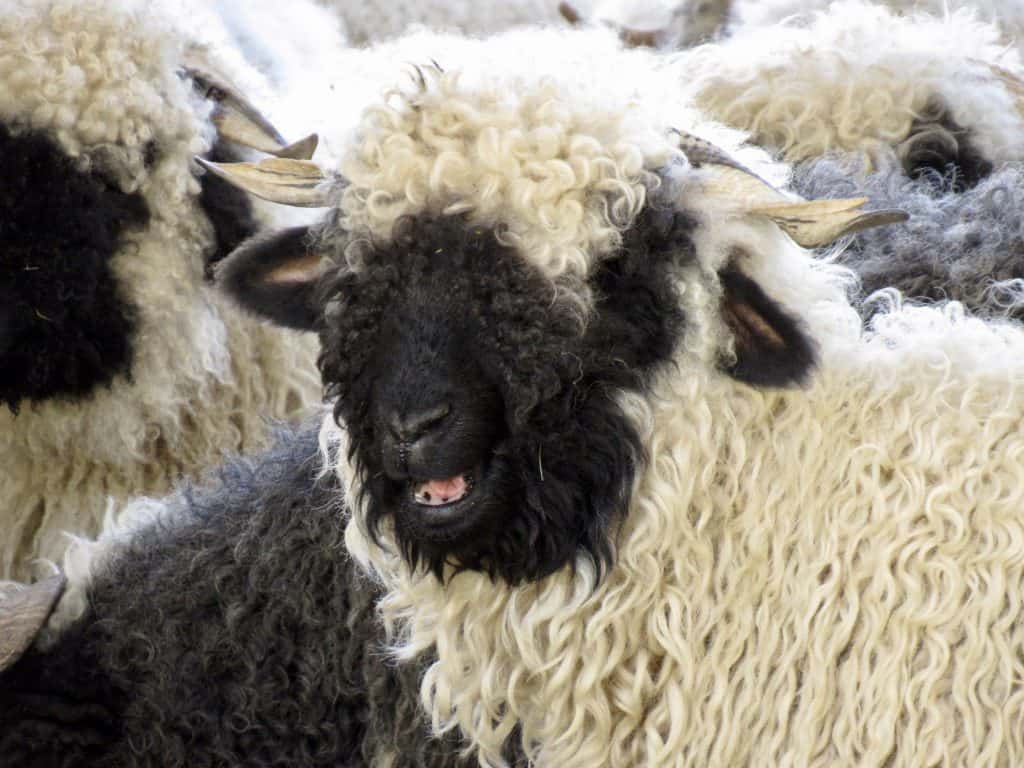 I don't know if I can pronounce that, but all I know is that I could have spent all day long with them!
Finally, we were off to Alphitta restaurant which was nearby.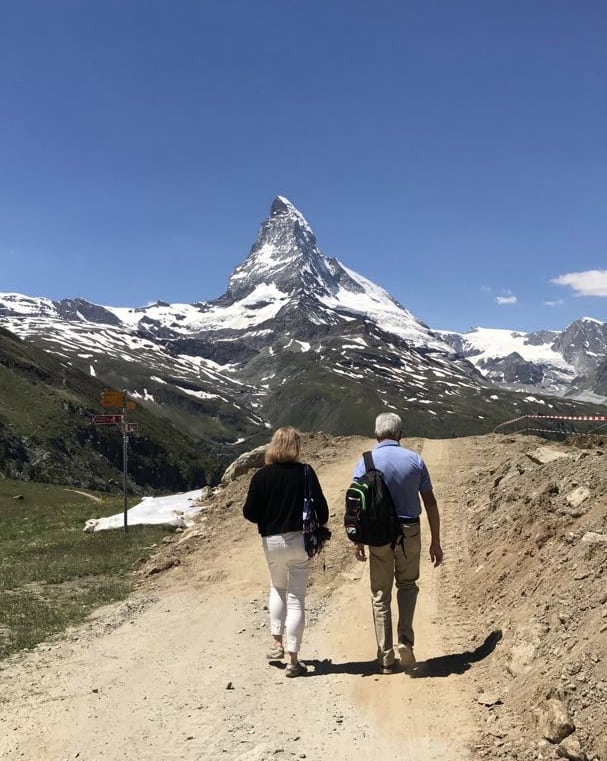 Continue reading about visiting Zermatt here.
Many thanks to Switzerland Tourism for hosting us, especially Valais-Wallis and the Hotel Alex. More information and to book your own stay below. And for a different perspective, check out Cynthia's post here.
visit Zermatt anytime