Brig, Switzerland and the Aletsch Glacier are two places to add to your Swiss bucket list. You'll get a wonderful taste of Switzerland, literally and figuratively!
The next town on our Swiss trip was Brig. If you haven't been following along, my friend Cynthia (What a Girl Eats) and I were just in Lugano, Switzerland where we'd taken a Cruise and Cook risotto making lesson and lunch on Lake Lugano.
Disclosure: Cynthia and I were hosted by Valais-Wallis Tourism (Brig-Simplon), Hotel de Londres, and Brasserie Des Cheminots at the Ambassador Hotel in Brig, Switzerland. We were also provided with Swiss Passes for rail transportation, thanks to Switzerland Tourism.
We had traveled by train from Lugano to Locarno, then boarded the Centovalli Railway to Domodossola. This is an incredibly scenic train ride in Switzerland and Italy, and I'll be sharing photos and more about it at a later date.
Arriving in Brig by train
From Domodossola, Italy, we continued by train to Brig which takes under half an hour. Brig is not a very large town; walking from the train station to the central square takes only about 10 minutes. Hotel Londres is located in the center of the old town, so we arrived in no time.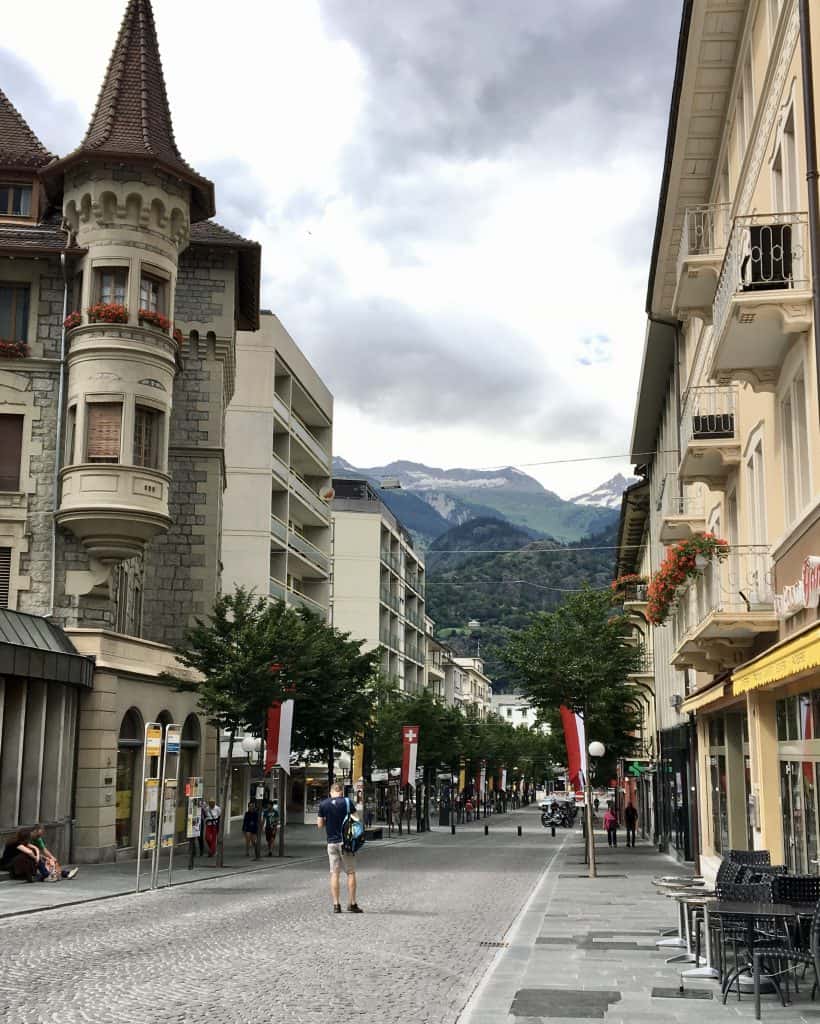 Hotel de Londres is a British themed hotel, so it was really fun for Cynthia and me! (Translates to London Hotel.)
We loved the decor and theme, but it definitely still had its Swiss side.
We were welcomed to Hotel de Londres with a lovely hot coffee drink which we enjoyed on the rooftop patio, with views of the town, and mountains beyond.
Walking tour of Brig
First thing on the agenda was a walking tour. We met Romaine, our tour guide, downstairs and wasted no time in getting to know the lovely old town of Brig.
Brig has an incredibly rich history and Romaine was well versed in all of it. One of the first things we discovered was a memorial fountain dedicated to Peruvian aviator, Geo Chavez. He was the first person to fly over the Alps in 1910. Unfortunately, he crashed in Domodossola, and died 4 days later, due to his injuries.
She told us about the architecture of the town as well as how it really claimed its spot in history due to Kasper Stockalper (more below).
There was an incredible amount of fascinating architecture, and architectural features, in the old town area of Brig.
Simplon Pass
Brig is located at the foot of the Simplon Pass (one of the ways to get through the Alps). In fact, I wouldn't be surprised that I might have been to Brig as a little girl as my parents would drive us from Scotland to Italy each summer, and we used to take the Simplon Pass!
If you're a history buff, you'll love this tidbit: the Simplon Pass was the first man-made road through the Alps. It was created to move armies through them by none other than Napoleon Bonaparte!
Stockalper Palace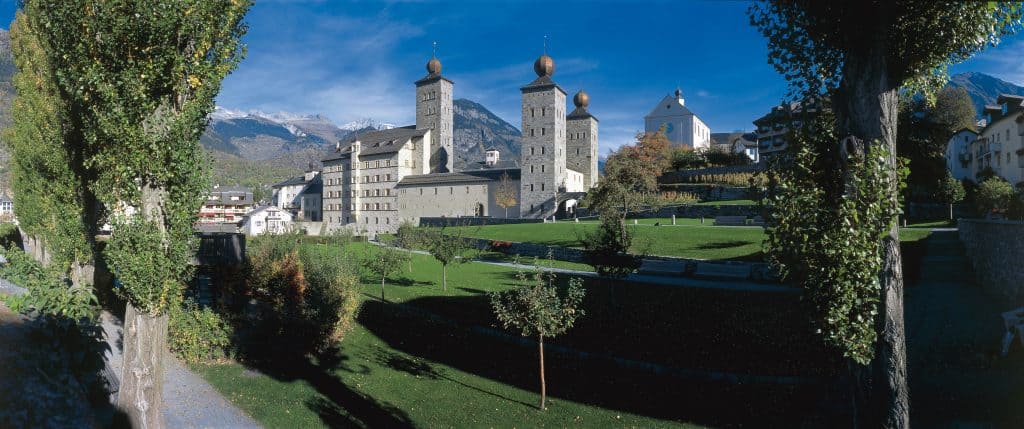 The Stockalper Palace is a bit overwhelming to think about sharing with you as there is so much to see and describe. As I said earlier, this palace is Brig's crowning glory, built in the 17th century by Kaspar Stockalper. He was one of those incredible people in history who seemed to have five lives in one!
Stockalper was called "The King of Simplon" and was a merchant, banker, large scale entrepreneur, military official and politician. The castle is the largest private building constructed in the 17th century in Switzerland. The palace has three towers with gilded onion domes and reflects the immensity of Stockalper's wealth. Today, his fortune would be worth far more than half a billion Swiss Francs. -courtesy of myswitzerland.com
Romaine gave us a tour of the courtyard as well as many rooms inside the palace.
One of my favorite features was the hand-painted scenes on the silk wallpaper which were designed in Paris in the 18th century. The detail was incredible.
The exterior wasn't any less ornate.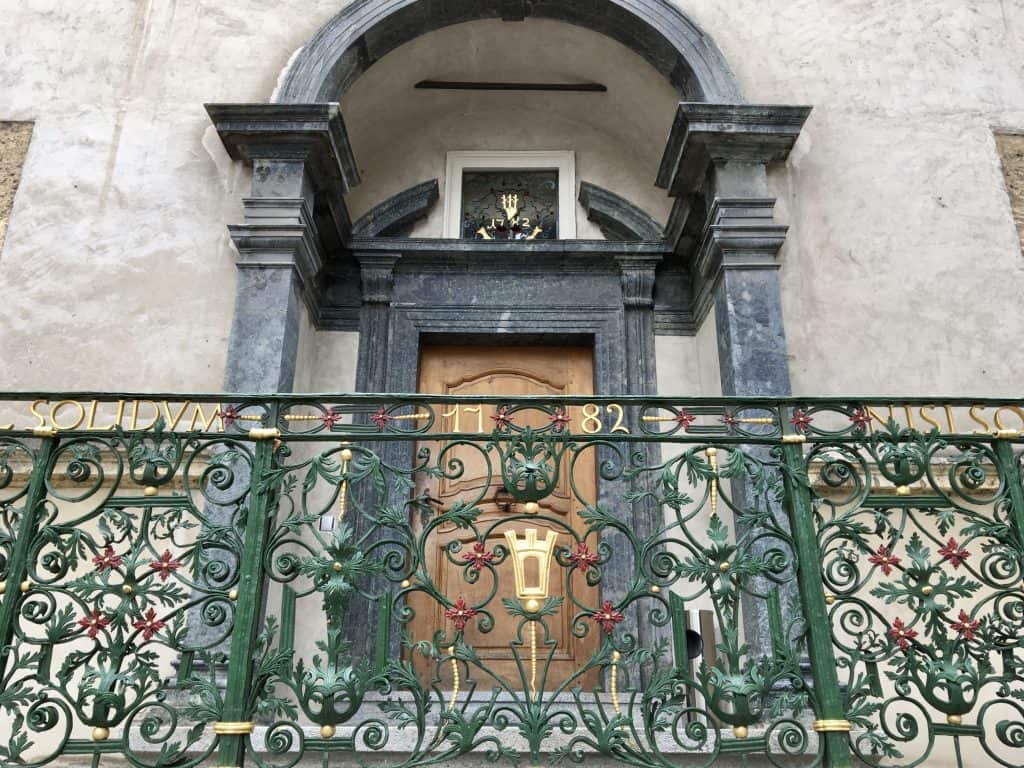 Romaine walked us back to Hotel de Londres where we had some time before going out for dinner. We enjoyed a glass of wine on the rooftop patio.
Brasserie Les Cheminots
Cynthia and I were fortunate to have Jürg from Brig-Simplon Tourism take us for a lovely dinner at Brasserie Les Cheminots (les cheminots = railway workers). The restaurant is located inside the Ambassador Hotel in Brig. It was a lovely evening, so we were seated on the patio.
The French restaurant had a nice selection of dishes, so anyone would be pleased with their options. We began with a lovely selection of amuse bouche; each one was wonderful. Cynthia then chose the clear oxtail soup, while I opted for a spicier seafood soup. We both loved discovering a local white wine called Johannisberg. It was lovely with our amuse bouche.
Main course
For our main course, Cynthia chose the duck à l'orange, Jürg had the perch fillet from Raron "Meunière" which was served with butter, spinach and boiled potatoes. I picked the beef stroganoff with paprika cream sauce and spaetzle.
Everyone enjoyed their choices, and I have to say, as I'm not much of a beef eater, I truly was happy with my stroganoff. It was delicious, especially with the wonderful spaetzle. We were able to thank the chefs personally, as they came out to greet us, which was lovely.
We finished off with a little dessert. By this time it was rather dark and it was difficult to take any decent photos, but here is my fabulous Crêpes Suzette! I hadn't had them in years and they were absolutely delectable!
As we walked back to the hotel, we noticed that even though it was 10 pm, it was still quite light because it was June 24th (one of the longest days of the year). We thanked Jürg for a wonderful meal and evening, and were off to bed as we had another full day ahead of us.
Breakfast at Hotel de Londres
At Hotel de Londres, breakfast is included, and it's a wonderful way to start your day. From homemade granola, fresh breads and jams, fruit and eggs, made to order, there's lots of decisions to be made. You'll also have to decide whether to eat "cosy" inside, or go for the fresh outdoors. The staff were absolutely wonderful: attentive, friendly, helpful and welcoming!
Once we had breakfast, it was time to head back to the train station. Today's agenda included a train trip to Betten (only 16 minutes) to take a cable car to Bettmeralp, and ultimately, the world-famous, Aletsch Glacier.
When we arrived at the Betten train station, we were greeted by David Kestens (Aletsch Arena). He would be our guide to visit Bettmeralp and the glacier. We stored our luggage, and headed for the first cable car. It was much quicker than hiking up to where we were going!
Bettmeralp
Bettmeralp is a small village and there are no cars here. In fact, everything (including building materials) must be transported via the cable car. It's a popular tourist destination in both summer and winter, with many activities besides hiking in summer and skiing in winter. There are scooter trails, downhill bike courses, fishing and also indoor activities.
David told us about the village as we walked through. He also explained that the clouds would soon burn off as it was a rather gloomy morning. Despite this, the views were fantastic off in the distance, along with the wild flowers and other sights throughout the village.
Next, we got on the second cable car to visit the Aletsch Glacier.
Aletsch Glacier

Cynthia and I weren't properly attired for the temperature at the top, but it was bearable (low 40s F). In our defense, we only had one carry on for three weeks of travel and warm clothes were just not going to fit. :/
The Aletsch Glacier is the longest glacier (23 km) in the Alps. It's also a part of UNESCO World Heritage; in fact it was the first Alpine World Heritage site chosen in 2001. So if you're checking UNESCO sites off your list, this is one of them. You can see how high we were here (almost 9,000′ or 2647 m).
We only had to walk few minutes to the viewing platform and it was totally worth being in the cold without a jacket! The views were incredible. The photo below is part of the the Aletsch Glacier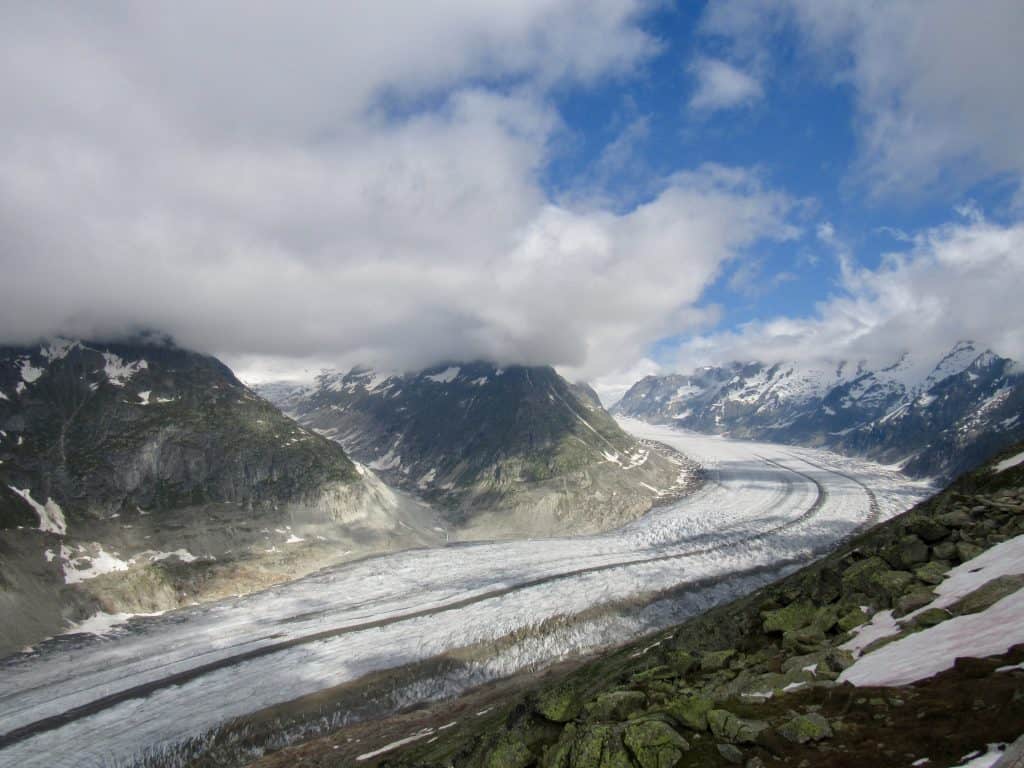 I zoomed in for a closer look. The formations are amazing, and apparently there are fleas that live in the glacier! In fact, the glacier flea is the local mascot! There's some trivia for you.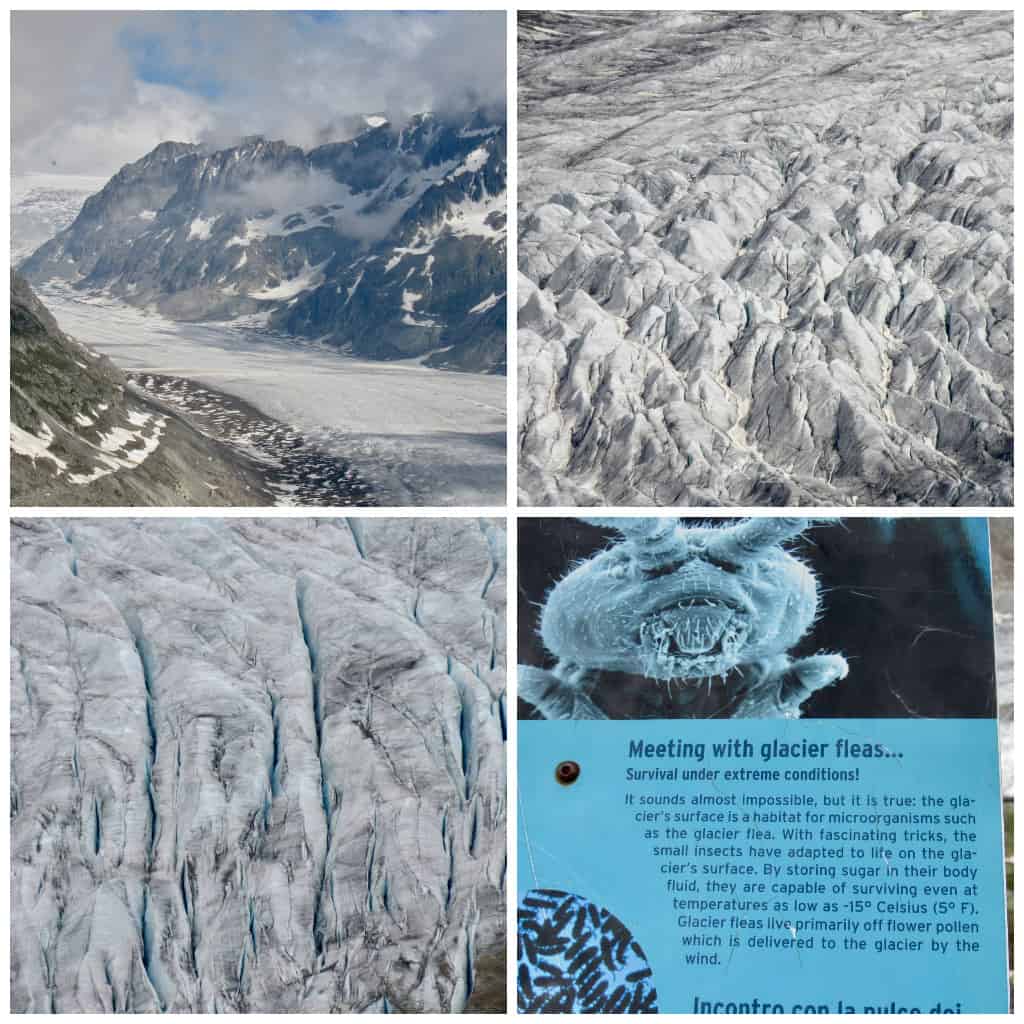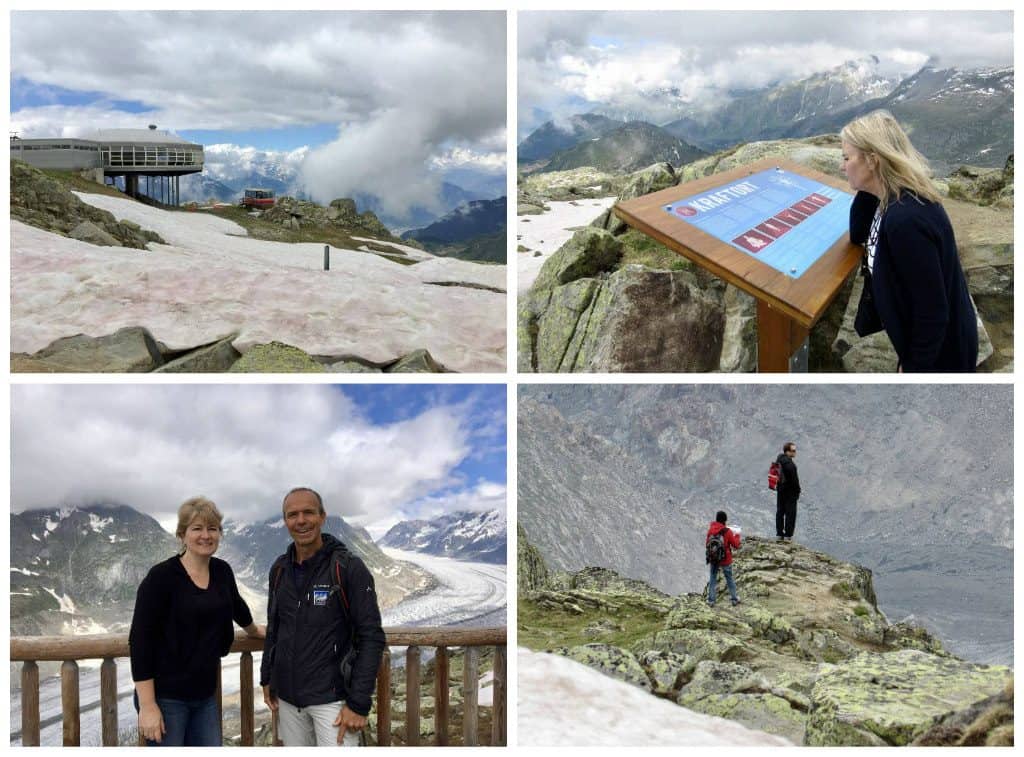 The view across the valley was another fabulous sight.

Valais Plate and Johannisberg wine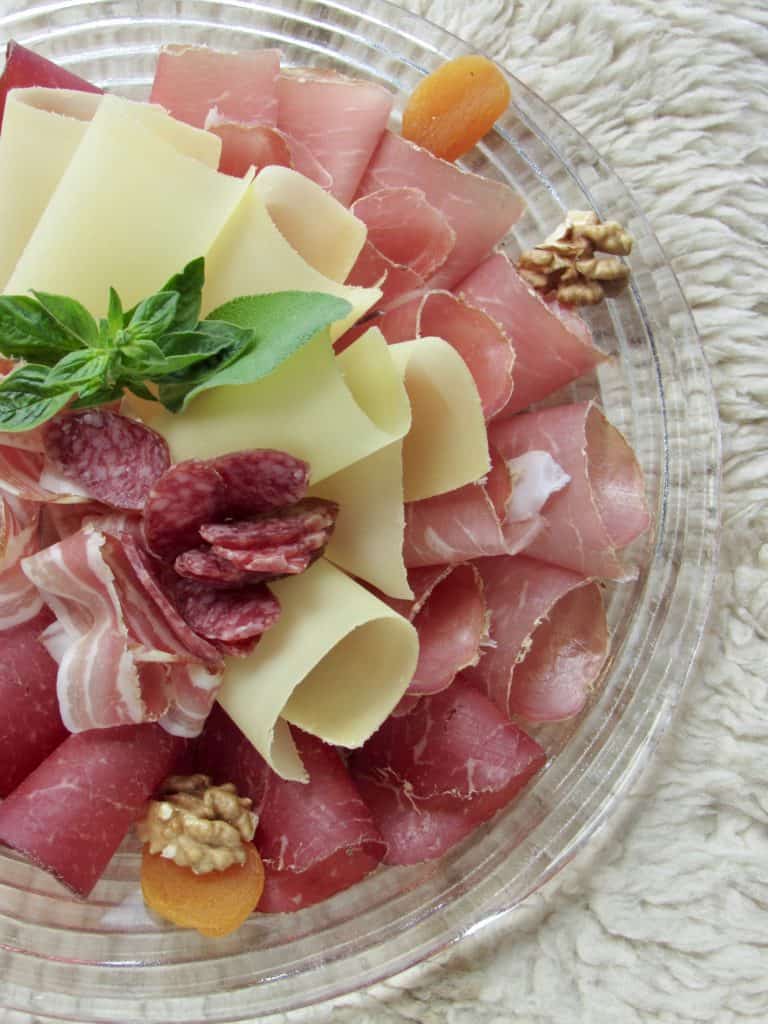 I won't lie, Cynthia and I were cold by the time we got inside for a bit of lunch, so we all had a lovely, hot Ovomaltine (Ovaltine) first.
It didn't take long to warm up and soon we were indulging in a glass of Johannisberg along with a most beautiful Valais plate!

This is comprised of locally cured meats, cheese and some dried fruit and nuts. Cynthia and I couldn't stop taking photos of it as it was so thoughtfully prepared. David explained about the rye bread that is typical to the Valais region, as well as how the cheese is made from cows that change where they are pastured.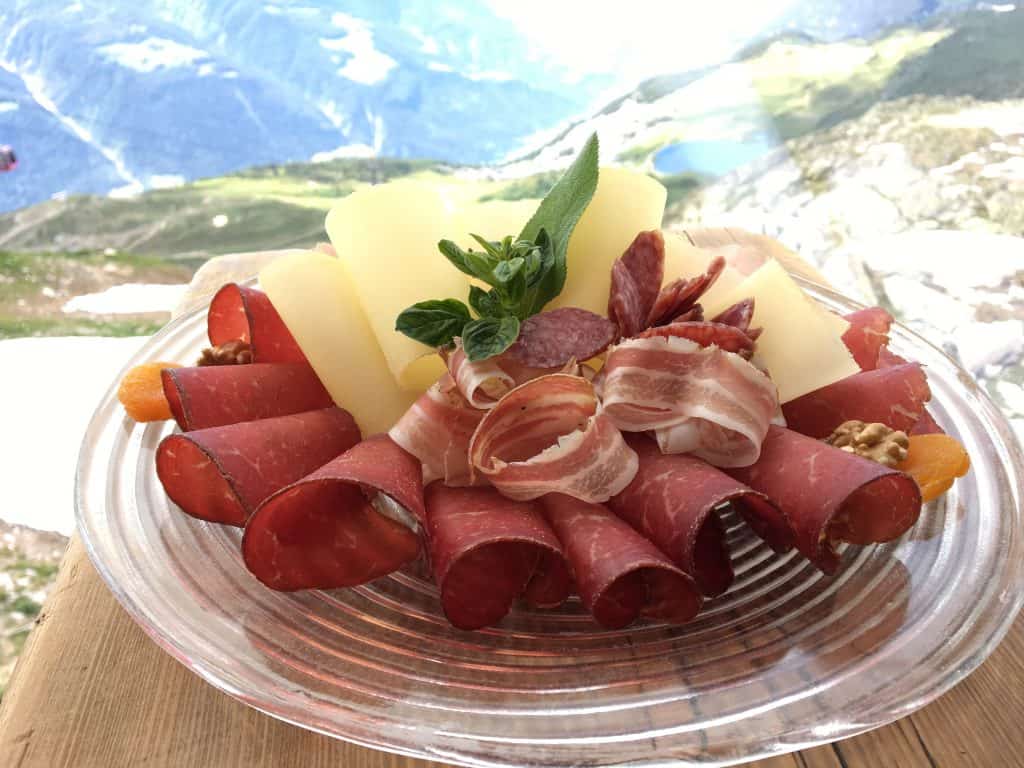 Cholera
After we devoured the Valais plate (everything tasted as good as it looked), we were introduced to "cholera". Yes, the dish is named after the disease!
David explained how this dish came about during a cholera outbreak because no one wanted to leave their homes for fear of contracting the disease. The only option was to make food from what was already in their houses, so "cholera" was usually made with potatoes, apples, pears, onions, leeks, cheese and whatever else they had on hand. It is still made and enjoyed in the Valais region today, although everyone has their twist on the recipe.
I would love to make this dish in winter. It's absolute comfort food, and this version was delicious.*
Cable car to Bettmeralp
We took the cable car back down to Bettmeralp and the views were fantastic.
Hérens Cows
On our way back to the second cable car, we were able to see some famous bovine called Hérens cattle. David explained to us that the females are known for their aggression. In the springtime, cows and heifers put in "cow fights" (please note that they have this aggressive behavior with each other naturally). It is nothing like bull-fights, just to be clear.
The winners are sold for high prices and the fights are a major tourist attraction in the Valais region of Switzerland (Wikipedia). All the cows were "chill" when we visited. 🤣It was lovely to hear the bells (if you want to hear them, you can watch my Instagram story).
David was right about the weather clearing up as it turned into the most gorgeous day with magnificent views everywhere we turned!
I couldn't resist one last photo of the beautiful church in the warm sunshine. No wonder it's one of the most photographed churches in the world! (David told us this as Cynthia and I were snapping away!)
Suddenly, it was time to take the cable car back down to the Betten station. Time flies when you're having fun!
Back to Brig
We said goodbye to David who then jumped on his bicycle to head to his office. Our train arrived within minutes, and we headed back to Brig to catch our train to Zermatt, our final destination in Switzerland. Post coming soon!
As you can see, Brig is a wonderful location to visit and to be able to reach other destinations like the Aletsch Arena, and Zermatt. Its proximity to Italy is an asset as well.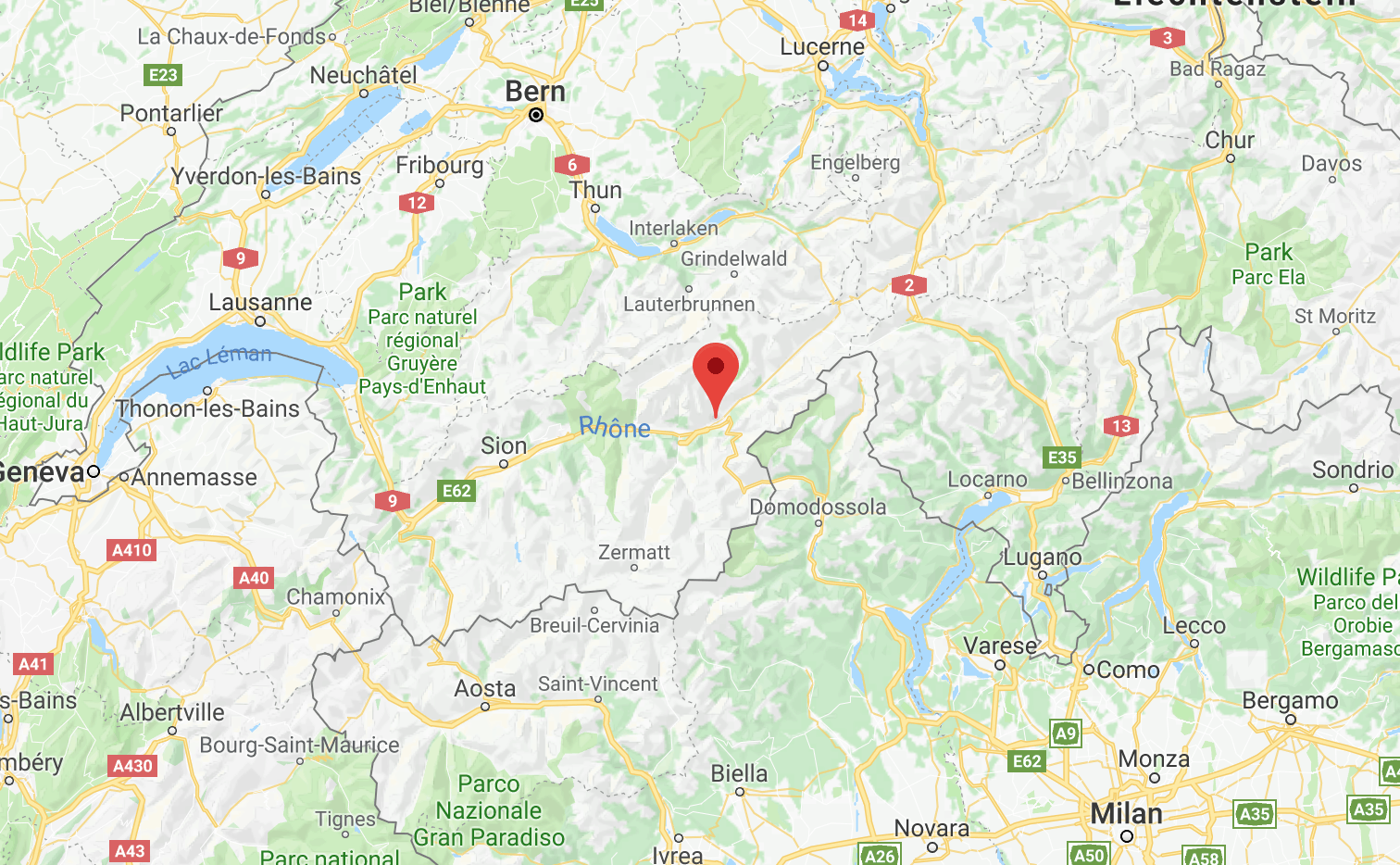 Thank you to ~ (and for more information)
Cableway for the Aletsch Arena
Please let me know if you have any questions or simply would like to comment in the space below. I'd love to hear your thoughts if you've been to Brig, or Switzerland. Any plans to go?
*Here's an interesting fact: two days after my visit here, my neighbors (five doors down) hiked to Bettmeralp and ate at this exact same restaurant! In fact, they even ordered a Valais plate, but we had no idea until we spoke a week later! What are the chances?