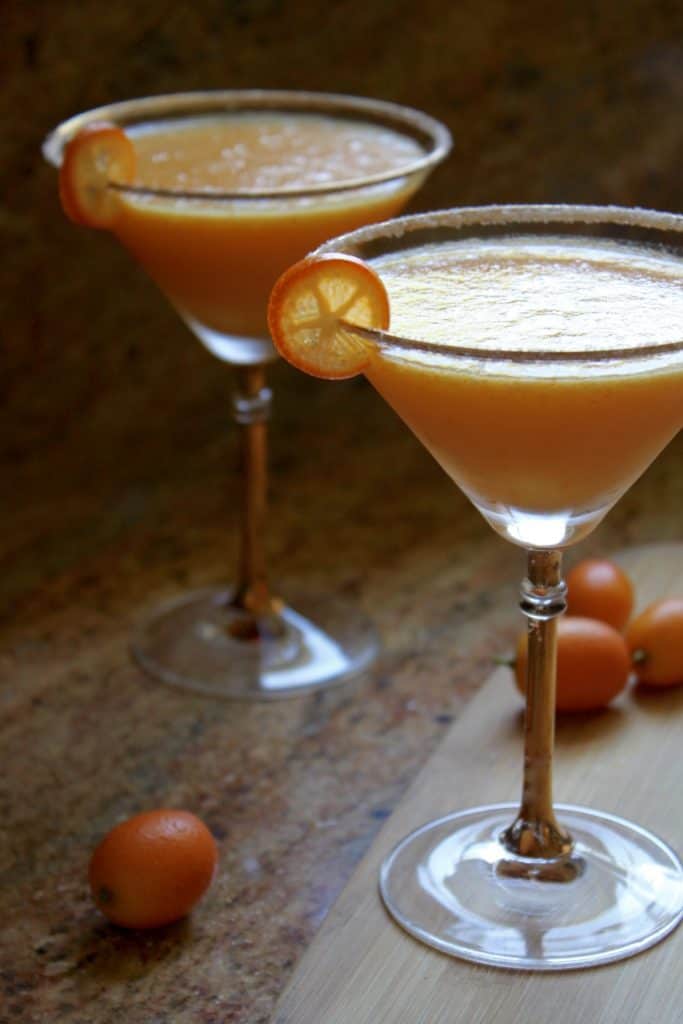 Frosty kumquat martinis are a great way to end the kumquat season. Heaven knows that this has to be one of the best ways to use kumquats. EVER.This post may contain Amazon affiliate links for your convenience, at no additional cost to you. I received a bottle of Grand Marnier from Drizly with no strings attached. As always, all opinions are my own.
As you may know from my previous post on how to eat kumquats, these little pearls of citrus are the opposite of what we're used to with oranges and grapefruits, for example. The skin of the kumquat is sweet, and the juice is sour.
Martinis are the perfect way to take advantage of this sweet and sour goodness. I combined the kumquats with Grand Marnier and vodka for a winning combination!
I don't think I told you, but I recently became a Drizly Top Shelf blogger! Have you heard about Drizly? Sit down before I tell you this: it's a liquor delivery service! Genius, right?
Here's how Drizly works, in their own words~
We work with local stores so you can shop their shelves using your smartphone or computer to order beer,
wine and liquor at the touch of a button. You still have to drink it the old fashioned way, though.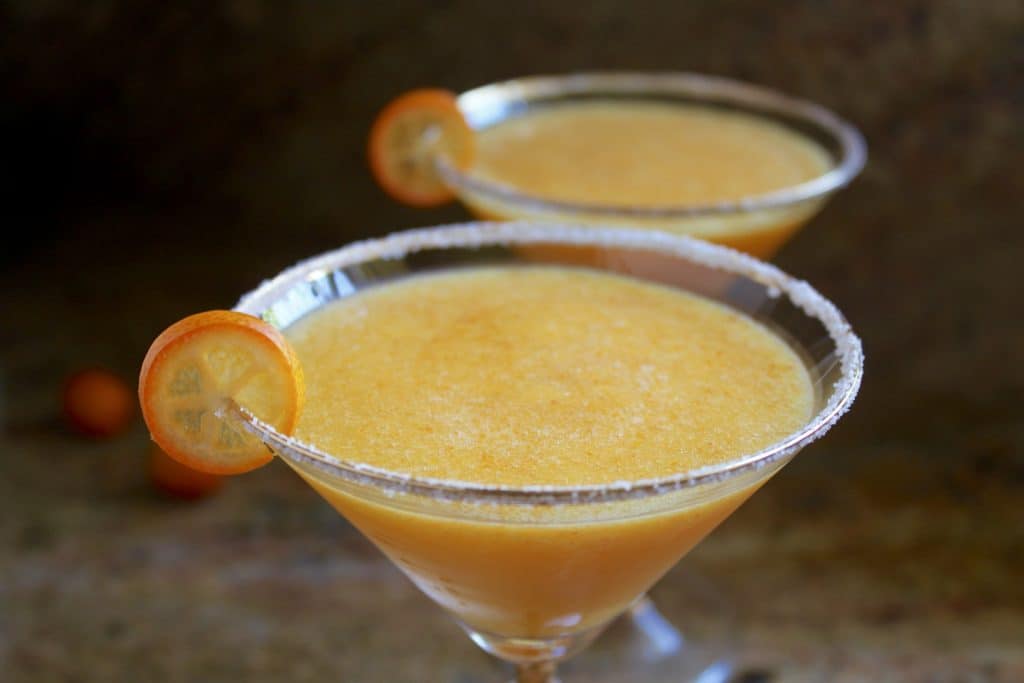 I love Grand Marnier and was almost out of my most recent bottle, so Drizly gave me a bottle to try out their service. So easy! You might have seen it on my Instagram stories: I took a video of the driver leaving my house and said, "There goes my liquor man!" Just a tad different than a milkman! Tee hee. I think it's great for parties as no one needs to leave to buy more beer, wine or whatever liquor you've run out of.
Back to those kumquat martinis. If you have any kumquats left on your tree, or picked some up at your local market, give this recipe a go. I don't think you'll be disappointed.
Frosty Kumquat Martinis
makes 2 large or 3 small martinis
Ingredients
about 12 kumquats
1 1/2 cups of ice cubes
1 shot (1 oz) Grand Marnier
2 shots (2 oz) Ketel One Citroen vodka (substitute plain vodka if you like)
3 teaspoons caster or superfine sugar
extra sugar for rimming the glasses
Special equipment: Vitamix (I have this model) or blender and martini glasses
Prepare the glasses by rubbing half a kumquat around the rim and dipping in sugar.

Cut the kumquats in half and remove all the pits. Keep two or three thin slices aside to garnish the glass.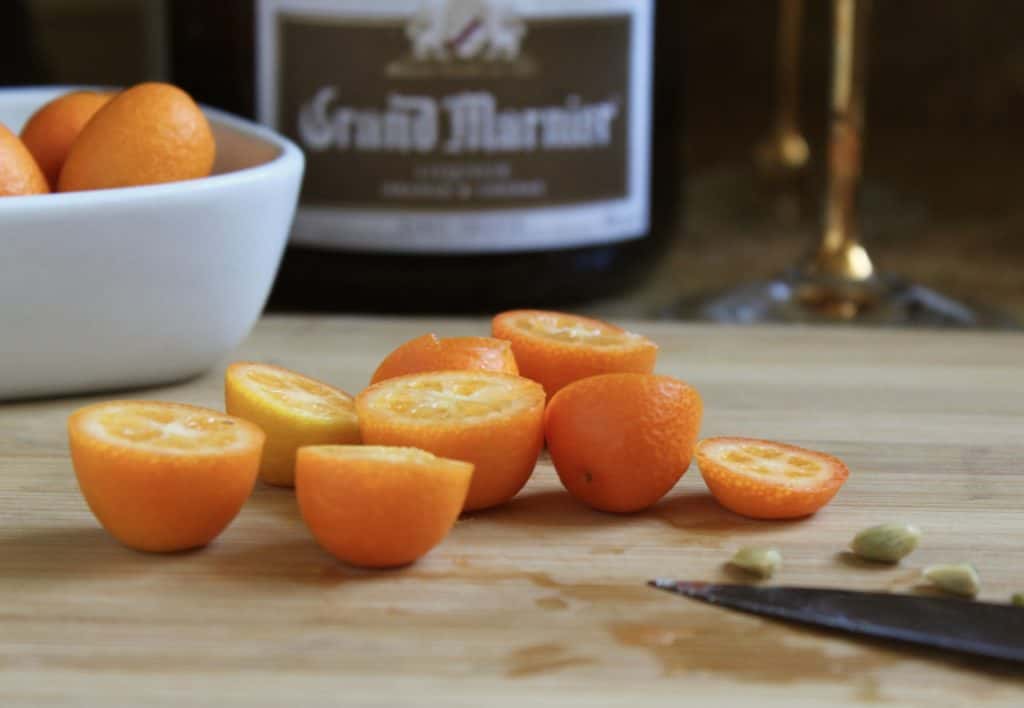 Put the ice, kumquats, Grand Marnier, vodka and sugar in the blender jar.

Blend until smooth and pour into martini glasses.
Serve immediately. (Was this last instruction even necessary?)
Take a look at all the rest of my cocktails under my RECIPES tab, then scroll down to TYPES OF FOOD, then BEVERAGES, and lastly, ALCOHOLIC. You'll also find a few just below here, too.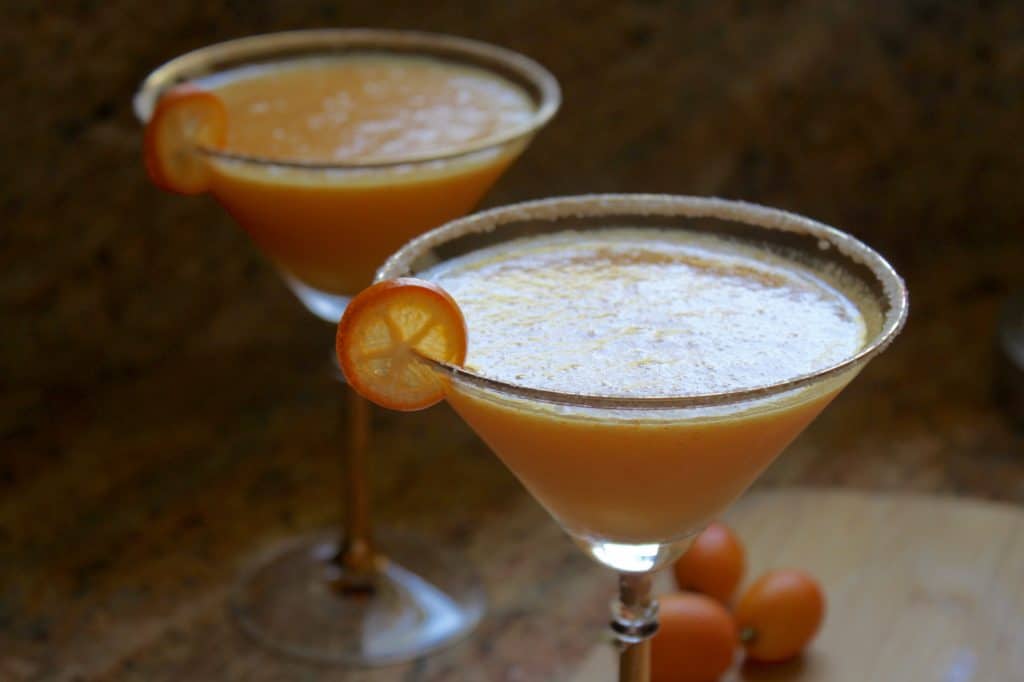 CHEERS!
Don't miss another recipe or travel post, sign up for my free subscription below!
I promise not to share or sell your email address, ever.
Click here for more information about Drizly or to order beer, wine or liquor to your home.
Christina's Cucina is a participant in the Amazon Services LLC Associates Program, an affiliate advertising program (with NO increase in cost to you) designed to provide a means for sites to earn advertising fees by advertising and linking to Amazon.com.