Bresaola, Parmigiano and arugula appetizer is a starter you can make in no time, with no fuss and no cooking or baking. It's incredibly delicious, too!
After meeting Jill Colonna in Bordeaux, and having the most marvelous time, we both met Karen Burns Booth from Lavender and Lovage on our next excursion.
Disclosure: I was hosted by Karen as a friend. Unrelated to Karen, I received three Alex and Ani bangles from their company with no requirement to post about them.
As an Amazon Associate I earn from qualifying purchases.
Leaving Bordeaux
Jill and I had left Bordeaux and were due to arrive at the Pons train station in Southwest France in the early afternoon where Karen and her husband would meet us. However, Jill and I were blethering (talking) so much, we almost missed our stop at Pons.
It was partially our fault, but the other issue was the announcer's pronunciation of "PONS". It sounded nothing like Pons! Even Jill agreed, and she speaks French fluently. Moving towards the doors as quickly as possible, we stumbled off the train with our luggage, lacking the quintessential grace that one would hope is instilled in anyone visiting France.
Karen and her husband didn't seem to mind that we initially presented ourselves as bumbling clods, and after hugs and kisses were exchanged, we hopped into their car. Karen told us that she needed to do some food shopping, so off we went to the Super U grocery store. (I cannot tell you how exciting it is for me to go to grocery shopping in another country, and France?! I was beside myself!)
Super U grocery store
It didn't take very long for Jill and me to realize that Karen was a bundle of fun and we were totally letting her into our club! We pretended to pilfer bottles of wine and fenced with baguettes; I kid you not! Here's proof~
Karen did eventually do her shopping, although it was a special kind of torture for me not to be able to buy anything due to traveling and my lack of a real suitcase. My favorite Bon Maman biscuits were only €1.19 as opposed to $9.58 on Amazon! Oh, just look at that wine aisle (mind you, that wasn't the entire section)!
Much to my chagrin, we left Super U! We were driving to Karen's B & B with her husband, Malcolm, as our chauffeur, when Karen queried, "How about a little "pinot" degustation at the chateau?" First of all, the way I've written "pinot" is what I heard (or should I say, how I translated what was said). However, it should actually have been "pineau."
Secondly, "at the chateau" was a key part of the phrase that made Jill and me just a wee bit giddy! We looked at each other in the back seat and exchanged the same look that said it all, "Is this for real?"
Château Guynot
Malcolm was quite content to take us to the chateau, so yes–it was really happening! A few minutes later, we drove down a long lane, and arrived at Château Guynot (pronounced "ghee-noh"). We headed straight for the tasting room.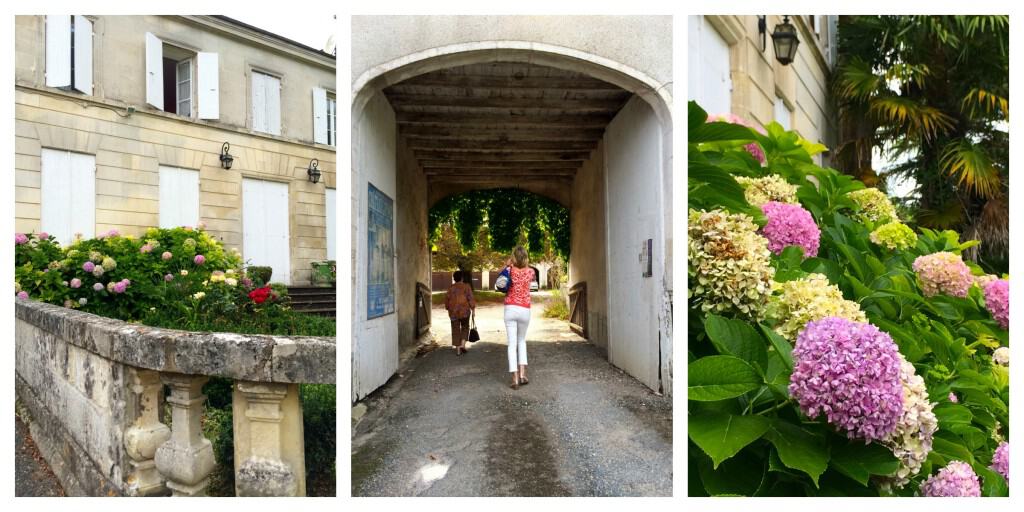 I had never heard of "pineau" wine before, but after trying it, I was a fan. It's similar in taste to Italian "vino passito", however, it is made differently. Pineau is a sweet, fortified wine and mostly enjoyed as an aperitif.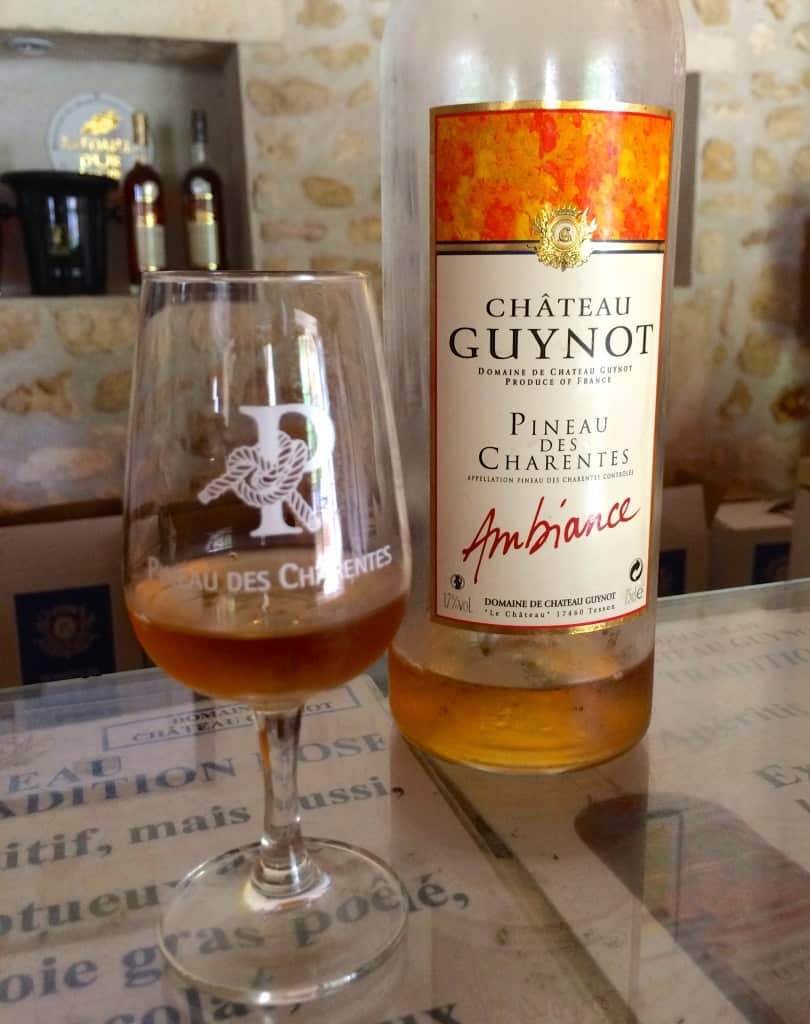 Pineau tasting
Our lovely hostess, Sandrine, talked to us about the wines then began pouring, starting with the white, younger pineau: Ambiance, moving to the older Tradition and ending with the darkest, oldest and most full-bodied, Grand Tradition Pineau.
I honestly enjoyed every single bottle (not that I had a bottle of each). Unfortunately, Chateau Guynot pineaus and cognacs are not available for sale in the US. This was extremely sad news, since their wines have won many gold medals and other awards. The good part is you must go to France to taste them!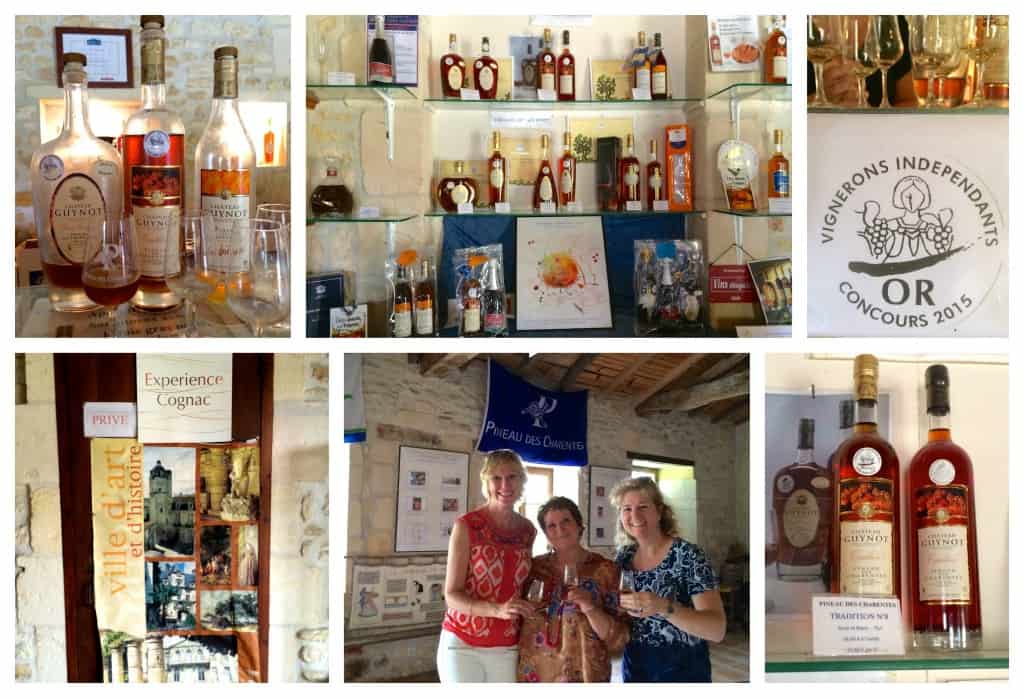 The pineau kept flowing and we kept tasting. Karen suggested some food pairings with the wines, which sounded wonderful (especially since Jill and I had forgotten to eat lunch)!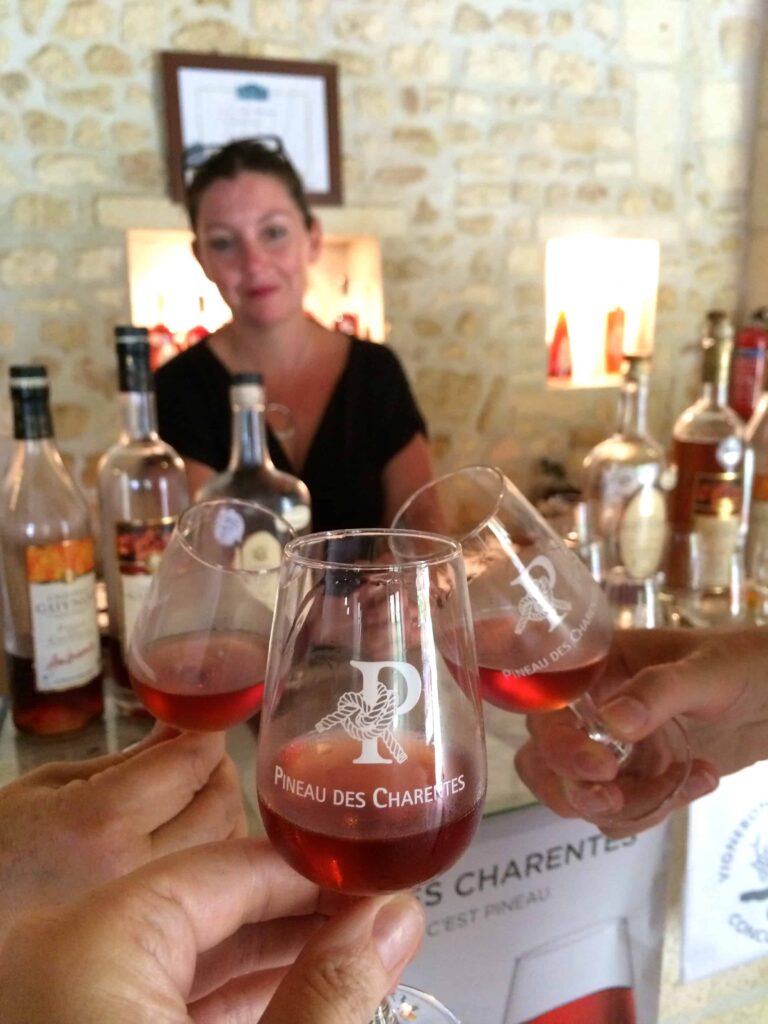 After we were finished wine tasting, Jill bought a few bottles, and we took a little stroll to see the actual chateau, then we were off to Karen and Malcolm's lovely home nearby.
Jill and I immediately were smitten with Auberge de la Fontaine (Karen and Malcolm's B & B) in the sleepy village of Montpellier-de-Medillan.
Karen explained that the original house had been extended to accommodate the original owner's mistress (while his wife lived next door)! She showed us the original work on the exterior of the house which was meant to resemble shells, which it surely did. I discovered that Karen had quince, pear and olive trees, in addition to many other trees, and a lovely garden.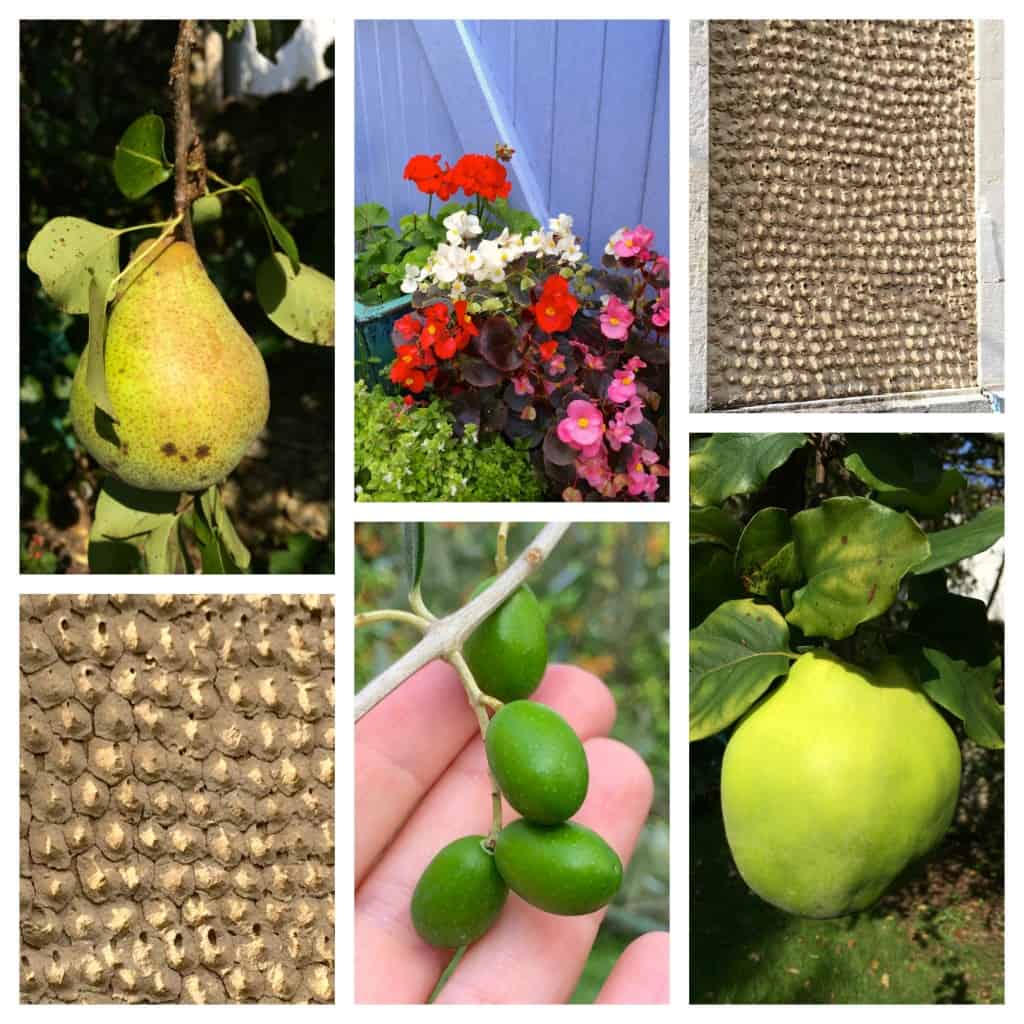 Karen then took us inside and showed us our room. We loved the Versailles Room; it was just perfect for us!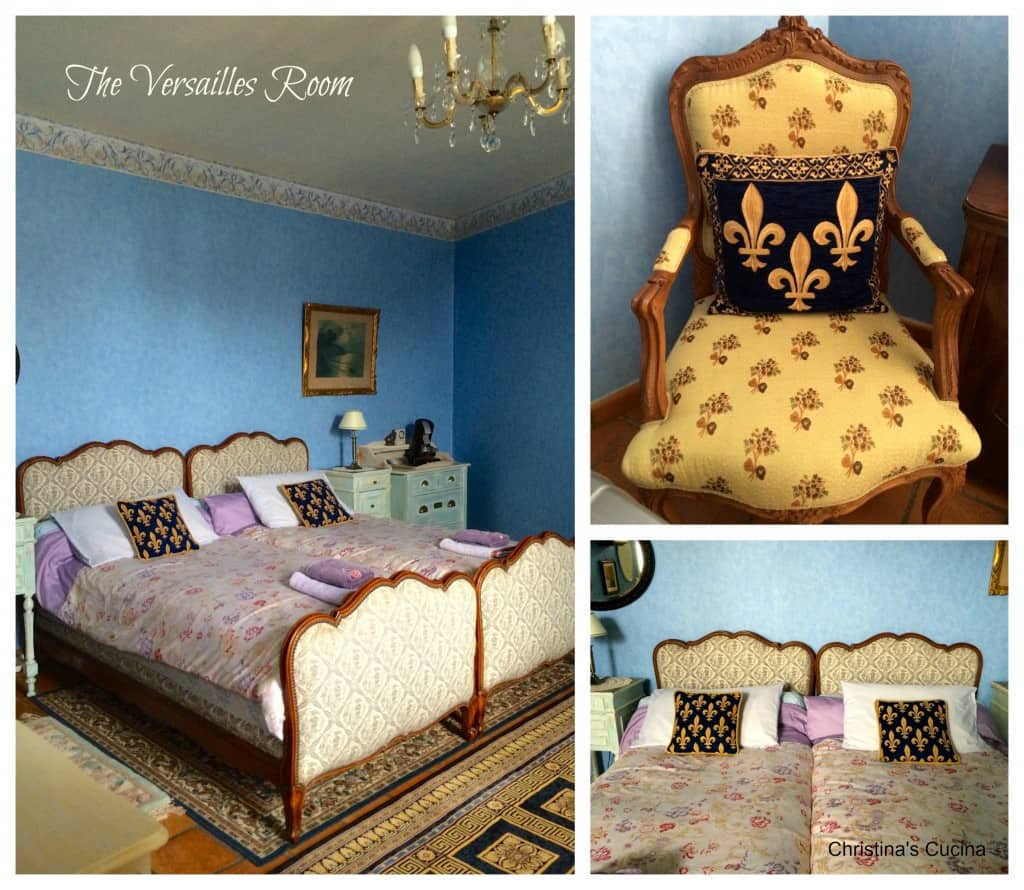 Karen's entire house was so tastefully decorated and welcoming. Her personality came through in her delightfully cheerful and cosy home: from the hats in the hallway to the caddy in the kitchen.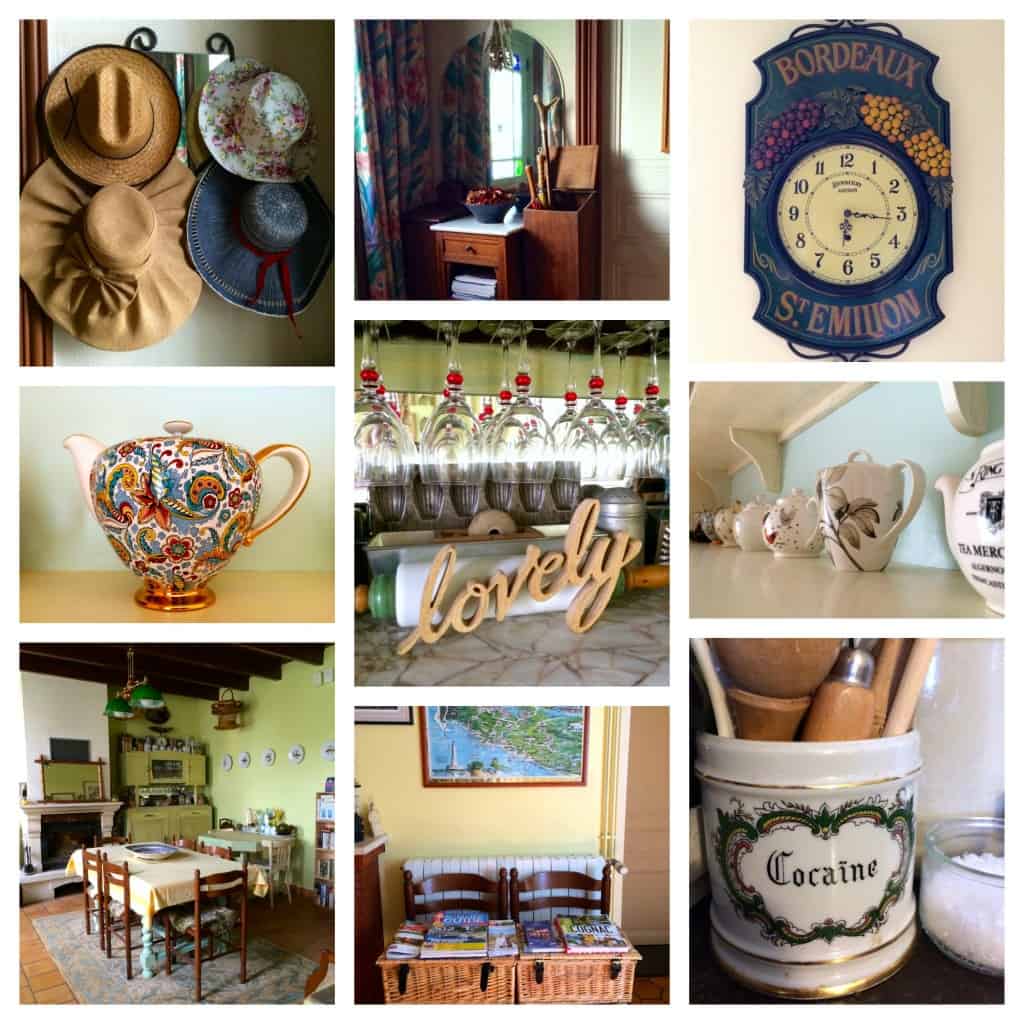 Making an easy dinner
It took us no time to don our aprons and get into Karen's fabulous kitchen for our first cooking lesson. While Karen worked on the main dish, (a wonderful pork and apple recipe which included a lovely bit of Calvados), Jill and I were each instructed on how to make an appetizer.
Jill made a marinated English goat cheese with garlic, stem ginger and herbs, while I worked on putting the bresaola, arugula and Parmigiano Reggiano appetizers together. Both recipes couldn't have been simpler, but they tasted wonderful.
Jill stepped out to pick fresh herbs from Karen's garden just outside her kitchen door.
Bresaola, Parmigiano and Arugula Appetizer
serves 4 (printable recipe below)
Ingredients
bresaola
arugula
Parmigiano Reggiano cheese
extra virgin olive oil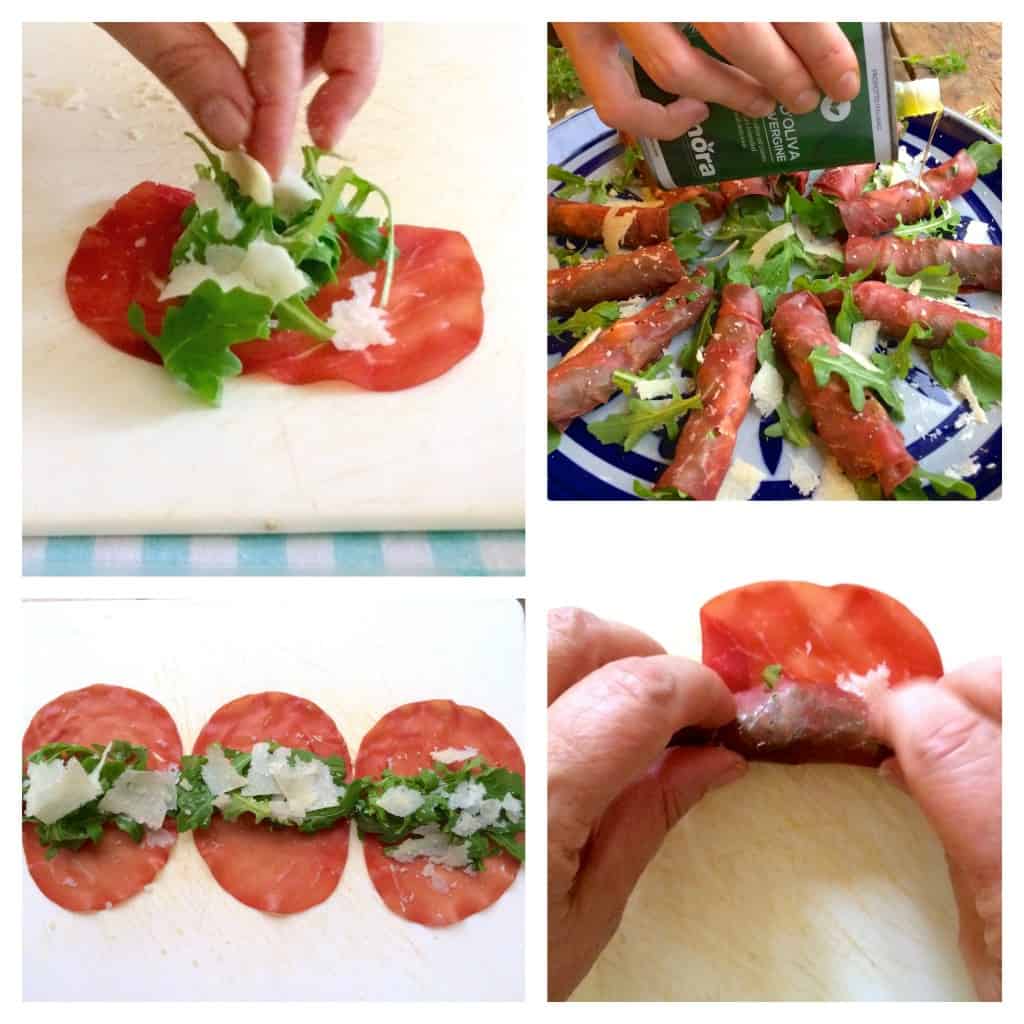 Place a few arugula leaves in the center of a slice of bresaola, top with some shaved Parmigiano Reggiano. Roll up, arrange on a serving platter and drizzle with extra virgin olive oil. Serve.
Jill's appetizer turned out to be absolutely show-stopping! It looked so impressive, but Jill whipped it up in minutes! Couldn't this just be the cover of a food magazine?
The two appetizers went perfectly together, and although I made the bresaola, Parmigiano and arugula appetizer, I loved Jill's goat cheese preparation just as much!
Karen's pork came out of the oven smelling heavenly! She let it rest and mixed up a little sauce in the pan. She also cooked some green beans with lovage, and some lovely French potatoes to go with the pork.
Everything was ready and the plan was to eat outside, but Mother Nature had a different idea. I just took this photo and it began to rain! Doesn't it look incredibly delicious? I can assure you–it was!

We had our wonderful dinner together, along with some wine and great conversation. It couldn't have been better.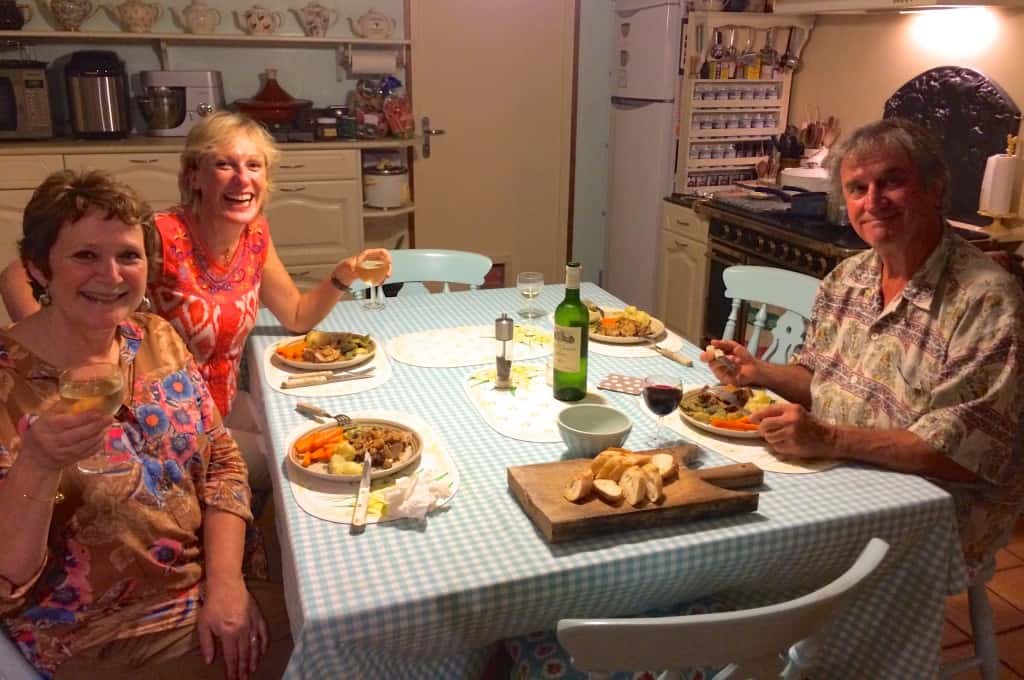 Karen made us a decadent dessert which included meringues and cream and we ate until we couldn't take another bite. Everything was so good!
Breakfast
We all went to bed as there was more cooking lessons to be done the next day before Jill and I would have to leave for Paris. And this is what we woke up to–a typical French breakfast.
Karen gave us some time after breakfast to pack up and get our things together (Jill and I couldn't believe our time was almost over; we were having so much fun)!
Fougasse
It was back into the kitchen to make a traditional bread from the Provence area called "fougasse".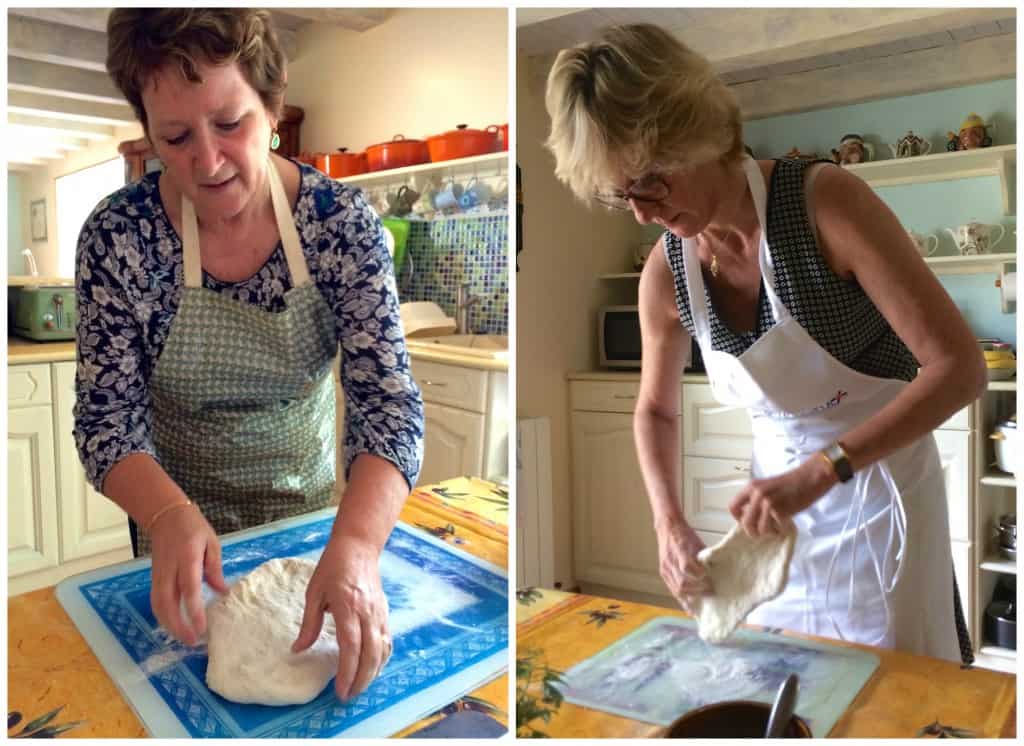 Fougasse has a particular shape and has cuts throughout. It's rather like a French focaccia. Jill and I chose from different cheeses and herbs, plus lardons to sprinkle generously over the top.
Cherry Tomato Clafoutis
While the fougasse was baking, Karen made a cherry tomato clafoutis. It too, was quick, easy, nutritious and delicious. She made it with tomatoes from her garden.
Our fougasse was ready. What a treat!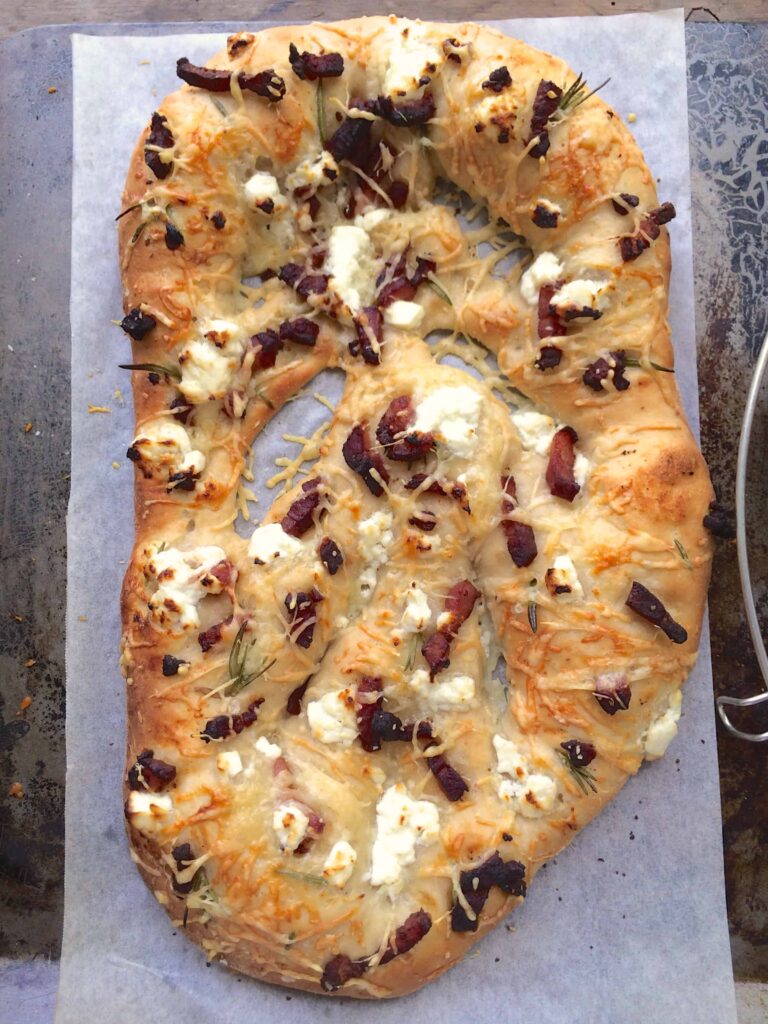 Now it was time for the clafoutis to go into the oven, and while it was baking, Karen pulled together a cheese plate. Are you hungry yet?
Once the clafoutis came out of the oven, it was time to eat. It turned out beautifully.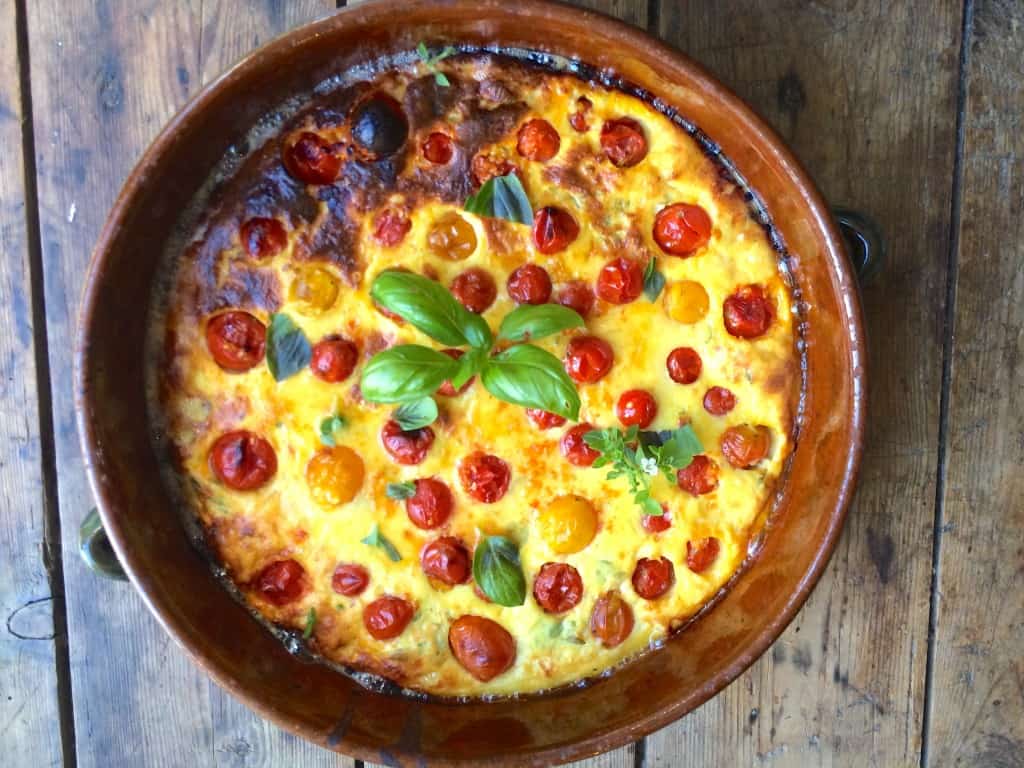 Jill and I picked up some tips from Karen, and loved the fact that we were shooting photos on her famous wooden table. After our clafoutis picture taking session, we had a lovely lunch together, our reward for our efforts in the kitchen. How can anyone not love to cook? It's just so much fun!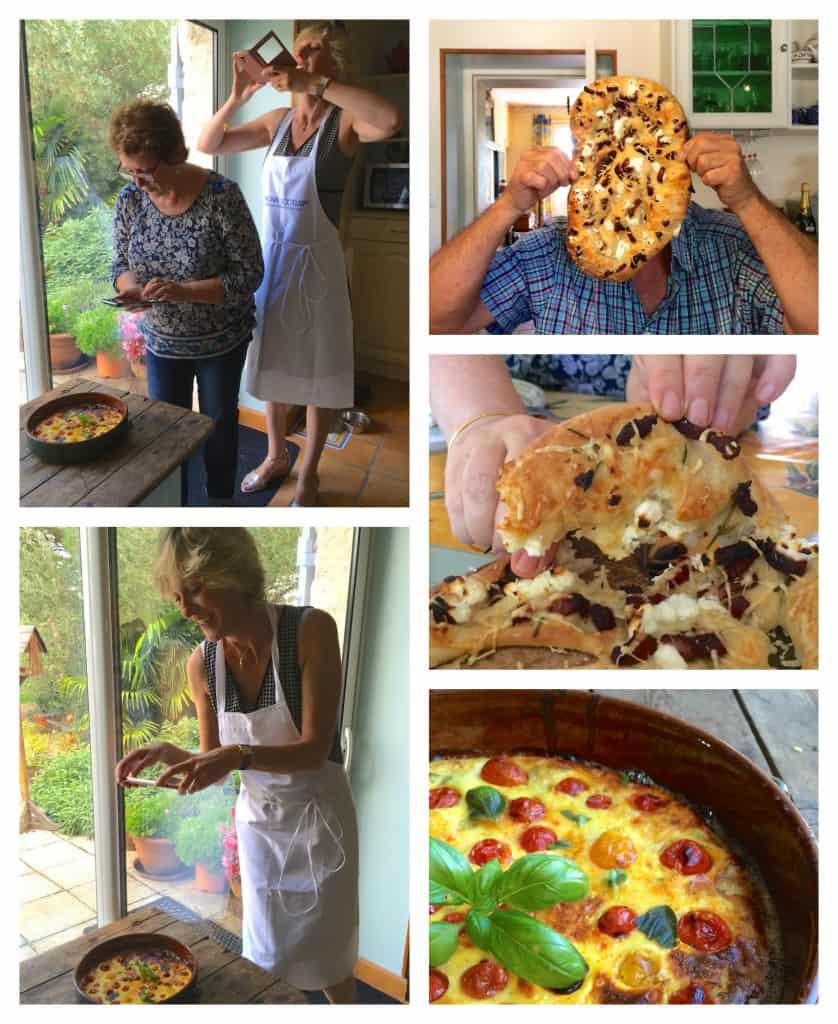 Goodbye!
Malcolm was a star and got us to the station with a few minutes to spare before the train arrived. I even managed to snap a beautiful shot of the sky and part of a sunflower field as we went zipping past.
We had just enough time to say our goodbyes and thank both Karen and Malcolm for the most brilliant and enjoyable stay before hopping on our train to Paris!
You can also read Jill's post and see her photos on her site, Mad About Macarons.
Chateau Guynot for Pineau and Cognac in France. The cooking class is no longer available (updated).
As promised, the printable recipe for the bresaola, Parmigiano and arugula appetizer.
Bresaola, Parmesan and Arugula Appetizer
A quick and easy, no cook appetizer.
Ingredients
12 slices of bresaola
handful of arugula
parmesan cheese, shaved
extra virgin olive oil, to drizzle
Instructions
Place a few arugula leaves in the center of a slice of bresaola, top with some shaved Parmesan.
Roll up, arrange on a serving platter and drizzle with extra virgin olive oil. Serve.
Notes
You can use other ingredients, but the ones listed are recommended.
Nutrition Information:
Yield:

4
Serving Size:

3
Amount Per Serving:
Calories:

78
Total Fat:

5g
Carbohydrates:

0g
Protein:

9g
Don't miss another post! Sign up below for my recipe and travel posts.
Disclosure: Karen invited me as a friend to stay with her, but was not compensated in anyway. I am disclosing these statements in accordance with FTC regulations.
Christina's Cucina is a participant in the Amazon Services LLC Associates Program, an affiliate advertising program designed to provide a means for sites to earn advertising fees by advertising and linking to Amazon.com.