Almond and Orange Biscotti are a wonderful addition to the holiday baking season, but they can be made any time of year! Not too sweet, crunchy, and perfect with a cup of tea or coffee.

Every year just before Christmas, I make lots of packaged, bagged and plated gifts of cookies. I give them to neighbors, friends, our mailman, gardener and also as hostess gifts.
As an Amazon Associate I earn from qualifying purchases.
Depending on who I give them to, I put them in anything from a food grade, festive paper box, to a beautiful china platter.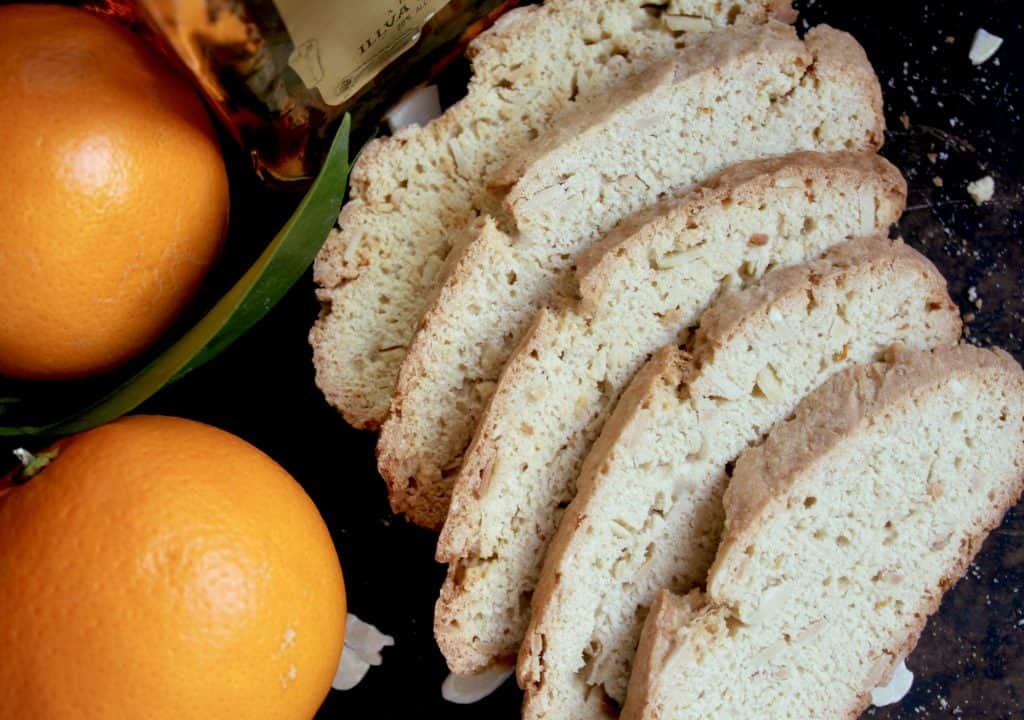 A key to this edible gift giving is to make cookies and biscuits that don't get soft, stale or are no longer pleasant to eat after just a few days. One of my mother's favorites is this crunchy Australian Almond Bread. It keeps for weeks and looks beautiful in a cookie platter!
Another great choice are Italian biscotti. Before I get to the recipe, I want to explain what biscotti actually are.
What are biscotti?
Biscotti are Italian cookies. The term "biscotti" simply means "cooked twice", but in Italy, if someone asks if you want a biscotto (biscotti is plural, biscotto is singular), they are just asking if you want a cookie/biscuit.
Some people think that biscotti are a single type of cookie, like the ones in the photo below. This is incorrect; that's like thinking chocolate chip cookies are the only "cookies" available.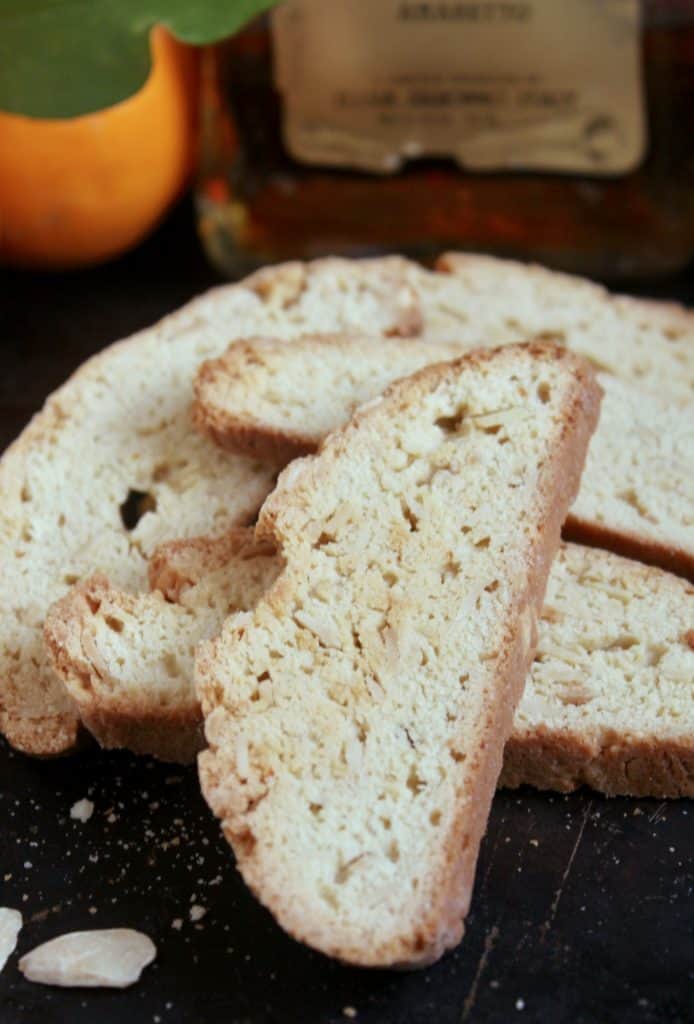 These Almond and Orange Biscotti aren't very strong on the almond flavor (which is good for me since I'm not a huge fan of Amaretto). If you are a fan, add a couple of drops of almond extract to the dough.
You can also dip part of these biscotti in some dark chocolate as it would go really well with the orange flavor. I kept them plain this time, but now the neighbors will know one of the treats that will be on their Christmas cookie plate this year!
Almond and Orange Biscotti
(Biscotti con Mandorle ed Arance)
recipe adapted from a handwritten 3×5 card my mother wrote over 30 years ago
PRINTABLE RECIPE BELOW
Make the dough
You can make it in a bowl, by hand, but I used my Ankarsrum Assistent mixer.
Shape the dough
Put the dough on a worktop and shape into a log, then place on a lined cookie sheet.

Bake the log of dough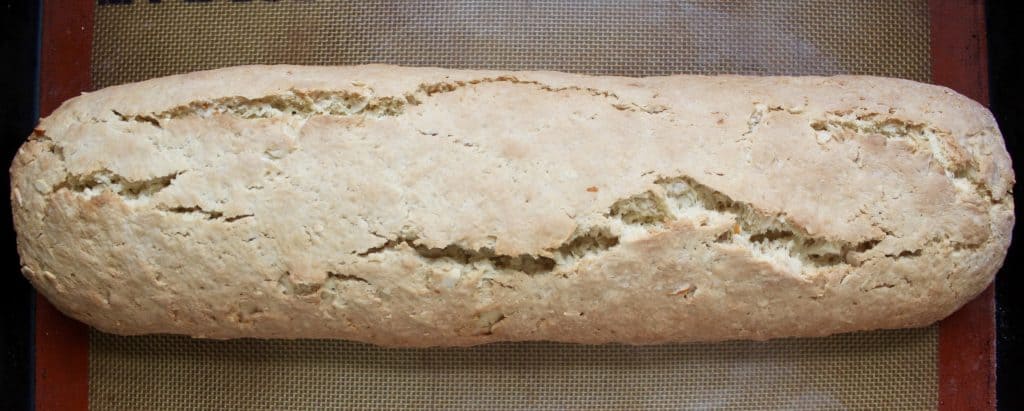 Cut the log into biscotti
Bake again (biscotti = cooked twice)
The second time the biscotti are baked makes them more crunchy and hard.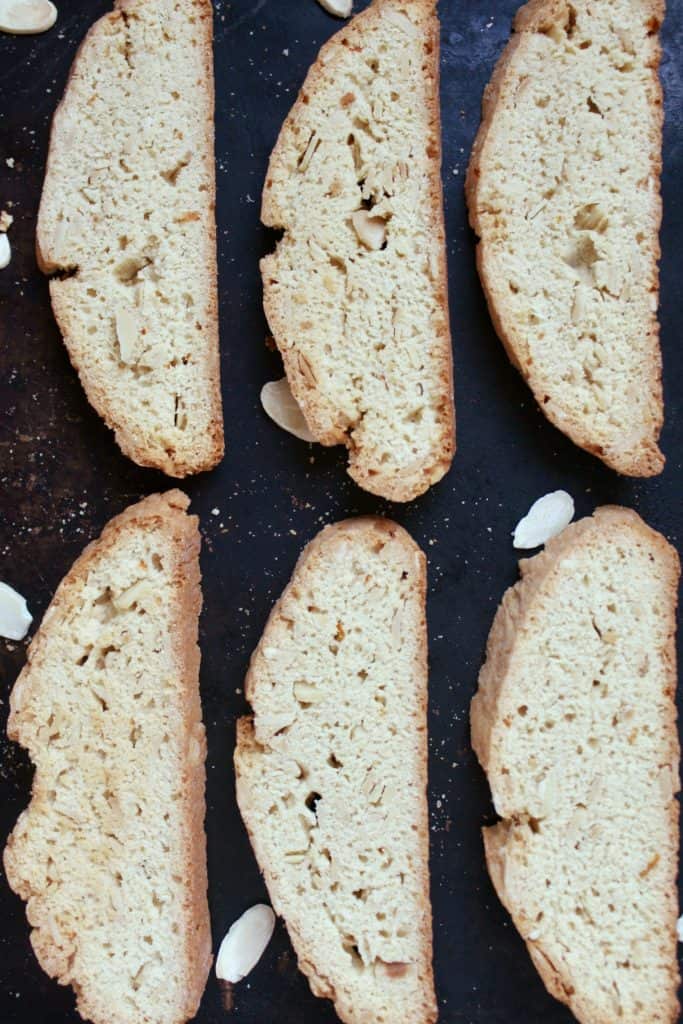 Store in a tin, or dip in some chocolate, if desired. If you do want to dip these Almond and Orange Biscotti, you can dip the bottoms, or a third or half, or just one side, versus dipping the entire biscuit. Be sure to use good quality chocolate, like Callebaut.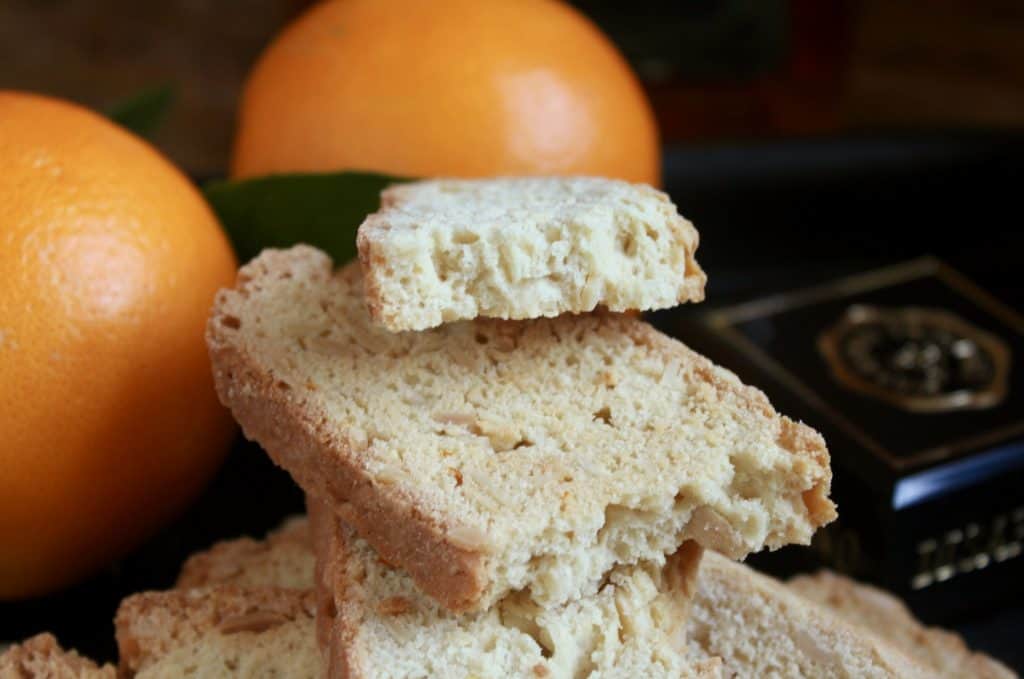 Almond and Orange Biscotti (Biscotti con Mandorle ed Arance)
Total Time:
1 hour
20 minutes
A crunchy Italian style cookie that's great with tea or coffee.
Ingredients
114 g (1 stick) unsalted butter, at room temperature
145 g (3/4 cup) sugar
2 Tbsp grated orange rind
2 tsp vanilla extract
440 g (3 cups) all purpose (plain) flour
2 tsp baking powder
1/2 tsp salt
3 eggs, slightly beaten
2 oz Amaretto liqueur
100 g (1 cup) slightly toasted almond slices
Instructions
Oven temperature 350°F (175°C)
Cream together butter, sugar, orange rind and vanilla until light and fluffy.
Sift the flour, baking powder and salt. Slowly begin adding the dry ingredients to the creamed butter mixture until well combined.
Slowly add the beaten eggs and Amaretto. Gently add the sliced almonds and mix well.
Place the dough on a floured worktop and shape into a long flat log shape about 4" wide and the length of the cookie sheet. (I used a silicone mat so the biscotti do not stick, but you can use parchment paper if you don't have one.)
Bake in preheated oven about 45 minutes (turn once during baking), or until lightly browned. Remove from oven and cool slightly, then cut 1/2" slices at a slight angle (if you'd like longer cookies) using a serrated knife.
Place cut side down back on the cookie sheet and bake for another 15 to 20 minutes.
Nutrition Information:
Yield:

24
Serving Size:

1 biscotto
Amount Per Serving:
Calories:

169
Total Fat:

7g
Saturated Fat:

3g
Trans Fat:

0g
Unsaturated Fat:

4g
Cholesterol:

33mg
Sodium:

120mg
Carbohydrates:

22g
Fiber:

1g
Sugar:

7g
Protein:

4g
My friend Cynthia at What a Girl Eats has a Cherry, Almond and Chocolate Chip Biscotti recipe which is made in a food processor.
Find the recipe here.
✧
Christina's Cucina is a participant in the Amazon Services LLC Associates Program, an affiliate advertising program designed to provide a means for sites to earn advertising fees by advertising and linking to Amazon.com.
Almond and Orange Biscotti