Hotel Schweizerhof, Zürich is a truly top-notch hotel in Switzerland, and ranked as one of the best. If you are looking for a wonderful place to stay in a central and convenient location, this hotel can't be beat.
Leaving the Grand Hotel Villa Serbelloni in Bellagio wasn't easy, but we were heading to Zürich, Switzerland and would spend the night at another top-notch establishment, the Hotel Schweizerhof.
Disclosure: my car rental was sponsored by Auto Europe and travel insurance by Travelex, both brands I have used and loved in the past. We were hosted by the Hotel Schweizerhof for a one night stay with breakfast. All opinions are always my own.
Instead of taking the ferry back to the other side of Lake Como, my mother and I agreed that we'd take a different route, and drive around the perimeter of the lake instead. We would head towards the city of Como to pick up the autostrada there. The estimated driving time was under four hours; here's a map to show you our route starting from Bellagio.
The views along the road hugging the edge of Lake Como were as picturesque as we had expected.
We enjoyed the sounds, too! Click on the photo of the church tower.
Driving through the small villages wasn't an issue, but as I stated in my last post, having a compact car is a plus. We were surprised at the massive tour buses that are allowed to drive through these small villages.
We drove through Como and were on the autostrada heading north into Switzerland after about an hour's drive. Como is very close to the Swiss border, so we were back in Switzerland after only a few minutes of being on the autostrada.
Almost half way into our drive in Giornico, Switzerland, the traffic stopped completely, and people were even out of their cars. There was a two hour delay for the Gotthard Tunnel, which was the reason for the traffic jam.
TIP: learn from my experience and try, if possible, not to drive through the Gotthard Tunnel during holiday weekends, especially when the mountain passes are not yet open.
I didn't know that this is a regular occurrence during busy times, such as holiday weekends, however the nice thing was I was able to take some photos I never would have if the autostrada was flowing as it should have been.
Here's a photo in the tunnel, and the traffic moves well inside it. Don't worry, my mother took photos while I was driving!
Mum just kept catching her breath and saying, "How beautiful!"
When we got off the autostrada for a smaller road towards Zürich, we had to stop to take in the breathtaking views of Lake Lucerne and the mountains from Sisikon and the Tellsplatte viewpoint. Click the photo below to see a video clip.
The scenery changed, but did not become any less stunning, for the rest of the drive to Zürich.
During our drive, Mum and I discussed how the Hotel Schweizerhof and its staff had a massive task ahead of them to be able to impress us after our stay at the Grand Hotel Villa Serbelloni. In fact, we actually felt rather sorry for them, thinking that our standard had been raised so high, that it might be impossible to meet so soon after our departure from the GHVS.
Upon our arrival in the famous city of Zürich our first stop was to check in to the Hotel Schweizerhof, which is in a fabulous location–literally steps away from the train station. Although we were arriving by car, it was very easy to find.
Parking is in a public structure nearby (valet or self park is available). Mum and I were greeted at the front desk by Andi, the concierge, and offered a drink right away, which is one of the many ways that Hotel Schweizerhof shows they care about their guests (a welcome drink is included in the room rate). The staff was extremely friendly and helpful and it didn't take long before we were shown to our room.
I don't know what I was expecting as I'd seen photos of the hotel and rooms online, but both my mother and I were extremely impressed by the well-appointed, classically styled room to which we were taken.
The soothing color scheme was exactly what we needed after a long drive, and there was a lovely welcome plate of sweet treats, fruit and a handwritten note–we felt right at home! Fresh flowers, fruit and bottled water are in every room for all guests. Wi-fi is complimentary, which, as you probably know, is not always the case. Many other amenities are offered at no charge, such as slippers, dvd players, and an evening butler! The beds are electronically adjustable, but they were so luxurious, we didn't even think of it! Another huge bonus is the bountiful Champagne breakfast buffet is included in the room rate (just wait until you see it)! And we were concerned about Hotel Schweizerhof meeting our high standards!
The bathroom was spacious, decorated in Italian granite, and stocked with scented soaps, lotions and personal items.
We had a balcony which overlooked the main shopping street in Zürich, Bahnhofstrasse (translates to train station road), the main train station, which is the largest one in Switzerland, and a lovely view beyond it. The windows are triple-glazed to ensure a good night's sleep. The rooms also offer air conditioning, which may be necessary during summer months.
I want to point out one of the biscuits which was in our room which is made like a spoon and apparently meant for stirring coffee. I LOVE these biscuits! They don't look like much, but they are crispy and hard and the flavor is fantastic! See if you can find these if you're in Europe and you'll see what I mean.
Edited July 2019: I was in Basel this past May and went to Läckerli Huus and bought a box of 50!!!

After freshening up, Mum and I were given a quick tour around the hotel before heading out for a stroll around Zürich. Café Gourmet is a French-style bistro restaurant and caviar boutique which is open for breakfast, lunch and dinner. The Schweizerhof Bar has been recently renovated and is a gem (look at the red chandelier)! Even if you don't stay here, don't miss coming in for a drink or light meal.
The other dining option is at La Soupiére, an elegant choice serving French and regional specialties prepared by Chef Martin Fencz. You'll see the restaurant later as it's where breakfast is served.
There were fresh flowers in the lobby and throughout the hotel which is always a touch of class, in my opinion. My mother agrees–she adores fresh flowers!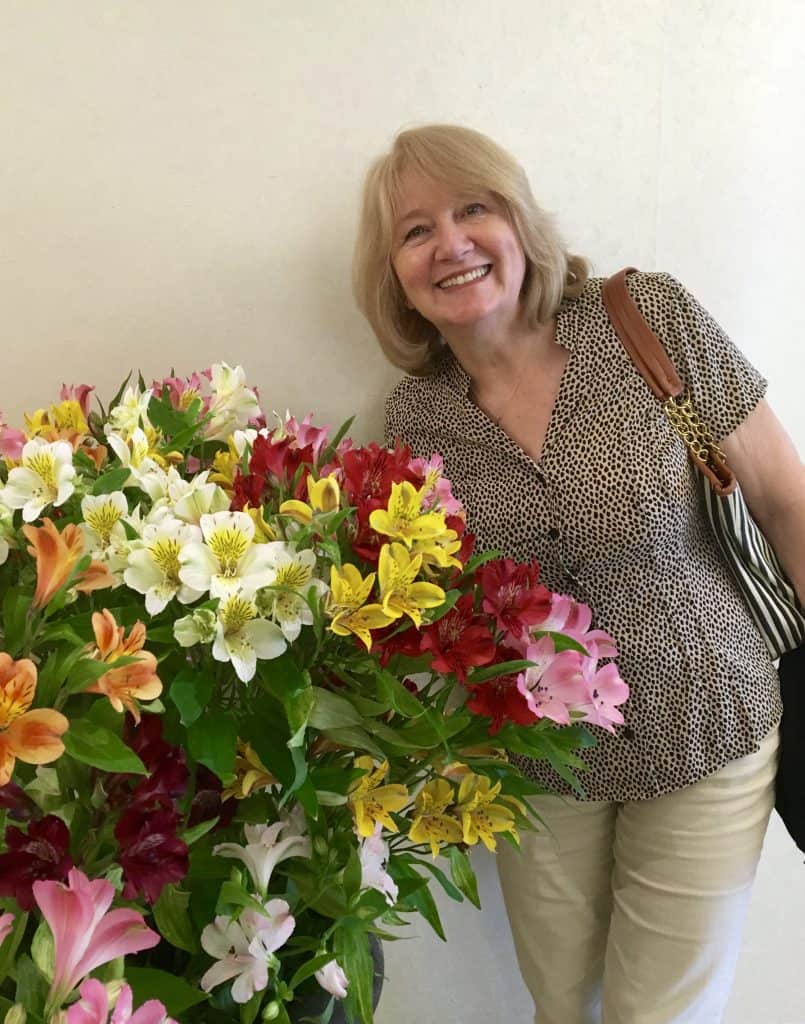 The hotel's history is very interesting (it was built in 1876/77) and you can read about it on the website which I'll include below. After our tour, Mum and I headed down Bahnhofstrasse to go to dinner. The street is car-free, which is always a bonus for pedestrians.
As we walked down the street, I spotted a Teuscher Chocolate shop, one of my favorite chocolatiers. We also noticed some amazing architecture, and soon heard church bells start to ring. It was 7 pm, but the bells didn't just ring seven times, they kept going and going!
The bell ringing was from St. Peter Church of Zurich, which has a massive clock face. Mum and I walked towards the church to take a closer look. Click the photo below to hear the bells.
Afterwards, we walked towards the Limmat River which flows from Lake Zürich.
We had passed a restaurant on the way to the church which piqued our interest. It was called Zeughauskeller, and just the other day I noticed it on a list, "Where to Eat in Zürich", by Rachelle from the Travel Bite.
It was such a lovely evening, we would have loved to eat outside, but alas, one of my biggest issues with European travel: smoking. It seems that everyone smokes when they are sitting outside, so al fresco dining wasn't an option.
The restaurant was extremely busy so I thought we were fortunate to get a table inside. We learned the history of the restaurant from the paper placemats: the restaurant was built in 1487 (before Columbus sailed the ocean-blue!) as an armory (zeughaus=armory). After 1926, it was converted into a restaurant and has been such an establishment ever since, with weapons only as decor.
Soon after we ordered, three other guests joined us at the table (family style tables are a common thing in Germany and Switzerland). I have to add, I actually ordered in German: "Zwei wienerschnitzel mit pommes frites, bitte"! And that, my friends, is pretty much my max in speaking German–I can order certain foods up to five at a time. I ended up changing one of our pommes frites (fries) to rösti (a Swiss version of a latke-hash brown type potato pancake) but did that in English.
Before our food arrived, we chatted with the newly seated guests, Marcel, Mukuka and Mwila, who each ordered one of the most unique beverages I've ever seen. Click on the photo to watch our intrepid waiter, Amr prepare this eye-opening cocktail. First he poured in some brandy into the enormous one liter glasses, then set it aflame and swirled the liqueur around the glasses.
Next, the beer is poured in and it is topped with malt before being served. The name of this drink is Flambiert mit Feuerwasser which I'd guess is flambé with firewater! Click the photo below to see the end of the drink-making. It was very entertaining!
Our dinner mates were very impressed and we could barely see them behind the massive glasses!
By now, our meals had arrived and Mum and I were not disappointed! In case you don't know, wienerschnitzel is a very thin, breaded veal which is fried and usually served with french fries and originated in Austria. You may have seen my own recipe version which I make with pork (which would be called schweinschnitzel). Our schnitzels were very good, as were the fries and rösti! We finished it all!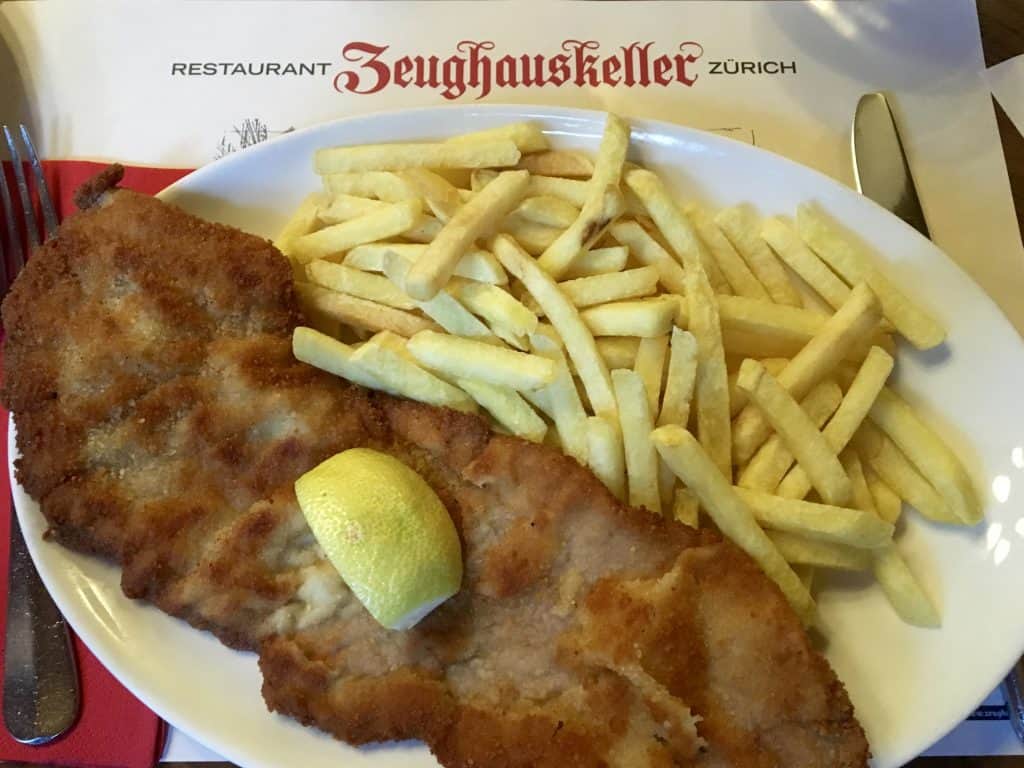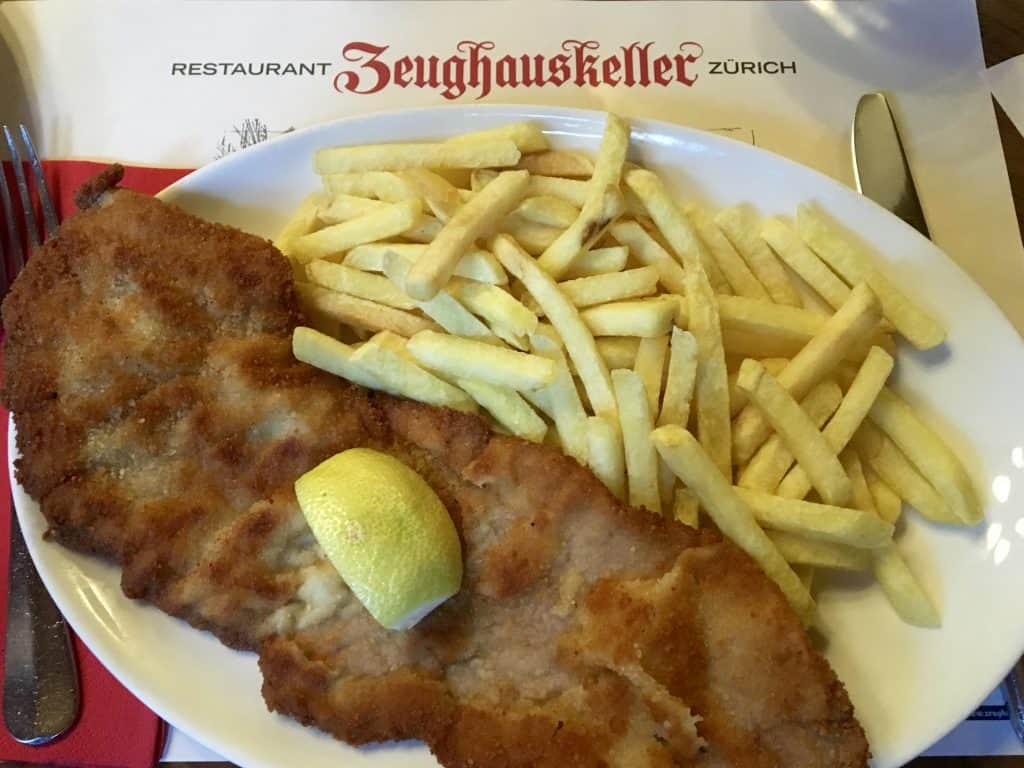 After dinner, we walked along the river on our way back to Hotel Schweizerhof and admired the views.
It wasn't very far to walk back to the hotel, and it looked lovely at night.
We had the best night's sleep in super comfy beds!
One of the things that I had loved about what I saw on the hotel's website was their breakfast buffet. It just looked marvelous and as I suspected, it was even better in real life. It just so happened to be Mother's Day (in the US and in Switzerland), so this was a really special way to start our day!
As I explained earlier, the breakfast buffet is served in the La Soupiére dining room–the decor is classically elegant and refined.
Manager René seated us and immediately treated us to a glass of Mumm champagne and wished us a happy Mothers Day! He had a wonderful sense of humor and I could see he truly loved his job as he greeted other guests and served them.
Here is a description of the buffet choices-
Coffee, selected teas, fresh fruit juice and champagne
An assortment of light and dark bread
Cheese, yogurt, fruit salads and a variety of fresh seasonal fruits
Selected cereals
Homemade Bircher muesli
Smoked salmon, trout and an assortment of cold cuts
Scrambled eggs, bacon and sausages
Other egg dishes are included on request
Home made jam from the garden of our butler (sadly, we didn't get to meet him)
The dizzying assortment of foods was incredible, and the quality was top notch. This hotel did not disappoint in the slightest!
As if those choices weren't enough, a cooked menu is also offered. Mum had fried eggs and I just had to try the Nutella crepes–delicious!
After breakfast, Mum and I took one more walk into Zürich before we had to leave for the airport. We were flying to Rome that afternoon where my daughter, Denisa would meet us (a great Mothers Day gift)!
It was a very clear and bright morning–just perfect for a walk.
Both Mum and I had decided that the Hotel Schweizerhof had held it's own, even after our bar had been raised the night before. The wonderful staff, attention to detail, beautiful breakfast and many thoughtful touches made all the difference between a great hotel and an excellent hotel. I would return to Hotel Schweizerhof in a heartbeat.
After packing and loading up our car, we were off to the airport which is very close to the hotel. It was only about a 15 minute drive, and our car rental drop off was directly in the airport, as opposed to off-site, which was very convenient.
About two hours later, we were ready to take off for Rome!
And a few minutes later, we were already soaring over the Alps!
And once we landed in Rome, we waited at Fiumicino airport for my daughter who was on her third flight, and arriving from London about two hours after we arrived. She was exhausted when she came through the doors, but she made it!
NEXT POST: Do's and Don't when Visiting Rome
For more information or to book a reservation at the Hotel Schweizerhof
Disclosure: my car rental was sponsored by Auto Europe and travel insurance by Travelex, both brands I have used and loved in the past. We were hosted by the Hotel Schweizerhof for a one night stay with breakfast. All opinions are always my own. I am disclosing this in accordance with FTC regulations.