What not to miss in Naples is subjective, but a local's opinion is pure gold. If you only have one day, this is a food-focused list of what to see and eat in this ancient and marvelous city!
If you've been following along for the past few months, you'll know that in June I went to a wedding about two hours south of Naples in Santa Maria di Castellabate. I flew into Naples airport earlier in the day from Madrid. Unfortunately, my flight was delayed and I hadn't thought about bringing food on the plane, so when I arrived in Naples and went to pick up my car, I was ravenous!
I spotted a pizza place across the street when I was walking to get my car rental and literally stopped traffic to cross the street. You sort of have to do that in Naples, regardless of how hungry you are! 😂
(My Instagram story from Naples includes a clip of crossing the street.)
Unfortunately, the man in the pizzeria told me they didn't start making pizza until 7 pm and it was only 5:30 pm. I spotted a panzerotti type fried pizza filled with ricotta and mozzarella and asked if he could heat it up. He was so lovely and immediately responded, "Ma certo!" (certainly!)
I think he took pity on me as I looked exhausted and hungry because he asked if I wanted to sit down and rest while I ate. I had not had the best food experiences in Madrid, and one barista had been downright rude. So when I bit into this pizza fritta, the incredible flavor of the cheese and bread, in conjunction with this gentleman treating me so kindly and being able to understand and speak the language, it felt like coming home.
Despite one brief visit to Naples many years ago, all my other trips were into the airport or train station and that was it. Now, I'm kicking myself for missing out on all that Naples has to offer. I was always heading to see family, so I suppose I shouldn't be too hard on myself, but still–it's one of the most frustrating experiences I've had recently.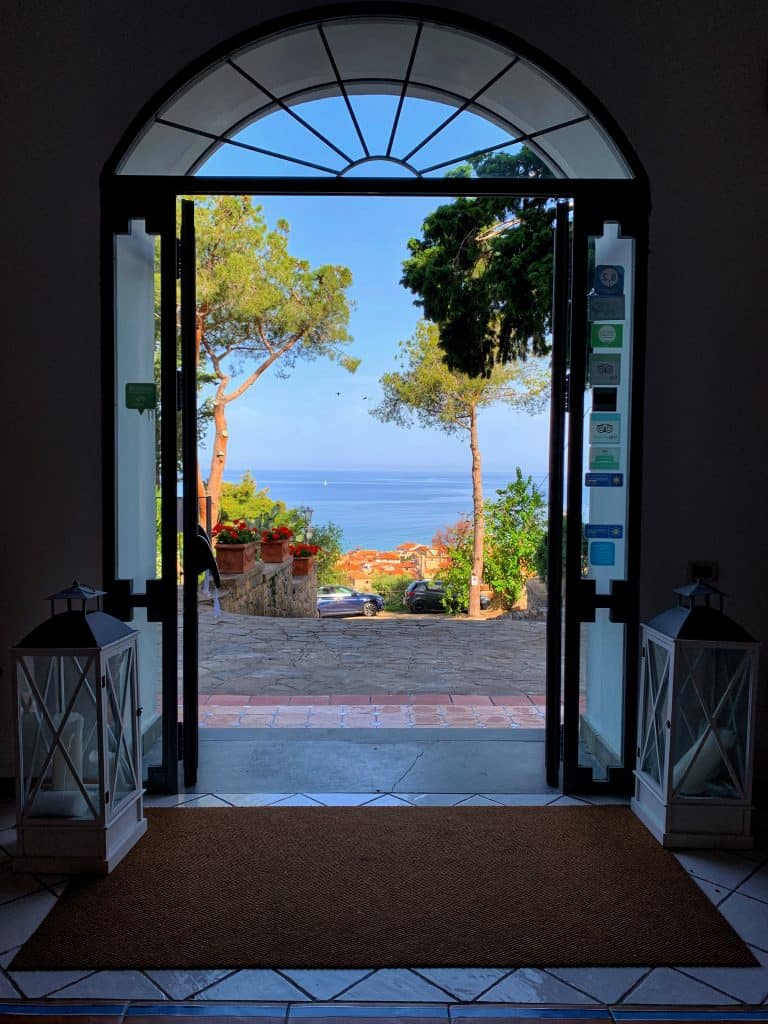 When I picked up my car and drove out of Naples I knew that wanted to spend at least a day in the city upon returning, but was unsure of which area to stay in the city. When I was in Santa Maria di Castellabate, I had the pleasure of meeting a wonderful Italian blogger named Alessandro Tipaldi (site link below.)
When I popped out of the elevator at the Hotel Garden Riviera one day, he was at the front desk. His cousin introduced me to him, and we started chatting. Lo and behold, he was the perfect person to give me guidance on visiting Naples. He agreed to write a list of places to go, see and most importantly, eat! I later picked up a piece of paper that I've referred to since as my "Holy Grail" of visiting Naples! Alessandro's suggestions follow, along with a few of my own.
This Itinerary can be Managed in 24 hours
I arrived back in Naples central train station around 6 pm and left about 6 pm the next day, so when I say you can do all these things in a day, I've done it myself! Tried and tested, and I never felt rushed. Another note: I walked everywhere, except to and from the train station.
Where to Stay in Naples
Alessandro told me that staying near Piazza del Plebiscito is a great choice, and he was spot on. What a great location! I must add, one of my concerns was traveling to a city I didn't know as a solo female traveler.
I felt completely comfortable and safe the entire time I was in this part of the city. So if you're concerned about visiting Naples, this is the place to stay. It's about 25 minutes on the Metro from the central train station and a 10 minute walk, unless you want to take a taxi.
I cannot recommend my bed and breakfast as it was an absolute disaster from beginning to end, however, that was just bad luck on my part. Via Chiaia is a wonderful street and anywhere near here would be a good choice location.
What Not to Miss in Naples
(if You Only Have One Day)
The View of Vesuvius and the Harbor
Don't assume you'll just see this famous volcano. A short walk from Piazza del Plebiscito is all it takes to get a fantastic view of Mount Vesuvius (photo above.)
This is how I started my 24 hours in Naples.
The harbor is also very photogenic, and there are many restaurants and Castel dell 'Ovo to wander through.
Keep walking around the seafront and you'll discover that you've ventured to one of the best known pizza spots in the city: Pizzeria Sorbillo. However, let me take you around as I did chronologically, because then you'll see that all these spots to visit and foods to eat are do-able in 24 hours, since I actually managed it myself.
Keep in mind that I visited in mid June, so the days were very long. If you visit in November, for example, you will definitely have fewer daylight hours.
Friggitoria La Masardona
In Piazza Vittoria, just down the street from the harbor and Pizzeria Sorbillo, you'll find a small "friggitoria", a place that only serves fried food. Trust me, this is unlike any fried food you've ever had in your life. It is now September, and I am still having pangs of misery when I think about this food and how good it was (I was there in June). Why pangs of misery? Because I miss it immensely and am dying to go back for more!
The second photo was definitely one of the best things I've eaten this year. Fried peppers with small tomatoes and provola cheese in a wonderfully light and delicious pizza dough. It was definitely a flavor explosion when I first took a bite, if I had to give a description. I have since made some at home, and although still very good, it was nothing like the one from Naples. The ingredients are just so much higher quality there.
I also had mozzarella in carozza (basically breaded and deep fried grilled cheese bites), and a pork, greens and cheese fried pizza. I went inside to have a peek at where they were cooking and the oil was absolutely clear and spotless! I have never seen oil like that any other place where food is fried. It's usually super dark which means it's been used over and over.
Even though it was a lot of food, I didn't get that gross, "sick" feeling I often feel after eating something fried in the US or UK.
I continued up to Via Chiaia towards my B & B, but happened to pass a place I recognized from Alessandro's list under "best gelateria"!
Casa Infante Gelato
As you can see I chose two flavors (which I don't remember now) and although it was very good, I wasn't as impressed as I was at the friggituria. Yes, I did have room for some gelato after eating all that fried food, but I will tell you that I walk a lot when I travel. I average about 8 miles a day when I'm in a city. It's definitely a good way to burn the extra calories I ingest because I never eat ice cream or gelato at home.
This next four items on my "What not to miss in Naples" list are my suggestions.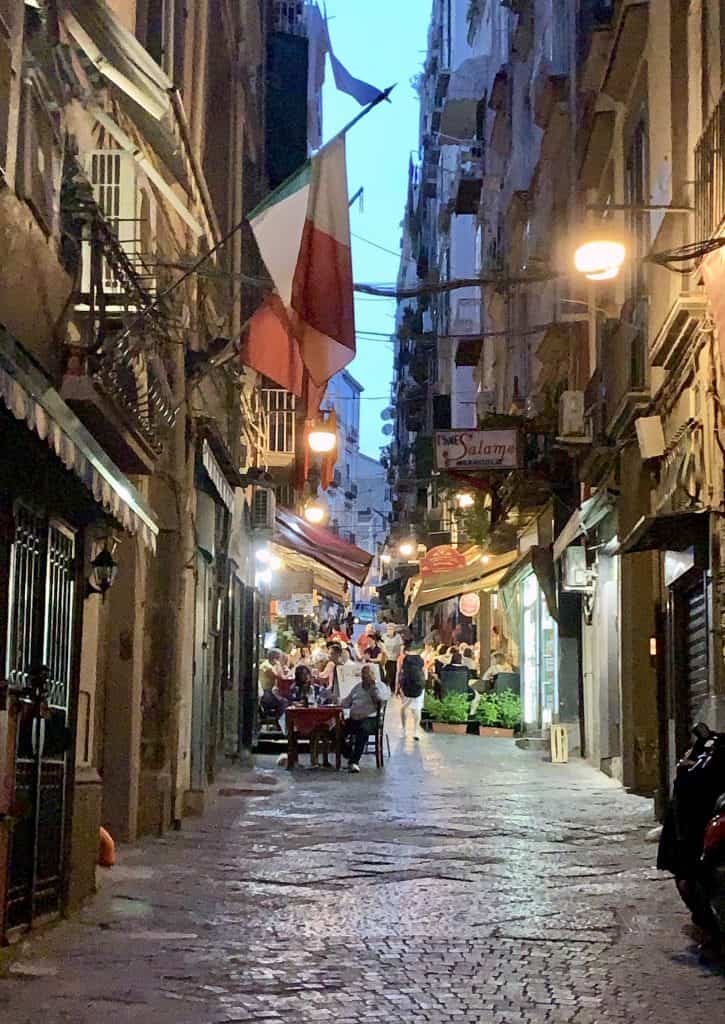 Spanish Quarter (Quartieri Spagnoli)
I walked around alone at night in this area and still felt completely safe. Remember, summer evenings in Italy are full of life. People have dinner much later than in the US and UK and because it's usually cooler, "una passeggiata" (going for a walk) is more bearable.
I walked back to Piazza del Plebiscito to see it at night: beautiful!
Gran Caffè Gambrinus
Just near the corner of the piazza is Gran Caffè Gambrinus, a historic and elegant bar/coffee house where they've hosted such guests such a Oscar Wilde and Ernest Hemingway. It's a shame to miss it since you'll probably walk right past it many times if you stay in this area.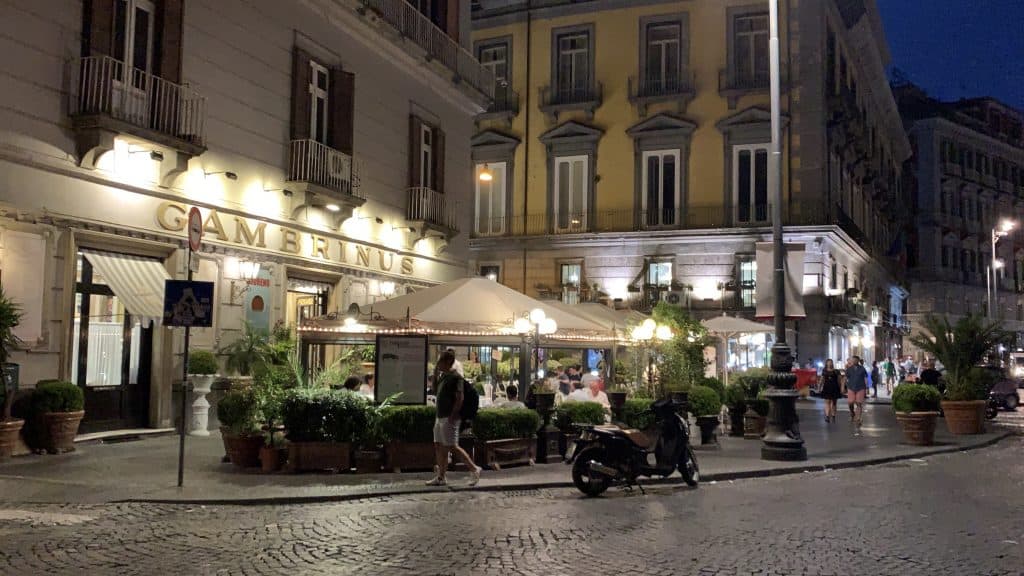 Just take a look at the interior to see why it would be a shame to miss it!
I read a sign outside which explained (to the best of my translation) that it seems that the "pay it forward" trend started here. How that can be proved, I have my doubts, but it's a lovely addition to the history of this famous coffee house. I went back to my B & B after my evening walk.
Coffee and a Pastry for Breakfast
If you stay somewhere in Naples with a massive breakfast buffet, it will be there for the tourists. A typical Neapolitan breakfast is coffee and a pastry. If you don't already know, Naples is very well known for having fabulous coffee. I don't drink coffee at home, but I do in Italy (because it's never bitter), and I definitely did in Naples.
So DO NOT MISS the coffee! Even if you don't drink it, give it a try in Naples. Order a cappuccino, but only before noon, or you'll probably get an eyeroll.
The only attraction that I paid for was the Naples Underground (Napoli Sotterranea) which is not the same as the Metro or subway.
Napoli Sotterranea
The Naples Underground tour is given in what used to be the aquaducts of the city. It was a docent led tour that was absolutely fantastic. I was on a small group tour with two other adults and their younger grandchildren. My tour was in Italian, but there are English speaking docents/tours, too.
We learned about the construction of the Greco-Roman aquaducts and how they were used as air raid shelters during WWII. Tip: if it's really hot, this is a good place to escape for a break from the heat!
I would highly recommend this tour, with two caveats: do not go if you are claustrophobic or cannot fit into small spaces. I had to duck and turn my body to fit into some of the spaces we went through. I could honestly write an entire post about this experience, so try to go if you are able. I'll add the link at the bottom.
By now you can imagine that I worked up an appetite, going down 136 steps, crawling through stone walls at 130′ below Naples' streets, then climbing back up those steps. Time for pizza! How could this not be on the What not to miss in Naples list? Here are a few photos I took along the way to Piazza Vittoria.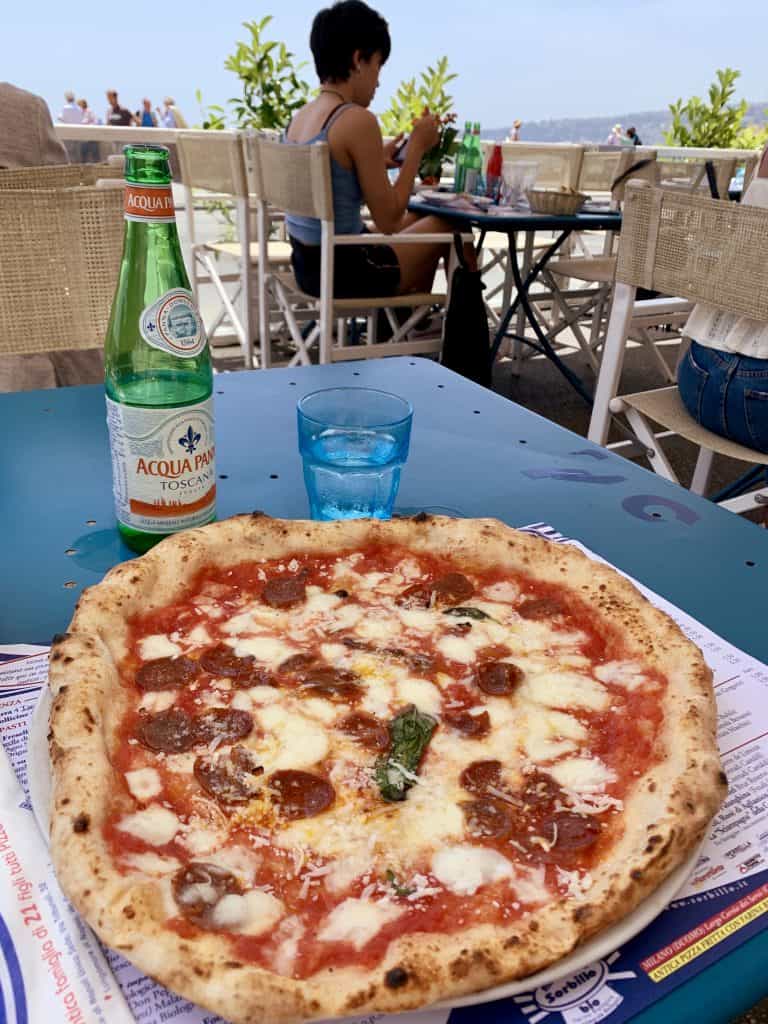 Pizzeria Sorbillo (Lievito Madre al Mare)
Just in case you think that authentic Neapolitan pizza is anything like a typical pizza from an American pizza place, think again. The home of pizza's creation is a stunningly light and thin crust, with a minimal of ingredients in the tomato sauce and usually toppings, too.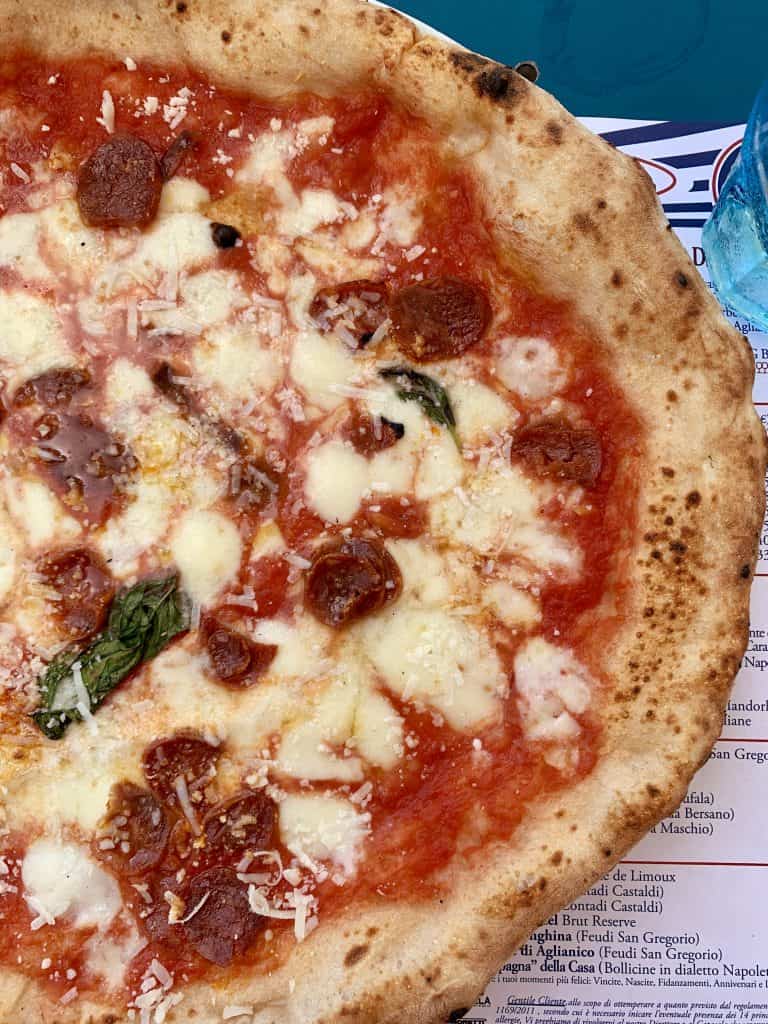 I ordered something I could only get here, which happens to have all DOP and organic, top quality ingredients, including dry-cured Italian sausage (my favorite!)
I ate my pizza overlooking the Bay of Naples and enjoyed every single bite and moment, wishing I could have the ability to stop time, once again. Pizza Sorbillo has two locations in Naples, one in Milan and New York. They are also opening one in Rome, soon.
Alessandro also recommended Pizzeria La Notizia, which is where I had originally wanted to go because I met owner Enzo Coccia here in Los Angeles just last year.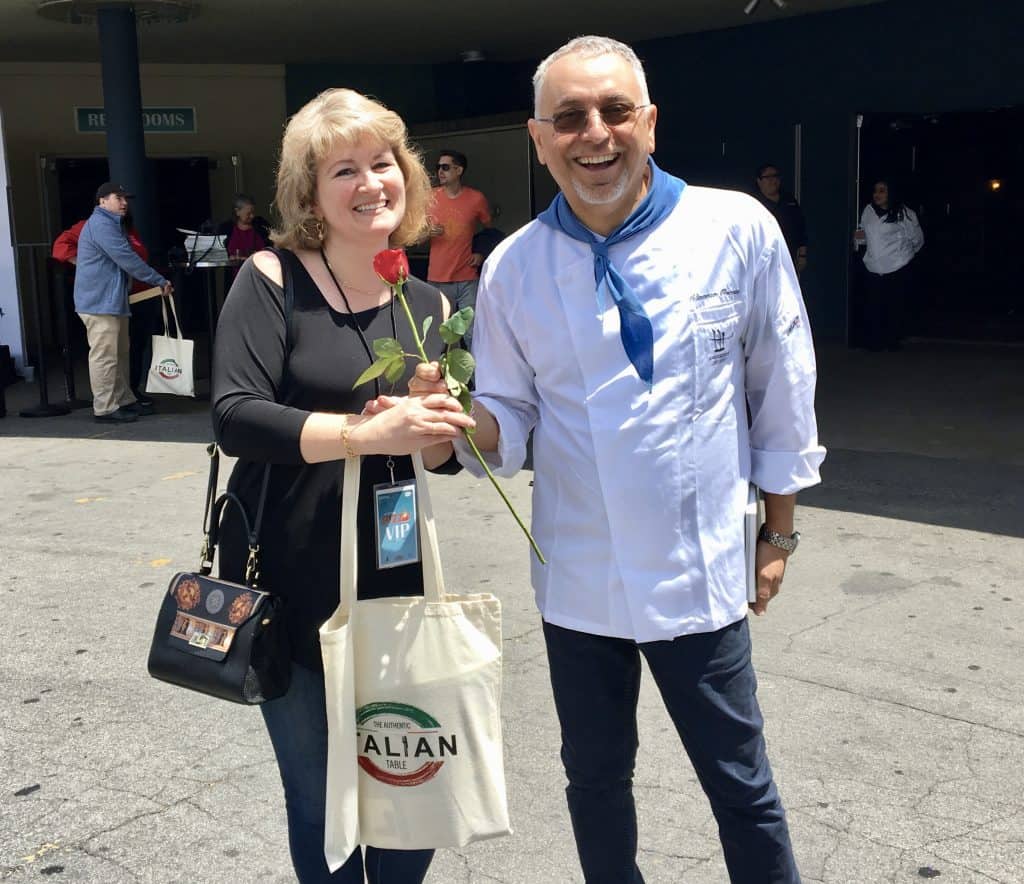 However, it was further away, and decided I'd go there next time, because trust me, there will be a next time very soon! If you do visit Naples for more than one day, don't be afraid to try pizza other places, too.
Sfogliatelle at Scaturchio
Sfogliatelle are delicately crisp, ricotta filled pastries, which my mother just happens to love dearly. They originated in nearby Salerno, and a Neapolitan pastry chef began selling them in Naples in 1818. You can now find them all over Italy, but Alessandro listed Giovanni Scaturchio as the place to find the best. The closest location to me was in the Opera House of Naples next to Piazza del Plebiscito.
I wanted to bring some pastries to my family as that's where I was going next, but having them wrapped up for hours in the heat didn't do them any favors and sadly they became soft. However, there's another pastry that's extremely popular in Naples, but it originated in France and I'm adding it to my "What not to miss in Naples" list. Alessandro didn't have this on his list, but I lucked out and found some absolutely stellar ones on my own!
Rum Baba (Babà al Rum) from Sfogliatella Mary
Also located close to where I was staying I discovered the best babà I've ever tasted. I can tell you that even my cousin Gianfranco and Zia Iolanda approved. Gianfranco declared it may in fact be worth going to Naples simply to pick up more babàs! I totally agreed, and told him I had the thought about going back to Naples on the train up to Cassino.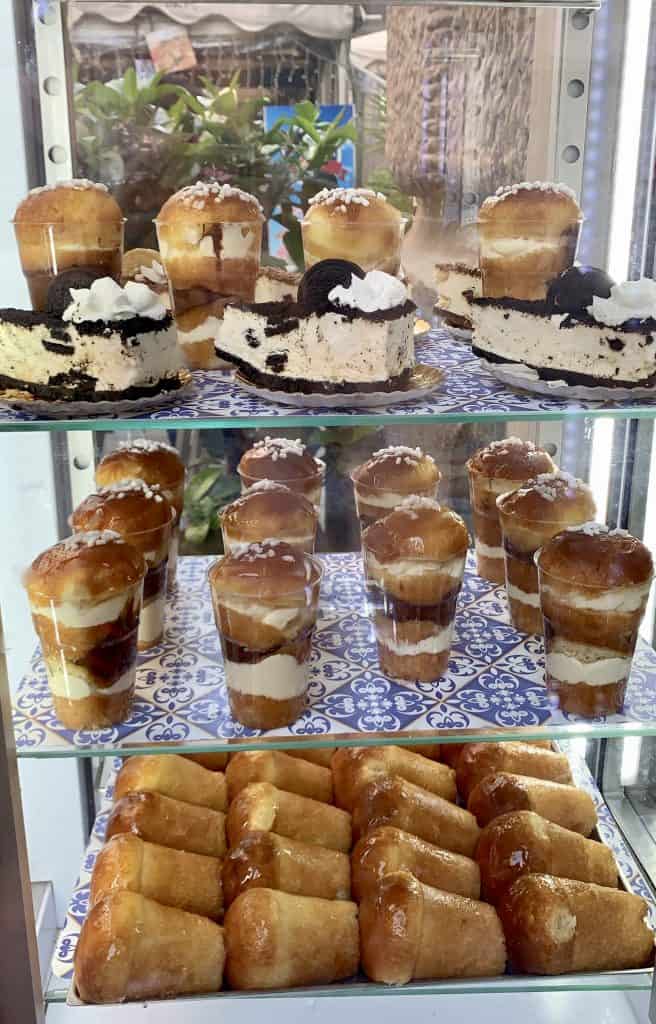 They were incredibly light and soaked in a sweet rum syrup, but they weren't cloyingly sweet. Gianfranco added some freshly whipped cream and we were all in heaven!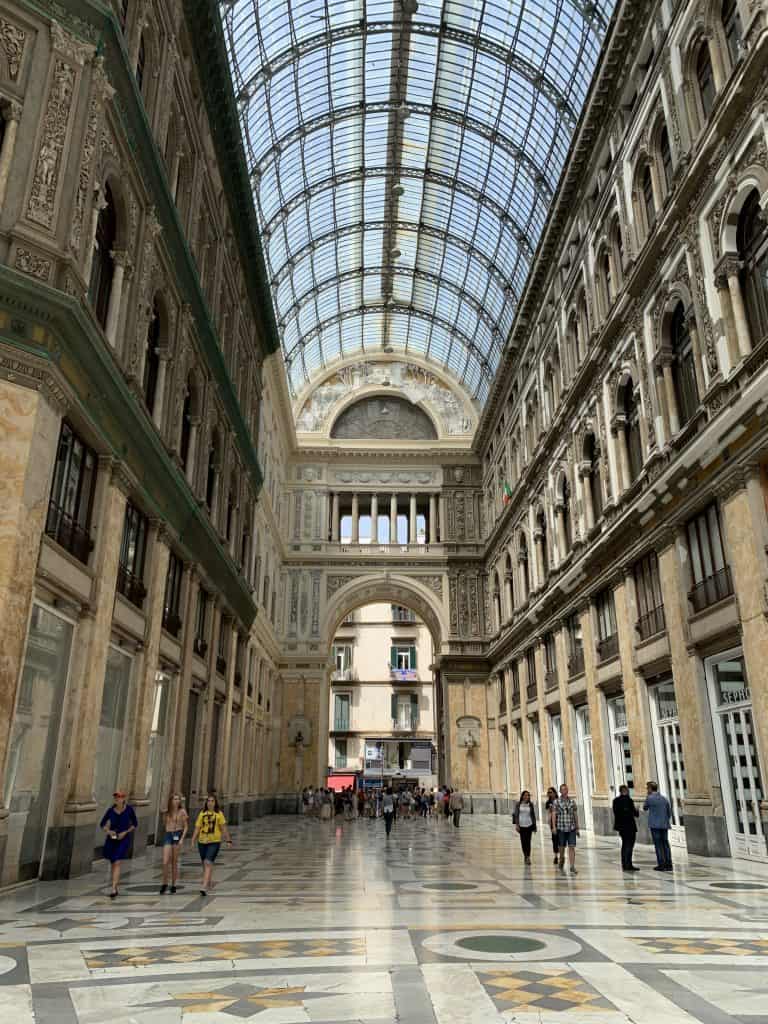 Galleria Umberto I
Sfogliatella Mary just happened to be located in this beautiful galleria. It reminded me a lot of the one I'd just visited in Milan. Even if you don't do any shopping or eat at any restaurant inside, it's definitely worth visiting just for the architecture and inlaid mosaic tile floors.
I walked through the galleria and into another part of the neighborhood and discovered yet another castle. It was really unique, so I walked over and into it, but didn't have time to actually take a tour.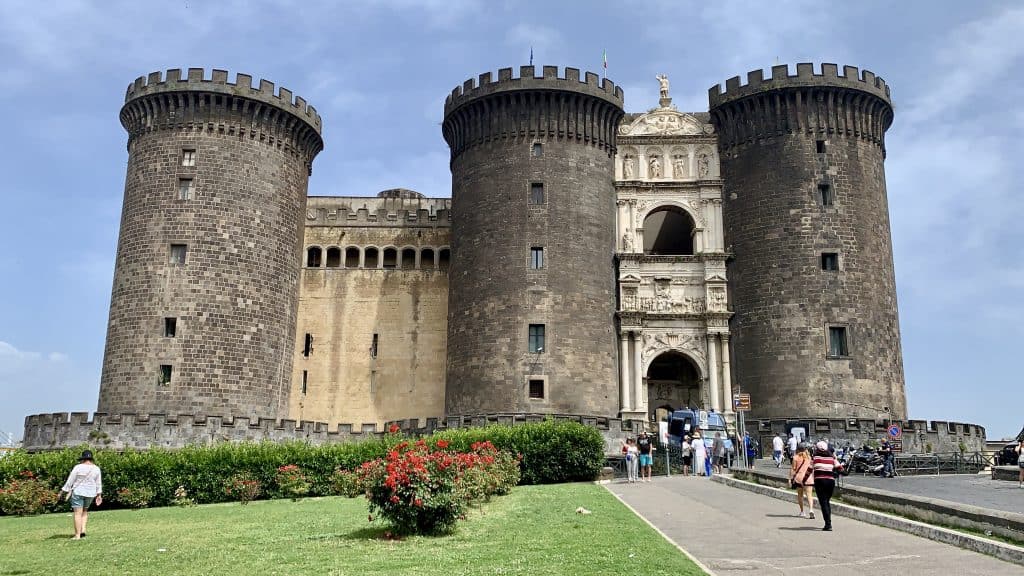 Castel Nuovo (New Castle)
This medieval castle features an art gallery as well as it's imposing structure. Another one to put on the list for the next visit, but I was elated to see it from the outside.
This was the end of my day in Naples as I had to head back to my bed and breakfast to pick up my luggage and pastries and go to the train station to catch my train to Cassino. I hope you found my "What not to miss in Naples" post helpful and if you are visiting, I would recommend staying longer than one day. It's painful to have to leave after only 24 hours.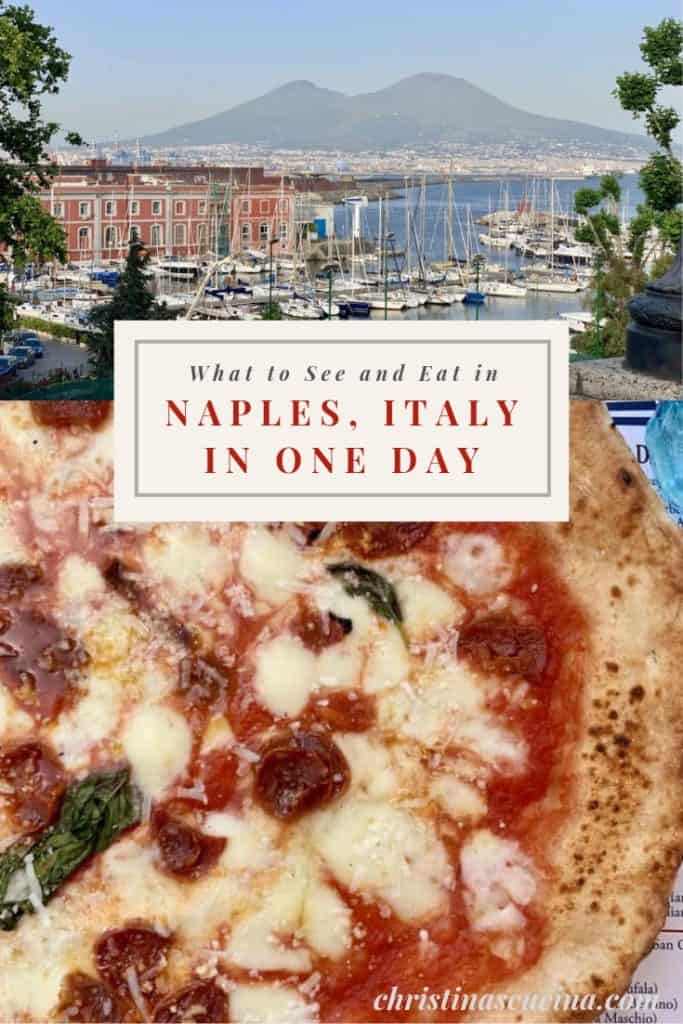 what not to miss in Naples