Korean bibimbap is a delicious Korean dish that is not only delicious, but incredibly healthy and nutritious.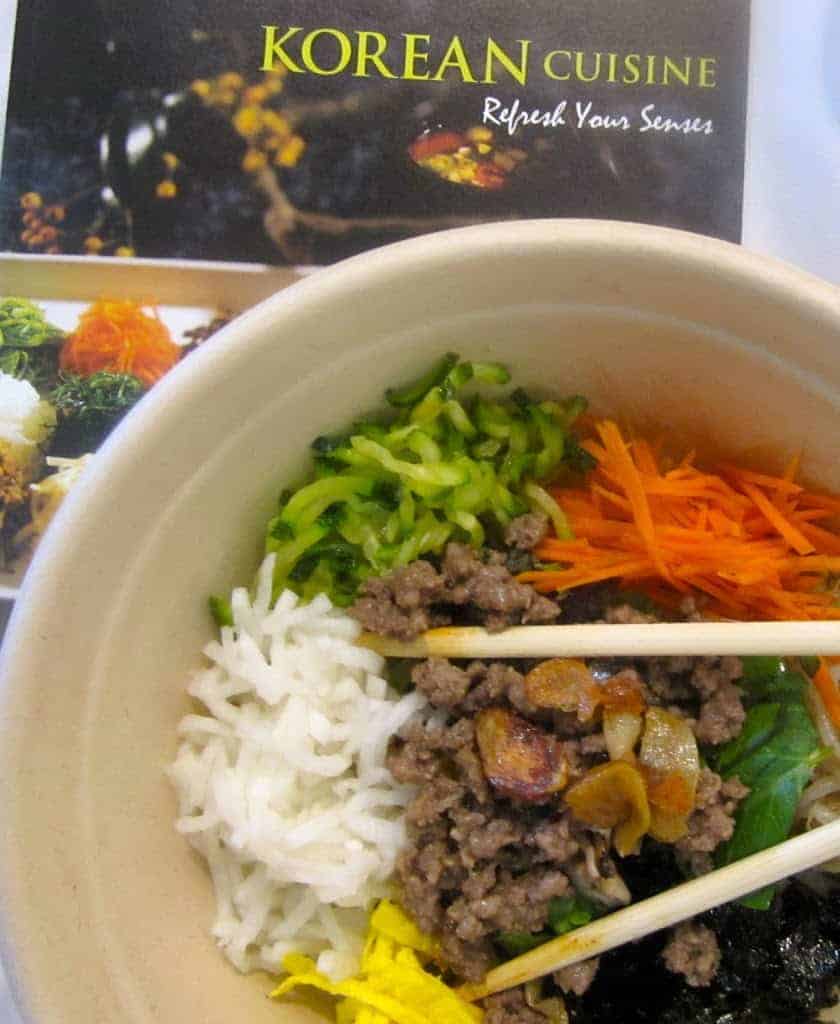 If you've been reading my blog for a while, you'll know that I adore Korean food.
As an Amazon Associate I earn from qualifying purchases.
Bibimbap Event
So when I was invited to attend the Korean Bibimbap Backpacker's event at the Korean Cultural Center in Los Angeles, I was really excited! The Bimbimbap Backpackers travel the world presenting Bibimbap tutorials, and spreading the wonderful Korean culture wherever they go! I was the first person to win one of the items they were giving away—a yummy sweet Korean pancake mix—which I've tasted before and LOVE, so I was happy!
I was so impressed with the wonderful presentation, the delicious dishes and explanation regarding all the different foods, but especially the bibimbap. What exactly is bibimbap? It means "mixed rice" and is a super healthy, and very delicious meal all in one bowl! Read on.
Korean food we were served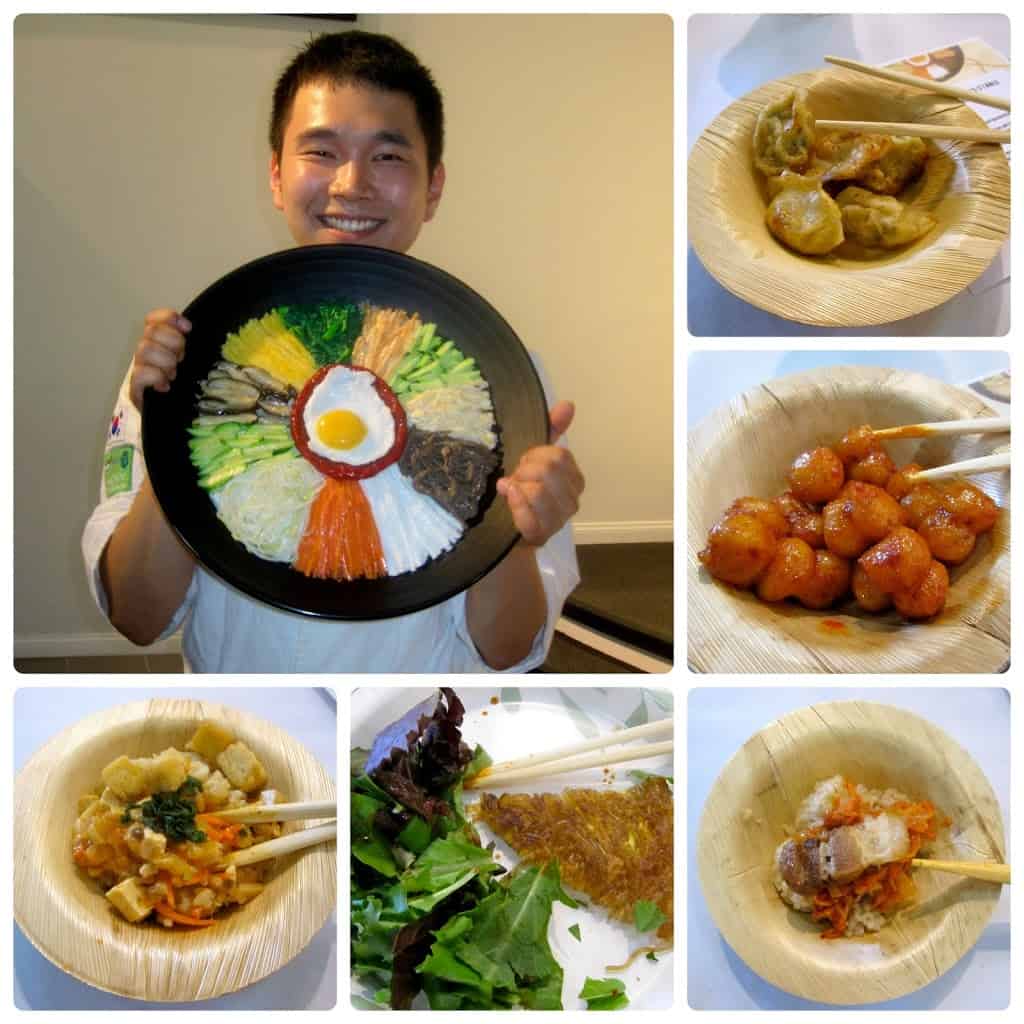 At the event, we were given "mandoo", deep fried Korean dumplings which were followed by rice balls with a spicy sauce which were chewy and delicious and reminded me of Italian gnocchi. Then a salad with a simple, yet tasty dressing and japchae (sweet potato starch noodles with vegetables) was served, and then came pork belly and rice; the final treat was a crispy tofu appetizer with rice, and these were just the starters!
Next, we were provided with details about bibimbap and how to serve it, and were told that it is important to have five colors of toppings which are placed on top of the bottom layer of rice, which not only provide a healthy variety of nutrients, but are important in signifying positive aspects of a healthy life, too.
According to the Bibimbap Backpackers, bibimbap helps the body excrete and burn unwanted fats (it really is probably one of the healthiest, most complete meals you can make.)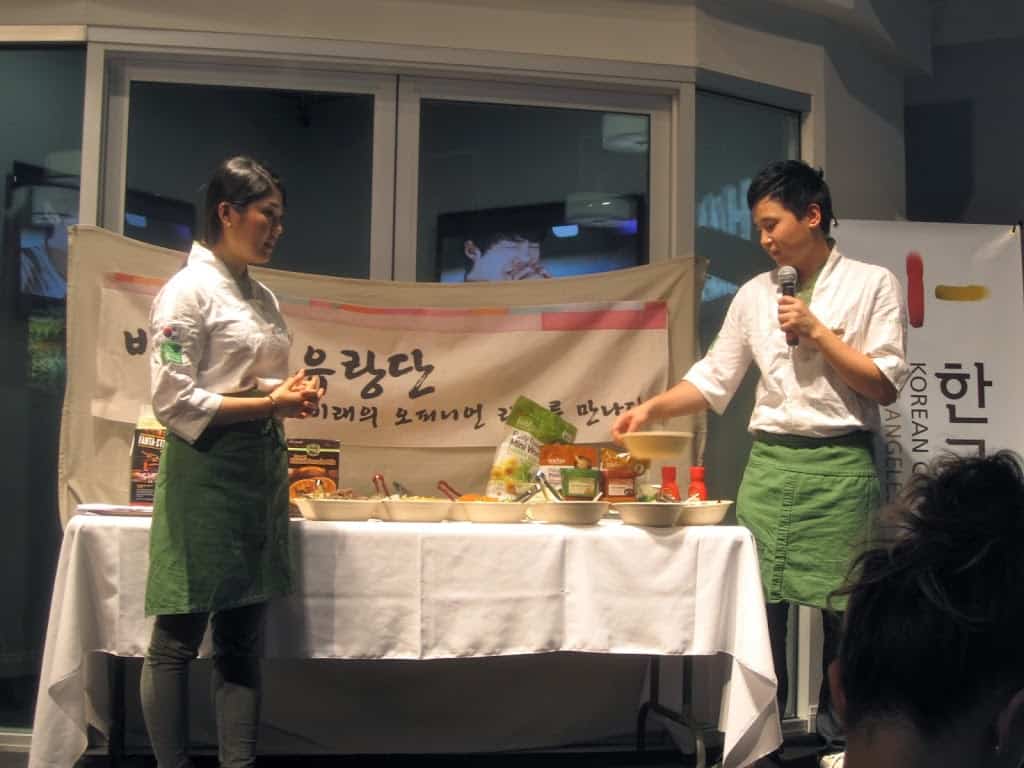 We were then able to make our own bibimbap!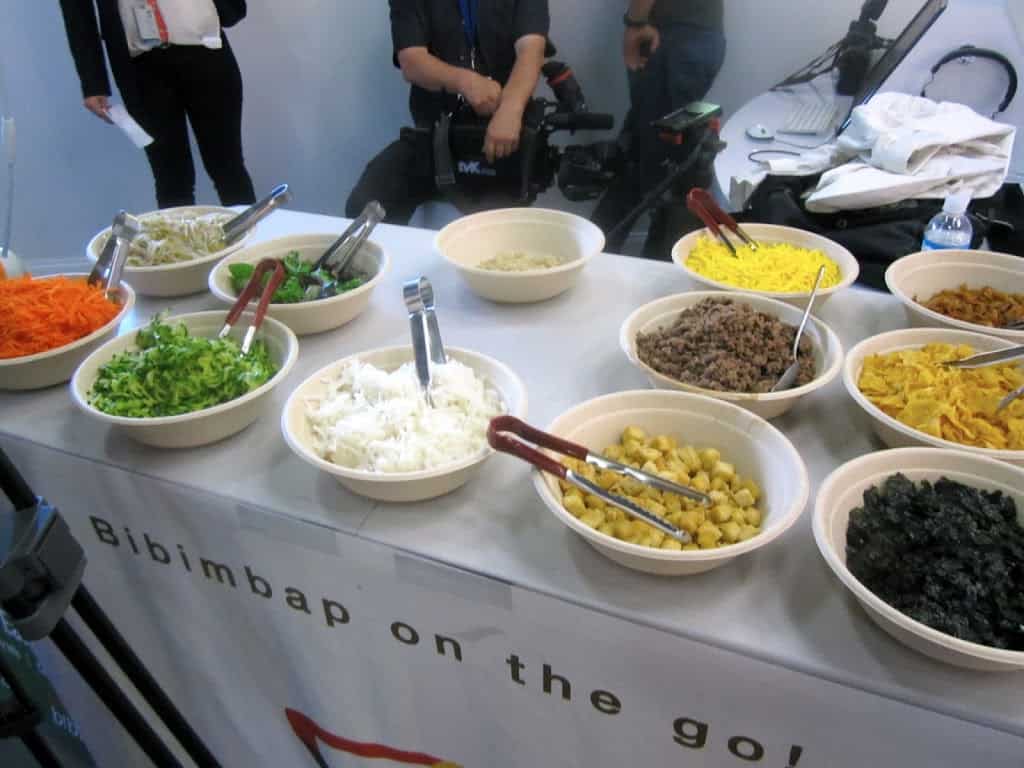 How to make a Bibimbap bowl
Bibimbap is quite simple, so anyone can make it at home. It would be a great idea for a buffet style party. Everyone can create their own bowl to their own liking. On top of steamed rice, we chose from:
shredded carrot
pickled radish (my favorite!)
shredded cucumber
shredded seaweed
mung bean sprouts
hard boiled egg yolk
lettuce
tofu
caramelized garlic
bulgogi (Korean barbequed beef)
Korean red sauce which could be drizzled on top
This is my creation and it was DELICIOUS!!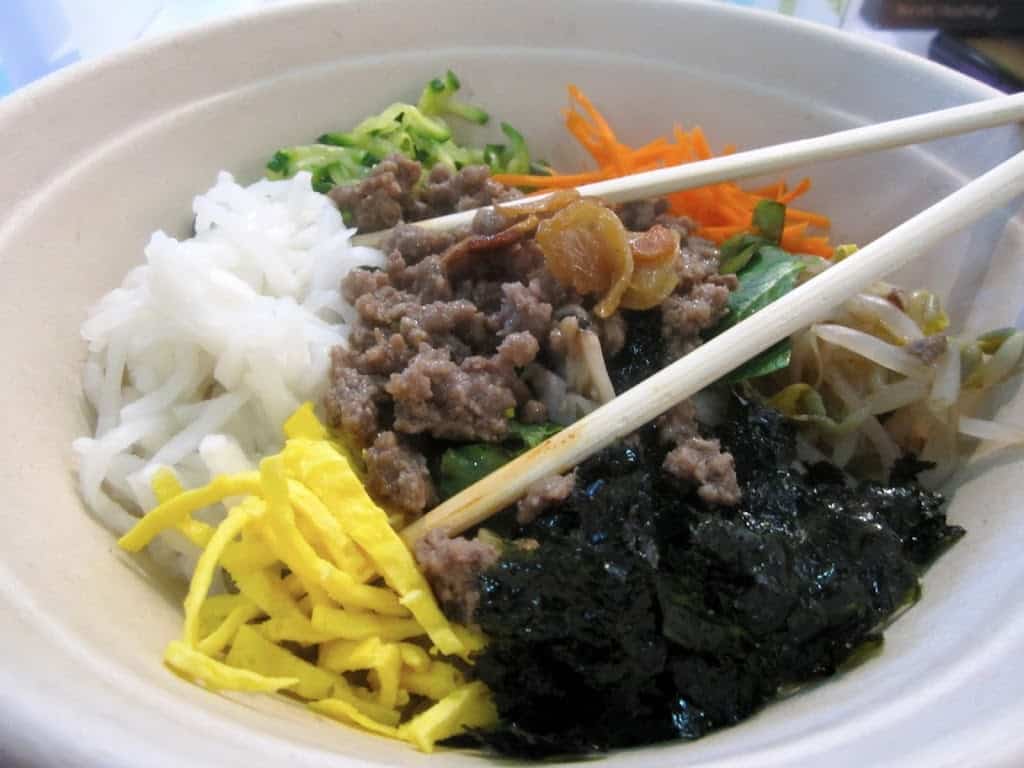 Finally, we were served a lovely fruit flavored tea, which was the perfect ending to such a healthy lunch.
Korean Bibimbap: A Delicious, Healthy Meal in a Bowl
Additional Time:
5 minutes
A healthy, colorful Korean rice bowl.
Ingredients
1 cup cooked white, sticky rice
THE FOLLOWING LIST OF INGREDIENTS ARE AS DESIRED
shredded carrot
pickled radish
some shredded cucumber
shredded seaweed
mung bean sprouts, steamed
hard boiled egg yolk, crumbled (or whole fried egg)
shredded lettuce
tofu, your choice soft or firm
caramelized garlic
bulgogi (Korean barbecued beef)
Korean red sauce which can be drizzled on top
Instructions
Put the rice in bowls.
Top with any or all of the toppings listed.
Add Korean red sauce if desired.
Nutrition Information:
Yield:

2
Serving Size:

1
Amount Per Serving:
Calories:

469
Total Fat:

20g
Saturated Fat:

5g
Trans Fat:

0g
Unsaturated Fat:

12g
Cholesterol:

225mg
Sodium:

1072mg
Carbohydrates:

47g
Fiber:

5g
Sugar:

16g
Protein:

27g
Nutrition information is only estimated.
If you have never tried Korean Bibimbap, (or any Korean food, for that matter), I cannot urge you strongly enough to get yourself to the nearest Korean market, or even Korean restaurant, to try some of the tastiest food you'll ever have. You'll find four more Korean recipes below.
Doenjang Chigae (Korean Bean Paste Soup)
Jal mug get sum ni da! (Bon appetit in Korean)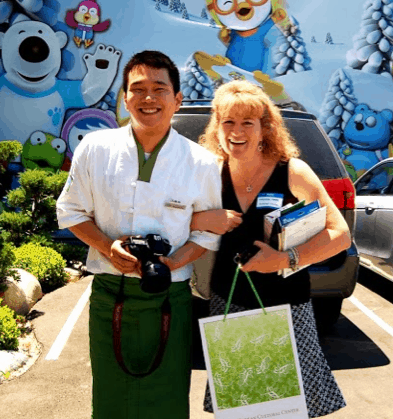 Don't miss another recipe or travel post; sign up for my free subscription below.
Christina's Cucina is a participant in the Amazon Services LLC Associates Program, an affiliate advertising program designed to provide a means for sites to earn advertising fees by advertising and linking to Amazon.com.