I'm going to give you 5 reasons to visit Orvieto in central Italy, and think that you'll agree that Orvieto is worth visiting!
My last travel post featured San Gimignano and Siena in Tuscany.
As an Amazon Associate and Booking.com affiliate, I earn from qualifying purchases.
After spending the night just outside Siena, Mum and I had planned to go to Civita di Bagnoregio, but ended up stopping in Orvieto for a few hours since we were passing through this historic city.
This will give you a little perspective on the area. South of Florence and north of Rome.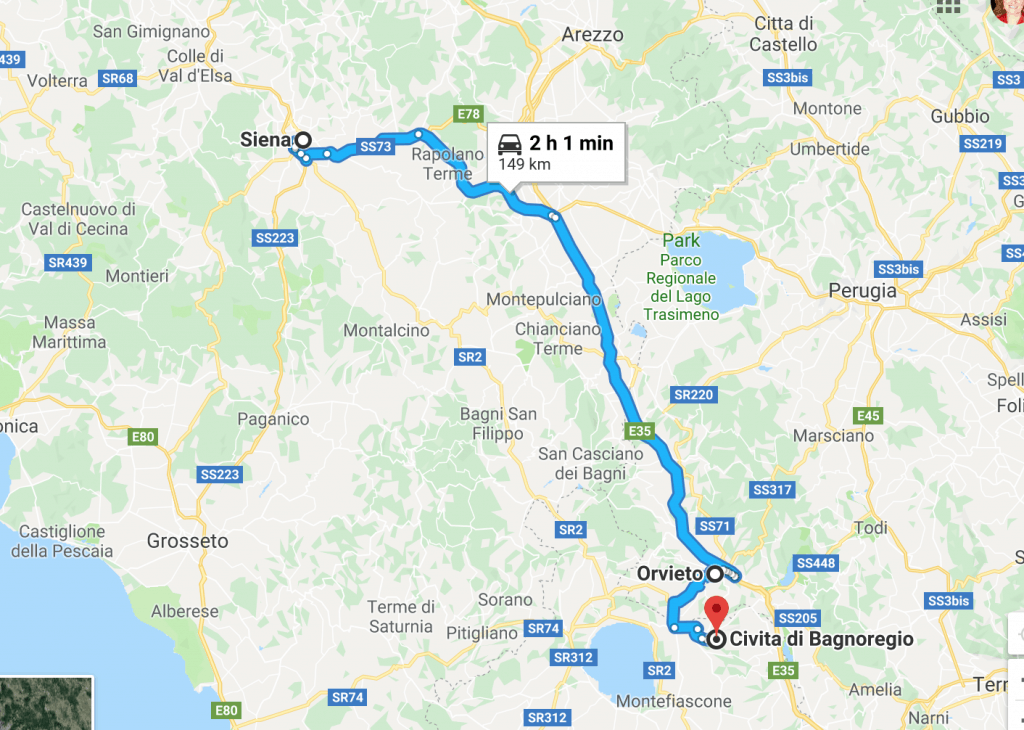 We drove up to the the historic part of Orvieto, which sits atop a hill. The views were spectacular.
But let me get to the 5 reasons you should visit Orvieto, Italy.
5 Reasons to Visit Orvieto
1. Accessibility
No matter where you are in Italy, other than the south, or the islands, Orvieto is easily within a few hours' drive. However, it works the other way around, too. While you're there, there are so many amazing places nearby! Here are just a few examples including the distance by car: Florence (2 hours), Rome (1.5 hours), less than 2 hours to the west coast and 2.5 hours to the east coast of Italy!
_______________________
2. See the Architecture When you Visit Orvieto
If you're into architecture, Orvieto is for you. Honestly, in the few hours we were there, it was fantastic to walk through the ancient streets, see the beautiful buildings. Of course, one cannot miss Orvieto's duomo (cathedral).
It was not just mesmerizing on the outside, but the interior was just as jaw-droppingly gorgeous.
The cathedral is built with stripes of white travertine and a dark basalt, similar to the cathedral of Siena.
It's interesting to note that Orvieto is built on volcanic rock called Tufa in Italian (tuff? in English). You can see that stones from this material were also used to construct walls in the city.
It's easy to just wander throughout the entire city!
3. History
Orvieto was inhabited by the Etruscans in the 3rd century BC, so you can imagine that this city has some amazing history. Since Mum and I just "popped by" for an afternoon, we didn't have time to see the top historical sites of the city. For example, there are a labyrinth of caves and tunnels below the city, built by the Etruscans, two historic wells to visit, museums and more.
It's difficult to separate the architecture from the history, just know that there is so much of both in Orvieto, you won't be disappointed.
_______________________
4. Views
Not only views off the top of the old part of the city as you can see, but views within the city. It's just so photogenic.
I had to pose with one of my favorite Italian vehicles: a Piaggio Ape truck! They're so cute! (Ape is not pronounced like the monkey, but ah-pey, meaning "bee".)
Unfortunately, I missed the "drop", but the man and woman were yelling at each other (actually just talking very loudly), when I realized he was catching his lunch. She literally dropped it off to him!
______________________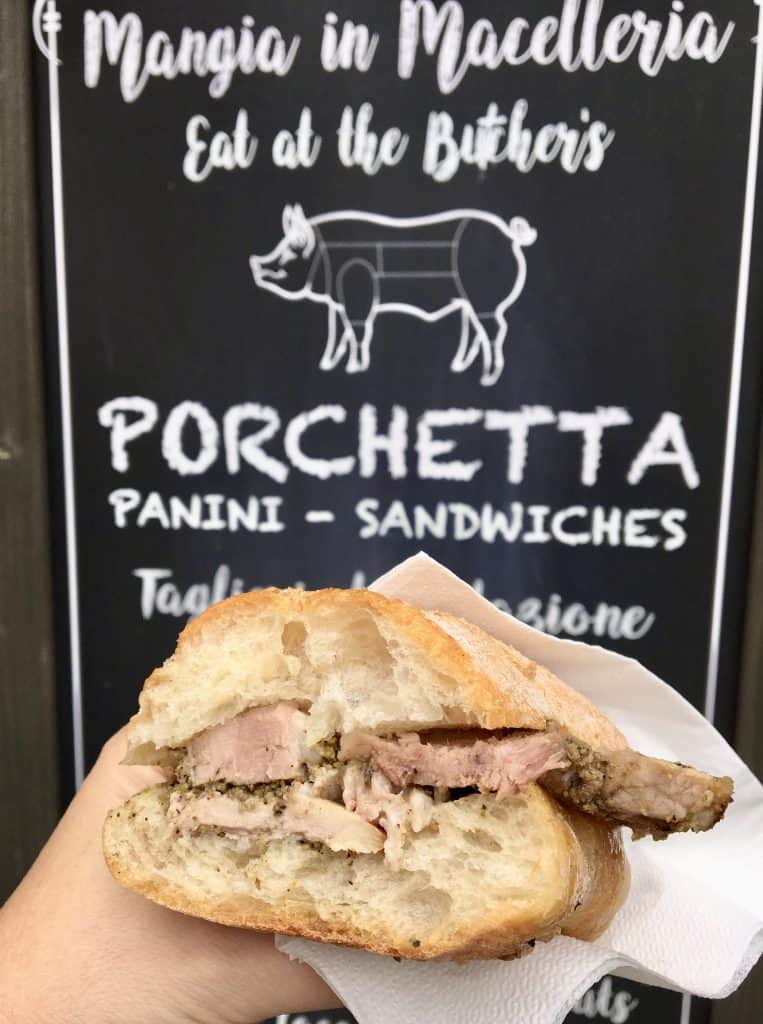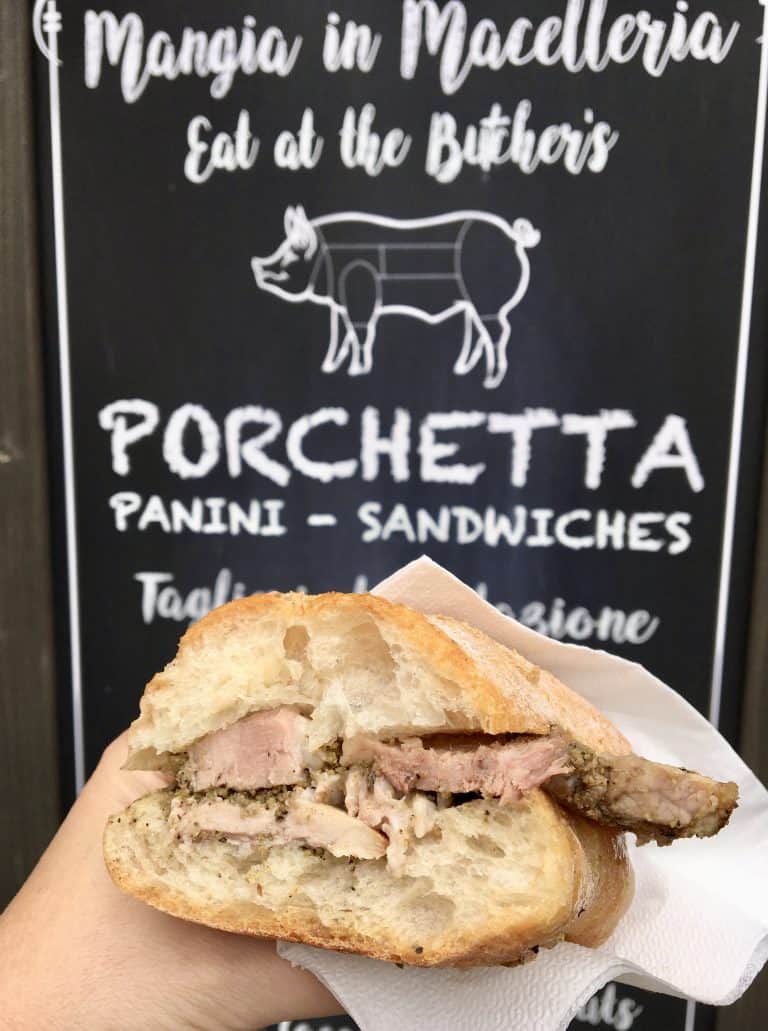 5. Porchetta (and other food/drink)!
My mother and I almost ate at a restaurant near the cathedral that had porchetta, but it was outrageously expensive, so we decided against it (thankfully). After walking for a while, we came upon a butcher shop with a sign that said, "Eat at the Butcher's". I stepped inside and asked if they had porchetta, and lo and behold: I heard angels sing! (The color is off because of the indoor lighting, but this was a beauty!)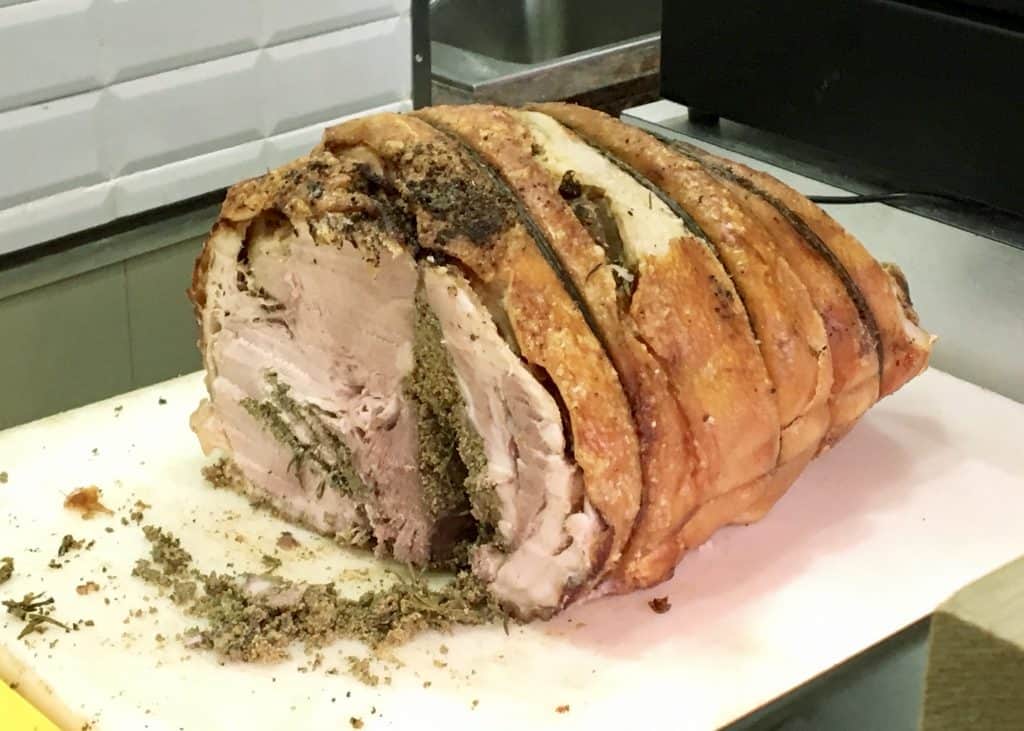 I recalled that bread in this region has no salt, so we had second thoughts about ordering a porchetta panino, but the lady assured us that the porchetta was perfectly seasoned so that we wouldn't miss the salt that was missing in the bread. She was so right!
My mother and I still talk about this porchetta sandwich today. We both say it's the best one we've ever had, and that's saying something! If you go to Bottega Roticiani, tell them I sent you!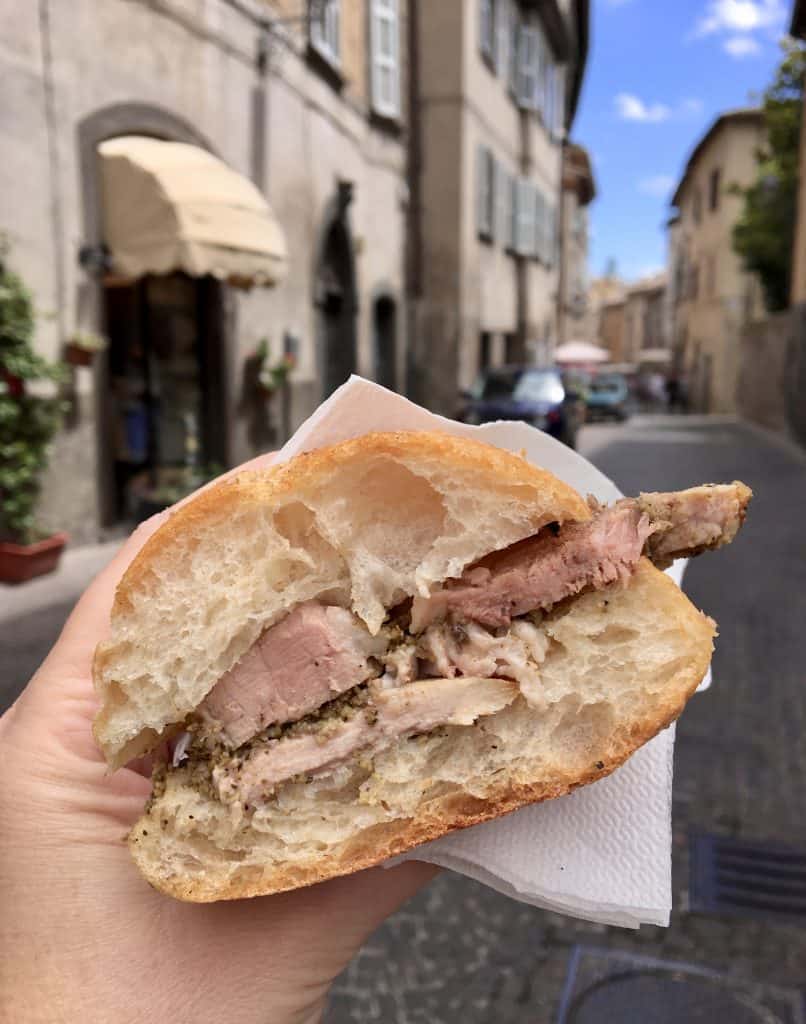 By the way, this is right outside the butcher shop where we sat and had our panino!
And would you believe we split a large panino which was 4 euros? Yep, lunch was 2 euros each that day! (This area is known for truffles, wild boar, cheese and lots of cured meats, so you won't go wrong with the food here.)
We had enough to indulge in a gelato (for Mum)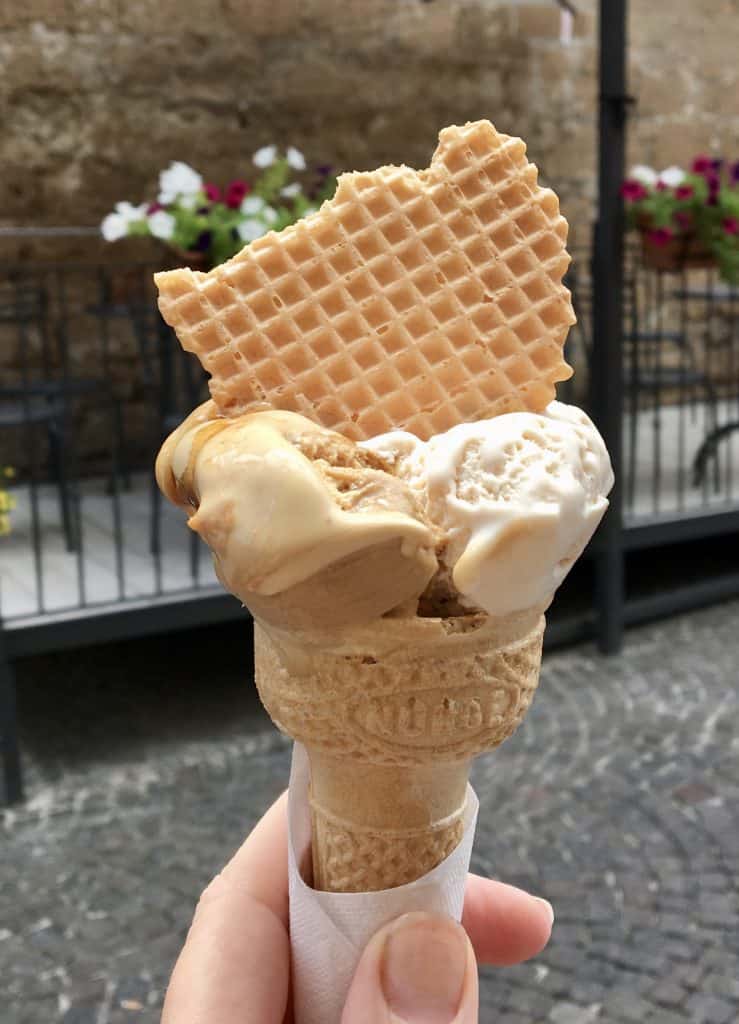 And a frozen Aperol Spritz for me; it was so refreshing!
I also noticed a local sweet dessert wine that had won 5 gold medals, but didn't get a chance to sample it. So, I just have to go back!
Driving from Orvieto to Civita di Bagnoregio and Bomarzo (which I'll be posting about soon) is a great "off the beaten track" road trip to easily do in one day if you're in this part of Italy. If you have the time, definitely plan for a longer visit. I hope you enjoyed by 5 reasons to visit Orvieto!
Christina's Cucina is a participant in the Amazon Services LLC Associates Program, an affiliate advertising program designed to provide a means for sites to earn advertising fees by advertising and linking to Amazon.com.
5 reasons to visit Orvieto