Civita di Bagnoregio is a beautiful, historic hilltop town in Lazio, Italy, which was dying until recent tourism has given it a breath of life.
Seeing a photo that my cousin Gianfranco took, was how I first learned of this little known gem. Civita di Bagnoregio is perched high atop what is left of a concentration of volcanic tuff in central Italy, and so unique, you'll never forget it once you see it for the first time.
As an Amazon Associate and Booking.com affiliate, I earn from qualifying purchases.
When I was planning our route from Tuscany to Lazio, I just knew we needed to stop in Civita di Bagnoregio after visiting Orvieto.
Where is Civita di Bagnoregio?
On the map below, you can see that Civita di Bagnoregio is located a bit further south, between Florence and Rome, near Lago di Bolsena.
Before planning the trip, I did send my mother a photo of the pedestrian bridge and asked if she would be okay walking over it.
You see, she's very afraid of heights and I didn't want to arrive at the town's edge and have her refuse to cross. Luckily, she said she thought she'd be okay, and she was. In fact, she was much better going over than coming back, for some reason. Truly, it's not bad at all, and if my mother can do it, anyone can.
We arrived in the main part of the town, drove through it (I wondered if I was even supposed to be there a couple of times), but there's a parking lot at the far end.
Here's a clip of me driving through to give you an idea of what I mean.
Once we arrived and parked, Mum and I walked towards the bridge and paid a nominal fee (€5) to cross and visit la Civita di Bagnoregio.
Originally established by the Etruscans over 2500 years ago, you can be sure that the history here is enthralling. You can read about it here.
Civita di Bagnoregio
This fee is what is helping to bring the town back to life and restore the buildings.
Once we entered the archway, we immediately knew this was a special place. One can sense the renewal and hope here.
It was so clean, and there were flowers and plants adorning walls, stairs, windowsills and balconies.
Civita di Bagnoregio is a photographer and artist's paradise. In fact, I realized when I returned home that I had a print that I'd bought over 15 years ago in Florence which I framed, and it's from Civita di Bagnoregio! I even took a photo of the exact same spot that the artist painted without realizing it.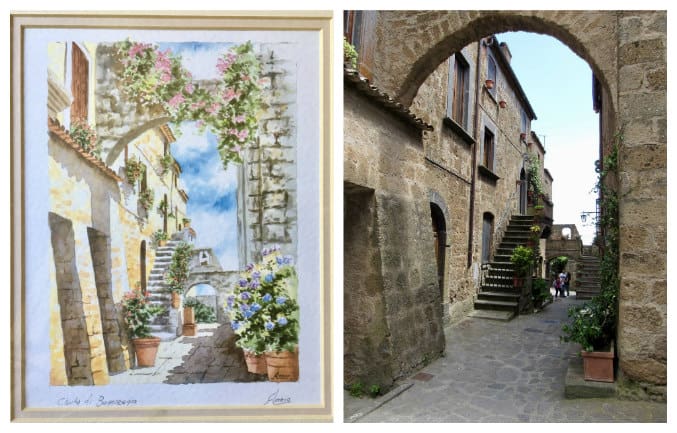 Mum and I explored from one end of the town to the other. It was simply beautiful. I hope these photos can portray a little of what we saw, although, it's just never the same as in person.
This is one view from the town's edge.
Mum and I were only there for an afternoon, but I would love to go back and spend more time here, there are places to stay in Bagnoregio (the town we drove through to walk to la Civita di Bagnoregio).
St. Bonaventure was born in Civita di Bagnoregio in the early 1200s and his tomb is just across the pedestrian bridge.
I hope that if you are in the Viterbo area that you make it a point to visit Civita di Bagnoregio. I honestly think you would enjoy it just as much as my mother and I did.
Mum and I walked back to the parking lot and headed out of town towards Bomarzo. We were going to visit the Bomarzo Monster Park which has been on my travel list for quite a while.
Pin For Later
Christina's Cucina is a participant in the Amazon Services LLC Associates Program, an affiliate advertising program designed to provide a means for sites to earn advertising fees by advertising and linking to Amazon.com.