Beans on toast has been eaten for years every day in the UK for breakfast, lunch and dinner. It's a super simple dish, but it's comfort food on a plate for many of us. I hope you'll enjoy it, too!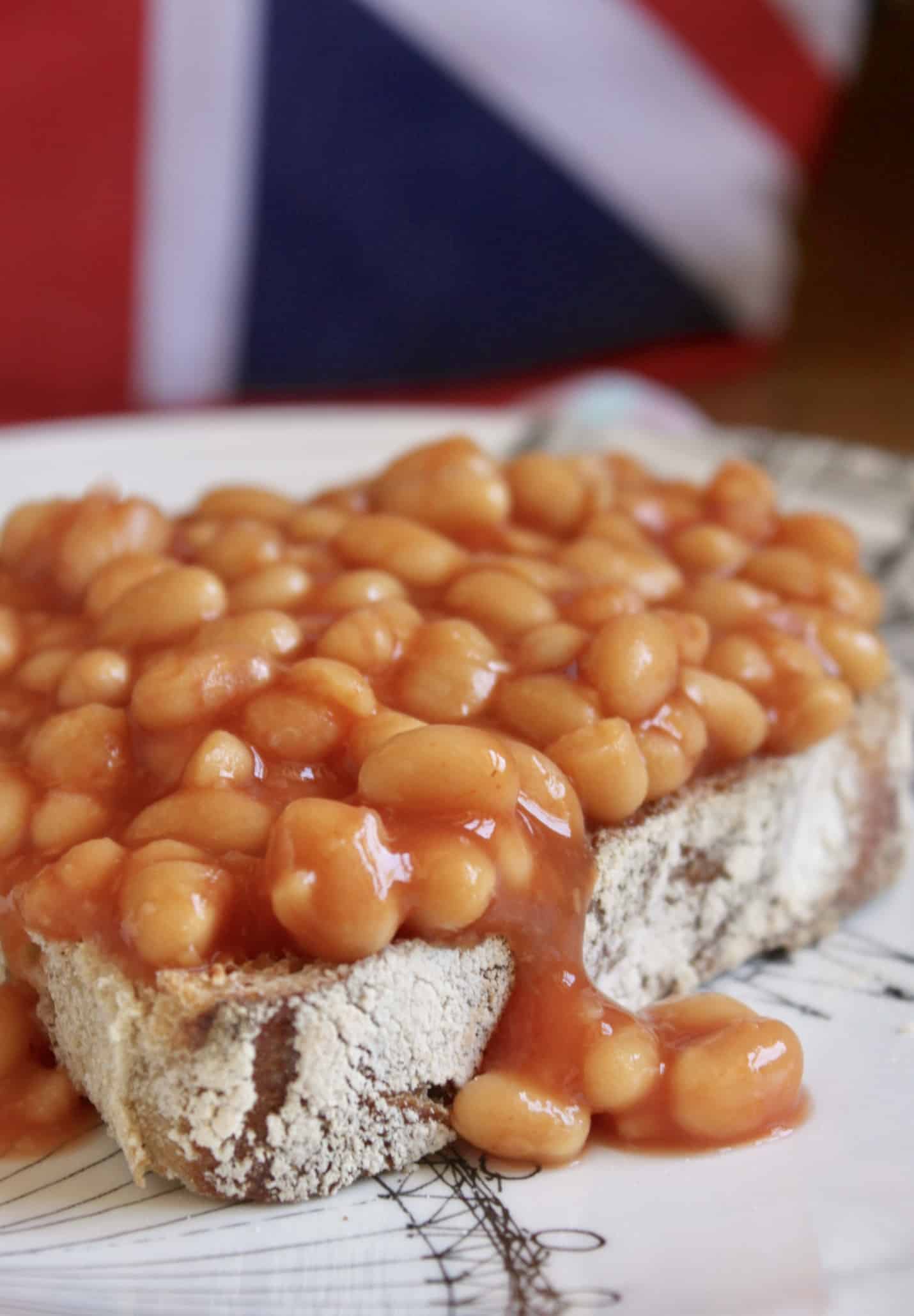 If you're from Britain, you're probably wondering why on earth there's even a need for a recipe to make beans on toast, am I right?
As an Amazon Associate I earn from qualifying purchases.
However, if you see what is out there on Google when you search "beans on toast", you too will be horrified! Recipes with so much misinformation about beans on toast that the steam was coming out of my ears! I knew I had to write about it and set the record straight, asap! So here we are.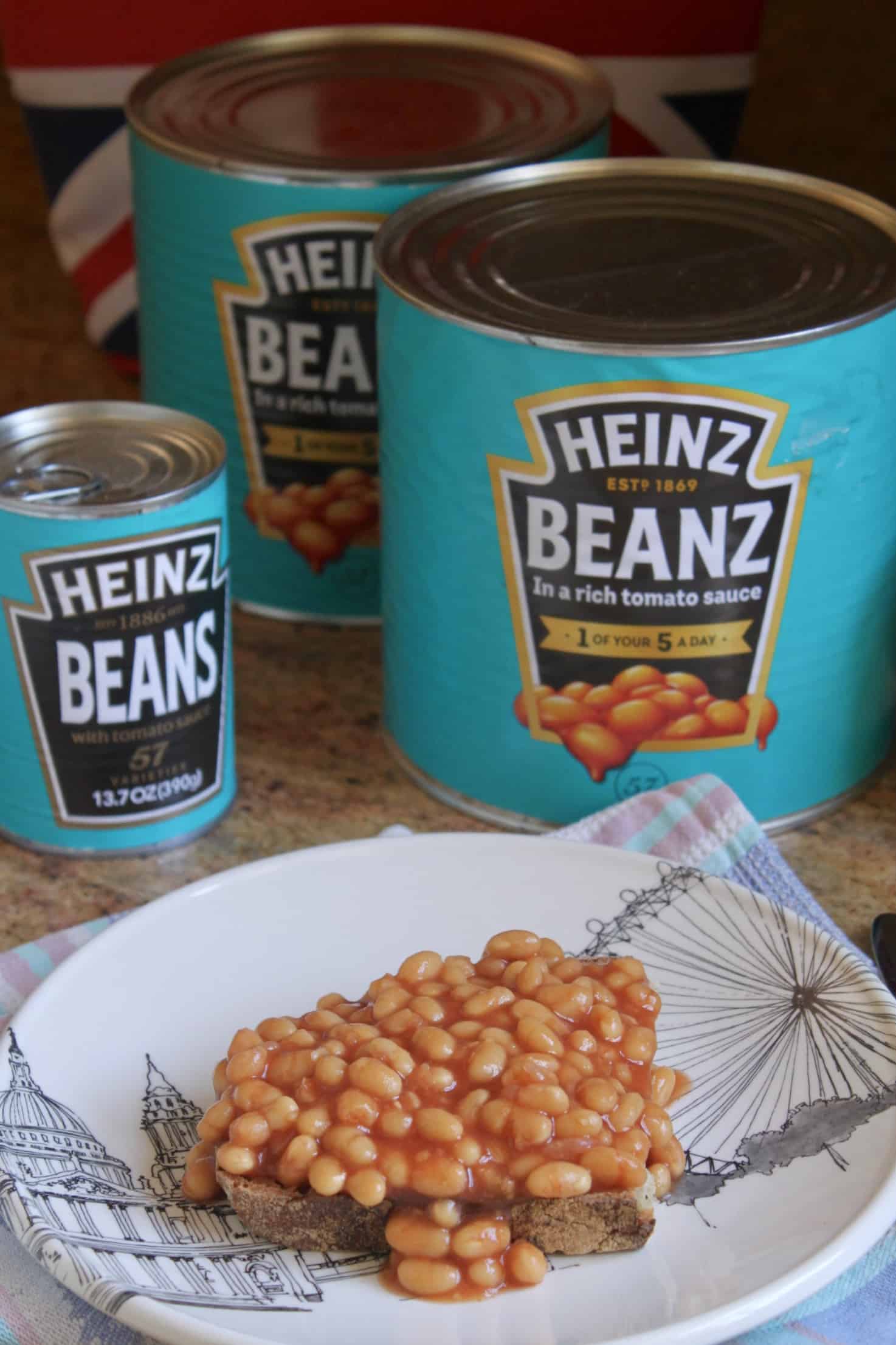 Did you know that beans on toast is a dish fit for a Queen? Yep, Queen Elizabeth loves her beans on toast and has even attributed (joking, of course) that she caught Covid due to going two days without eating her beloved beans! If you're interested, here's the recipe for the Queen's favorite "cake": chocolate tiffin.
🇬🇧 Speaking of royalty, are you hosting a Coronation watching party on May 6th? If so, head over to check out the recipe for Coronation quiche (for American kitchens) as well as how to plan an English party at my friend Cynthia's site at What a Girl Eats! 🇬🇧
My friends know that Heinz beans are one of the very few ready-made, or processed foods that I eat. In fact, last winter, two separate friends both spotted a 2 kg can of Heinz Beans at the 99 cent store, and each of them bought one for me without knowing the other had done the same! (Some of you have asked about my puffin mugs.)
I still haven't even opened one of the massive tins because how on earth will we go through two kilograms (almost 5 lbs) of beans with only two people in the house? 🤣 I'll have to have a ton of friends over for a big Scottish breakfast. Then I'll make some potato scones, and Lorne sausage, too!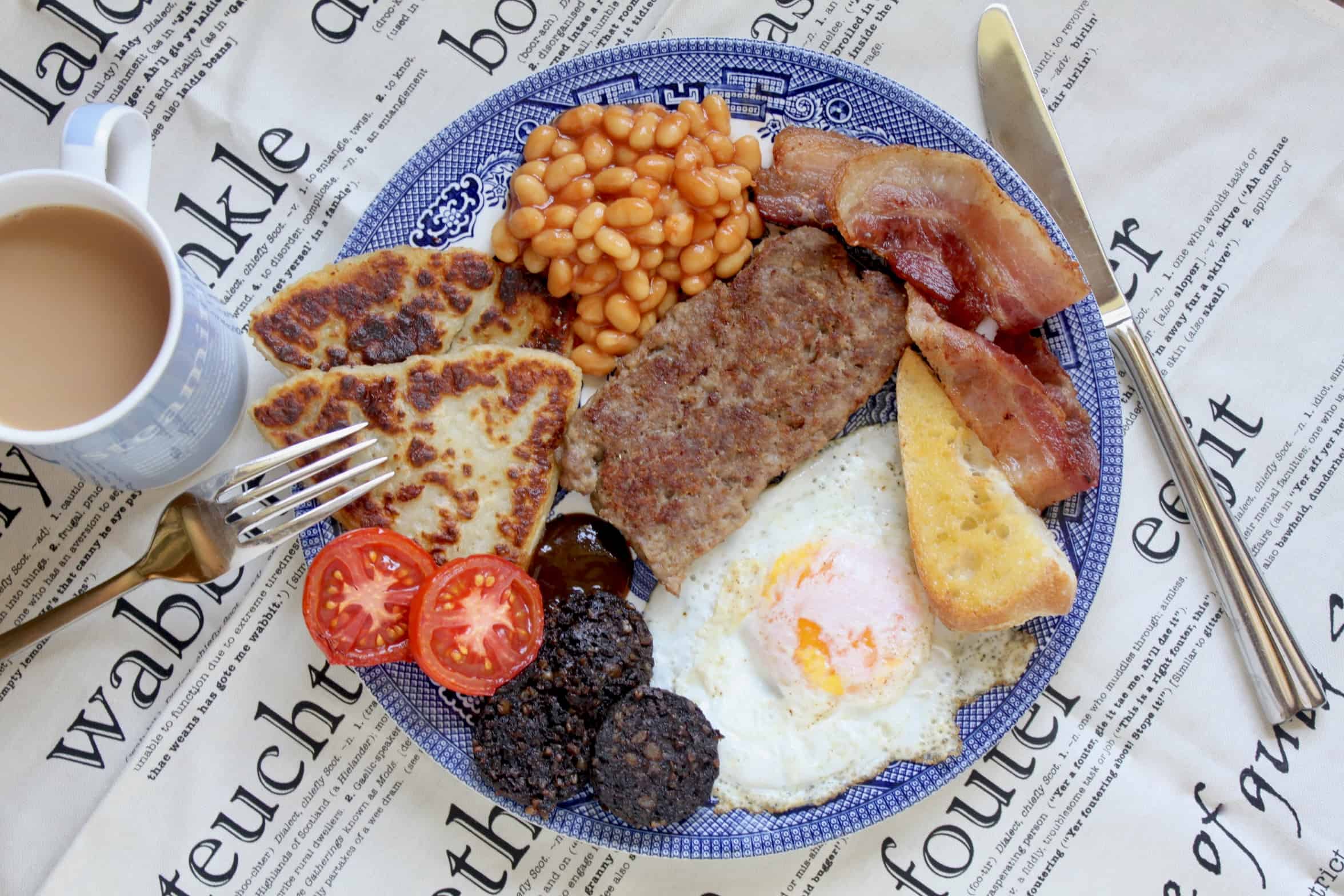 And of course, pots of real British tea!
If you don't already know that Heinz beans are an integral part of being British, maybe this fact will help:
"The United Kingdom eats more cans of baked beans than the rest of the world combined. A staggering 1.5 million cans of Heinz Beanz are sold every day in the UK." – Fact.Cat
Sir Patrick Stewart claims beans on toast is the only thing he can cook! Methinks he needs to visit my site! 😝
And in case you're wondering, yes, it's eaten with a knife and fork: keeping the fork in the left hand and knife in the right, no switching back and forth, that's American!
What Kind of Beans do the British eat on Toast?
There's really only one kind: Heinz Beans (sometimes spelled Heinz Beanz)! In fact, I remember a commercial/advert from when I was a little girl in Scotland which said "beans means Heinz!" However, the full slogan was, "a million housewives everyday, pick up a can of beans and say Beanz Meanz Heinz". Pretty good, huh? No wonder they're still a staple in almost every British household.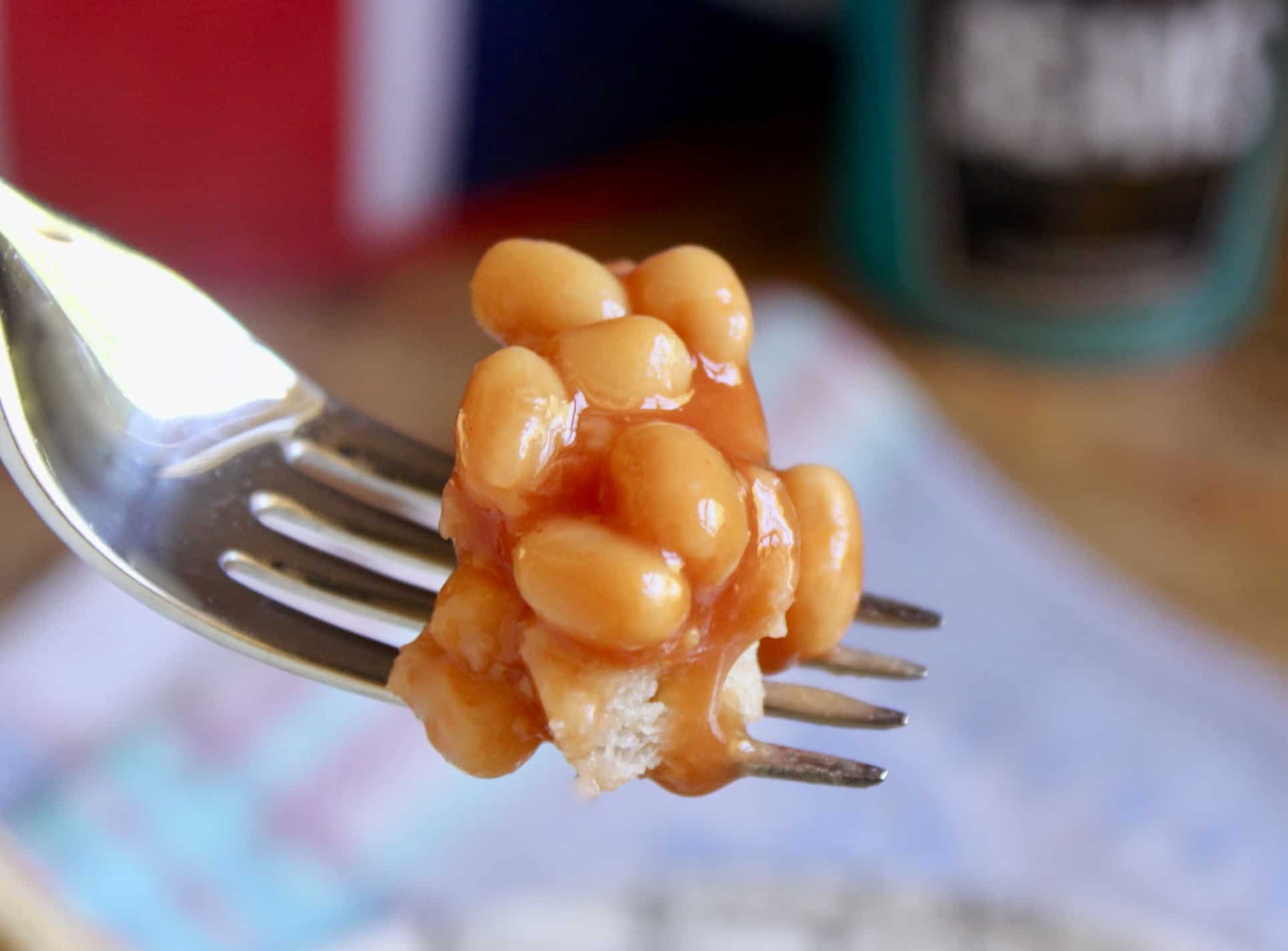 Sure you can make your own version of Heinz beans, but I highly doubt you'll be able to capture the essence and flavor of this classic. The recipes I've seen online are a far cry from Heinz beans in a can, too. Heinz has five basic ingredients, while the recipes I looked at contain twice that many. I wonder if these recipe developers have even traveled to the UK! In ten years of recipe-sharing, I've never said, "forget making homemade, buy the can", and I probably never will again, but if you're British, you'll understand!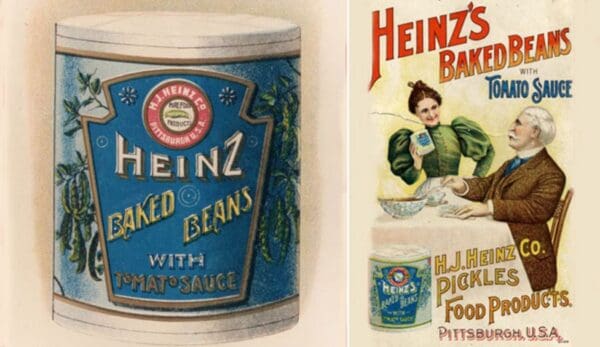 Where did Beans on Toast Originate?
The creation of "beans on toast" was a marketing event by the Heinz company in 1927, and fared well during WWII. Surprisingly, Heinz Beans were first produced in Pittsburgh, Pennsylvania in 1895, and were exported to the UK beginning in 1904, albeit at a high price point. However, it wasn't until 1928 that Heinz began producing baked beans at their factory located just outside London that the popularity increased in the UK due to the lower price. -Heinz.com/hk/en
British food gets a bad rap. Check out this list of English dishes for a primer on why so much of it is a myth.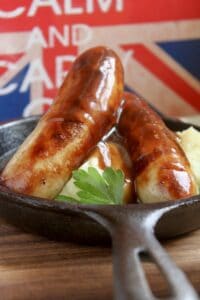 What Goes with Beans onToast?
You can eat beans on toast on its own, but you can always serve it with an egg (usually fried, but there's nothing wrong with soft-boiled, or coddled eggs). Some like to add some grated Cheddar cheese on top (you can always put it under the broiler, too). My dad would be very upset if I didn't mention his way of serving Heinz Beans to the soldiers when he was a cook in the British Army, stationed in Ballymena, Northern Ireland.
He said the men loved it when he served them this way. He'd sauté onions until they were browned, and then added the beans to heat them. Dad still prefers his Heinz beans this way. I used red onions here, but his preference is white or yellow onions.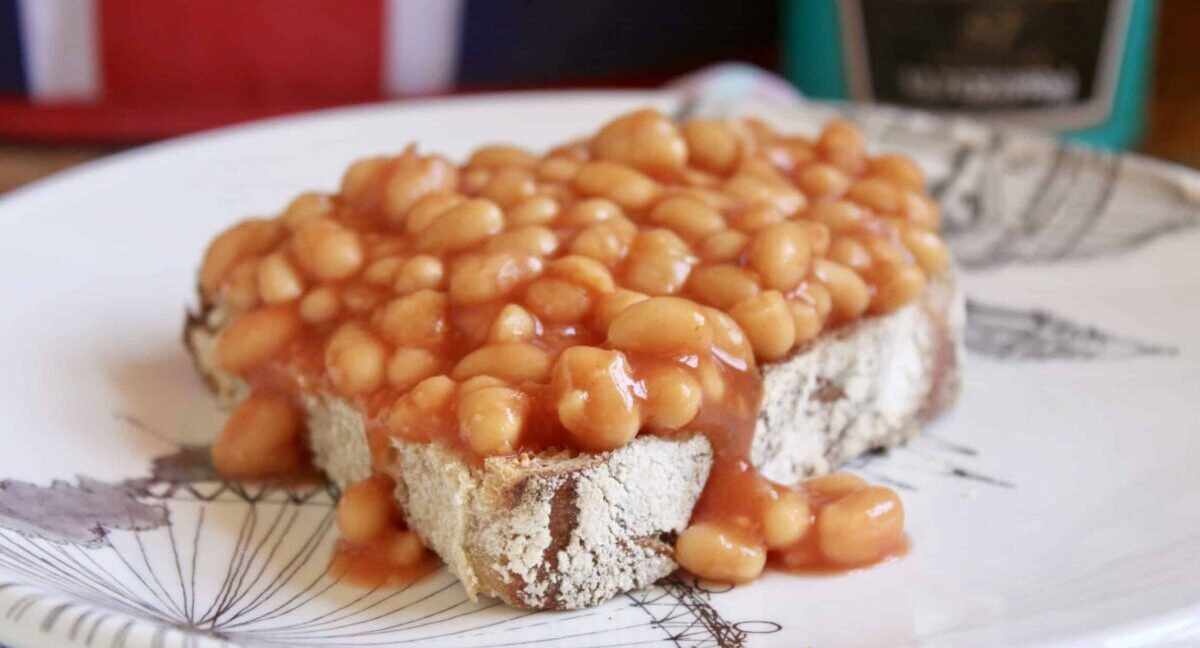 Beans on Toast is Perfect for Breakfast, Lunch, or Dinner.
Yes, you can eat beans on toast any time of day. It literally takes 5 minutes to make, and is full of protein. There is added sugar in the beans, but using good quality artisan bread instead of the typical British loaf will make it a bit more healthy. If you have bread and a tin of beans, there's always something to eat! Just add a soft boiled egg, coddled egg, or your choice of egg, if you want to add a little more protein.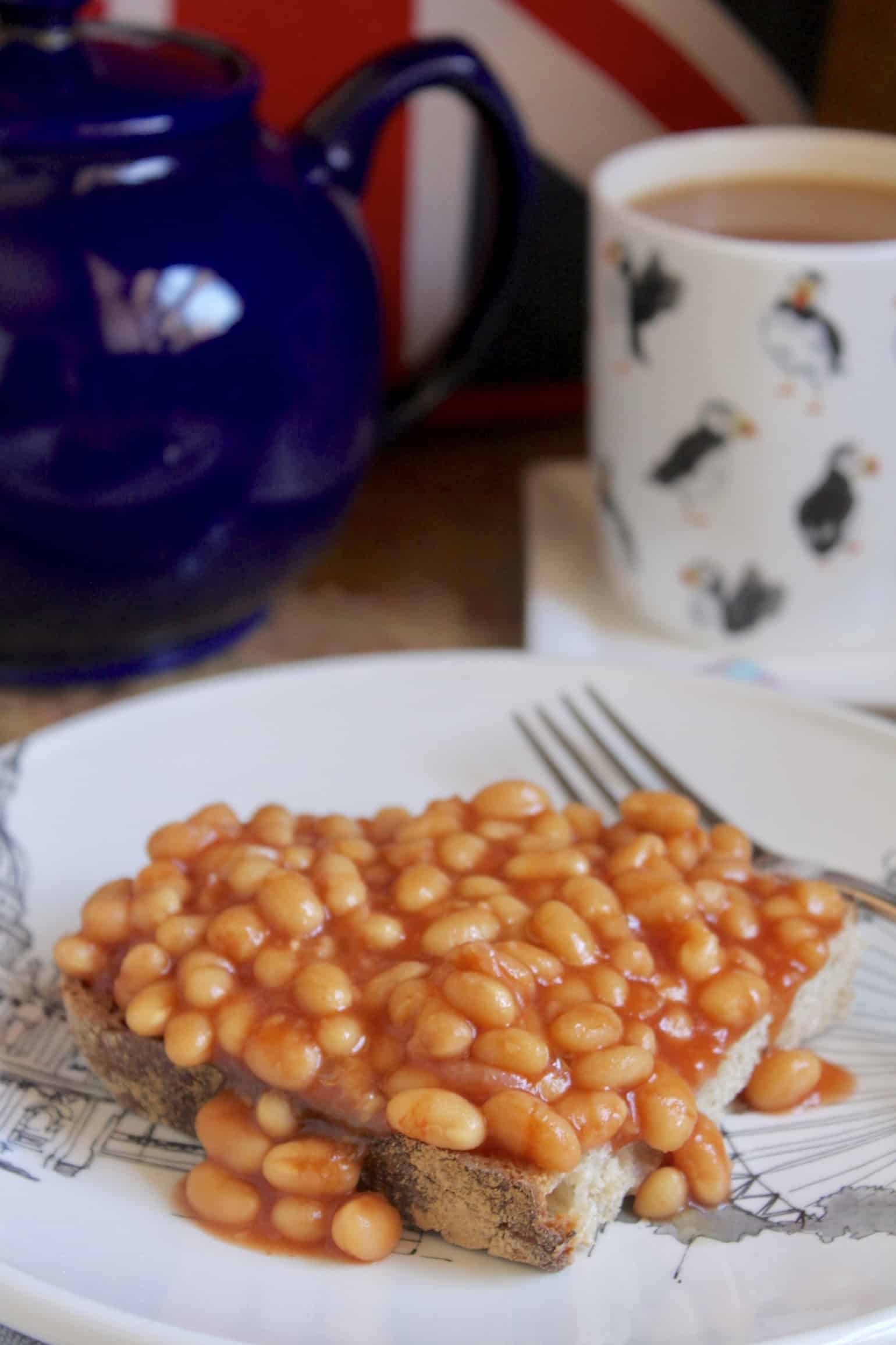 Beans on Toast (The Proper, British Way)
a classic British dish serves 3
FULL PRINTABLE RECIPE BELOW
Put the Heinz beans into a small pot over medium low heat.
Put the bread in the toaster, and make the toast as desired. (If you like, you can butter the toast, but I find it unnecessary as the beans are the primary flavor.)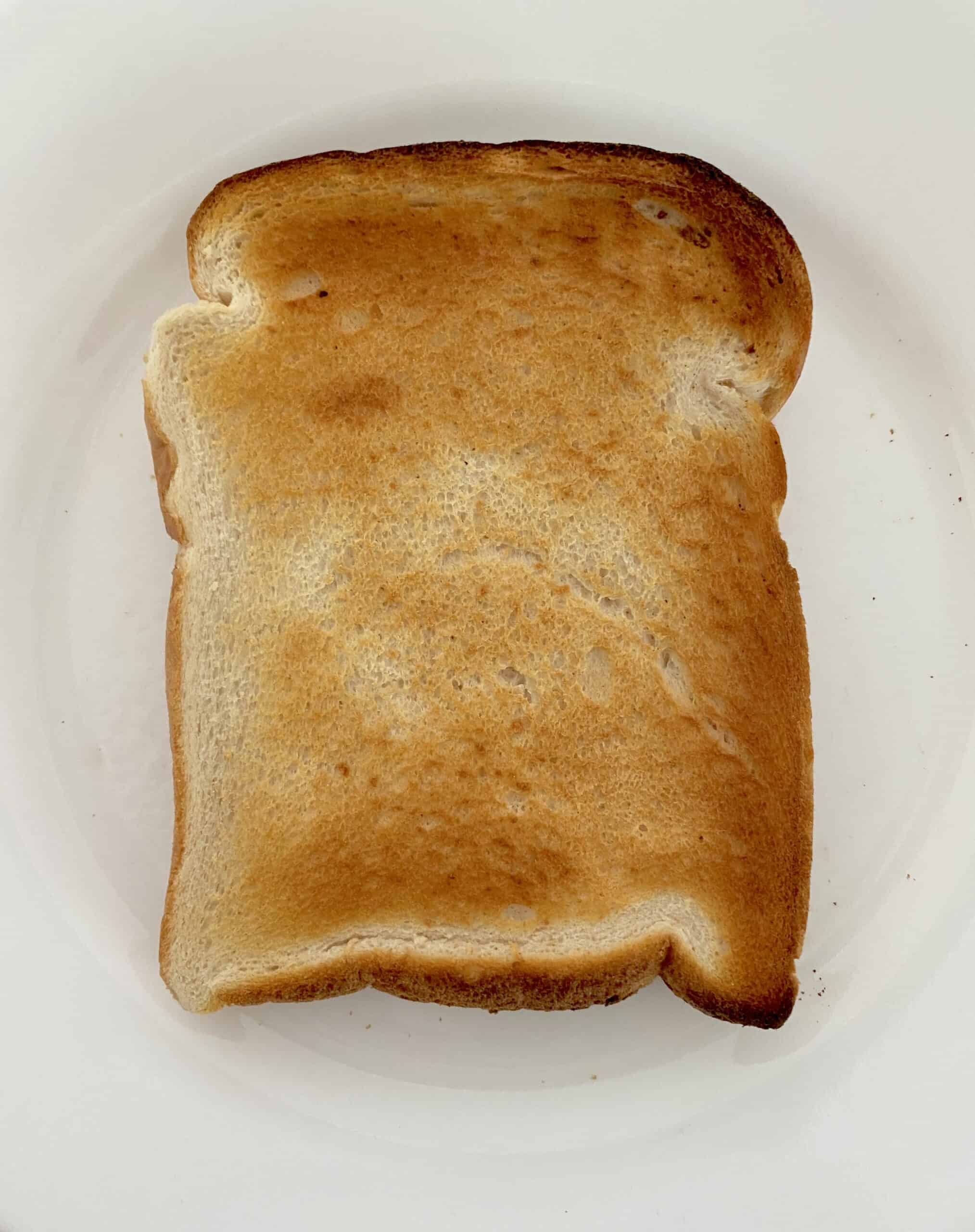 Stir the beans, and heat until almost boiling, but don't allow to boil. (According to directions on the tin, this will affect the flavor.)

Place the toast on plates (you can butter the toast, but skip it to keep it vegan), and spoon ⅓ tin of the beans over the top of each slice.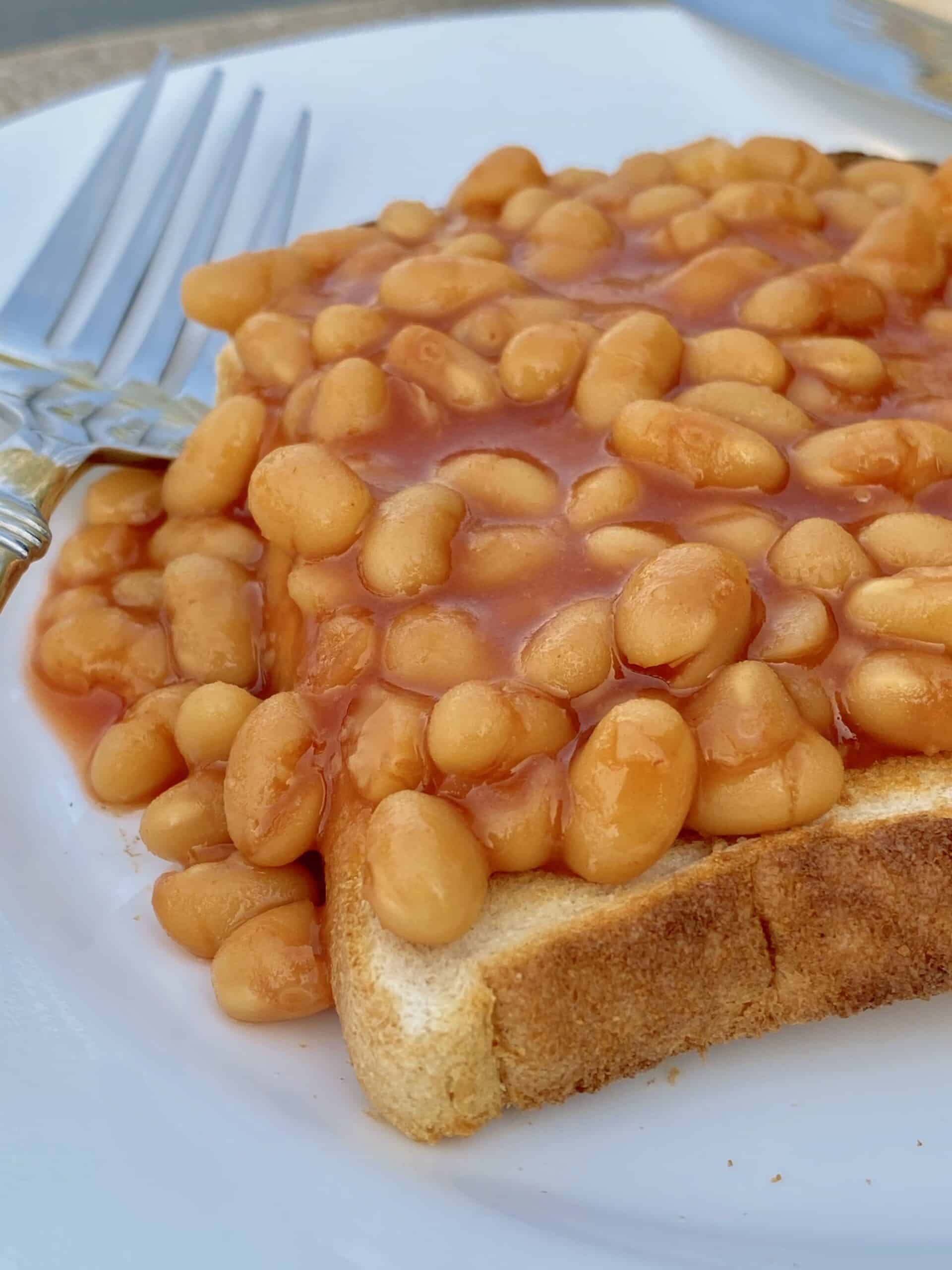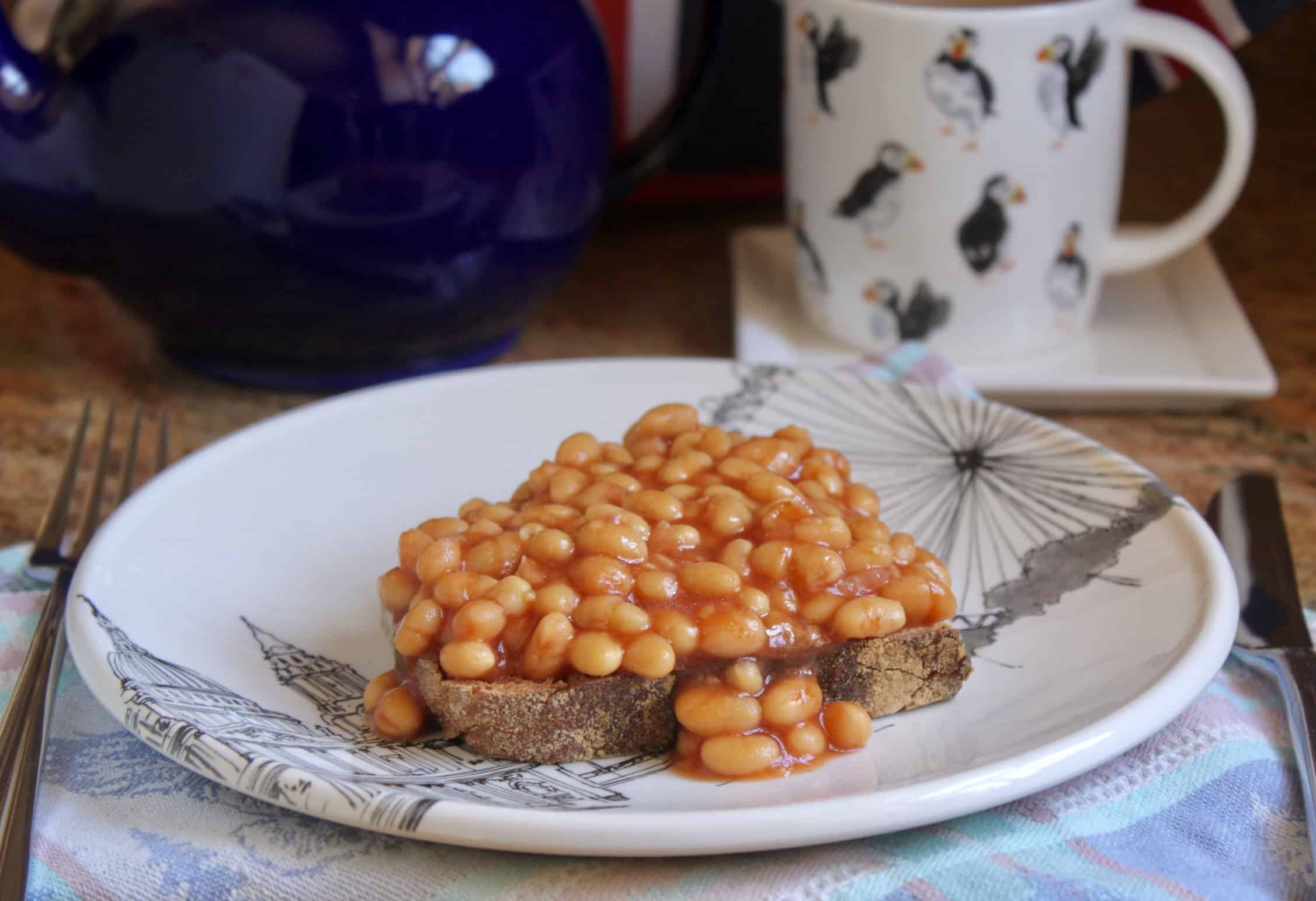 Enjoy; you're now closer to being an honorary Brit! 🇬🇧 This has to be the easiest "recipe" ever, right?
FYI: Heinz Baked Beans are sold in 69 countries around the world, so clearly there's something about these beans!
Sign up for my free subscription and never miss another post.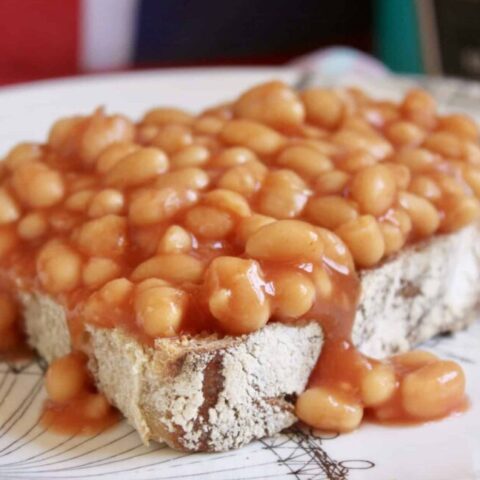 Beans on Toast (The Proper British Way - Recipe by a Brit!)
A classic, simple British dish that is served for breakfast, lunch or dinner.
Ingredients
1 tin 13.7 oz (390 g) of Heinz beans (made in England)
3 slices of bread
(pat of butter is optional)
Instructions
Put the beans into a small pot over medium low heat.
Put the bread in the toaster, and make the toast as desired. (If you like, you can butter the toast, but I find it unecessary as the beans are the primary flavor.)
Stir the beans, and heat until almost boiling, but don't allow to boil. (According to directions on the tin, this will affect the flavor.)
Place the toast on plates, and spoon ⅓ tin of the beans over the top of each slice. Serve immediately, preferably with a cup of hot tea.

Notes
Do not let the beans come to a boil. As per the instructions, it will affect the flavor of the beans.
If desired, fry some thinly sliced onions, then add the beans to heat them (my dad's favorite).
If you decide to use an online recipe that claims to be like Heinz beans, prepare to be disappointed as the recipes are nothing like what comes in the can.
Nutrition Information:
Yield:

1
Serving Size:

1
Amount Per Serving:
Calories:

303
Total Fat:

2g
Saturated Fat:

0g
Trans Fat:

0g
Unsaturated Fat:

1g
Cholesterol:

0mg
Sodium:

450mg
Carbohydrates:

66g
Fiber:

11g
Sugar:

22g
Protein:

14g
Nutrition information is only estimated.
Christina's Cucina is a participant in the Amazon Services LLC Associates Program, an affiliate advertising program designed to provide a means for sites to earn advertising fees by advertising and linking to Amazon.com.