These pretty, pastel springtime cookies are almost too pretty to eat. I did say, "almost". They're not just great for Valentine's day and Easter, but make a great hostess gift, too.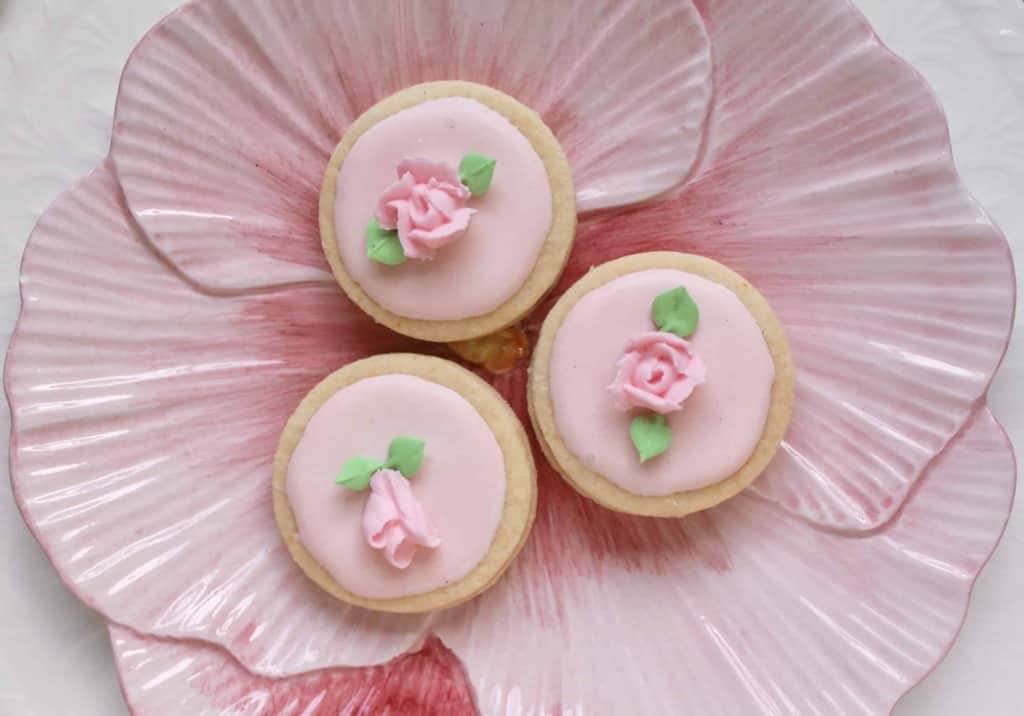 Originally published March 26, 2013
Yes, I know, just last week I made flower cupcakes and now I'm enticing you to make these lovely little Easter cookies (or biscuits–depending on where you live).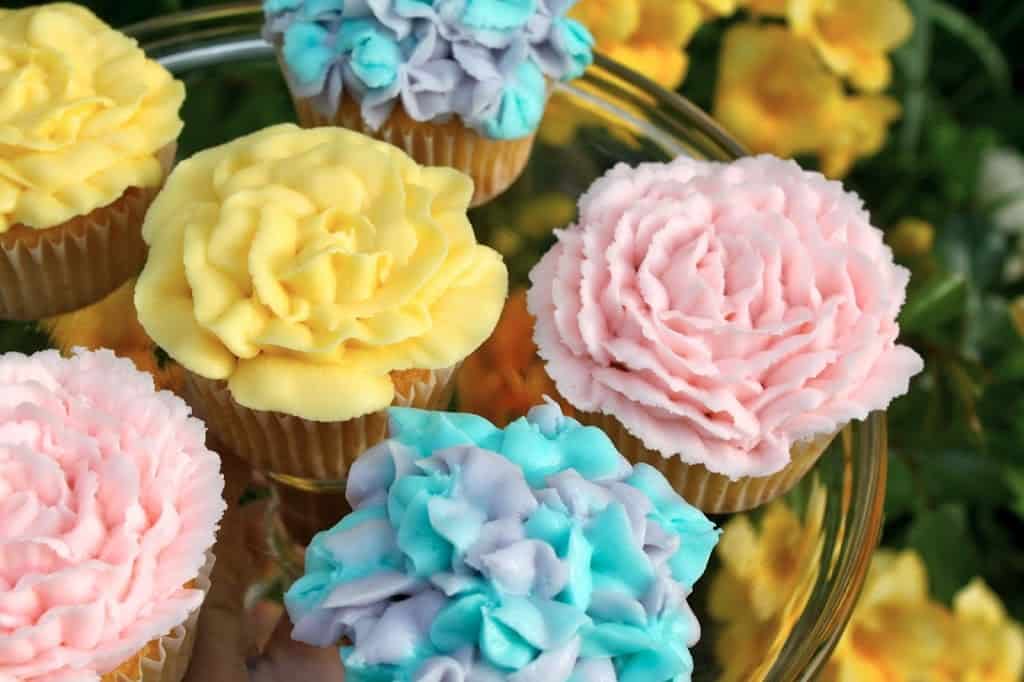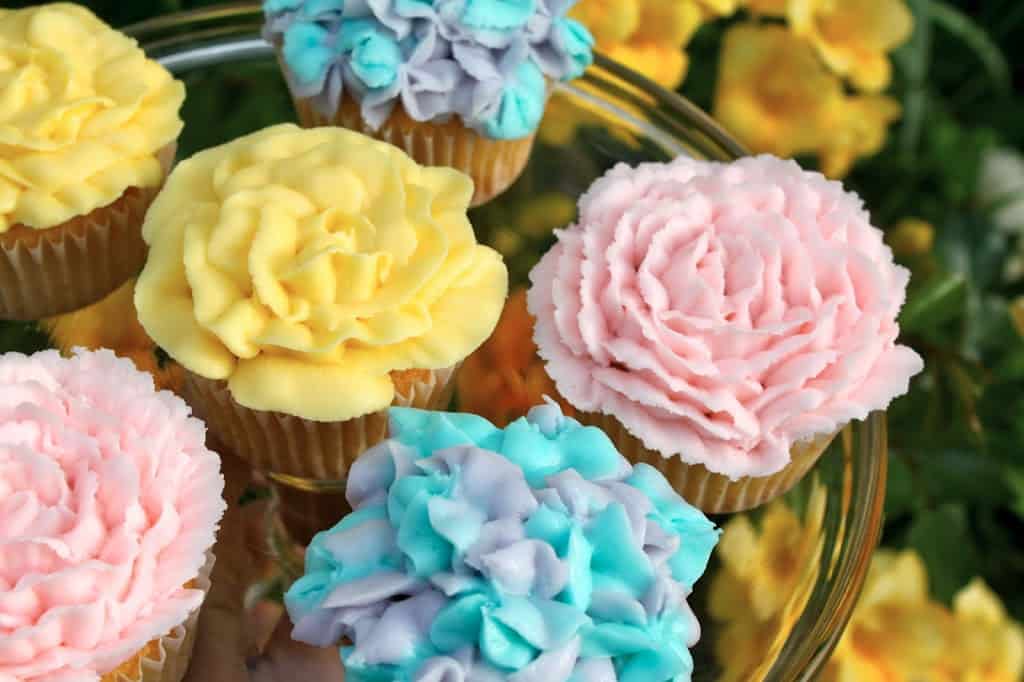 As an Amazon Associate I earn from qualifying purchases.
Given what the weather's been like in places like the East Coast and the UK this past week, I understand if you're not getting that springtime "feeling" quite yet. I get it; I have lived in Scotland and Michigan, so I empathize with you. However, it's just a matter of time before the sun will be shining, and flowers will be bursting into bloom.
These little floral cookies are perfect for your Easter festivities. Here's a great tip: you can make these and decorate the tops, up to a week ahead of time! Just sandwich them together with jam on the day you plan to eat them or gift them.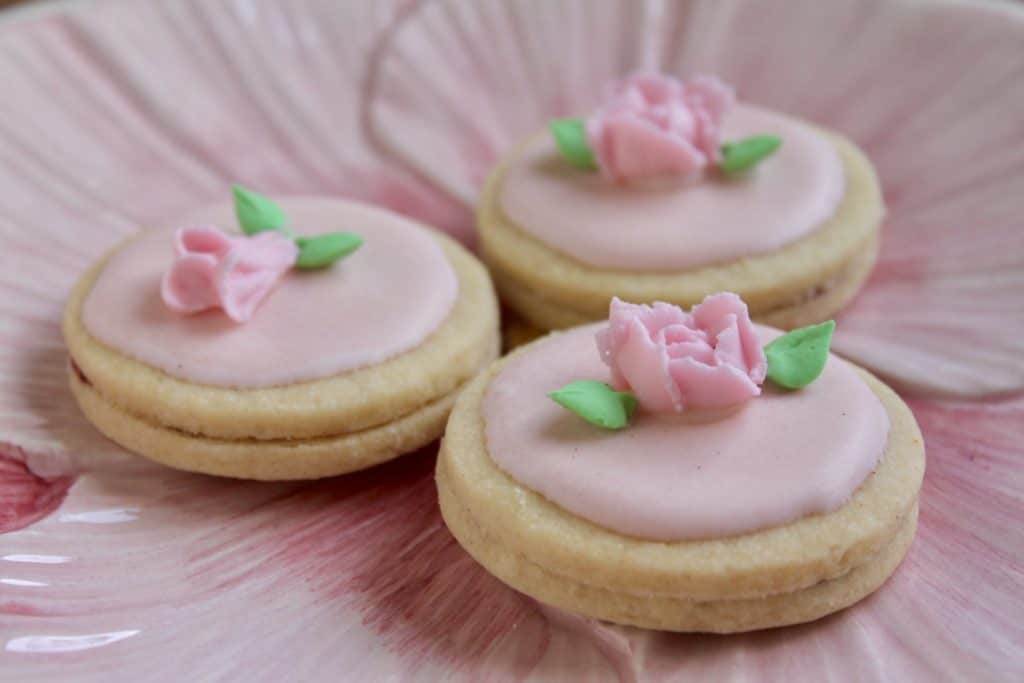 If you recall, last December I was an LA Times 2012 Top 10 Holiday Cookie Contest Winner with my Snow Cookies recipe. Well, these Springtime Cookies are made with that exact same recipe, and by adding a little color (if desired) to the icing, and instead of sprinkling coconut on the top cookie, I placed a flower before the icing dried. Aren't they lovely?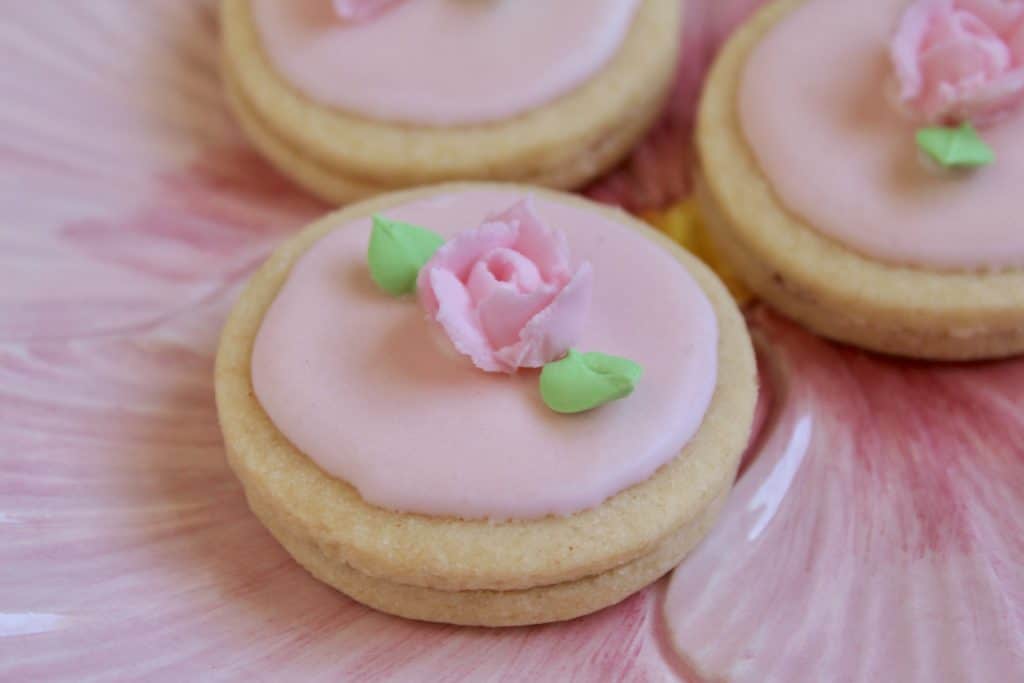 How perfect are these for a baby or bridal shower? What about putting 4 in a little pastry box, tying on a beautiful pastel ribbon and giving them as a hostess gift, or just because you're a wonderful person who likes to surprise friends and family with a thoughtful gift for no reason?!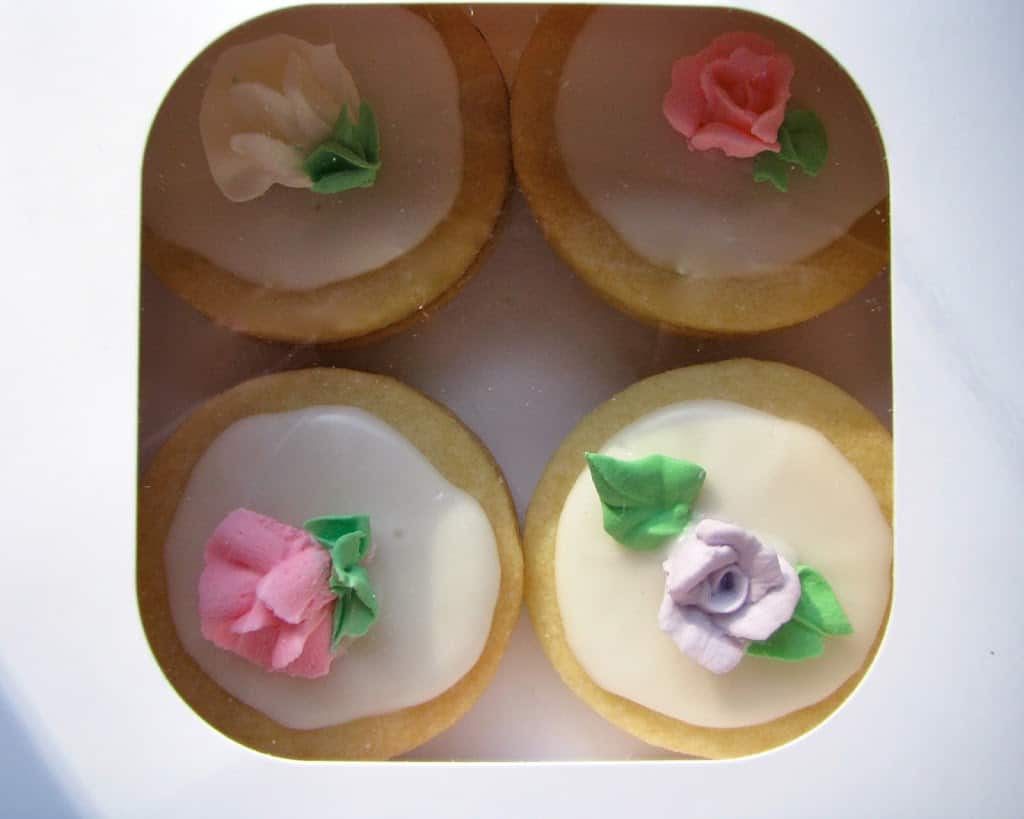 You can either make the little flowers with Royal Icing, as I did (future post!) or purchase ready-made decorative sugar flowers. Truly, you could turn these into any theme you like by just using different colored icings and themed toppings. For example, green icing with farm animals for a children's party, or pink and blue icing with rattles and pacifiers for a baby shower.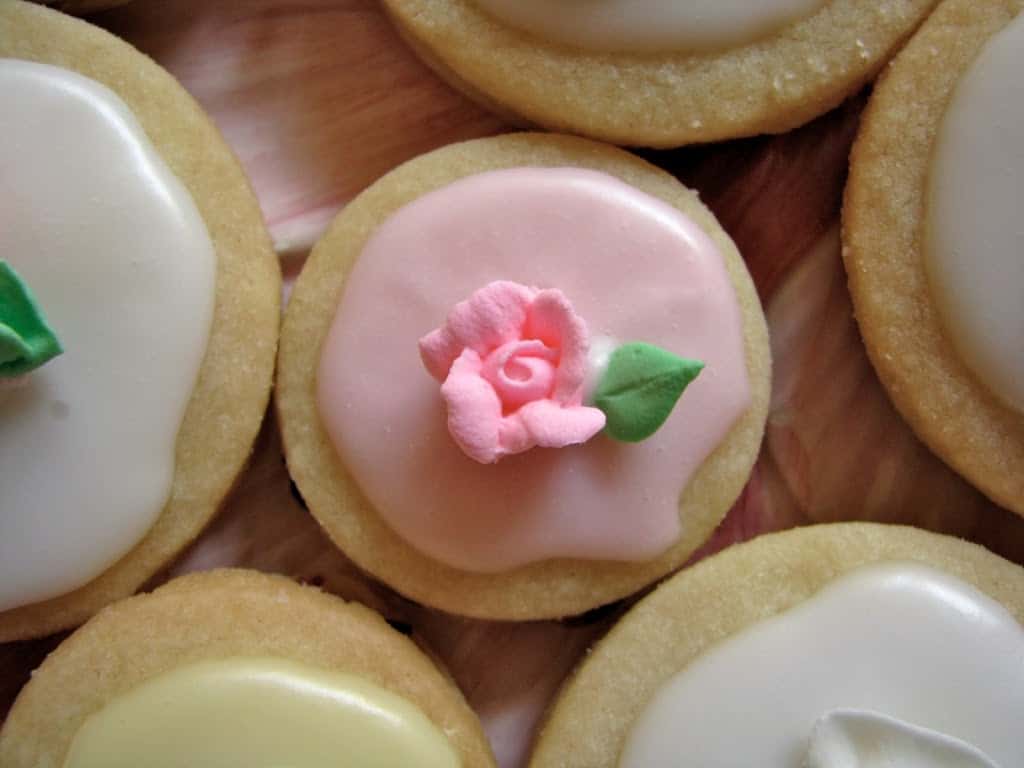 You can also use different shaped cookie cutters to make single cookies, and decorate them without the flowers on top. These are simply decorated with powdered/confectioner's sugar and water to a flowing consistency; super easy!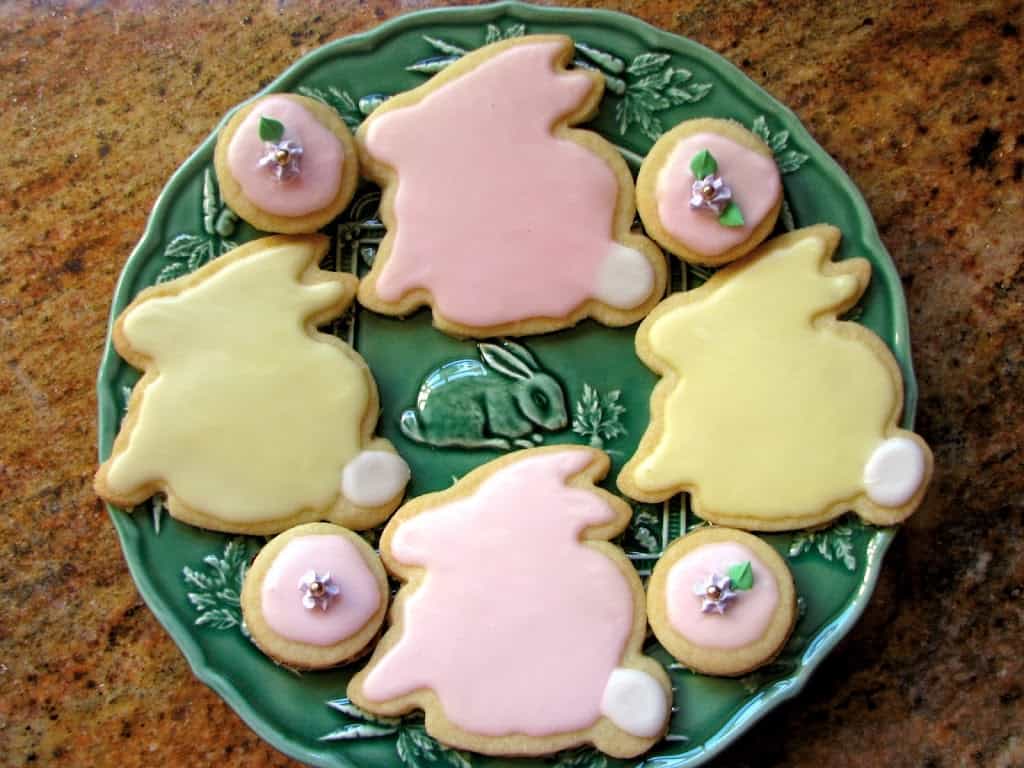 Regardless of how you decorate them, they will be delicious.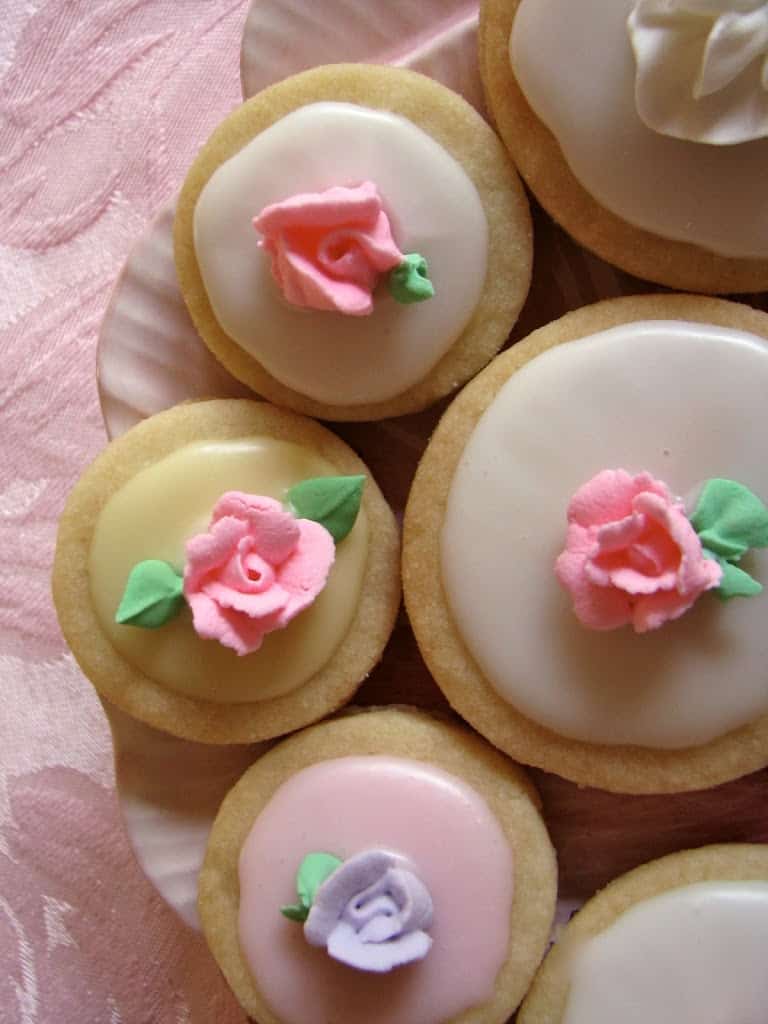 Printable recipe is below for these…
Pretty, Pastel Springtime Easter Cookies
recipe by Christina Conte (printable recipe below)
After you've made the cookies and matched them up into pairs, it's time to decorate the top half. I always choose the best ones for the top. Mix the icing.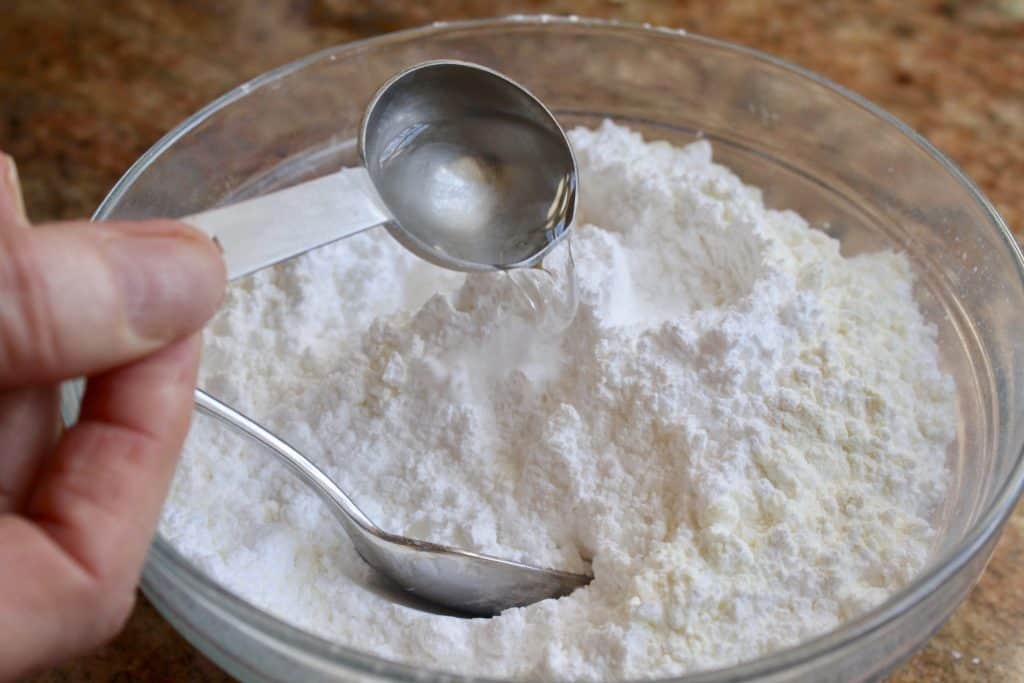 Start with a cup of powdered/confectioner's sugar and just start adding water or milk (half teaspoonful at a time to begin) and stirring until a smooth, and thick/runny consistency is achieved. You can test it on a spare cookie and if it runs off too quickly, add more sugar. Too thick? Add more liquid, but just a tiny bit can make a big difference, so go easy. I like using a condiment bottle to decorate the cookies.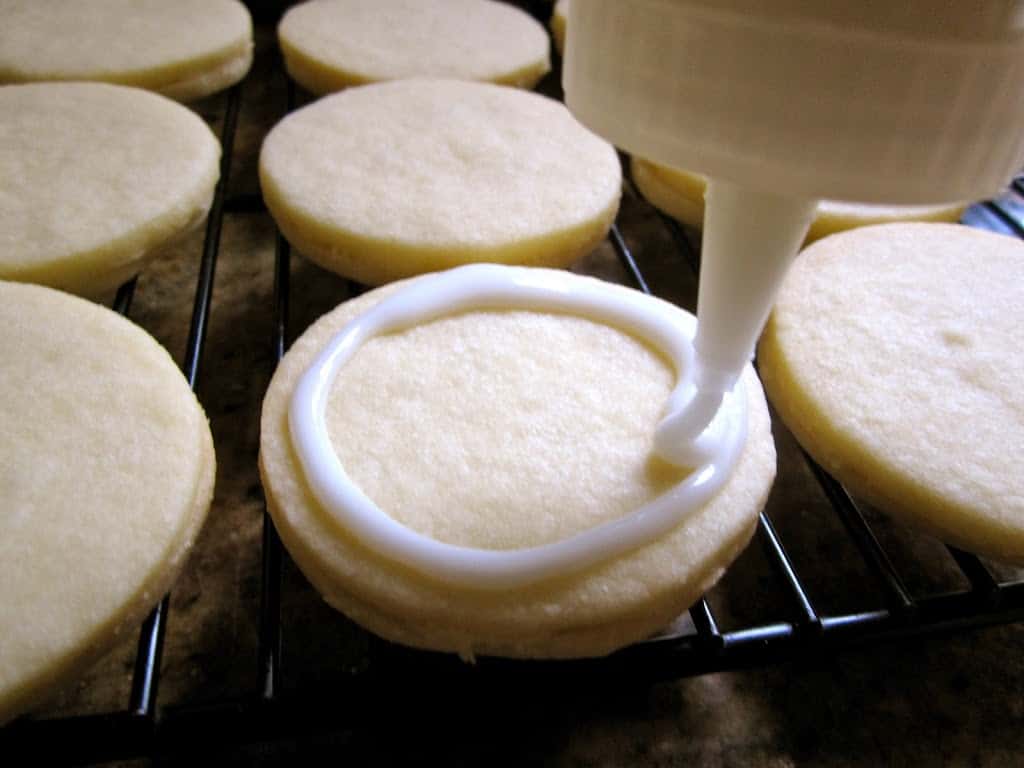 However, it's not a necessity as a butter knife or small spoon can do the trick, too. The following photo shows the proper consistency of the icing.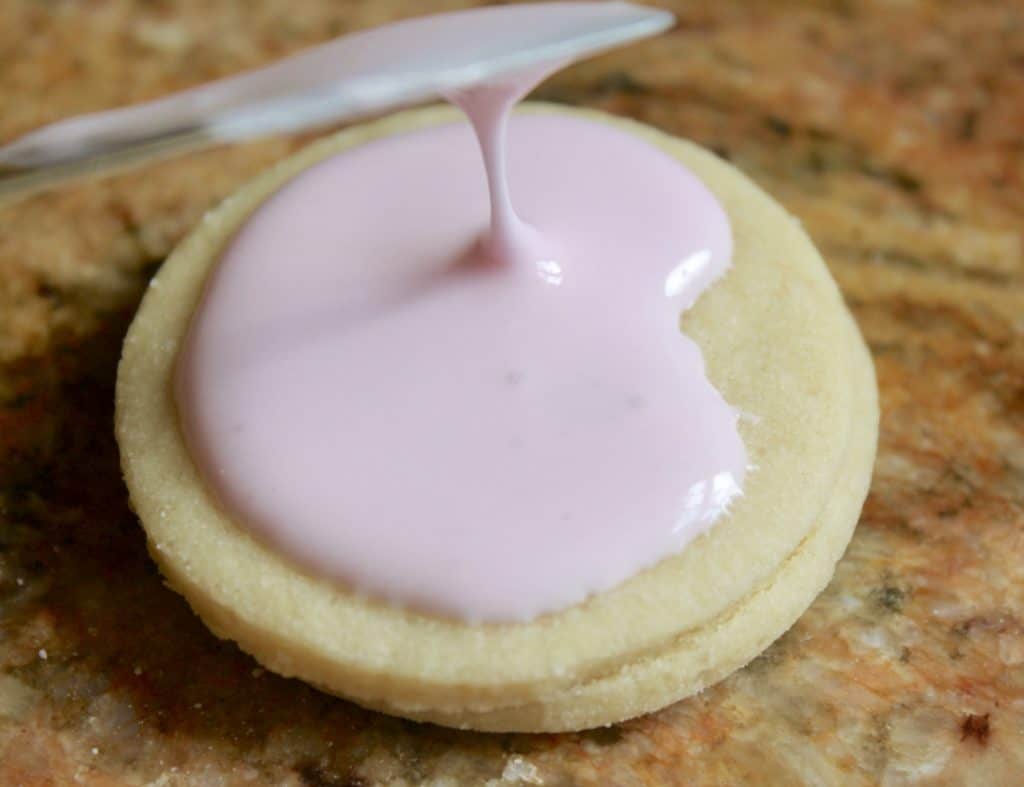 Once they are iced, add decorations as desired. When completely set (at least a few hours), they can be sandwiched together with your favorite jam. Personally, I love raspberry, but I sometimes use plum, cherry or strawberry jam. Store in an airtight container when they are completely dry. A biscuit tin is perfect.
Springtime/Easter Cookies
Additional Time:
30 minutes
An award winning buttery cookie with a floral decoration for spring or Easter.
Ingredients
1 cup (8 oz) salted butter, softened
1/2 cup (4 oz) sugar
2 cups (10 oz) good quality, sifted, all-purpose flour
raspberry jam (like Mackay's or Bonne Maman-invest in good-quality jam, it will make your cookies taste better!)
4 cups confectioner's (powdered) sugar, sifted
1/4 cup (2 oz) water or milk
Instructions
Cream butter and sugar together, then add flour and mix until a dough forms.
Place half of the dough onto to a well-floured surface, and roll out to about 1/4" thickness. Cut with a round cookie cutter (I use a 2" or 2 1/2" cutter.)
Using a metal spatula or turner, lift each cookie then place onto a prepared cookie sheet (I like to use a silicone sheet) and bake in a 350º F oven for 8-10 minutes.
They should not start to brown. (I turn my trays around halfway through baking to make sure they cook evenly.)
Remove the tray from the oven and set aside for a few minutes before transferring cookies onto a cooling rack. Repeat with remaining dough.
Allow to cool completely, then pair off similar shaped cookies together, placing the smoothest cookie on top.
Prepare the icing:
Mix together confectioner's sugar and milk; the icing should be the consistency of Elmer's Glue (it will look like it too!) Color it into pastel colors of your choice.
Spread or pipe some icing on each top cookie only; do not ice all of them. I love to use a condiment style bottle to do the outline, then fill in the center. It's really fun, and easy enough for kids to do!
Set aside with its mate and before the icing sets, add a little royal icing flower. I usually let these dry overnight; they need at least 6 hours for the icing to set.
When the icing is dry, sandwich the cookies together with some raspberry jam. Place a few on a festive plate, or box them up for a lovely gift!
Nutrition Information:
Yield:

12
Serving Size:

2 cookies
Amount Per Serving:
Calories:

538
Total Fat:

17g
Saturated Fat:

11g
Trans Fat:

1g
Unsaturated Fat:

5g
Cholesterol:

41mg
Sodium:

135mg
Carbohydrates:

95g
Fiber:

1g
Sugar:

77g
Protein:

3g
Here are another couple of recipes with a springtime theme from
Cynthia at What a Girl Eats
and
Tricia at Saving Room for Dessert.
Christina's Cucina is a participant in the Amazon Services LLC Associates Program, an affiliate advertising program designed to provide a means for sites to earn advertising fees by advertising and linking to Amazon.com.