A strawberry lemon drop martini is a sweet spin on the classic lemon drop cocktail. Give it a try, and if you're like everyone else, you'll be smitten!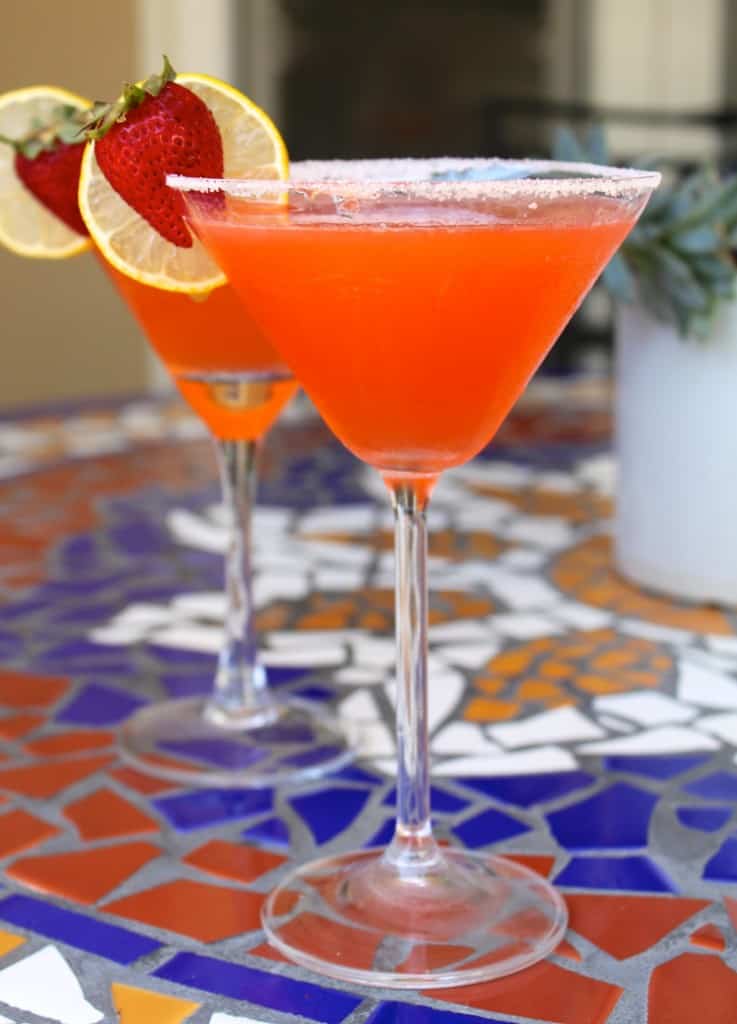 I've been making The Best Lemon Drop Martini You'll Ever Have for years now.
I've never felt the need to improve upon this recipe, however, it occurred to me a while ago, that I didn't need to improve upon it, and could still enjoy something a little different. It's rather like having strawberry lemonade once in a while. The classic old fashioned lemonade may still be best, but who's keeping score?
Fresh Strawberry Lemon Drop Martini
Ingredients (for one)
2 shots Ketel One Citroen Vodka
juice of 1/2 lemon (fresh Meyer lemons are best)
2 or 3 fresh strawberries, finely chopped
2 teaspoons Baker's (extra-fine) Sugar
(extra sugar for rimming glass)
Place the chopped strawberries in a small ramekin or cup and crush with the tines of a fork, then stir in 1 teaspoon of sugar. Set aside for about 4 or 5 minutes.
Rub the edge of a martini glass with half a lemon, then dip rim in a bowl of extra fine sugar.
Fill a beverage shaker with ice and add the lemon juice, strawberries, the other teaspoon of sugar and the vodka. Close and shake 50 times, then pour through a small sieve into the prepared martini glass, using the back of a spoon to press the strawberry puree.
Garnish the strawberry lemon drop martini with a strawberry and lemon slice and repeat as needed because everyone's going to want one! (A standard sized shaker can accommodate the ingredients for two drinks at a time.) Cheers!
PLEASE DRINK RESPONSIBLY and DON'T DRINK AND DRIVE!
Don't miss another post! Sign up for my FREE subscription below.