Want to make an Aperol Spritz? If you're reading this, there's a good chance you've never tried an Aperol Spritz. Read on to learn all about this trendy Italian cocktail that's incredibly popular across Europe.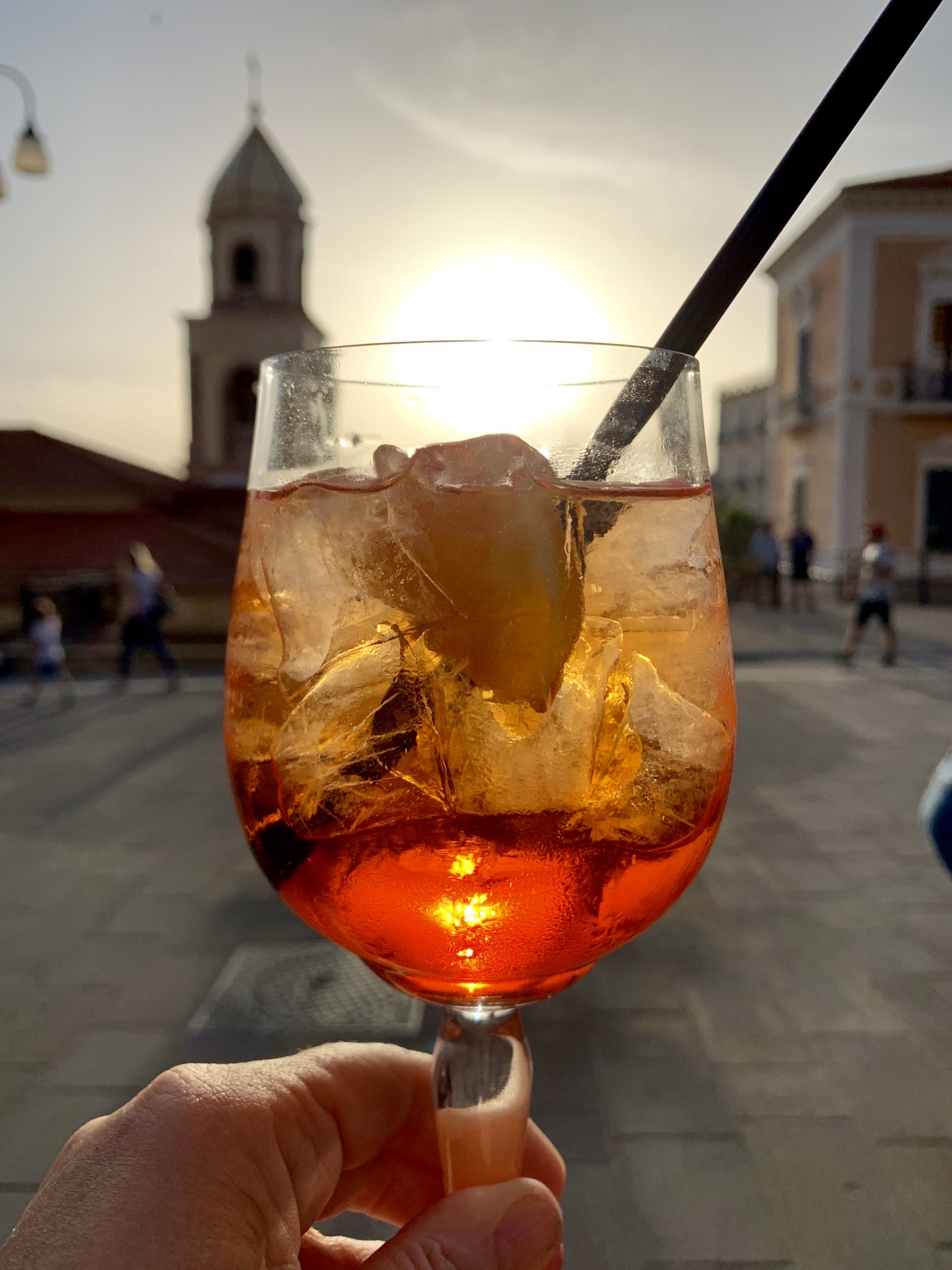 If you've never had an Aperol spritz cocktail, it's time to change that!
As an Amazon Associate I earn from qualifying purchases.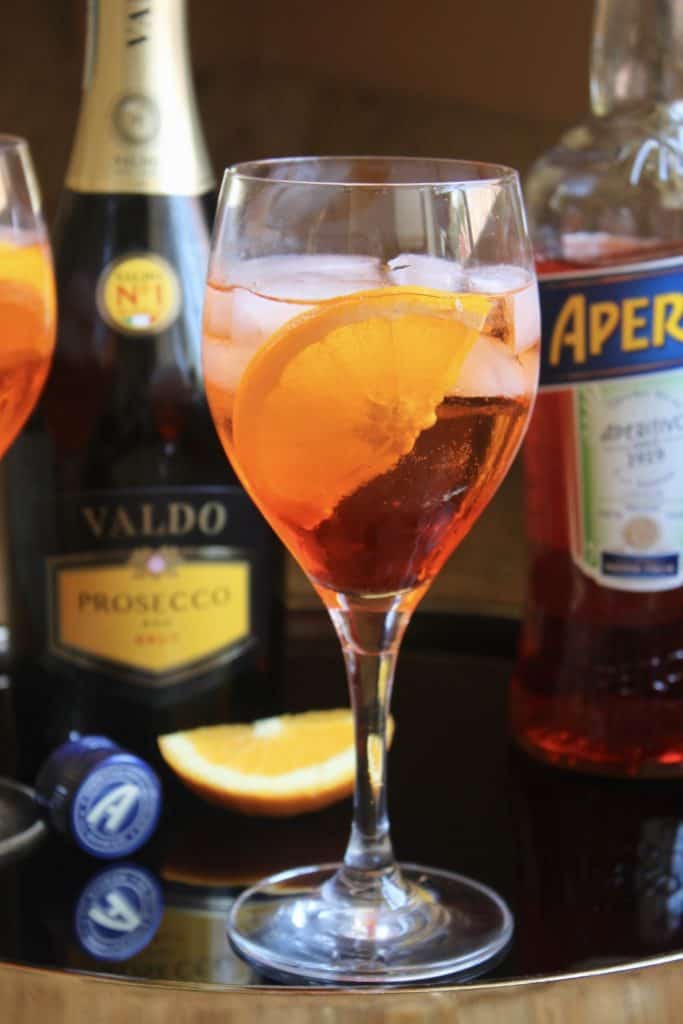 If you've visited Europe, especially Italy, you're probably well-aware of the iconic Aperol spritz. (EDITED: In fact since I posted this in 2018, Aperol's popularity in the US has increased immensely. In 2022 alone it increased its sales by 50%. The White Lotus show has probably had a big influence on spreading the orange-colored cocktail's traction in America.)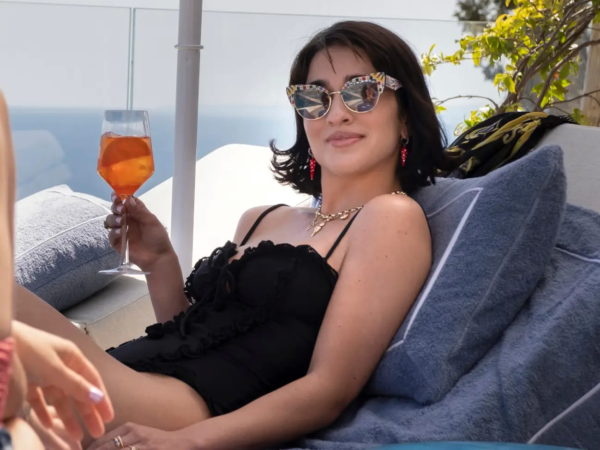 What is Aperol Liqueur Made From?
I wondered what the liqueur was made from and was surprised to discover that one of the main ingredients is rhubarb! No wonder I love it! Bitter and sweet oranges, along with other herbs comprise the primary flavors.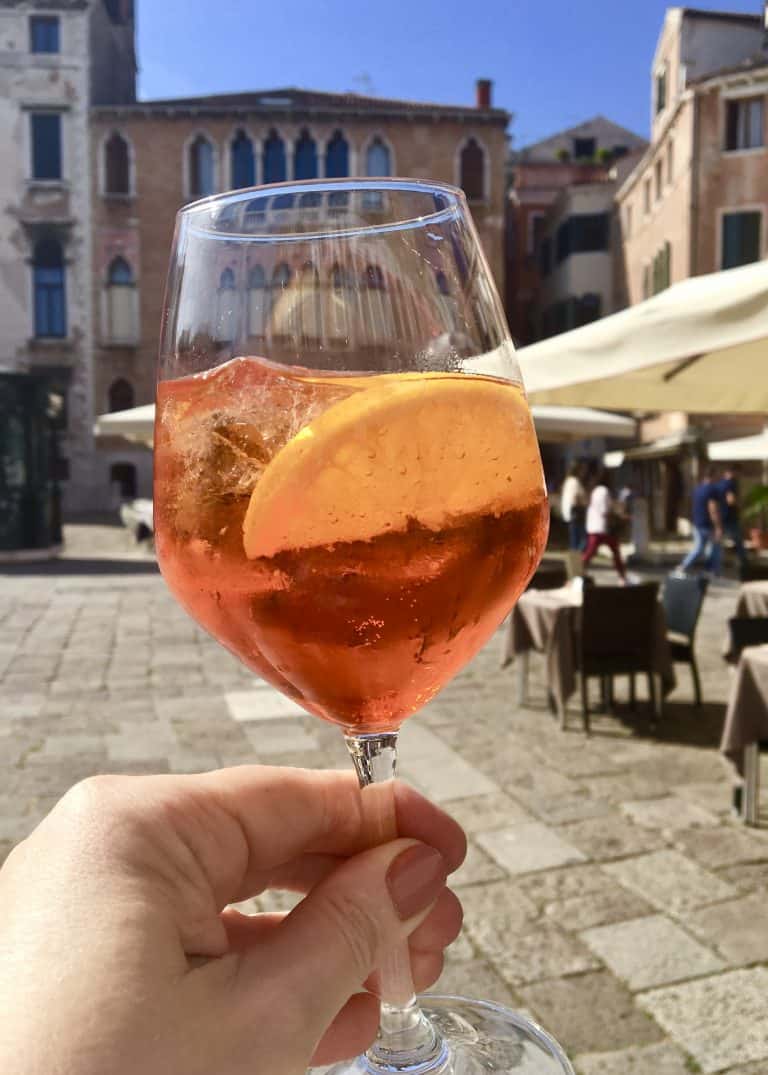 Where was Aperol Created? What about the Spritz?
The Aperol liqueur was invented by the Barbieri brothers in 1919, but the Aperol Spritz comes from Venice, where it became an alternative to the Venetian combination of white wine and soda. -Wikipedia
Another refreshing Italian cocktail: the limoncello spritz!
It was at my friend Jill's (Mad About Macarons) house in France where I tried my first Aperol Spritz a few years ago. In fact, here's the evidence.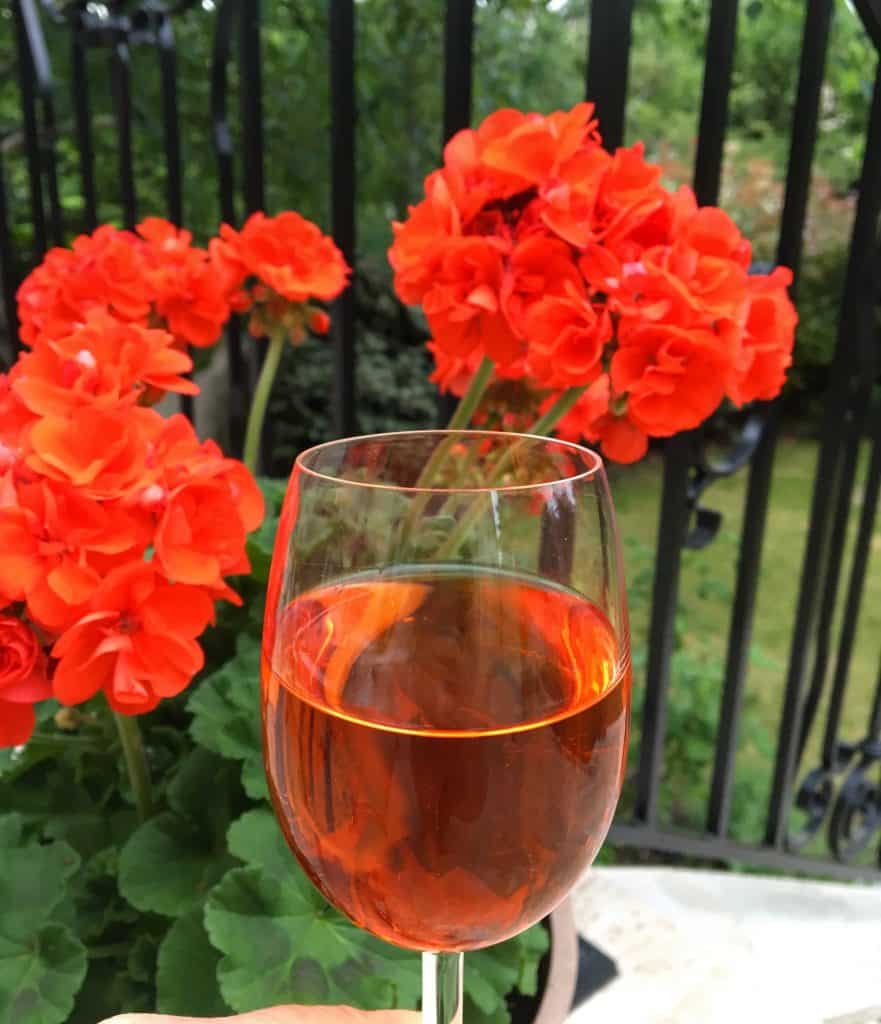 I was immediately smitten with this cocktail. What is it about this almost fluorescent, orange colored drink that is so appealing? Did you know the famous peach Bellini was also created in Venice, Italy? I'm not usually one to be taken by brightly colored food and drink, but this one got me. I'm not the only one.
Another cocktail you'll love: a Hugo spritz!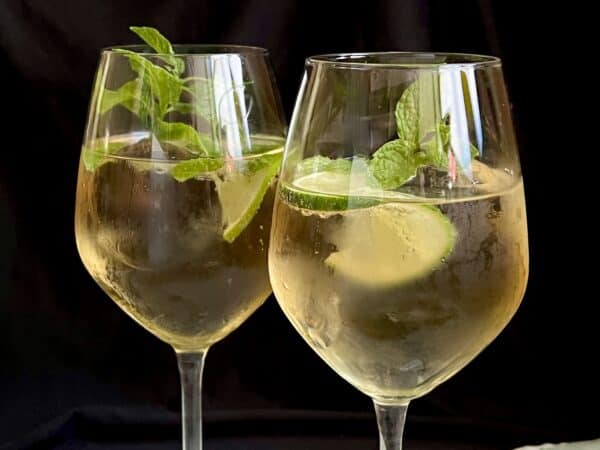 Last year, my daughter was traveling around Europe for spring break. We had no idea she had gone to Lake Como until we spotted her on Instagram with a few Aperol spritzes in front of her!
What am I talking about? It's not just my daughter and me who have been hooked, but most of Europe, it seems. In fact, I posted a photo of these spritzes on Instagram yesterday, and got a message from Jill R. She wrote, "My favorite cocktail! All the rage in Europe!"
So why is it that some things take off like a house on fire one place, and there are "crickets", somewhere else? Culture? Availability? Advertising? Who knows, but I did my part to keep Aperol in business on my trip to Italy and Switzerland last month! By the way, in Italy, they pronounce it "spreetz"! So cute!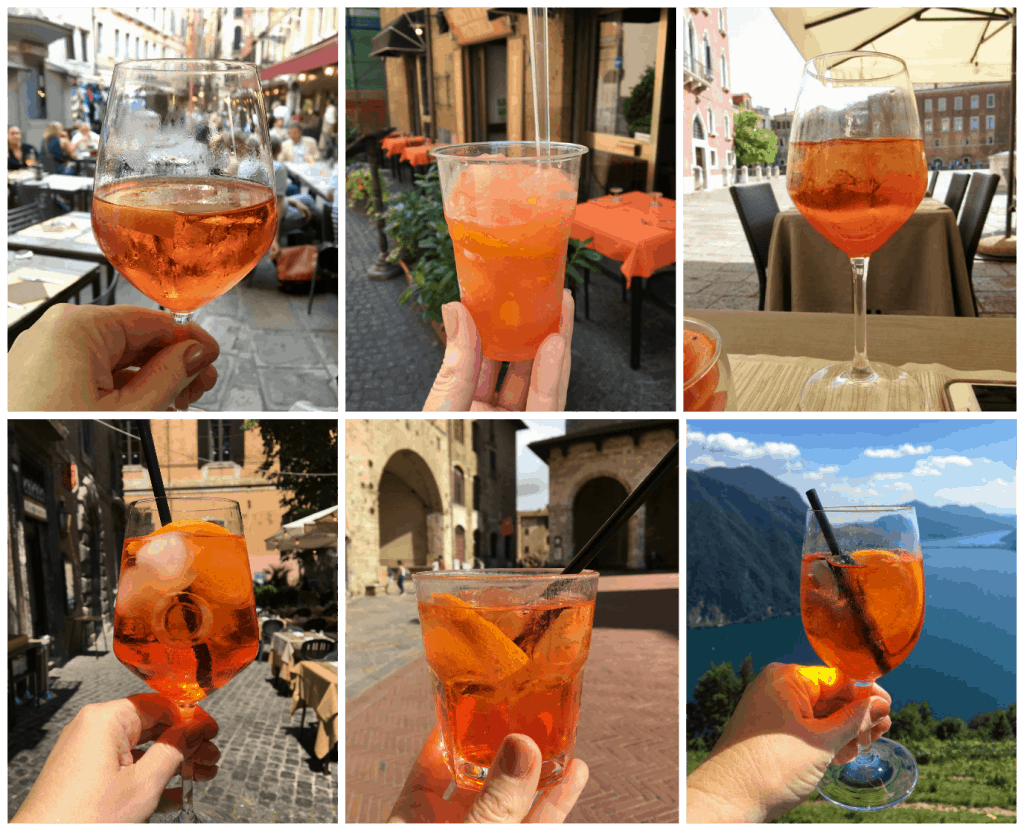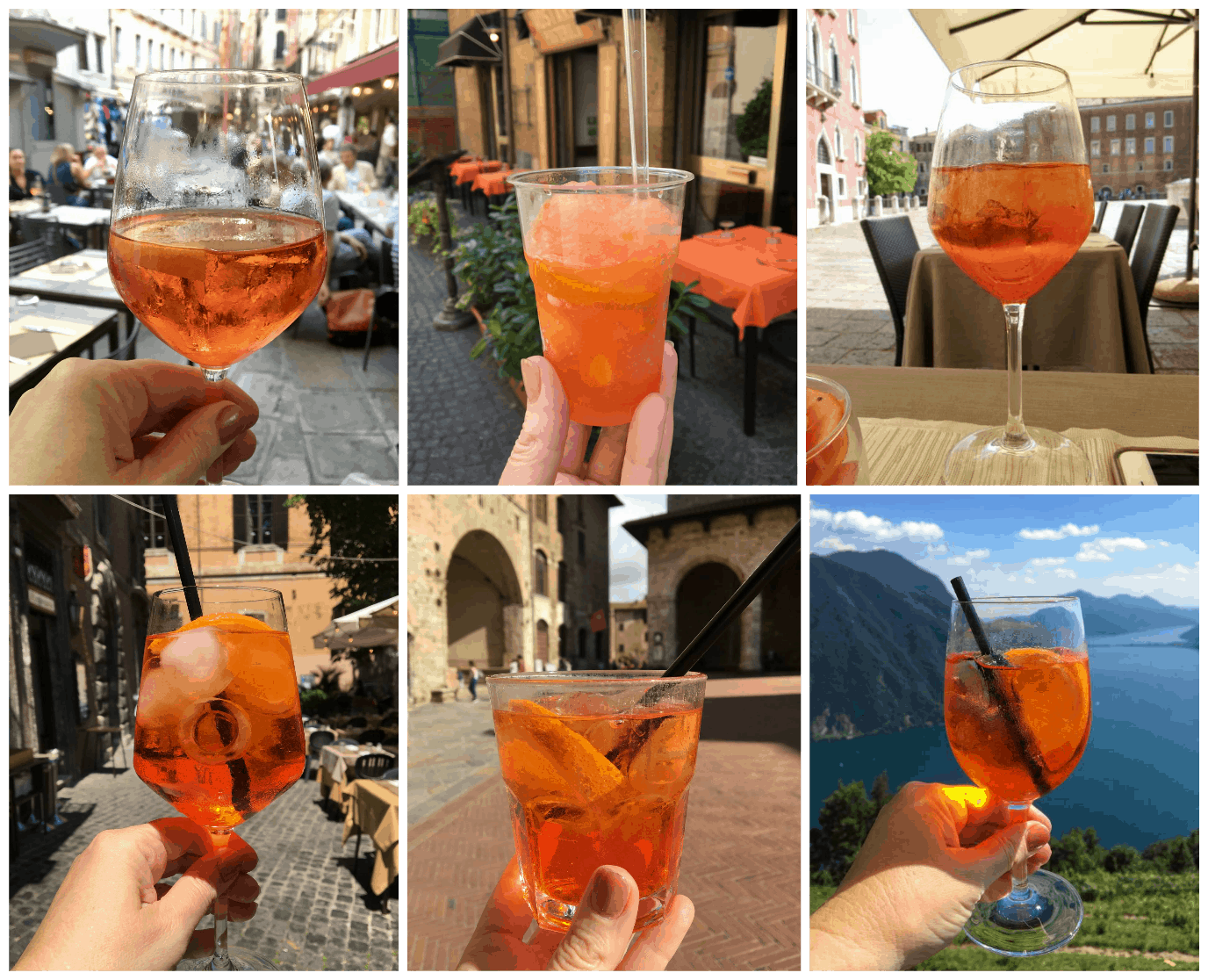 I will call your attention to the center photo on the top row, because this Aperol Spritz is frozen! Talk about refreshing! I'd love to make an Aperol Spritz in frozen form, so I'll have to experiment.
Last month, I met up with my pal, Janice from Farmersgirl Kitchen. She was visiting Venice from Scotland at the same time that I was there. I was surprised to learn that she'd never had an Aperol Spritz! We fixed that in a jiffy!
Let's get to the point of this post~how to make this lovely cocktail!
What do I Need to Make an Aperol Spritz?
From the back label of a bottle of Aperol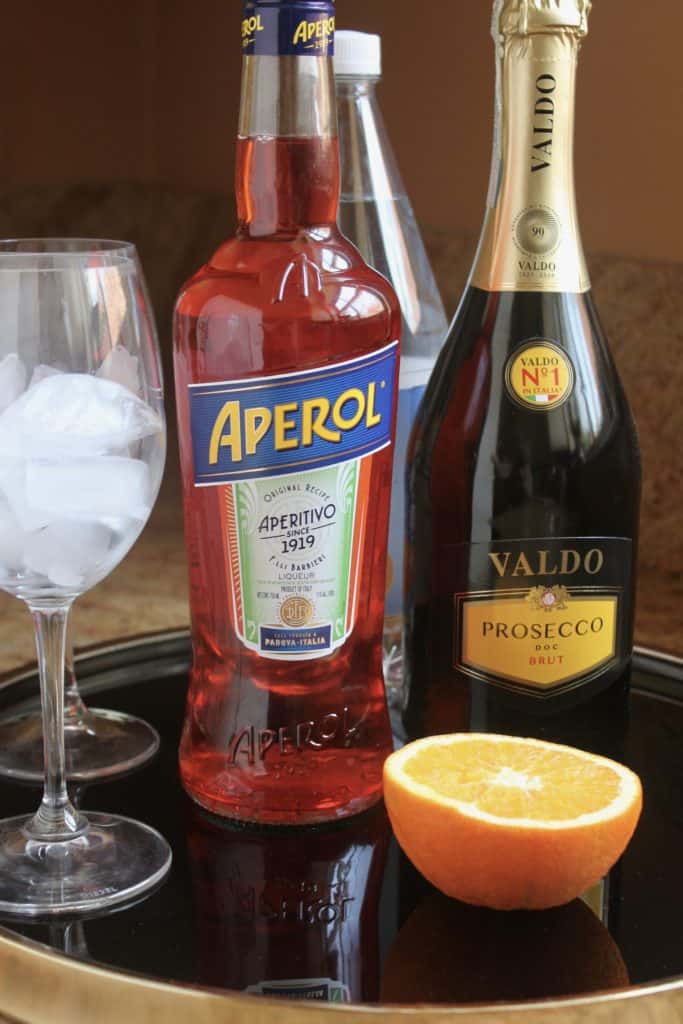 -3 parts of prosecco DOC (I recommend Valdo)
-2 parts Aperol
-1 splash of soda water
– ice cubes
-slice of orange per drink
Fill a wine glass with ice. Add the prosecco, followed by the Aperol, and splash of soda water. Finally, add a slice of orange and serve.
Note: I noticed that Aperol's website has a different "recipe" for a spritz: equal parts of prosecco and Aperol. They're not silly–use more Aperol and they'll be happier! However, I'm sticking with the original 3-2-1 recipe.
Are you already an Aperol Spritz fan? Have you never tried one? If so, have I convinced you to try an this refreshing drink? Let me know in the comments below!
What do I Need to Make an Aperol Spritz?
A classic Italian cocktail made with prosecco.
Ingredients
3 parts of prosecco DOC (I recommend Valdo)
2 parts Aperol
splash of soda water
(ice)
slice of orange
Instructions
Fill a glass with ice.
Add the prosecco.
Follow with the Aperol and splash of soda water.
Finally, add a slice of orange and serve.
Notes
Try adding some orange juice to your spritz instead of the water. My friend Debbie loves them this way!
Nutrition Information:
Yield:

1
Serving Size:

1
Amount Per Serving:
Calories:

209
Total Fat:

0g
Saturated Fat:

0g
Trans Fat:

0g
Unsaturated Fat:

0g
Cholesterol:

0mg
Sodium:

26mg
Carbohydrates:

22g
Fiber:

0g
Sugar:

36g
Protein:

0g
Nutrition info is only an estimate.
Christina's Cucina is a participant in the Amazon Services LLC Associates Program, an affiliate advertising program designed to provide a means for sites to earn advertising fees by advertising and linking to Amazon.com.