Tomato ricotta and basil antipasto is a twist on a caprese salad. It's simple, unique and delicious and a great way to use summer tomatoes in a different way.
*Edited on September 30, 2015 to add new photos, but originally published on March 15, 2012.
I am so excited!!! I just came up with this idea tonight after not having bread (wanted to make bruschetta) or mozzarella (Plan B was a Caprese salad!)
As an Amazon Associate I earn from qualifying purchases.
What I did have was ricotta and I had this lovely vision and it looked like this:
This appetizer is so easy! Slice tomatoes, place on a plate, and sprinkle with Kosher salt. Top with a small spoonful (I used a melon-baller) of ricotta. Drizzle with extra-virgin olive oil, then sprinkle with chopped fresh basil, ta dah!
Good ricotta and tomatoes will make all the difference!
I have discovered the best ricotta I've had outside of Italy, and it's made by Grande Cheese Company. It comes in a 3 lb tub, but it lasts quite a long time (over a week once it's opened.) It makes EVERYTHING taste incredible! I used to buy it surreptitiously at Whole Foods via their kitchen area (not sold to the public)!
The first time I tasted this ricotta was a few years ago when I had a piece of pizza at Whole Foods. It had mozzarella, ricotta and roasted garlic on top. I took one bite of the ricotta on the pizza and walked straight back inside to find out which brand of cheese it was. Yes, it's that good!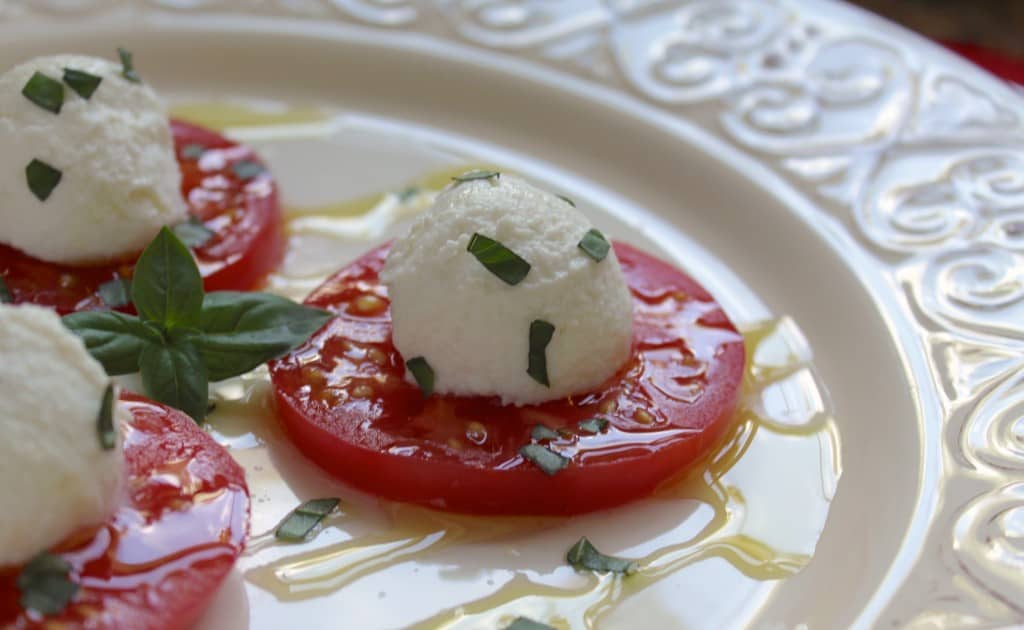 I hope you can find a ricotta that is really like a ricotta should be near you. You could also make it at home, but be forewarned, MOST of the recipes I've seen for making ricotta are NOT for ricotta at all. This proves that so many bloggers and even big cooking websites (I told one site their recipe was not actually ricotta, and they didn't even respond) all copy each other without actually doing research.
I don't need to research ricotta because my mother made it all the time when I was growing up, and ricotta actually means "cooked again". You have to make ricotta after you've made cheese, or else it's just cheese!
Tomato Ricotta and Basil Antipasto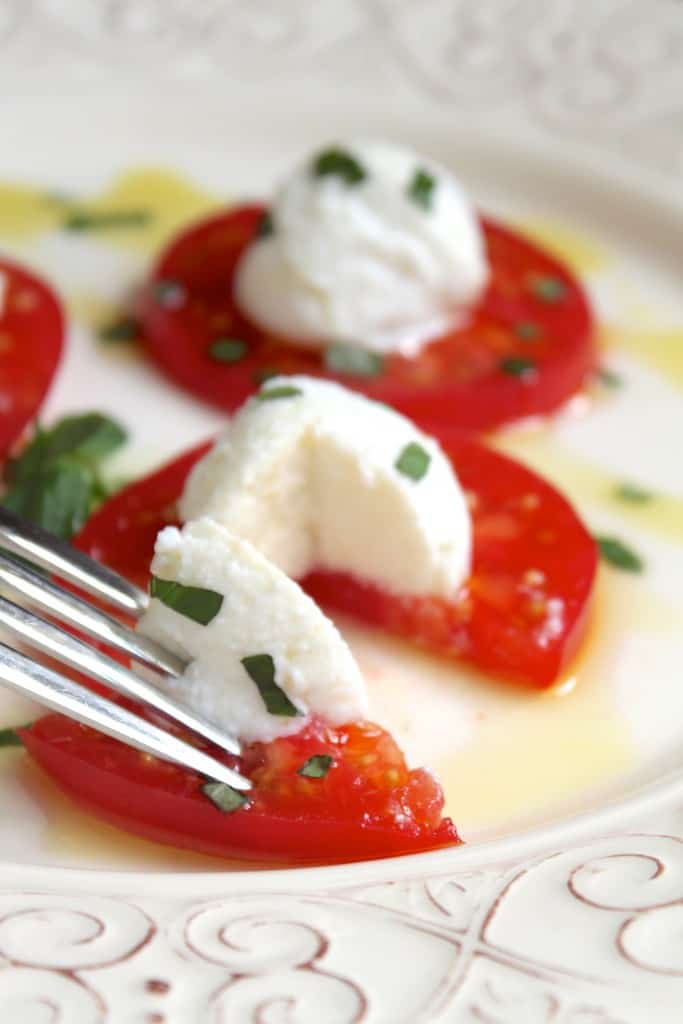 Buon Appetito!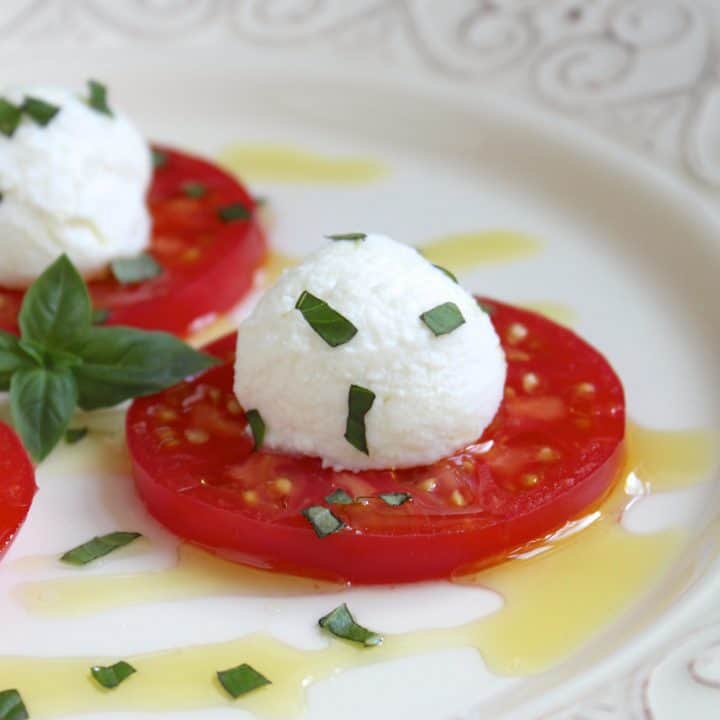 Tomato, Ricotta and Basil Antipasto
A super easy and delicious twist on a Caprese appetizer.
Ingredients
2 medium sized, firm tomatoes, sliced
4 oz of top quality ricotta cheese
1 tbsp extra virgin olive oil
sprinkle of sea salt
chopped basil
Instructions
Arrange the tomato slices on a flat serving plate.
Top with a small scoop (I used a melon baller) of ricotta, drizzle with extra virgin olive oil and sprinkle with the sea salt and chopped basil. Serve.
Nutrition Information:
Serving Size:

1 tomato in slices
Amount Per Serving:
Calories:

169
Total Fat:

14g
Unsaturated Fat:

7g
Protein:

6g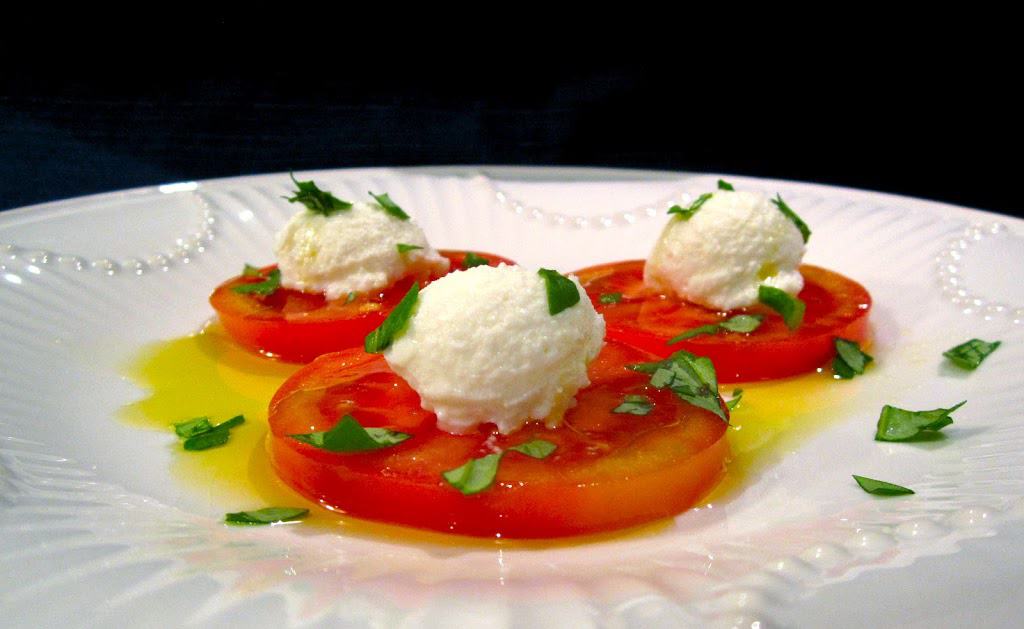 Don't miss another recipe or travel post, sign up for my free subscription below.