Jambon beurre, a French ham and butter sandwich made on a baguette, is one of the simplest, but one of the best sandwiches you'll ever have!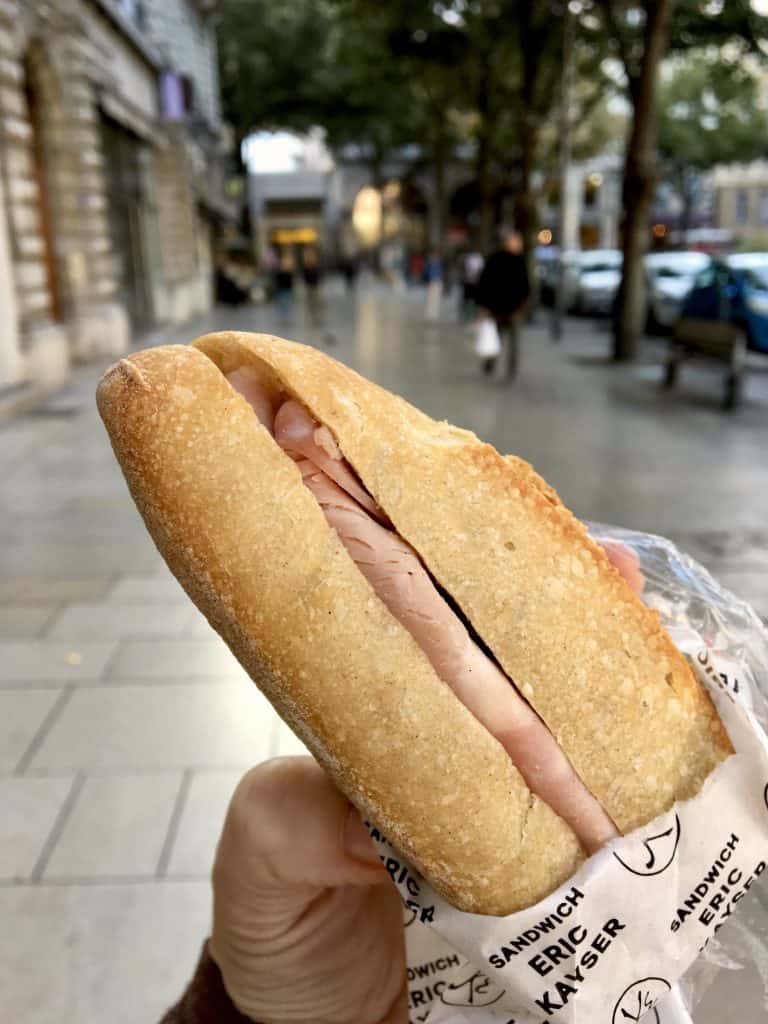 I hope this jambon beurre will be a delight for you to discover, if you have not yet had the pleasure of tasting one.
As an Amazon Associate I earn from qualifying purchases.
I've been writing and posting like a mad woman since I returned from Europe in September, all the way until Christmas. There were also other deadlines on top of the culinary tour posts I'd written. I honestly didn't step foot into a store to do Christmas shopping until December 23rd.
I'm sharing this jambon beurre baguette with you because it's one of my all-time favorite sandwiches! However, this isn't just any ham and butter sandwich, I'm referring to the French style, jambon-beurre. I have it whenever I get the chance, especially when I'm in Paris. As you can see from a recent trip to Strasbourg, France, I snagged one there. I also discovered a new favorite: rhubarb tart with meringue topping!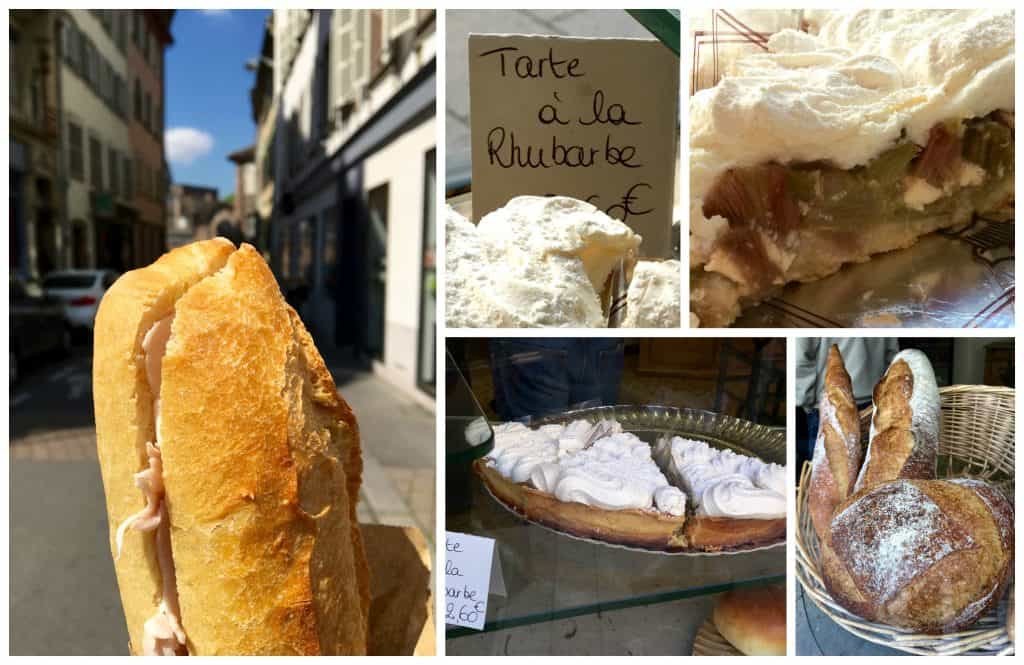 What is Jambon-Beurre made of?
A jambon beurre is simply made with French ham, good quality butter, and part of a baguette. It is one of the most simple sandwiches, but also one of the tastiest! The quality of the ingredients are key (no surprise here)!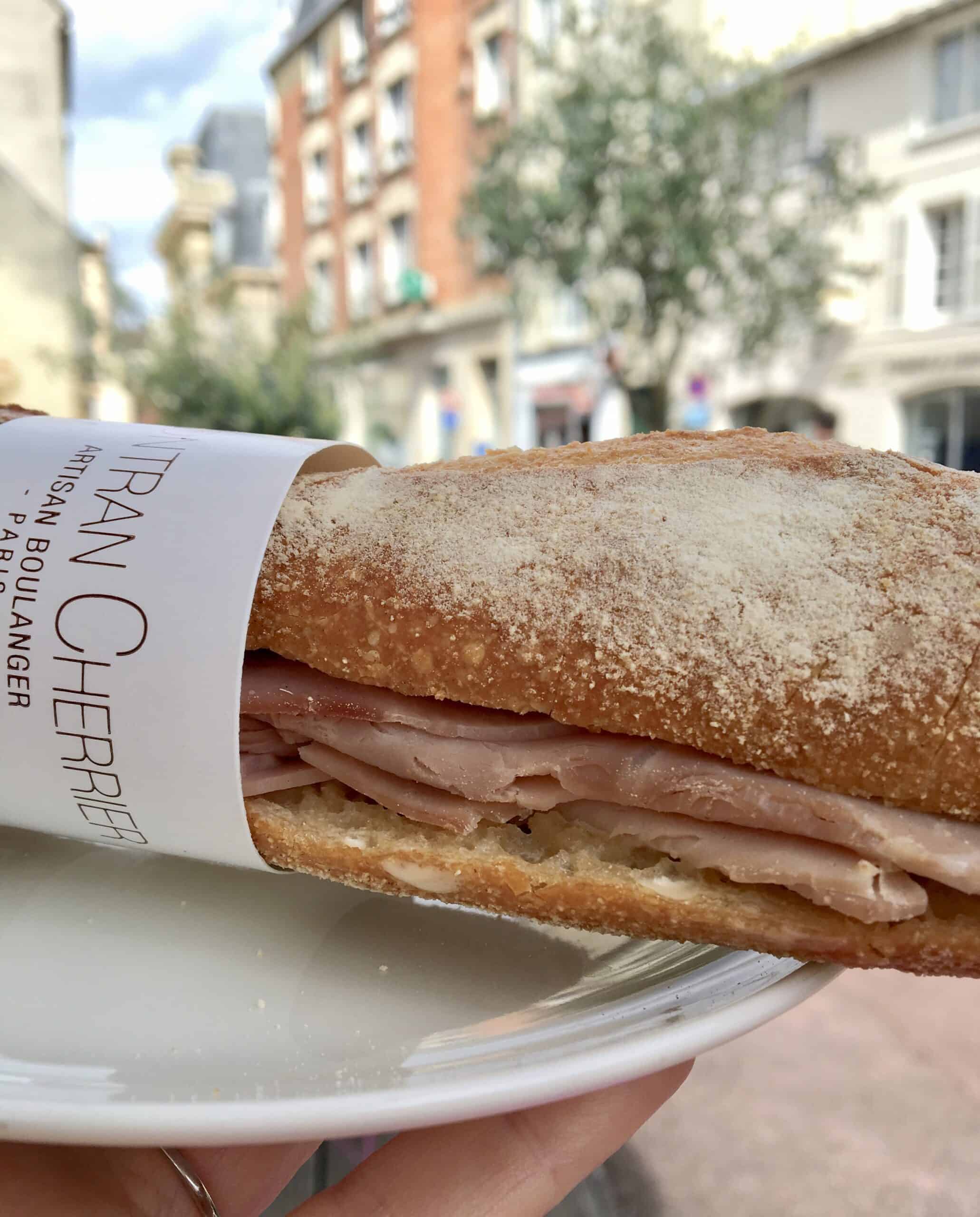 This gorgeous jambon beurre was taken at a cafe in Saint Germain en Laye, just outside Paris, when I visited my friend, Jill (Mad About Macarons). This jambon beurre recipe, isn't actually a recipe, per se, because it's so simple.
Last year, I was lucky enough to buy real French ham at a gourmet import store here in LA. I also bought a crusty baguette and always have a really good quality butter on hand, so that's all that was needed.
Another killer ham sandwich I discovered in my travels to Scotland.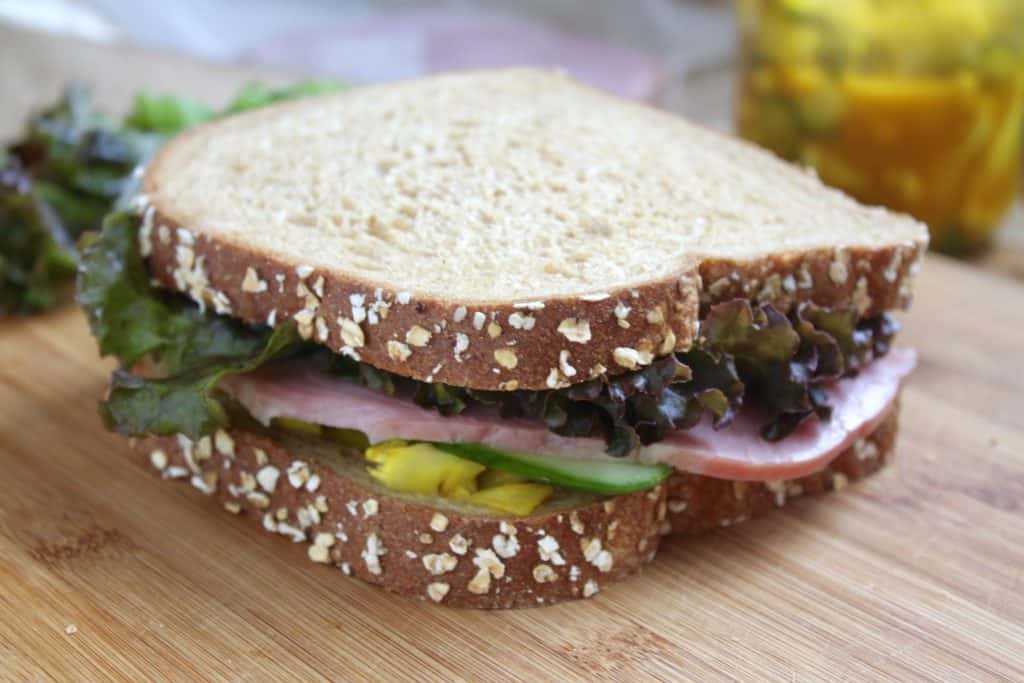 What do I Need to Make Jambon Beurre?
These three quality ingredients: bread, butter and ham = heaven. Don't miss having one if you go to France! In my experience, these are the best you'll ever have. Or if you go to Seattle, stop by Le Panier as they have delicious varieties of quality, French baguette sandwiches.

I also made jambon beurre (French ham and butter sandwiches) in England at my cousin Connie's house. If you've never had one, you should do yourself a favor and rustle up these three ingredients. You really don't need a recipe, but here's what to do~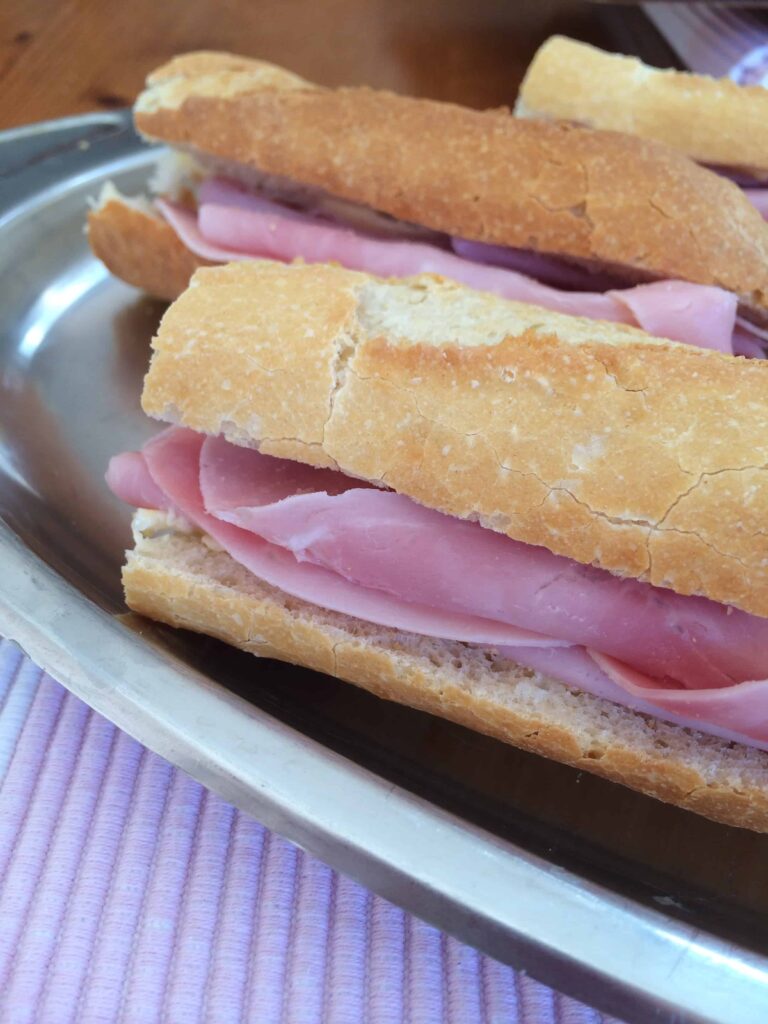 Jambon Beurre Recipe
(How to Make Jambon Beurre)
A classic French recipe serves 4
FULL PRINTABLE RECIPE BELOW
Cut the baguette into quarters, then slice in half lengthwise.
Spread the softened butter onto the baguette. Don't put it on like cheese, but don't put too little, either.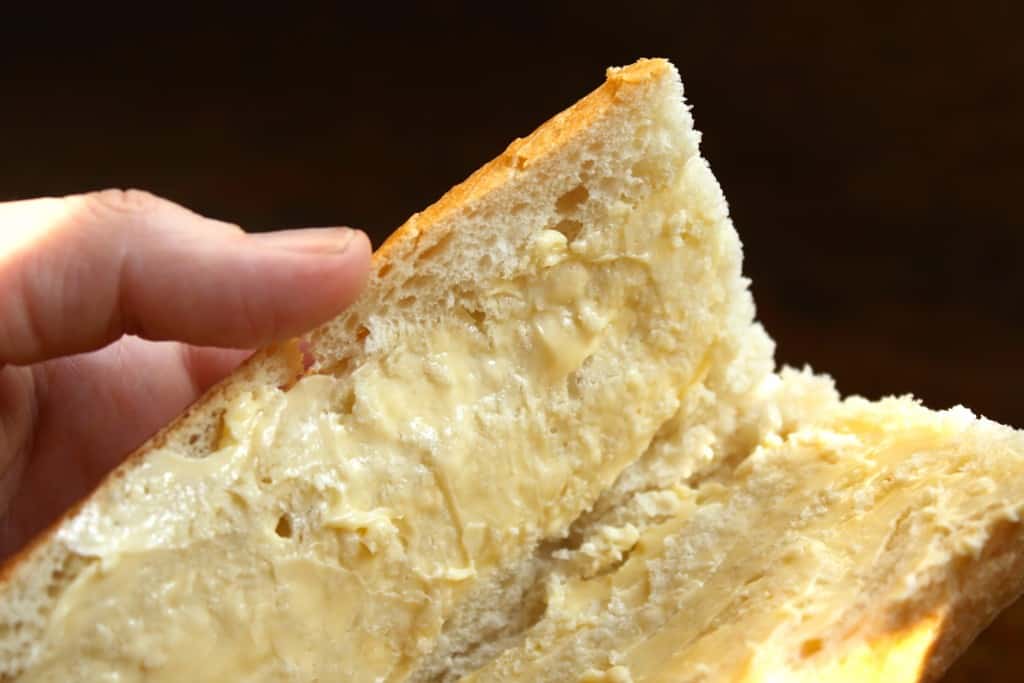 Add the slices of ham. This is not a NY deli style sandwich; two thin slices will suffice.
Enjoy your ham and butter baguette, you lucky devil!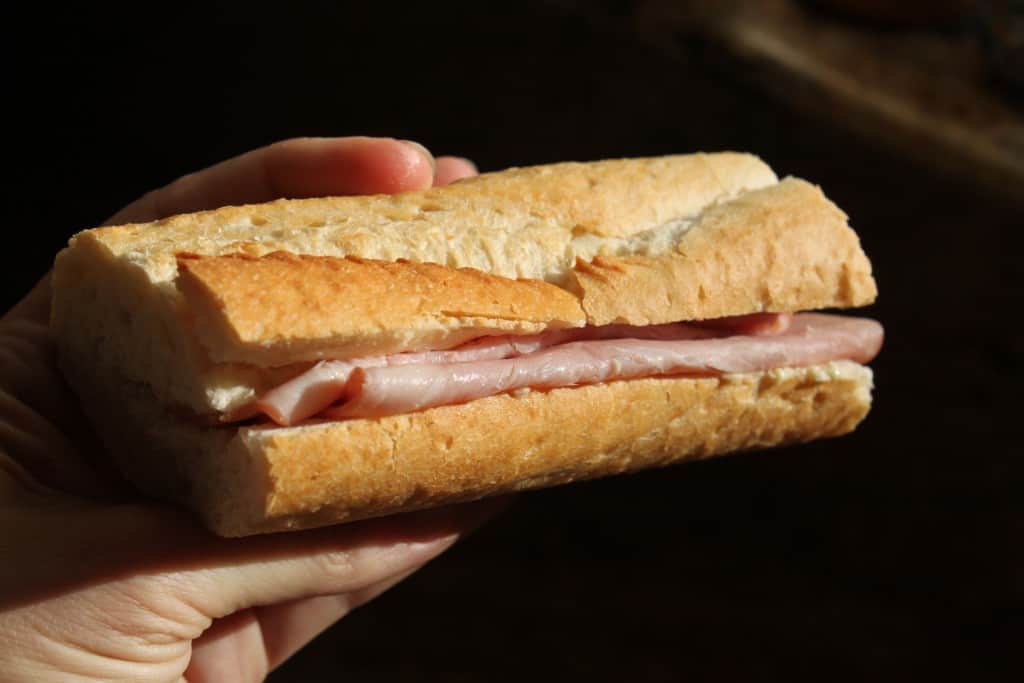 Love French food, don't miss out on making your own 5 star French onion soup!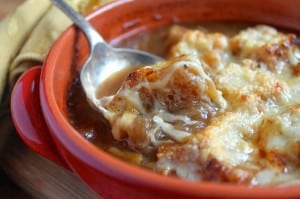 And for dessert, serve these scrumptious profiteroles!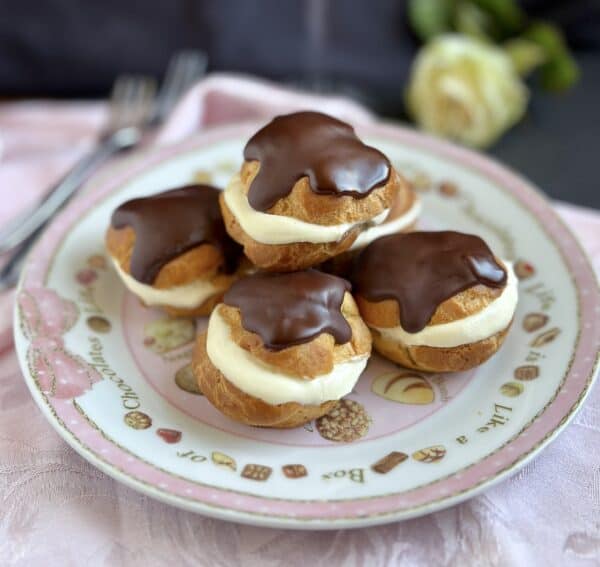 Or try these passion fruit and lemon meringue tartlets that are straight out of a French patisserie!
Jambon Beurre
A classic French sandwich that is incredibly simple, yet just as tasty using just 3 ingredients.
Ingredients
a really good quality, crusty baguette
2 oz top quality butter, at room temperature
8 oz thin, French ham (if you can find it, if not, the best, thinly sliced ham you can get)
Instructions
Cut the baguette into 4 pieces and slice lengthwise.
Spread the butter on both sides of each piece of bread,
Top the bottom bread with the the sliced ham.
Notes
Like so many other simple recipes requiring few ingredients, this sandwich will be lackluster if you do not use top quality ingredients.
Nutrition Information:
Yield:

4
Serving Size:

1
Amount Per Serving:
Calories:

401
Total Fat:

16g
Saturated Fat:

8g
Trans Fat:

0g
Unsaturated Fat:

6g
Cholesterol:

67mg
Sodium:

1133mg
Carbohydrates:

43g
Fiber:

2g
Sugar:

4g
Protein:

21g
Nutrition information is only estimated.
Don't miss another post! Click to sign up for my free recipe & travel subscription.
Christina's Cucina is a participant in the Amazon Services LLC Associates Program, an affiliate advertising program designed to provide a means for sites to earn advertising fees by advertising and linking to Amazon.com.