Authentic, simple and healthy Italian bean salad is so easy to make, yet delicious and full of protein. Makes a great packed lunch or picnic dish.
Originally published October 4th, 2013.
Many people think that Italian cuisine is complicated and involves lots of "herbs and spices." Nothing could be further from the truth.
As an Amazon Associate I earn from qualifying purchases.
Most Italian dishes are very simple and involve a few flavors which, instead of fighting for attention, come together beautifully to complement each other. This Italian bean salad is a perfect example: it is simple, has only three or four ingredients, and amazing flavor. Here's another vegetarian bean recipe you may enjoy.
Barley bean soup made in a slow cooker.
It's also low in fat, high in protein, and the extra virgin olive oil provides many health benefits. Cannellini beans are a super food in their own right, supplying high amounts of iron, vitamin B1, magnesium, antioxidants and more.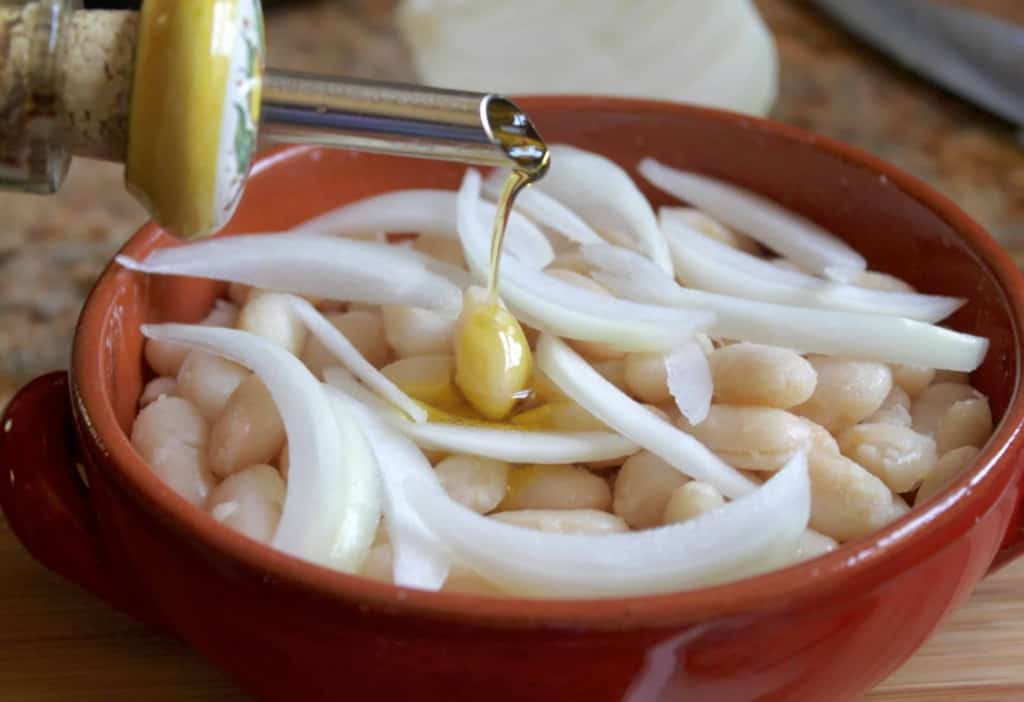 I have made this Italian cannellini bean salad for many get togethers, buffets and parties, and guests always comment on how delicious it is. It's perfect as a side dish, for a pot luck, picnic, brunch–the list goes on.
As a matter of fact, the photo of this Italian bean salad is my daughter's packed lunch for school today, along with a piece of homemade bread.
As I stated in my "rant" about using quality ingredients: yes, you can use canned beans, but will it taste the same as home cooked beans? You know the answer, so I'm including how to cook dried beans in case you haven't made them before. I always have a supply of home cooked beans in small containers in the freezer.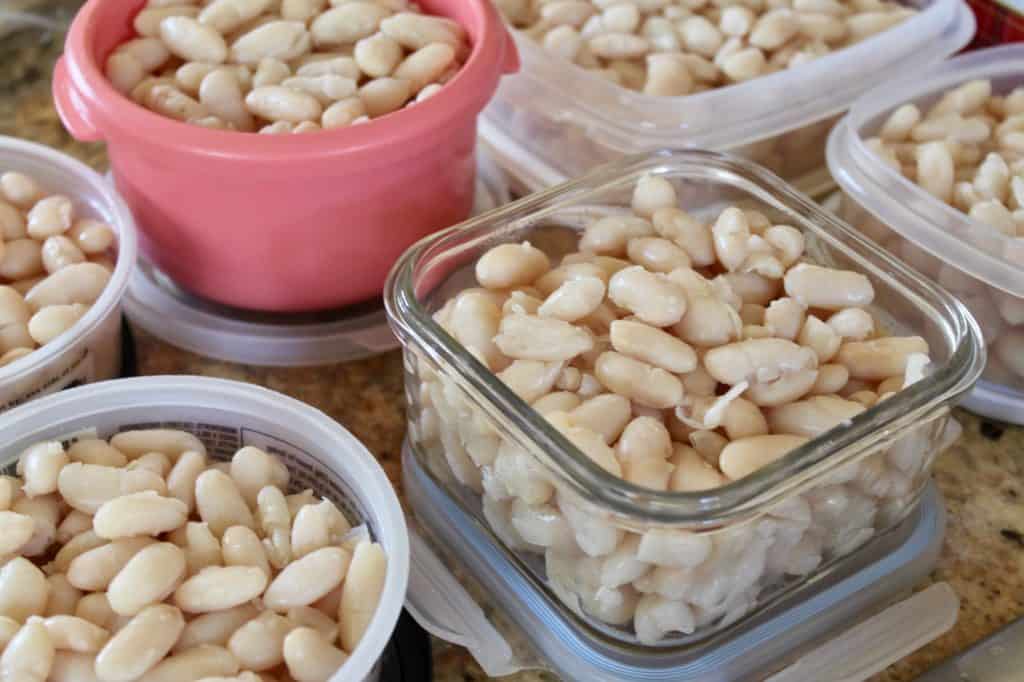 They're handy for making this bean salad, adding to Italian green beans, or making pasta & beans, for a super quick and healthy meal.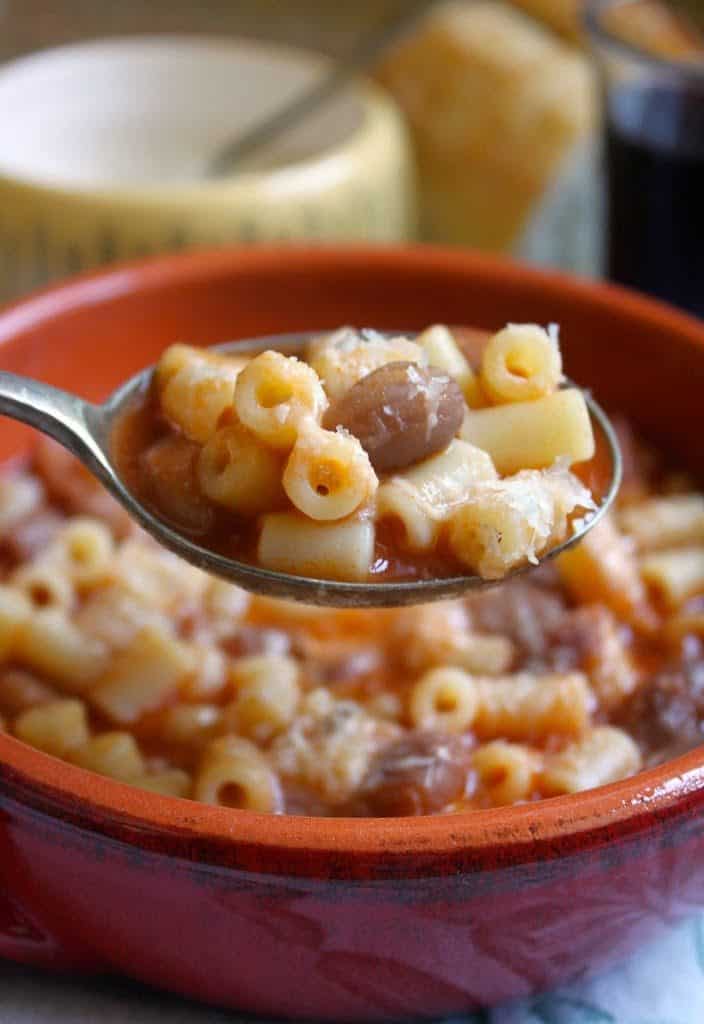 How to Cook Dried Beans
Step 1. Soak the beans overnight (I cooked cannellini, but the same directions apply to any kind of bean like kidney, navy, garbanzo, borlotti, fava etc.). I usually start to soak them in the afternoon, in at least 4 or 5 times the amount of water. You don't want the beans to dry up while soaking.
Step 2. Then next day, rinse the beans well, picking out any debris. Add water in a pot about an inch or two above the level of the beans.
Step 3. Put on the stove over medium high heat, and bring to a boil. Stir and remove the foam with a wooden spoon and discard, then lower the heat so that the beans are at a constant simmer for approximately 45 minutes, or until cooked. About 35 minutes into cooking, add a teaspoon of salt.
Taste the beans for readiness, and add salt, if needed. If the beans are still hard, continue to cook, if it tastes rather bland, add more salt.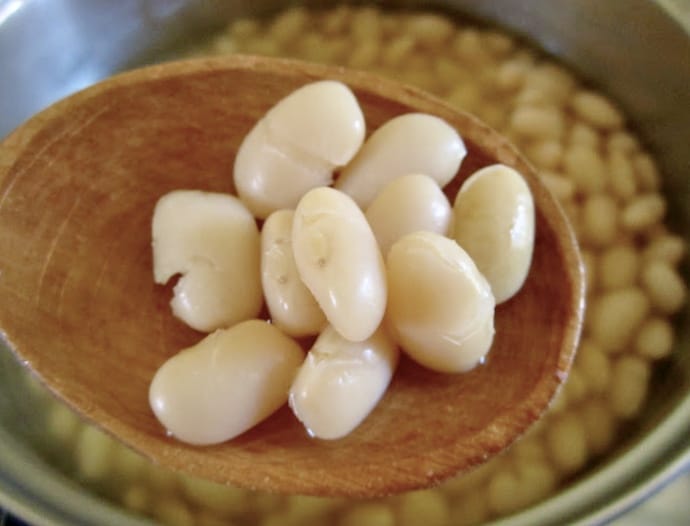 Drain, and cool. Use as desired, or refrigerate or freeze.
Simple, Healthy Italian Bean Salad
serves two as a side dish
Ingredients
8 oz cooked beans (your choice)
2 green onions or regular onion (sweet is best)
1 to 2 Tbsp extra virgin olive oil (good quality will make a HUGE difference)
wine vinegar, optional (I LOVE it with vinegar, but it's a totally a matter of taste)
good quality sea salt, to taste
Place all the ingredients in a bowl and toss together gently. Taste for salt, and add a little if necessary. How can it get any easier than this?
Serve with crusty Italian bread, of course, homemade is the best!
Simple, Healthy, Italian Bean Salad
A super simple Italian style bean salad.
Ingredients
8 oz cooked beans (your choice)
2 green onions or regular onion (sweet is best)
1 Tbsp extra virgin olive oil
sea salt
Instructions
Place all the ingredients in a bowl and toss together gently. Taste for salt, add more if necessary.
Serve with crusty Italian bread
Notes
Nutrition information is using cannellini beans.
Nutrition Information:
Yield:

2
Serving Size:

4 oz
Amount Per Serving:
Calories:

192
Total Fat:

7g
Saturated Fat:

1g
Trans Fat:

0g
Unsaturated Fat:

6g
Cholesterol:

0mg
Sodium:

684mg
Carbohydrates:

30g
Fiber:

6g
Sugar:

12g
Protein:

6g
Nutritional information is only an estimate.
This is the same style of Italian bean salad made with small fava beans and green onions.
Don't miss another recipe or travel post, sign up for my free subscription below!
I promise not to share or sell your email address, ever.
Christina's Cucina is a participant in the Amazon Services LLC Associates Program, an affiliate advertising program designed to provide a means for sites to earn advertising fees by advertising and linking to Amazon.com.