Halloween cookies are a great project to help kids (and adults) get excited about the last day of October festivities. Here are a few spooky and sweet cookie decorating ideas!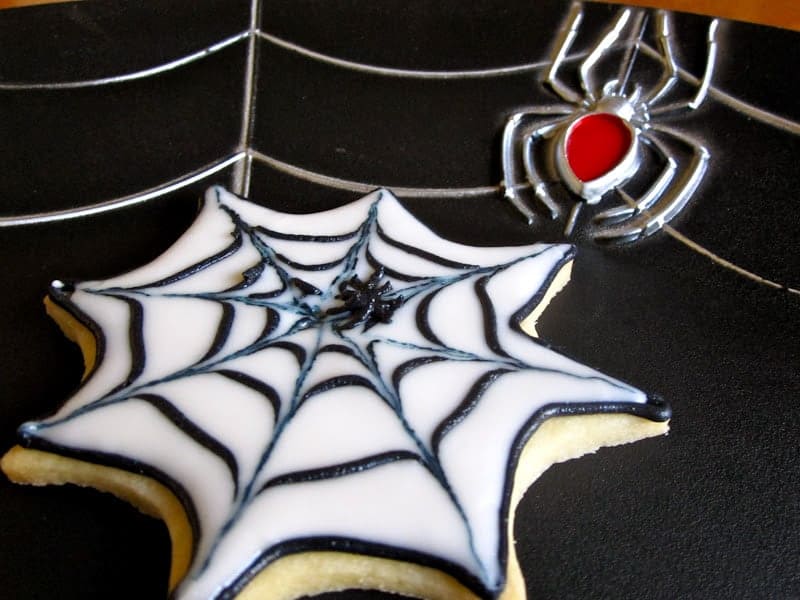 Originally published October 31st, 2012.
Halloween Cookies – Decorating Ideas
Whenever I want to decorate cookies, I just make a batch of simple shortbread-type cookies. I then decorate them with piping bags, and plastic condiment bottles (they work great for filling in spaces!)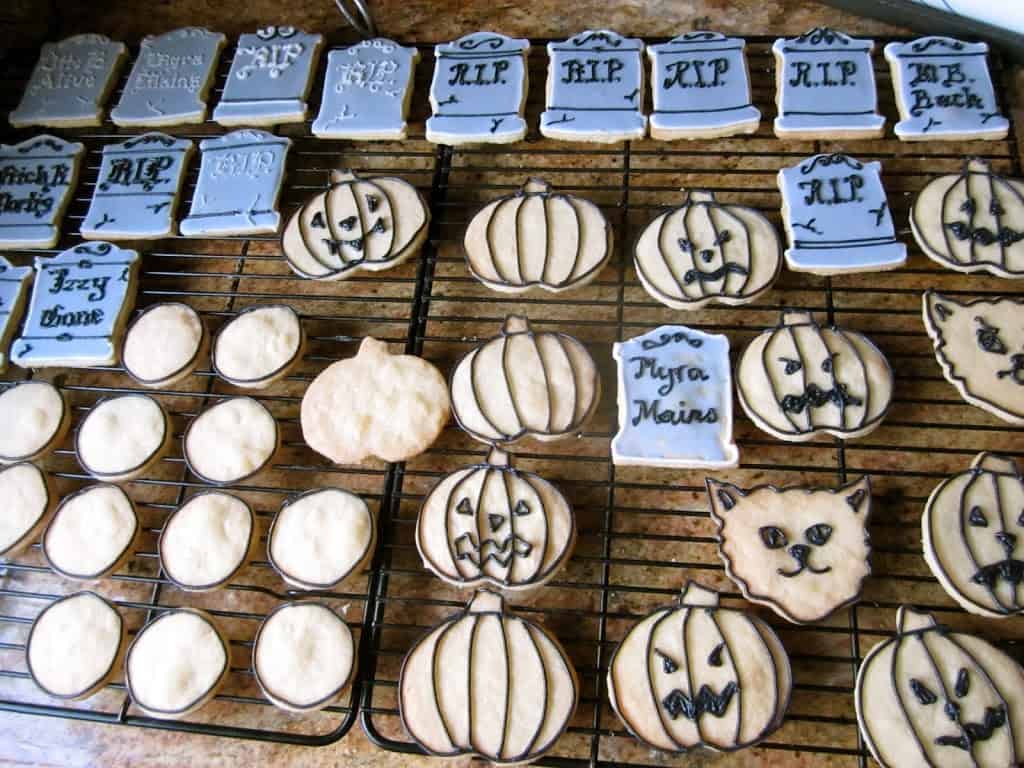 I use buttercream in the piping bags to outline the Halloween cookies, and runny icing in the bottles.
Runny icing = confectioner's sugar mixed with water or milk to a runny consistency, so it flows nicely filling in the cookie spaces, but not too thin that it runs out of the lines, mixed with the colors of your choice.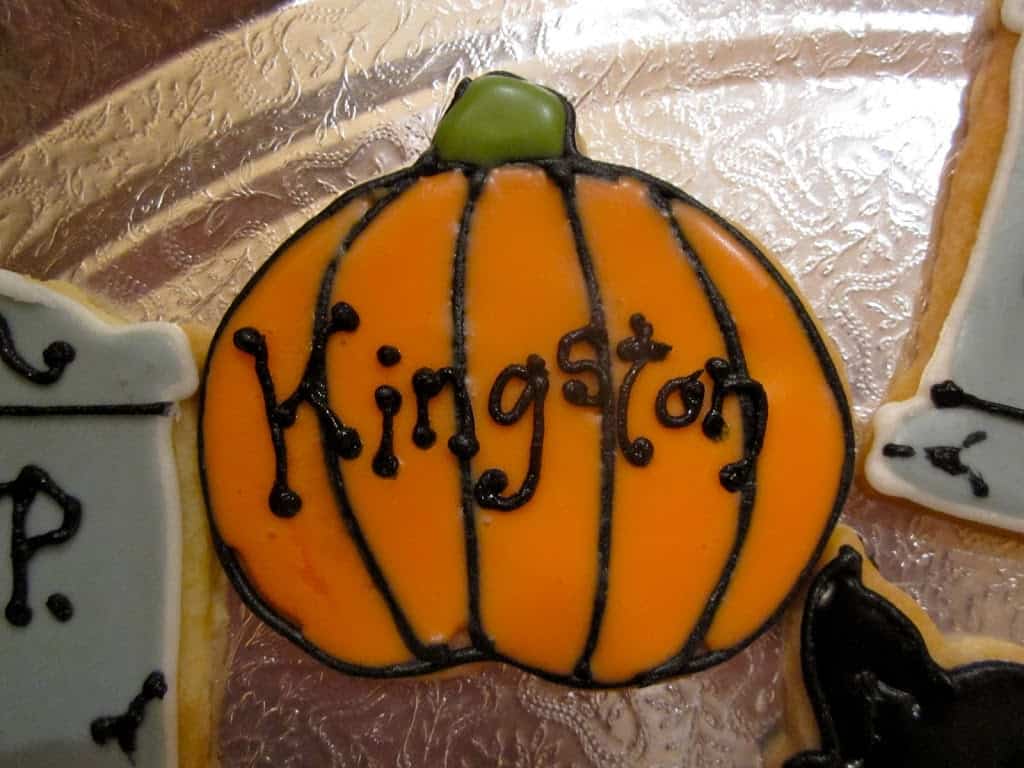 Have you ever made witches' fingers cookies? They're so much fun!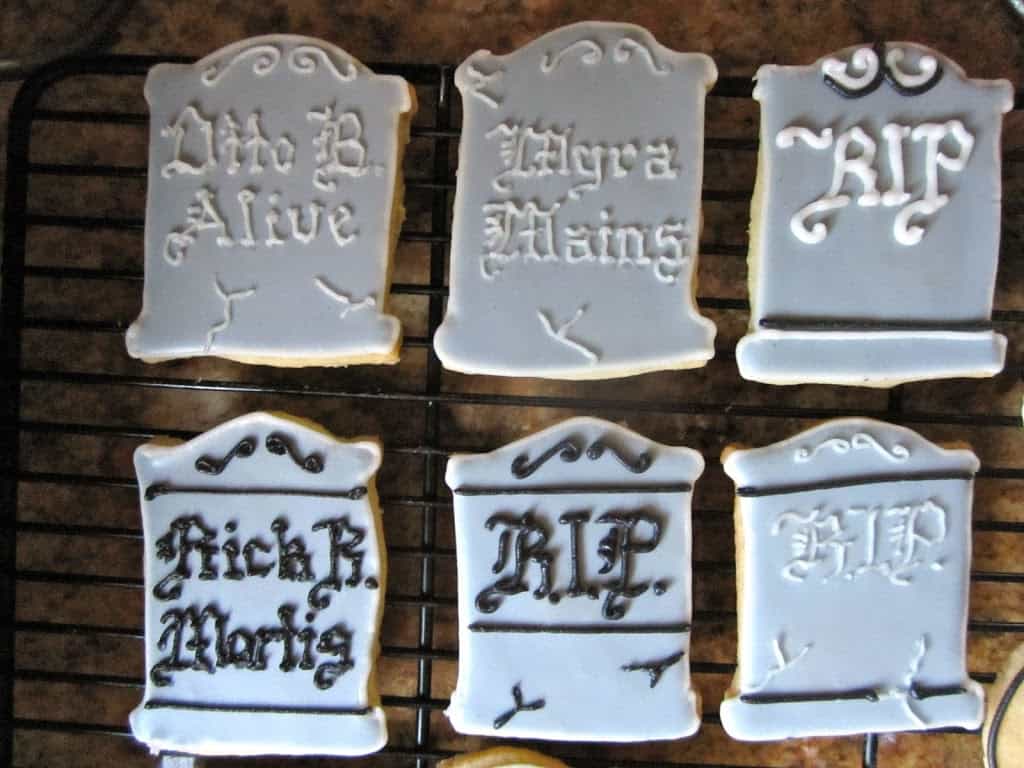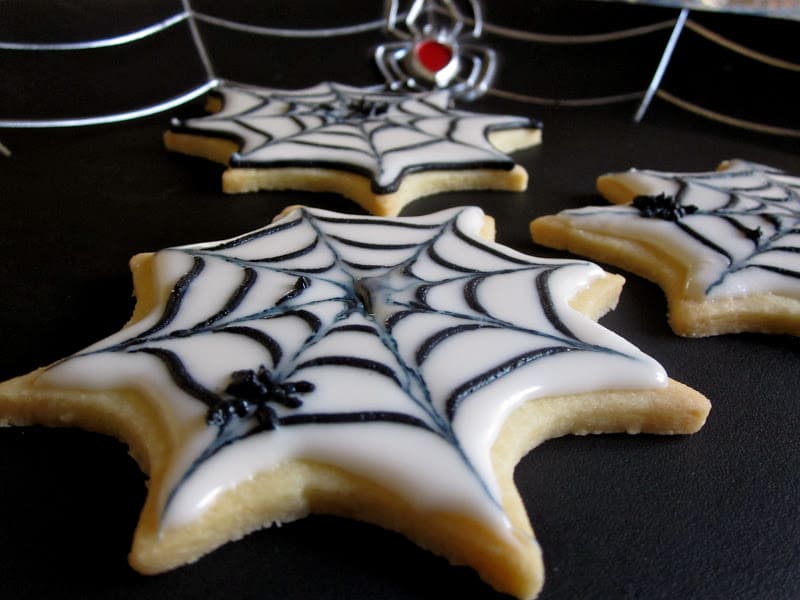 Easy spider web cookies can also be made on plain round cookies, no special cookie cutters necessary!
Here are Some Headstone Halloween Cookie Ideas.
R.I.P.
Izzy Gone
Rick R. Mortis
Otto B. Alive
Ded N. Gone
Al B. Back
Myra Mains
I love to decorate the pumpkin cookies then personalize them for children. They love them, too!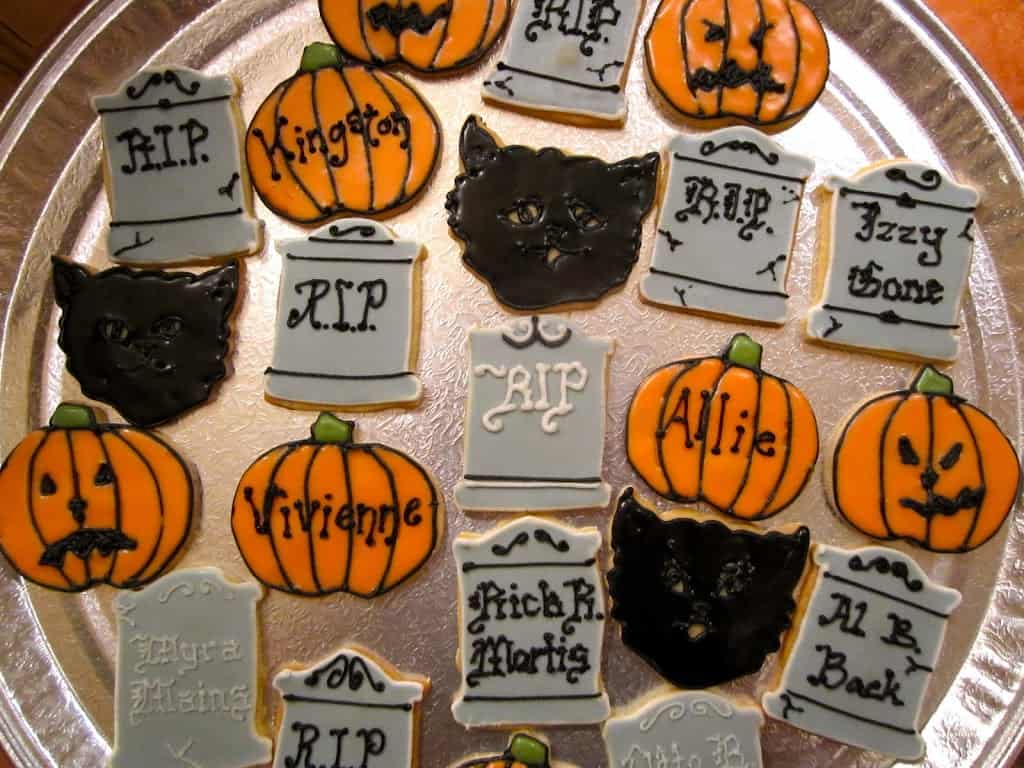 Just be sure to allow the flowing (soft) icing to set completely before adding the text. I usually allow them to set overnight, just to be certain that I won't ruin what I've already done. This is a fun family project, or great to arrange when kids have a play date before Halloween. Encourage them to bake and cook whenever possible; it's a wonderful skill to have.
These Halloween cookies are also great to give out to trick or treaters. Simply put one or two in a small, food-grade plastic bag with a twist tie. However, you probably only want to give them to children whose families know you (or they may get dumped, and that would be very sad)!
Here's the cookie recipe I use. Simply skip the jam and icing with coconut instructions.
Springtime/Easter Cookies
Additional Time:
30 minutes
An award winning buttery cookie with a floral decoration for spring or Easter.
Ingredients
1 cup (8 oz) salted butter, softened
1/2 cup (4 oz) sugar
2 cups (10 oz) good quality, sifted, all-purpose flour
raspberry jam (like Mackay's or Bonne Maman-invest in good-quality jam, it will make your cookies taste better!)
4 cups confectioner's (powdered) sugar, sifted
1/4 cup (2 oz) water or milk
Instructions
Cream butter and sugar together, then add flour and mix until a dough forms.
Place half of the dough onto to a well-floured surface, and roll out to about 1/4" thickness. Cut with a round cookie cutter (I use a 2" or 2 1/2" cutter.)
Using a metal spatula or turner, lift each cookie then place onto a prepared cookie sheet (I like to use a silicone sheet) and bake in a 350º F oven for 8-10 minutes.
They should not start to brown. (I turn my trays around halfway through baking to make sure they cook evenly.)
Remove the tray from the oven and set aside for a few minutes before transferring cookies onto a cooling rack. Repeat with remaining dough.
Allow to cool completely, then pair off similar shaped cookies together, placing the smoothest cookie on top.
Prepare the icing:
Mix together confectioner's sugar and milk; the icing should be the consistency of Elmer's Glue (it will look like it too!) Color it into pastel colors of your choice.
Spread or pipe some icing on each top cookie only; do not ice all of them. I love to use a condiment style bottle to do the outline, then fill in the center. It's really fun, and easy enough for kids to do!
Set aside with its mate and before the icing sets, add a little royal icing flower. I usually let these dry overnight; they need at least 6 hours for the icing to set.
When the icing is dry, sandwich the cookies together with some raspberry jam. Place a few on a festive plate, or box them up for a lovely gift!
Nutrition Information:
Yield:

12
Serving Size:

2 cookies
Amount Per Serving:
Calories:

538
Total Fat:

17g
Saturated Fat:

11g
Trans Fat:

1g
Unsaturated Fat:

5g
Cholesterol:

41mg
Sodium:

135mg
Carbohydrates:

95g
Fiber:

1g
Sugar:

77g
Protein:

3g
HAPPY HALLOWEEN!
Don't miss another recipe or travel post, sign up for my free subscription!
Christina's Cucina is a participant in the Amazon Services LLC Associates Program, an affiliate advertising program designed to provide a means for sites to earn advertising fees by advertising and linking to Amazon.com.