THANK YOU TO EVERYONE WHO VOTED FOR MY RECIPE* DURING THE CONTEST!
Like many people, I love chocolate.
As an Amazon Associate I earn from qualifying purchases.
However, I would choose to have no chocolate over bad chocolate, or even mediocre chocolate.  To me, there is no point in wasting calories on something one doesn't enjoy.
Maybe it's because I grew up eating good quality chocolate in the UK. I am not a connoisseur of many things, but I know good chocolate when I taste it.  I don't want to get into chocolate bashing here, but suffice it to say that I don't eat very much US chocolate.
You'll understand more, if you read this.
I read somewhere that the minimum required amount of cocoa butter in US chocolate is only 10% compared to the UK's 20%, and I'm assuming it's true. Compare that to the 40% of some other European countries' chocolate and you'll get the picture. Here's an interesting article about the US/UK chocolate difference.
If you are curious about the chocolate you've been eating, and mind you, I've noticed many US candy bars have switched from sugar to corn syrup in the past few years, try taste testing your your favorite chocolate against a Green & Black's chocolate bar, for example.
But whether you do the taste test or not, I beg of you, please–just don't use Hershey's in this recipe.
Green & Black's Toffee and Dark Chocolate Meringue Parfaits
make one recipe of Dreamy and Decadent Chocolate Mousse
Green & Black's Toffee Bar, about 1/4 of the bar chopped, and 6, 3 piece strips
fresh whipped cream (flavored with a teaspoon or two of Toffee Liqueur, optional)
2 or 3 meringues, crumbled (can be homemade or purchased at Trader Joe's)
Place a little mousse in the bottom of a martini glass or dessert glass and sprinkle some chopped Toffee bar on top.
Next, carefully add a layer of fresh whipped cream, making sure to spread it to the edge of the glass so the white layer can be seen.
I put the cream in a piping bag to make it easier.
Then add another layer of mousse, and top with crumbled meringue pieces.
Finish with a final layer of mousse.
Decorate with cream, chocolate shavings and a 3 piece stick of the toffee bar.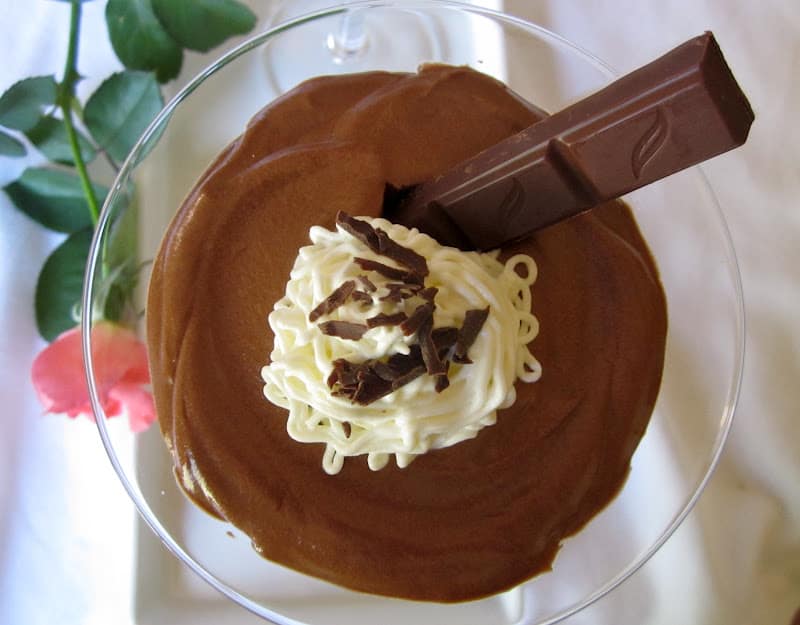 Here is a another way to serve it, in mini glasses.
Most people will probably prefer smaller servings because it is a very rich dessert.
*Green & Black's omitted the meringue in my winning recipe. This is my original submission.
Don't miss another recipe or travel post, sign up for my free subscription below.
Christina's Cucina is a participant in the Amazon Services LLC Associates Program, an affiliate advertising program designed to provide a means for sites to earn advertising fees by advertising and linking to Amazon.com.