Free Shakespeare in the park is a great reason to pack up a picnic and get our to enjoy our LA summer. (Or wherever you live if you have some outdoor summer activities, too.) I've got a list to ensure you have a perfect picnic when you go!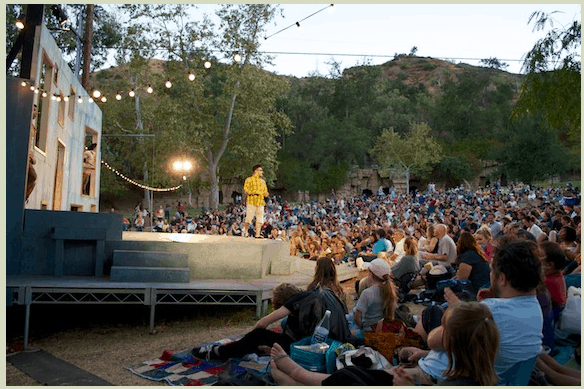 Did you know that William Shakespeare was a foodie?
This post may contain Amazon affiliate links for your convenience, at no added cost to you.
He must have been, because so many of his plays revolve around banquets and he has so many references to food in them that he just had to have been a foodie, right? Well, even if he wasn't a foodie, I can pretend that he was, and either way, he's one of my all-time favorite writers.
Shakespeare was such a brilliant, witty, and funny playright and author. He is responsible for so many of the words we currently use, like "obscene", "fashionable", and "scuffle" (and some other obsolete words and phrases, which are quite funny today.)
I made it a point when I was in England a few years ago, to go to Stratford-upon-Avon and visit his childhood home, and the church where he is buried. My family also ate in a restaurant that was in business when Shakespeare was still living in there (HOW COOL IS THAT?)!
If you happen to live in Baillieston, Scotland, or Arcadia, Australia, or even Wyncote, Pennsylvania, (or anywhere outside the SoCal area) our Free Shakespeare in the Park is obviously not going to be of any use to you. Unless, of course, you come to visit LA during summer (hint-hint).
Even if you're not living in or near LA, you can still have picnics, so don't miss "THE PERFECT PICNIC" checklist below!
However, if you are a lucky-duck who lives in the Los Angeles area, I want to tell you about a brilliant group of people who make up the INDEPENDENT SHAKESPEARE COMPANY and provide FREE top-notch performances of Shakespeare's work in Griffith Park, from June through September.
Having seen countless performances by different troupes (including Julius Caesar at The Swan Theatre in Stratford-upon-Avon), it is easy for me to tell you that ISC will convince you love Shakespeare too! I have brought so many friends to performances, who loved them. Even one who said, "I don't understand Shakespeare", only to see him leave the play in awe: he not only thoroughly enjoyed (and understood) the play, but he couldn't wait to go back!
Co-founders, David Melville (whose father was born in Scotland, which makes him totally cool) and Melissa Chalsma (she's cool too), created ISC in order to provide everyone with the opportunity to experience quality theatre by performing plays for free. They really could be charging top dollar for these performances, but their mission is to provide them "to as wide an audience as possible". I think this is not just admirable, but praiseworthy.
One of the added benefits of going to a Free Shakespeare in the park ISC play is being able to take along a picnic! The atmosphere at the old zoo area of Griffith Park on a summer evening, is one of the best you can experience in LA. In fact, my family and many friends agree, it's just not summer until ISC's Shakespeare Festival begins!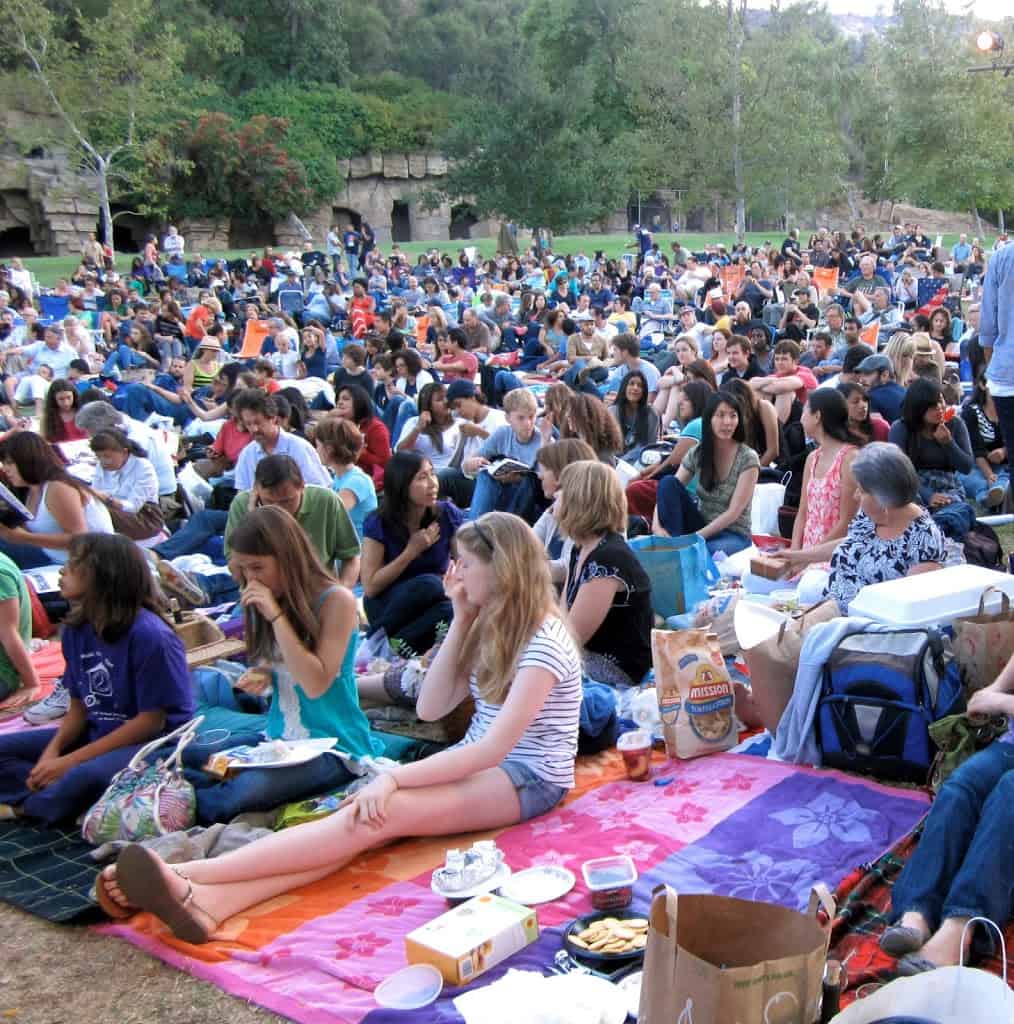 Attending a fabulous free Shakespeare in the park performance demands a comparable picnic. I've composed a checklist to help you prepare "The Perfect Picnic" complete with links to the recipes for many of the sandwiches, snacks, salads, and desserts.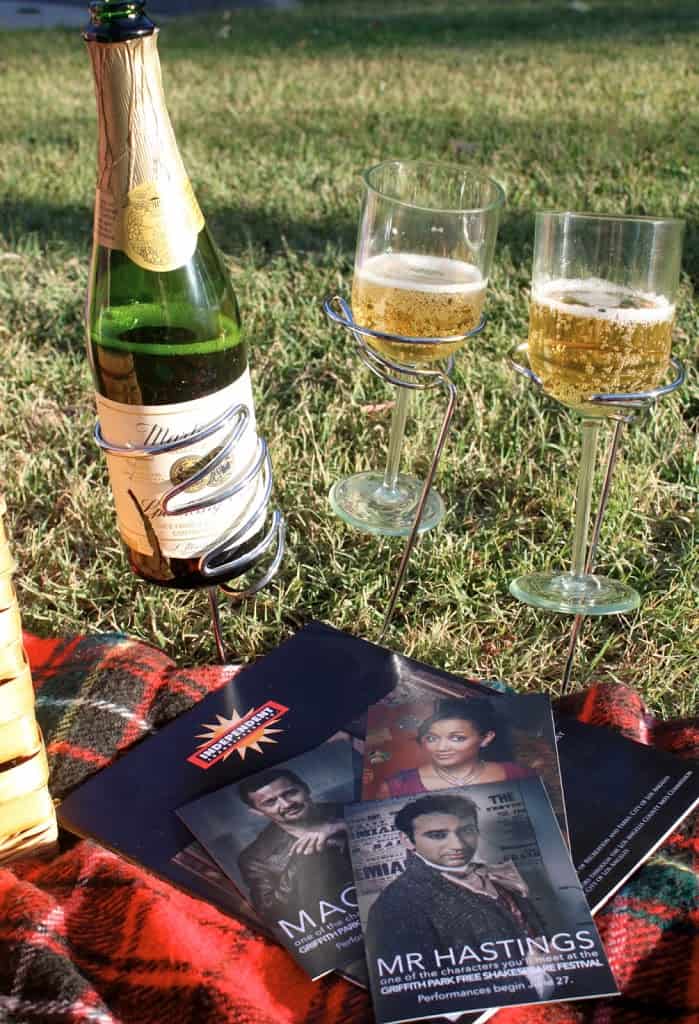 The Perfect Picnic for Free Shakespeare in the Park, Hollywood Bowl or any other event
ESSENTIALS (you may prefer finding most of these items HERE)
Blanket (preferably some form of tartan) ;)
Picnic basket or container and cooler
Plates, glasses, cups, cutlery, napkins (wipes are handy, too)
Serving spoons, forks and knives.
Bottle opener (even my Martinelli's sparkling apple juice needed one)
Wooden cutting board or cheese board-useful, even if you don't bring cheese
Small plastic bag for trash
Jackets and blankets to keep warm-it does get chilly after the sun sets
Manners and courtesy–ISC fans are a very well-behaved crowd :)
(Not essential-but SO wonderful! The bottle and glass Picnic Stix seen in the photo above)
BEVERAGES of your CHOICE
MIX and MATCH to create your own perfect picnic
Cheese board: pick your favorites! I choose from Burrata, any goat cheese, aged Red Leicester, Jarlsberg, Cheddar, Morbier, and Pecorino Piccante, for example. This time I had another little cheeseboard just for my Boursin!
Heartier Fare: Sausage Rolls, Chicken Tenders, Arancini, Italian Sausage Skewers, Scotch Potatoes, Chicken Satay, Grilled Polenta, Bacon and Potato Frittata
Salads: my favorites are—Caprese, Avocado and Tomato, Italian Bean Salad, Mixed Green Salad with Breaded Goat Cheese, Garden Salad, Green Garlic Potato Salad
Snacks & Sides: Bruschetta (assemble at picnic), Sweet Potato Chips, Pickled Eggplant (to eat with bread) Spicy Cole Slaw, Lupini, Olives, Veggie Plate
Fruit: strawberries, melon, cherries, apricots, etc., fruit kebabs (see photo below), fruit salad, dried fruit (figs, dates, etc.),
DESSERTS/SWEETS and HOT BEVERAGES (for intermission!)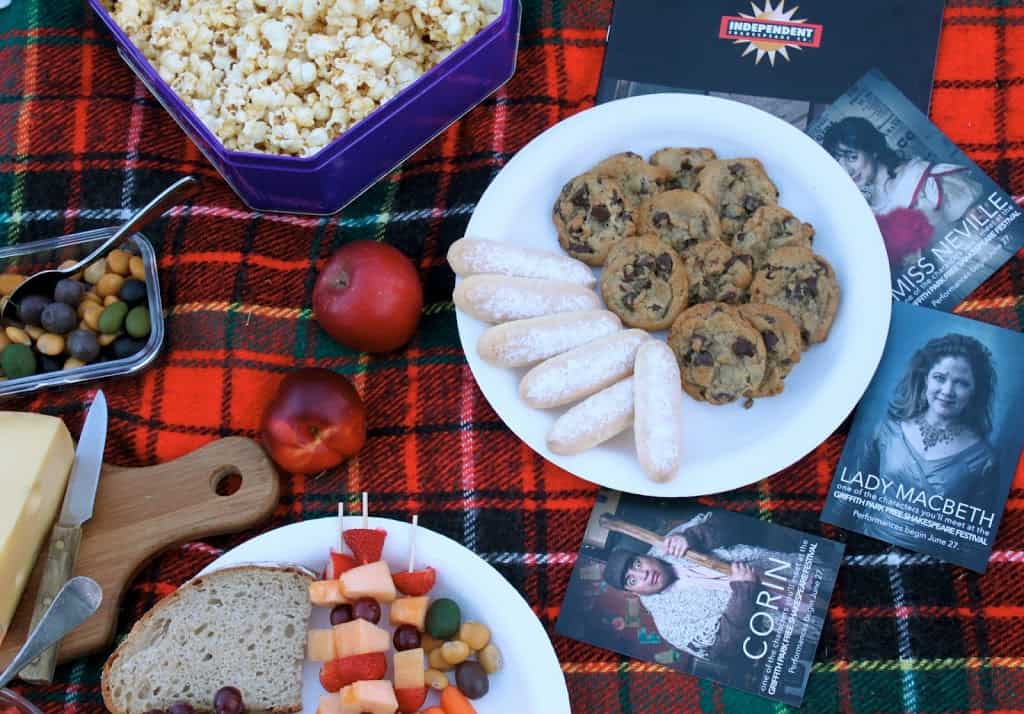 Hot Cocoa (I love Perugina, Green & Blacks, or hot chocolate made with melted (real) chocolate, coffee, or hot tea in a Thermos. Remember, it does get chilly
Your favorite cookies-sometimes I bring GF Peanut Butter Cookies, Madeleines, or Meringues
Your favorite slices of cake, or cupcakes are perfect for picnics: Pineapple Carrot Cake with Cream Cheese Icing, Banana Nutella Swirl Bundt Cake, Buttermilk Chocolate Cupcakes, Pumpkin Carrot Cupcakes, Election Cake, Decadent Chocolate Torte (GF)
Desserts that I love for picnics: Sticky Toffee Pudding, Strawberry Tarts, Limoncello Tiramisu, Apple Turnovers
Sweet Snacks like Caramel Crunch Popcorn, Homemade Crunchie Rocks, Homemade Mounds
So that, my friends, is my guide in deciding how to put together your Perfect Picnic! I can tell you that when you have chosen and loaded up your basket, you'll have a feast worthy of serving to Shakespeare himself!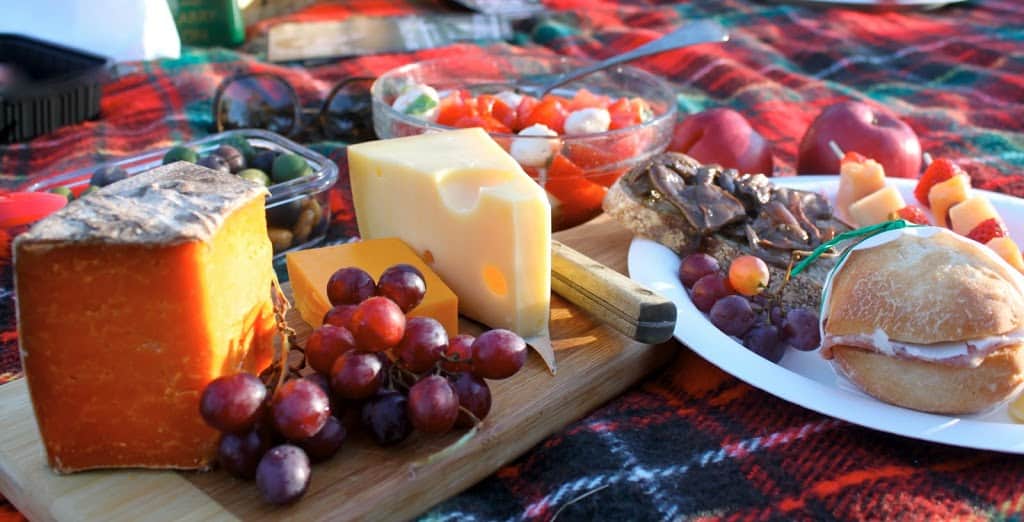 INDEPENDENT SHAKESPEARE COMPANY…
Calendar, Map & Directions, etc. www.independentshakespeare.com
Like them on Facebook
Follow them on Twitter
Check them out on YouTube
Find them on Yelp, and once you've seen a play, don't forget to leave a glowing review!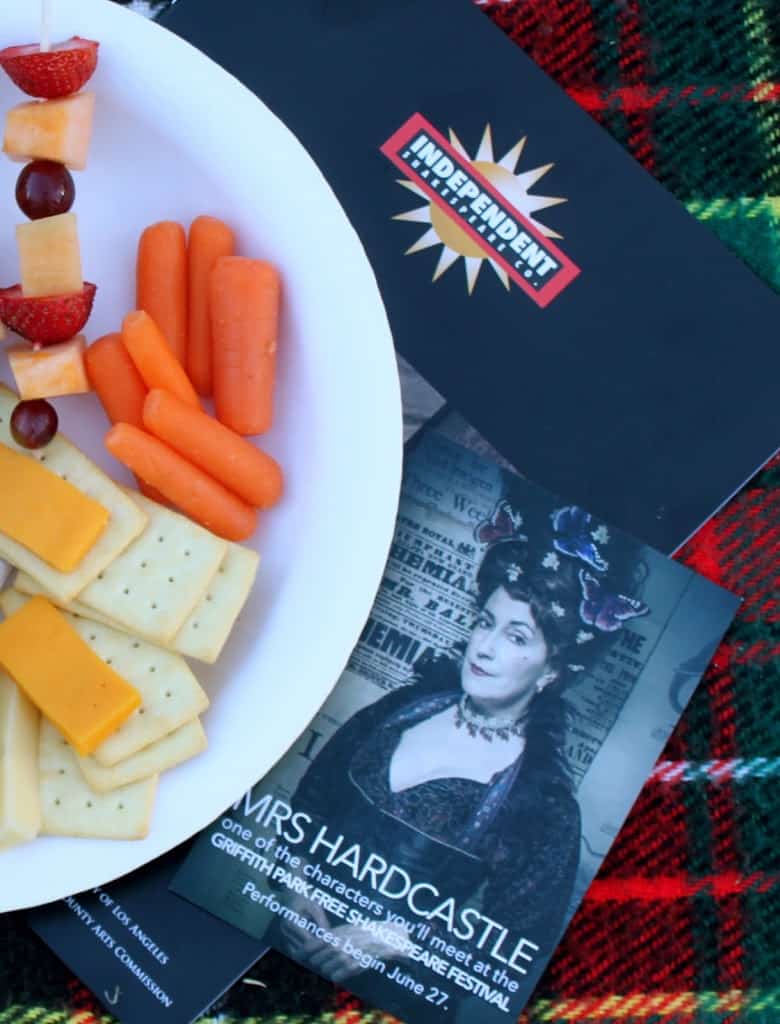 And in case you're wondering, this is the perfect picnic spot for Shakespeare in the Park in LA: Griffith Park, in the old zoo area. I'll be there this summer, come say hi!
Don't miss another recipe or travel post; sign up for my free subscription below!
I promise not to sell or share your info, ever.